This Whole Wheat Honey Oat Bread is the perfect healthy, hearty, sandwich bread and easy enough for any new bread baker to make!
Haaapppyyyy New Year, friends! How's everyone doing with their resolutions so far into this first week of the New Year? Although I didn't really set any this year, after the success of this Whole Wheat Honey Oat Bread, I'm taking that as a hint that I need to resolve to make more breads and add more gluten to my New Year! 😉
My husband is usually the bread baker in our house. He's the one who tends to Herman (our sourdough starter) and make sourdough bread. He knows all about hydration levels and proper kneading techniques, etc. I, on the other hand, I've got our No Knead Rosemary Garlic Bread and No Knead NY Deli Rye Bread down. Can you guess why? That's right. I'm a lazy bread maker. I will eat the hell out of all of the delicious and complex breads my husband will make, but when it comes to making it? I leave that to him. That's why I love this recipe so much. It's practically a no knead recipe.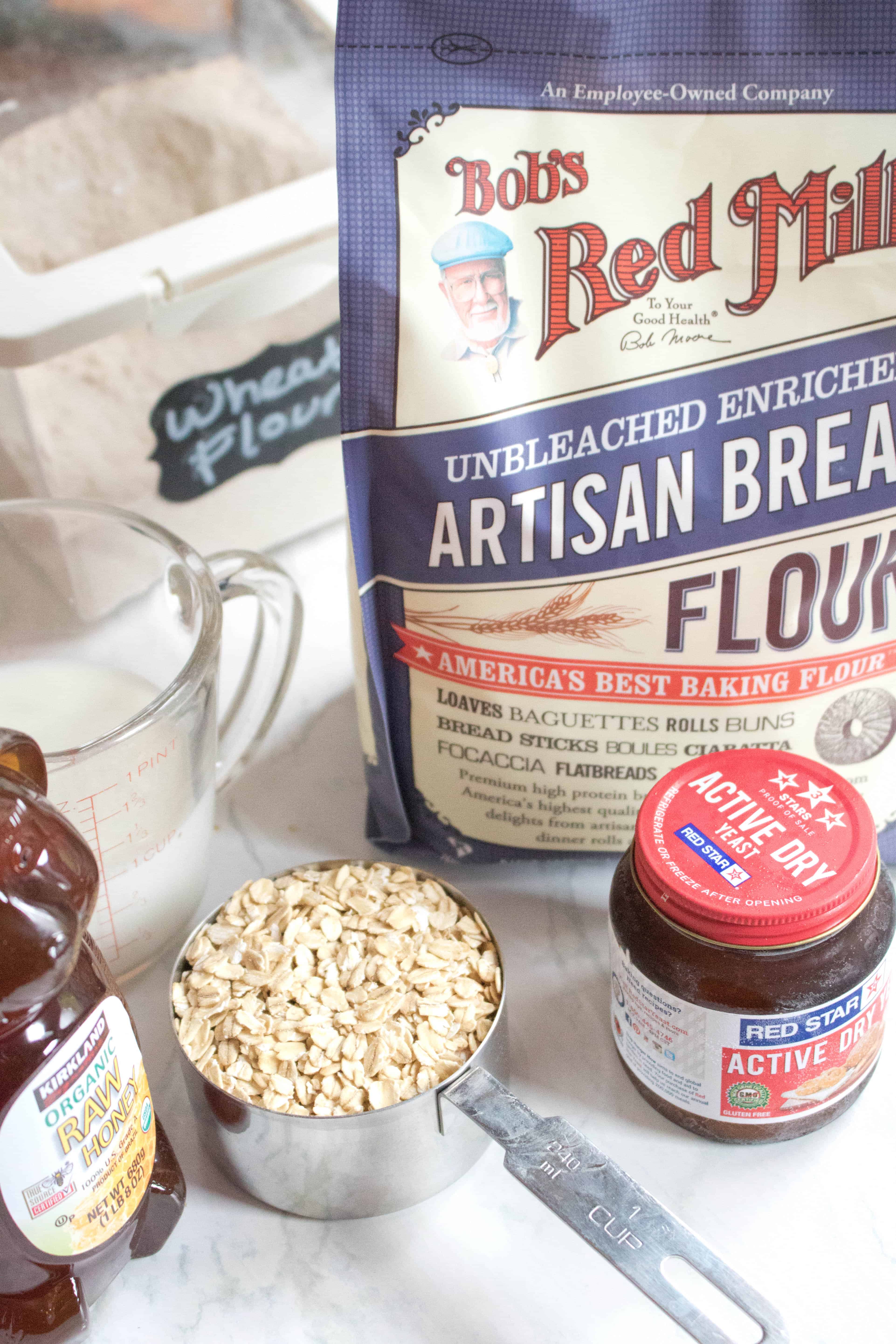 Plus it's made of pretty simple ingredients. But you should make sure you have a bread flour in addition to the whole wheat flour. If you happen to have an whole wheat bread flour too, even better; but it's not necessary. I love Bob's Red Mill Artisan Bread flour.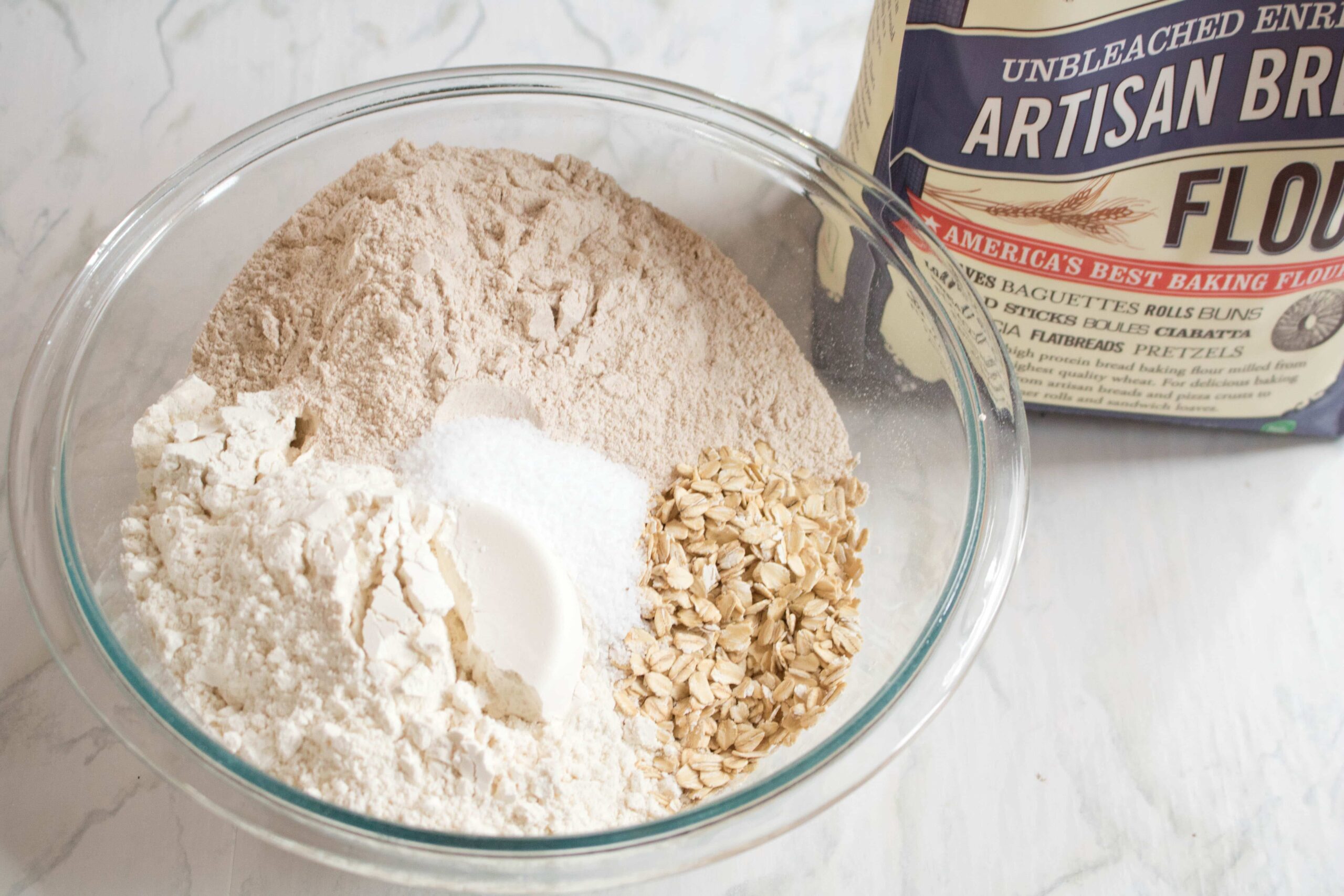 Now you can knead this by hand. But maybe you got a Kitchen Aid Mixer for Christmas? Pop that dough hook on and put that baby to use. Let the yeast activate with some warm milk, water, and honey and then just dump in your dry ingredients and let the hook do the kneading.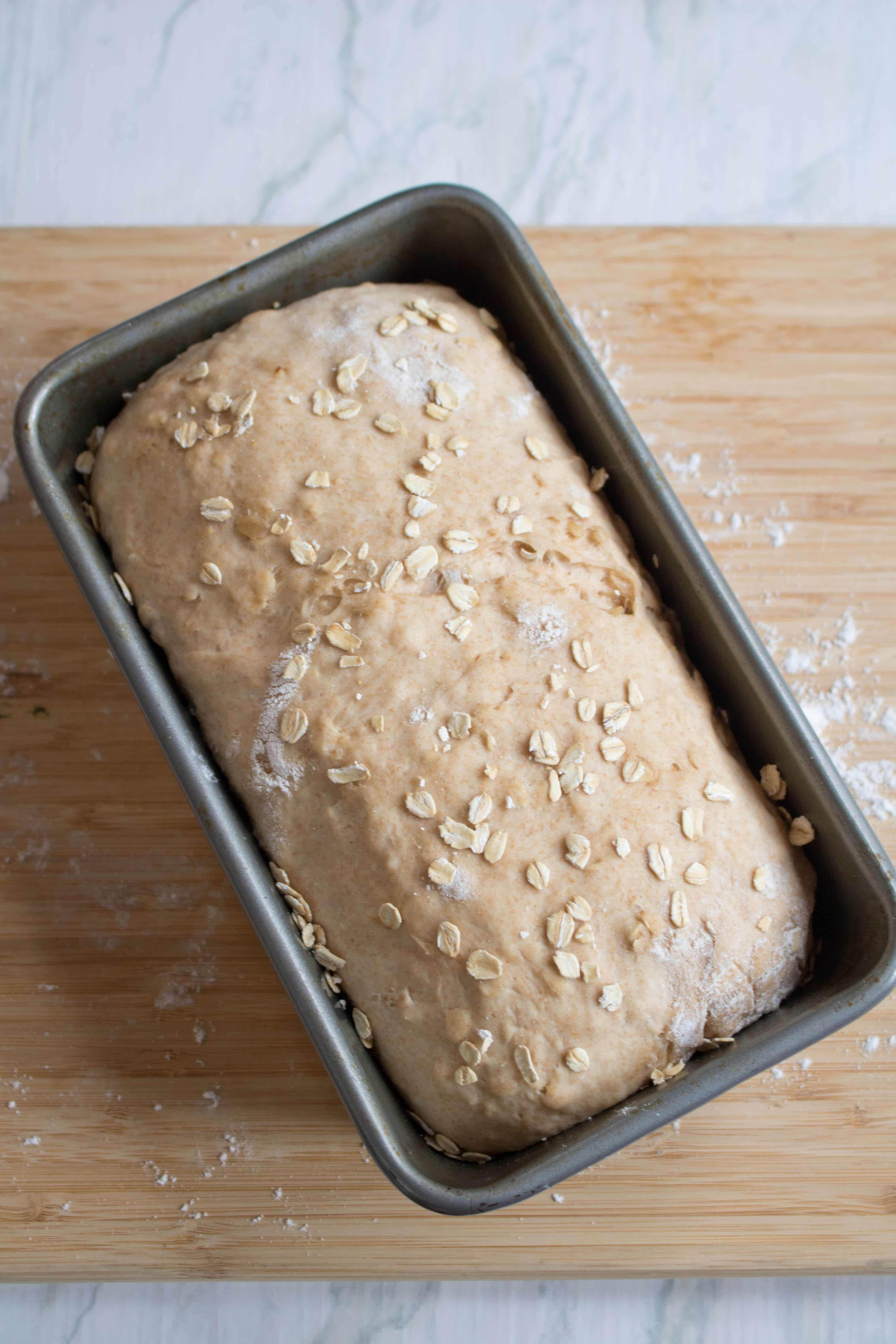 Let it proof once, shape, and then let it rise in the loaf pan.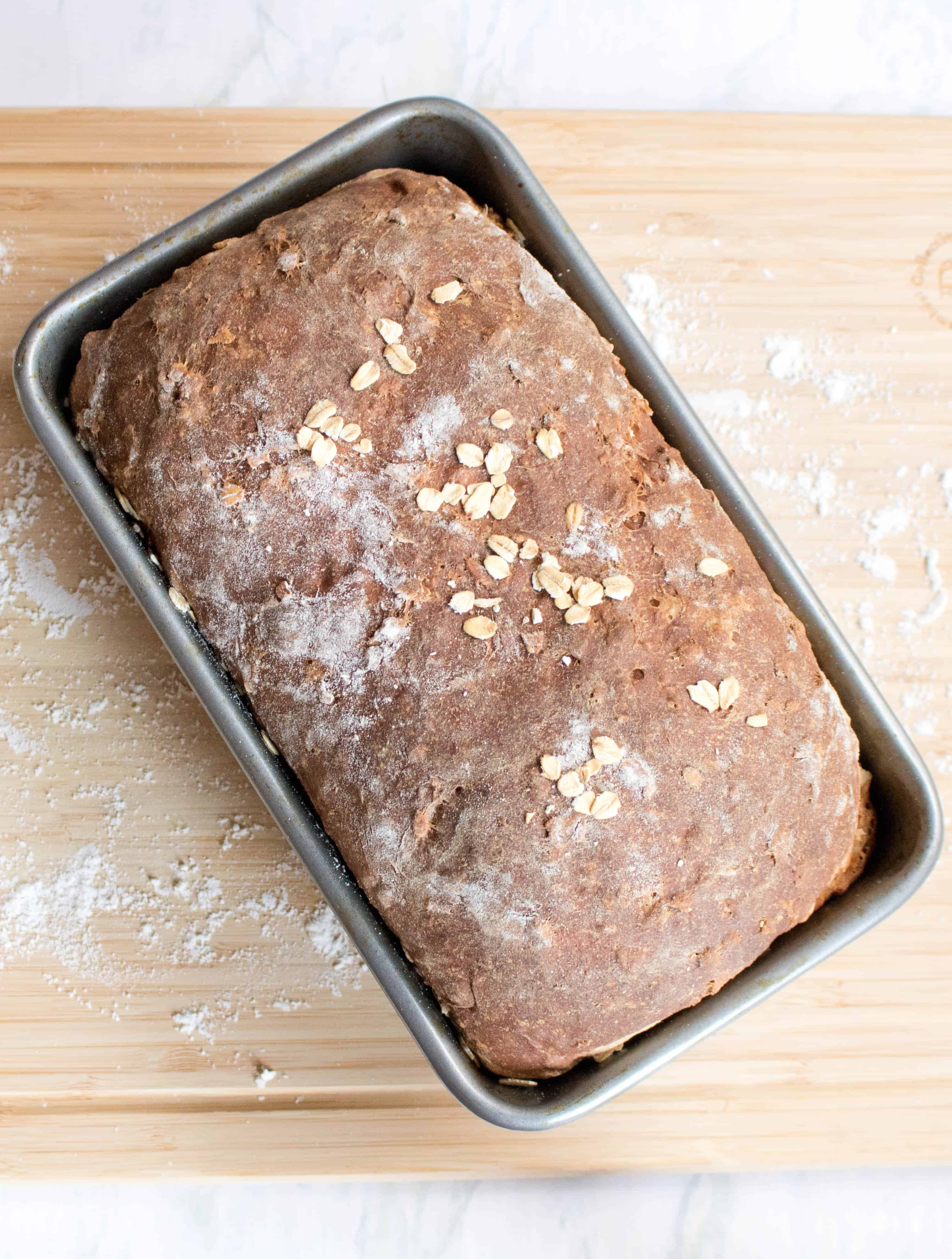 Baked for 40 minutes and boom. Whole Wheat Honey Oat Bread.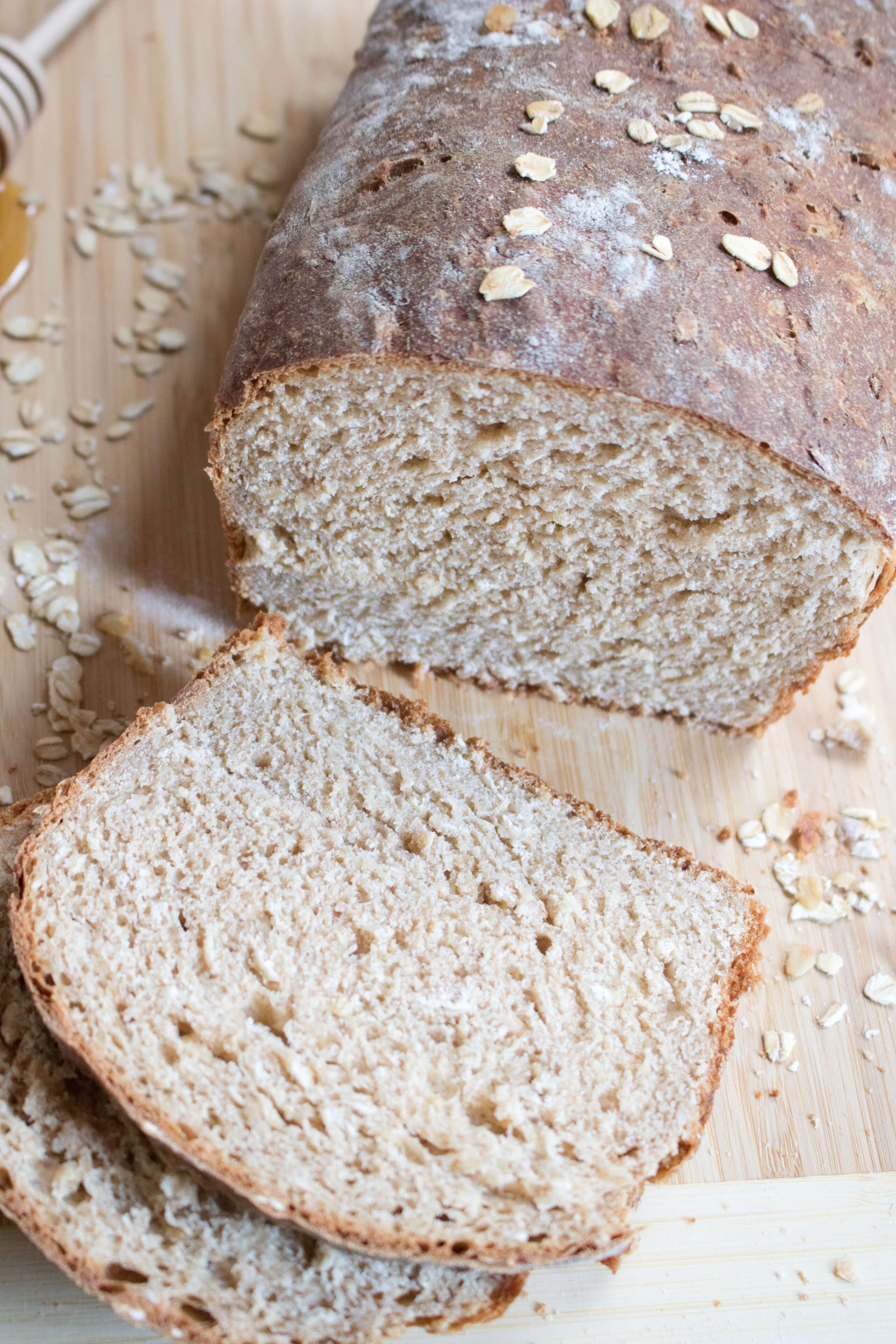 This bread is the perfect sandwich bread. It's a little dense and has a nice soft chewy center with just a touch of sweetness from the honey.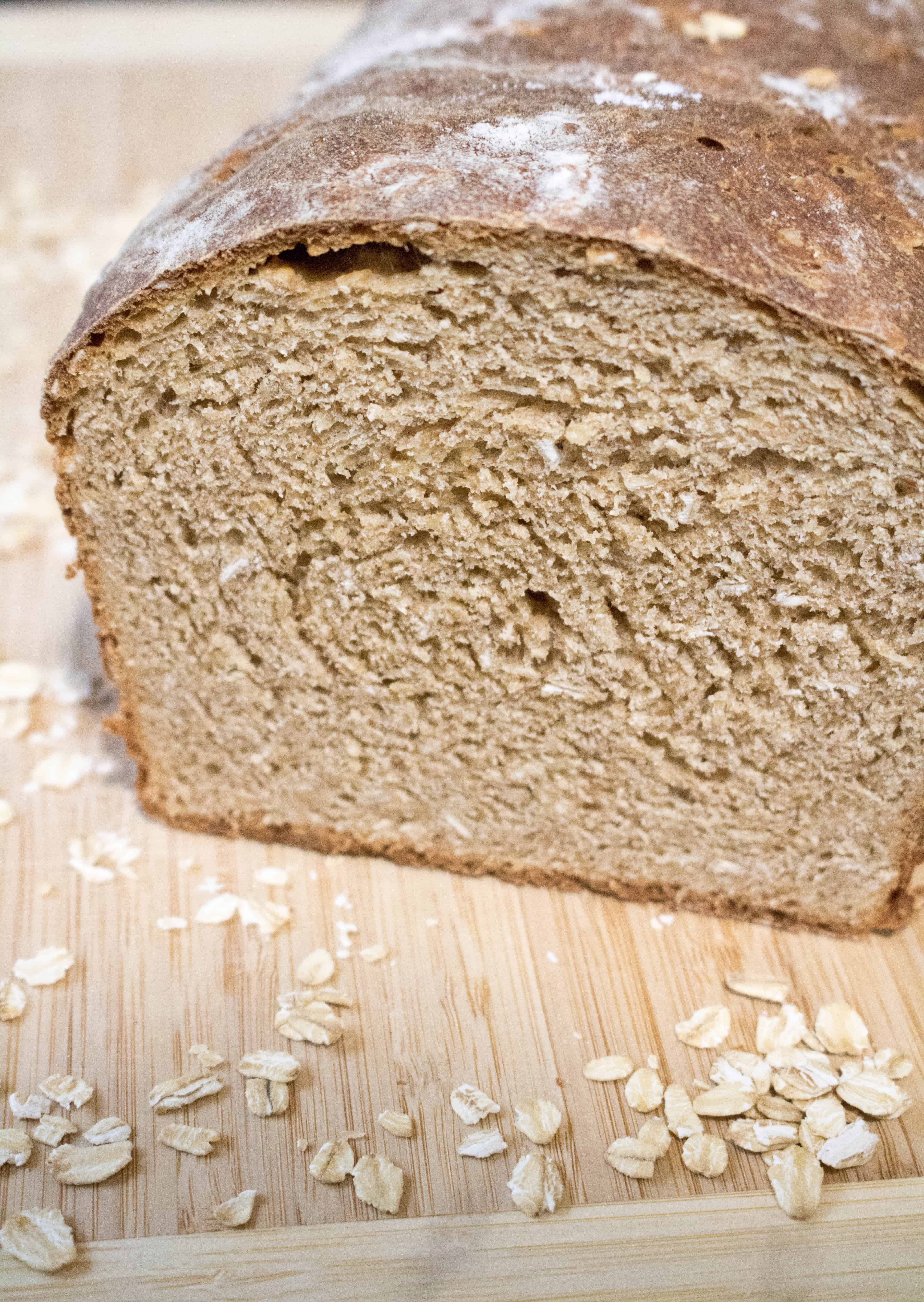 It's our new go-to sandwich bread! Simple, fast, and easy enough for this novice bread baker to make!
Happy New Year of more fresh baked bread, friends! If you decide to give this recipe a try, be sure to share it with me on Pinterest, Facebook, or Instagram!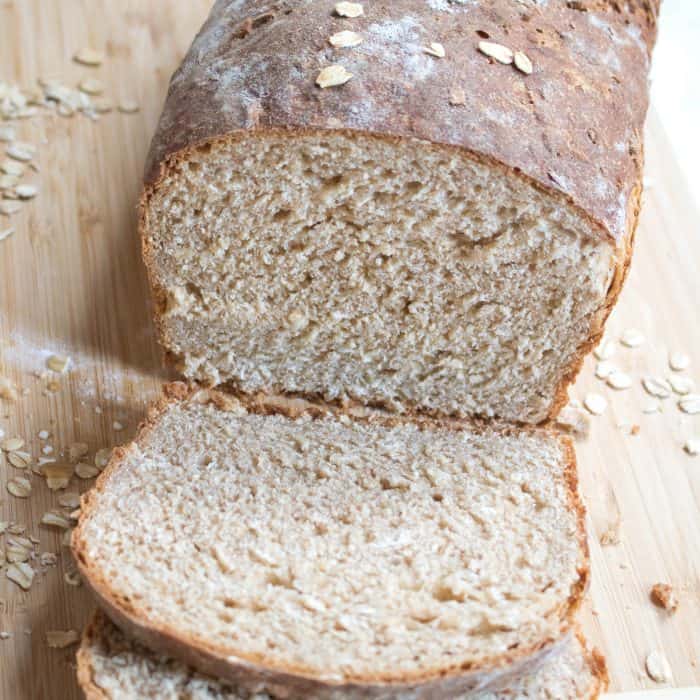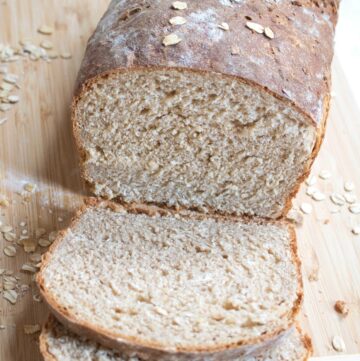 Whole Wheat Honey Oat Bread
This Whole Wheat Honey Oat Bread is the perfect healthy, hearty, sandwich bread and easy enough for any new bread baker to make!

Print
Pin
Rate
Ingredients
2 1/2

cups

Whole Wheat Flour

1 3/4

cups

Bread Flour

1 1/2

cups

Old fashioned rolled oats

1

tablespoon

salt

1

cup

milk

2% of 1%

1

cup

water

4

tablespoons

butter

2 1/4

teaspoons

active dry yeast

3

tablespoons

honey
Instructions
Heat milk and water in microwave for 45 seconds. Add to bowl of a stand mixer with honey and then sprinkle yeast on top. Let sit for 10 minutes until yeast activates (becomes foamy).

Meanwhile, mix flours, salt, and oats together in a bowl.

Once yeast has activated, add butter to mixer bowl and with the dough hook attachment, beat on medium low. Slowly add flour and oats mixture and beat until a sticky dough ball forms.

In a lightly greased large bowl, add the dough ball. It will be sticky. Cover with a linen towel and let rise until doubled (about an hour). If your house is cold and your oven has a "proof" setting, this works well too.

Pre-heat oven to 400 degrees.

Once doubled, punch down our dough and transfer it to a lightly floured surface. Flatten dough into a large rectangle and then fold the sides up into itself then roll the end closest to you away from you, rolling your dough up into a log.


In a greased 9 x 5 loaf pan, add dough seam side down and cover with towel again and let rise for another 30 minutes.

On the medium rack, bake for 20 minutes and then turn. Bake for another 20 minutes. Dependent upon your oven, check to ensure it's not burning. You want a nice deep browning but not burning.

Remove from oven and transfer to cooling rack to cool. To check to see if the center is cooked, give the bottom of the loaf a little tap. It should sound hollow.