Making your own homemade English Muffins From Scratch is easier than you'd think and sooo tasty without sacrificing any of those famous nooks or crannies!
Serve them with some of our no added pectin Blackberry Jam!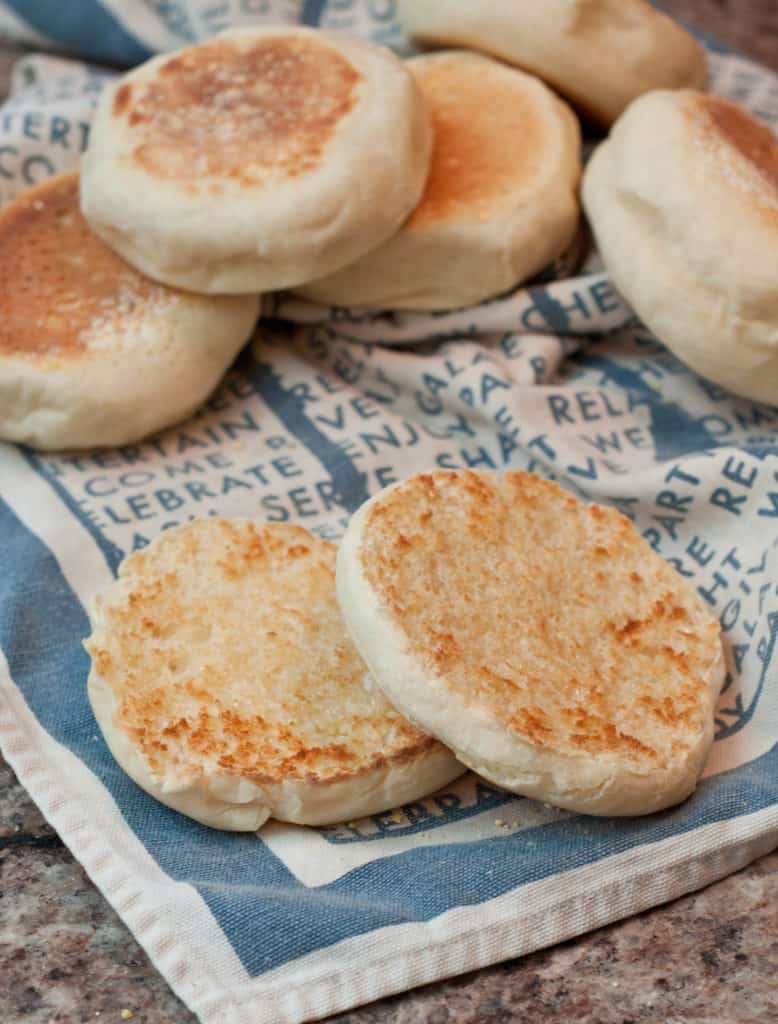 You guys. These English Muffins From Scratch are truly the key to my gluten-loving heart. Yes, like all homemade bread, it's easier to just buy it. But if you're here, that's not what it's about. It's about taking those simple ingredients, and your two hands, and making something amazing. And these homemade English Muffins, every time I make them, I get excited.
Recipe Video
Ingredients Needed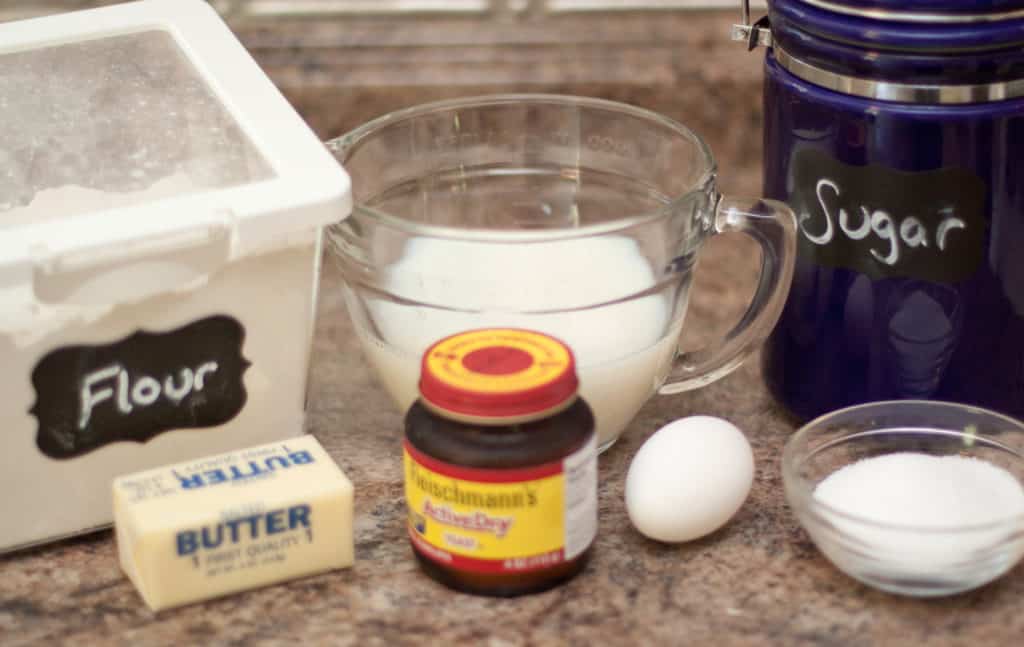 Even better, the ingredients needed are staples in our house.
All Purpose Flour - Or bread flour. We've made them with both and both are delicious!
Sugar - Regular granulated.
Milk - 2% is preferred although whole is also fine.
Unsalted Butter - You can substitute salted butter, but then just adjust the amount of salt, see recipe notes.
Active Yeast - You can also substitute instant yeast if that's all you have, but that just means that you don't have to activate it first.
Egg and kosher salt
Do you have everything on hand already? Yes? Perfect!
Equipment Needed:
Some of these items aren't absolutely necessary, but they will help make your life easier.
Kitchen Aid - Or another stand mixer. You could also use a hand mixer (we love this one, and then use a dough hook for the hand mixer).
Kitchen Scale - For under $20, this is something I think should be in everyone's kitchen! It's amazing the number of things that you can use it for!
Baking Sheet - This is a great, inexpensive one.
Step-by-Step Instructions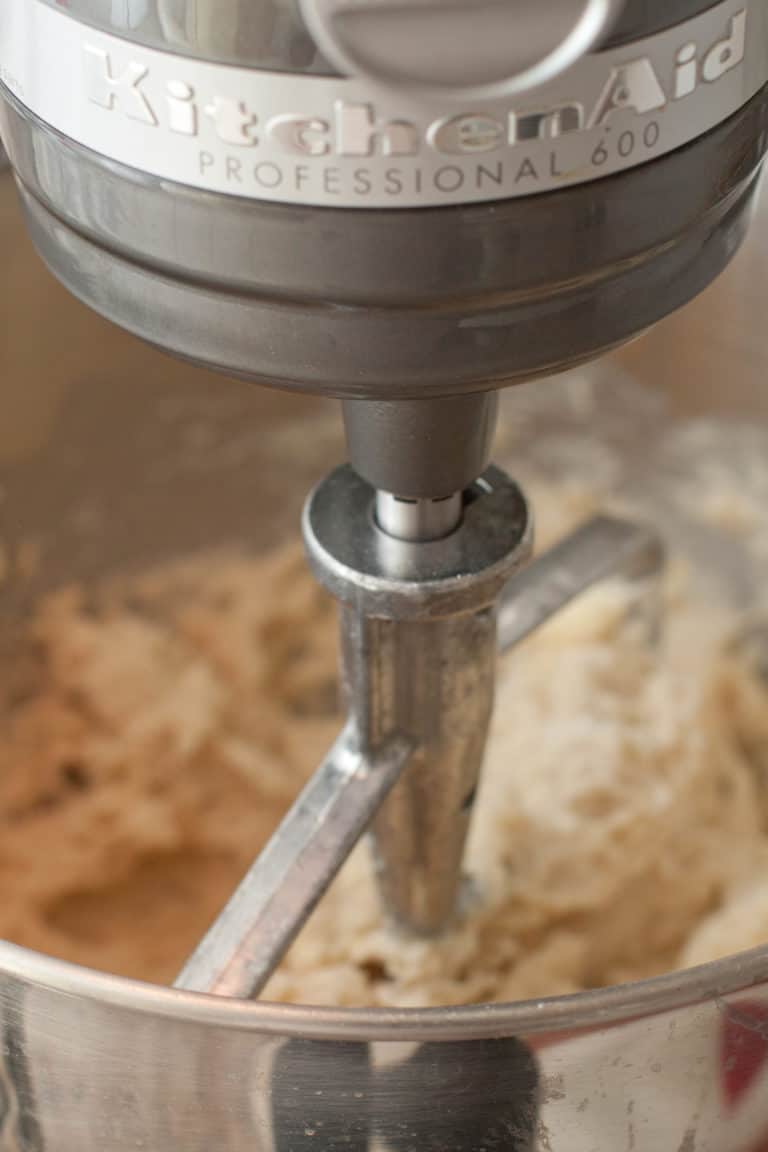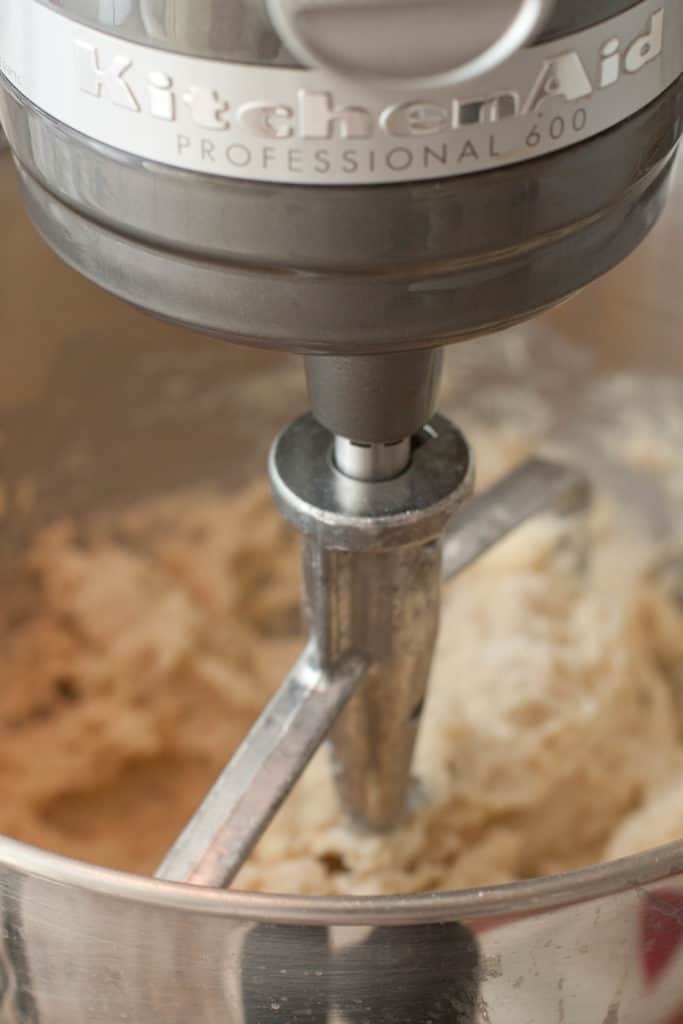 You definitely don't need a stand mixer, but it will make life easier.
Step 1: Because with one, all you need to do is activate the yeast, and then just add the rest of the ingredients, butter, salt, sugar, egg, and flour.
Tip: No stand mixer? No problem. You can totally use a hand mixer with a hook attachment or mix it well all by hand.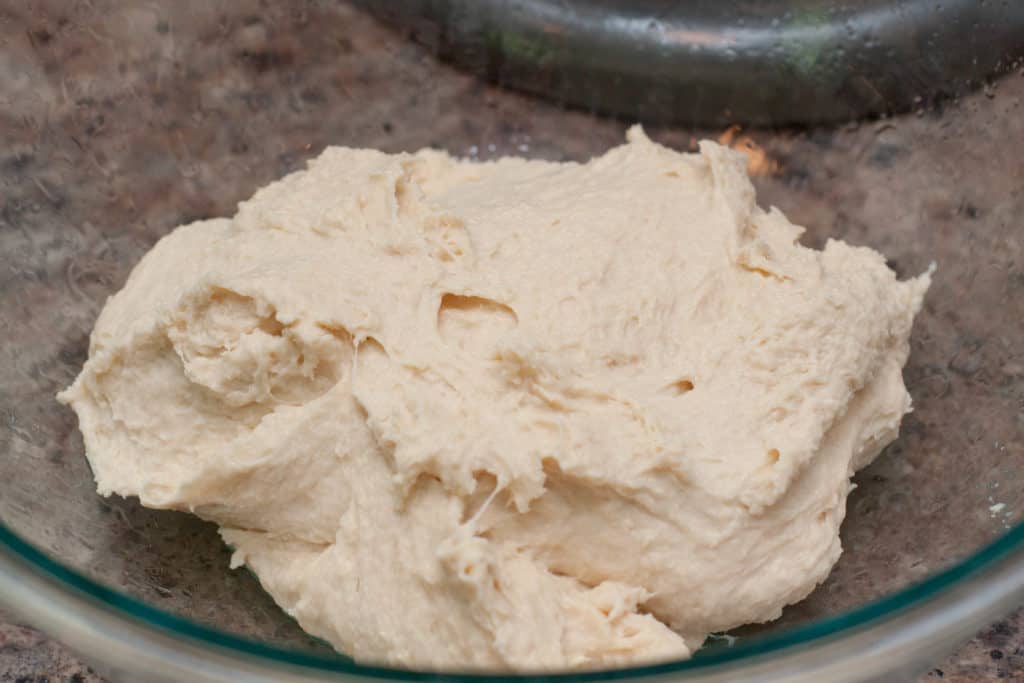 Once it's all mixed, you'll have a really sticky dough. Using a spatula will help get it out of your stand mixer!
Step 2: Once it's all mixed together, transfer it to a well oiled large bowl to let the dough rise.
Tip: For easy oiling, we love a Misto!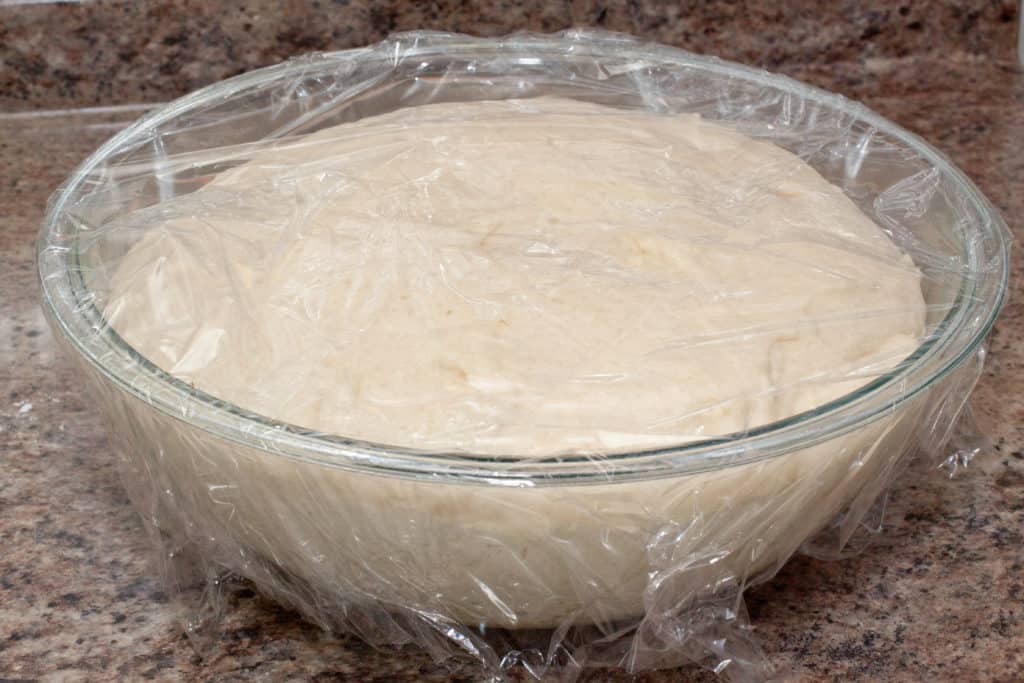 Step 3: Let the dough rise and then you'll have this beautiful soft, still sticky, dough.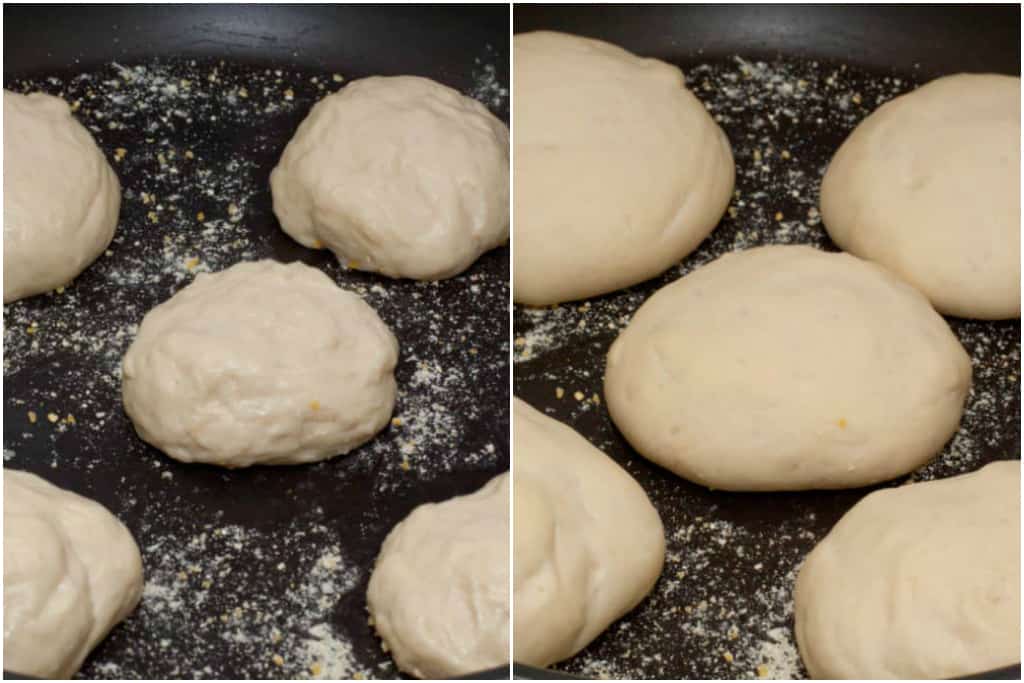 Step 4: Shape the dough and then add to a cornmeal-dusted large non-stick pan or griddle. Add some that
Tip: Here is where a kitchen scale is really helpful for to be able to make your doughs uniform. My pan would only fit about 5 (the rest I put on a baking pan) and then let rise another 20 minutes.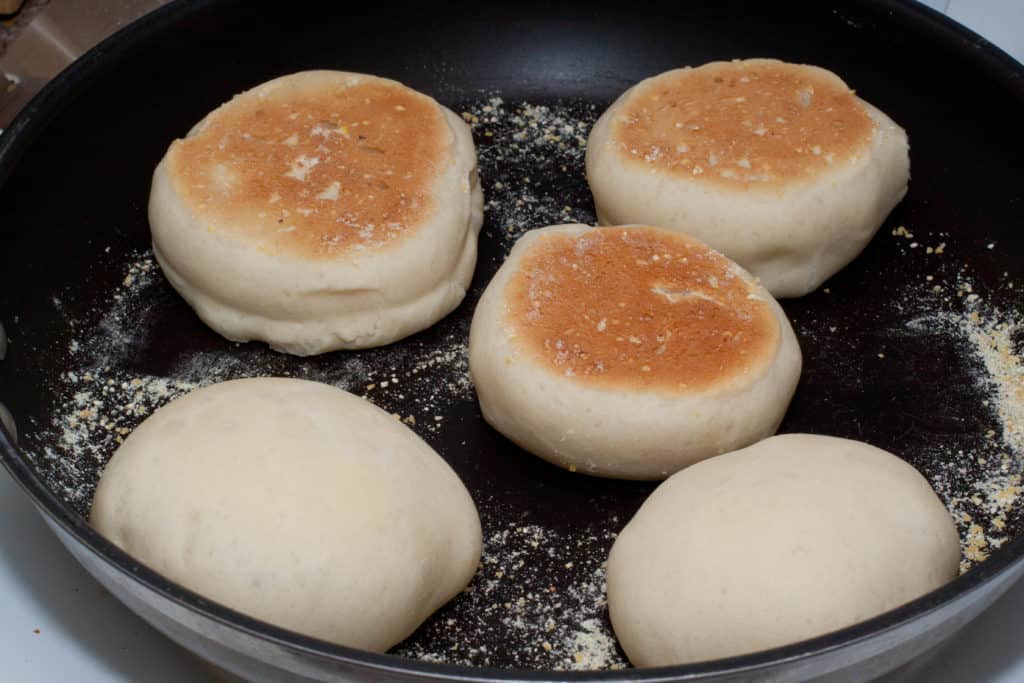 Step 5: Cook on medium low heat for about 10-12 minutes before flipping to cook another 8-10 mins on the other side. Complete with all doughs.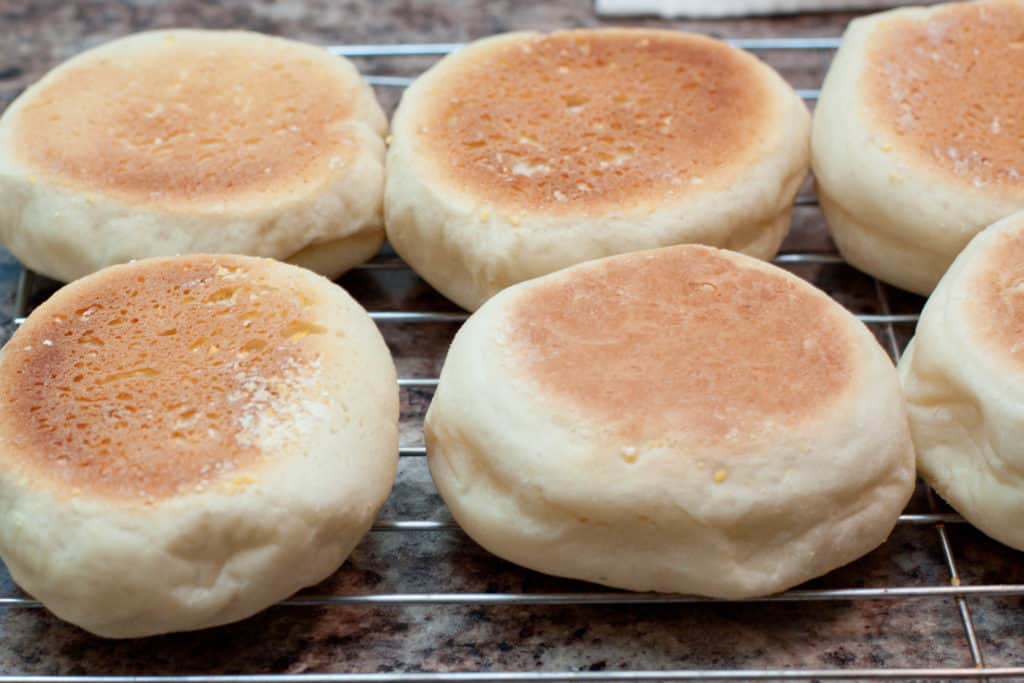 Step 6: Cool on a cooling rack!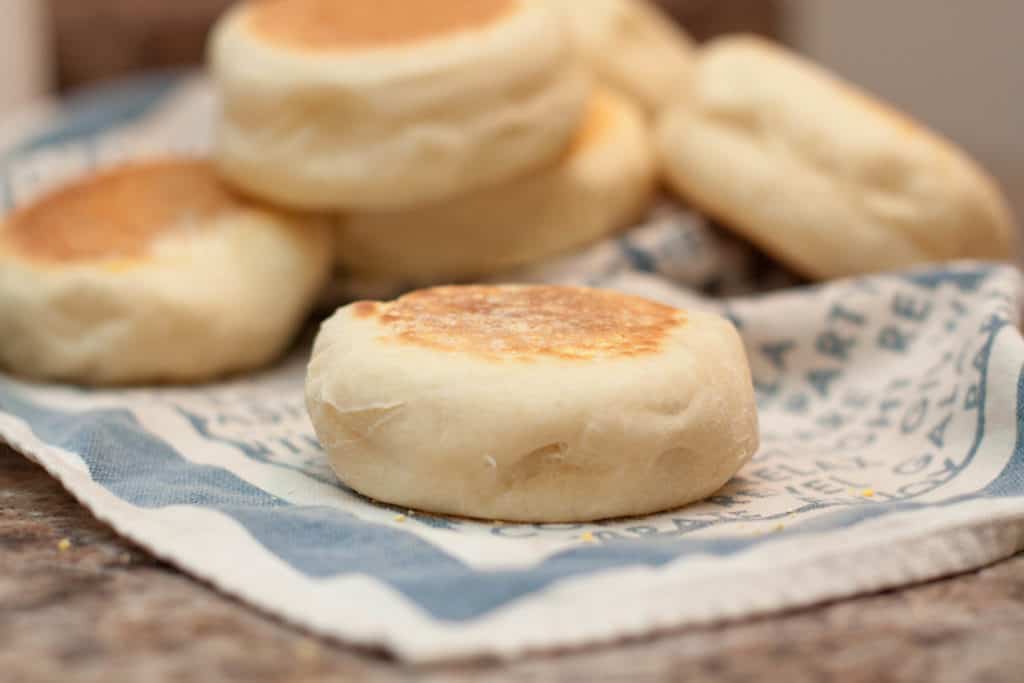 And you're done! Homemade English muffins! Yes, it takes more time than opening a bag of those "famous" ones, but there's something about making your own bread that is just so exciting. And these English Muffins are one of my favorite breads to make.
Our Other Favorite Breads
Easy Dinner Rolls From Scratch
No-Knead Rosemary Garlic Bread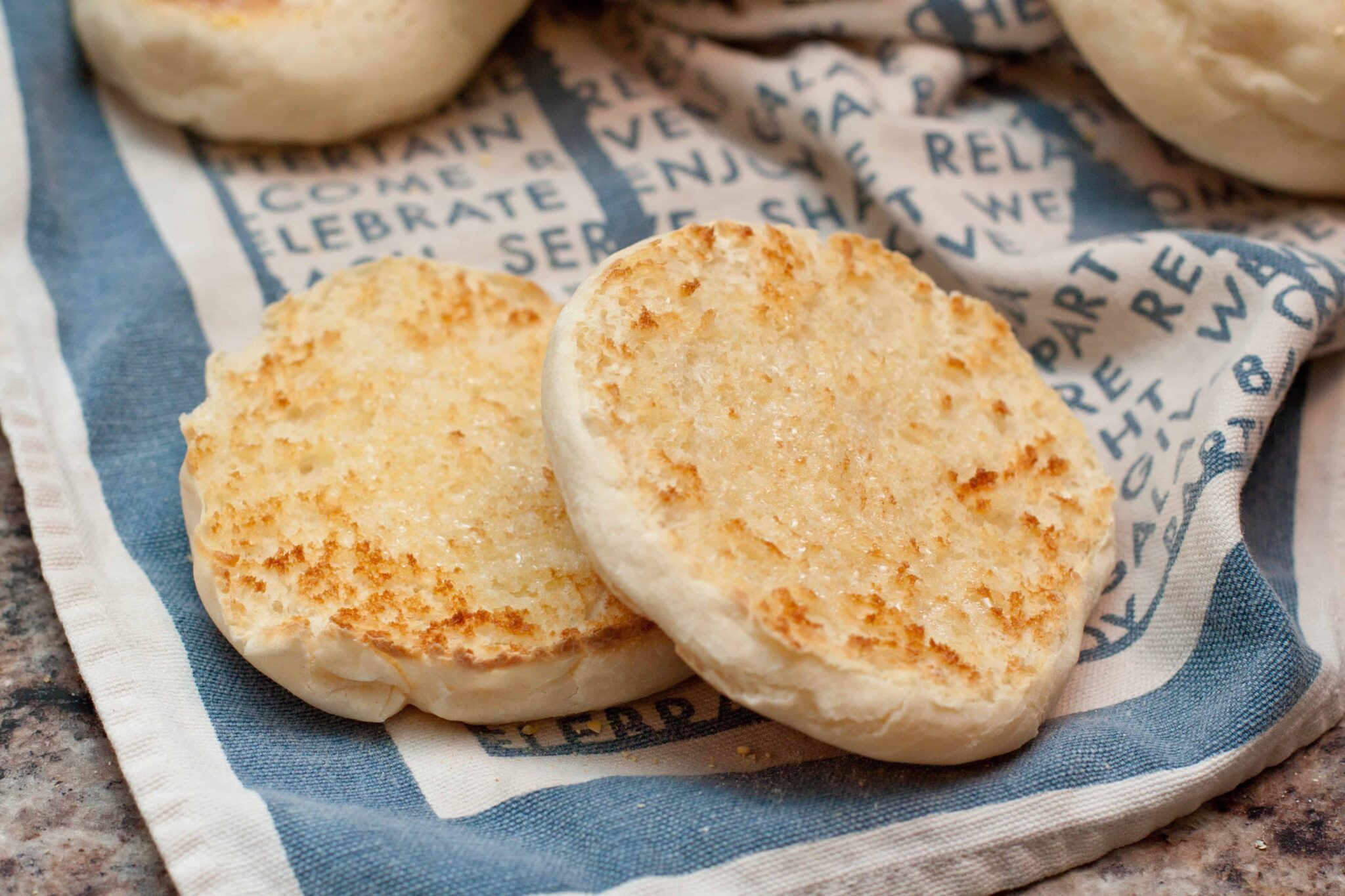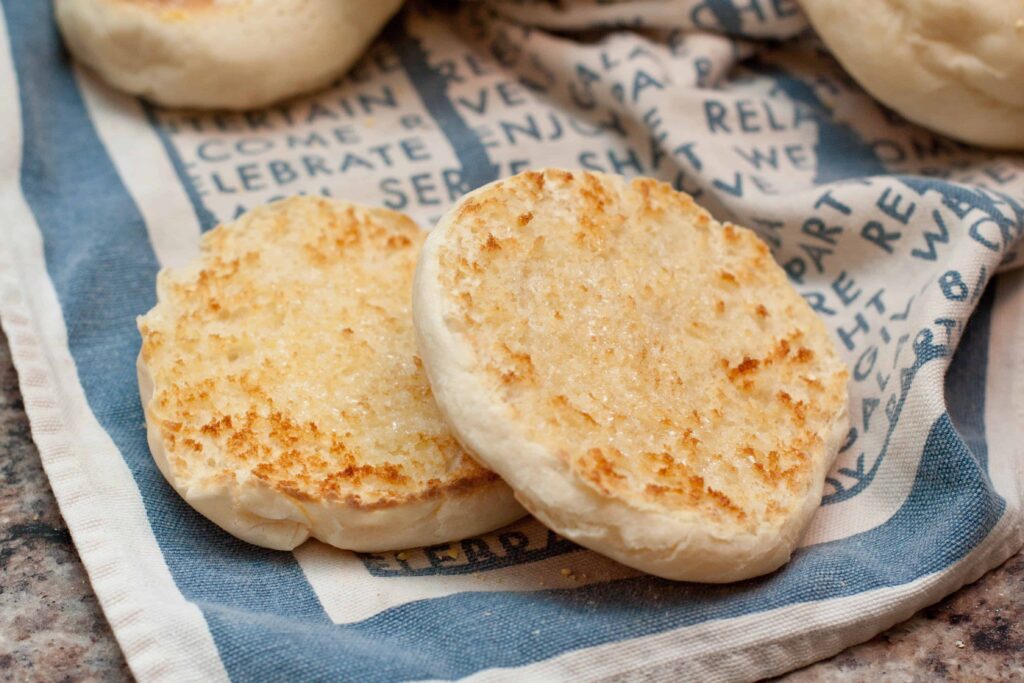 Look at all that space for nooks and crannies! A little toasting, butter, and ahhh homemade English Muffins From Scratch!
FAQs
Active or Instant Yeast?
Either! If you use instant then there's just no need to activate it.
Can I mix the dough without any mixers?
Yes. It will take longer, but totally doable. Just make sure that everything is mixed really well! Use a spatula and then oil your hands lightly and do the final mixing with your hands.
Can I freeze them?
Yes! We love freezing them to have them on hand whenever we want them- for up to 3 months.
How long do they last?
At room temperature, about 2-3 days and in the fridge, about 2 weeks.
How do I make sure I get all of the nooks and crannies?
Don't use a knife! Use a fork to gently split the muffin - that way you'll get the most nooks and crannies!
Enjoy! As always, if you make this recipe or any of my others, I love to hear what you think! Leave a comment below, email me, or you can find me on Facebook, Instagram, and Pinterest!
If you want to see more, be sure to sign up for my 5 Easy Ways to Start Cooking From Scratch!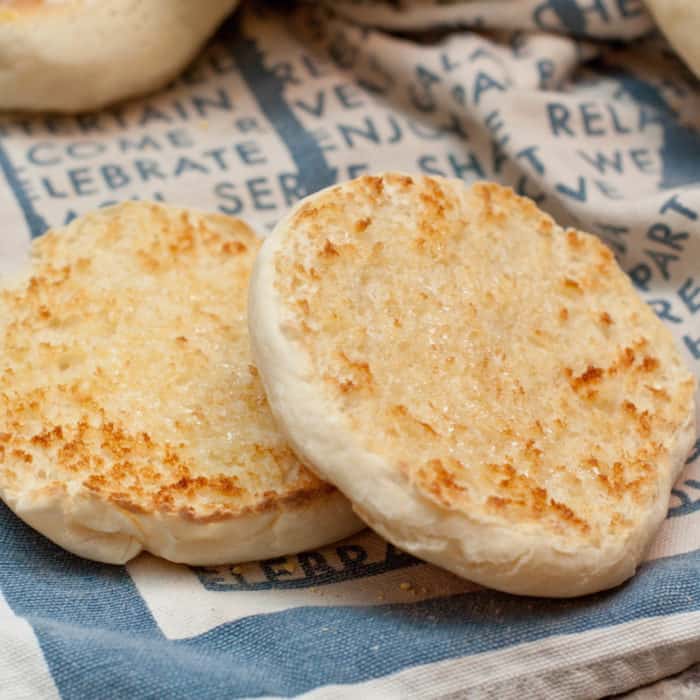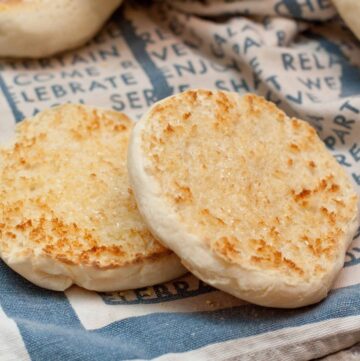 English Muffins From Scratch
Making your own English Muffins From Scratch is easier than you'd think and sooo tasty without sacrificing any of the nooks or crannies!
Print
Pin
Rate
Ingredients
1 3/4

cups

lukewarm milk

2 1/4

tsp

active yeast

or 1 package of active yeast

3

Tbsp

unsalted butter

softened

1 1/4

tsp

salt

2

Tbsp

sugar

1

large egg

4 1/2

cups

all purpose flour

Olive oil for bowl and hands

Cornmeal for pans
Instructions
Place milk in the bowl of your stand mixer fitted with the paddle attachment and sprinkle yeast over top. Let sit for 10 minutes to activate and then add the butter, salt, sugar, egg, and flour.

Mix on low until the flour is incorporated and then switch to medium and beat for 5 minutes. The dough will be very soft and sticky.

Oil a large bowl and then scrape dough out into it, cover, and let rise for about 2 hours.

Oil your hands (to prevent the dough from sticking) pinch pieces of dough off (2 oz, if you have a kitchen scale or about the size of the center of your palm), form a ball, and place on a (cooled) griddle pan or in a large saute pan that is generously dusted with cornmeal.

Put the remainder on a baking sheet dusted with cornmeal, or if you have another large saute pan, prep a second pan.

Let rest for 20 minutes.

Turn burner to medium low and cook until golden brown, about 10 -12 minutes on the first side and 8-10 min on the second side. (If they brown too quickly, reduce the heat.)

Heat 2nd pan and cook or carefully transfer the rest from the baking sheet so as not to deflate them and cook until done.

Let cool completely on a rack before splitting open with a fork.
Notes
English Muffins will keep at room temp for 2-3 days, in the fridge for 2 weeks, and frozen for 3 months.
Nutrition
Calories:
228
kcal
|
Carbohydrates:
40
g
|
Protein:
7
g
|
Fat:
4
g
|
Saturated Fat:
2
g
|
Cholesterol:
11
mg
|
Sodium:
261
mg
|
Potassium:
120
mg
|
Fiber:
2
g
|
Sugar:
4
g
|
Vitamin A:
124
IU
|
Calcium:
49
mg
|
Iron:
2
mg