Put those fresh summer blackberries to good use! Our homemade Blackberry Jam recipe (without pectin), is low sugar, preservative-free jam that's easy to make and perfect to can for some fresh summer berry jam all year long!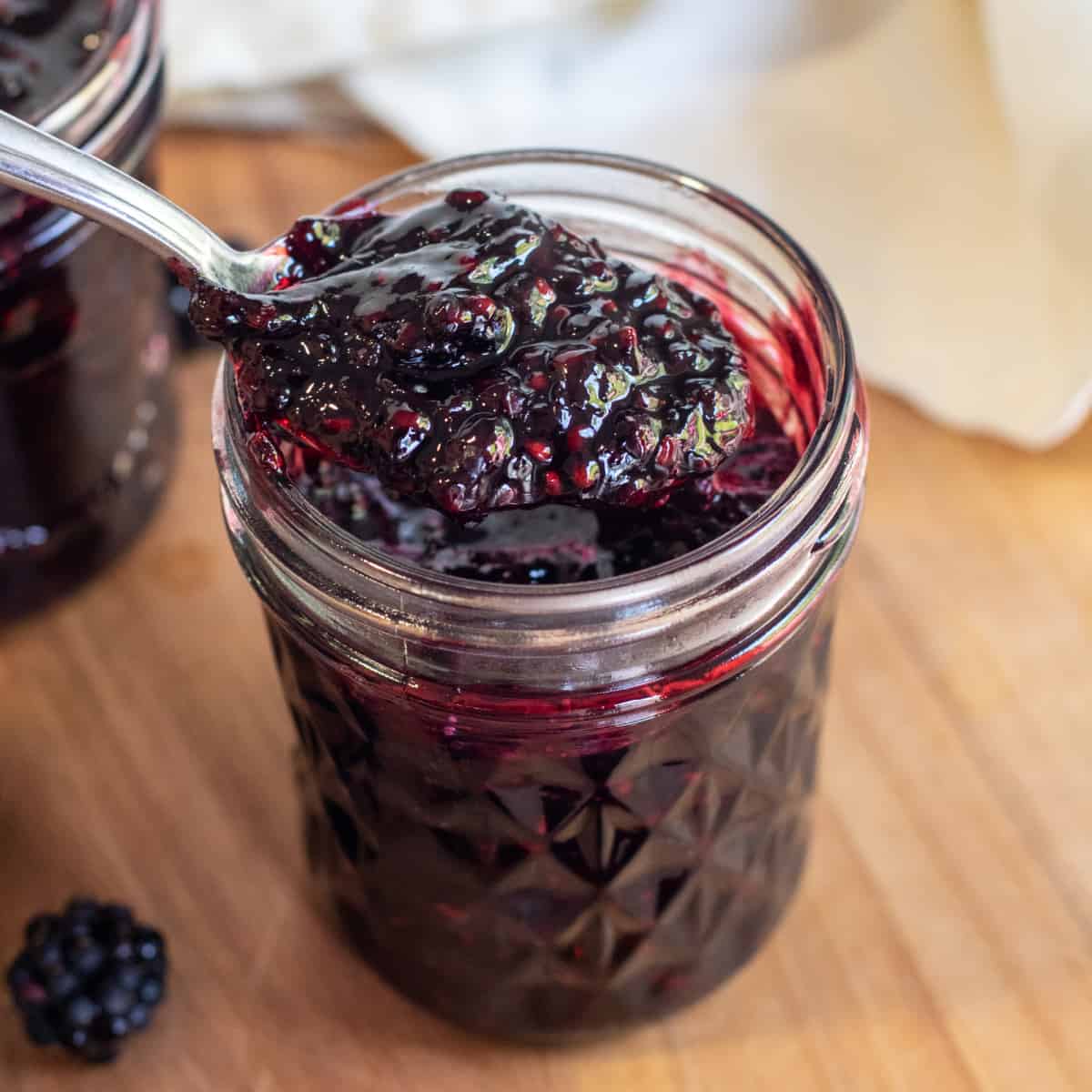 Is there anything more summery than a summer berry jam? I look forward to this time all year long because fresh fruit picking is one of my family's favorite summertime activities. Especially when it means a fresh summer berry jam to can so we can enjoy a little bit of summer all year long! We have been making our homemade Blackberry Jam - Without Pectin, for years and it was finally time to share it with you all!
Jam vs. Jelly
This is a homemade blackberry jam recipe, which means in our house, we serve Peanut Butter and Jam Sandwiches, not jelly.
What is the difference between Jam and Jelly? Jam is made with the full fruit while Jelly is made just with the fruit juice. Both are made with sugar and acid but jams tend to be a little bit looser than jelly. Also, especially for our homemade jams, I love a little chunk of that fresh fruit in there, and this low sugar blackberry jam is no exception.
Ingredients Needed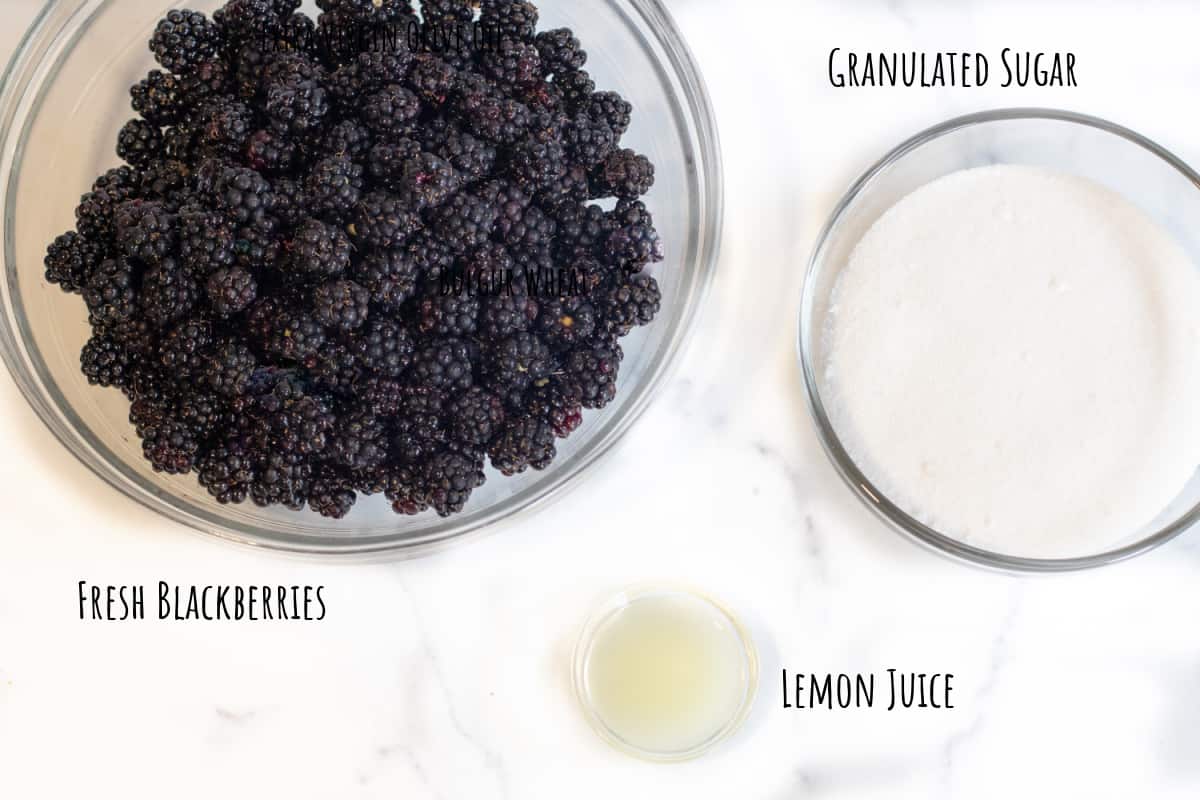 Fresh Blackberries - If you're lucky enough to have access to some wild blackberry bushes then you already have an abundance to use!
Sugar - Not a ton, compared to many other jam recipes you'll find. We prefer to let the natural sweetness and flavor of the berries shine! To cut out white sugar, you can also use maple syrup or honey. You will need less honey than sugar and it will need to cook longer, but you can use it. See recipe notes for full instructions.
Lemon Juice - While the berries have enough acid to allow this homemade blackberry jam to be canned, the added lemon juice helps not only to enhance the berry flavor but also to allow this summer berry jam to gel without the use of added pectin.
That's it! Just three simple ingredients are all you need to have your own homemade Blackberry Jam!
What is Pectin?
Pectin is a soluble fiber that's found naturally in many fruits and vegetables. It is used as a preservative to gel jam, jellies, and candies. The powdered pectin you can buy in the store is made typically made from the fruit rind. The benefit of using pectin are that it greatly reduces the cooking time. The downfall is that it's a processed preservative and that using it will actually reduce the flavor that can be developed from the slow-cooking process that will naturally produce pectin.
While you need pectin for the jam to gel, you don't need the store-bought kind, especially for a high pectin fruit like blackberries. The naturally occurring pectin in these summer berries is released with the addition of acid, sugar, and heat. The acid (lemon juice) is what will help "pull" the pectin from the fruit while it simmers. The sugar will "pull" some of the water away from the pectin and this is what allows the pectin molecules to gel. Yay, science! Here's an article with a lot more detail about the process if you're interested. But in short, pectin + sugar + acid, that's all you need to make a nice thick homemade jam.
Low Sugar Jam
This homemade blackberry jam is a recipe that is very low in sugar. It has enough for all of the science of natural pectin jam to work, but it also means that it needs a wee bit longer to cook. But one of the things I dislike about store-bought jams, most of the time, is that they are just way too sweet. We want to taste the naturally delicious flavor of the berry in the jam, not just the sugary sweetness. In most jam recipes you'll find a 1:2 sugar to berry ratio, some even (shockingly) use a 1:1 ratio of sugar to berries. Low sugar jams are usually about 1:4, but even that was too sweet for us. Again, one of the best parts of adding your own from scratch flair to your everyday foods, is you are in complete control! You can add as much or as little sugar as you want to your summer berry jam.
Incredibly Easy to Make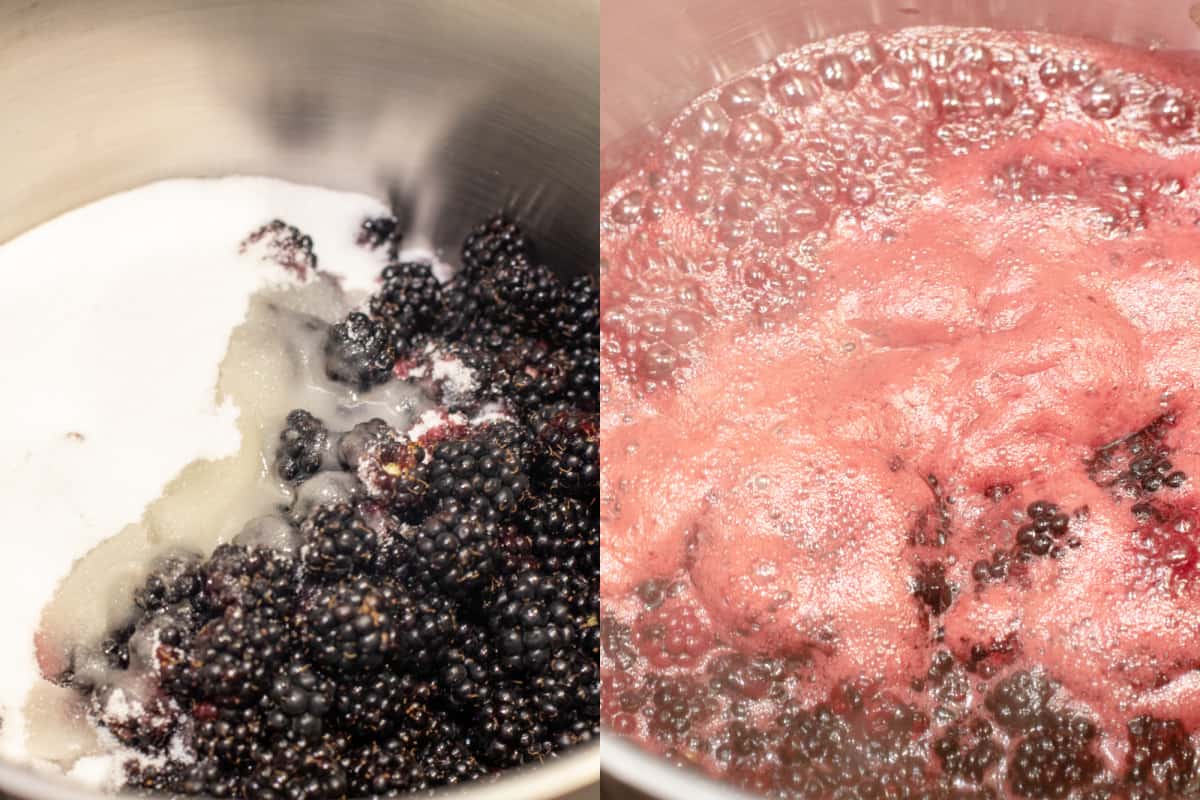 Making your own summer berry jam is so easy, as long as you have a little time and patience.
First, add all to a pot, give it a little mash, and bring to a gentle boil.
Be sure to use a good-sized pot because the homemade jam will foam quite a bit during cooking. That's normal and will just need a good stir.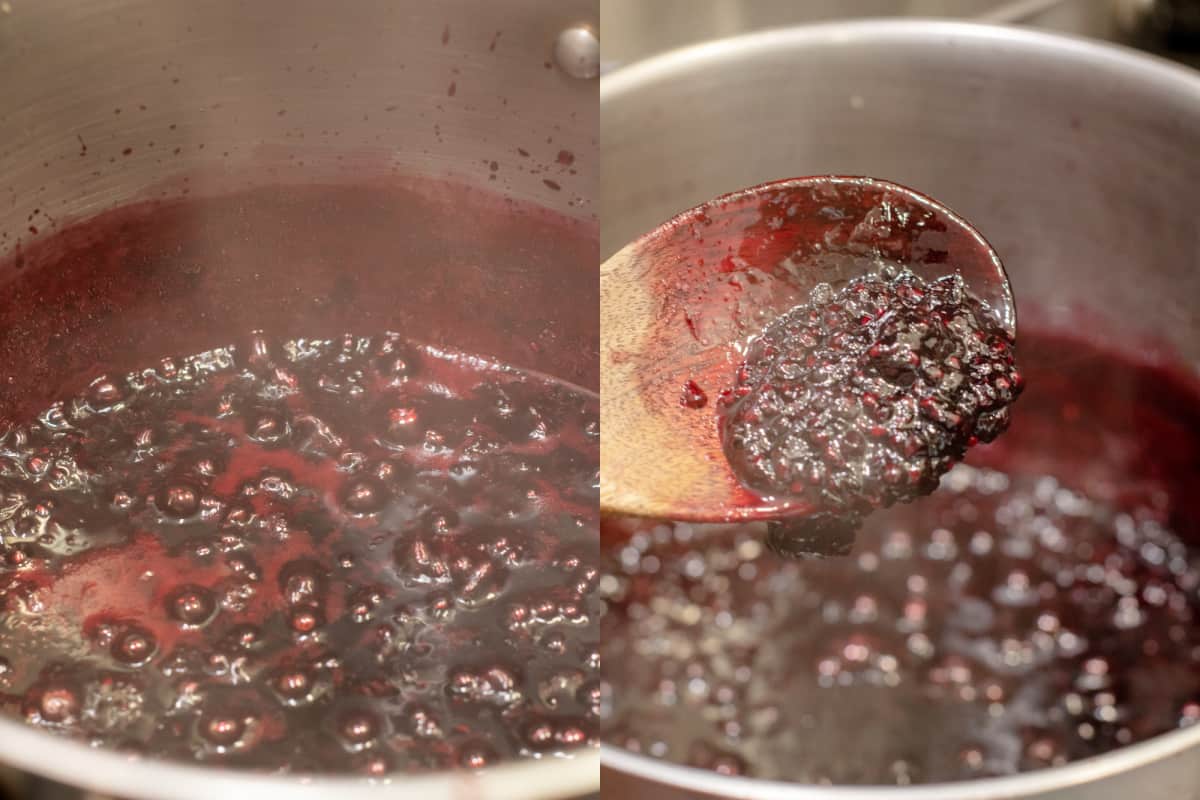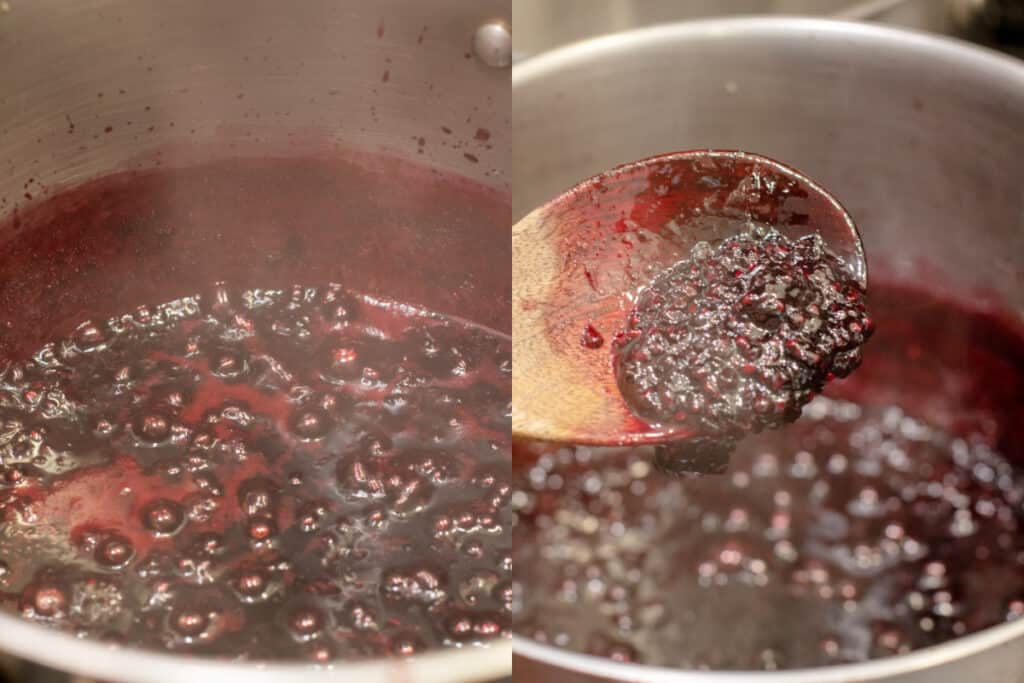 Next, just let it simmer so that it cooks down, the pectin is released, and the blackberry jam begins to gel and thicken. The amount of time this takes will depend on how much sugar you decide to add. For this low sugar jam, it takes about 40-45 minutes to fully gel.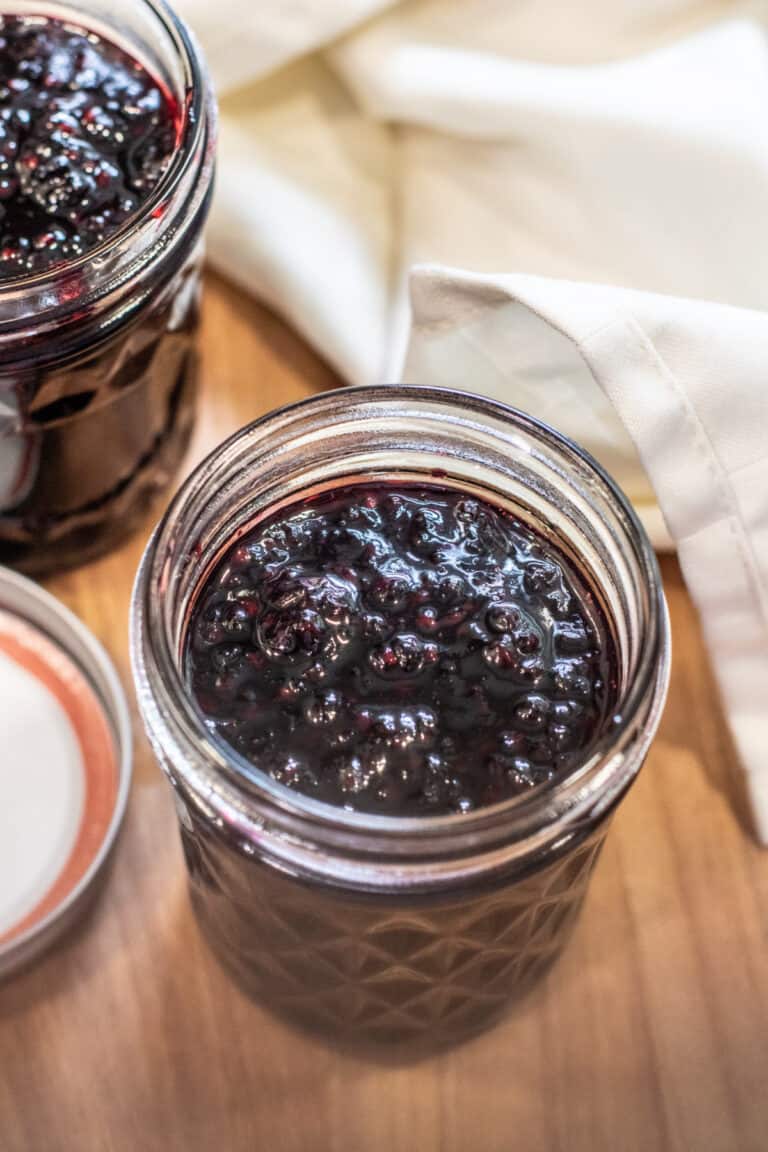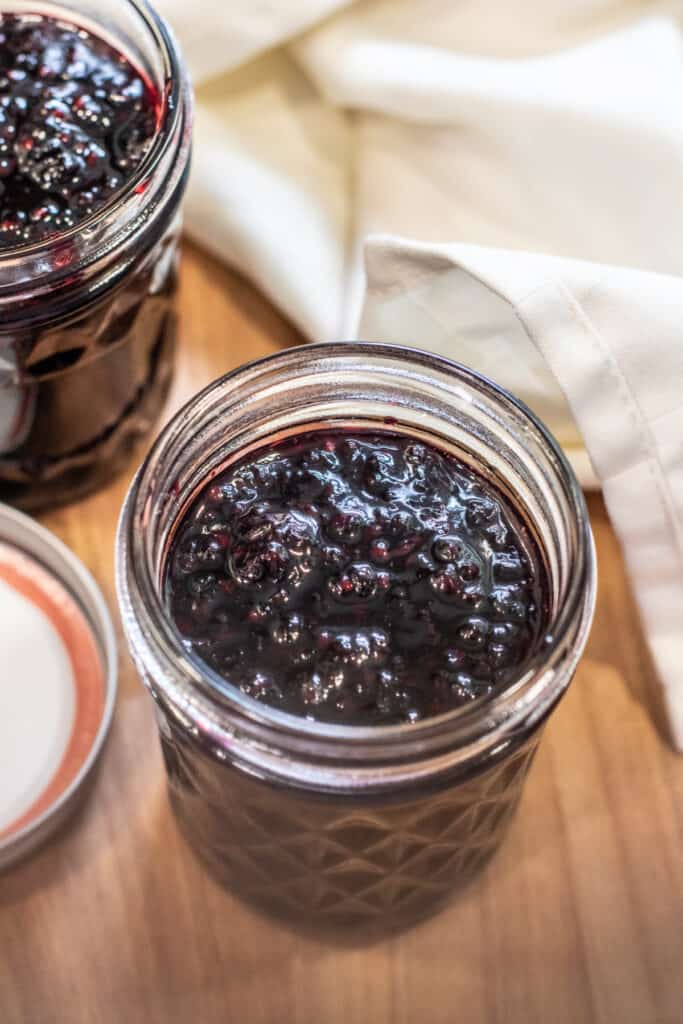 Once it's done, you're ready to add to your canning jars and preserve that little bit of summer to enjoy all year long!
Enjoy this jam on some of our homemade bread like our English Muffins From Scratch or Homemade Hawaiian Sandwich Bread (which makes the most amazing toast). Or top our Banana Waffles with it or Strawbery Banana Oat Pancakes with a dollop!
Canning Fresh Jam
You can use the water bath method for this jam. Always be sure to sterilize your jars, use fresh lids, and then boil in a water bath for 10 minutes. Our preferred canning jars for jam are these 6 oz jars.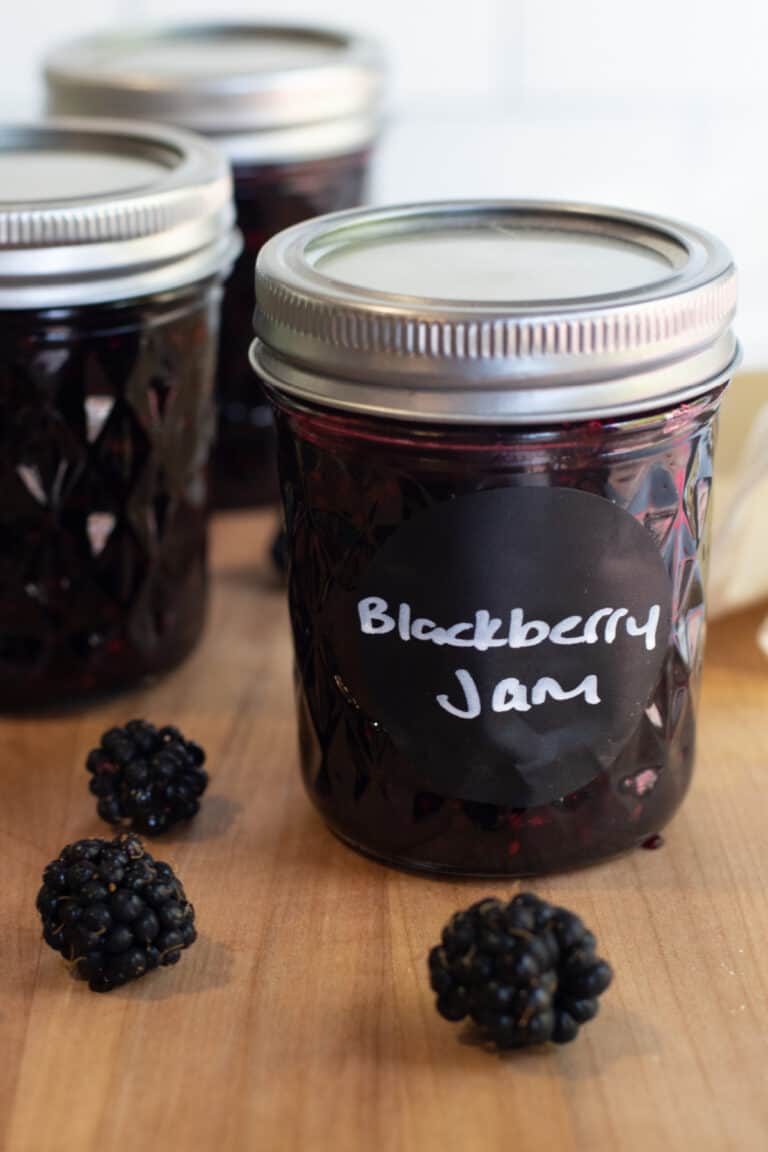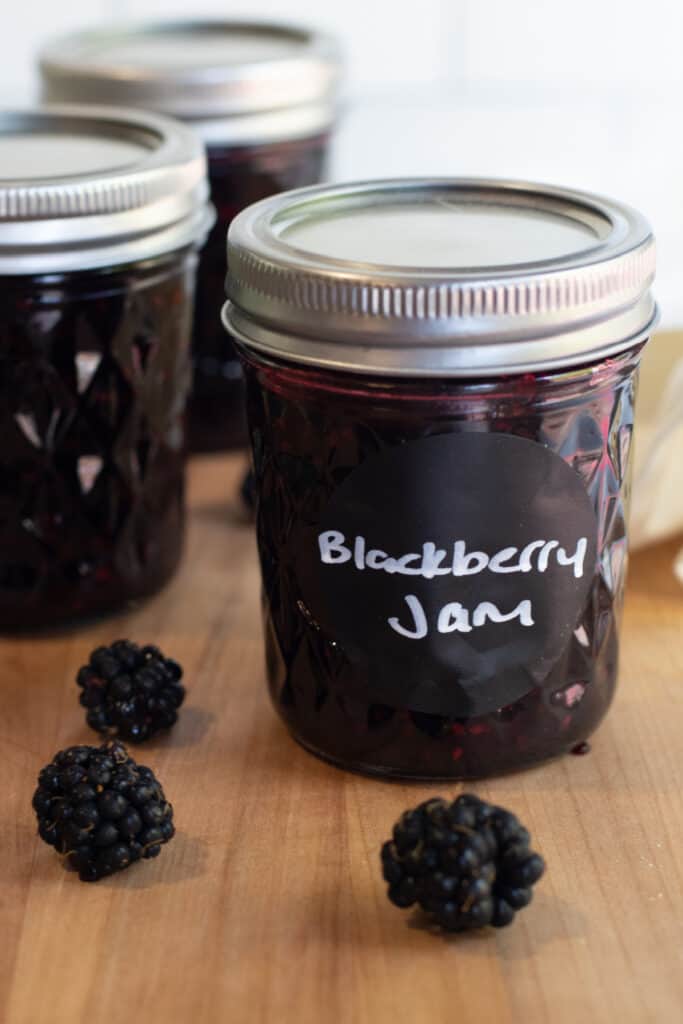 FAQs
Can I use frozen blackberries?
Yes. But if you do, add the frozen berries into a bowl and add the lemon juice. Let it all macerate (soften) in the lemon juice before adding it to a pot with the sugar to boil.
Should I add butter when the jam starts to foam?
No! This is totally unnecessary, in my opinion. Plus, a good rule of thumb is to not can any dairy. However, this amount will really not make much of a difference, also adding butter to help with the foaming is an unnecessary addition, when all you need to do is use a larger pot and watch the jam to stir it when it foams.
How do I know it's done?
The best way is to use an instant-read thermometer to test to see if the jam has reached 221° F. You can also use the gel test by placing a ceramic plate in a freezer when you start to cook your jam. When you want to test, add a teaspoon of the jam to the plate and return it to the freezer for 3 minutes. At the end of the 3 minutes, push the jam with your finger, and if the top wrinkles a bit when pushed, then it's done.
How much does this recipe produce?
From the 6 cups of fresh blackberries, once cooked down, this recipe produces about 18 oz of blackberry jam. We store it in 3 6 oz jars.
How long does fresh jam last?
If you don't want to can this recipe, then this jam will last about 3-4 weeks in the fridge and up to 3 months in the freezer.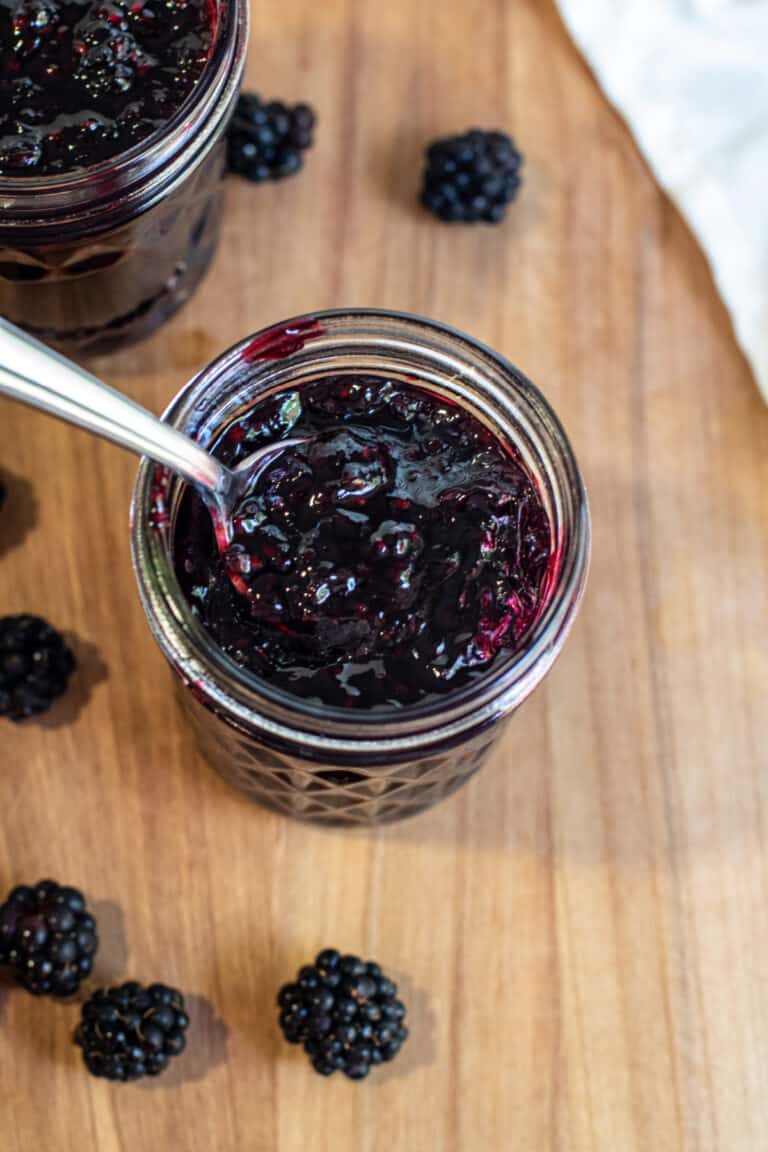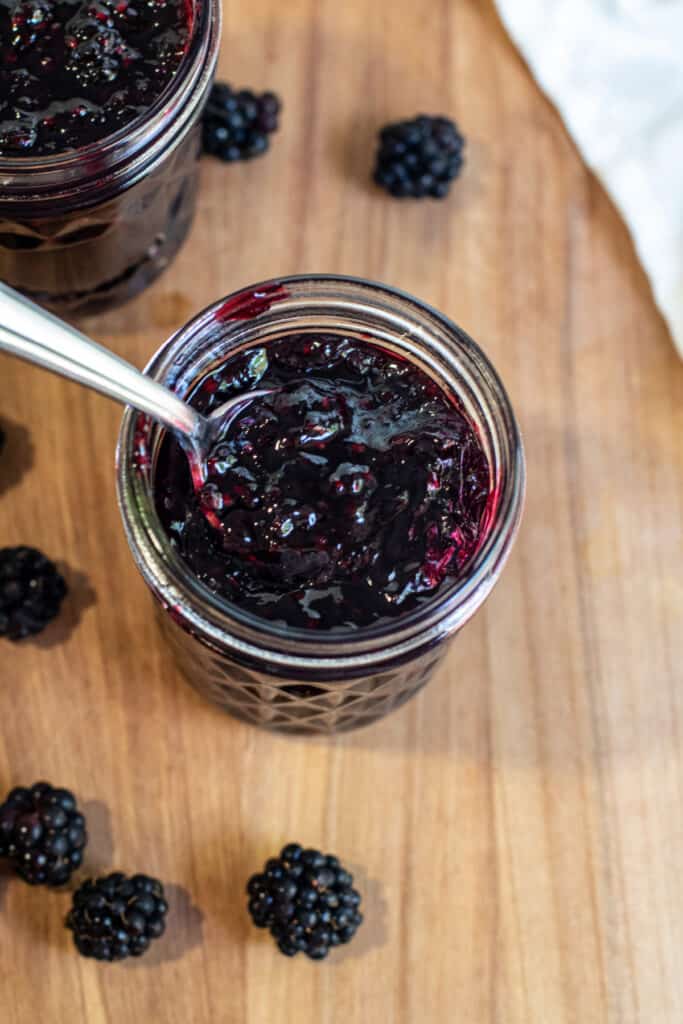 Happy final weeks of Summer! Soon it'll be back to school and cooler weather, but you can reminisce with this fresh summer berry jam all year long!
Enjoy! As always, if you make this recipe or any of my others, I love to hear what you think! Leave a comment below, email me, or you can find me on Facebook, Instagram, and Pinterest!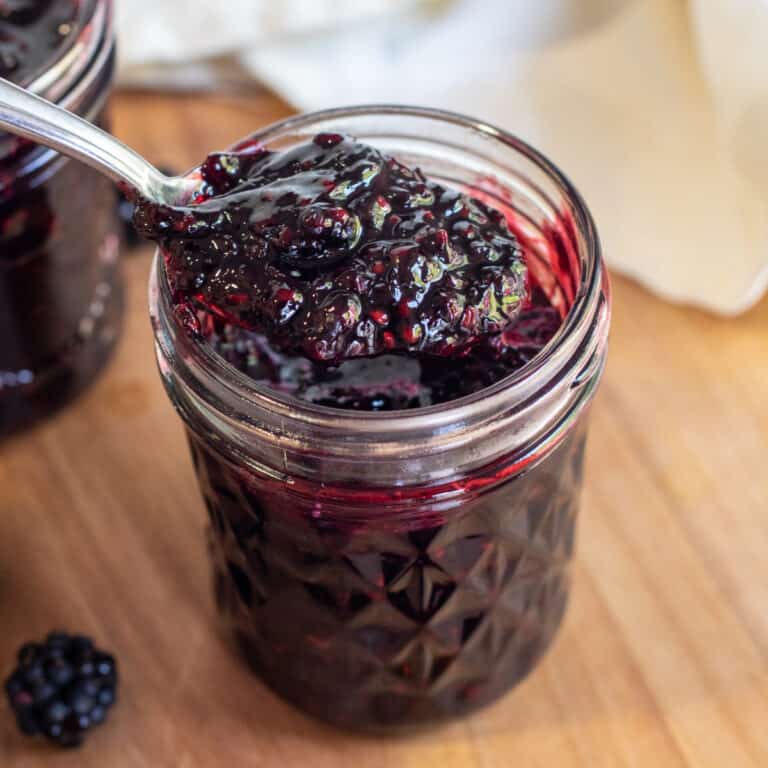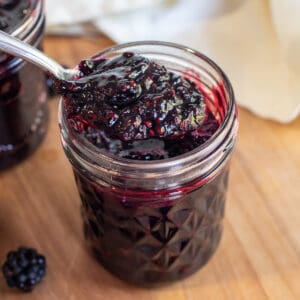 Blackberry Jam - Without Pectin
Store those fresh summer berries in a jam to enjoy all year with this easy, low sugar homemade blackberry jam recipe.
Print
Pin
Rate
Ingredients
6

cups

fresh blackberries

1

tablespoon

lemon juice

bottled

1 - 1 1/2

cups

granulated sugar
Instructions
Add berries, lemon juice, and sugar to a large pot and heat to medium. Use a fork or a potato masher to gently mash down the berries to release some of their jucies.

Heat on medium, bring to a gentle boil, and then turn the heat down to medium-low to simmer. The berries will foam, just stir occassionally to reduce the foam.

Let simmer until the jam begins to gel, or when it the temperature of the jam reaches 221° F.

Add to canning jars and can with a water bath or store in fridge or freezer.
Notes
The nutritional value is approximately per oz or 6 servings in 1 6 oz jar.
Storage
Fridge: Store in an airtight container in the fridge for up to 3-4 weeks.
Freezer: Store in a freezer-safe container and freeze for up to 3 months.
Canning: Use safe water bath canning methods to can and store this jam for up to 1 year in a cool dry place.
Substitutions
Blackberries: You can use frozen blackberries in place of fresh by adding the thawed berries to a bowl with the lemon juice. Let it all macerate (soften) in the lemon juice first and then add to the pot with sugar.
Lemon Juice: For this recipe, we prefer to use concentrate to ensure high acidity, which can vary if using fresh lemons.
Sugar: This is a low sugar jam. While we prefer to use only 1 - 1 1/2 cups of granulated white sugar, you can use up to 5 or 6 for a very very sweet jam. You can also use up maple syrup or honey, 1 cup for a low sugar jam, or more for a much sweeter jam.
Tips
Pot: Use a larger pot because the berries will foam as they reduce, to prevent foaming over.
Nutrition
Calories:
128
kcal
|
Carbohydrates:
32
g
|
Protein:
1
g
|
Fat:
0.3
g
|
Saturated Fat:
0.01
g
|
Polyunsaturated Fat:
0.1
g
|
Monounsaturated Fat:
0.02
g
|
Sodium:
1
mg
|
Potassium:
79
mg
|
Fiber:
3
g
|
Sugar:
30
g
|
Vitamin A:
103
IU
|
Vitamin C:
10
mg
|
Calcium:
14
mg
|
Iron:
0.3
mg