It's healthy and packed full of fresh herbs, our Easy Homemade Tabbouleh (tabouli) recipe is a simple but flavorful Eastern Mediterranean salad that requires no cooking. It's a great way to put an abundance of fresh herbs to delicious, nutritious use!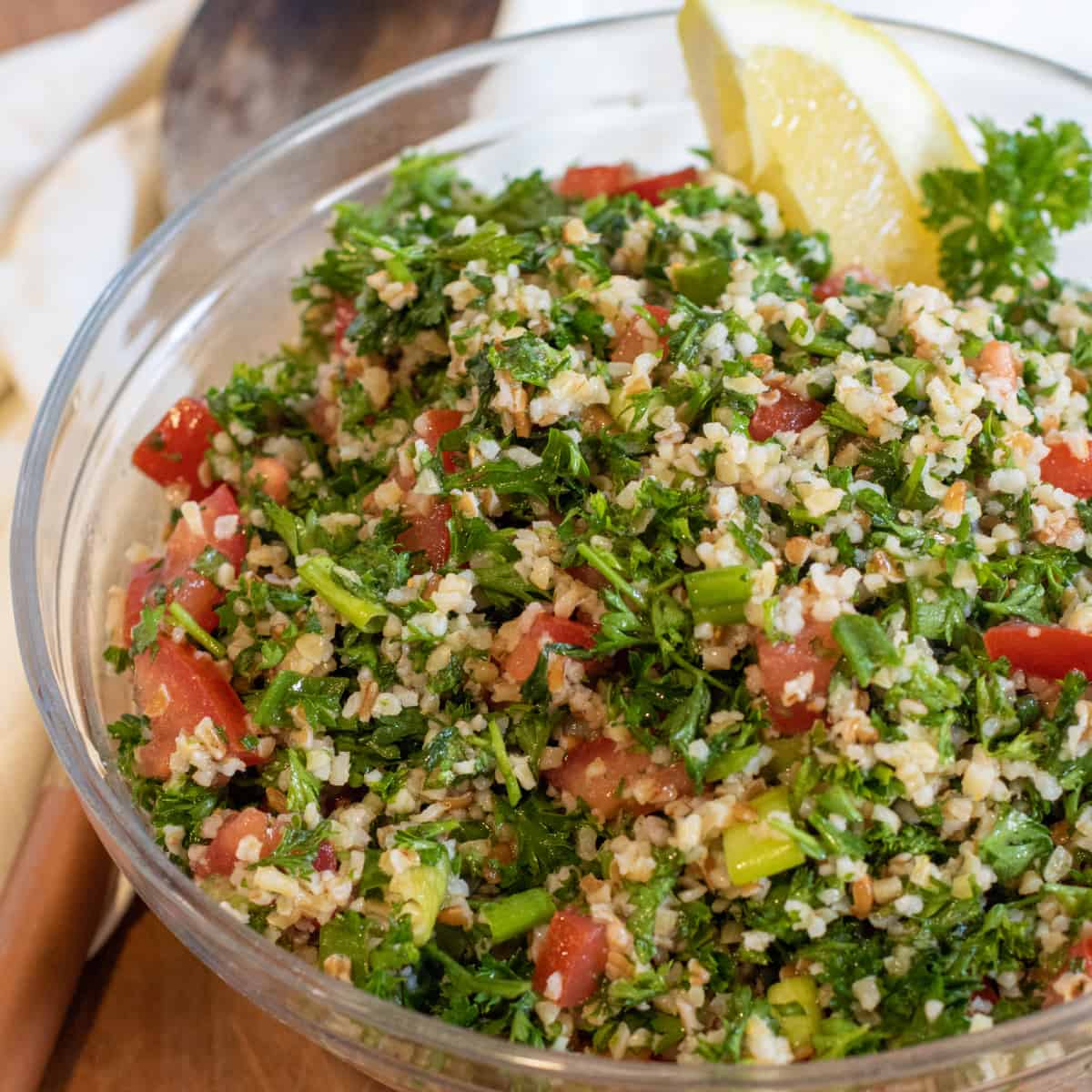 Is there anything more summer than herb-packed sides? Especially when they are freshly picked from a summer herb garden! This Easy Homemade Tabbouleh (also known as tabouli), is exactly that! It's fresh, bright, and (also key for a summer recipe) easy to make and requires no cooking, which means no heating up your kitchen during the hot summer months. Not only that, it's packed full of fiber, vitamins A, C, B12, and more!
What is Tabbouleh (tabouli)?
Originating from Lebanon and Syria, this Eastern Mediterranean / Arabic salad is typically seen as a part of the mezze portion of the meal, which is the small plate, or appetizer part of a multi-course meal. Tabbouleh (and can also be seen as tabouli, tabouleh, and tabbouli) is one of the most popular salads in the Middle East, so much so that its country of origin, Lebanon, has an annual Lebanese National Tabbouleh Day, the first Saturday of July.
A traditional tabbouleh recipe is made up of fresh parsley and mint, tomatoes, bulgur wheat, olive oil, and lemon dressing. Dependent upon where you are, the ratios of each will vary. For instance, in Syria and Lebanon, there is typically more parsley than wheat, however, you will also see varieties with greater bulgur to herb ratio, similar to the Armenian version called eetch. For our Easy Homemade Tabbouleh recipe, we prefer a slightly greater bulgar to herb ratio, because that's what my kids like. Of course, that means it is a slightly less traditional version than what you will find in a Lebanese restaurant, but you can of course adjust these ratios to your own preference.
Ingredients Needed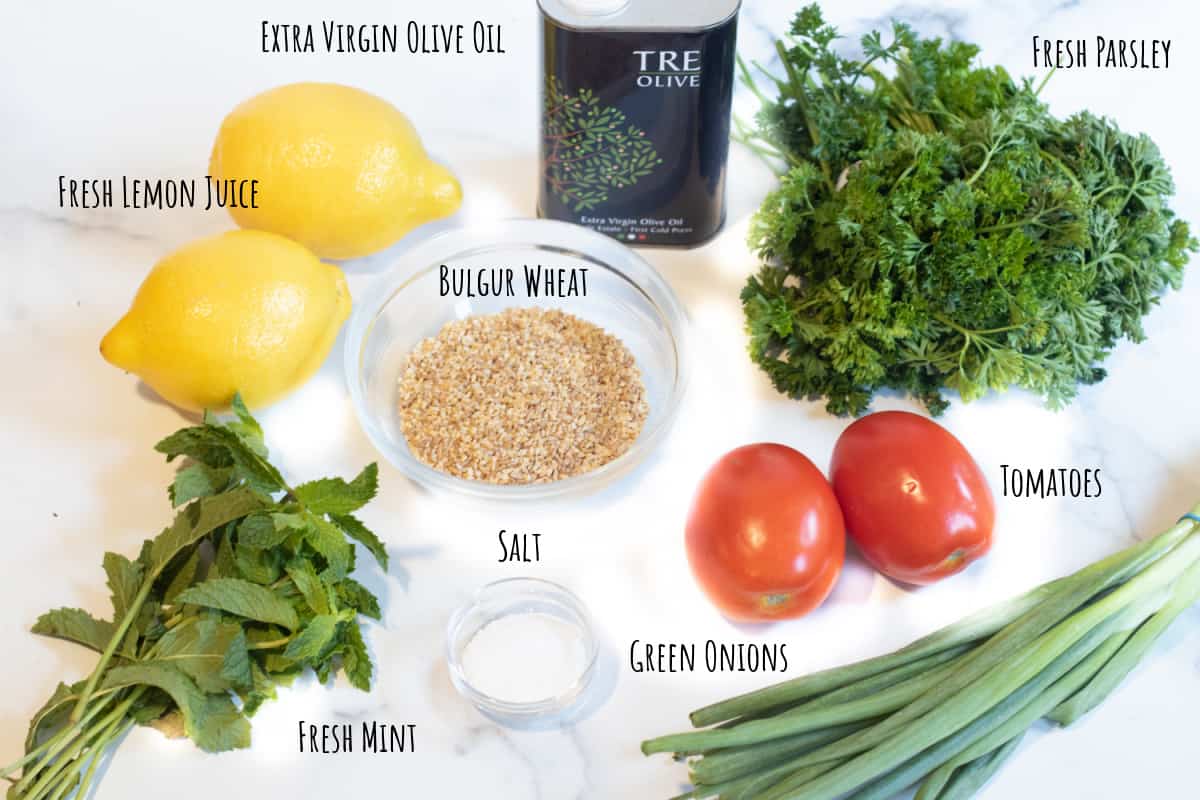 Bulgur Wheat - This super healthy nutty whole grain is made from dried, cracked wheat packed full of protein, fiber, manganese, and loads of vitamins and minerals. Be sure to use fine bulgur wheat as it is what's best for homemade tabboulehs and other salads. Coarse bulgur wheat is better for other dishes.
Parsley - Fresh is absolutely key for this recipe. You cannot substitute dried for this. We prefer curly parsley for this, simply for aesthetics. You can of course use flat parsley, too.
Tomatoes - Just a few. Romas are our go-to's for salads like this because they have firmer flesh and fewer seeds.
Green Onions - These add such a lovely mild onion flavor and just the right amount of texture.
Fresh Mint - Again, fresh is absolutely key here.
Lemon Juice - We also prefer fresh for this, but you can of course use bottled, too.
Extra Virgin Olive Oil - This is where you break out the good stuff. We love this olive oil from Tre Olive and it's what we use for all of our dressings.
Salt - Kosher salt is always our go-to, but you can use table salt, too. See the recipe card for conversions, though.
How to Prepare Bulgur Wheat
When I say this is an easy tabbouleh recipe, I mean that it's so easy that there's no cooking involved! That's because the best way to prepare or "cook" your bulgur wheat actually is not by cooking it on your stovetop, which means there's no need to heat up your oven!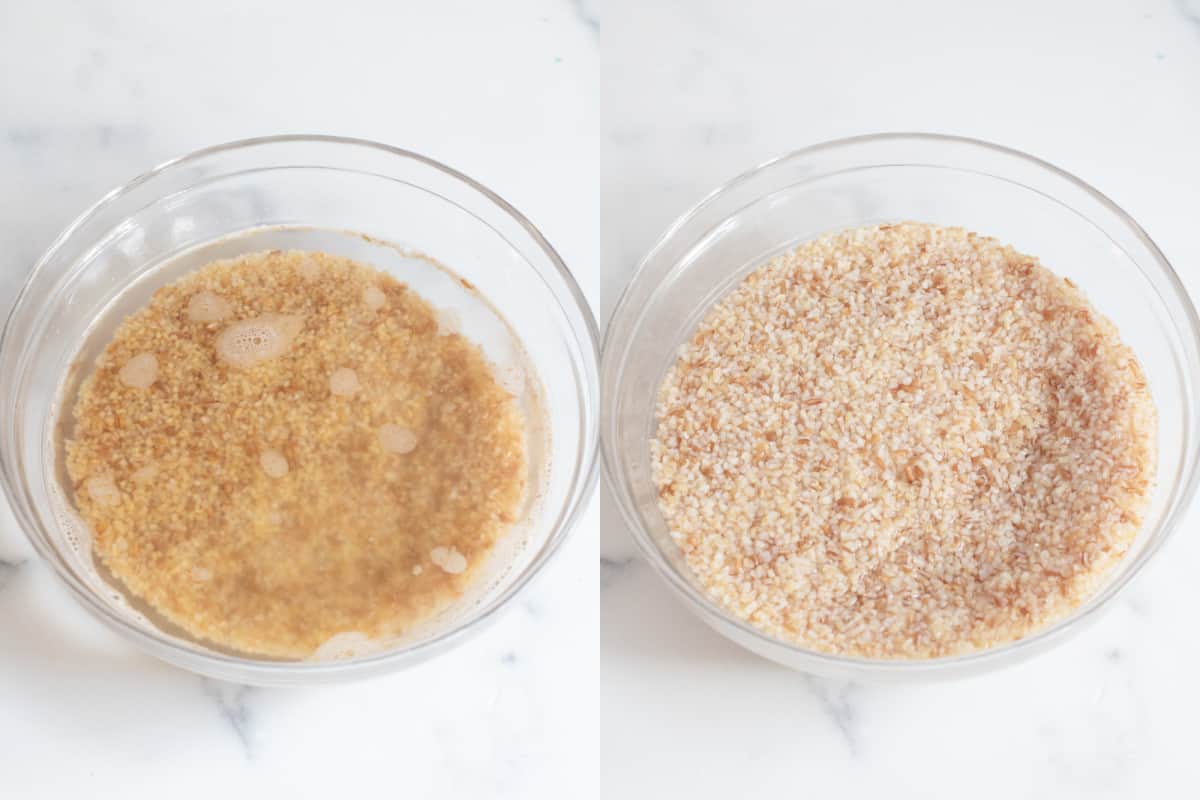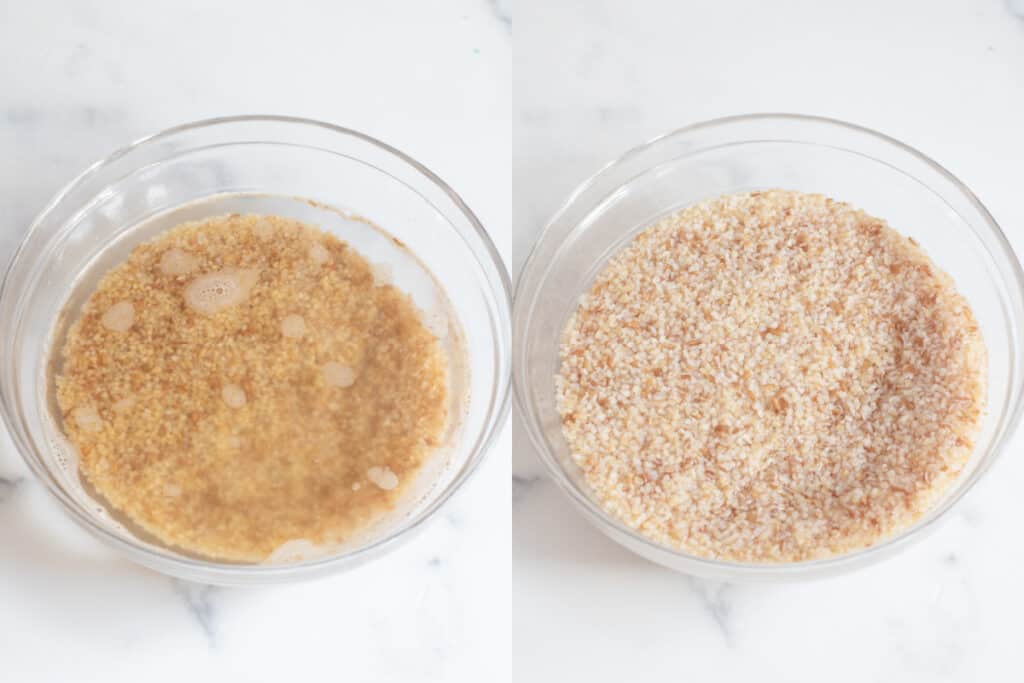 While you certainly can boil bulgur to soften it, the best is actually to soak bulgur wheat to cook it. This will give it a chewier texture which is best when using it in salads like this tabouli recipe.
With a 1:2 ratio, just add your bulgur wheat to a bowl and then add 2x the amount of boiling water and let it soak. In about 30 minutes, you'll have delightfully "cooked" bulgur wheat.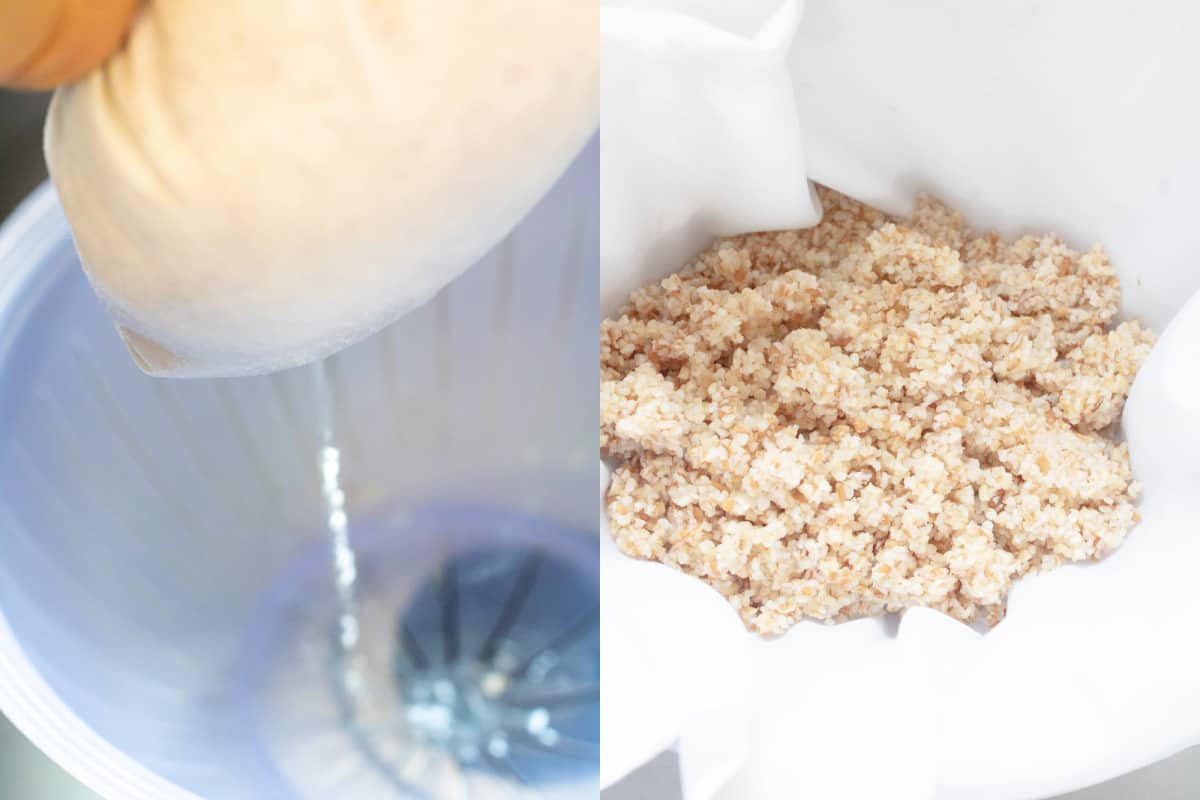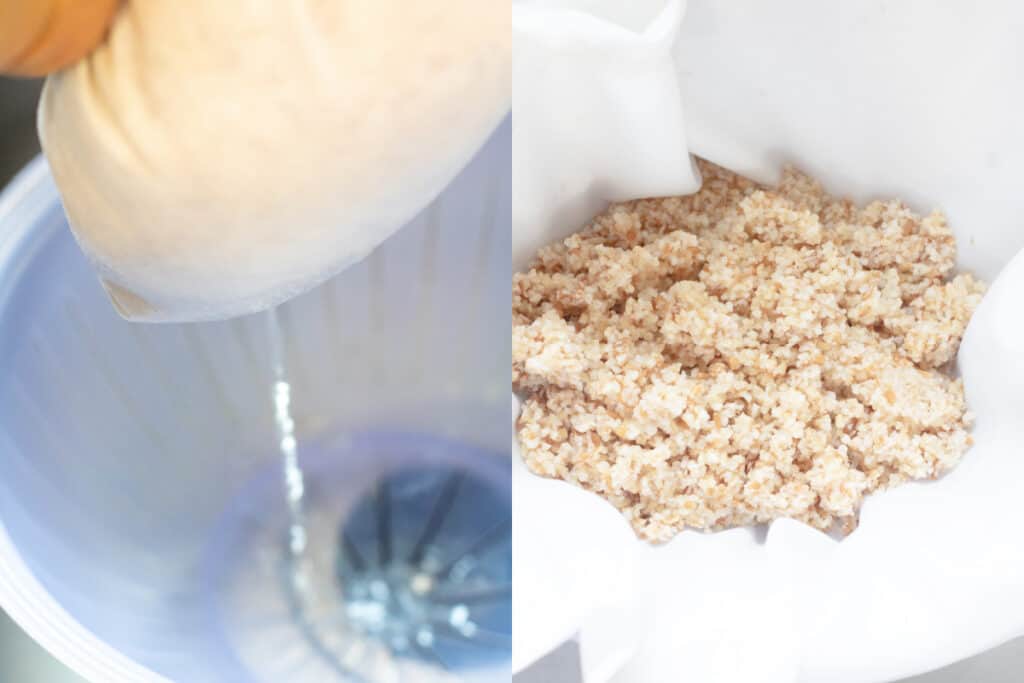 Once tender and chewy, I like to add that bulgur to a colander lined with a linen cloth or a double-lined cheesecloth and give it a good squeeze to get out any excess water.
So Easy to Make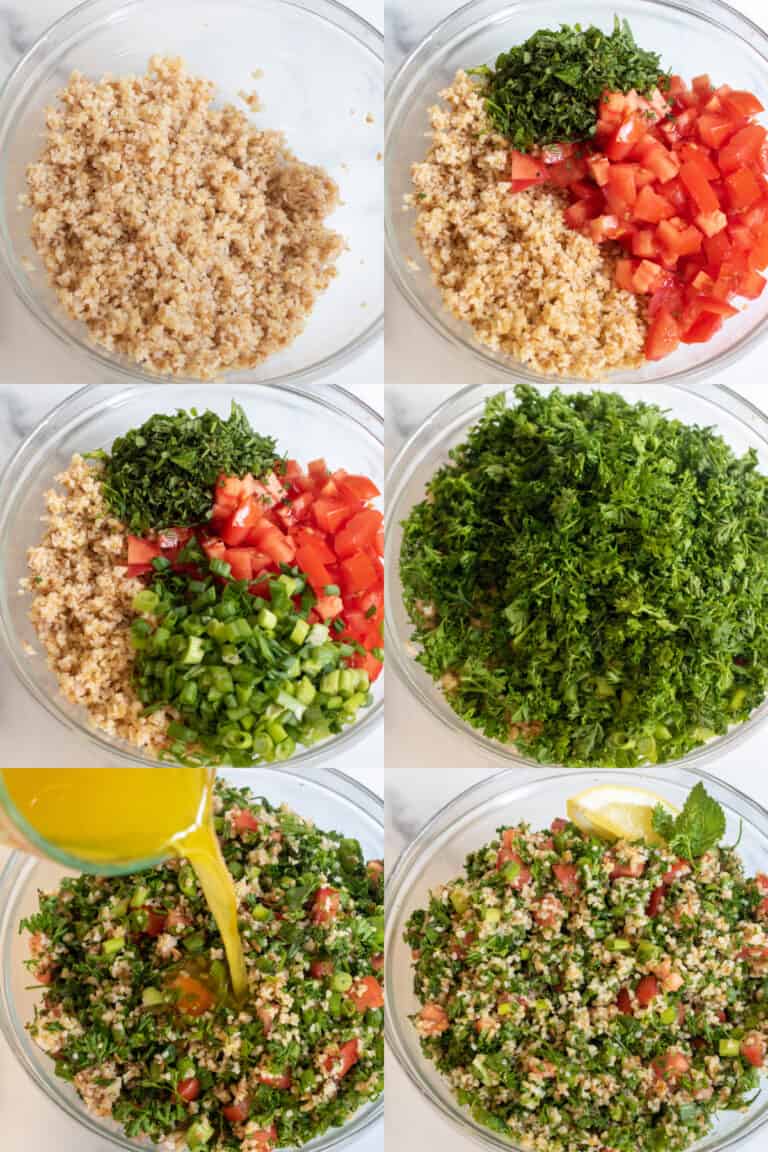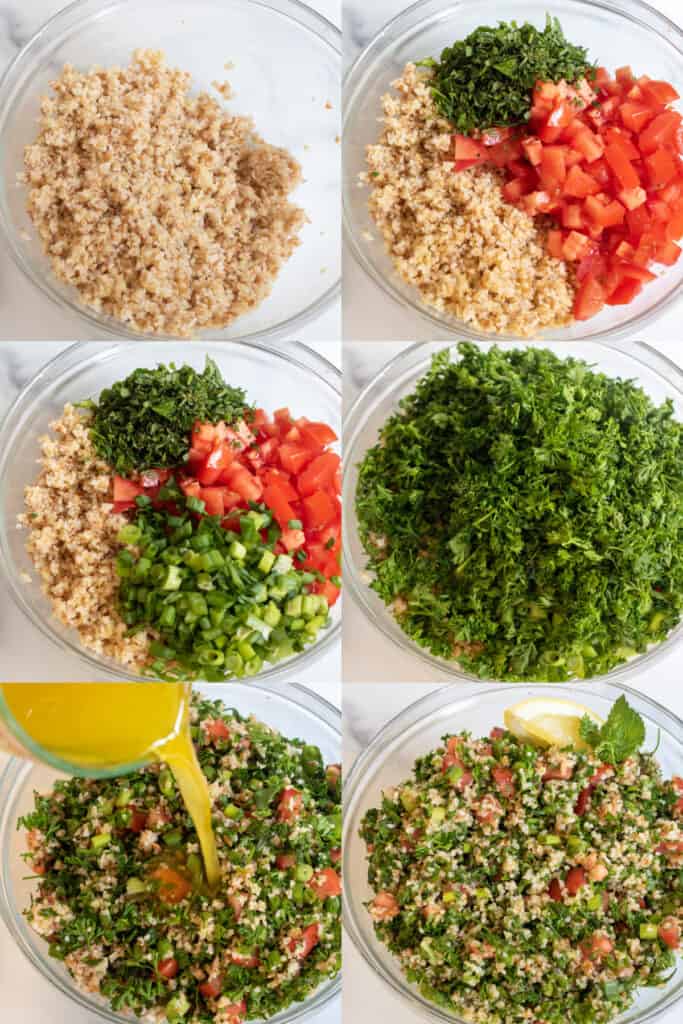 While your bulgur is soaking, give all of your veggies and herbs a chop, prep your dressing, and then it's just a matter of adding it all to a big bowl, giving it a mix, and you're done!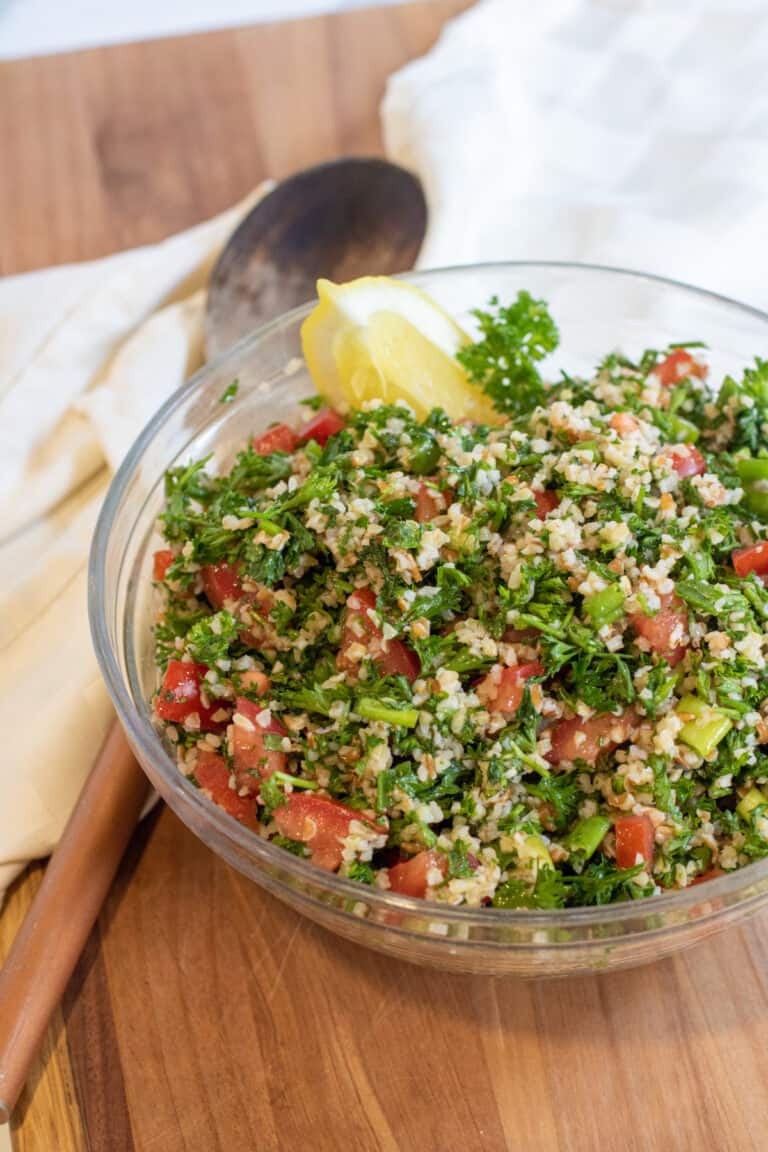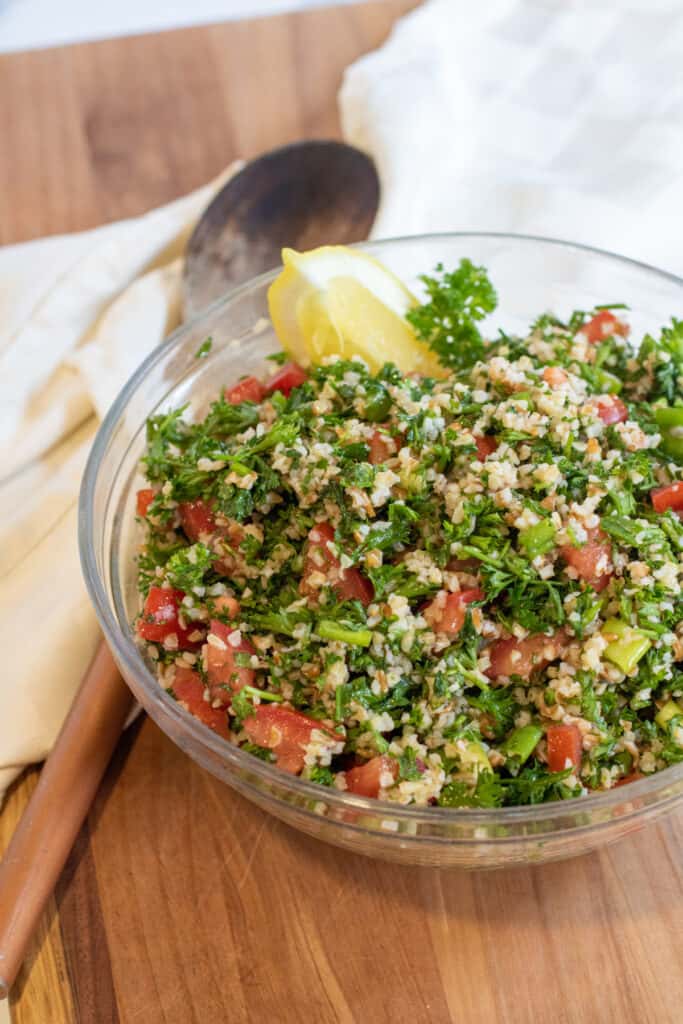 So fresh. So easy. So delicious. Easy Homemade Tabbouleh! No stovetop. No oven. No fuss required. An incredibly easy, healthy, vegan, Summer salad that is the absolutely perfect way to utilize an abundance of fresh parsley in your garden!
Recipe Tips
Can I boil the bulgur?
You definitely can, if you want to save some time. But the texture isn't quite the same. See recipe notes for how.
Prepare in advance
This is such a great recipe to make ahead. You can add all of the herbs and veggies together the night before a summer get-together and prep the dressing and then just mix it whenever you're ready. Or prep it all for some healthy hearty lunches for the week!
Adjust the bulgur to parsley ratio
A more traditional Lebanese tabbouleh will have higher parsley to bulgur ratio, while other recipes will have more bulgur to parsley. We've tested this ratio a few times and this is our favorite. But of course, you can adjust it to your preference.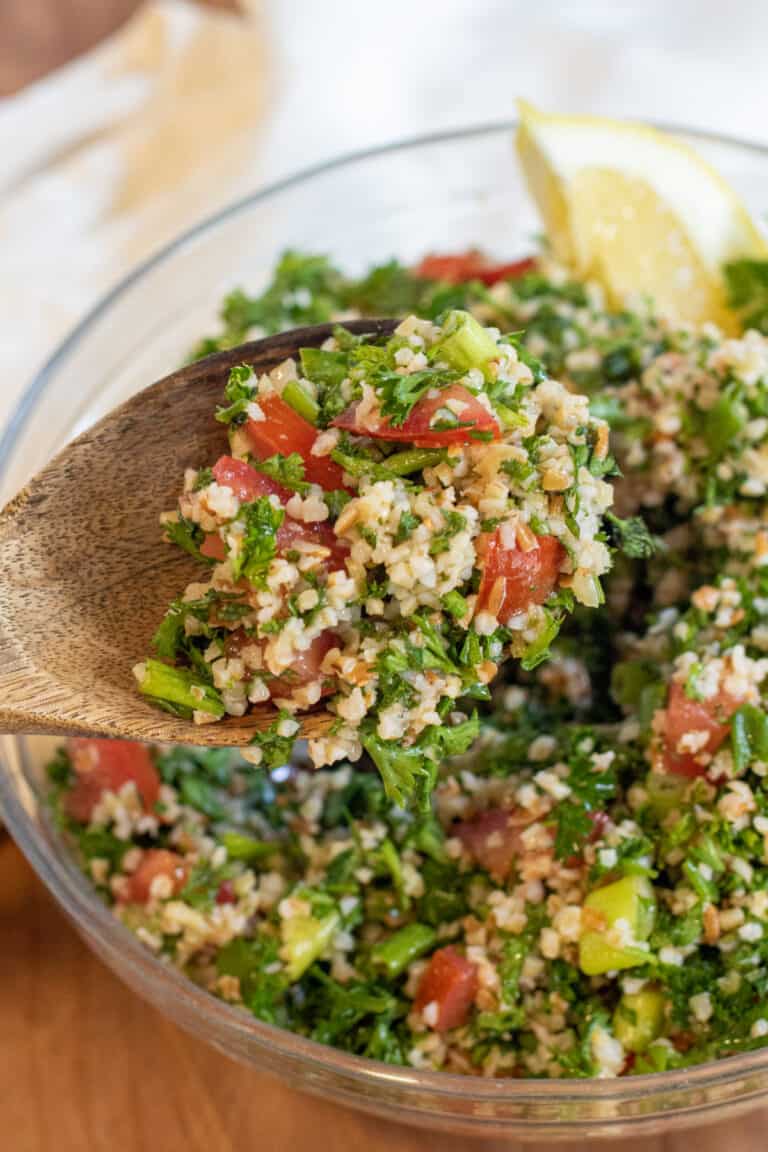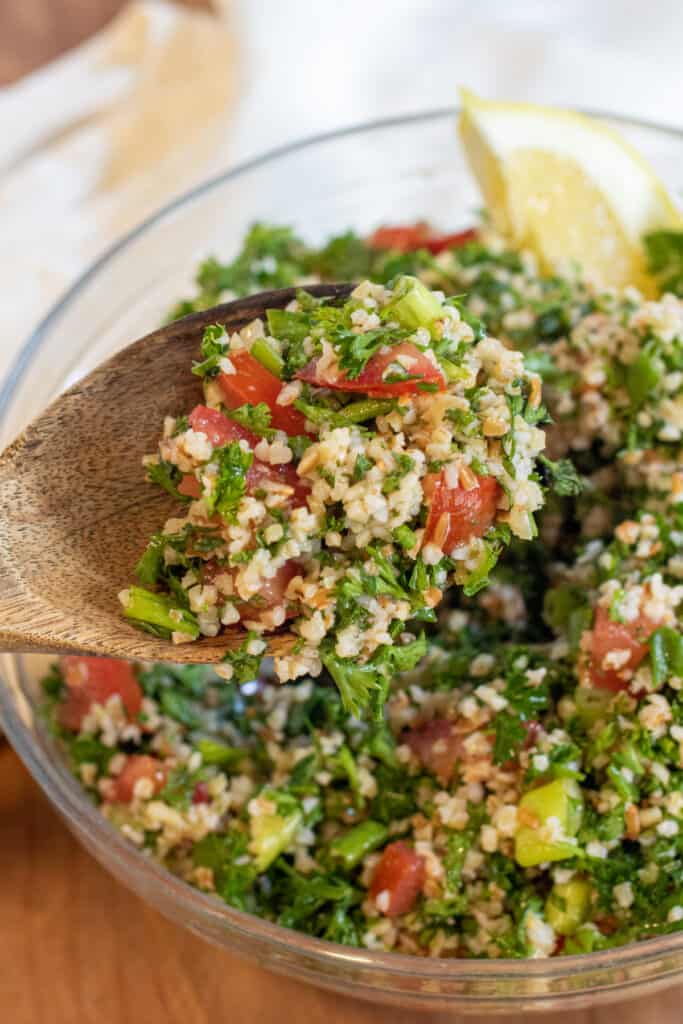 Savor the fresh summer herbs with this one, friends! It's a healthy summer side that'll be welcome at any gathering.
Other Summer Sides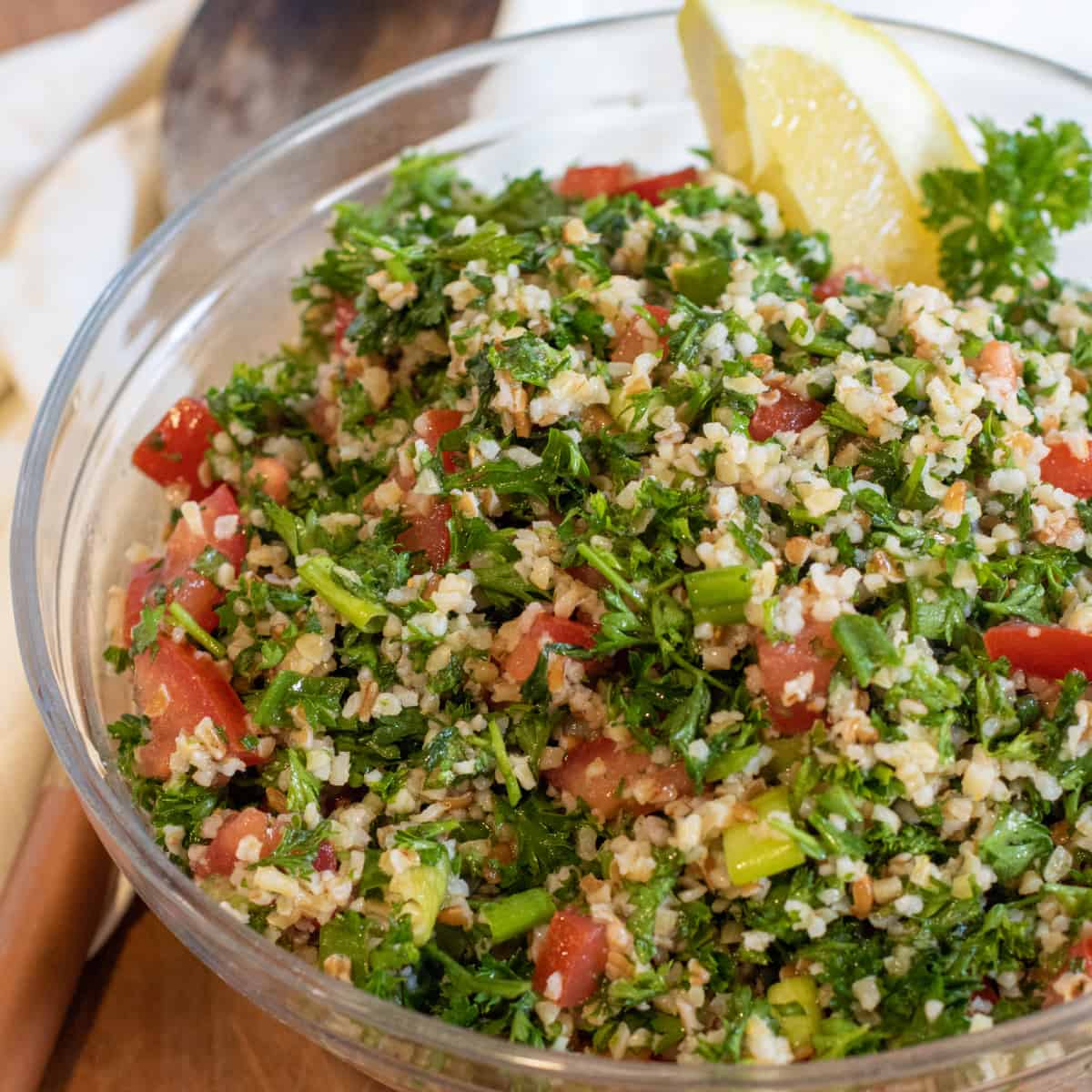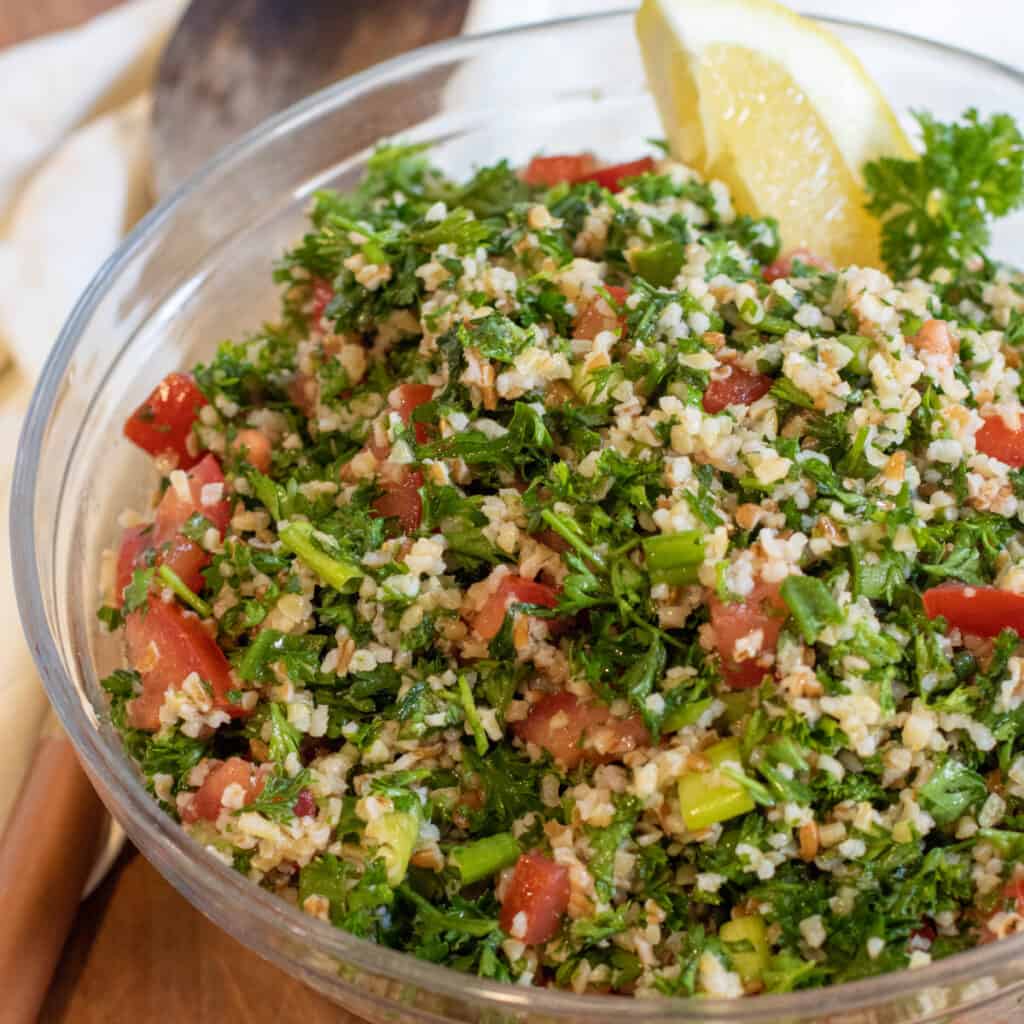 Enjoy! As always, if you make this recipe or any of my others, I love to hear what you think! Leave a comment below, email me, or you can find me on Facebook, Instagram, and Pinterest!
If you want to see more, be sure to sign up for my 5 Easy Ways to Start Cooking From Scratch!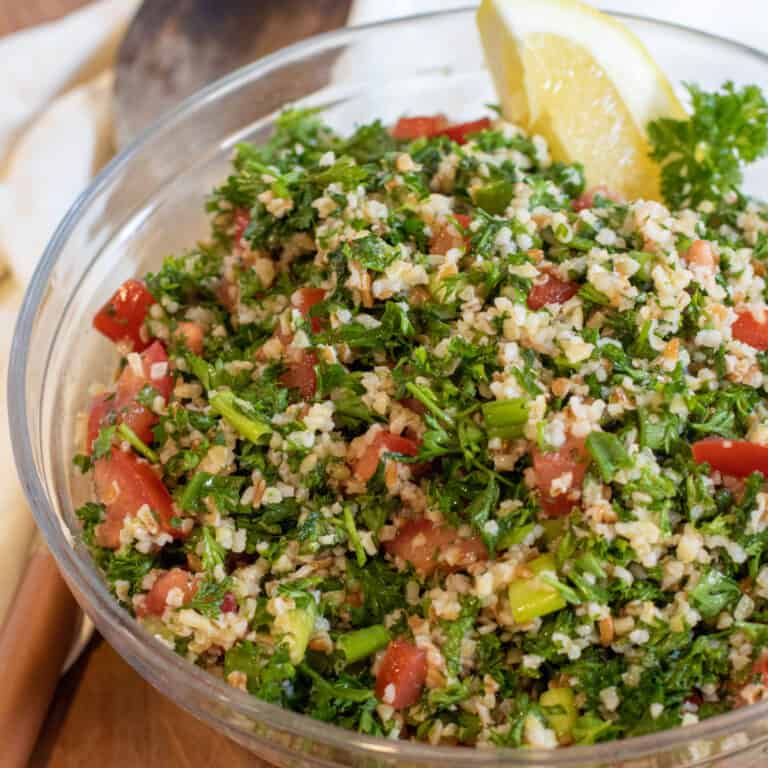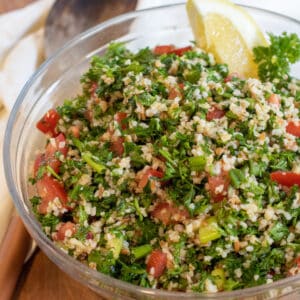 Easy Homemade Tabbouleh (tabouli)
An incredibly easy, fresh, healthy, vegan, side salad
Print
Pin
Rate
Equipment
linen cloth or cheesecloth
Ingredients
1

cup

fine bulgur

2

cups

boiling water

3

cups

curly parsley

minced

3/4

cup

green onion

chopped , approximately 1 bunch

1/4

cup

fresh mint

minced, about .25 oz

1 1/2

cups

roma tomatoes

diced approximately 2 large tomatoes

1/2

cup

extra virgin olive oil

1/2

cup

lemon juice

fresh squeezed

1 1/2

teaspoon

kosher salt
Instructions
Bring a pot of water or kettle of at least 2 cups of water to a boil. Line a colander with a linen napkin or a double lined cheese cloth and set aside.

Add bulgur wheat to a large bowl. Add water and let soak for at least 30 minutes.

Meanwhile, prep veggies and herb, add a bowl and set aside.

In a bowl or spouted pyrek, add olive oil and lemon juice and salt and whisk vigerously.

Once bulgur is tender, pour into lined colander. Gather edges and squeeze out excess water.

Add bulgur to bowl with everything else and mix. Give another whisk of the vinaigrette to ensure all salt is mixed, and then pour over tabbouleh and mix well.

Serve with a lemon wedge and enjoy!
Notes
Storage Fridge: Store in the fridge for up to 4 days. Prepare in Advance: This salad is great for meal prepping for the week! Substitutions Bulgur: Fine bulgur is the best for soaking, but you can also soak medium coarse bulgur. If you use coarse bulgur then you will need to boil it. Parsley: Use curly or flat. Tomatoes: Use your favorites. Cherry tomatoes are also great. Cooking Bulgur Stovetop: Add bulgur to a pot of water and bring to a boil. Lower heat, cover, and let cook for approximately 12 minutes or until all of the liquid is gone.
Nutrition
Calories:
203
kcal
|
Carbohydrates:
18
g
|
Protein:
3
g
|
Fat:
14
g
|
Saturated Fat:
2
g
|
Polyunsaturated Fat:
2
g
|
Monounsaturated Fat:
10
g
|
Sodium:
456
mg
|
Potassium:
351
mg
|
Fiber:
5
g
|
Sugar:
2
g
|
Vitamin A:
2421
IU
|
Vitamin C:
44
mg
|
Calcium:
53
mg
|
Iron:
2
mg