This Sesame Soba Noodle Salad is a new family favorite! Not only is it ready in 15 minutes and it's great to make in advance, but it's also packed full of veggies and protein, making it the perfect hearty cold noodle salad!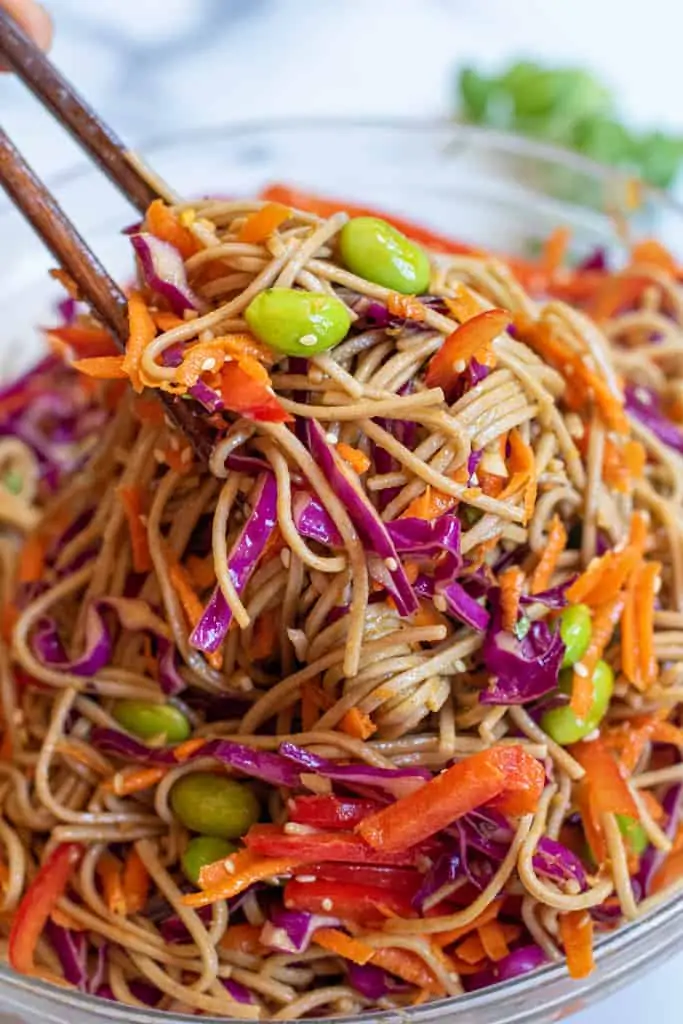 It's a rainbow in a bowl! I have been craving a cold soba noodle salad for a while now and let me just say, this Sesame Soba Noodle Salad does not disappoint. My entire family loves it and happily gobbles up all of the veggies and noodles covered in a mildly sweet sesame ginger dressing!
This cold noodle salad recipe is absolutely perfect for summer. Not only is it made in minutes, but it's also perfect for meal prep for easy, flavorful, healthy lunches or dinners all throughout the week! Plus it's like a rainbow in a bowl, which for my girls, scores huge points!
Ingredients Needed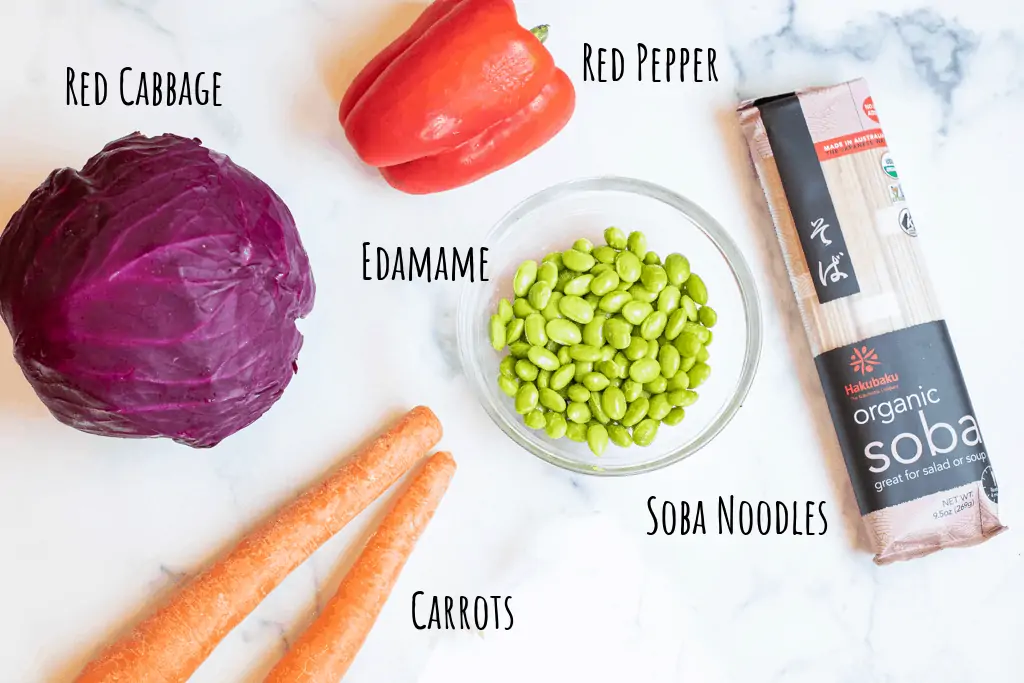 This salad is packed full of not just veggies, but also protein paced edamame and buckwheat soba noodles!
Soba Noodles - Don't let the name "buckwheat" fool you, 100% buckwheat flour organic soba noodles are naturally gluten-free, but be sure to check the label, because it will depend on the brand. We love this brand. Also, they are packed full of protien and fiber!
Red Bell Pepper - The red for the rainbow or veggies! Plus, the crunch and sweetness of the pepper is perfect texture fo this noodle salad.
Red Cabbage - Perfect for crunch and color! Green cabbage of course would also work well, too.
Edamame - These protien packed soy beans add a beautiful pop of green color and healthy fiber, antioxidants and vitamin K!
Carrots - Shredded so that it adds the flavor and color, but not as much crunch, because it's not needed with the cabbage and red pepper.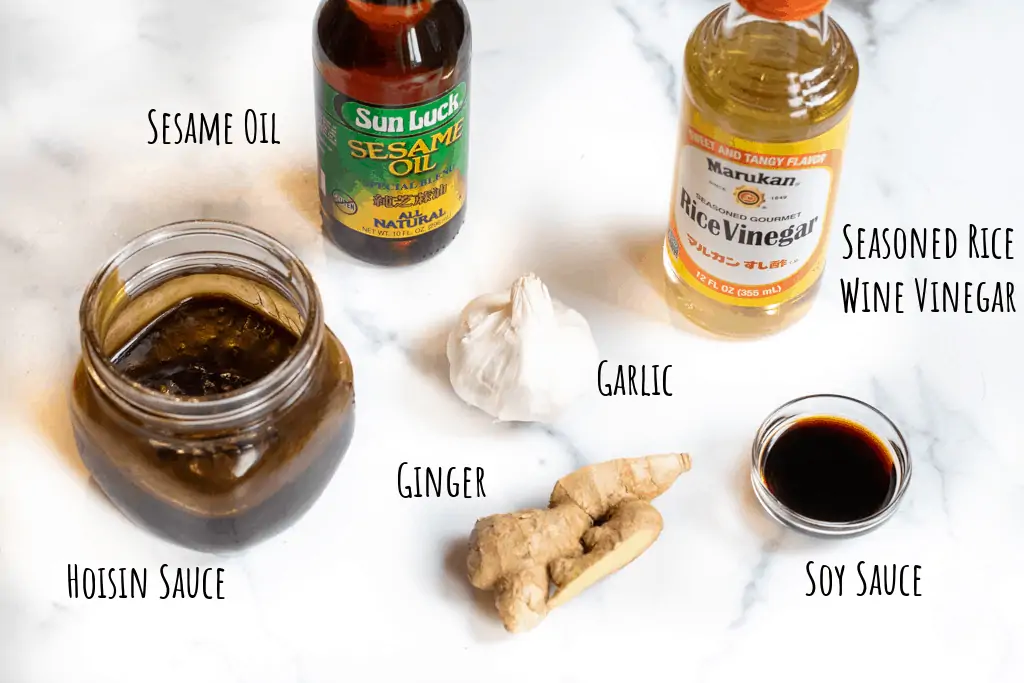 The dressing is easy, fast to make, and packed full of flavor.
Sesame Oil - This is the base of the dressing and adds that wonderful rich sesame flavor plus it's an oil that's low in saturated fats and high in heart-heatlhy fats!
Hoisin Sauce - I am obsessed with the complex sweetness that hoisin sauce adds to dishes. Plus it's so incredibly easy to make your own!
Soy Sauce - Just a touch for some added salt and umami.
Seasoned Rice Wine Vinegar - This adds another level of sublte sweet and tangy flavor. We've also used unseasoned and while it's still good, there's really an added flavor from the seasoned rice vinegar that really makes this dressing.
Fresh Garlic and Ginger - Fresh is always preferred, but you could also use powdered, too. See recipe notes.
Salt - Just a touch!
Easy to Prepare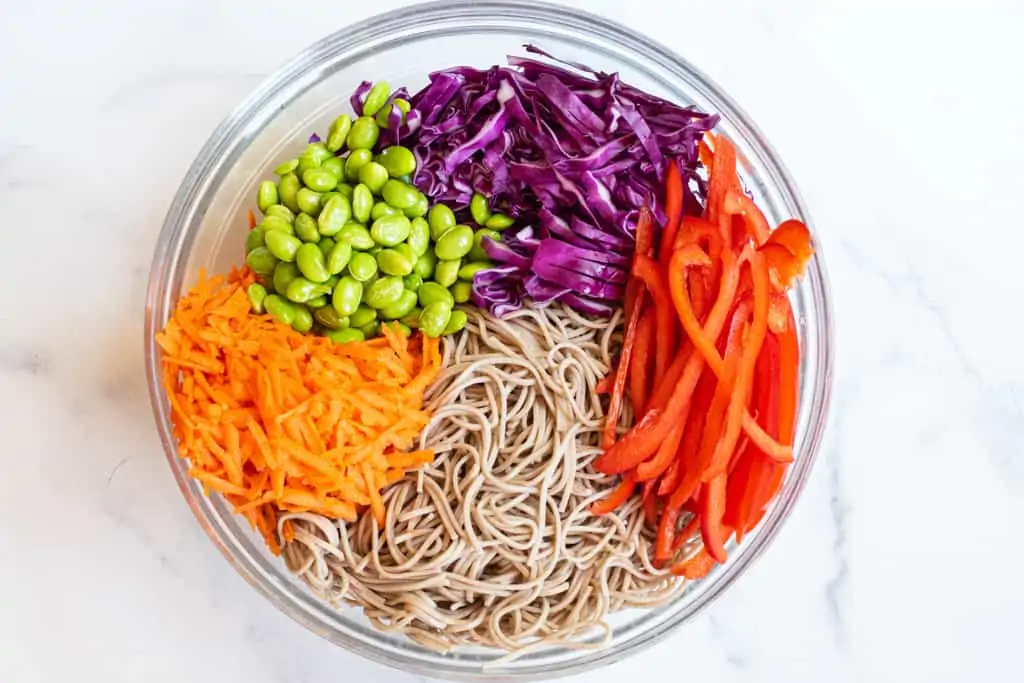 Is there anything better than a dish that's ready in 15 minutes? It's one of the best things about this soba noodle salad!
Step 1: Cook the soba noodles.
These noodles are much faster to cook than traditional dried pasta. Plus, while the water is coming to a boil, this is when you can prep all of your veggies.
Tip: Drain the noodles into a colander and immediately rinse with cold water. This will stop the noodles from cooking, but also prevent them from sticking. Plus it'll help cool the noodles, key for a cold soba noodle salad recipe, right?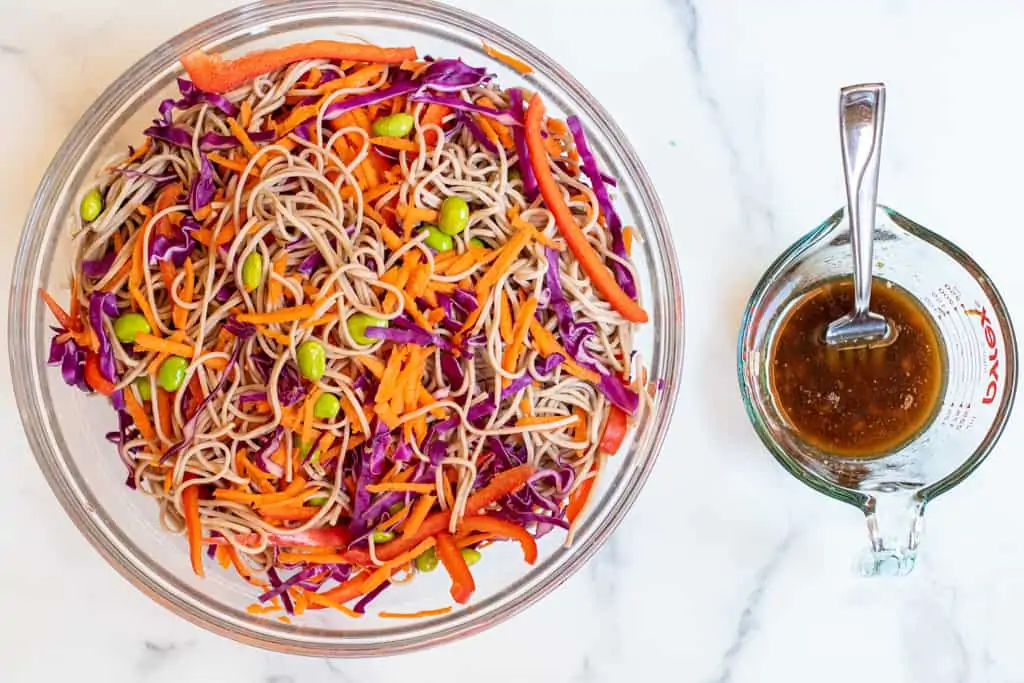 Step 2: Add all of the veggies in the bowl and mix and then add the noodles and mix!
Tip: Adding the noodles in clumps at a time, instead of all at once, will make mixing and incorporating all the goodness in the bowl together, the best!
Step 3: Whisk together the dressing. For all of our dressings, we love to use a measuring cup with a pour spout.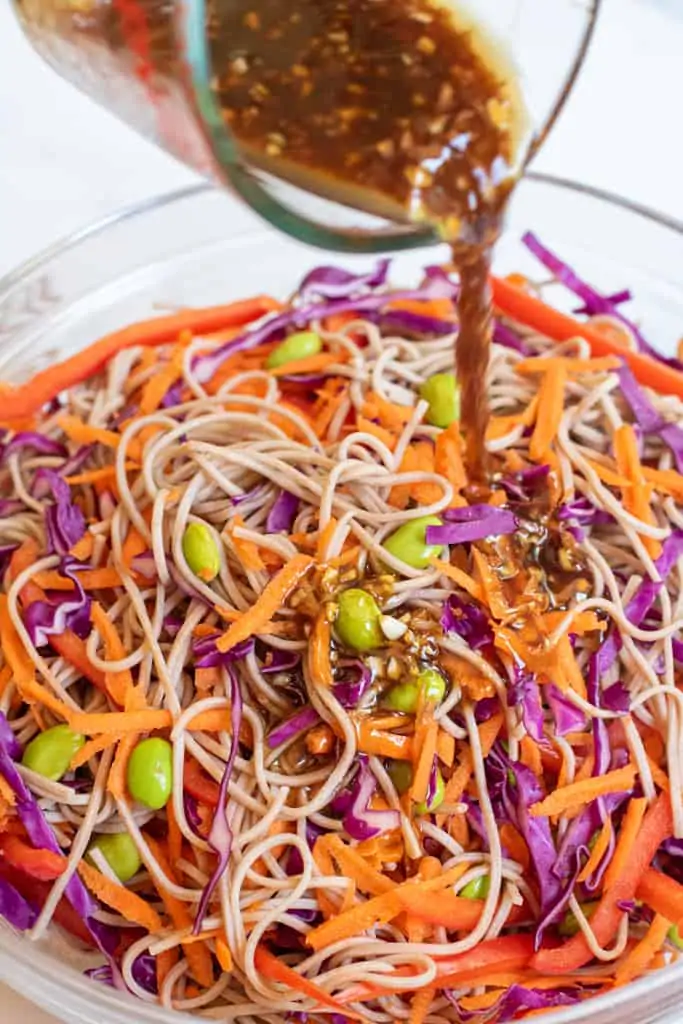 Step 4: Add that dressing...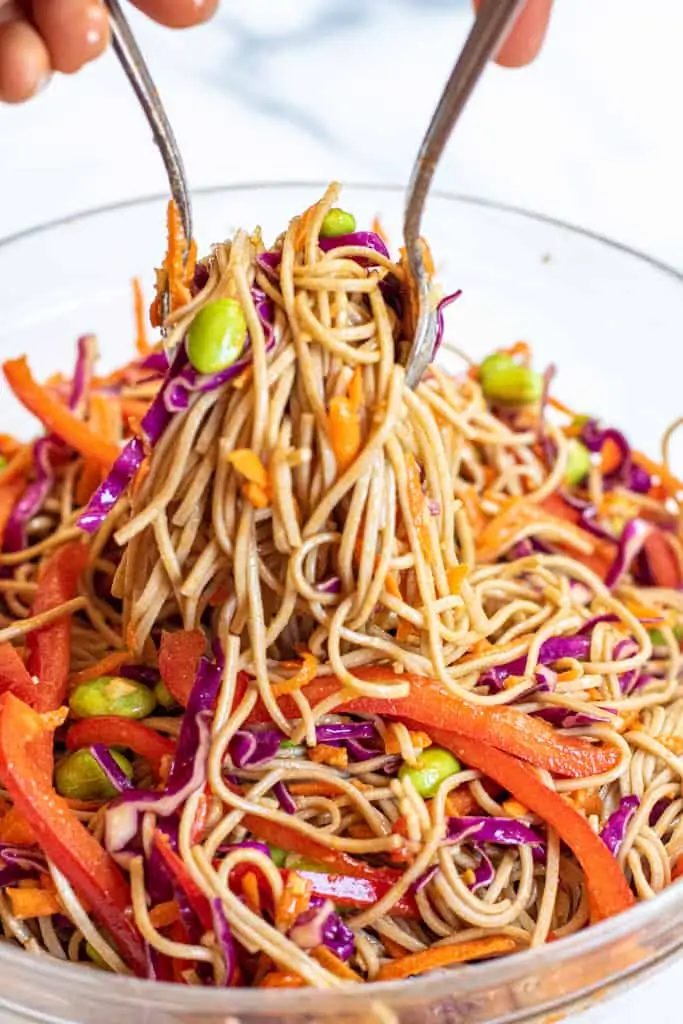 ...and mix!
Helloooo gorgeous, Sesame Soba Noodle Salad!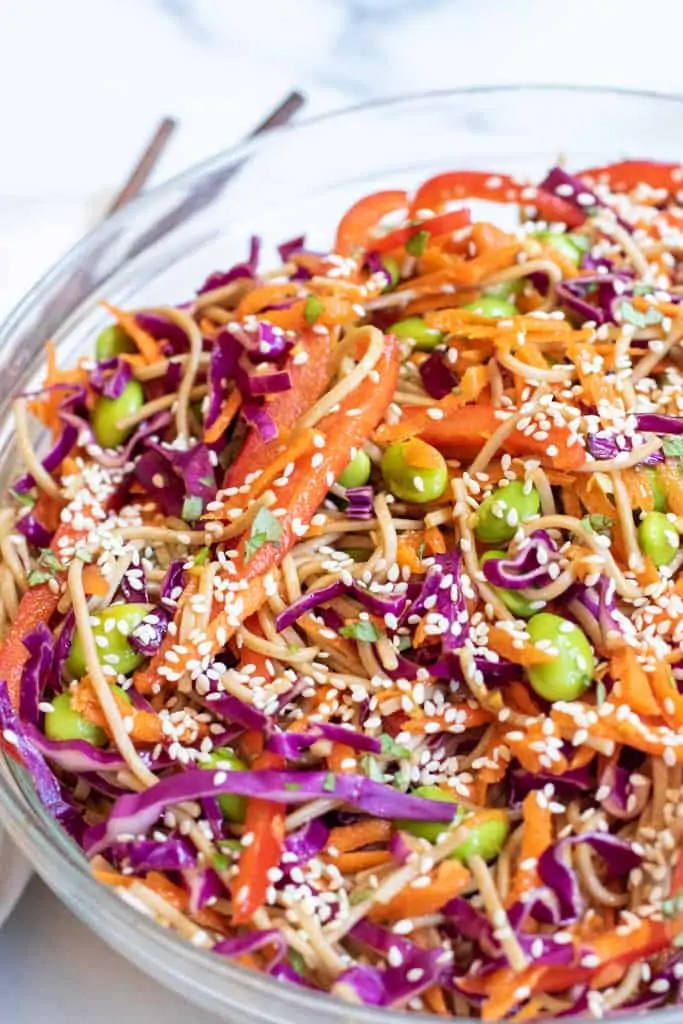 Top the final mixed cold noodle salad with some sesame seeds and you're ready to serve. OR (even better) it's ready to sit in the fridge and meld the flavors until it's needed!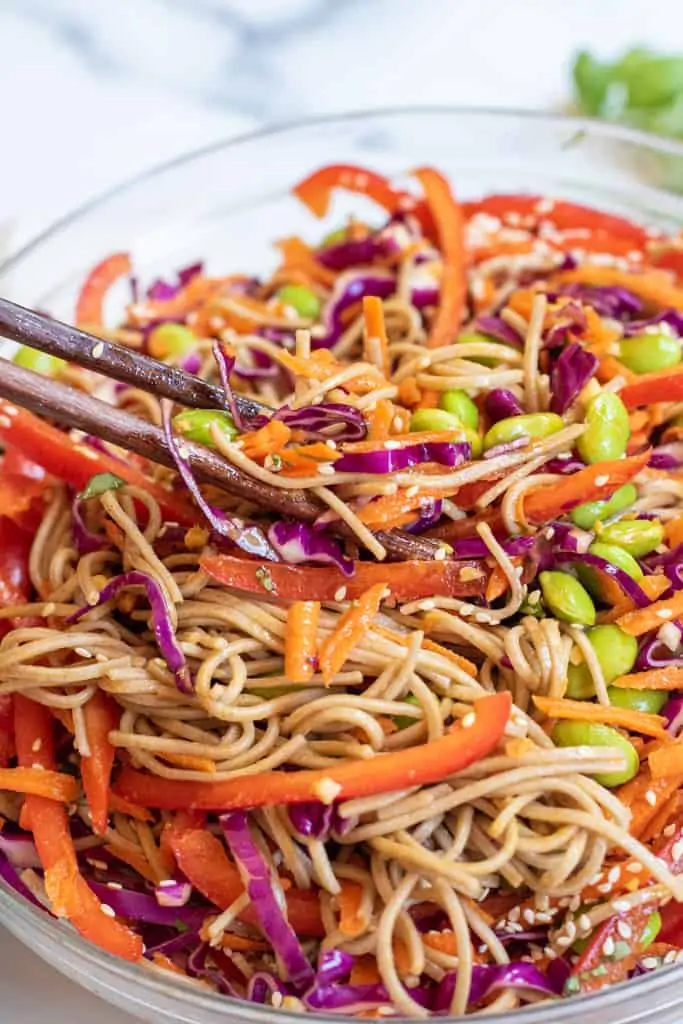 The colors in this salad instantly attracted my girls to it, but the taste it what had them asking for seconds! It's our latest favorite noodle side, especially since it's so hot out. Plus, I just love a dish I can make in advance and keep in the fridge for days and enjoy just as much as the first day we made it!
Our Other Favorite Cold Sides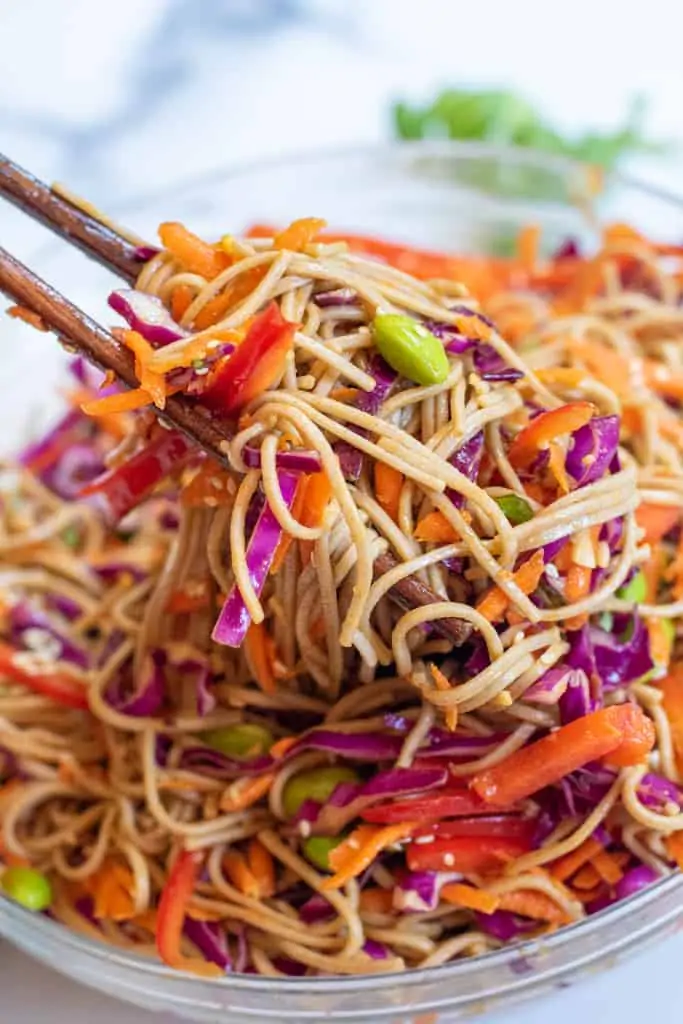 FAQs
Can I use a different noodle?
Absolutely! You can use any kind of noodle for this cold noodle salad, just be sure to cook them based on the directions on the package and rinse to stop the cooking and prevent sticking.
Can I make this in advance?
It's one of the best parts of the recipe! Make it ahead and store it in the fridge for up to 4 days. After the 2nd day, the noodles begin to soften a little more as they absorb the dressing, but the flavors are still delicious!
Is this gluten-free?
This recipe, no, because our homemade hoisin is not gluten-free. However, you can make it gluten-free by using a gluten-free soy sauce and gluten-free hoisin. Soba noodles should be gluten-free if they're 100% buckwheat noodles (I know, misleading name).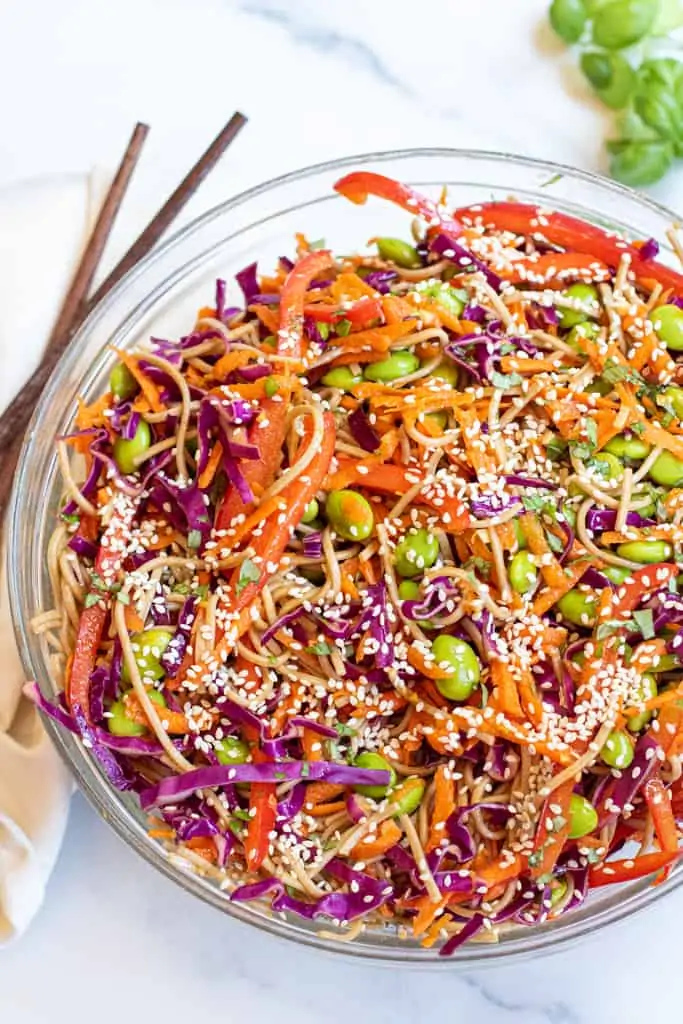 Enjoy! As always, if you make this recipe or any of my others, I love to hear what you think! Leave a comment below, email me, or you can find me on Facebook, Instagram, and Pinterest!
If you want to see more, be sure to sign up for my 5 Easy Ways to Start Cooking From Scratch!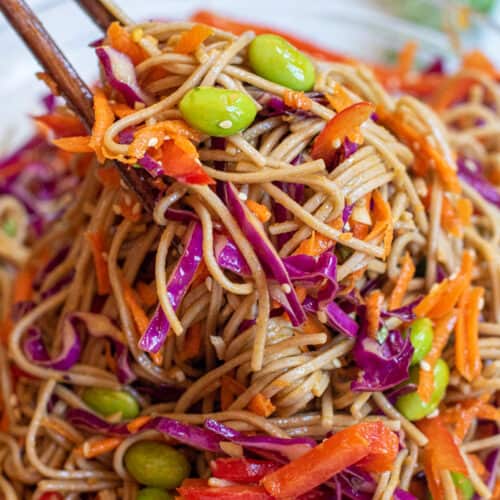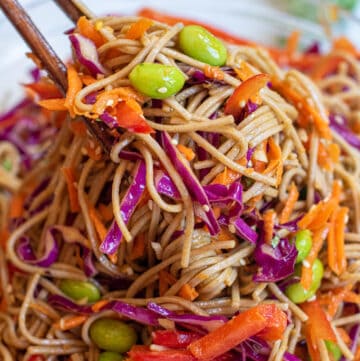 Sesame Soba Noodle Salad
This cold soba noodle salad is packed full of veggies and flavor!
Print
Pin
Rate
Ingredients
9.5

oz

soba noodles

1

red pepper

thinly sliced

2

large

carrots, shredded

approx 2 cups

2

cups

red cabbage, shredded

1

cup

cooked edamame

8-10 oz in the pod

1/2

tablespoon

sesame seeds

optional
Instructions
Start a pot of water to boil for noodles. Meanwhile, prep your veggies and add to a large bowl.

In a small bowl or measuring cup with a pour spout, add all dressing ingredients and whisk.

Once water is boiling, add noodles and cook for 4 minutes (or for time on package).

Drain noodles into a colander and immediately rinse with cold water.

Shake off excess water of noodles in colander. Using tongs or your hand, add a clump of noodles, one at a time, to the large bowl with veggies and mix. Repeat until all noodles are in the bowl and mixed with the veggies.

Pour dressing over noodles and veggies and mix well. Ensuring that all noodles and veggies are coated.

Top with sesame seeds (if desired) and serve, or cover and chill in fridge until ready to serve.
Notes
Make-Ahead:
Prep this salad in advance and store it in the fridge for up to 4 days. Note that after a couple of days the noodles will start to soften. You could also prep the noodles and veggies separately from the dressing and mix just an hour before serving.
Substitutions:
Noodles: Use any noodles you'd like! We recommend a thicker cut noodle though, something that'll hold up to all of the veggies in this dish. Vermicelli style or a thin rice noodle or angel hair pasta we find to be a little too thin/delicate a noodle for this salad. Whatever you use, be sure to cook per the instructions for the specific noodles.
Garlic: 1 teaspoon powdered for 1 tablespoon fresh.
Ginger: Use 1 teaspoon powdered for 1 tablespoon fresh.
Nutrition
Calories:
231
kcal
|
Carbohydrates:
34
g
|
Protein:
8
g
|
Fat:
9
g
|
Saturated Fat:
1
g
|
Polyunsaturated Fat:
4
g
|
Monounsaturated Fat:
3
g
|
Trans Fat:
1
g
|
Cholesterol:
1
mg
|
Sodium:
550
mg
|
Potassium:
331
mg
|
Fiber:
3
g
|
Sugar:
4
g
|
Vitamin A:
3721
IU
|
Vitamin C:
34
mg
|
Calcium:
49
mg
|
Iron:
2
mg