Garden fresh cucumbers and just a few simple ingredients and you can make your own Bread and Butter Pickles from scratch!
I've mentioned I love pickles, right? Since making the Super Easy Dill Pickles, our cucumbers have continued to explode. No, seriously. I've been making so many Asian Cucumber Salads (which trust me is not a bad thing), because we've had SO many cucumbers coming out of our garden! I seriously can't believe it and couldn't be happier. So it was time to make some more pickles. Some sweet and sour delicious Bread and Butter Pickles.
Ever wonder why these sweet and sour pickles got the name bread and butter pickles? Me too. So I asked Google. And it didn't really have a definitive answer for me. I got really boring reasons like A. they were an everyday food, just as common as bread and butter; and more practical reasons like, B. During the Great Depression they were eaten with bread and butter as sandwiches because cucumbers were once considered super nutritious; to awesome reasons like C; Some dude whipped these up at home and sold them road side and they were such a success that it became his 'bread and butter'. I'm going to go with C just because I like the idea of some dude selling pickles on the side of the road.
Anyway, no matter how they got their name, these pickles are soooo good. And sooo easy. They have a pretty simple ingredient list of white and brown sugar, white and brown vinegar, salt, mustard seeds (I chose brown, but I'm sure yellow would be fine too), ground turmeric, cucumbers, and sliced sweet onion. What's the 3rd little jar between the mustard seeds and the turmeric? I have no idea. Oops.
So to start, I just crinkle sliced a bunch of cucumbers with the mandolin.
Then added a healthy dose of salt to draw out the excess liquid from the cucumbers. These sat for about an hour an a half.
Then I gave them a good rinse and added some sliced sweet onion.
Meanwhile, I had the brine cooking on the stove top until all the sugar was dissolved. For our next batch I'm not going to add as much sugar, I don't think it's necessary and I like pickles a little more sour anyway and a cup and a half seemed like a lot.
So. Excited. Even better, no fermentation required! I just let these guys sit with the brine at room temperature for about another hour.
At the end of the hour I stuffed 'em in mason jars and put them in the fridge to crisp up overnight. Although, we were so excited for them after about an hour we may have eaten all of the pickles in the little pint jar... And by may have I mean we totally devoured them. They were soooo good! We both agreed we liked them more than the dill pickles.
Somehow we restrained ourselves from cracking into the other mason jar and so the next day we had this guy full of deliciously sweet, tangy, sour, crunchy bread and butter pickles!
These are not going to last long. Luckily, my cucumbers are still exploding and so there will be many many more jars of these delicious pickles in our future, almost like they're our 'bread and butter'... eh? eh?... Sorry, couldn't resist. Happy pickle making!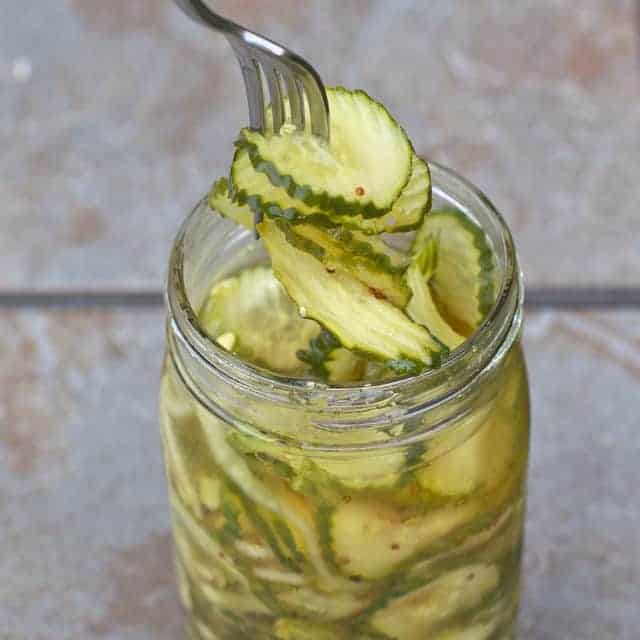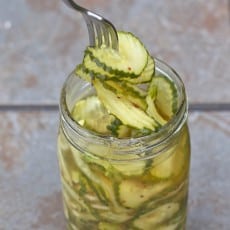 Bread and Butter Pickles
Garden fresh cucumbers and just a few simple ingredients and you can make your own Bread and Butter Pickles from scratch!
Print
Pin
Rate
Ingredients
5 1/2

cups

1 1/2 pounds thinly sliced cucumbers

1 1/2

Tablespoons

kosher salt

1

cup

thinly sliced sweet onion

1

cup

granulated white sugar

1

cup

white vinegar

1/2

cup

apple cider vinegar

1/4

cup

light brown sugar

packed

1 1/2

teaspoons

mustard seeds

1/8

teaspoon

ground turmeric
Instructions
Combine cucumbers and salt in a large, shallow bowl; cover and chill 1 1/2 hours.

Move cucumbers into a colander and rinse thoroughly under cold water. Drain well, and return cucumbers to bowl. Add onion to the bowl.

Combine sugar and remaining ingredients in a medium saucepan; bring to a simmer over medium heat, stirring until sugar dissolves. Pour hot vinegar mixture over cucumber mixture; let stand at room temperature 1 hour.

Cover and refrigerate 24 hours. Store in an airtight container / jars in refrigerator up to 2 weeks.