Use those fresh garden cucumbers and make these Super Easy Dill Pickles from scratch for your own crunchy, dill, pickle treat!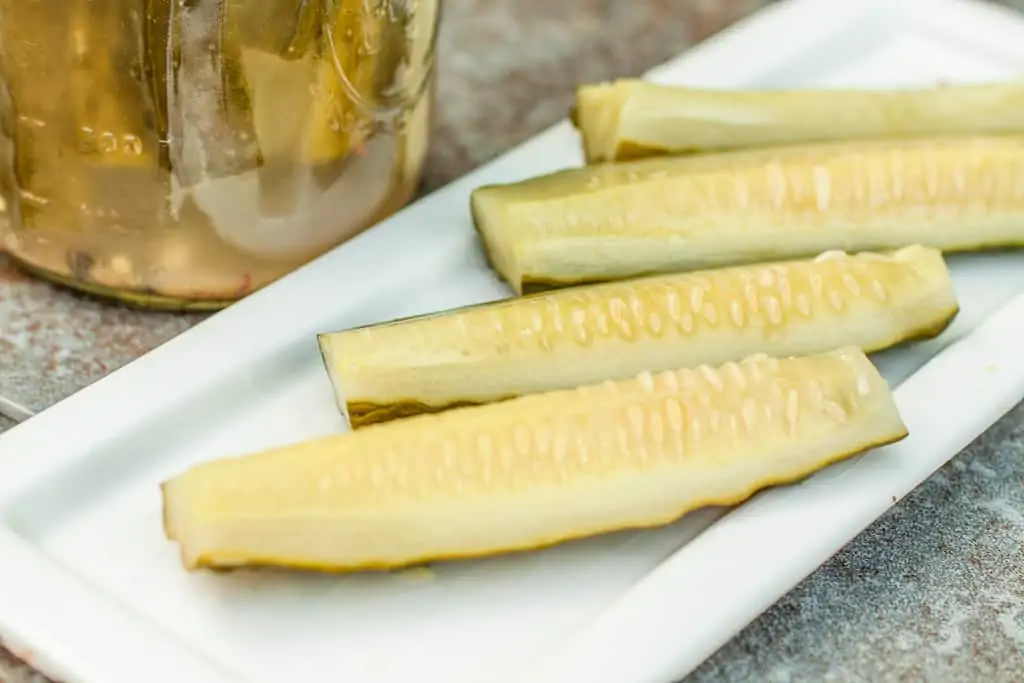 Welcome to Cucumber Season! One of my favorite parts of summer, all of the fresh fruits and veggies. Nothing beats a cucumber straight from the garden. Except making those fresh from the garden cucumbers in these Super Easy Dill Pickles!
With very limited effort and a little time in the fridge, you can turn those garden cucumbers into homemade dill pickle spears!
The Best Cucumbers for Pickles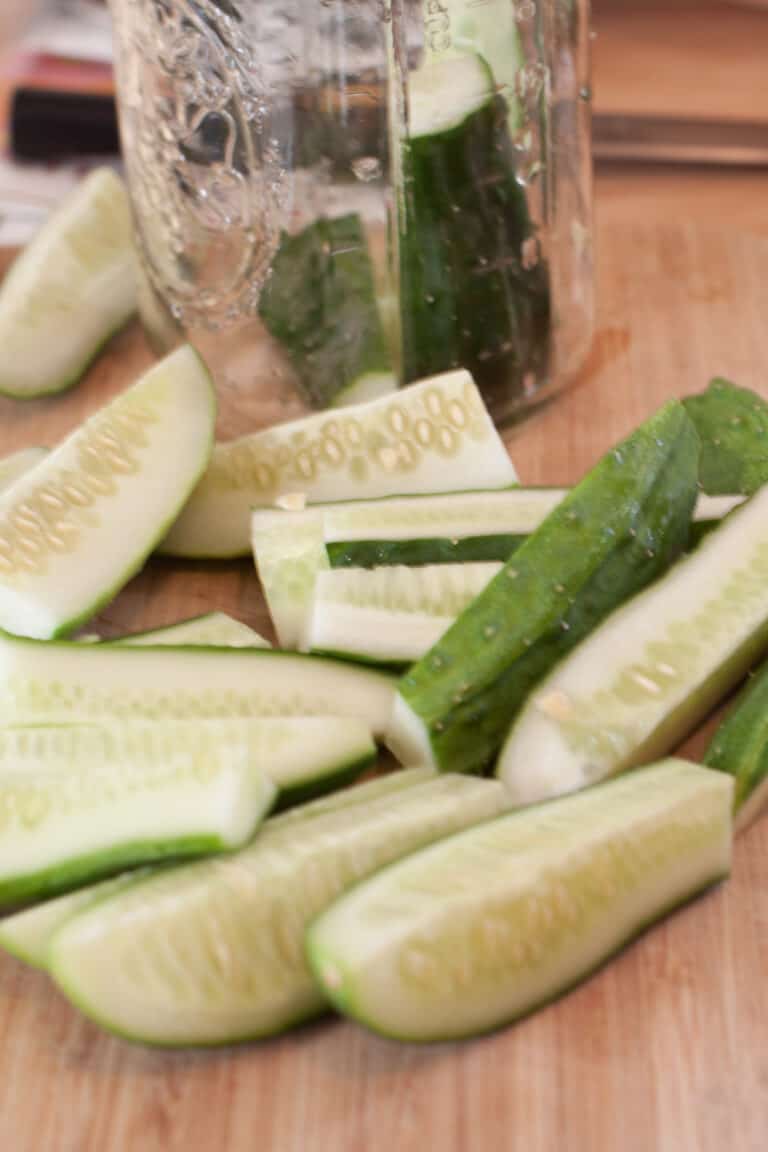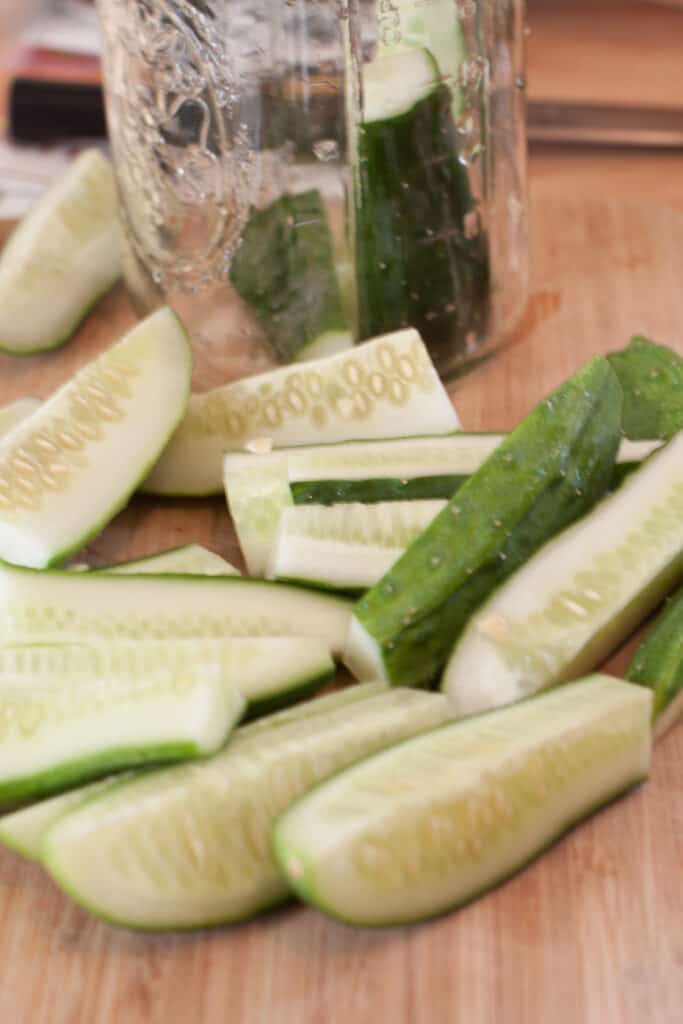 These cucumbers are Japanese Cucumbers, but really you can use any kind of cucumber for pickles. Most often, you'll see Kirby Cucumbers or Pickling Cucumbers used, but if you don't have any in your garden, have no fear!
Japanese or even English Cucumbers make a great pickle. The standard cucumbers that you get in the grocery store are typically American Slicing. They're a little less firm, have a slightly higher water content, and often a kind of waxy coating, which is why they're best for recipes that require peeled cucumbers. I would avoid using a thicker cucumber with bigger seeds like Lemon or Burpless cucumbers for this recipe.
Ingredients Needed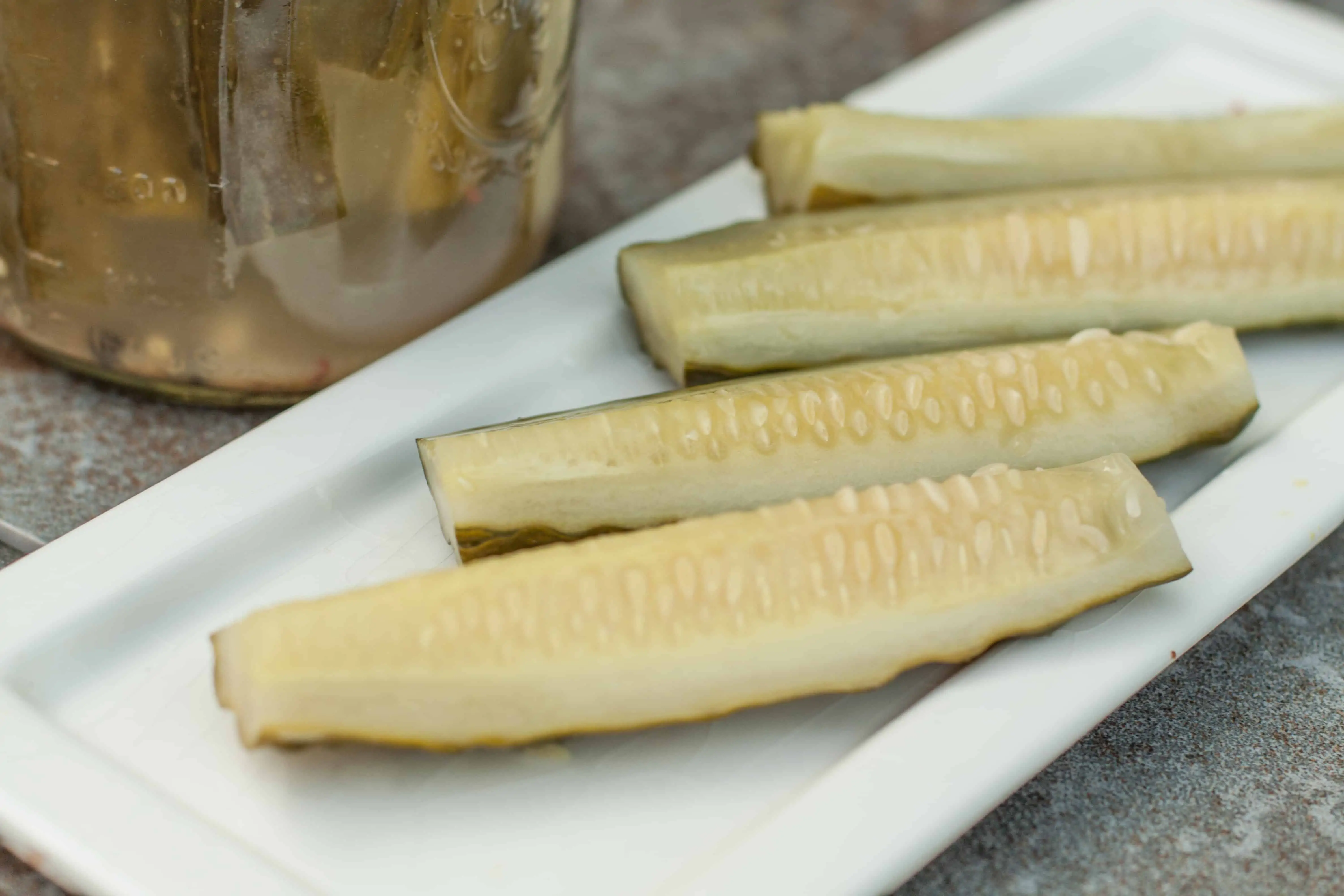 Cucumbers - Japanese, Kirby, or English!
Baby Dill - Unlike regular dill, baby dill has a much more delicate dill flavor and the plant itself small and tender. I think that it works best for this recipe and looks better in the jar.
Garlic - Fresh is best, but you can also use powder if that's all you have. See recipe notes.
Yellow Mustard Seed and Coriander Seeds- Yellow, not brown! Brown is much hotter and more pungent than yellow.
Red Pepper Flakes and Black Peppercorns - For a little heat and kick!
Salt and Water - A pickling salt is best for the brine, but you could also use a Kosher salt, too.
Easy to Make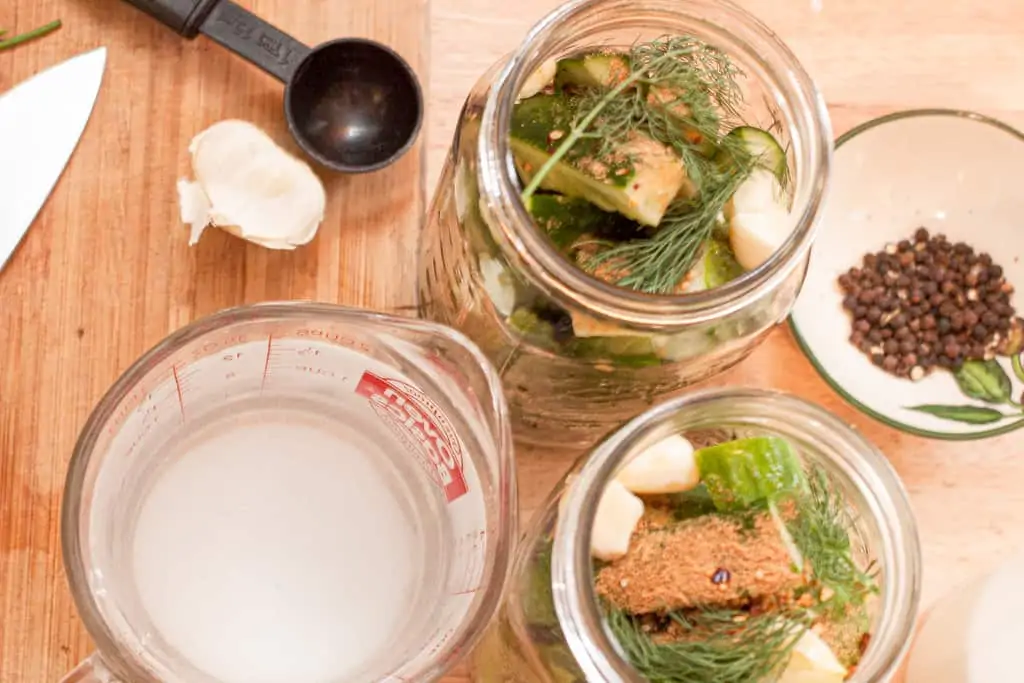 Step 1: Slice your pickles into spears and pack them into large mason jars.
Step 2: Add garlic, dill, mustard, red pepper flakes, and peppercorns to jar and mix water and salt in a measuring cup with a pour spout.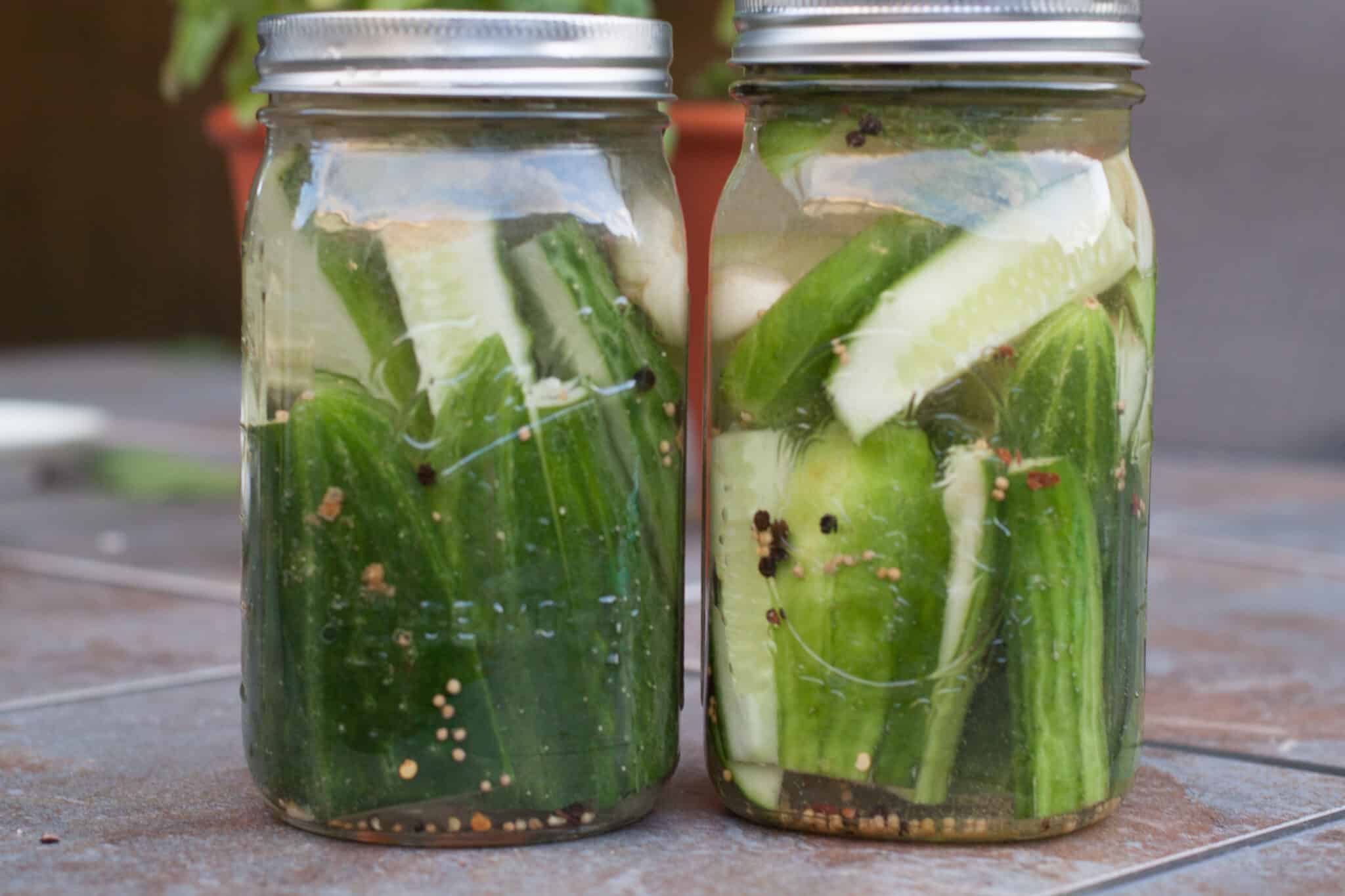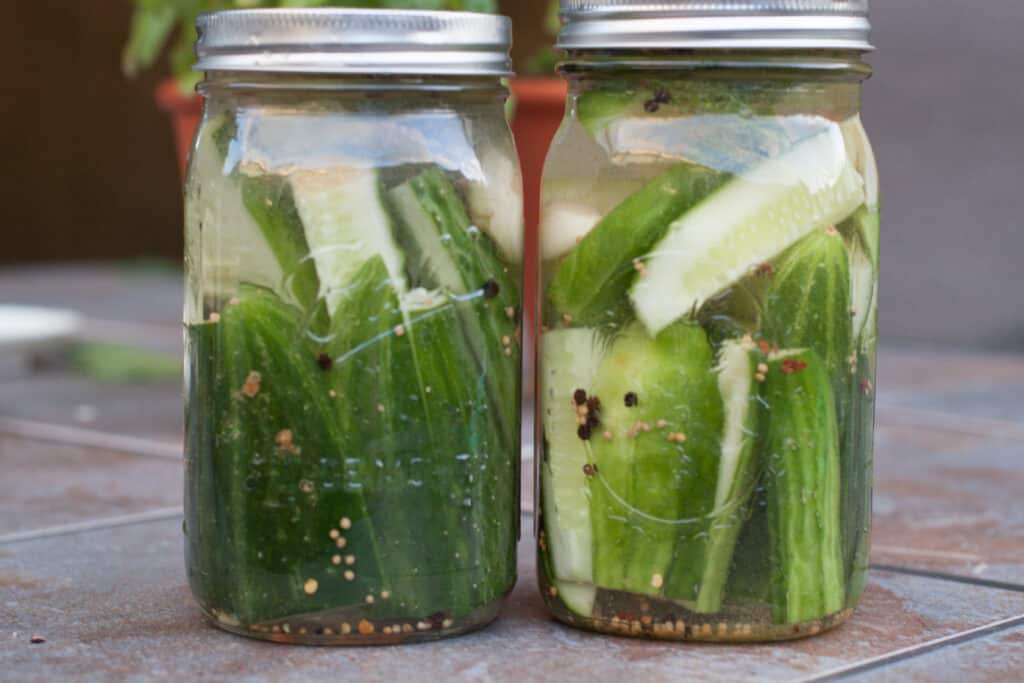 Step 3: Loosely seal the jars and let the cucumber spears ferment in a cool dry place.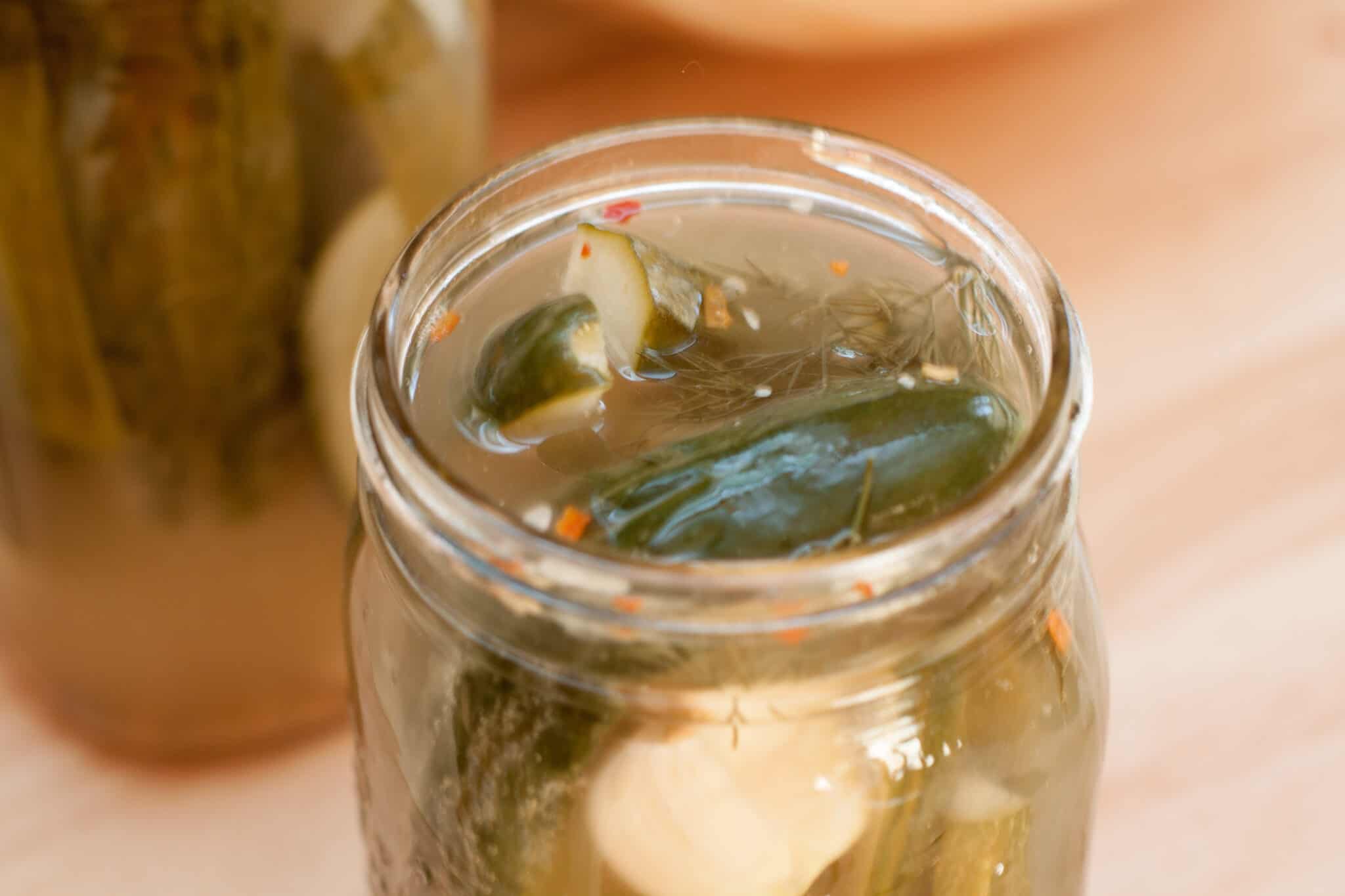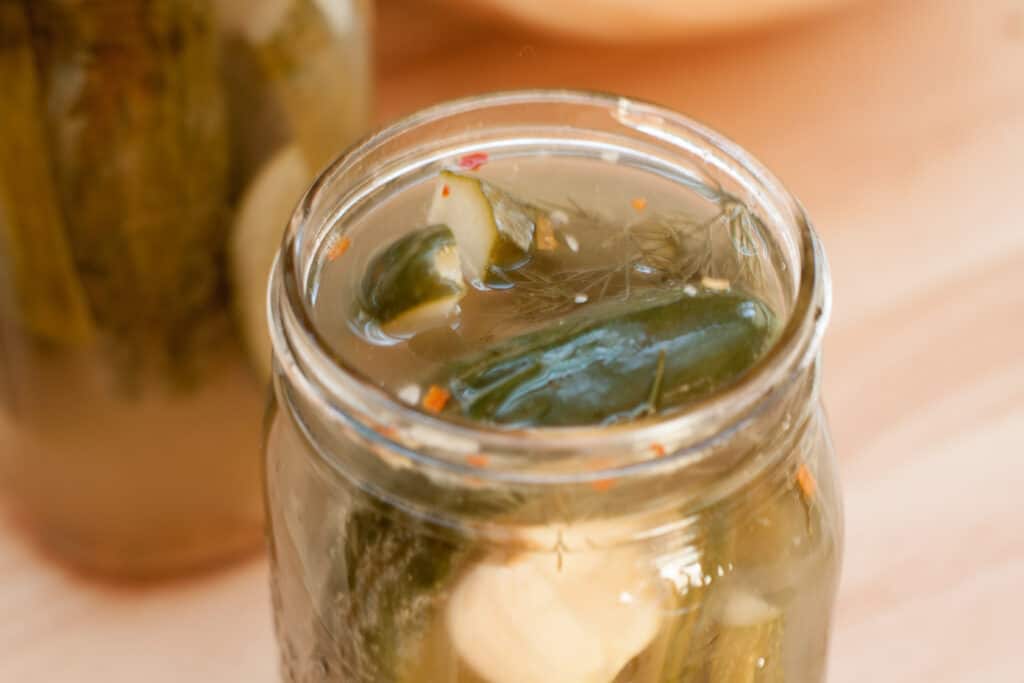 After 3 days of fermenting, check for bubbly and cloudly jars which is a sign of fermentation.
Now is a good time to check your pickles to see if they have the right amount of crunch and flavor. If you want more flavor, you can continue to ferment for up to 7 days. If they're ready, then you can fully seal and store in the fridge.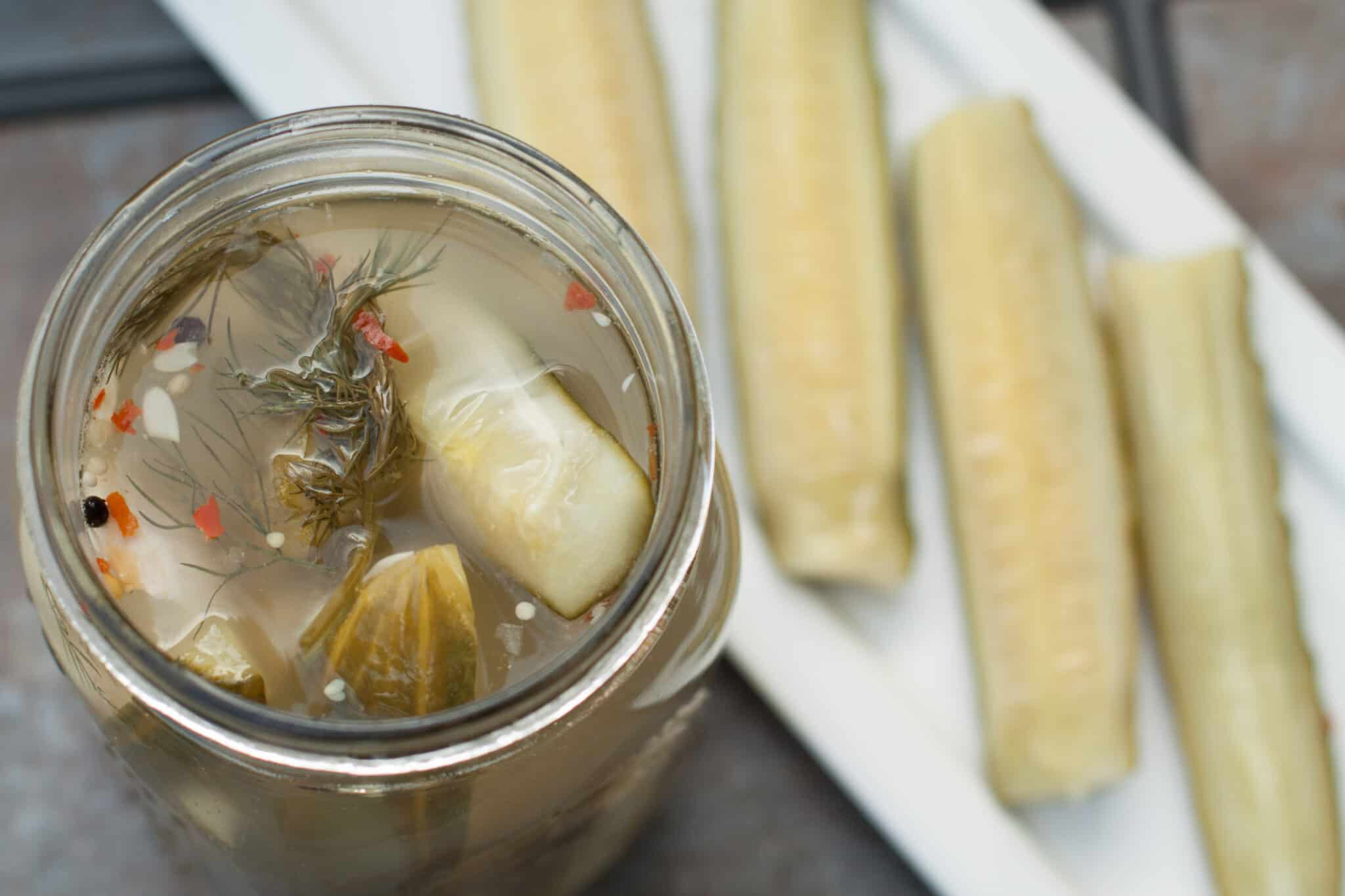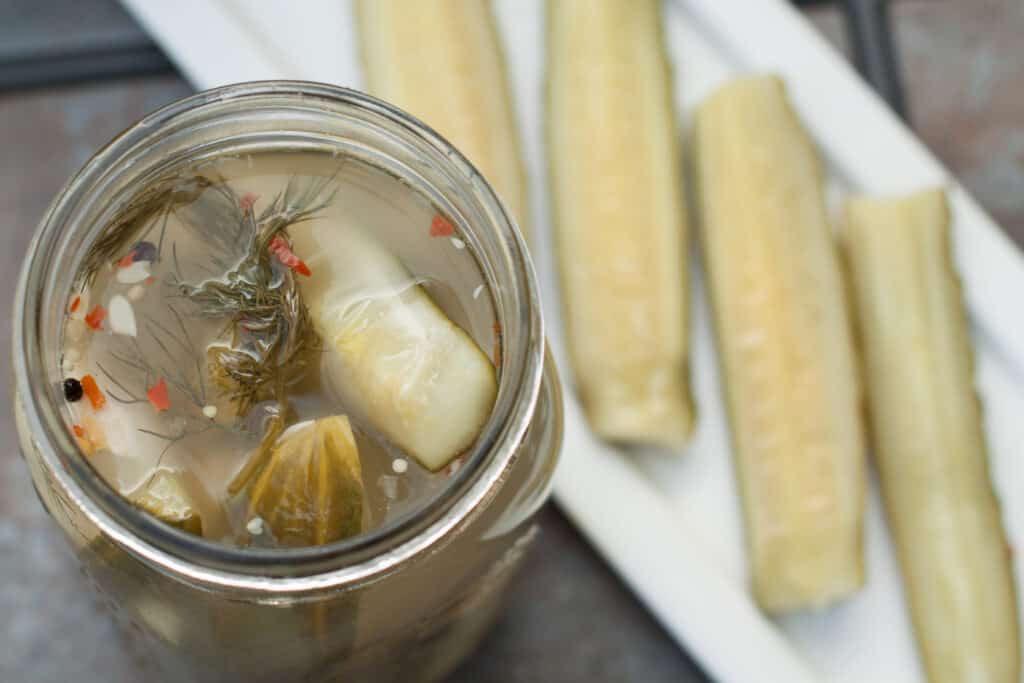 Yuummm. Great briny flavor, with just the right texture. Not too crisp like a raw cucumber but just enough. Definitely not a limp pickle, which no one likes. So. Easy. Even better, it's almost truly from scratch since I grew the cucumbers myself!
Pickle Making Tips
Be sure to use kosher salt or another non-iodized salt.
Be sure that the cucumbers are completely submerged in the brine. You can do this by either using a fermentation weight or even just a little plastic bag filled with (more) brine placed on top of the cucumbers.
During the fermentation process, put your lids on loosely, this will allow the gases to escape.
Place the jars on a baking tray to be able to catch any overflow from the fermentation process.
Enjoy! As always, if you make this recipe or any of my others, I love to hear what you think! Leave a comment below, email me, or you can find me on Facebook, Instagram, and Pinterest!
If you want to see more, be sure to sign up for my 5 Easy Ways to Start Cooking From Scratch!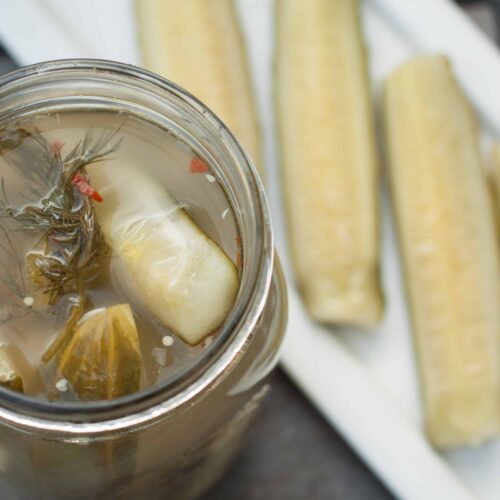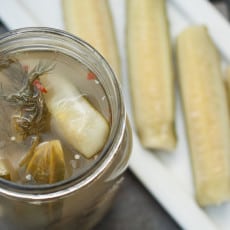 Super Easy Dill Pickles
Use those fresh garden cucumbers and make these Super Easy Dill Pickles from scratch for your own crunchy, dill, pickle treat!


Print
Pin
Rate
Ingredients
5

medium to large fresh cucumbers

4

cloves

fresh garlic

4

sprigs of fresh dill

1/2

teaspoon

coriander seeds

1/4

teaspoon

yellow mustard seeds

1/4

teaspoon

whole peppercorns

1/8

teaspoon

red pepper flakes

2

tablespoons

pickling salt or kosher salt

2

cups

water
Instructions
Slice your cucumbers into spears or if small pickling cucumbers, keep whole.

Pack them into a quart jars, super tight.

Add garlic, dill, mustard, coriander, peppercorns, and red pepper flakes in on top.

In a separate bowl, mix 2 cups of water and 2 tablespoons of pickling salt or kosher salt until it dissolves. Pour in water over cucumbers and spices into jars (or as much of the water that fits). Be sure that the cucumbers are completely submerged in the water. See recipe notes.

Loosly cover the jars with lids, place on a baking sheet or plate to collect brine overflow and store in a cool dry place to ferment for at least 3 days

After 3 days test your pickles for flavor and crunch. If to your liking, put jars in fridge to stop fermentation process.
Notes
Pickles will keep for about 6 months in the fridge.
Keeping Pickles Submerged: If they are packed tightly enough, they may stay submerged, but if not, then you can use either fermentation weights, or a plastic bag filled with additional brine to keep them weighted down.