Use those fresh garden cucumbers and make these Super Easy Dill Pickles from scratch for your own crunchy, dill, pickle treat!
I LOVE pickles. Like adore them. These Super Easy Dill Pickles from scratch, they make me love them even more!
When I was a little girl after church on Sunday when we would go to the grocery store so my dad could buy onion rolls to make a bacon breakfast sandwich out of the bacon my mom was inevitably frying up at home, my brother and I would get a treat. And my treat was either chocolate doughnut holes or a massive dill pickle from the huge jar on top of the deli counter. Although 8 year old Tracy usually picked the chocolate doughnuts over the pickles, 29 year old Tracy now would choose pickles over chocolate any day. I just generally love cucumbers.
This year, I planted a ton of cucumbers and they are just exploding, which is awesome and surprising. The last cucumbers I planted did terribly, but I think I planted them this year over what the previous tenants used to use as compost, so this year I have some super duper happy cucumber plants. So I know most pickles call for Kirby cucumbers, which I did not plant. Does it matter? I don't think so. I planted Japanese cucumbers, which are long and thin kind of like an English cucumber but just with a bumpier / pricklier skin.

These super easy dill pickles had super simple ingredients and required minimal work. Sold. We've been so busy all the cooking we've been doing is just that, easy. 5 cucumbers, some yellow mustard seeds, peppercorns, red pepper flakes, garlic, dill, and also sea salt and some coriander I forgot to include in the picture.
I halved and sliced those little guys up,
packed them into 1 quart mason jars,
Tossed all the spices and flavor goodness on top and mixed a couple of cups of water with the salt and filled the jars.
Sealed and ready to sit out and ferment for a few days.
That same night I pulled all of these beauties out of the garden! My dad is seriously smiling down on me right now; he loved raw fresh out of the garden cucumber salads almost as much as I love pickles.
After 3 days of fermenting, I had little bubbly happy jars of pickles! It's been super warm out lately, so I only let them ferment for 3 days. If it were cooler out I'd let them sit for 3-7 days.
Yuummm. Great dill, briney flavor, with just the right texture. Not too crisp like a raw cucumber but just enough. Definitely not a limp pickle, which no one likes 😉
So. Easy. Even better, it's almost truly from scratch since I grew the cucumbers myself!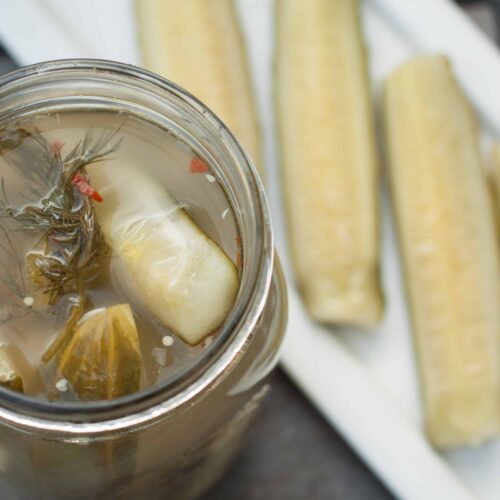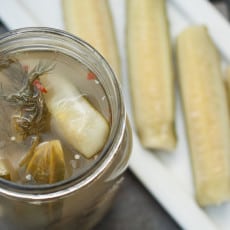 Super Easy Dill Pickles
Use those fresh garden cucumbers and make these Super Easy Dill Pickles from scratch for your own crunchy, dill, pickle treat!


Print
Pin
Rate
Ingredients
5

medium to large fresh cucumbers

2

cloves

of garlic

2

sprigs of fresh dill

1/2

teaspoon

of coriander seeds

1/4

teaspoon

of yellow mustard seeds

1/4

teaspoon

of whole peppercorns

1/8

teaspoon

of red pepper flakes

2

Tablespoons

of sea salt

2

cups

of water
Instructions
Slice your cucumbers to desired size / shape.

Pack them into a quart jars, super tight.

Toss in the garlic, dill, mustard, coriander, peppercorns, and red pepper flakes in on top.

In a separate bowl, mix 2 cups of water and 2 tablespoons of sea salt until salt dissolves. Pour in water over cucumbers and spices into jar (or as much of the water that fits). Be sure that the cucumbers are completely submerged in the water - this can be done by having them super super packed in and filling the jar to the brim with the salt water.

Sit in a dry place to ferment for at least 3 days. If there is a white film or mold that forms just skim it off. It's not harmful, but can affect the taste of the pickles.

After 3 days test your pickles for flavor and crunch. If to your liking, put in fridge to stop fermentation process.
Notes
Pickles will keep for about 6 months in the fridge.