With just a few ingredients and a few minutes, you can make fresh strawberries even more delicious. Our Easy Strawberry Compote recipe is a great make-ahead way to take your favorite pancakes, waffles, or any other brunch favorites or desserts to the next level!
Next, try our Strawberry Bread!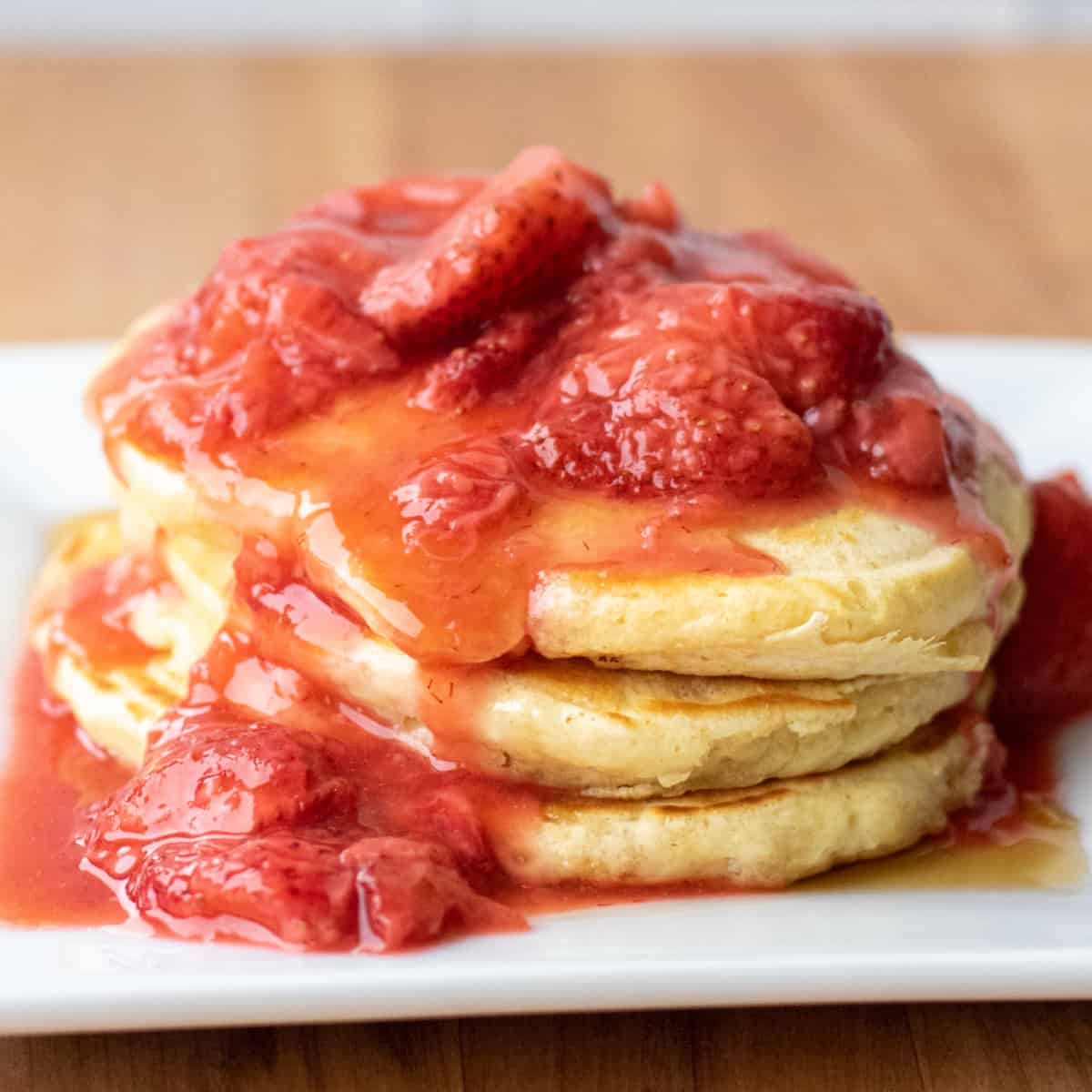 Bring on all of the fresh spring and summer produce, especially fresh strawberries! Our Easy Strawberry Compote recipe highlights these sweet summer berries and transforms them into an incredibly versatile addition to any of your favorite brunch treats or desserts! Ready in just minutes and perfect to make ahead, you'll love finding all of the delicious ways to use this easy compote recipe!
What is Compote?
Compote is a fruit spread made from whole fruit that's cooked in sugar syrup. It can range in texture dependent on the size of the fruit or if the fruit is pureed.
Jam vs. Compote vs. Chutney
So what makes a compote different from jams and chutneys?
Jam: Compote isn't as thick and spreadable as jam and it doesn't have the same uniform consistency. That's because it doesn't have as much sugar, which also means compote doesn't last as long as jam.
Chutney: This can be made sweet, spicy, and/or savory with fruit or veggies and it's also made with vinegar. Its origin is India and it is used to balance or highlight specific flavors in a dish.
Ingredients Needed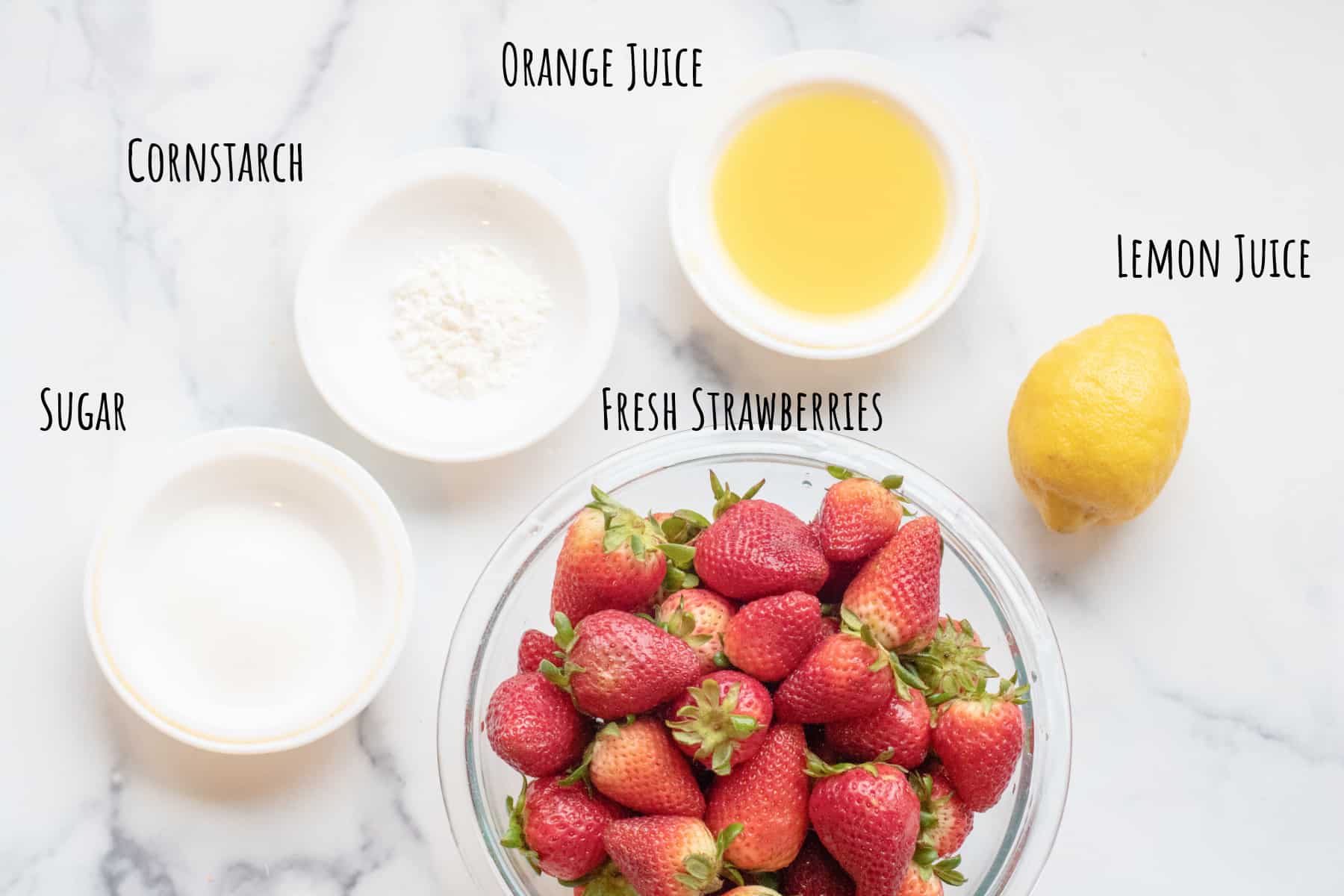 Fresh Strawberries - Fresh is best for this compote recipe, although you can of course use frozen, too.
Sugar - Just a little, this is not an overly sweet compote recipe, it's just enough to highlight the natural flavors and sweetness of the fresh berries.
Orange Juice - Just enough to compliment the strawberry flavors and add liquid for the compote. You could also just use water, but the orange juice really adds great flavor and additional sweetness.
Cornstarch - Use this to make a little slurry as it helps to thicken the compote.
Lemon Juice - The bright acidity makes all of the other natural flavors pop!
Ready Fast!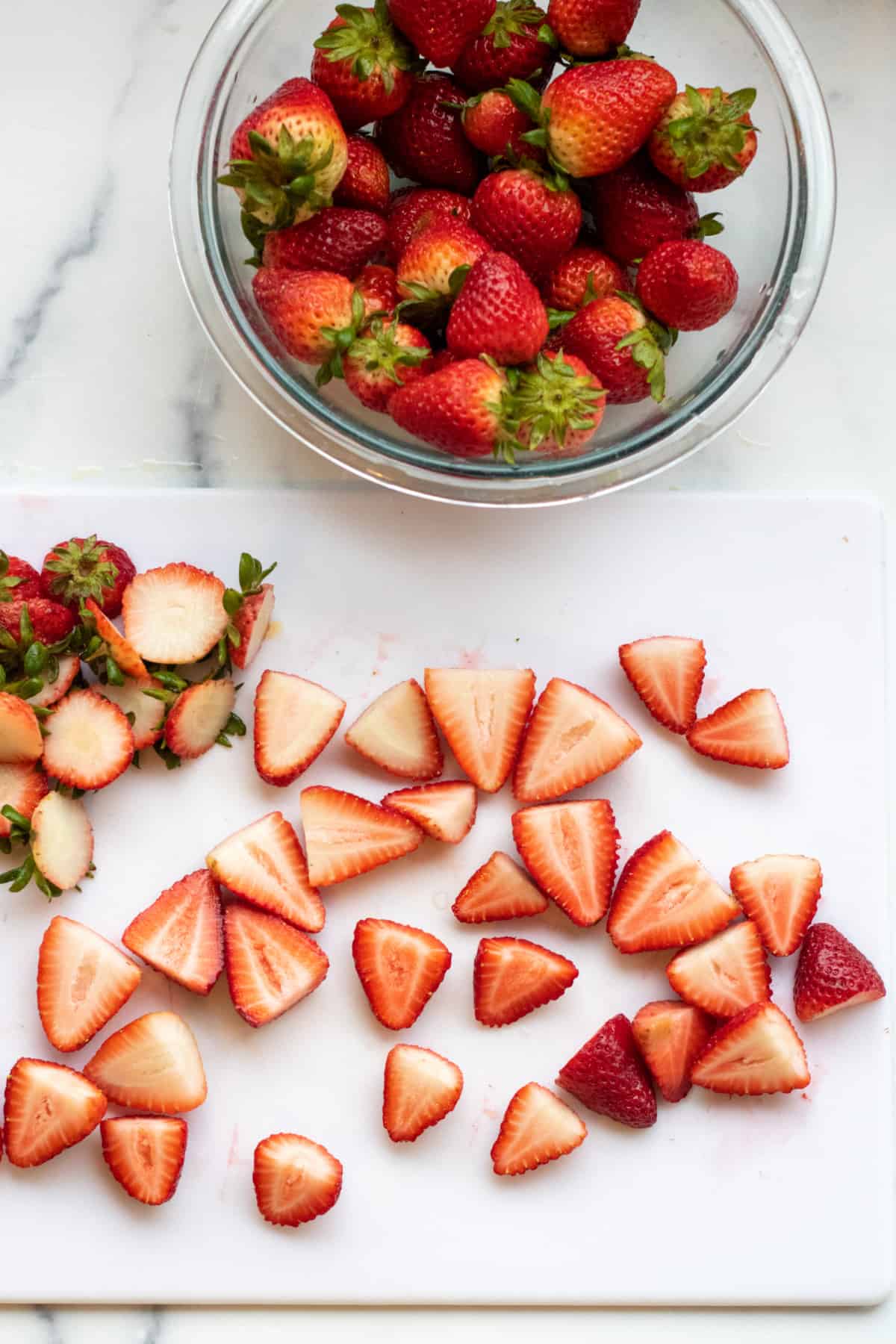 Hull the strawberries
Trim off those green tops of the strawberries and then give them a slice in half. You can cut them up smaller of course, too. We prefer larger pieces of strawberries, but you can cut them in any size preferred.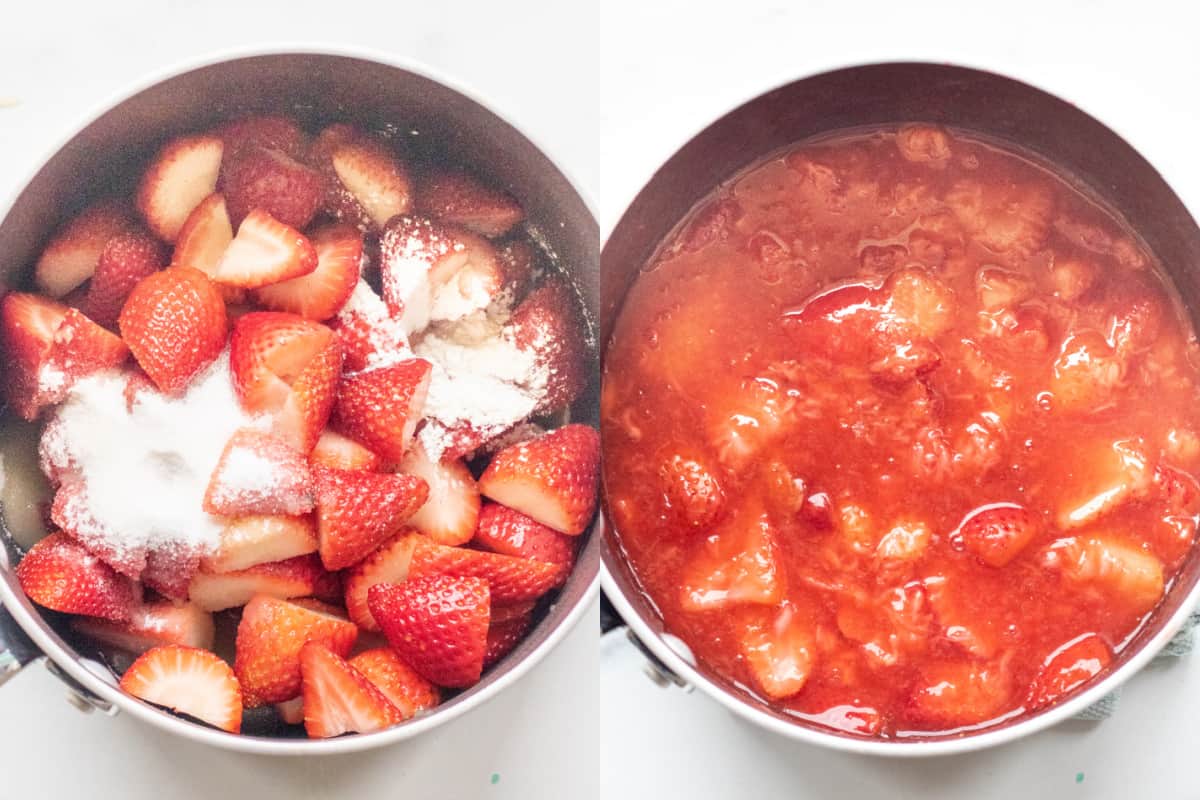 Cook down
Once your strawberries are cut, then it's just a matter of adding it all to your saucepan, bringing it to a boil, giving it a gentle mash, and then letting it simmer until it's reached a desired thickness. That's it!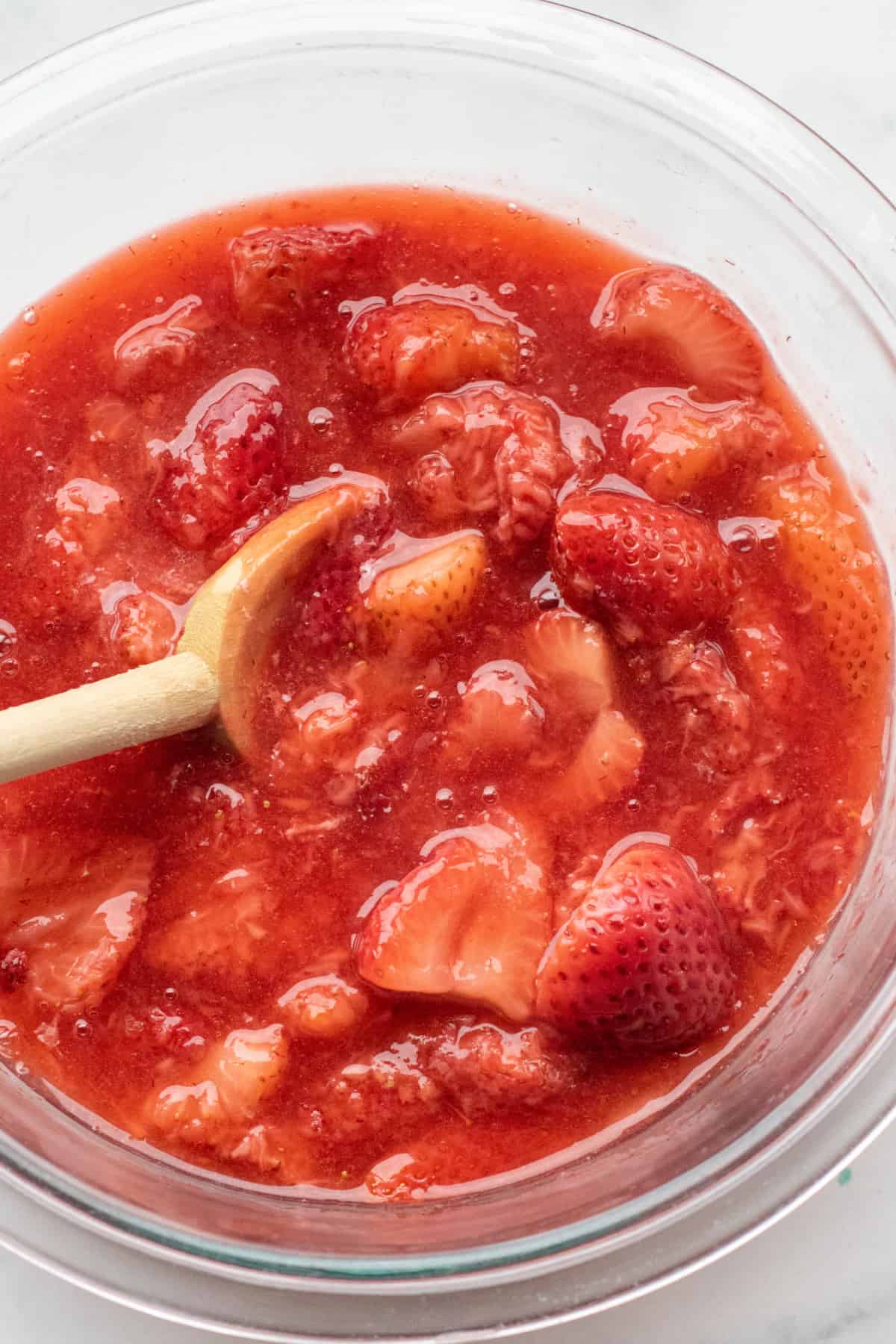 Easy Strawberry Compote, complete! Fresh strawberry flavor that is just highlighted by added sweetness but not overpowered, and a gorgeous color that'll make any dish pop!
Recipe Tips
Can I make this with another fruit?
Definitely!! Blueberries and peaches would be great substitutes! For other fruits like apples or pears, you'll want to add more liquid because they won't release as much naturally - stay tuned for an apple compote recipe, coming soon!
Gently mash to make saucier
After everything has come to a boil and begins to simmer, use a masher or a fork to gently mash some, but not all. This will help quicken the breakdown process while it all cooks.
Make Ahead
One of the best parts of this recipe is that you can make it ahead and store it in the fridge for up to two weeks!
How long should it simmer?
We find that about 10 minutes is great for a compote that's loose enough to be a nice topping on pancakes or waffles, but you could simmer it longer for a thicker sauce.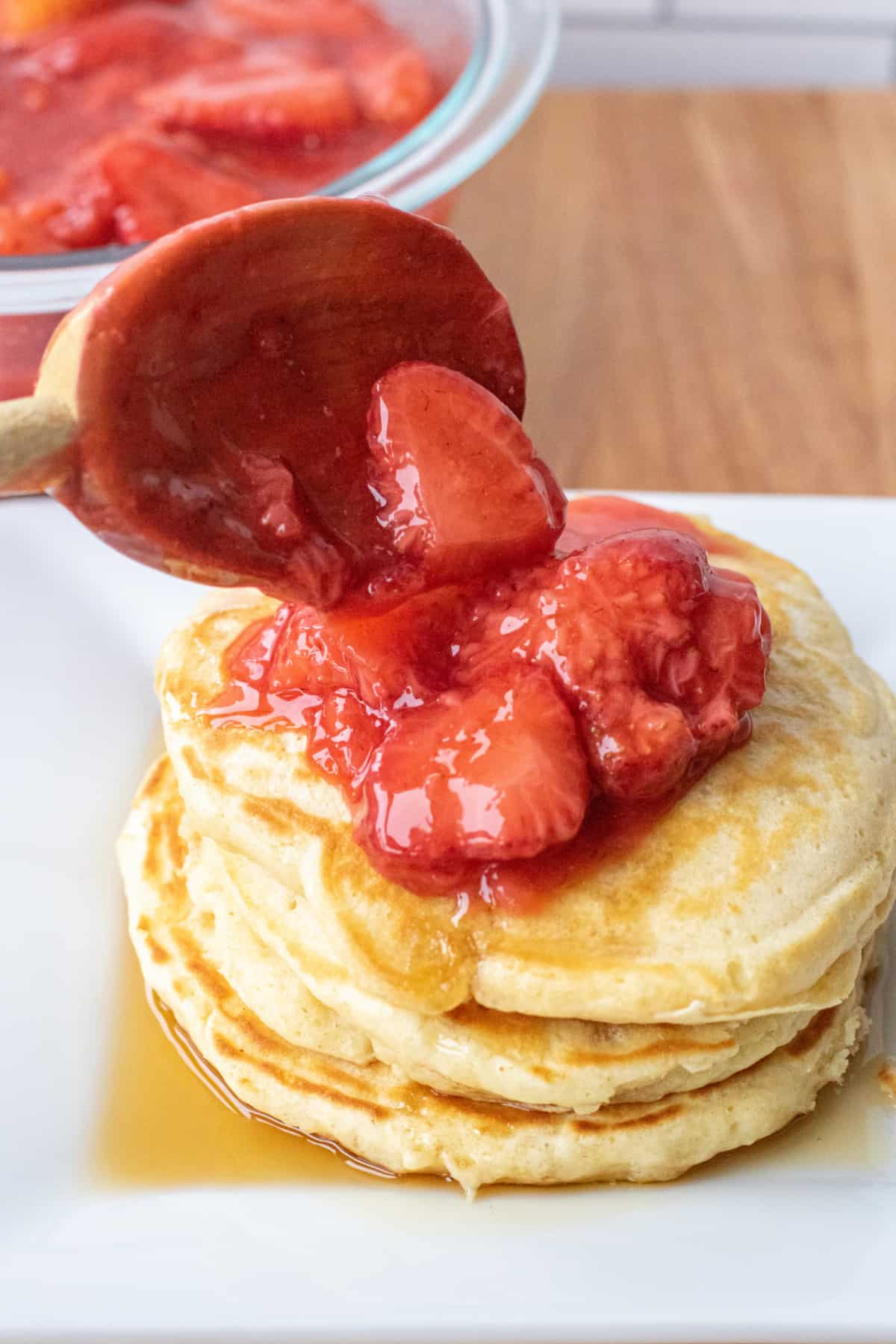 Now put that strawberry compote to good use!
Serve it On
The possibilities are endless!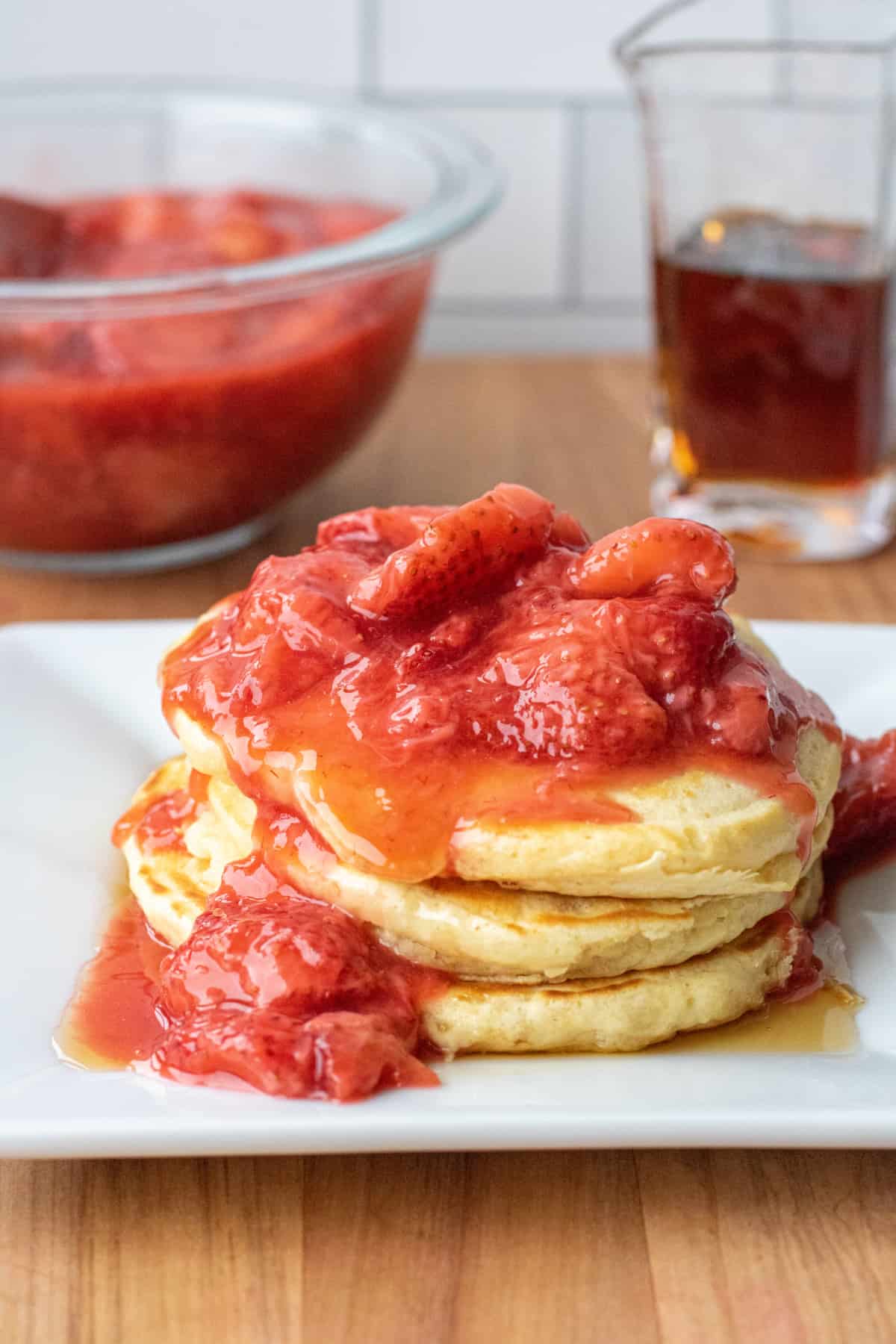 Enjoy! As always, if you make this recipe or any of my others, I love to hear what you think! Leave a comment below, email me, or you can find me on Facebook, Instagram, and Pinterest!
If you want to see more, be sure to sign up for my 5 Easy Ways to Start Cooking From Scratch!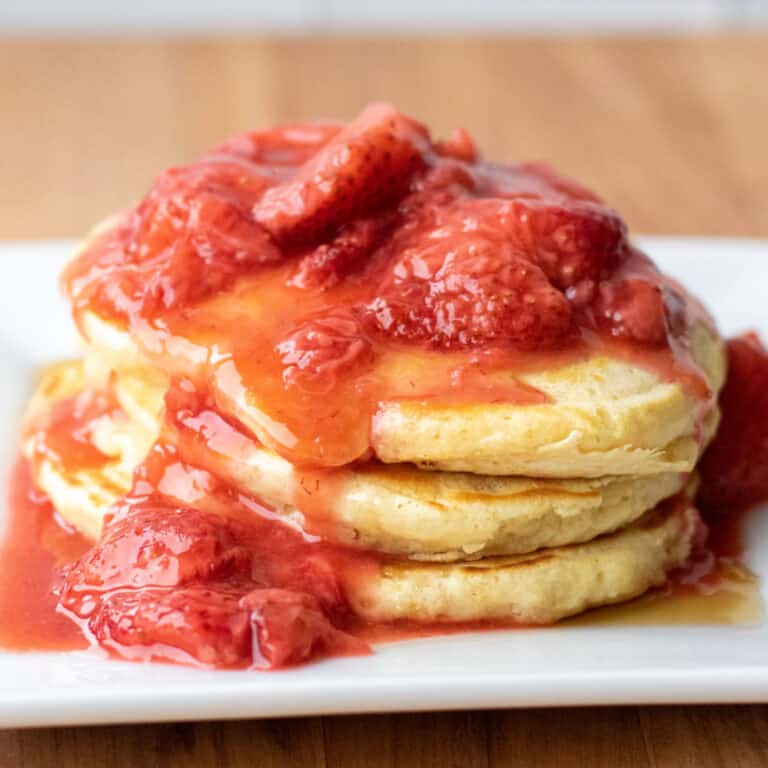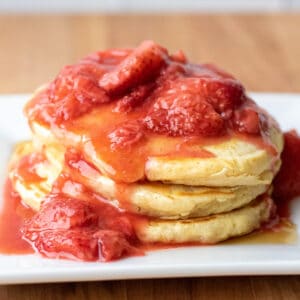 Easy Strawberry Compote
A simple but delicious way to take your favorite brunch or desserts to the next level!
Print
Pin
Rate
Ingredients
2

lbs

fresh strawberries

1

tablespoon

lemon juice

1/4

cup

orange juice

1

tablespoon

constarch

+ 1 tablespoon of water for a slurry

2

tablespoons

white sugar
Instructions
Hull Strawberries With a pairing knife, remove the top green part of the strawberry and then cut the strawberries in half or quarters.

Bring to a Boil Create a cornstarch slurry by adding cornstarch to a small bowl with 1 tablespoon of water and whisking. Add the strawberries, sugar, OJ, cornstarch slurry, and lemon juice to a medium-sized saucepan and heat over high heat until it comes to a boil.

Simmer and Reduce Turn the heat down to medium-low to bring the mixture to a simmer. Simmer until the strawberries are soft and give them a gentle mash with a masher or fork. Let simmer and reduce for approximately 10 minutes.

Serve or Store Serve hot or cold over your favorite pancakes, waffles, french toast, or ice cream or cake! Store in the fridge for up to 2 weeks until you're ready to use it.
Notes
Substitutions
Strawberries: Blueberries, raspberries, blackberries, or peaches would be delicious, too!
Orange Juice: You can use water instead.
Simmer Longer for a Thicker Compote
If you want a thicker compote you can simmer for another 5 - 10 minutes.
Serve With
Pancakes, waffles, ice cream, cake, toast, or anything else you love with strawberries!
Nutrition
Calories:
103
kcal
|
Carbohydrates:
25
g
|
Protein:
2
g
|
Fat:
1
g
|
Saturated Fat:
0.04
g
|
Polyunsaturated Fat:
0.4
g
|
Monounsaturated Fat:
0.1
g
|
Sodium:
3
mg
|
Potassium:
382
mg
|
Fiber:
5
g
|
Sugar:
18
g
|
Vitamin A:
58
IU
|
Vitamin C:
143
mg
|
Calcium:
38
mg
|
Iron:
1
mg