Love the convenience of the grab-n-go gogurt but not all of the added sugar? You can make your own! Our Homemade Strawberry Gogurt is the perfect lunchbox snack that's only three ingredients and is packed full of fresh fruit and is naturally sweetened for a clean, healthy snack!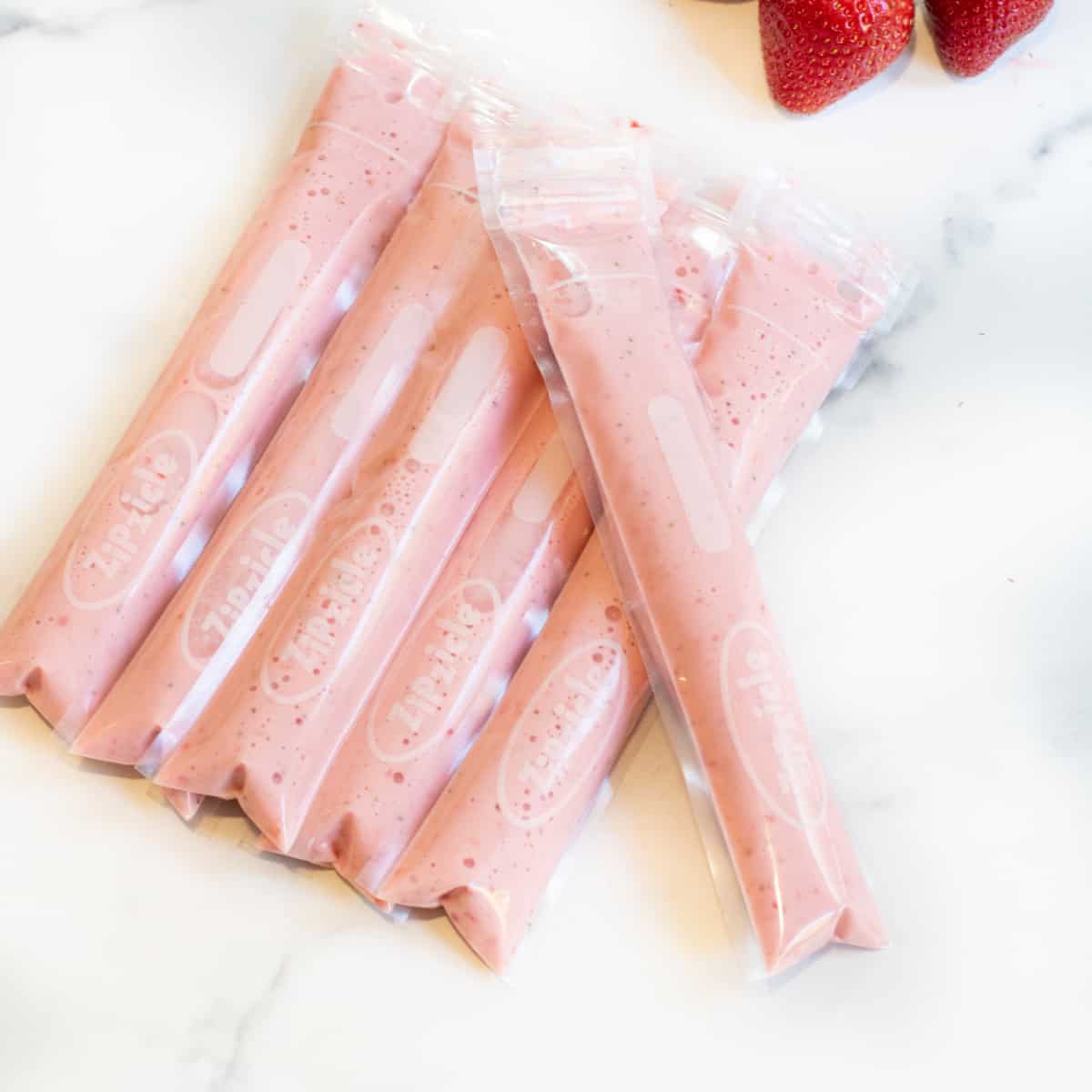 It's back-to-school time which means lunchbox and after-school snacks! There are so many options for quick and easy premade grab-n-go snacks that you can get at the grocery store, but with that convenience, I find you're also adding a whole lot of extra processed sugar. One that our girls absolutely love but I'm not a fan of the amount of added sugar, are gogurts (or yogurts on the go!), which is why we created our own! Our Homemade Strawberry Gogurt is everything you love about the grab-n-go lunchbox snack, but made with just 3 simple ingredients and naturally sweetened!
You'll love this homemade gogurt recipe because not only can you adjust the sweetness (with natural sweeteners), but they're also completely customizable and you can switch up the fruits for a variety of fresh fruit flavors so your little snackers never get bored!
Ingredients Needed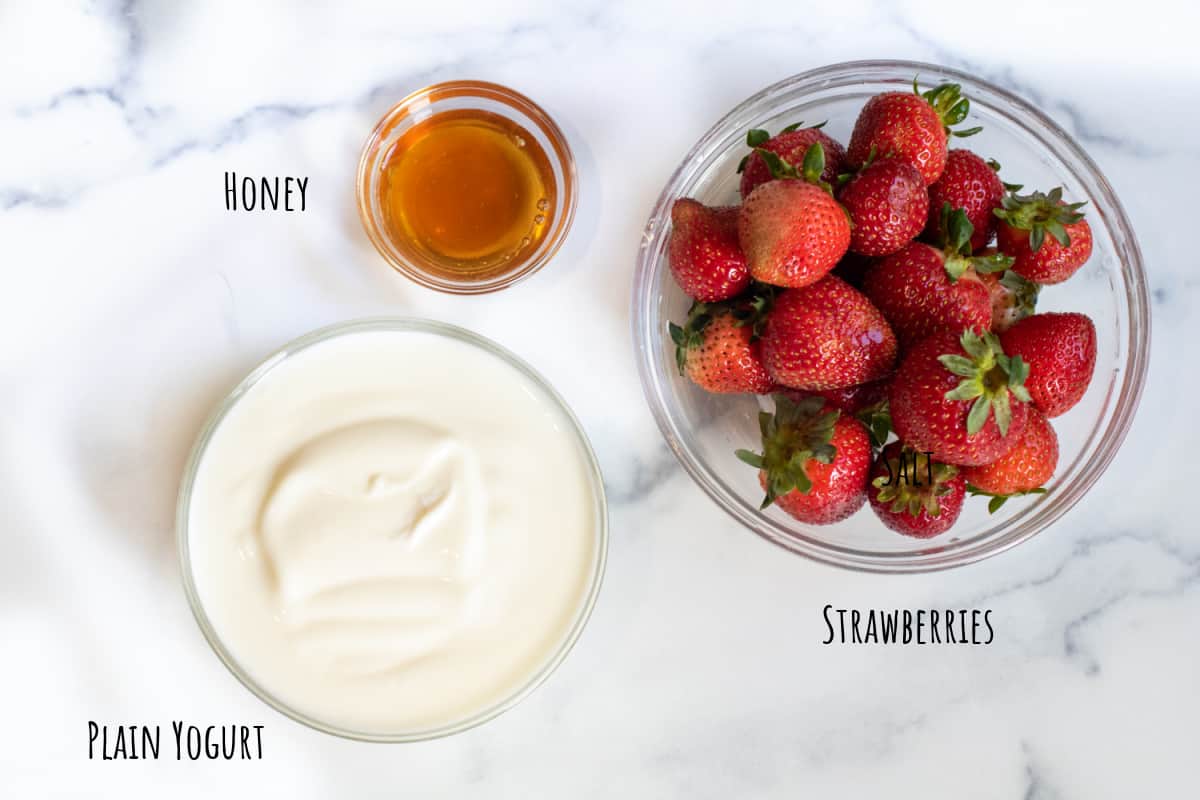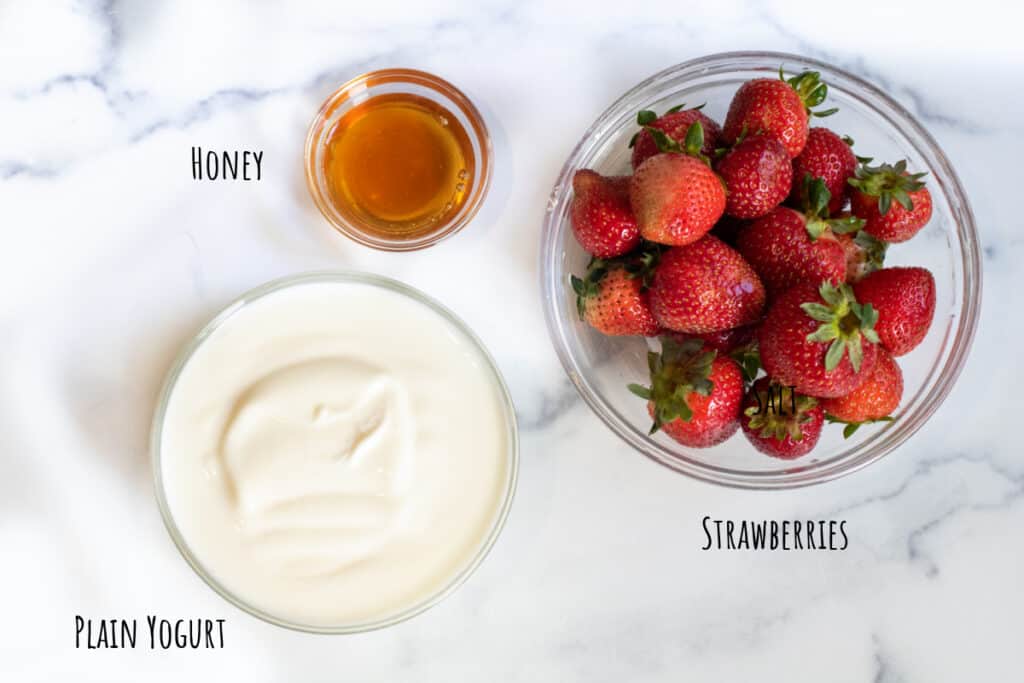 Super simple ingredients that have all the flavor and nutrition you need!
Plain Yogurt - We love a regular plain yogurt or even a plain Greek yogurt for this gogurt recipe. While plain is our preferred to cut the added sugar, you can of course use your favorite vanilla yogurt, too, and then omit the honey.
Fresh Strawberries - Perfect for strawberry season when there's an abundance of fresh strawberries! Although you can also use frozen strawberries too, or any of your other favorite fruits/combinations!
Honey - Just a little to bring out the natural sweetness of the strawberries and balance the tart tangy plain yogurt. You can also use maple syrup or any of your other favorite natural sweeteners.
Supplies / Equipment Needed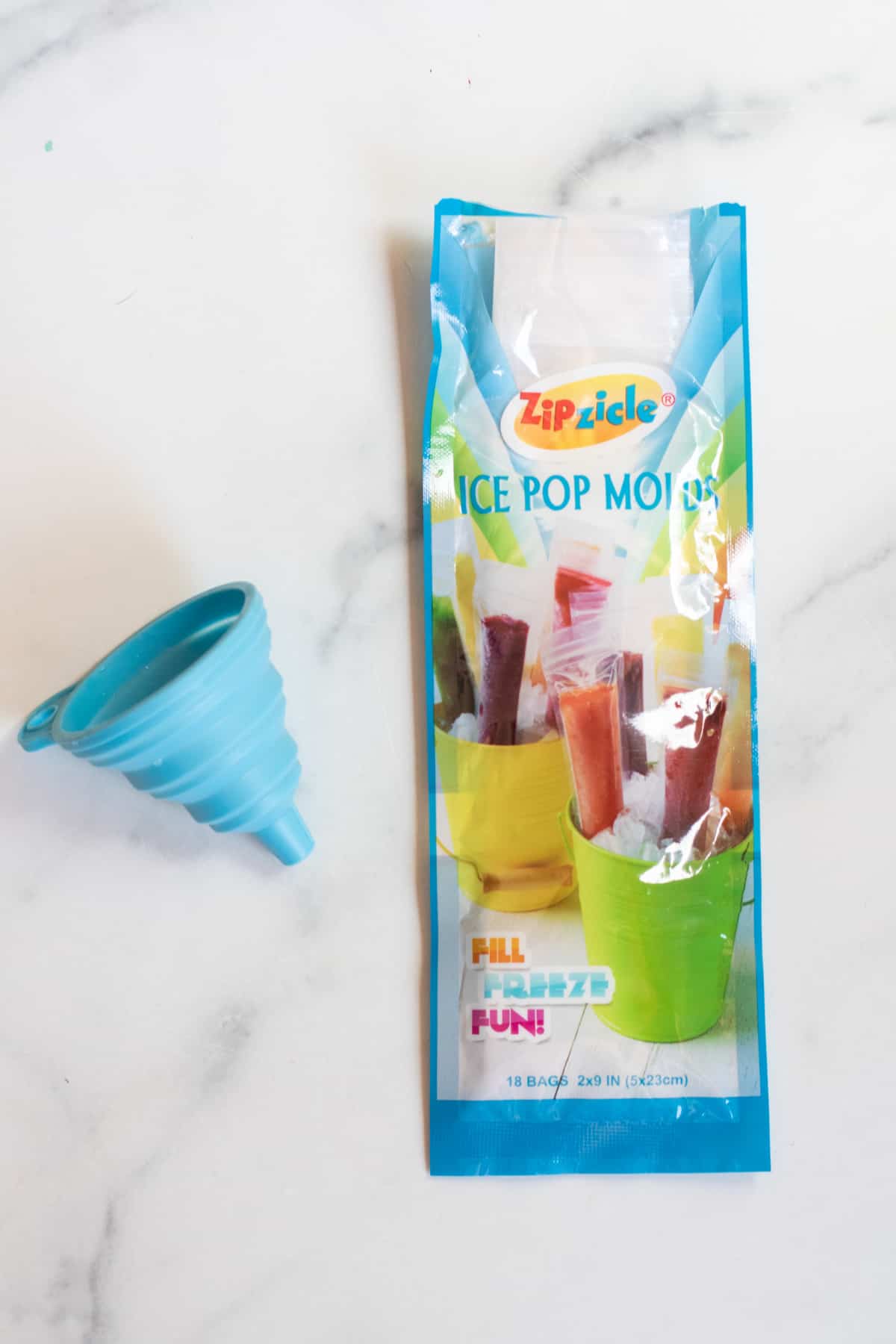 For this delicious lunchbox snack, there are a few extras that you need in order to complete the grab-n-go factor. The gogurt pouches and then a handy dandy way to fill them!
We use these fun little ice pop packs. They hold about 4 oz of this homemade gogurt and they have a great ziplock top for easy storage.
We love these little silicone collapsible funnels. Not only are they perfect for storing, but the choice of the 4 sizes makes them so incredibly helpful for all of our clean pouring needs!
We absolutely love our Vitamix, but you definitely don't need a high-powered blender like that for this gorgurt recipe. You can use whatever trusty blender you have.
Ready in Minutes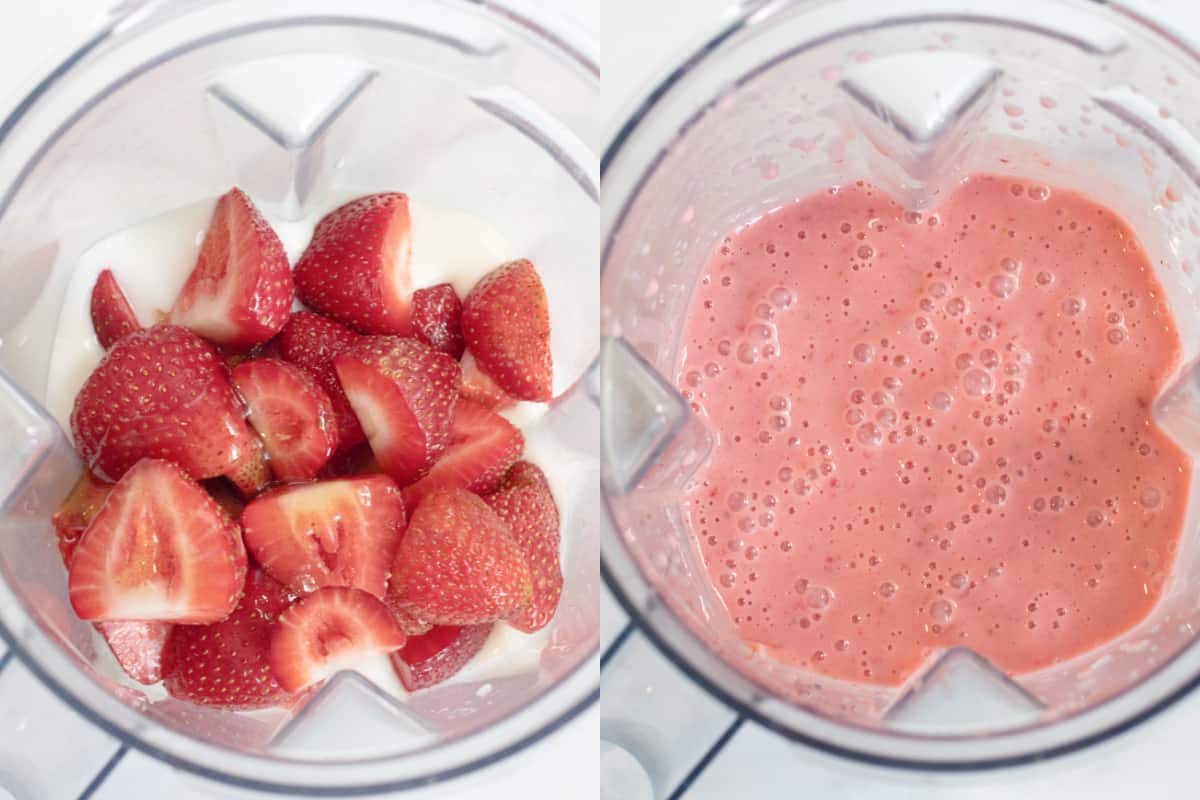 While opening the box to a store-bought snack is undeniably easy, with just a few minutes of prep, you can create plenty of your own grab-n-go lunchbox snacks!
Add it all to a blender and blend. That's it!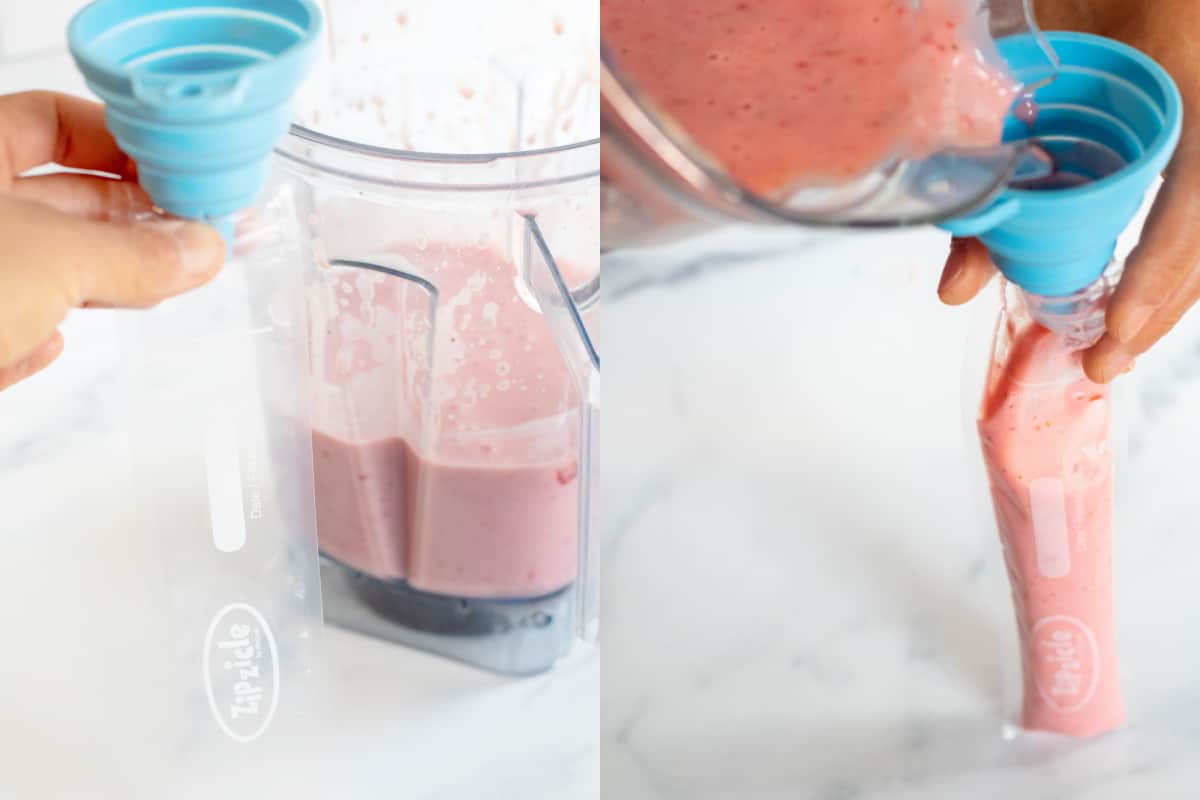 Add to gogurt pouches. This is the "hardest" part to avoid making a mess, but a good little funnel makes it a lot easier!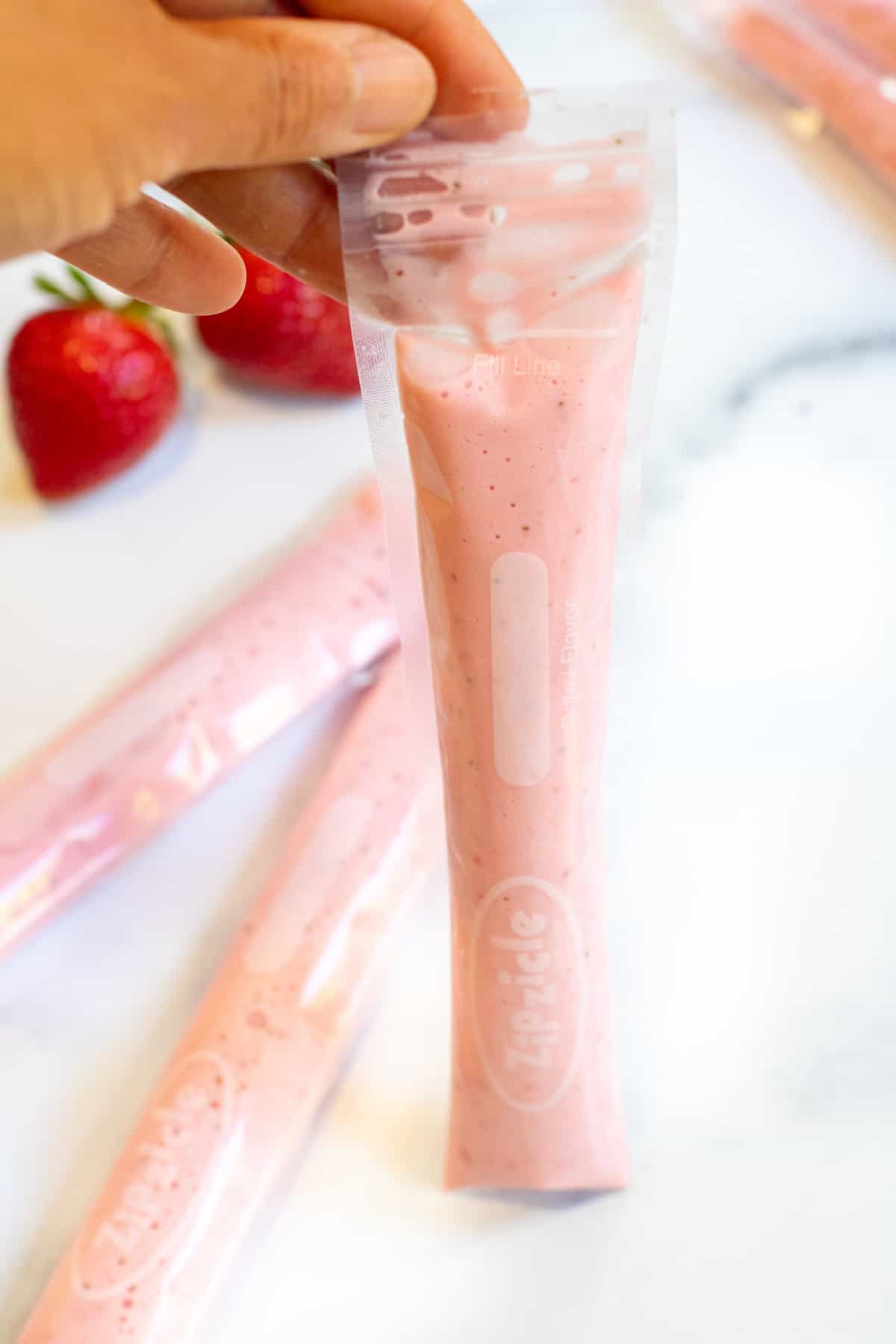 Done!! Homemade Strawberry Gogurt, the perfect lunchbox snack or afterschool snack - but with way less sugar than the store-bought variety and all the flavor and protein, and nutrition you want!
Pro Tips and FAQs
Freeze for the Lunchbox
We absolutely love storing these in the freezer! Then we just add them to the kids' lunchboxes and by the time they're ready for lunch or their snack time at school, the gogurt is nicely defrosted, but still cold!
Customize!
Switch up your fruit combinations! Add some banana for Strawberry Banana. Add some kiwi for Kiwi Strawberry or blueberries, raspberries, or a mix of any for a Berry Blend! The options are endless!
Do I need to cut off the top?
These pouches have a great ziplock top, but my 4-year-old has a hard time eating them with the zip lock because she'll reclose it with her mouth. My 6-year-old has no problem with the zip lock top, so it's really up to you what's easiest.
Are these cheaper to make than buy?
Well, it depends on which kind you buy. Compared to some, yes, but you can also find others that are less expensive than making your own, but all are full of a lot of extras, which, if you're here, it's probably means you want a more natural option, anyway. Here's the breakdown of the cost per these homemade gogurts:
Pouches = about .22 cents each.
Yogurt = about .28 cents each
Strawberries = about .50 cents each.
This means that for 8 of these homemade gogurts the cost is just about $1.00 each. This of course will vary dependent upon the fruit you use, where you live, and what you can find on sale.
How much yogurt is in each?
These little pouches hold about 4 oz of yogurt.
Can I reuse the pouches?
The kind that I have used are unfortunately not reusable, but they do make them! These are a great option, although we haven't used them personally, yet. I buy the disposable ones because we have to cut the top off for our little one, anyway. Because we are aware of our plastics waste though, we do use a local plastic recycling, called Ridwell!
How long do they last?
Because these have fresh fruit in them, we store them in the fridge for up to 3 days. They last in the freezer for up to 2 months, which is the best storage when they're used as a lunchbox snack anyway!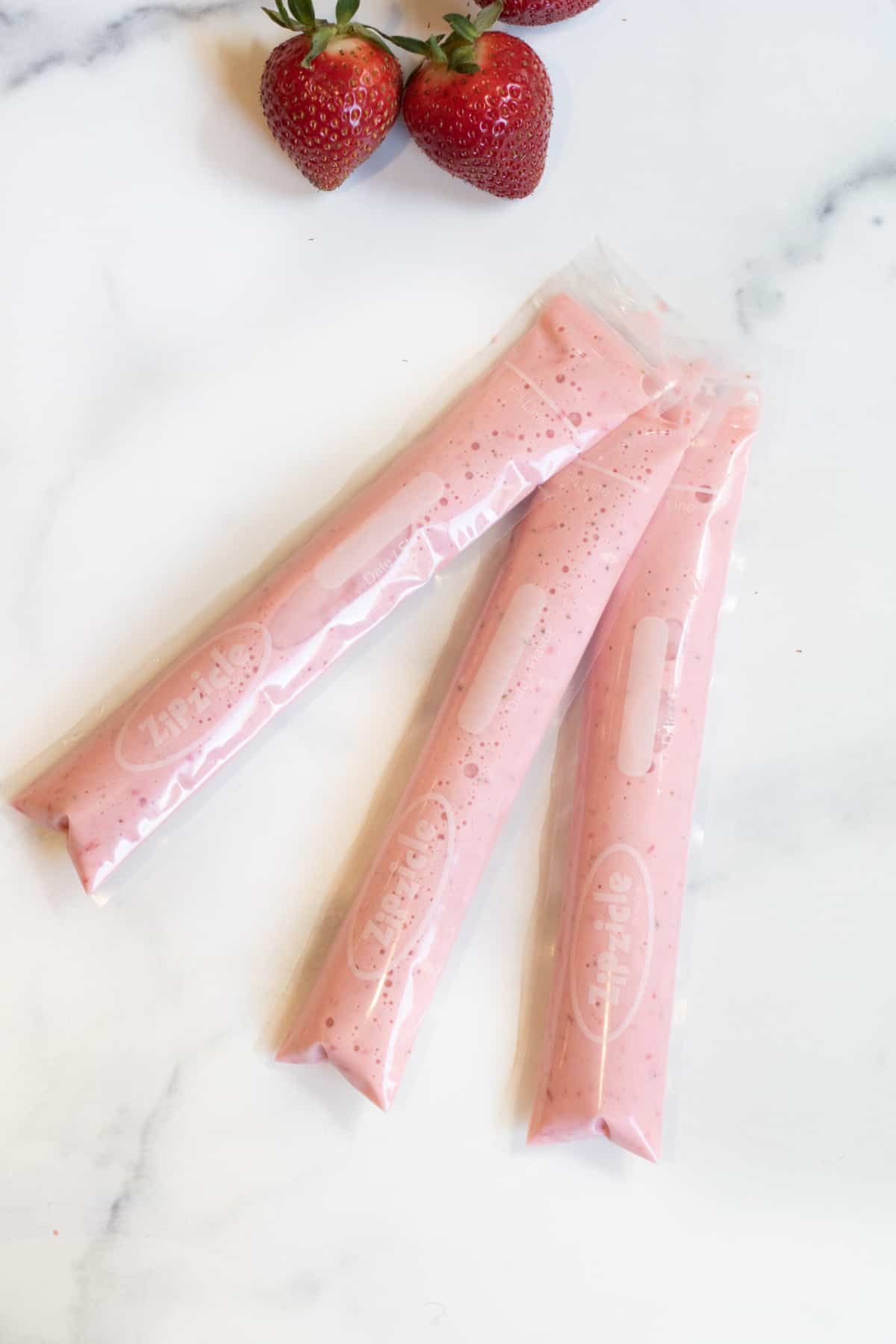 We hope that you enjoy this easy gogurt recipe as much as my girls have! They're a new lunchbox favorite!
Other Lunchbox Favorites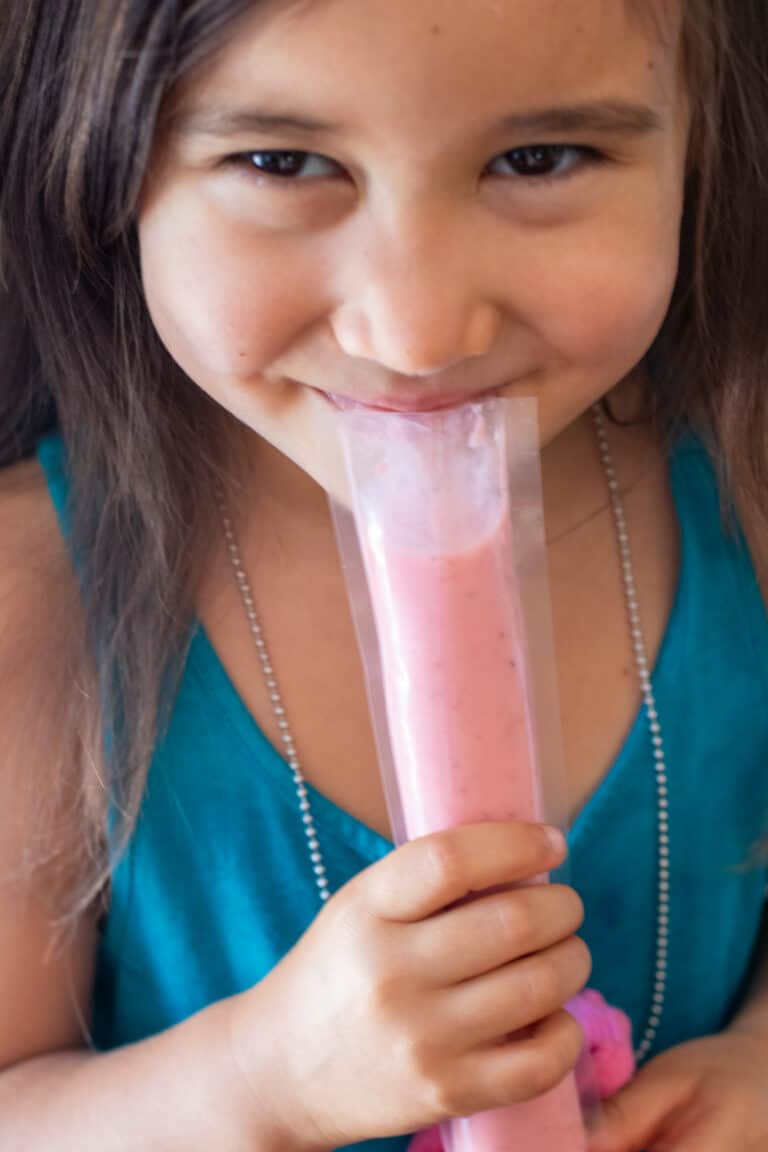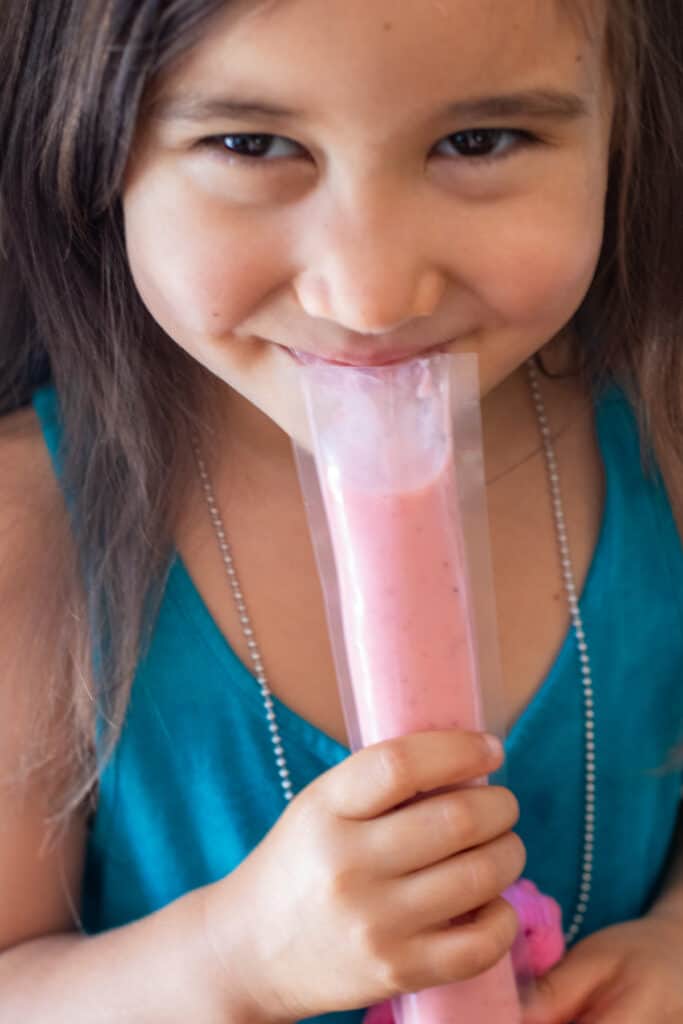 I hope you (and your kids!) love these Homemade Strawberry Gogurts as much as mine do!
Enjoy! As always, if you make this recipe or any of my others, I love to hear what you think! Leave a comment below, email me, or you can find me on Facebook, Instagram, and Pinterest!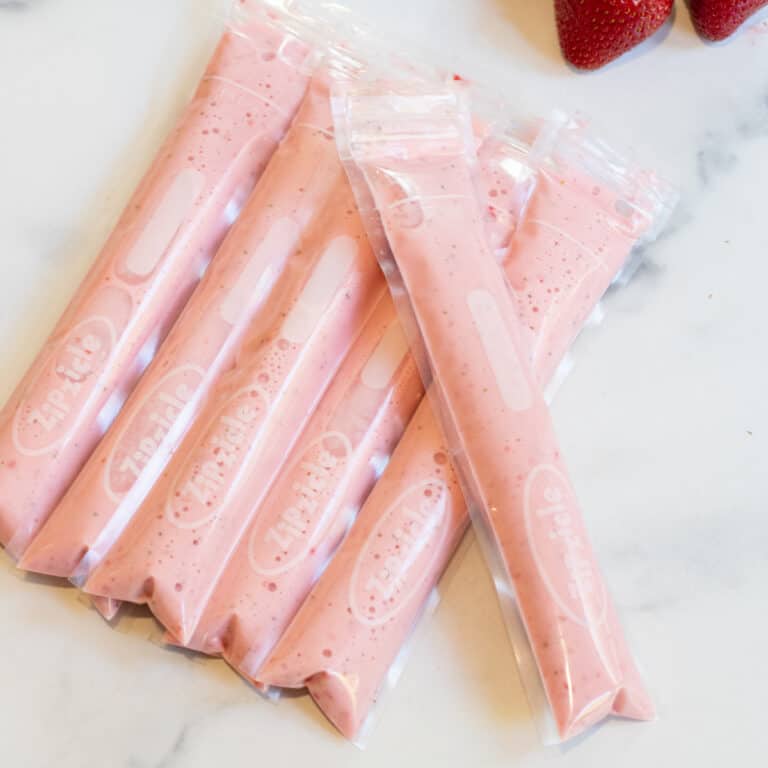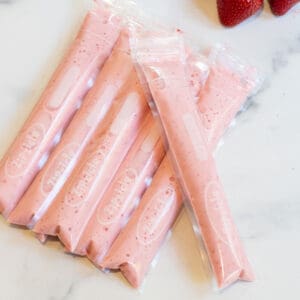 Homemade Strawberry Gogurt
Skip the store bought and make your own, fresh fruit grab-n-go gogurt!
Print
Pin
Rate
Ingredients
16

oz

plain yogurt

16

oz

fresh strawberries

cleaned and halved or chopped

2

tablespoons

honey
Instructions
Add yogurt, strawberries, and honey to Vitamix or blender. Blend until creamy.

With a funnel, carefully add yogurt to pouches and seal.

Store in fridge or freezer and enjoy!
Notes
Storage
Fridge: Because of the fresh fruit, these gorgurts will last in the fridge for 3 days.
Freezer: They freeze great and will last in the freezer for up to 2 months.
For the Lunchbox
We recommend freezing and then just adding to the lunchbox in the morning. By the time it's lunch or snack time, they will be mostly defrosted and ready to enjoy!
Customize
Other fruit: Use any of your favorite fruits! Add some banana or kiwis for a great blend or use your favorite berries.
Frozen Fruit: You can absolutely use frozen fruit in place of fresh! Toss them frozen right into your blender.
Yogurt: Use your favorite regular plain or Greek yogurt.
Cutting off the Tops
You may want to or need to cut off the tops (ziplock) of these pouches dependent upon your kid's age/ability. Our 4 year old has difficulty because she will reseal the ziplock when eating, but our 6 year old does not need the top cut off.
Nutrition
Calories:
69
kcal
|
Carbohydrates:
11
g
|
Protein:
6
g
|
Fat:
0.4
g
|
Saturated Fat:
0.1
g
|
Polyunsaturated Fat:
0.1
g
|
Monounsaturated Fat:
0.1
g
|
Trans Fat:
0.004
g
|
Cholesterol:
3
mg
|
Sodium:
21
mg
|
Potassium:
169
mg
|
Fiber:
1
g
|
Sugar:
9
g
|
Vitamin A:
9
IU
|
Vitamin C:
33
mg
|
Calcium:
72
mg
|
Iron:
0.3
mg