Enjoy those summer berries with this incredibly easy-to-make Strawberry Bread recipe. This sweet, moist, quick bread will be a delicious addition to any brunch or dessert!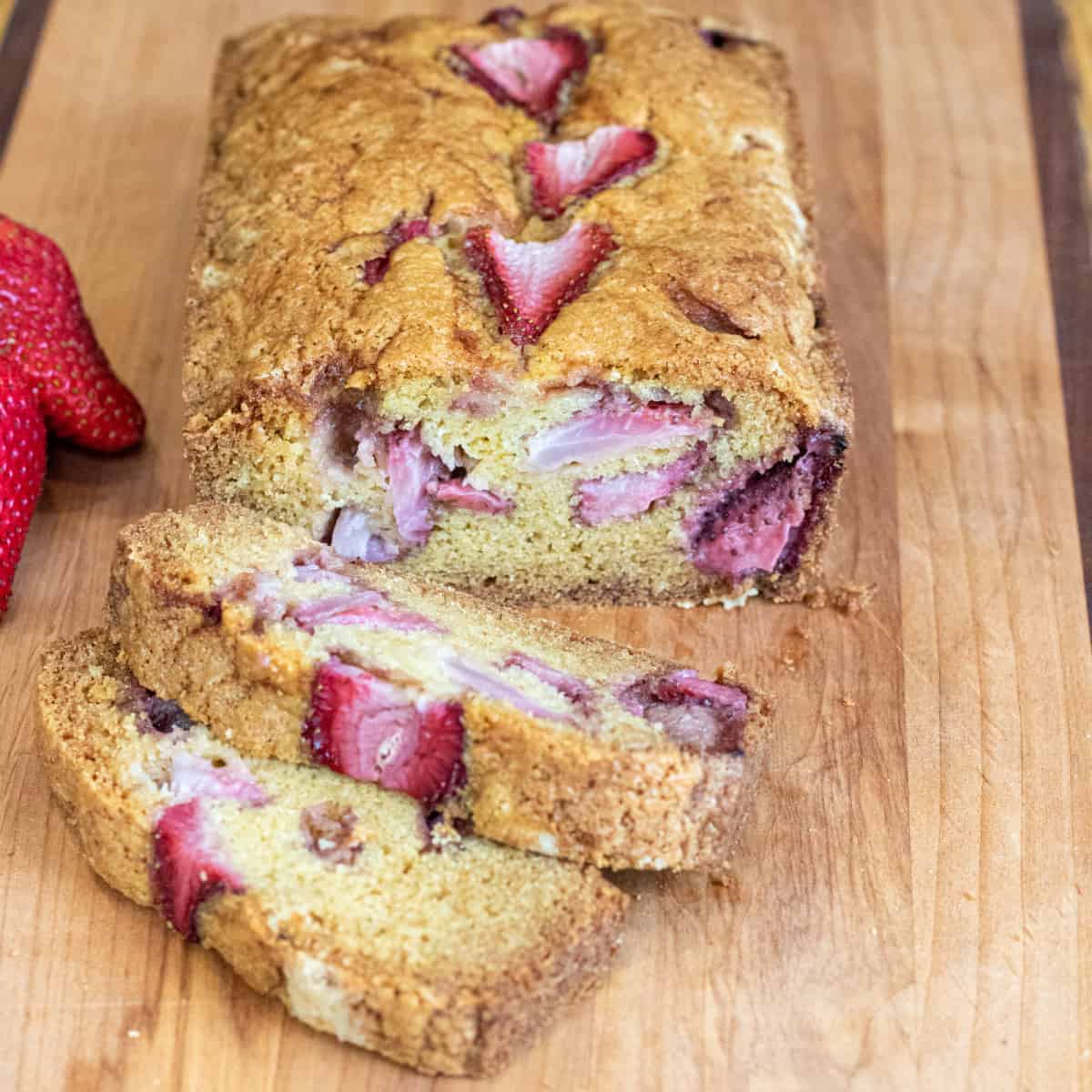 A quick sweet bread that's a great way to use those summer strawberries. This Strawberry Bread recipe is one that we have adapted from my husband's family recipe and it is such an easy-to-make sweet loaf that's packed full of fresh berries with a soft moist center and an almost cookie-like crust! Our girls can't wait to go strawberry picking to make more, which means we know it's a winner!
What is a Quick Bread?
A quick bread is any bread that is made without yeast. Instead, they are leavened by using baking soda or baking powder, and many are made sweet, whereas most yeasted breads would not be considered sweet. Banana Bread, Zucchini Bread, and any of those classic sweet bread are all forms of quick bread.
Ingredients Needed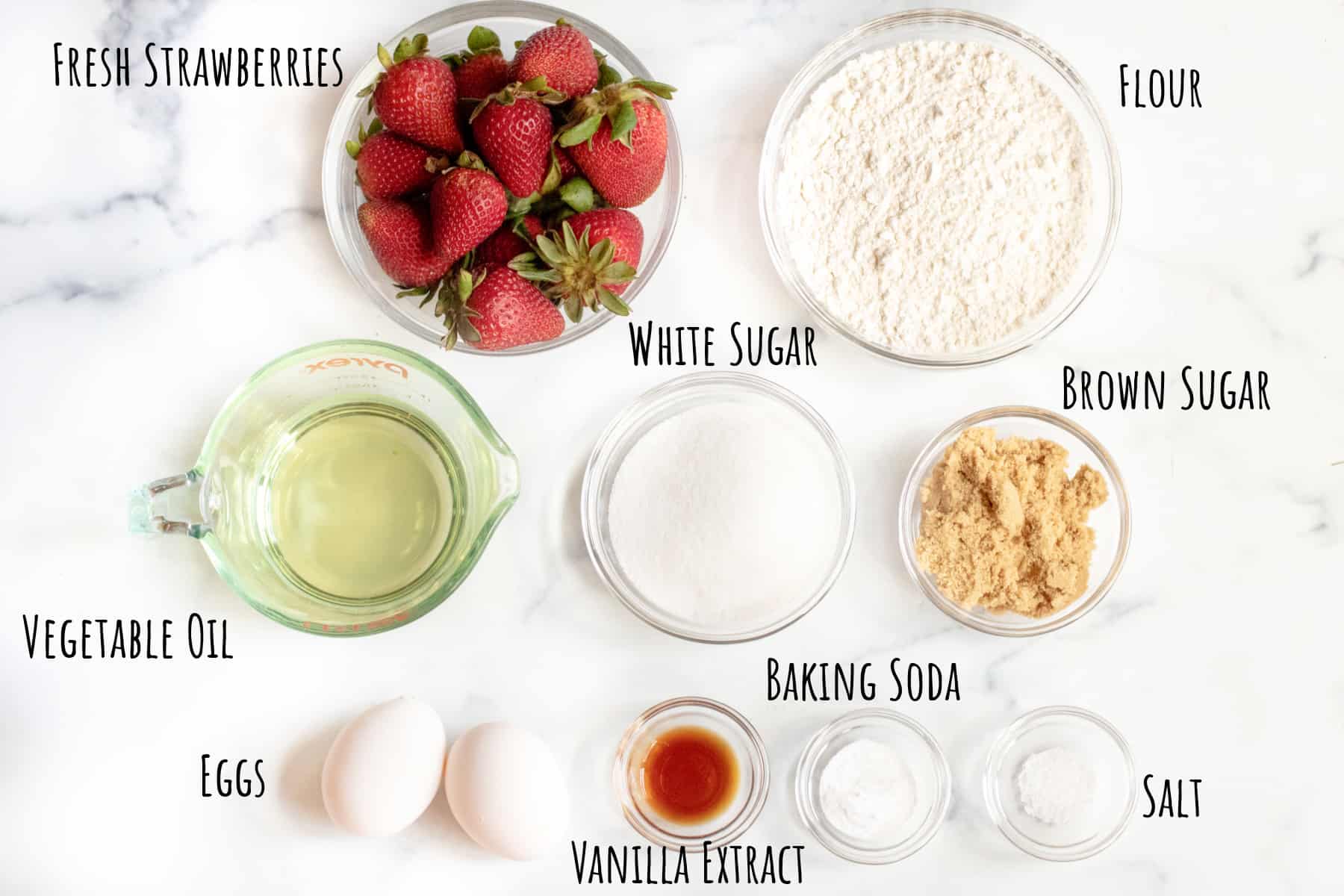 Fresh Strawberries - 'Tis the season! But also if it's not the season, you can use frozen.
Flour - All purpose is our go-to.
Sugar - We use a combination of white and brown, but not too much brown because if you use too much it ends up masking the naturally sweet flavors of the strawberries.
Eggs and Vegetable Oil- You could also use another neutral flavored oil like canola.
Baking Soda - The leavening agent of this quick bread.
Vanilla Extract - Have you made your own, yet?
Salt - Just a pinch!
Easy to Make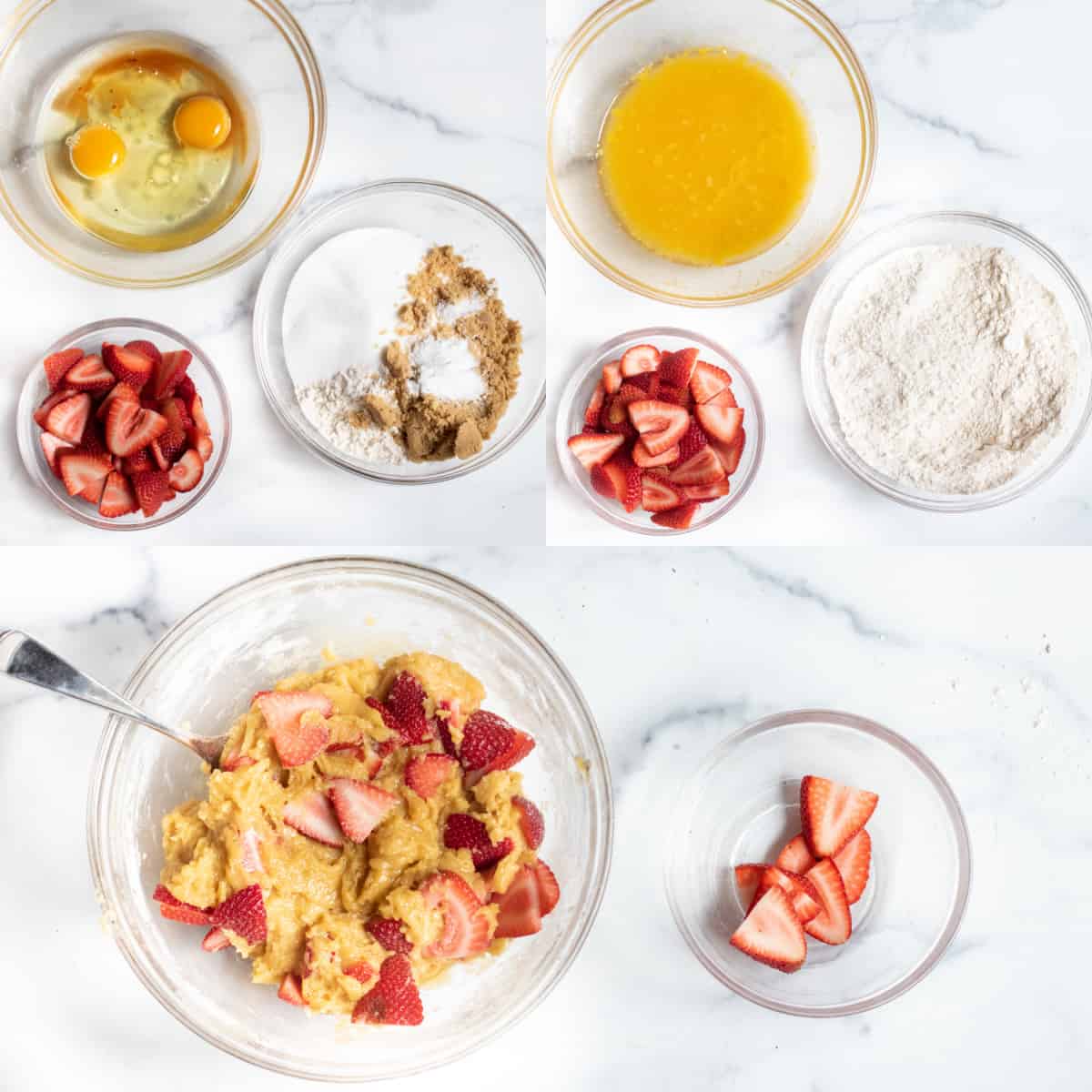 One thing I love about a sweet quick bread is how easily it comes together! Unlike yeasted bread, there's no kneading required!
Step 1: Whisk your dry ingredients in one bowl and your wet in another.
Step 2: Add the wet into the dry and mix until it's just combined.
Step 3: Gently fold in the strawberries (but keep some to finish with!)
Easy, right?
Bake!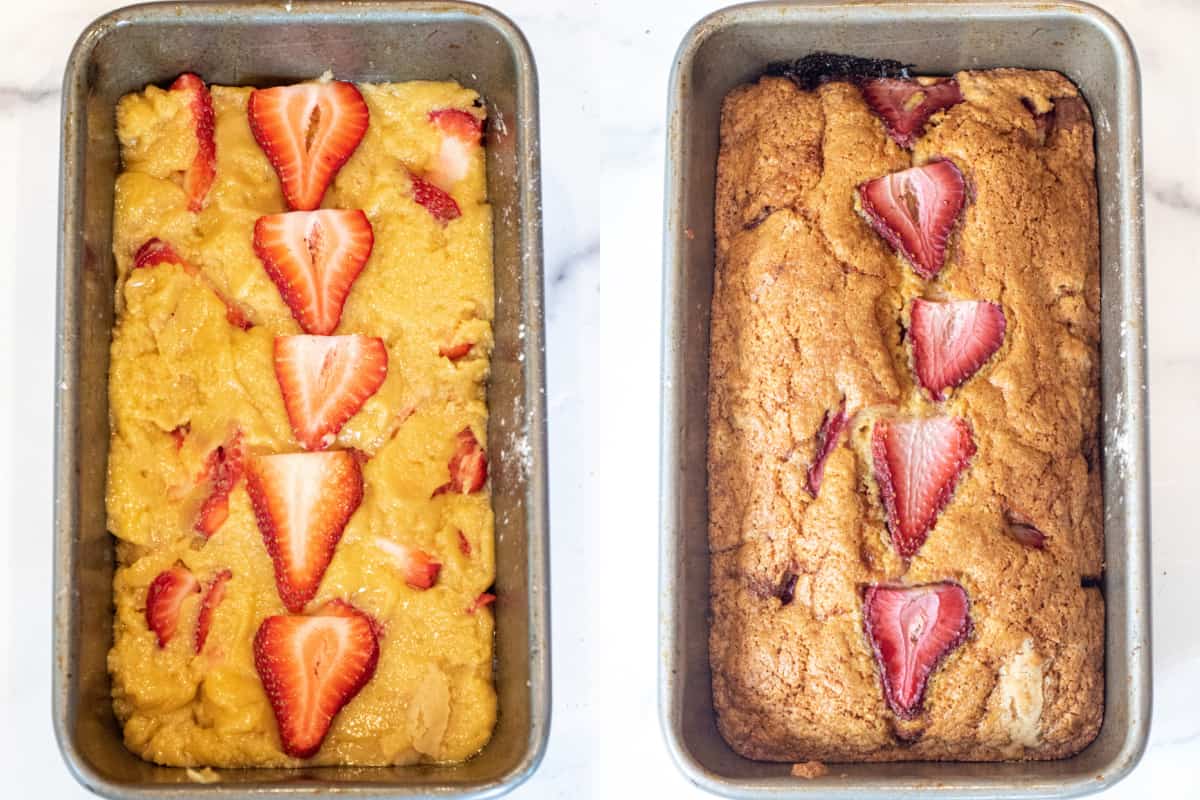 Add that dough to a well-greased and floured loaf pan and use those reserved strawberries to make whatever final design you'd like on top, and bake!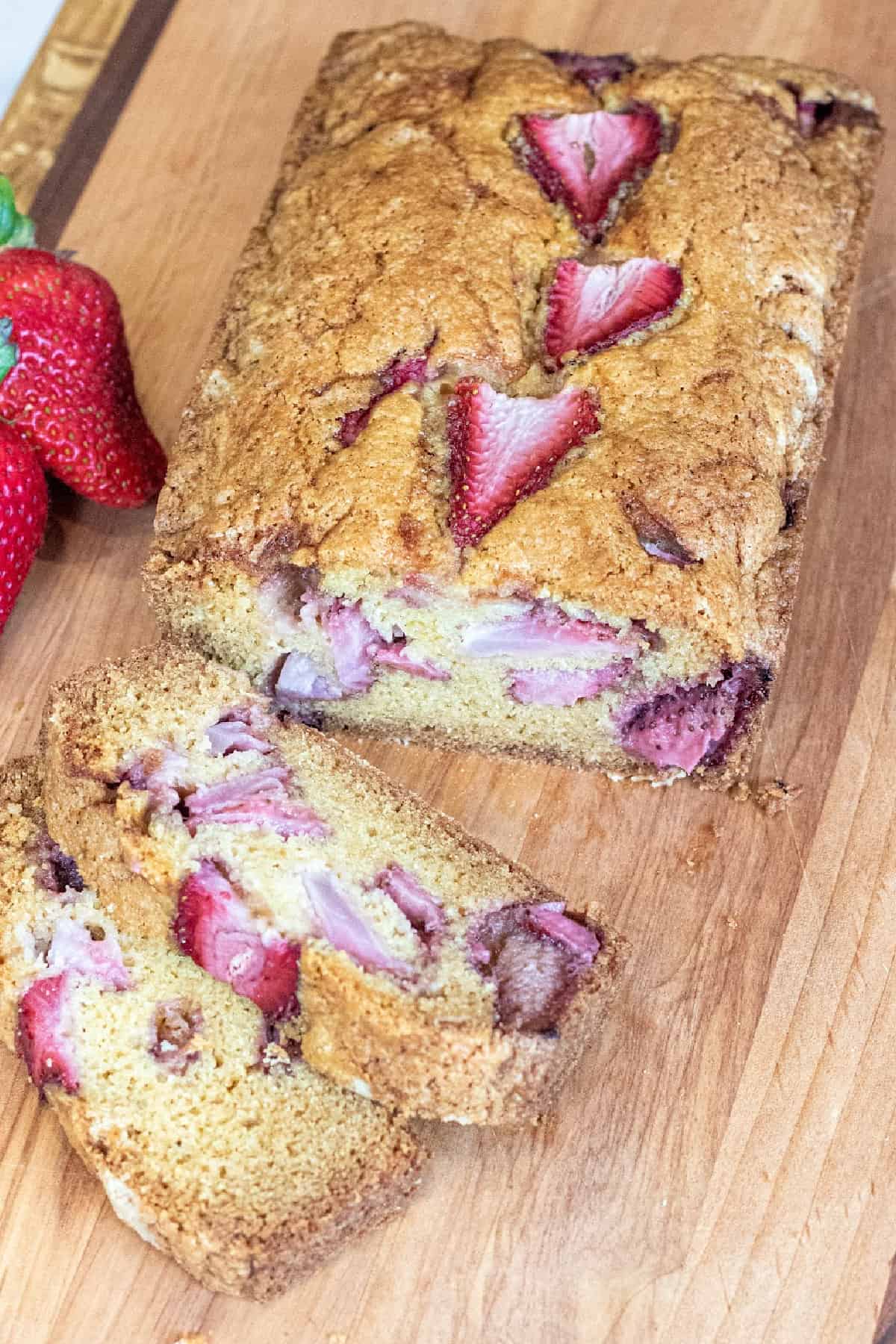 Done! This Strawberry Bread recipe takes only a little bit of time to prep and then the hardest part is just waiting for it to finish baking. Packed full of strawberries, there's no denying the star of this bread.
Recipe Tips and FAQs
Can I use butter instead?
Short answer, yes. Long answer, you will have a denser less moist crumb of this Strawberry Bread if you use butter instead of oil. Butter has a much stronger flavor than oil too, which will end up "competing" with the flavor of the strawberries. Still delicious of course, but our choice is oil for this one.
Fresh vs. Frozen Strawberries
Fresh is always preferred, but of course, you can use frozen as well. Just be sure that they're fully thawed so you're not going to add any extra moisture to the bread.
Don't over-mix!
Unlike yeasted bread which requires a lot of mixing to activate the gluten, with a sweet quick bread like this, that's what you don't want to do because that will result in a tough bread that's baked unevenly.
Can I freeze it?
Of course! Just like any of your other favorite sweet breads, you can absolutely freeze this bread to enjoy all winter long when you're missing fresh strawberries.
Customize!
Add some nuts or a sweet glaze on top! This bread would be great with a few almonds or a maple glaze or simple glaze on top, too. It's a pretty sweet bread already so we prefer it without a glaze, but let your sweet tooth go wild!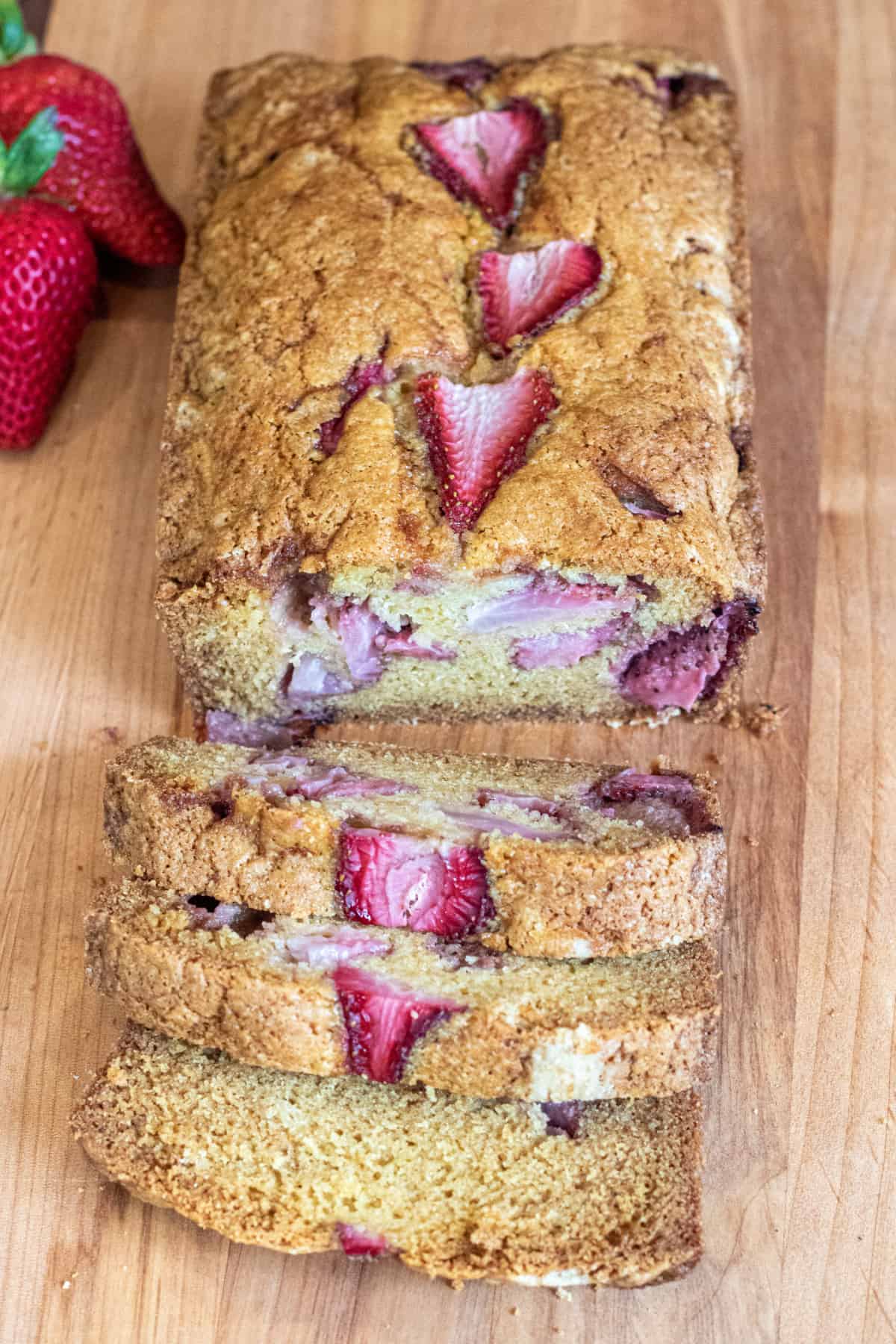 Bring on summer and all of the fresh fruits!
You Also Might Like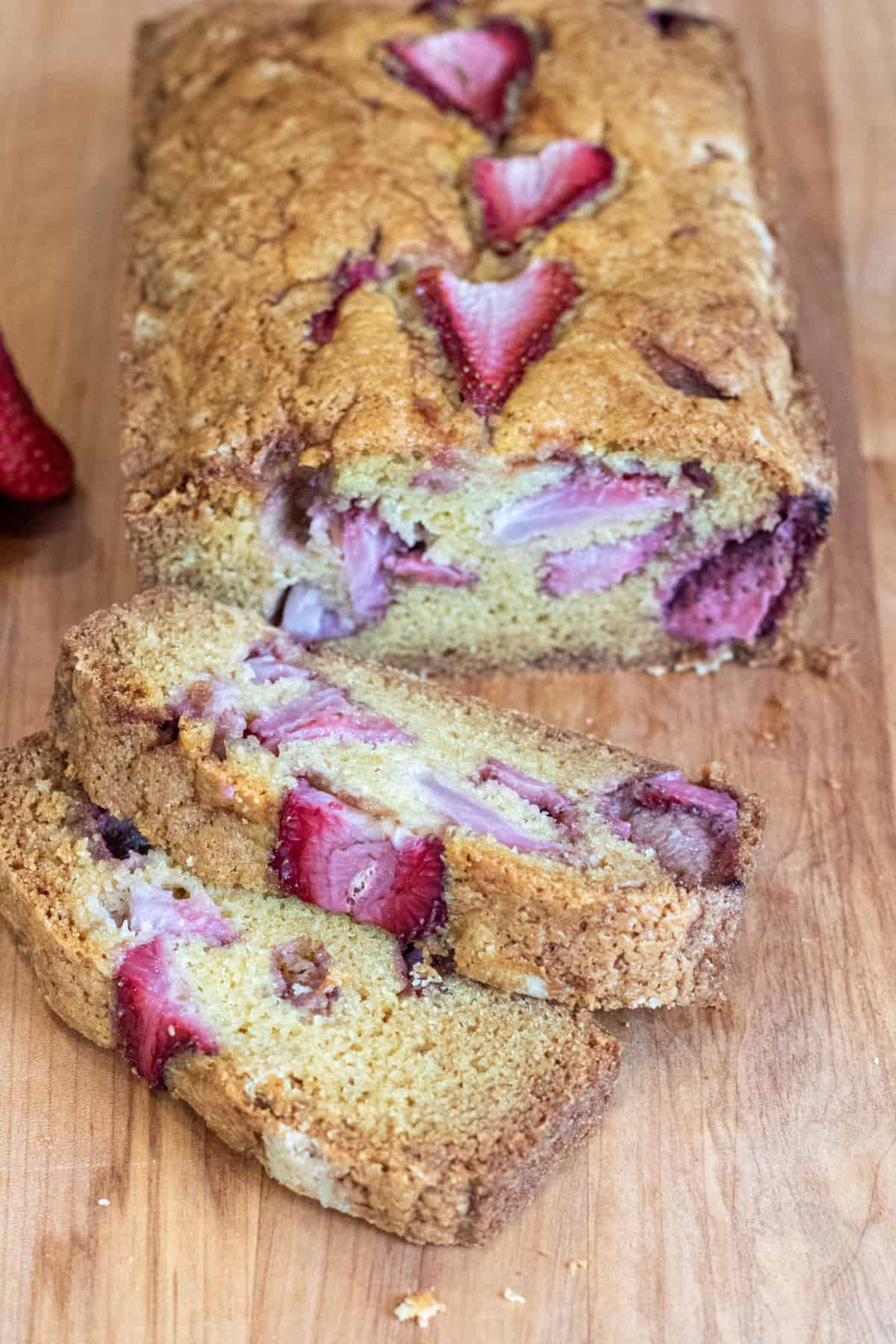 Enjoy! As always, if you make this recipe or any of my others, I love to hear what you think! Leave a comment below, email me, or you can find me on Facebook, Instagram, and Pinterest!
If you want to see more, be sure to sign up for my 5 Easy Ways to Start Cooking From Scratch!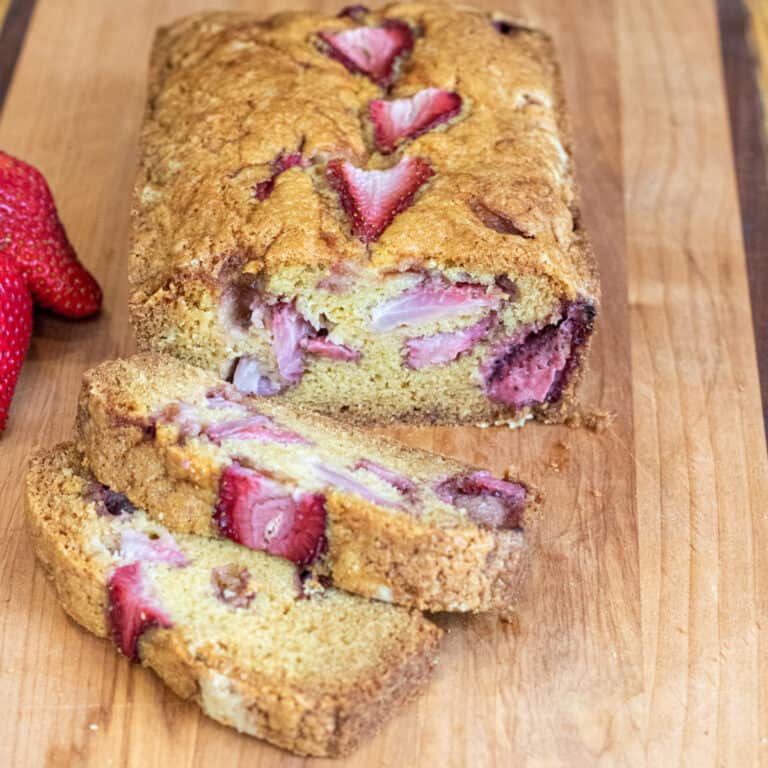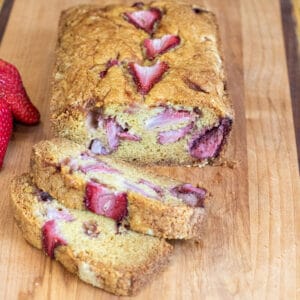 Ingredients
2

cups

all-purpose flour

213 g

1/2

cup

white sugar

110 g

1/8

cup

brown sugar

31 g

1/2

cup

vegetable oil

2

eggs

1

teaspoon

vanilla extract

1/2

teaspoon

baking soda

1/4

teaspoon

salt

1 1/2

cups

sliced strawberries

10 oz whole strawberries
Instructions
Prep: Preheat oven to 350° F and grease and flour a loaf pan and set aside.

Create Dough: Add flour, baking soda, sugar, and salt to a medium-sized bowl and whisk. Add eggs, oil, and vanilla extract to a large bowl and whisk. Slowly add the dry ingredients to the wet and mix until just combined. Don't overmix!

Add Strawberries: Gently fold in the strawberries to the dough, but set a few aside to top the bread with.

Bake: Add dough to greased and floured loaf pans and top with reserved strawberries. Bake for 50-55 minutes until the dough is browned and a cake tester or knife pulls clean from the center.
Notes
Storage
Counter: Wrap it loosely in paper towels and store it in a plastic ziplock bag for up to four days.
Freezer: Wrap it loosely in paper towels and store it in a freezer-safe container for up to 3 months.
Substitutions
Strawberries: Fresh are of course best, but you can of course use frozen, but be sure to let them thaw first before using.
All-purpose Flour: You can also use gluten-free flour, as long as it has xantham gum in it already, Bob's Red Mill 1:1 is our favorite!
Vanilla Extract: Almond is another great option!
Vegetable Oil: Use another neutral flavored oil like canola.
Nutrition
Calories:
134
kcal
|
Carbohydrates:
28
g
|
Protein:
3
g
|
Fat:
1
g
|
Saturated Fat:
0.3
g
|
Polyunsaturated Fat:
0.3
g
|
Monounsaturated Fat:
0.3
g
|
Trans Fat:
0.003
g
|
Cholesterol:
27
mg
|
Sodium:
106
mg
|
Potassium:
64
mg
|
Fiber:
1
g
|
Sugar:
12
g
|
Vitamin A:
42
IU
|
Vitamin C:
11
mg
|
Calcium:
12
mg
|
Iron:
1
mg