Dinner in just 15 minutes! Our Miso Spinach and Mushroom Soba Noodles are an umami flavor-packed, vegetarian, gluten-free meal that is delicious, nutritious, and so incredibly easy to make!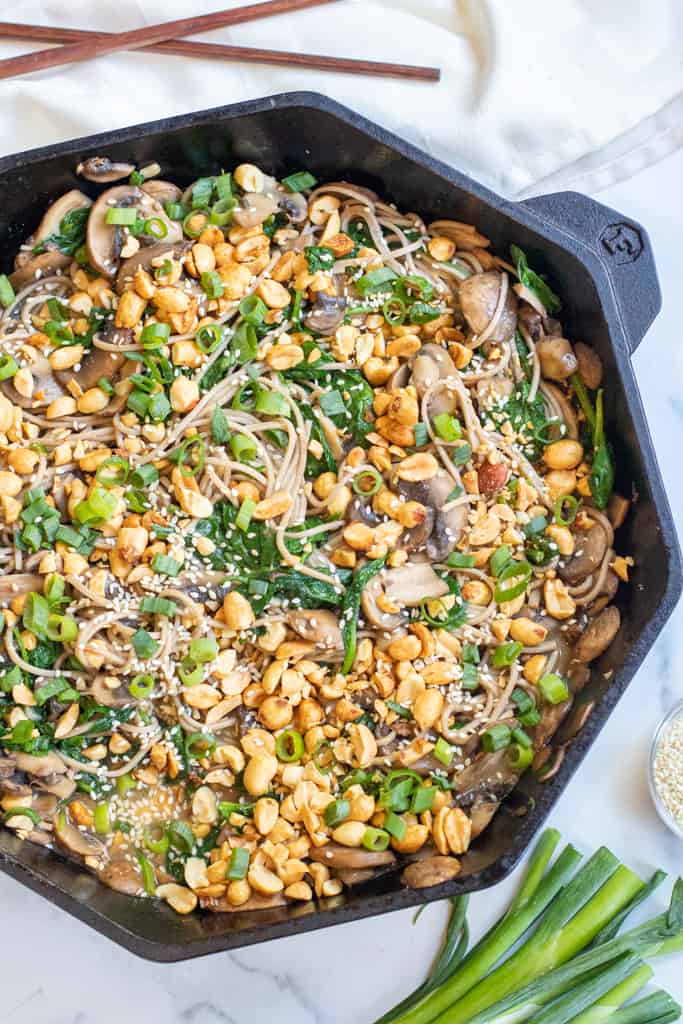 We have made this countless times. Not just in recipe testing just also just because of It. Is. SO. GOOD. Seriously. If you were to ask me right now what my favorite vegetarian, healthy, noodle dish is, it's right here: Miso Spinach and Mushroom Soba Noodles!
These noodles are so great because not only do they come together so fast, but they're packed full of nutrition thanks to all of the mushrooms and spinach. Hello, fiber, protein, and antioxidants!
Ingredients Needed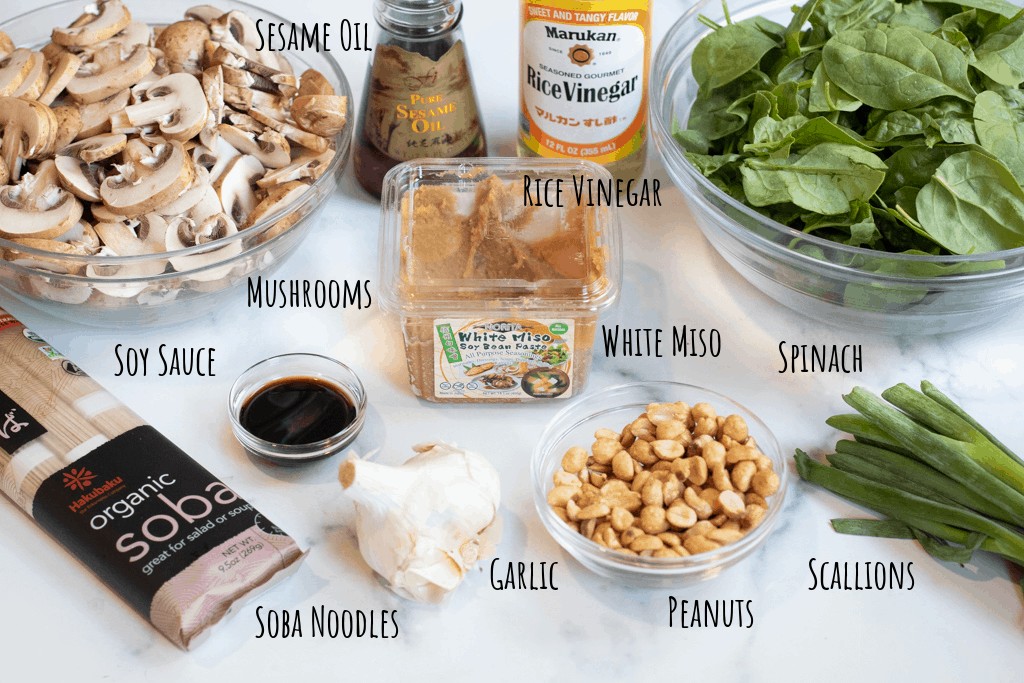 Soba Noodles - Don't let the name "buckwheat" fool you, 100% buckwheat flour organic soba noodles are naturally gluten-free, but be sure to check the label, because it will depend on the brand. We love this brand. Also, they are packed full of protien and fiber!
Spinach - We love an excuse to add spinach into any dish!
Mushrooms - Isn't it a perfect pairing, spinach and mushrooms?
Garlic - Do we ever cook without it?
White Miso Paste - This is what adds the salty, earthy, sweet umami flavor! More on what miso is, below.
Rice Vinegar, Sesame Oil, Soy Sauce - To mix with the miso for a sweet and salty sauce.
Scallions and Peanuts - To add a little texture and crunch!
Sesame Seeds - Optional to garnish.
What is Miso Paste?
Miso paste is a Japanese fermented soybean and rice koji paste. At least this is what about 95% of the miso found in the US is made of. Miso paste goes back thousands of years in Japan, and making traditional miso in Japan is considered to be an art form.
Kinds of Miso
There are actually over 1,000 types of miso made. And their flavors range from sweet to a super hearty earthy flavor. Typically you'll see miso come either Light (white) or Dark (red).
White Miso (like the miso we use in this recipe) is a great introduction to the amazing umami flavors of miso. Its flavor is mild and sweet but still salty. The fermentation time of white miso is much shorter than its counterpart, which is why it has a more mellow flavor. White miso is perfect to add a little umami to dressings, sauces, or soups.
Red Miso - Dark miso can actually range in color from red to almost black. It's fermented much longer than white and therefore it has a much stronger, earthy, salty, and pungent flavor. Because of its potency, it can easily overpower a lot of flavors and ingredients, and therefore is best used within heartier meals like meats and mushrooms.
Easy to Make
We love this recipe because thanks to quick-cooking soba noodles, miso noodles are on the table in only 15 minutes!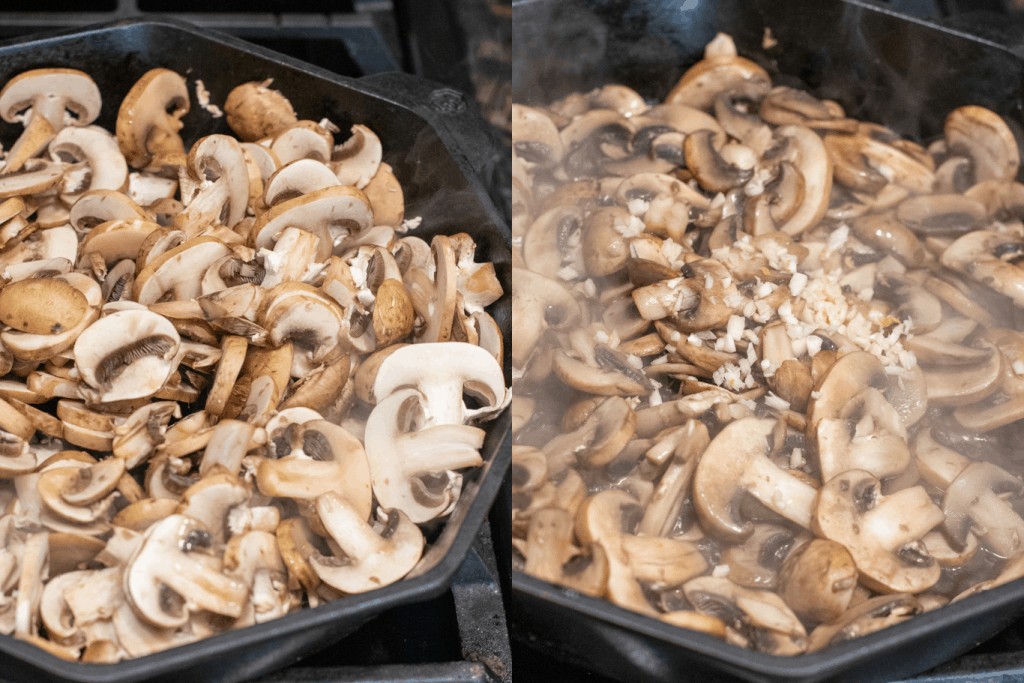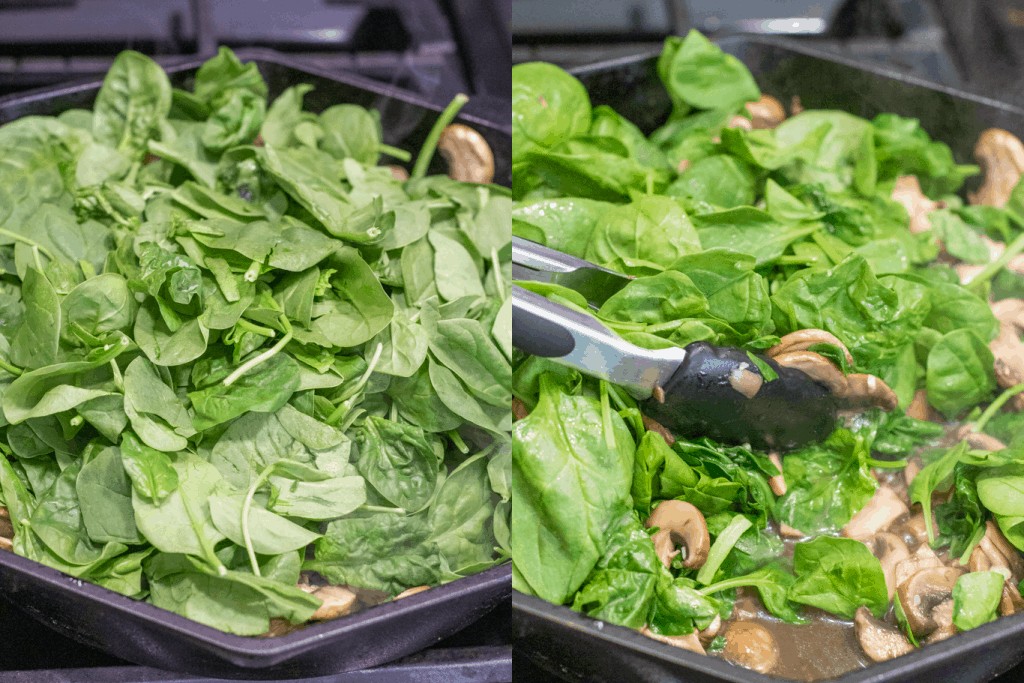 Step 1: Cook the cook mushrooms and spinach.
Meanwhile, cook your soba noodles. Remember, unlike regular pasta, soba noodles only take 4 minutes to cook!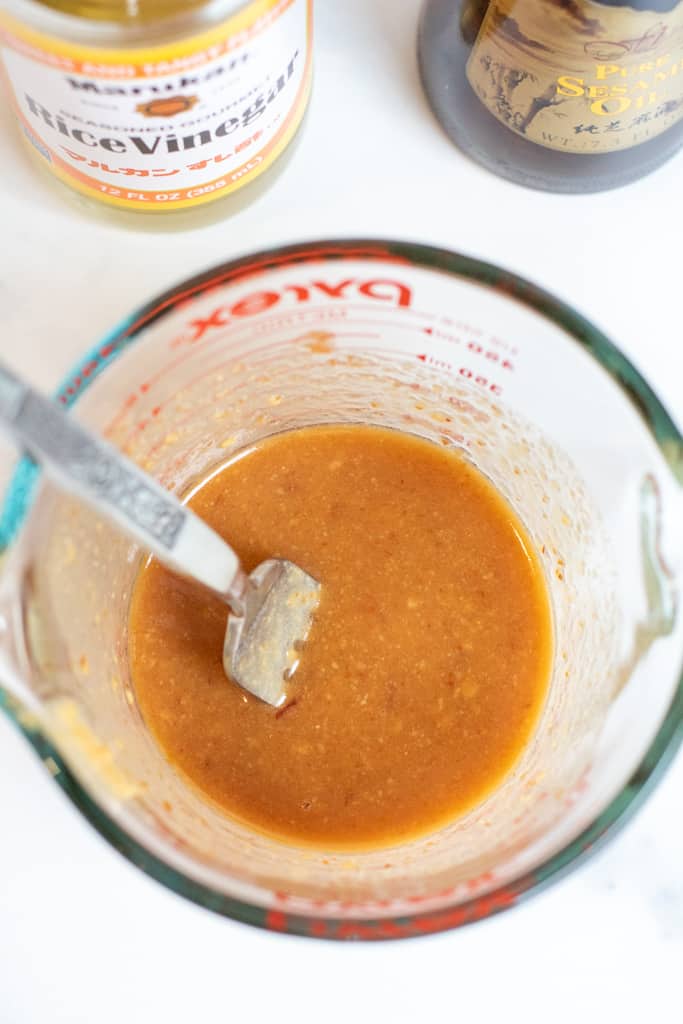 Step 2: Prep your miso sauce.
Whenever we make a sauce, we love to use a Pyrek with a pour spout.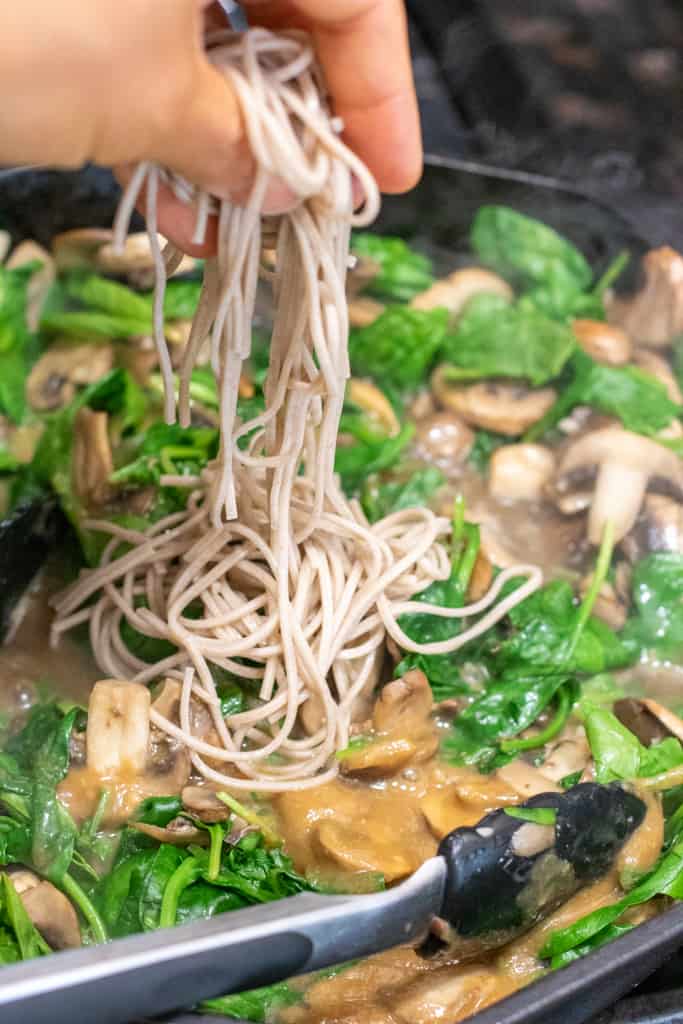 Step 3: Add sauce to the dish and then add noodles and mix!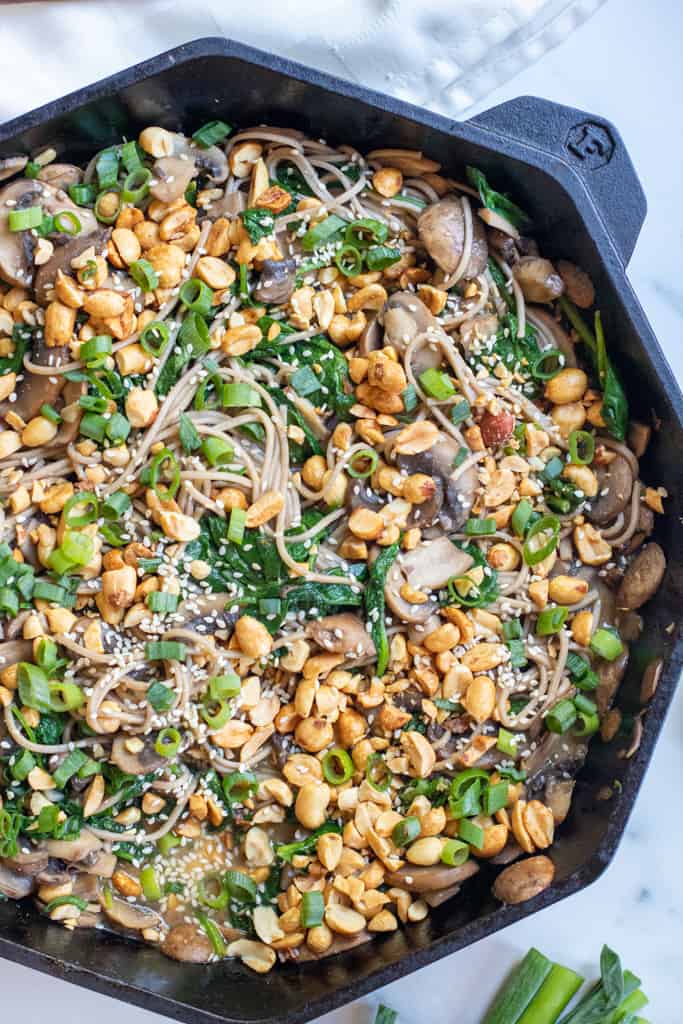 Step 4: Top with diced scallions, peanuts, and some sesame seeds and done!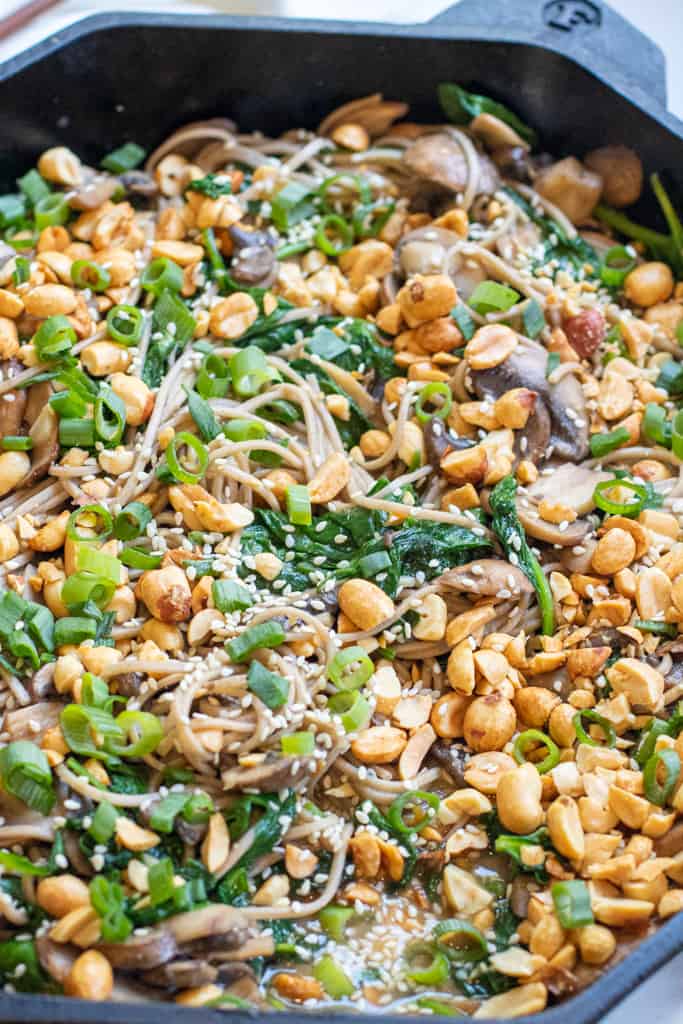 Cooking Tips
While these spinach soba noodles only take 15 minutes to make, here are some of our cooking tips!
Put the pot of water on to boil first. That way, when you add your noodles, they'll be done before the mushrooms and spinach are.
Rinse the soba noodles in cold water. This will stop the cooking and also prevent them from sticking.
Add the spinach in bunches and use tongs. This recipe uses a ton of spinach and therefore all of it will likely not fit in your pan at once. Therefore, add about half and then use some tongs to mix it all in and as the first batch begins to wilt, add the rest.
Add the sauce first, then the noodles. We've found that adding the sauce to the mushrooms and spinach first before adding the noodles is the best for sauce distribution.
Don't add the noodles all at once. Instead of adding all of the noodles at once, add them in small handfuls and mix after each addition.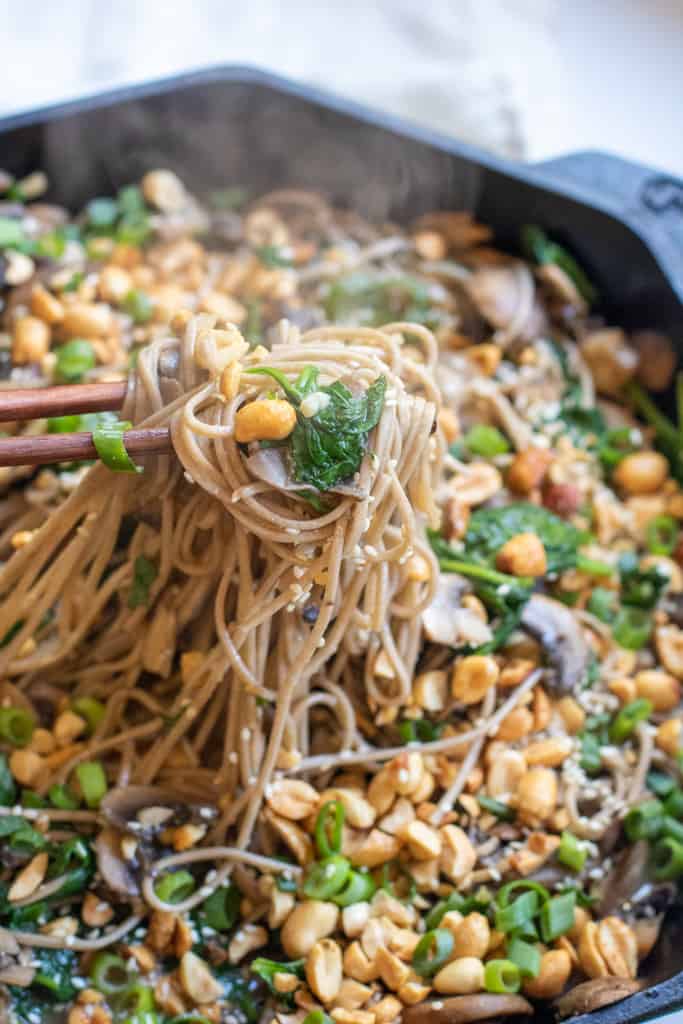 Miso Spinach and Mushroom Soba Noodles, packed full of umami flavor, a TON of nutrition, finished with the right amount of added texture from the scallions and peanuts. These noodles are one of my family's latest fast dinner favorites!
Other Fast Noodle Favorites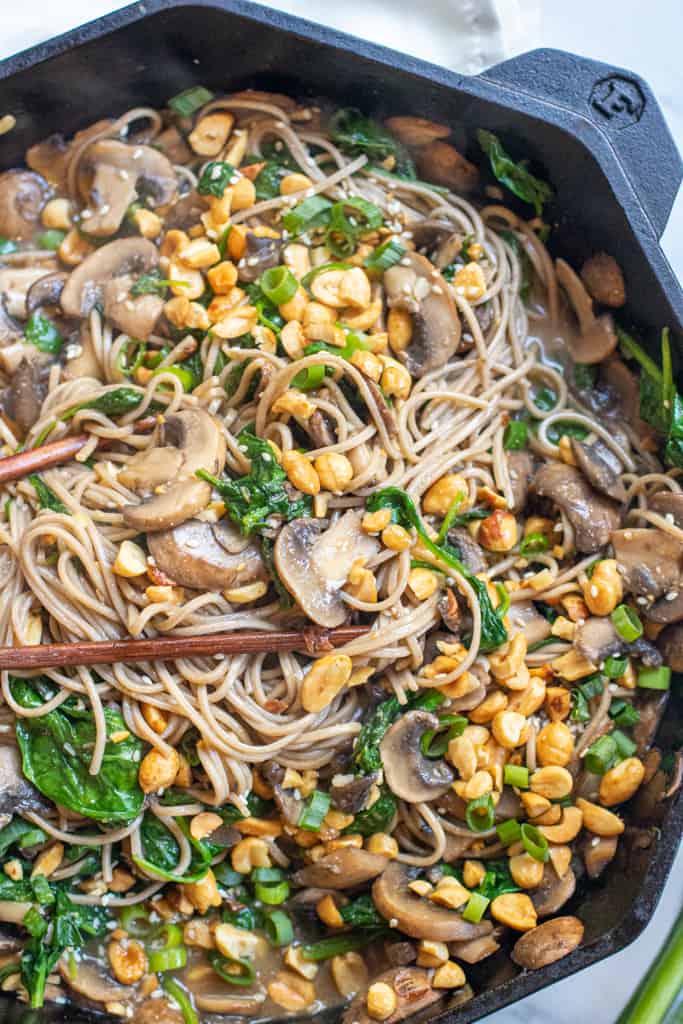 Enjoy! As always, if you make this recipe or any of my others, I love to hear what you think! Leave a comment below, email me, or you can find me on Facebook, Instagram, and Pinterest!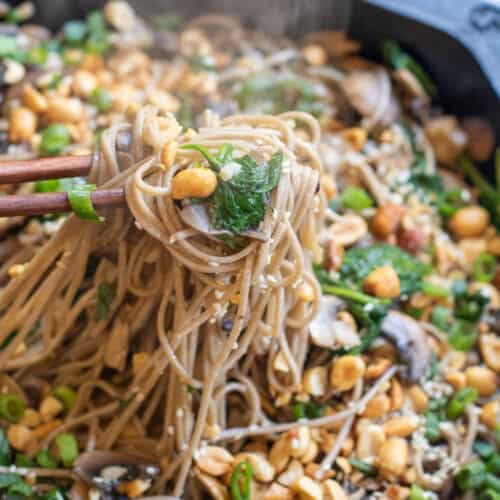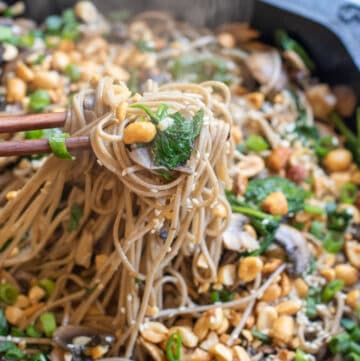 Miso Spinach and Mushroom Soba Noodles
Umami flavor-packed, vegetarian, gluten-free meal that is delicious, nutritious, and so incredibly easy to make
Print
Pin
Rate
Ingredients
6-8

oz

soba noodles

4

cups

fresh spinach

packed

1

lb

mushrooms

sliced thin

2

tablespoons

sesame oil, divided

3

cloves

garlic

3

tablespoons

white miso paste

heaping tablespoons

2

tablespoons

seasoned rice vinegar

2

teaspoons

gluten free soy sauce

1/2

cup

peanuts

chopped

1/3

cup

scallions

diced

1

tablespoon

sesame seeds

optional
Instructions
Start a pot of water for the soba noodles. Do not salt - not needed for soba noodles.

In a large skillet or cast iron, heat 1 tablespoon of sesame oil.

Add sliced mushrooms and saute for 5-6 minutes stirring often.

Meanwhile, mix miso, vinegar, remaining sesame oil, and soy sauce in a small pyrek with a pour spout or a small bowl. Whisk until smooth.

Once mushrooms have softened, add garlic and saute for another minute.

Meanwhile, once water has reached a boil, add soba noodles and set a time for 4 minutes. Drain noddles and rinse with cold water to prevent sticking.

Add spinach, half at first, and turn with tongs wiht mushrooms. Adding the second half after the first has started to wilt. Once it all has wilted, add miso sauce and stir well to combine and simmer 2-3 minutes.

Add noodles, a handful at a time, mixing into sauce after each addition.

Stir well to combine all noodles with sauce.

Top with scallions, peanuts, and sesame seeds.
Notes
Substitutions:
Noodles - You can use any noodles you'd like! We love the flavor, texture, and quick cooking time for soba noodles. If using another noodle, be sure to follow cooking time for them.
Miso - While we prefer white miso for this recipe, you could also use a yellow, or Shinshu miso which falls in the middle of white and red miso.
Spinach - You can use frozen spinach. 4 cups of fresh is equivalent to about 24-28 oz of frozen. Be sure to thaw and remove as much liquid as possible from frozen spinach before adding it to the mushrooms.
Soy Sauce - To keep this gluten-free, we use a gluten-free soy sauce, but you can of course use regular as well.
Noodles:
The soba noodles that we love come in packages of 9.5 oz with 3 separate bundles. We use 2 of the bundles which end up being a little over 6 oz of noodles. We made this recipe with up to 8 oz of noodles and still find that there's plenty of sauce.
Nutrition
Calories:
258
kcal
|
Carbohydrates:
30
g
|
Protein:
12
g
|
Fat:
12
g
|
Saturated Fat:
2
g
|
Polyunsaturated Fat:
5
g
|
Monounsaturated Fat:
5
g
|
Sodium:
677
mg
|
Potassium:
564
mg
|
Fiber:
3
g
|
Sugar:
2
g
|
Vitamin A:
1938
IU
|
Vitamin C:
9
mg
|
Calcium:
70
mg
|
Iron:
3
mg