This creamy, dreamy pasta has all of the flavors your love from one of your favorite appetizers but in pasta form! Our Spinach Artichoke Pasta is a dish that'll fulfill that classic dip craving but in a healthy, hearty dinner! Even better, it's ready in just 20 minutes!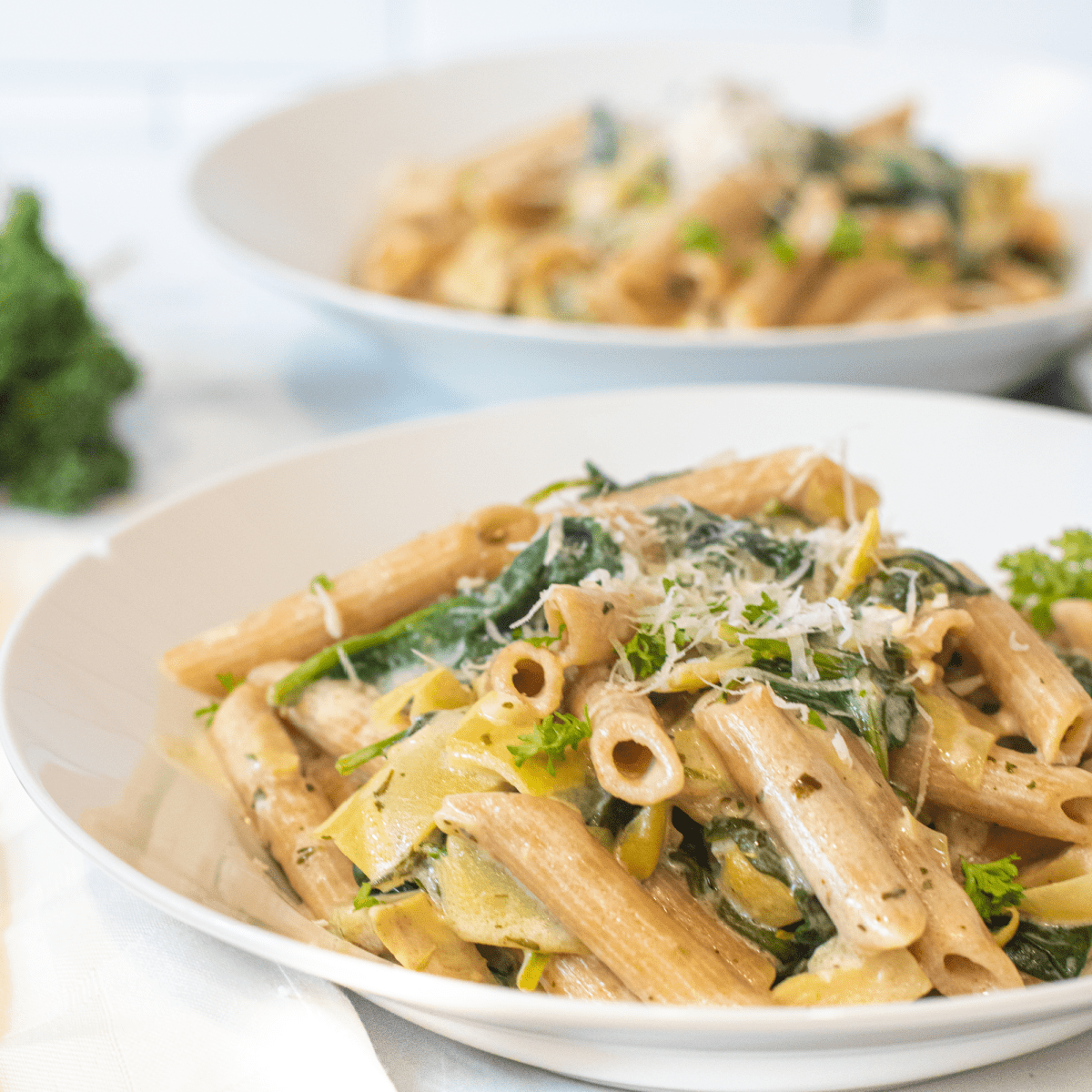 Friends, meet our new favorite creamy dreamy pasta! I love spinach and artichoke dip but wanted to make it into a slightly healthier, heartier dinner. Welcome our Spinach Artichoke Pasta! Everything you love about a spinach artichoke dip, but as pasta! Our latest fast and easy meatless pasta dish!
This easy 20-minute pasta is creamy but without a ton of cream and full of a ton of classic cheesy artichoke and spinach flavor, but with some simple ingredients. I love how easy it is to come together and also how excited my kids are to eat so much spinach!
Ingredients Needed
Simple ingredients, but a ton of flavor!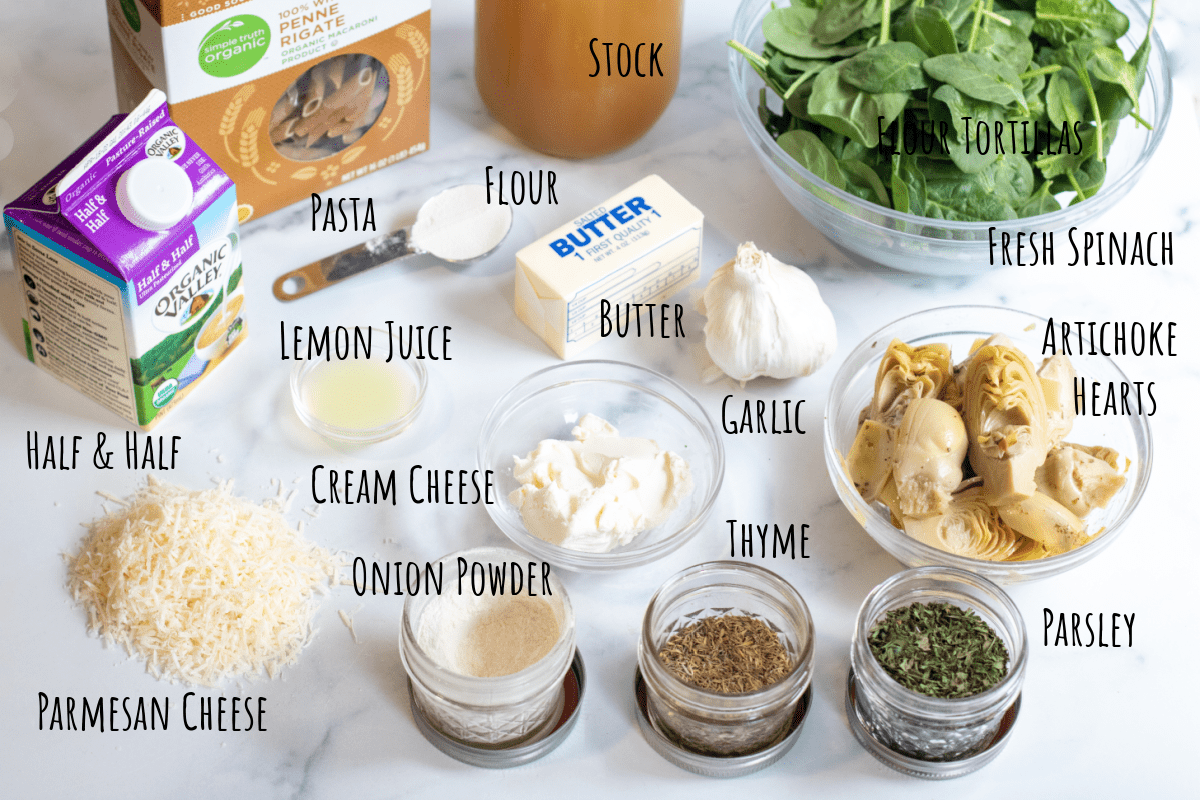 Pasta - We love this with a whole wheat penne, but it's delicious with any of your favorites!
Spinach - Fresh is what we always have on hand to be ready for any of our spinach recipes, but you can also use frozen.
Artichoke Hearts - With this recipe, we use these artichokes hearts that we get at Costco and are in oil. We give them a little rinse before chopping and using them for the recipe, but you can also use your favorite canned artichoke hearts, or you can use freshly cooked artichokes.
Cream Cheese and Half and Half - To add to the creamy sauce and the classic cream cheese flavor in your favorite spinach and artichoke dip! A great way to use up some of our Cream Cheese From Scratch!
Butter, Flour, and Garlic - The start of a roux to create a creamy sauce.
Lemon Juice - Just a touch to finish the sauce with to add the right amount of acidity!
Spices - Onion powder, thyme, and parsley. We prefer dried for this recipe but you can definitely use fresh - see recipe notes for the conversion.
Parmesan Cheese - In the sauce and to finish with!
Step-by-Step Instructions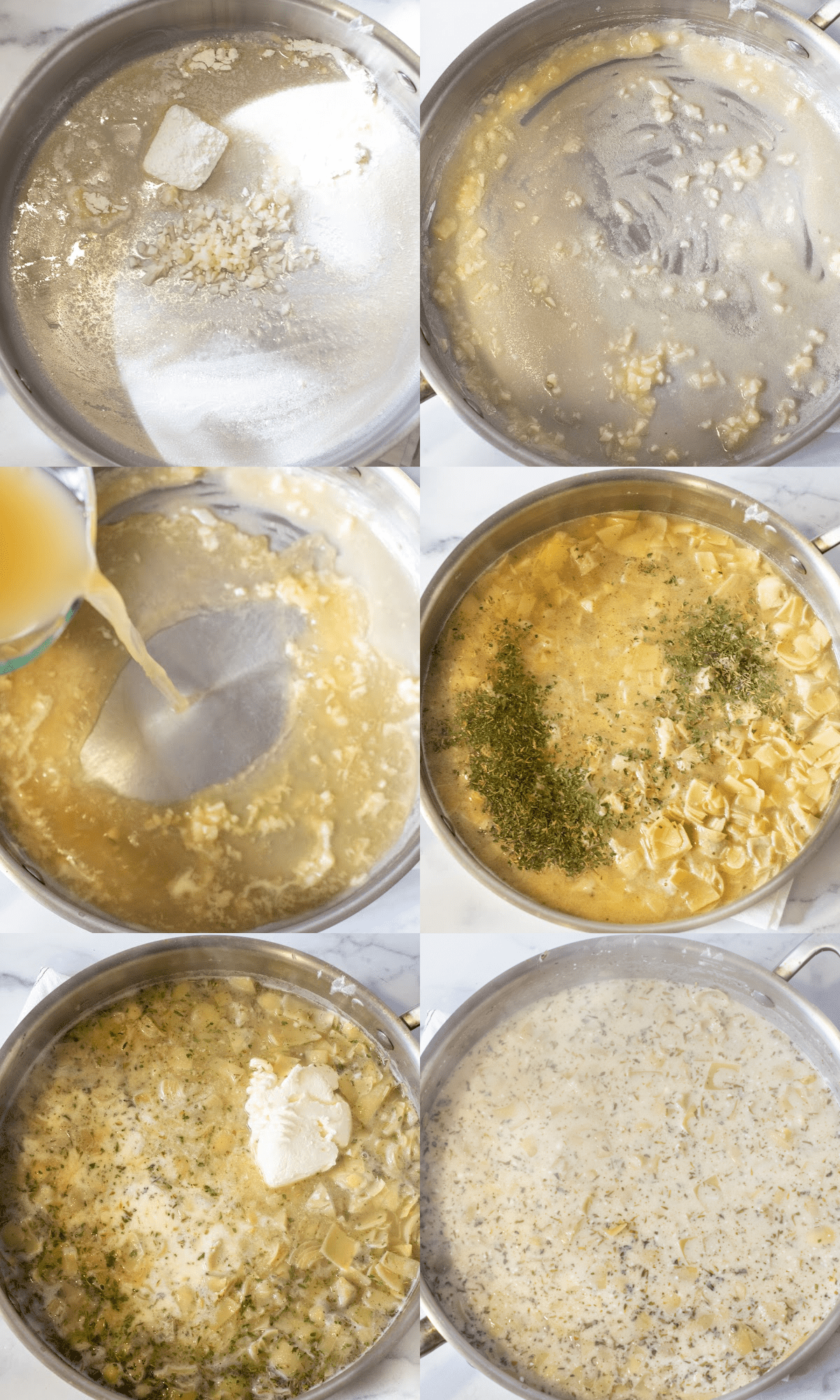 I love this Spinach Artichoke Pasta because it's an especially easy one!
Create Roux with butter, flour, and garlic.
Add stock with artichokes and spices.
Add the half and half and cream and cheese and let simmer together.
All the while, your pasta is cooking, getting ready to be finished in the pot with this delightfully creamy sauce!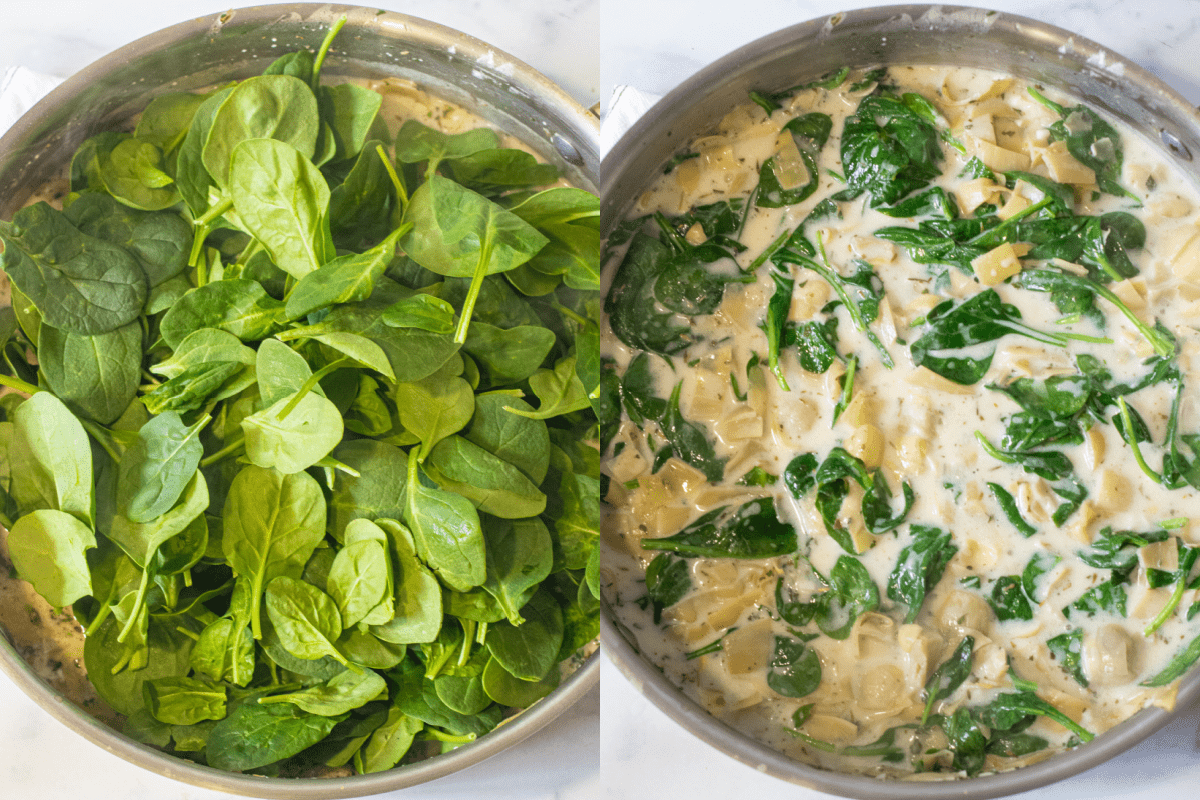 But before you add the pasta, add in that beautiful fresh spinach!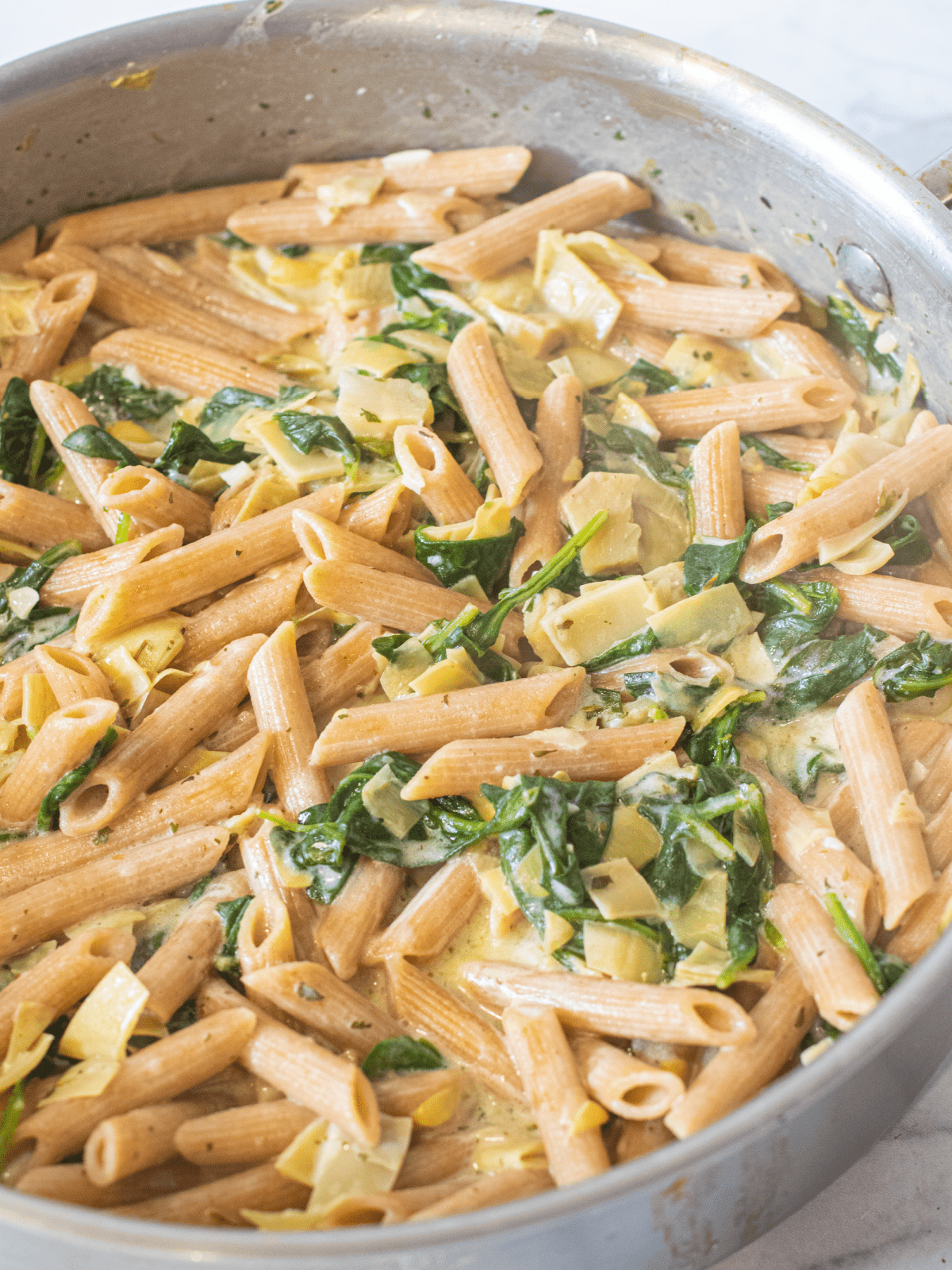 Once the pasta is done cooking, you're ready to add it to the pan and let it finish cooking with all the creamy, spinach artichoke dip goodness!
Recipe Tips
Creating the roux
This step is the one that you have to pay the closest attention to in this super simple pasta recipe. Just be sure that your garlic doesn't burn and whisk that butter and a little bit of flour together to create a nice light roux that will be just enough to help thicken that creamy, cheesy sauce.
Fresh or Frozen Spinach
We prefer using fresh spinach for this recipe, mainly because it's the easiest to use! Just toss it in fresh and stir to let it wilt. But of course, you can use frozen, you just need to thaw it and then squeeze out the liquid from the spinach so that it's not added to your dish which will dilute the creaminess of this sauce.
What kind of Artichokes to use
Fresh, canned, or jarred and marinated in oil. Any that you have are great. We use about 10 oz these, but you can also use artichoke hearts in a 14 oz can. Whichever you use, just give them a drain and rinse, especially if they're marinated in oil.
To use fresh, you'll want to cook the whole artichoke and then cut out the heart. This is a great tutortial. 1 14 oz can of artichokes equals about 5-6 small artichokes.
Incorporate the Cheese well
When you add in the cream cheese and the cream, gently whisk that cream cheese into the sauce so that it melts well and fully incorporates into the sauce while it all simmers together. This will ensure that it's a nice creamy, flavorful sauce!
Let the Pasta Finish Cooking in the Sauce
This goes for this recipe and our other pasta dishes (especially fresh pasta!) Cook your pasta just about 1 minute less than needed and then let it finish cooking in the sauce. This will not only let the pasta get coated in the sauce but will do so without it being overdone.
Finish with the Parmesan Cheese
We add the Parmesan cheese after the spinach and just before the pasta. But be sure to save some (or use more) to top the pasta with, too!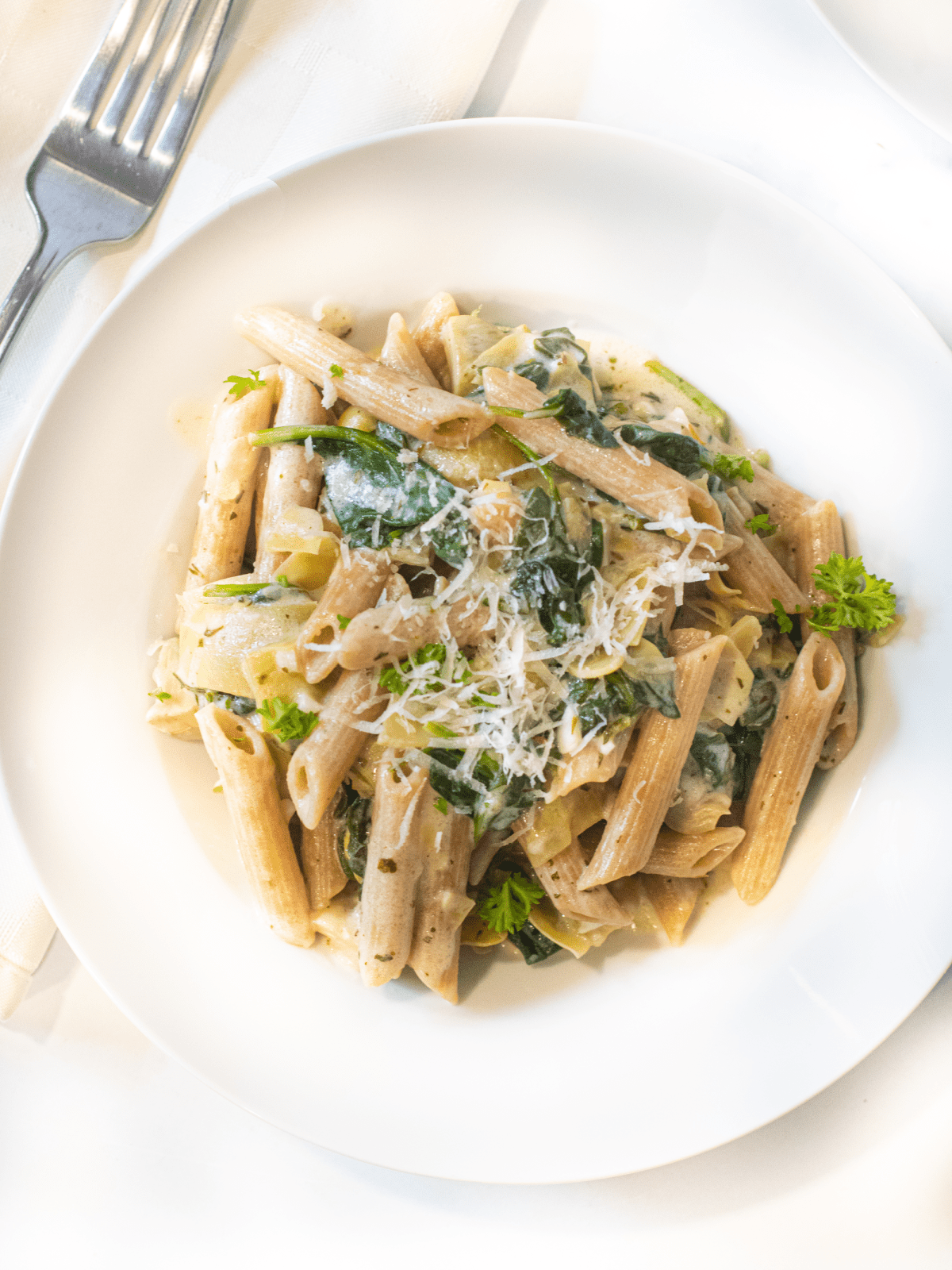 Finally (the best part), plate and serve and enjoy this Spinach Artichoke Pasta!
Top with some additional Parmesan cheese and some fresh parsley if you have it, and you have a pasta dish that has all the delicious flavors of your favorite cheesy dip! Plus, it'll have your kids eating a bunch of spinach, which "sneaking" spinach into as many recipes as we can is kind of our jam.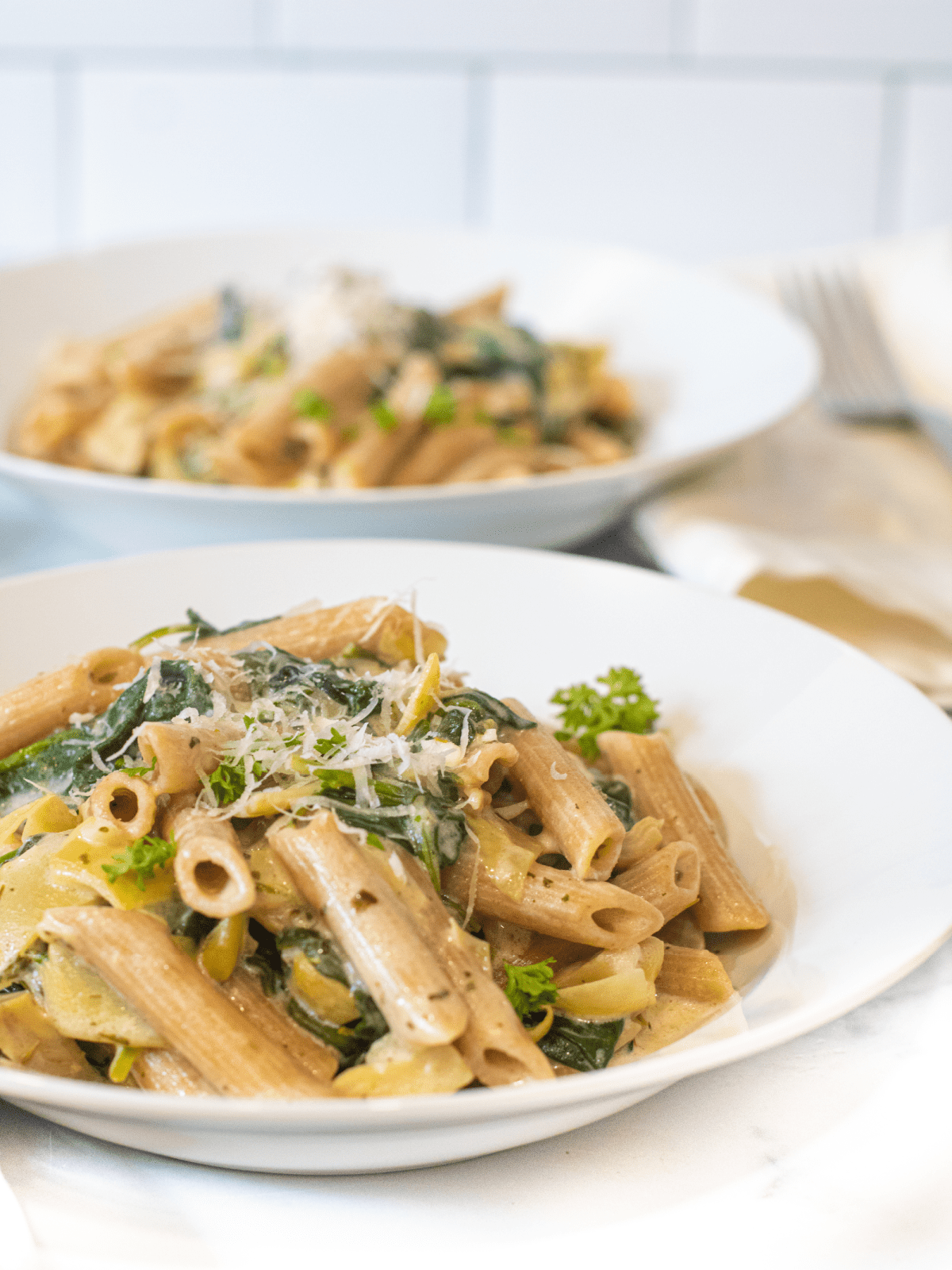 Fulfill that spinach and artichoke dip craving, but in a pasta form that's perfect for any vegetarian dinner!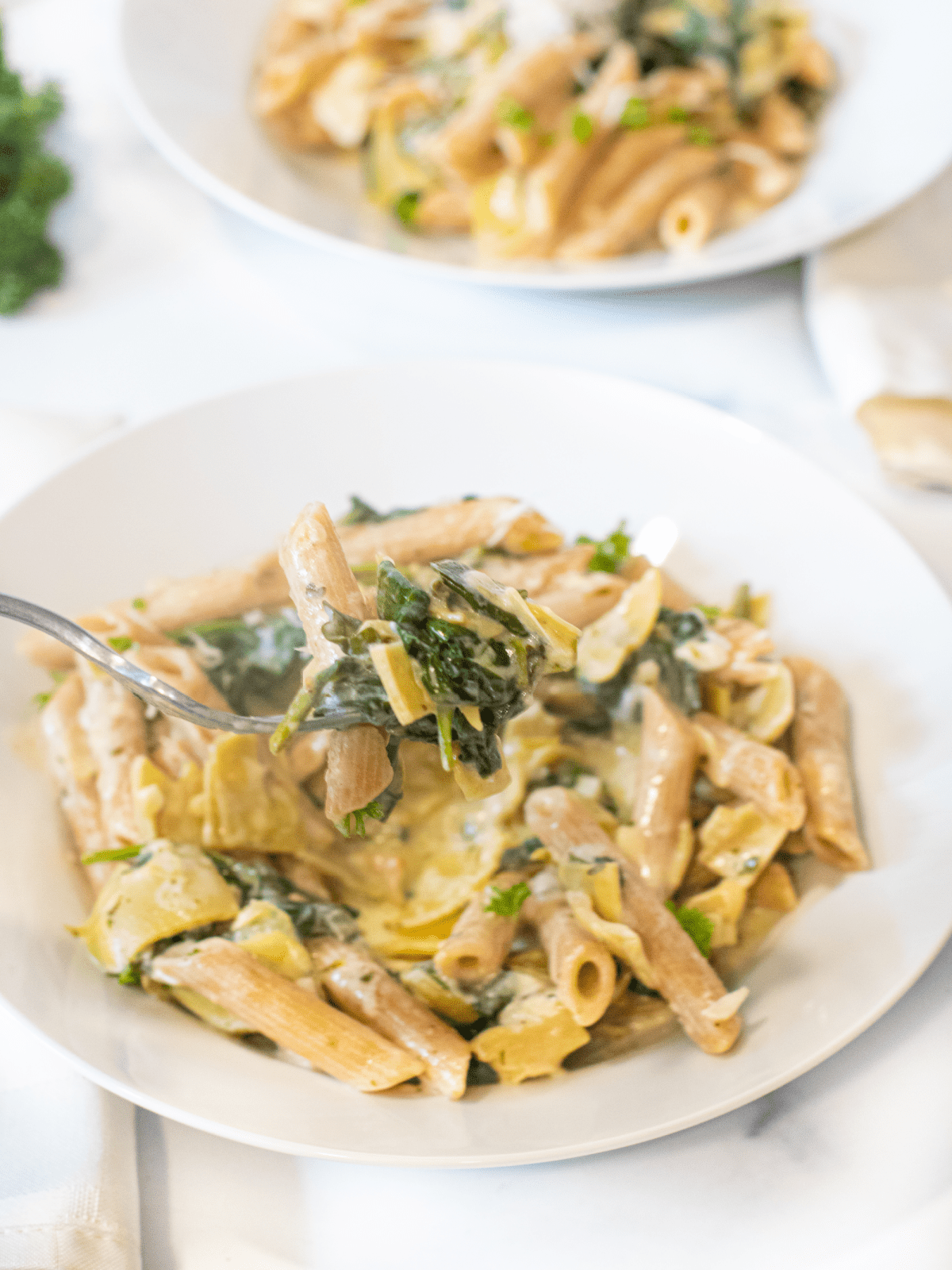 Fresh spinach, loads of tender artichoke hearts, and a cheesy creamy sauce. Does it get much better for pasta? Not in our book!
Enjoy! As always, if you make this recipe or any of my others, I love to hear what you think! Leave a comment below, email me, or you can find me on Facebook, Instagram, and Pinterest!
If you want to see more, be sure to sign up for my 5 Easy Ways to Start Cooking From Scratch!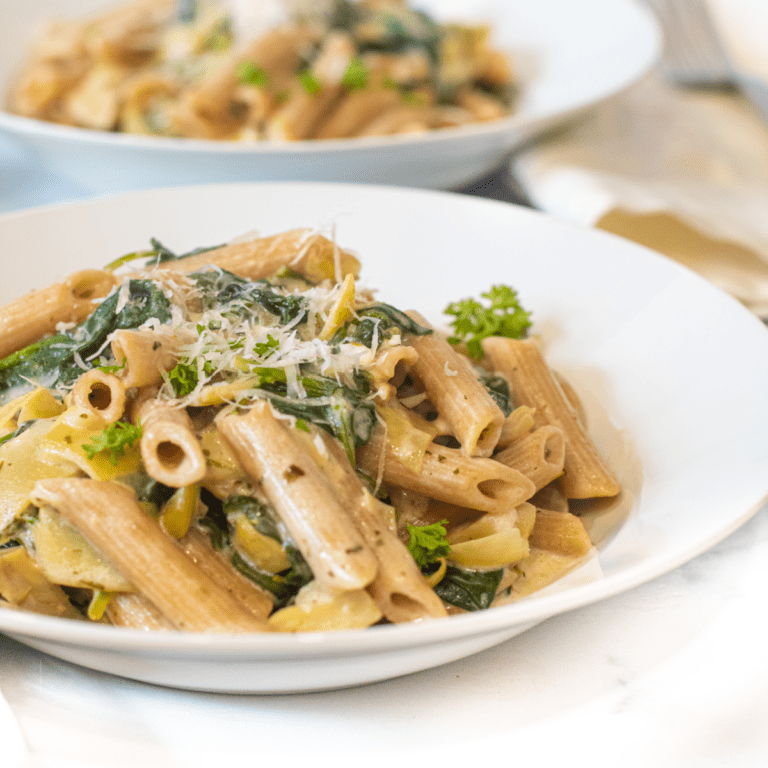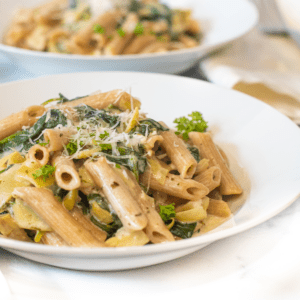 Ingredients
1/2

lb

pasta

2

tablespoons

salted butter

1

tablespoon

all purpose flour

3

cloves

garlic

minced

1 1/2 - 1 3/4

cups

artichoke hearts, chopped

10 oz rinsed and drained or about a 14 oz can

1 1/2

cup

stock

vegetable or chicken

1/2

cup

half and half

1/4

cup

cream cheese

2 oz

2

teaspoons

lemon juice

2

cups

fresh spinach

packed, 4 oz

1/2

cup

parmesan cheese

finely grated, plus more for finishing

1

teaspoon

dried parsley

1/2

teaspoon

dried thyme

1/4

teaspoon

onion powder

fresh parsley to finish

optional
Instructions
Heat a large pot of well salted water on high to bring to a boil.

Meanwhile, heat a large saute pan (at least 3 qt) over medium and add butter. Let melt a little before adding garlic and flour and gently whisk flour and butter while the rest melts to create a light roux. Ensure that the garlic is coated in butter as well to prevent burning.

Slowly add stock of choice and whisk to combine with roux. Add artichokes, parsley, thyme, and onion powder. Turn heat up to medium high to bring it all to a boil then turn back down to medium to let gently simmer for 3-5 minutes.

When water comes to a boil, add pasta. Set time for 1 minute less than suggested cooking time.

Add half and half and cream cheese and gently whisk cream cheese into sauce so that it all melts and incorporates well. Simmer for another 3-5 minutes while the cream cheese melts and sauce thickens.

Add fresh spinach to the sauce and stir well into the sauce to wilt. Once spinach has wilted, add lemon juice and stir.

When pasta is done drain and Immediately add pasta to saute pan. Coat with sauce, bring back up to a vigerous simmer (turning up heat slightly if necessary) and let pasta finish cooking in the sauce for another minute or until sauce thickens.

Finsih with Parmesan cheese and stir well to melt. Then plate and serve!

Top with additional Parmesan cheese or fresh parsley if desired.
Notes
The nutritional value is for approximately 3 servings. Storage Fridge: Store in the fridge for up to 3-5 days. Freezer: While this can be frozen, as with most sauces with cheese and cream, when defrosted it may have a slightly grainy texture. We find it's best reheated in a saute pan with a little more Parmesan cheese added while it reheats. Substitutions Garlic: Instead of using fresh, you can add about 1/4 teaspoon of dried to the dish with you add the rest of the spices. Parsley: Substitute 1 tablespoon minced fresh parsley for dried. Thyme: Substitute 1/2 tablespoon minced fresh thyme for dried. Spinach: Substitute 5-6 oz frozen spinach for the fresh by thawing and then squeezing all of the excess liquid out of the frozen before adding. Pasta: Use your favorite! Just remember to boil for about 1 minute less than cooking time on the box or for only about 90-120 seconds if using fresh. Half and Half: Heavy cream is also great for an even creamier sauce and flavor. Artichokes: We use artichokes marinated in oil but drained and rinsed. You can use any jarred or canned artichoke hearts drained and rinsed. Or see recipe tips above for notes about using fresh artichokes.
Nutrition
Calories:
428
kcal
|
Carbohydrates:
35
g
|
Protein:
15
g
|
Fat:
23
g
|
Saturated Fat:
14
g
|
Polyunsaturated Fat:
1
g
|
Monounsaturated Fat:
6
g
|
Trans Fat:
1
g
|
Cholesterol:
65
mg
|
Sodium:
3372
mg
|
Potassium:
454
mg
|
Fiber:
11
g
|
Sugar:
11
g
|
Vitamin A:
3221
IU
|
Vitamin C:
14
mg
|
Calcium:
302
mg
|
Iron:
2
mg