Elevate a classic by making it entirely from scratch! Our Fresh Tomato Marinara Pasta is made with just a few simple ingredients and a little bit of prep, but the result is an amazing and authentic homemade marinara sauce and pasta dish that's ready in just 30 minutes!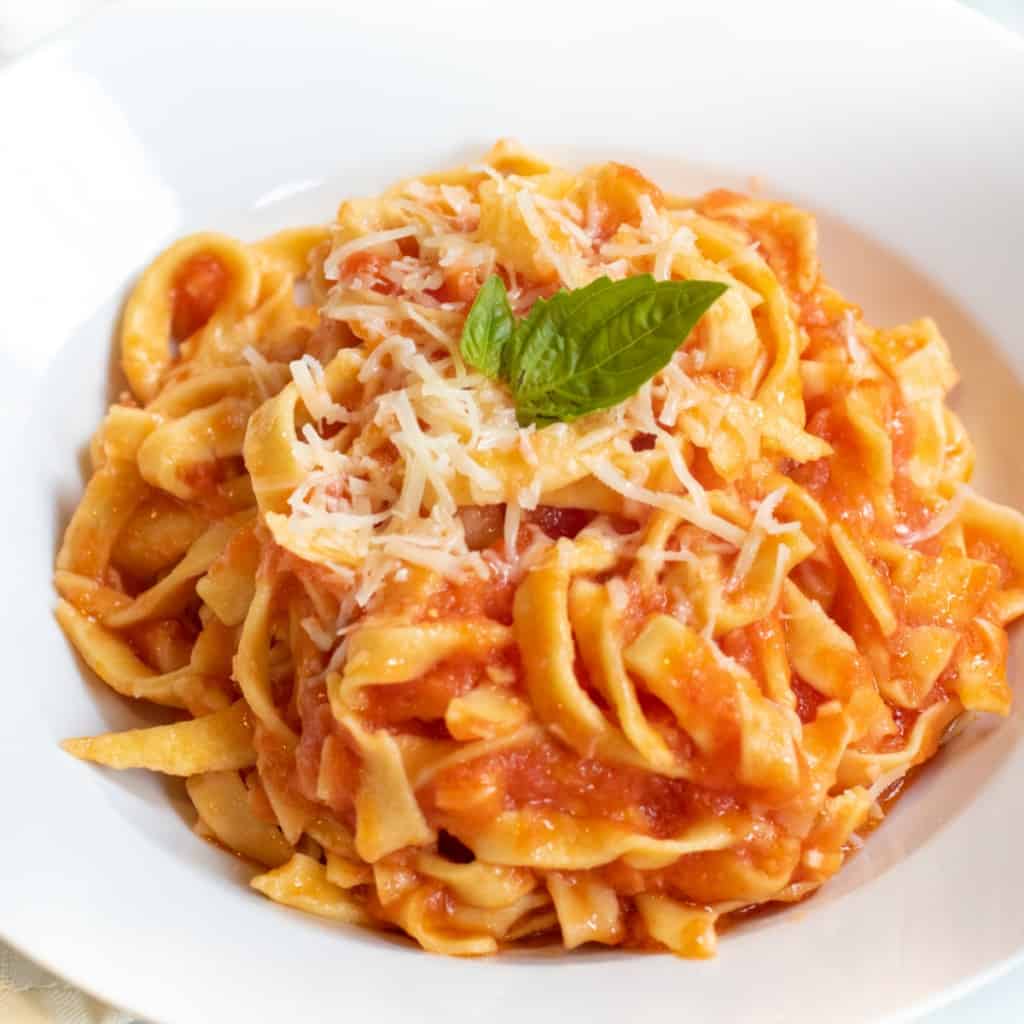 If you have a deep deep love for all things pasta, and especially all things tomatoes and pasta, then you need, no you must make this Fresh Tomato Marinara Pasta. You. Will. Not. Regret. IT. This easy homemade marinara sauce truly showcases how simple, fresh, whole foods can create a dish that doesn't need all of the extras.
Authentic Marinara
I will spare you the story of how I learned about true, authentic marinara when I lived in Italy (I've seen the memes...), but I will tell you about what authentic marinara is - and what it is not!
While there are a gazillion marinara recipes out there, an authentic Italian Marinara is made up of incredibly simple ingredients. Tomatoes, olive oil, garlic, onion, and herbs. Originally from Naples, marinara is an Italian sugo (tomato-based sauce), that is cooked intensely but quickly to highlight the star of the show, the tomatoes.
What you'll never find in an authentic marinara sauce? Sugar. Never never never. For the love of sweet Nonnas all over Italy, do not add sugar to your sauce and call it a marinara! Pretty much every jarred tomato sauce has sugar in it. Some an alarming amount! Trust me, once you make an authentic fresh tomato marinara sauce, you won't miss the sugar at all!
Ingredients Needed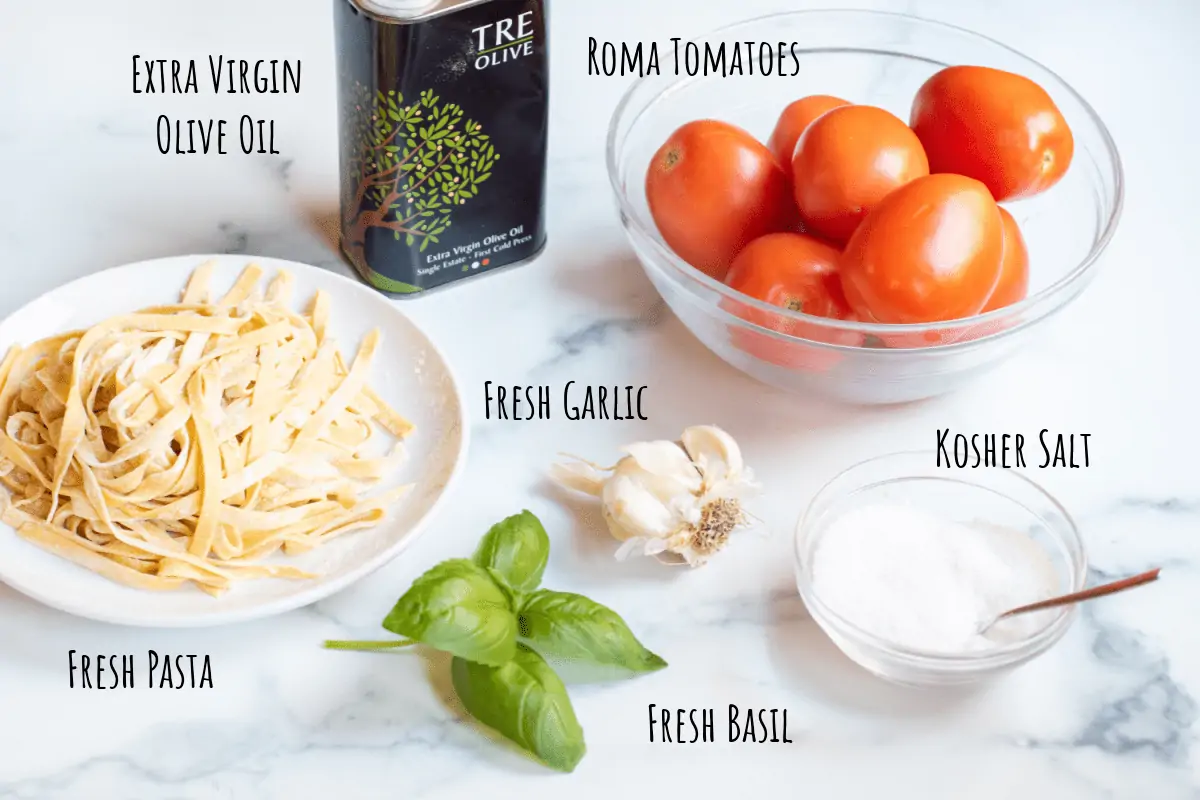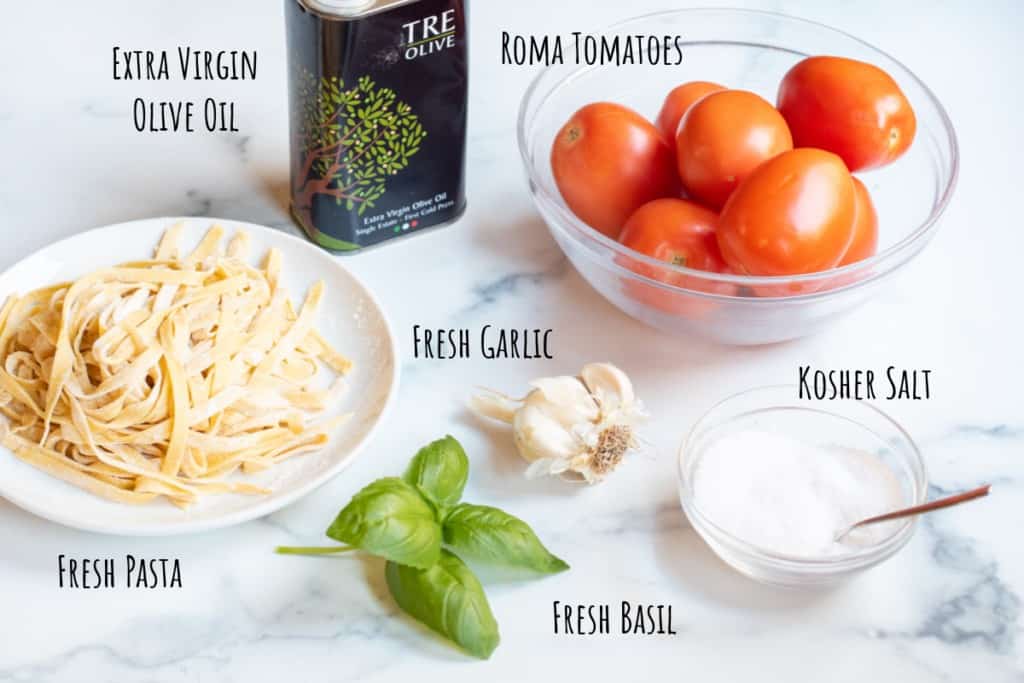 This is all you need for an incredibly delicious, fresh tomato marinara pasta dish.
Fresh Roma Tomatoes - Romas are the best, or if you're lucky enough to have access to fresh san marzano tomatoes, then those would also be great. You want any kind of plum tomato (also called paste tomatoes) because they have lower moisture, fewer seeds, a thicker fruit wall, and a denser flesh - perfect for sauce!
High Quality Extra Virgin Olive Oil - This is when you use the good stuff. That really nice olive oil that you save for when you just want to dip some bread in oil. This has become our go-to (they make a great balsamic, too!) and you can even adopt your own olive tree in Italy!
Fresh Garlic - Powdered garlic will work too, but our preferred is always fresh.
Fresh Basil - You can also use dried basil, but again fresh is our preferred.
Kosher Salt - We typically prefer to cook with kosher salt over regular table salt because we find that it enhances the flavor of the dish more and in general is has fewer additives (like the anti-caking and anti-clumping agents).
Onion Powder - Just a touch to compliment the fresh garlic.
Fresh Pasta - To make it a complete from scratch meal!
Prep the Tomatoes
This is what sets this marinara sauce from scratch apart from others you may have seen. While it takes a little extra time, grating the flesh of the tomatoes is what gives this fresh tomato sauce the right consistency, without having to involve boiling and peeling skins or busting out the blender.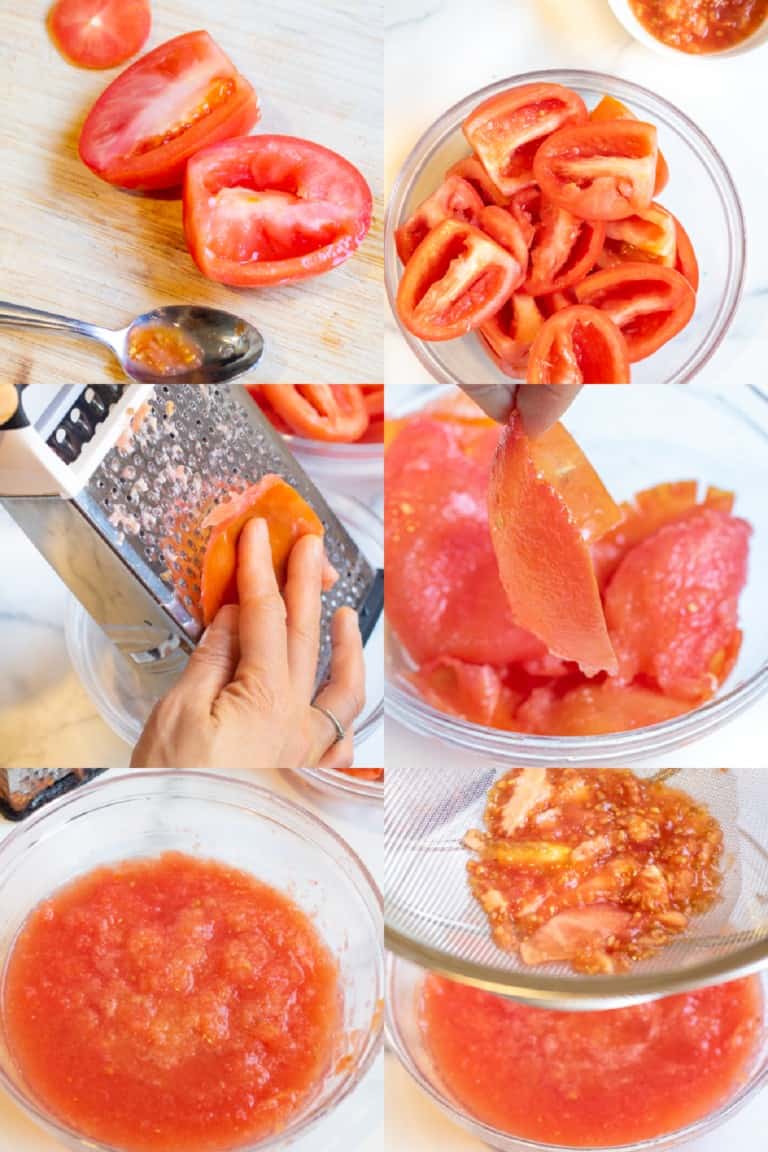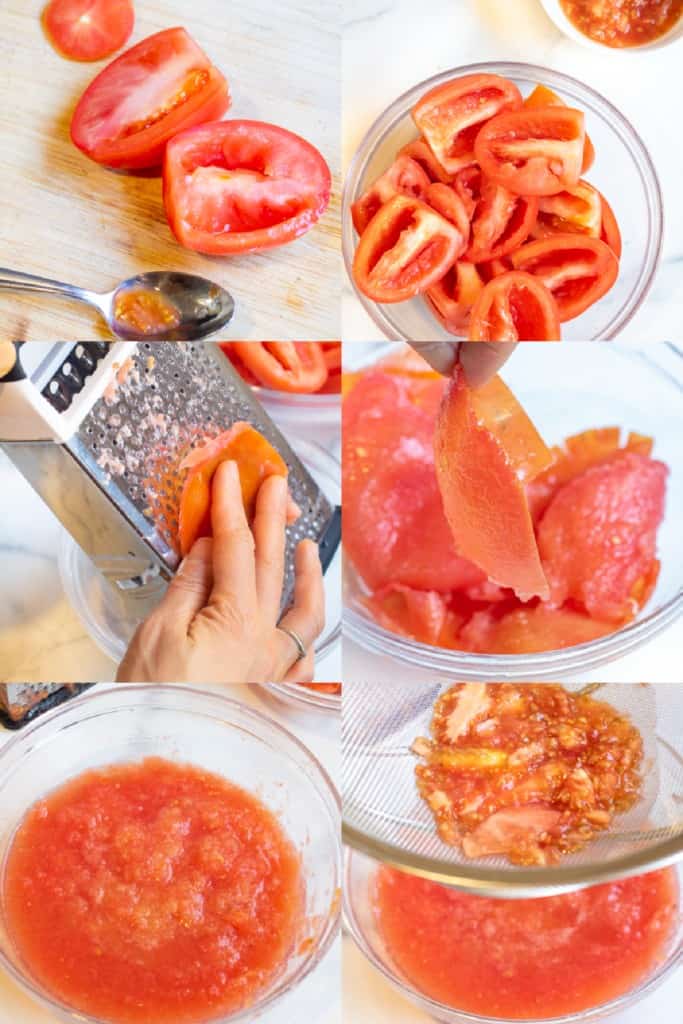 Deseed the tomatoes. The first step is deseeding the tomatoes. Don't worry about being too delicate. Just set the seeds and some of the liquid aside in a bowl, you'll add that liquid later.
Grate the tomato flesh. This is key to this sauce's consistency! Plus, it's much easier than you may think, and thanks to the nice thicker flesh of the Roma tomatoes it goes pretty quickly. You can get a lot of the flesh out, thanks to the skin of the tomato which will help protect your little fingers while you grate. I find that this process is much easier (and faster) than boiling the tomatoes, removing the skins, and then having to use a blender to make it smooth.
Strain the Seeds. Take the seeds and the little bit of liquid you pulled out when you deseeded the tomatoes, and strain them to add the very last bits of the liquid into your bowl of tomato sauce.
Now you have one of the purest forms of tomato sauce. Everything you want from a tomato, in a sauce form, but without the skin or the seeds!
Simmer the Marinara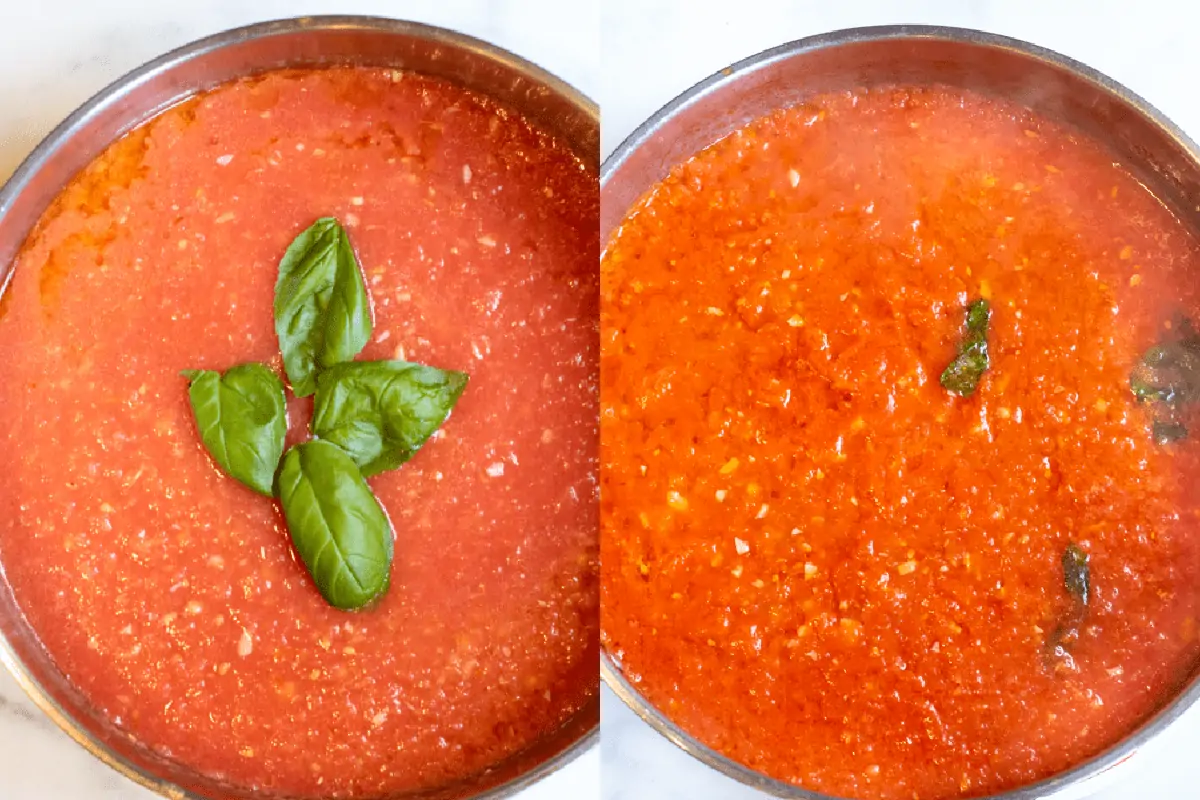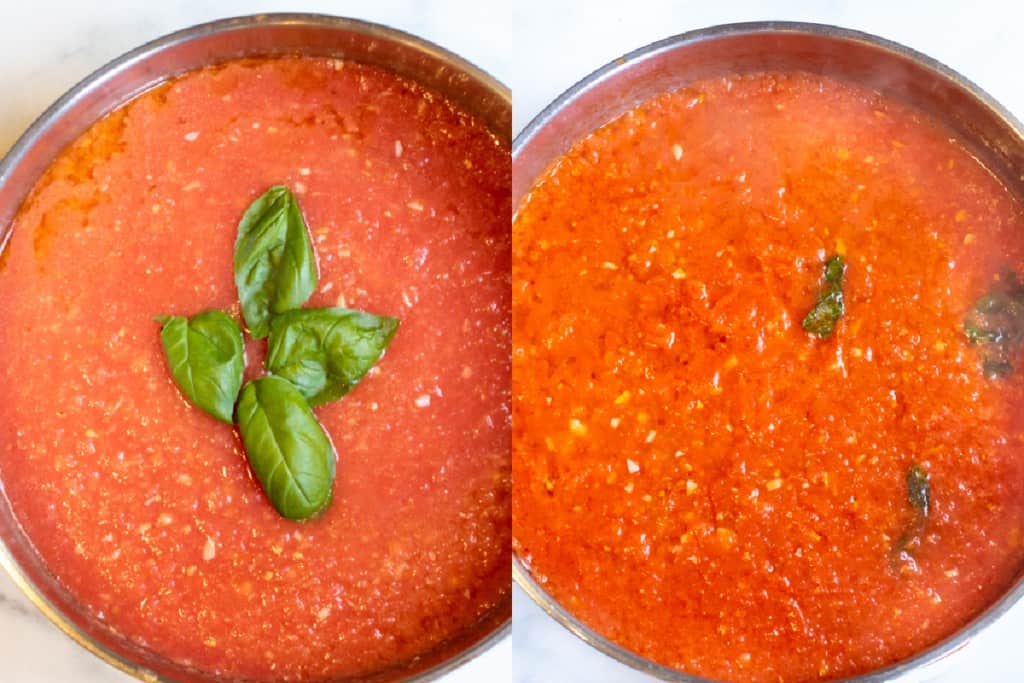 Once your sauce is ready, cooking the Fresh Tomato Marinara Sauce comes together really quickly. It's just a matter of heating oil and garlic, adding your sauce, and your salt and basil, bringing it to a gentle boil and then reducing it to a simmer for about 10 minutes.
This vigorous yet quick cook will allow the bright flavors of your tomato to really shine.
Important Tip: Your pan matters! Marinara sauce is best cooked in stainless steel or another non-reactive pan. We love our Made In stainless steel saute pan for this. And while of course we absolutely adore our cast iron, we don't recommend using a cast iron for tomato sauces. The high acidity of tomatoes can actually cause some of the cast iron to impart some metallic flavors into your sauce. While safe to eat, definitely not the best to taste.
Add the Pasta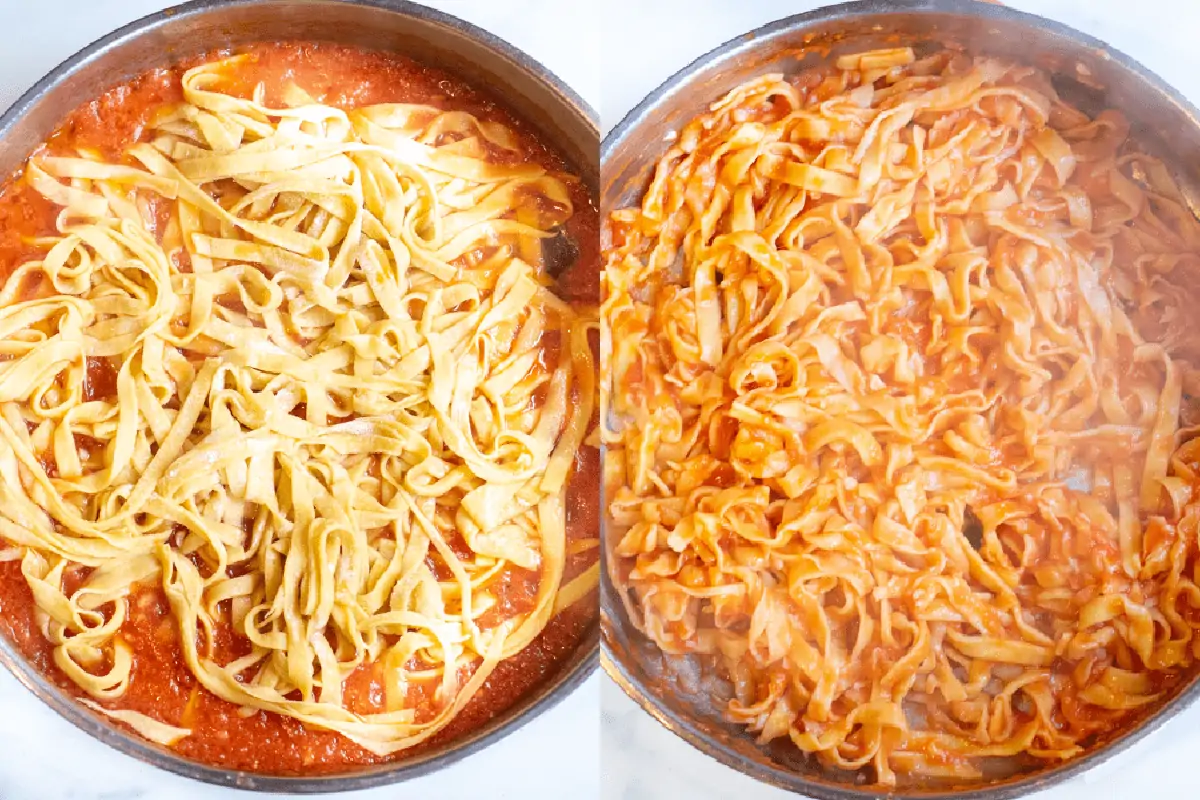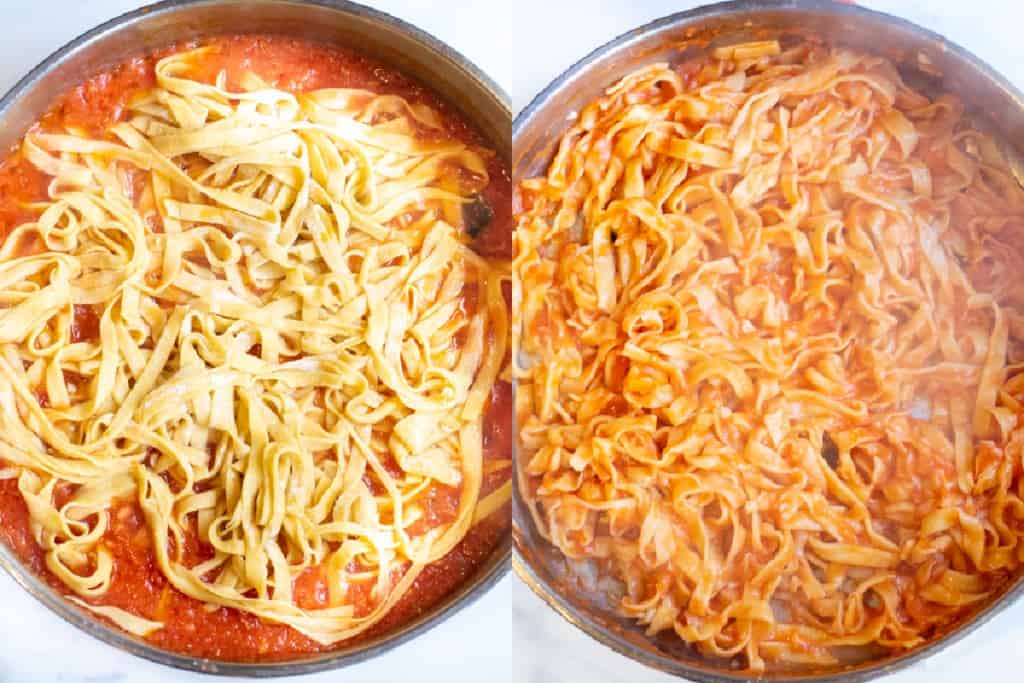 Nothing beats Fresh Homemade Pasta in a dish. Paired with a fresh tomato marinara sauce? Fuggedaboutit.
Benefits of using Fresh Pasta
Taste. I believe the kids say, IYKYK. Because this sauce is so fresh and pure, a fresh homemade pasta is the best to truly compliment the flavors of the marinara.
Cook Time. Fresh pasta takes only a couple of minutes to cook compared to boxed pasta. This means that for this dish, all you need to do is add the fresh pasta right to the marinara and it will cook in the sauce. That also means that while it cooks the pasta is absorbing all of that fresh tomato marinara flavor!
How to Cook Fresh Pasta
Add to pan, coat with sauce, let simmer.
That's it! The liquid in the sauce is all that's needed to cook that fresh, delicate, homemade pasta.
Use some tongs and be sure to stir often throughout cooking, though. This will help coat all of the pasta with the sauce and prevent it from sticking to the bottom of your pan.
Using Dried Pasta: Don't worry, you can still use your favorite dried pasta, too. It will require an additional pot for just a couple of minutes of boiling, and then the pasta will be finished in the sauce.
Plate and Serve!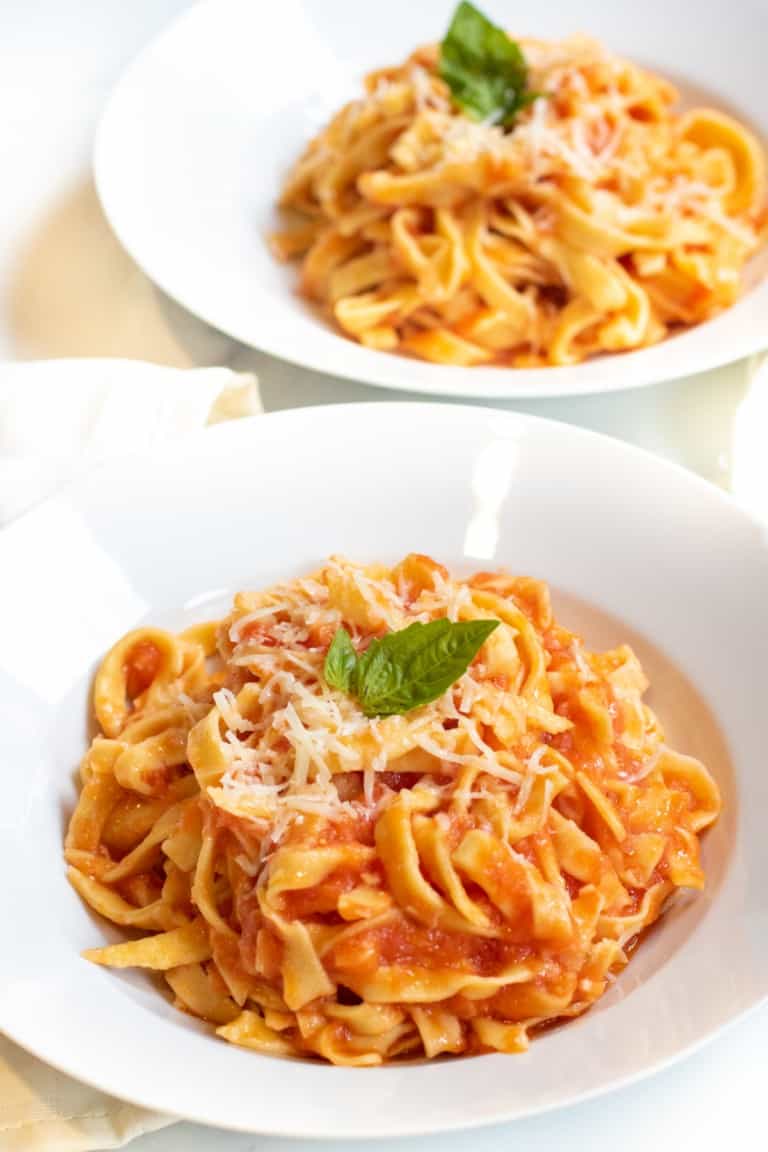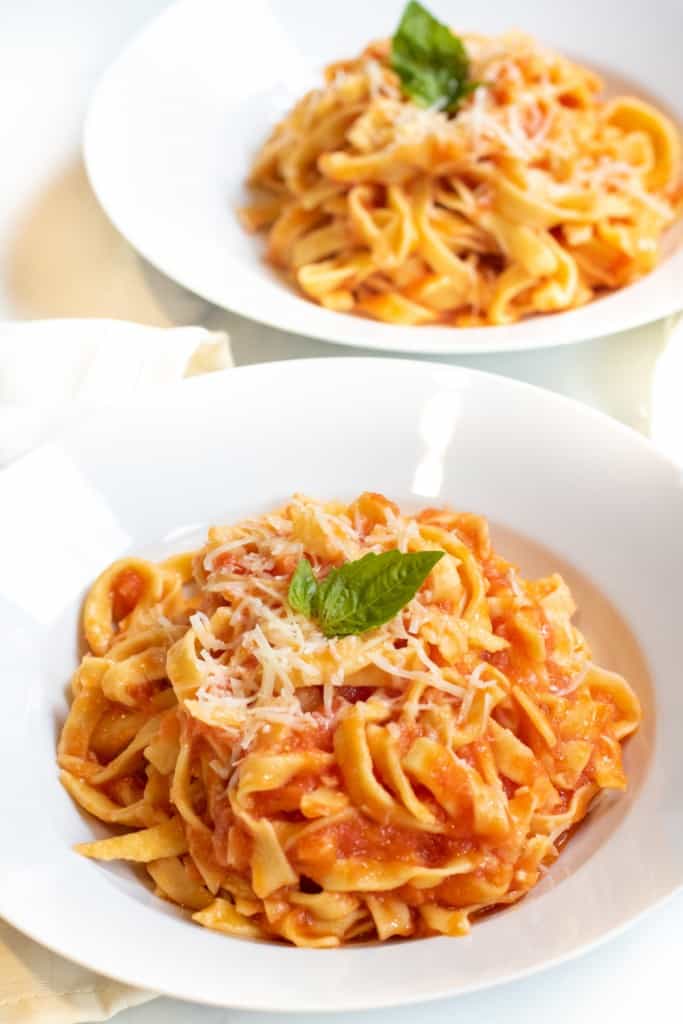 Into a bowl, topped with some fresh grated Parmesan cheese, a little extra fresh basil and done!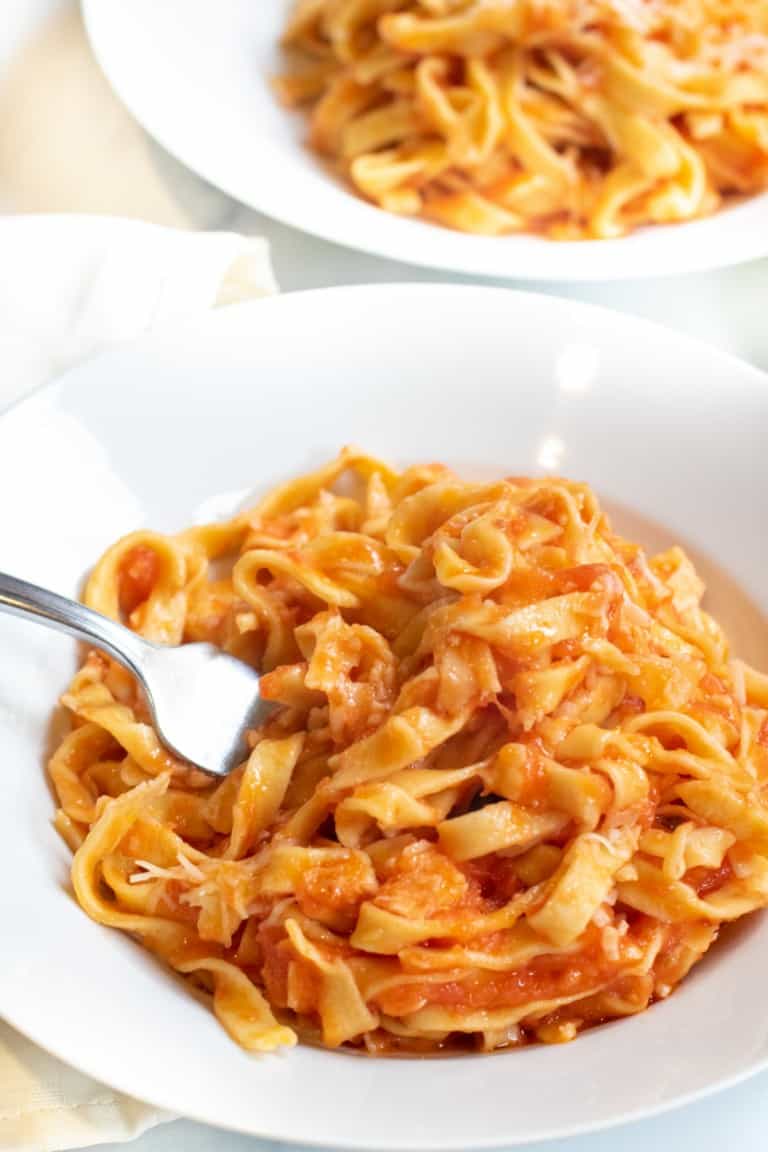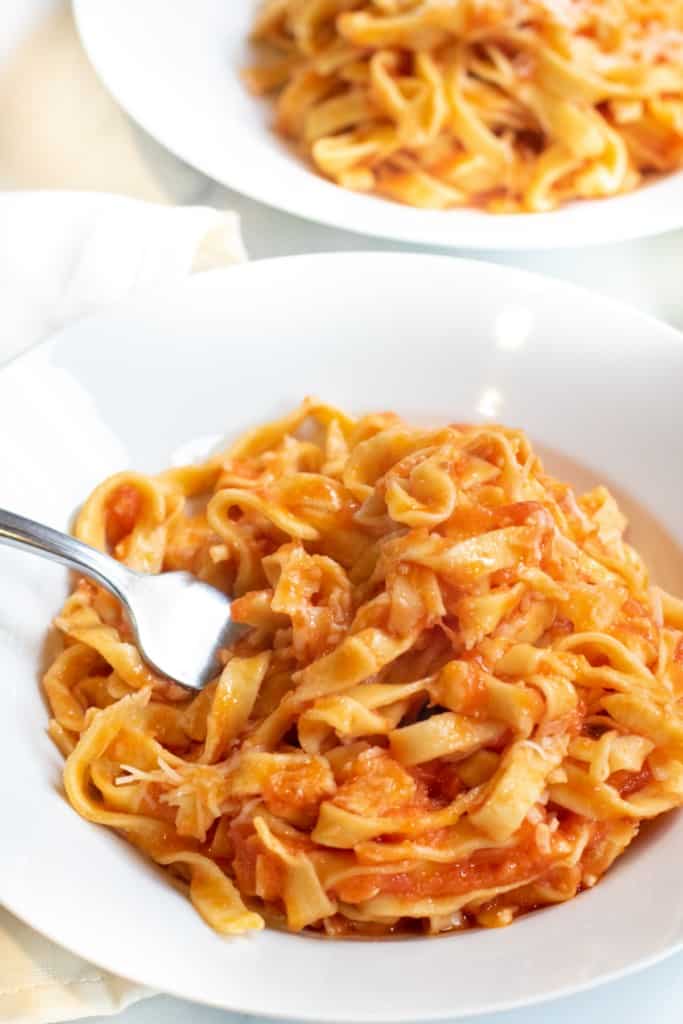 Fresh Tomato Marinara Pasta, made of incredibly basic ingredients that become an elevated dish when it's all made from scratch. It's so simple (and affordable!) but still fancy enough for a date night in!
Try next, our Fresh Ricotta Ravioli From Scratch, Gnocchi From Scratch, or 20 Minute Tomato Artichoke Pasta next!!
Enjoy! As always, if you make this recipe or any of my others, I love to hear what you think! Leave a comment below, email me, or you can find me on Facebook, Instagram, and Pinterest!
If you want to see more, be sure to sign up for my 5 Easy Ways to Start Cooking From Scratch!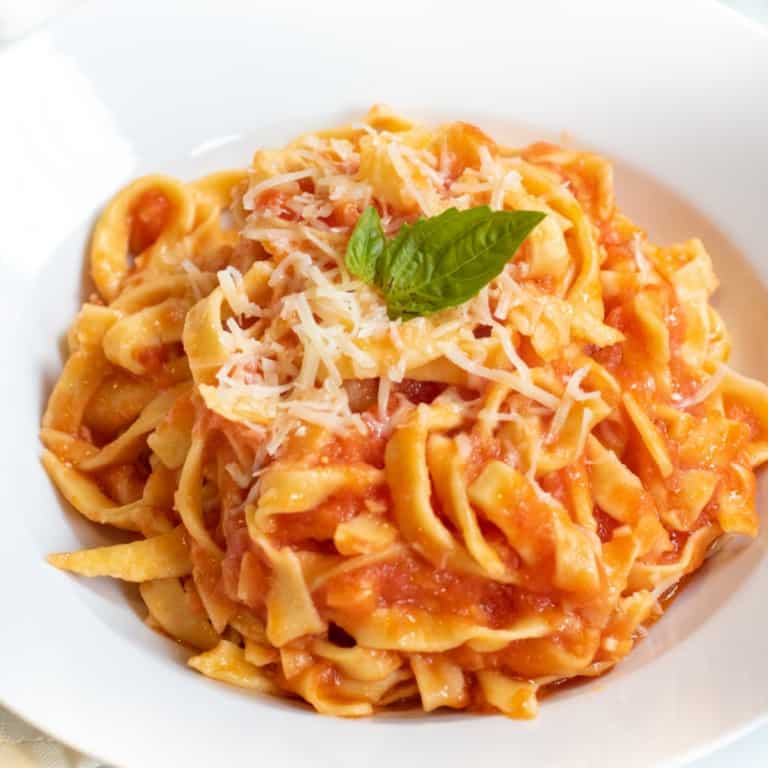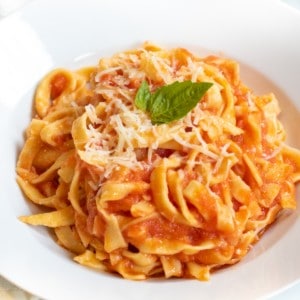 Fresh Tomato Marinara Pasta
A classic, authentic Italian dish made with a fresh tomato marinara sauce with NO added sugar, and fresh homemade pasta.
Print
Pin
Rate
Equipment
3 qt stainless steel saute pan
Ingredients
8

oz

fresh pasta

2

lbs

roma tomatoes

3

tablespoons

extra virgin olive oil

the good stuff

5-6

cloves

garlic

minced, about 1 tablespoon

1

teaspoon

kosher salt

4-5

leaves

fresh basil

1/4

teaspoon

onion powder

Parmesan Cheese
Instructions
Slice tomatoes in half and use a small spoon to scoop seeds out in a small bowl. Set aside.

Use a box grater to finely grate the flesh of the tomatoes into a medium-sized bowl. Try to grate as much of the flesh as possible. The skin of the tomatoes should protect your fingers. Discard skins.

Once all of the tomatoes have been grated, place a fine mesh seive over bowl of grated tomato / liqud and pour the scooped seeds into the sieve. Gently press out the liquid from the seeds into the bowl. This should yeild 2 1/3 to 2 1/2 cups of a sauce.

Heat large saute pan to medium and add extra virgin olive oil. Add garlic and saute for about 45-60 seconds, stirring in oil to prevent burning.

Add the grated tomato/sauce to the pan with the garlic and oil and stir. Add salt, onion powder, and whole basil leaves.

Let the sauce come to a boil, then turn down the heat slightly to medium-low to let the sauce vigorously simmer / very gently boil for 10 minutes, stirring occassionally.

After 10 minutes, add onion powder and mix well. Then add the fresh pasta and use tongs to turn and coat with sauce. If needed, bring the heat back up slightly so that you have a vigorous simmer/gentle boil as the last of liquid in the sauce starts to cook off / into the pasta.

Cook pasta and sauce for 4-5 minutes, turning frequently to coat pasta with sauce so that it cooks with the liquid of the sauce and does not stick to the bottom of the pan. If the liquid is mostly cooked off, and pasta begins to stick a little, turn down the heat.

Test pasta for doneness, and then plate and top with Parmesan cheese and fresh basil.
Notes
Substitutions
Boxed Pasta: If you're not using fresh pasta, you will need to boil the pasta first for a few minutes before adding it to the sauce. Start a pot of water when you're about halfway through grating the tomatoes. Boil for the time indicated on the side of the box minus 3 minutes. For example, for thin spaghetti that takes 6 minutes to cook, boil for only 3 minutes, drain, and then add to sauce and finish cooking for another 3-4 minutes.
Tomatoes: Romas or another plum/paste tomato is best like San Marzano, Amish paste, viva Italia, big mama.
Garlic: Use 1 teaspoon powdered for the 1 tablespoon of fresh minced.
Basil: Use 1 teaspoon dried for the fresh.
Additional Herbs: Add additional herbs to taste, like oregano or parsley.
Prepare in Advance
You can grate the tomatoes and store in an airtight container in the fridge for up to 2 days before using.
Nutrition
Calories:
606
kcal
|
Carbohydrates:
82
g
|
Protein:
17
g
|
Fat:
25
g
|
Saturated Fat:
3
g
|
Polyunsaturated Fat:
4
g
|
Monounsaturated Fat:
16
g
|
Cholesterol:
83
mg
|
Sodium:
1217
mg
|
Potassium:
1314
mg
|
Fiber:
6
g
|
Sugar:
12
g
|
Vitamin A:
3885
IU
|
Vitamin C:
65
mg
|
Calcium:
80
mg
|
Iron:
5
mg