Whenever we want to add some kale to our girls' diets, this stovetop Homemade Mac and Cheese with Kale is how we do it! This skillet-style macaroni and cheese has everything you want, it's creamy, it's cheesy, but it's also sneakily healthy and ready in 30 minutes!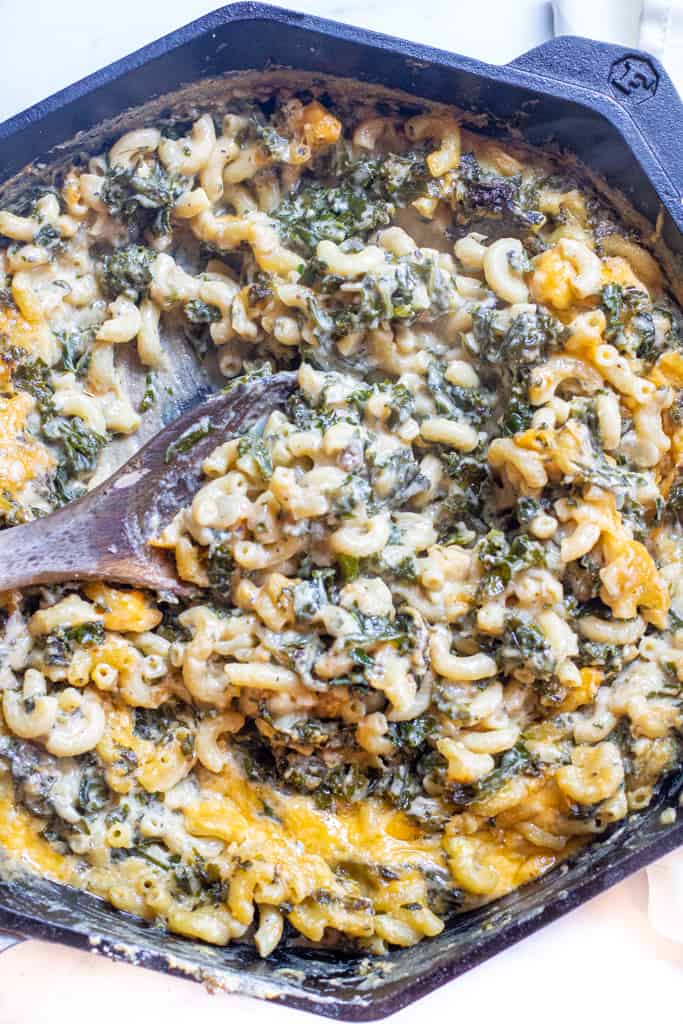 You heard that right. Homemade Mac and Cheese with Kale. Yup, KALE. Stay with me now. Don't worry, it's everything you want in homemade macaroni and cheese. It's creamy, it's dreamy, and most importantly it's my girls' favorite. It's so simple to make but it's also packed FULL of hearty, healthy kale.
Ok, before I lose you macaroni and cheese purists, I promise that this recipe will surprise you. Because it's not just tossing some kale into your favorite mac and cheese. By braising the kale down with garlic, onion, and stock, it adds so much flavor and incorporates it into the cheesiness. Again, my girls love this, and trust me, when my 5-year-old is still talking about dinner a few days later, I know it's a win.
Ingredients Needed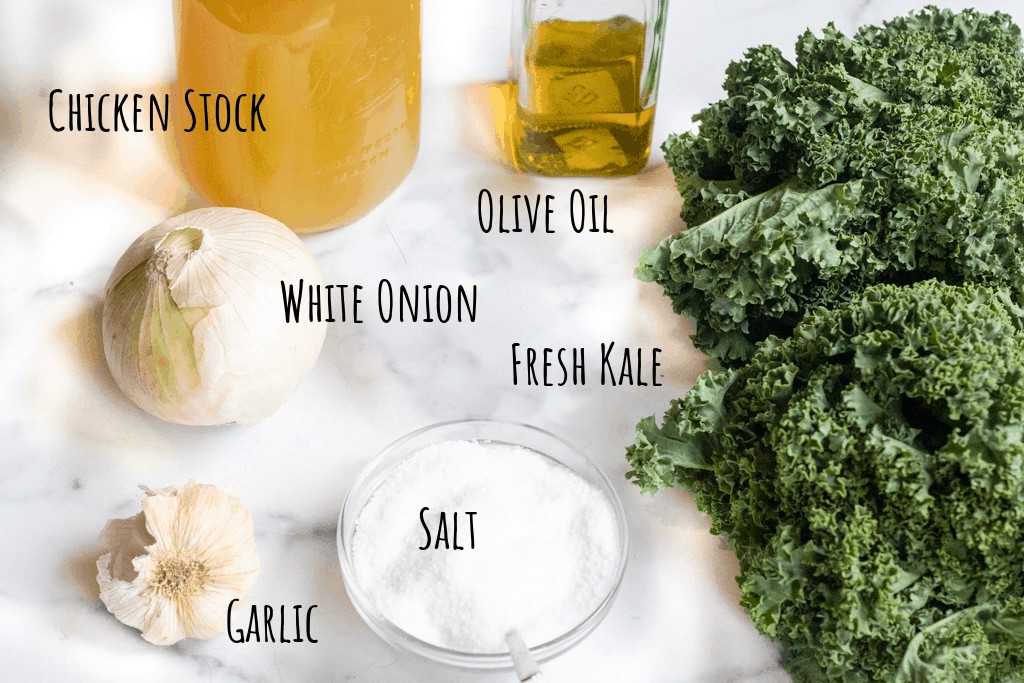 One of the most important steps to incorporating the kale into the mac and cheese and make it kid loved, is braising the kale. To do this, you'll need:
Fresh Kale - Any kind that you have. We love Curly Kale, which is the one you're most likely to find in your grocery store, but your local farmers market may have some other varieties like Tuscan Kale, Red Russian Kale, or Siberian Kale. This recipe is great for any variety!
Onion and Garlic - Do we ever make anything without them? White or Yellow are going to be the best for this recipe.
Chicken Stock - or Vegetable Stock to keep it vegetarian,
Olive Oil and Salt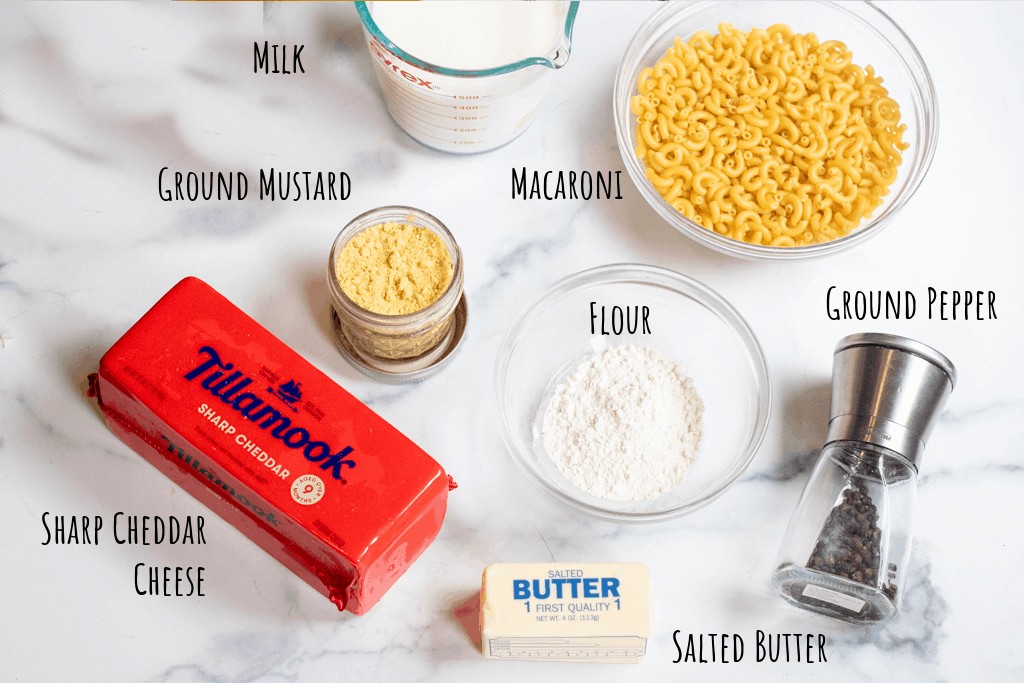 Next, the best part of homemade macaroni and cheese, the macaroni and cheese!
Macaroni - My girls' favorite for this is elbow macaroni, but we also love it with another pasta like campanelle, orecchiette, penne, or shells.
Cheese - Sharp Cheddar Cheese is our favorite for this but a medium or white would also be delicious. We also love this with a mixture of mozzarella and smoked gouda! Tillamook is the go-to cheese in our house!
Milk and Half and Half - 2% is what we use because it's what we always have on hand, but use whatever you have. Using a bit of Whole or increasing the amount of cream will make an even creamier sauce, too.
Flour and Butter - To make your roux, the key to making your cream sauce creamy and dreamy.
Ground Mustard - We love the added flavor that the touch of mustard brings out with the kale.
Salt and Pepper
Cheese Tip: It takes a little extra time, but shredding your own cheese is key to a creamy cheese sauce. Pre-shredded cheeses actually have additives to prevent the cheese from clumping, which also prevents them from melting as well.
Milk Tip: Measure out your milk when you start prepping your kale. Using room temperature milk will mean it will thicken quicker.
Step-by-Step Instructions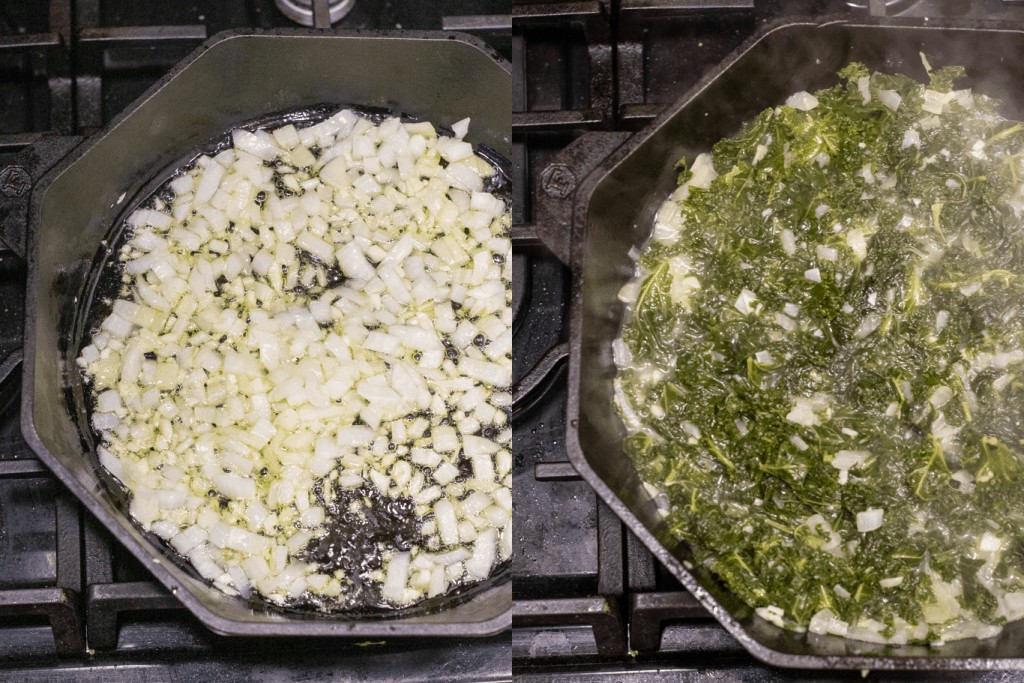 While my girls love this homemade macaroni and cheese because of it's cheesy goodness, I love it because it can be made in our trusty (and beloved) Finex Cast Iron Skillet, and is ready in under 30 minutes!
Step 1: Cook your kale. This is done by first adding your oil, cooking your onions and garlic in it and then adding the kale and braising it in stock.
What does it mean to braise?
Braising simply means that you're cooking the kale both fat (olive oil) and liquid (stock). The flavor that's added to the kale by braising it in stock makes the kale kid-friendly - and adult adored! We often just make kale this way for a side dish!
Once the kale is cooked down and most of the liquid gone, then remove it all from the cast iron and set it aside.
This is also a good time to get your water on to cook your macaroni.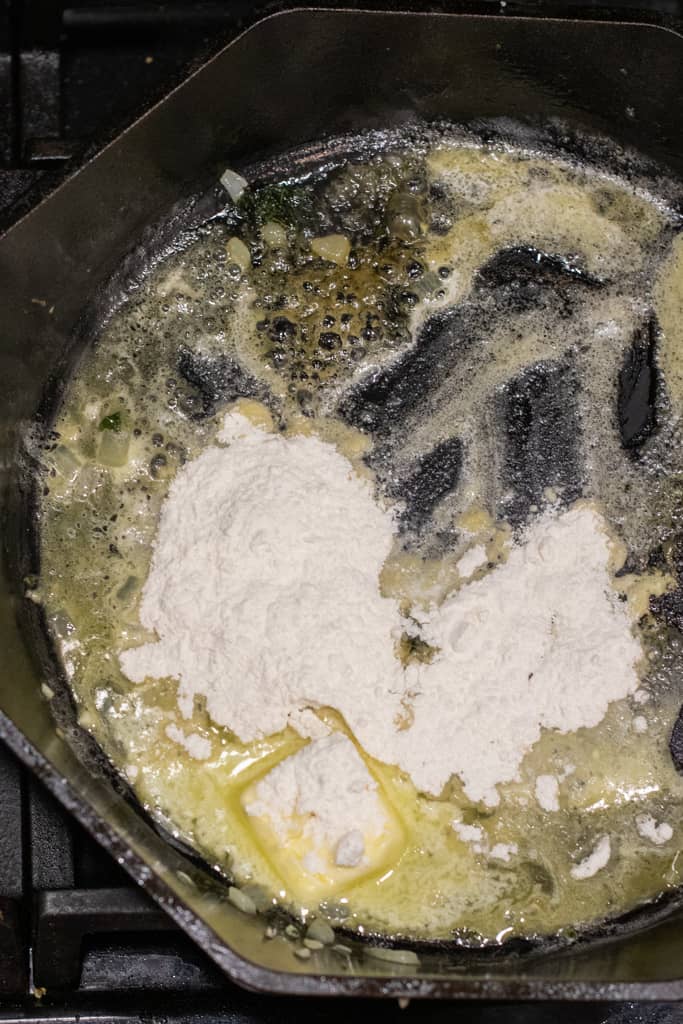 Step 2: Make your roux by whisking flour into some melted butter.
What is a Roux?
A roux is a mixture of fat and flour (in this case butter) and it is what will thicken the sauce for your Homemade Macaroni and Cheese and it's vital to making it creamy dreamy. To make it all you do is add the butter and flour to your pot and mix it all together, stirring frequently and letting it cook for about 2 minutes until it's bubbly and foamy and starts to look like a thick paste. This quick roux is known as a White Roux which is cooked enough to just get rid of the raw flour flavor and is a great base for any sauce or soup.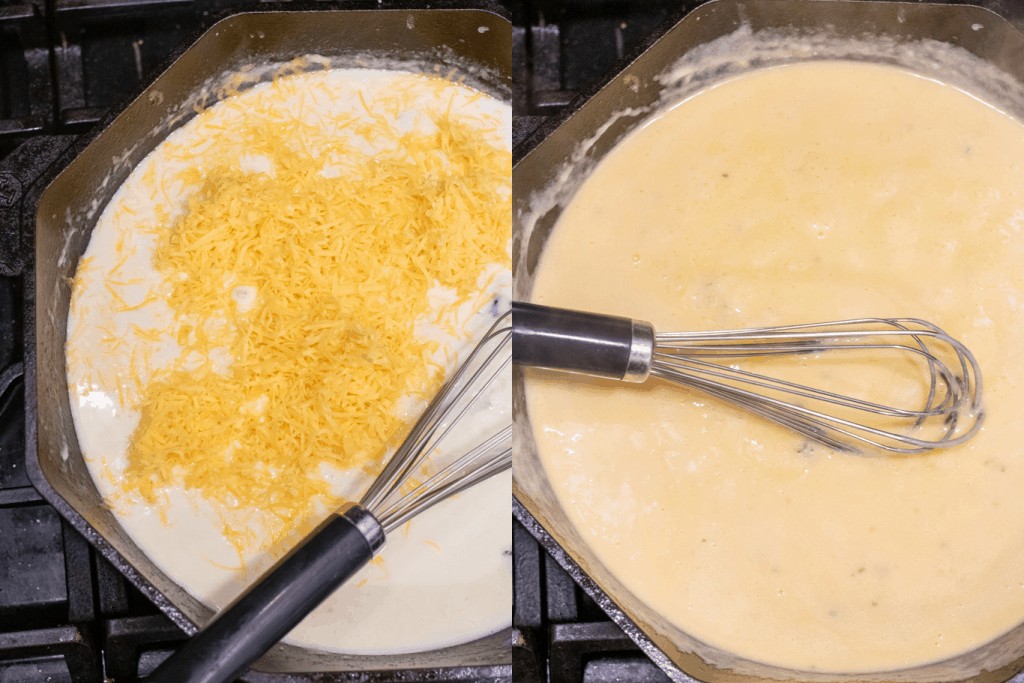 Step 3: Slowly add the milk to your roux, whisking it to fully incorporate it into the roux, which will thicken it. Once it's all incorporated, then it's time to slowly add your cheese, whisking it in to melt it slowly as you add it.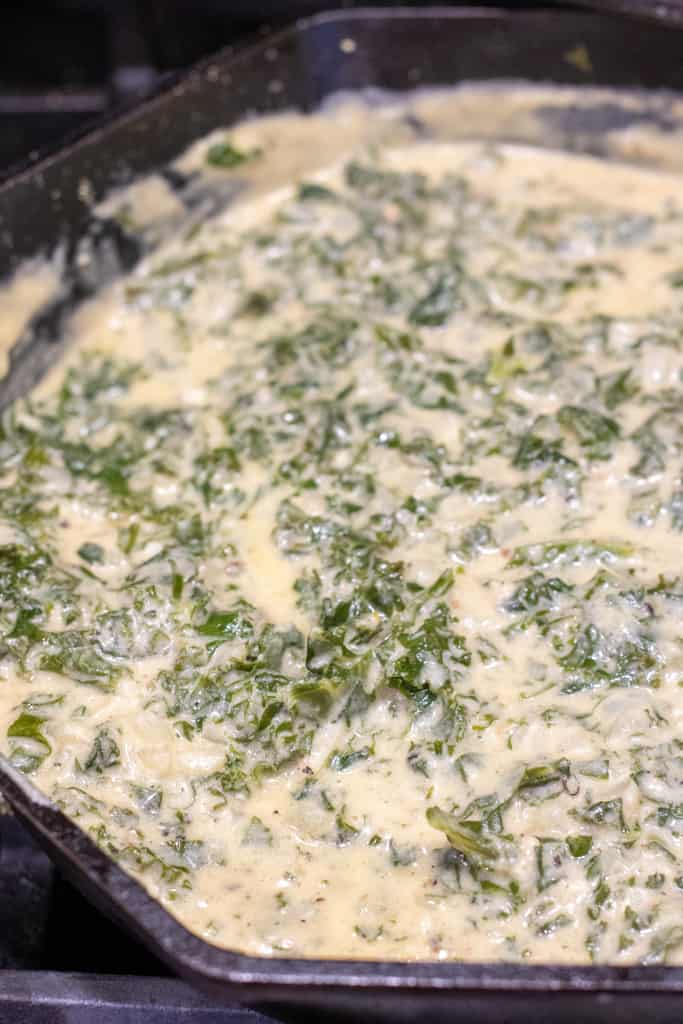 Step 4: Add your braised kale.
Adding it now to the cheese sauce will help ensure that it all gets well incorporated into the mac and cheese.
Step 5: Add your cooked macaroni and give a mix!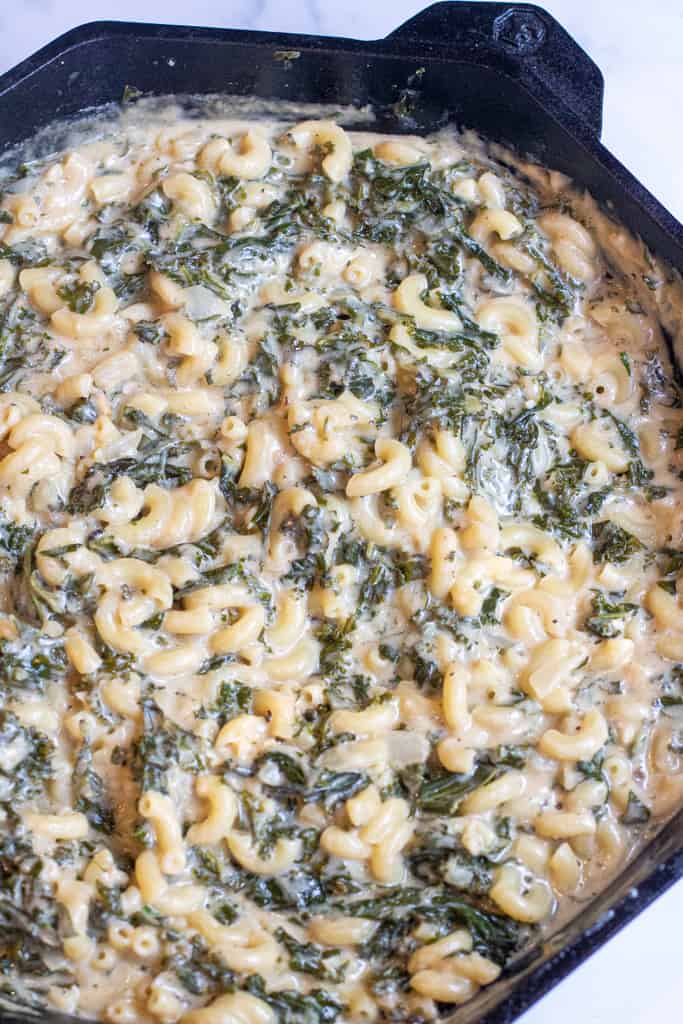 Now this is totally where you can stop, and it is DELICIOUS. It is a delicious, delicious creamy dreamy Homemade Mac and Cheese with Kale! But if you want that baked mac and cheese touch, then I got you...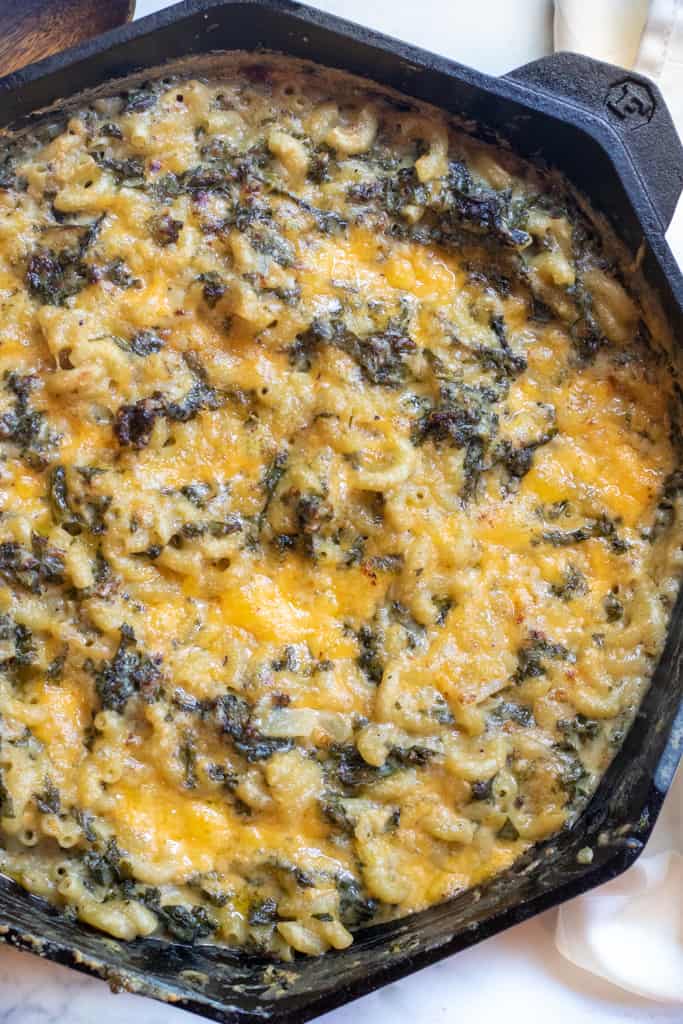 Add some more cheese and pop it in the oven to melt and you have that creamy dreamy homemade macaroni and cheese, but with that crispy cheesy topping!
See all that kale? Yup. It's just over there being packed with Vitamin A, Vitamin K, Magnesium, Calcium, and Potassium while being delicious and kid-friendly! Homemade macaroni and cheese that's sneakily healthy!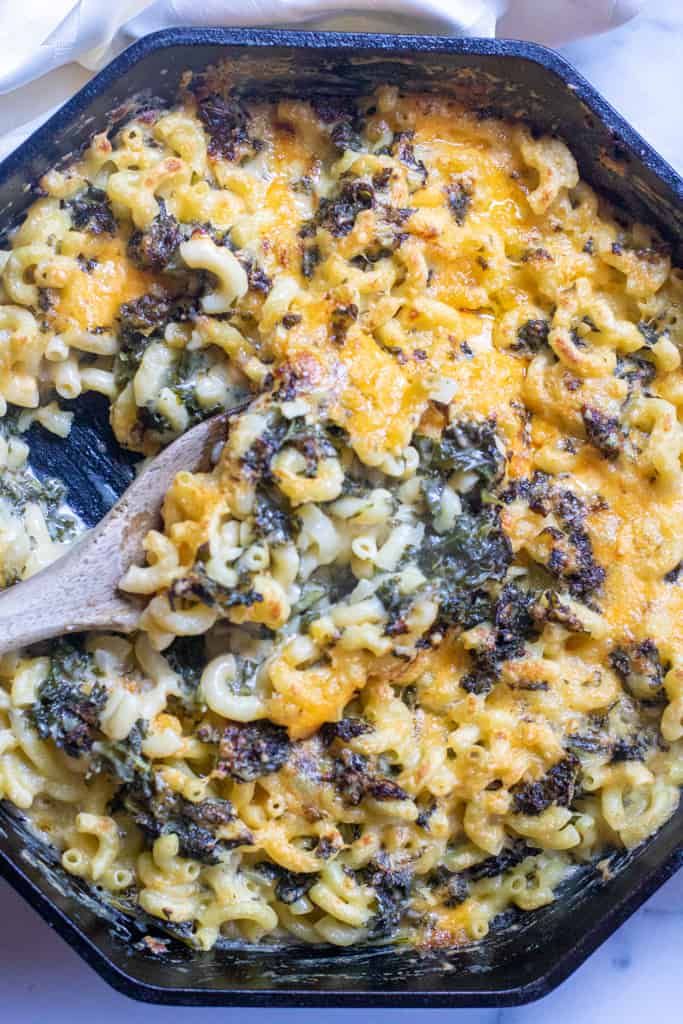 Give them that mac and cheese they want but also the greens you want!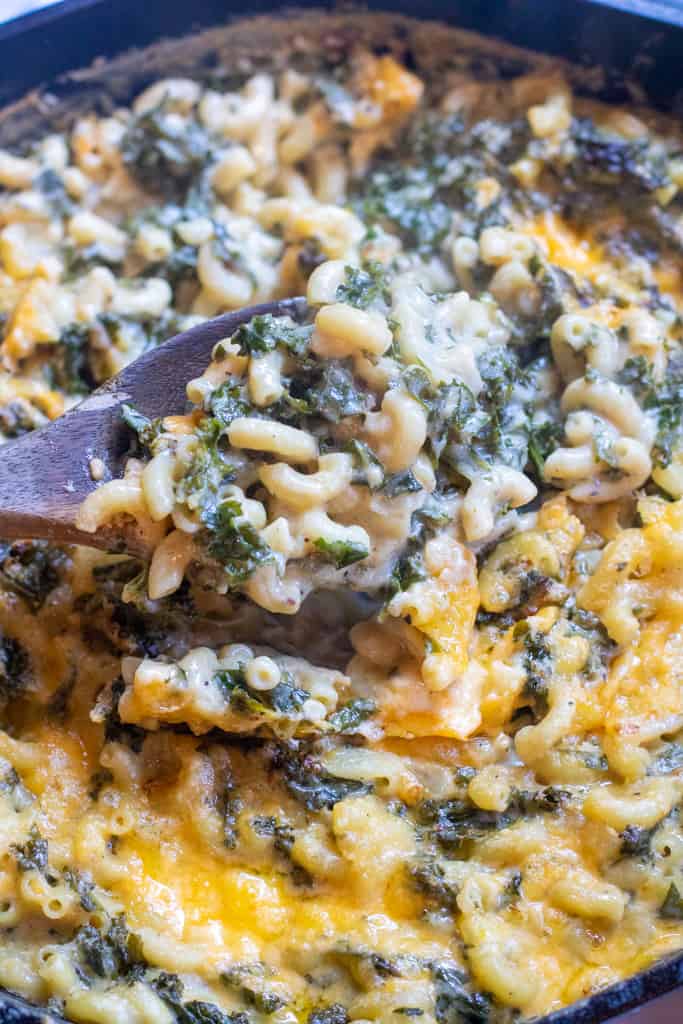 FAQ
Can I make it ahead of time?
Absolutely. You can prep it all in advance before the final bake. See recipe notes.
Can I use frozen kale?
Fresh is really best for this recipe as you won't be able to braise and really infuse frozen kale with enough flavor.
Can I freeze it?
If you happen to have any leftovers, yes! Just be sure to let it cool completely before storing it in a freezer-safe container for up to 3 months. Please note, that reheating will definitely reduce the creaminess of it, but we love to defrost in the fridge and then fry in some butter to reheat.
Can I use other veggies?
Of course! Pack 'em in! We love to use spinach, diced zucchini, peas, and even some diced broccoli!
Enjoy! As always, if you make this recipe or any of my others, I love to hear what you think! Leave a comment below, email me, or you can find me on Facebook, Instagram, and Pinterest!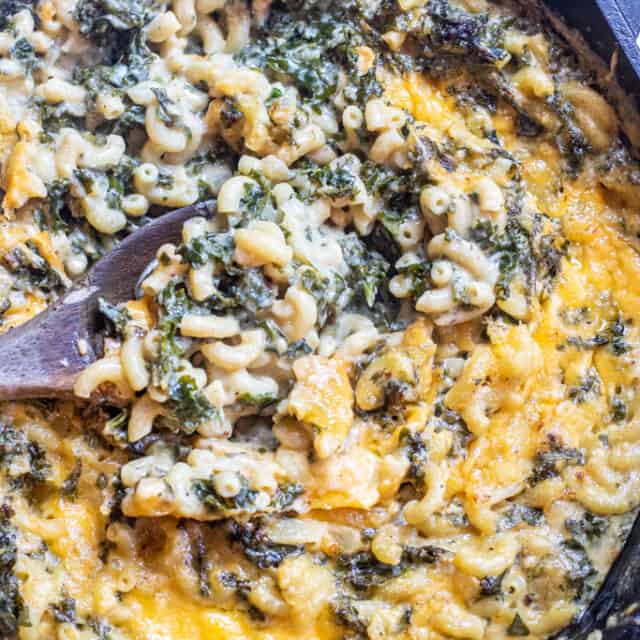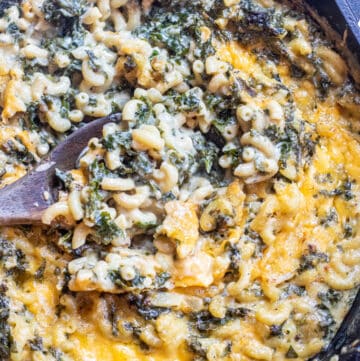 Homemade Mac and Cheese with Kale
A skillet macaroni and cheese made heartier and healthier with homemade kale!
Print
Pin
Rate
Equipment
or other oven save skillet

whisk
Ingredients
1

bunch

kale

trimmed from stems, approx 4 cups packed

1

cup

white onion

diced

4

cloves

garlic

minced

1 1/3

cups

chicken stock

or vegetable to make vegetarian

3

tablespoons

olive oil

1 1/2

teaspoons

salt, divided

1/2

lb

elbow macaroni

2

tablespoons

salted butter

3

tablespoons

all purpose flour

1 1/2

cups

milk

1/2

cup

half and half

or use all milk

1

teaspoon

fresh ground pepper

1 1/2

teaspoon

ground mustard

2 1/2 -3

cups

sharp cheddar cheese

grated
Instructions
Clean your kale by rinsing it in cold water and then removing the leaves from the stems. Chop into small pieces.

Heat olive oil on medium in a cast iron skillet or another large skillet (with a lid). Add onion and garlic and cook for approximately 90 seconds.

Add kale and coat with oil and mix with garlic and onion. Let saute for another minute, add 1 teaspoon of salt, mix, and then add the stock. Cover and let braise in stock for about 10 minutes, or until most of the stock has cooked off.

Meanwhile, bring 3 quarts of water to a boil. Add noodles and boil until al dente. Drain and rinse in cold water to prevent sticking.

When your kale is done, remove from skillet and set aside.

WIth skillet on medium, add butter and as it melts, add the flour and whisk to create a roux.

Slowly add the milk, 1 cup at a time, and whisk it to incorporate it all before adding more milk and half and half.

Let the sauce cook, whisking constantly to prevent from burning, until it begins to thicken. Add cheese, 1 cup at a time, and whisk to combine. Reduce to medium-low.

Let the sauce thicken and then start adding the cheese, a handful at a time, whisking until it is all fully melted before adding more cheese. Repeat for 2 cups of cheese.

Once cheese sauce is thickened, add 1/2 teaspoon salt, pepper, and mustard and mix. Add kale and mix well. This will ensure that the kale is more evenly distributed in the dish.

Once the kale is well mixed in, then add the cooked pasta and mix well.

This is where you can stop and set aside if preparing in advance. Or you can serve it now, as is. Otherwise, pre-heat oven to broil and set rack to top third.

Add last 1/2 to 1 cup of cheese to the top of skillet and add to oven to melt and crisp up cheese for 3-5 minutes.
Notes
Substitutions

:
Onion - Use white or yellow.
Milk / Cream - Use at least 2% or whole and then either use all milk or some half and half or use more half and half and less milk. Just remember the greater the cream, the creamier the cheese sauce.
Prepare in Advance
If you're going to make this in advance, cook pasta al dente and stop before the last cheese melt/broil. Add to an oven safe dish. Cover and refrigerate. To serve, pre-heat oven to 350 degrees, add the last 1/2 - 1 cup of cheese to top of mac and cheese and then bake for 20-25 minutes.
Store:
In the fridge for up to 3 days. Reheat using a microwave, oven, or pan frying.
Freezer for up to 3 months.
Nutrition
Calories:
322
kcal
|
Carbohydrates:
42
g
|
Protein:
8
g
|
Fat:
14
g
|
Saturated Fat:
4
g
|
Polyunsaturated Fat:
1
g
|
Monounsaturated Fat:
7
g
|
Trans Fat:
1
g
|
Cholesterol:
15
mg
|
Sodium:
679
mg
|
Potassium:
405
mg
|
Fiber:
2
g
|
Sugar:
6
g
|
Vitamin A:
2361
IU
|
Vitamin C:
29
mg
|
Calcium:
79
mg
|
Iron:
1
mg