It's an apple bar without any apple! These Zucchini "Apple" Bars are an easy-to-make dessert bar made with garden fresh zucchinis and a buttery crust and crumble that you'd swear was made with apples!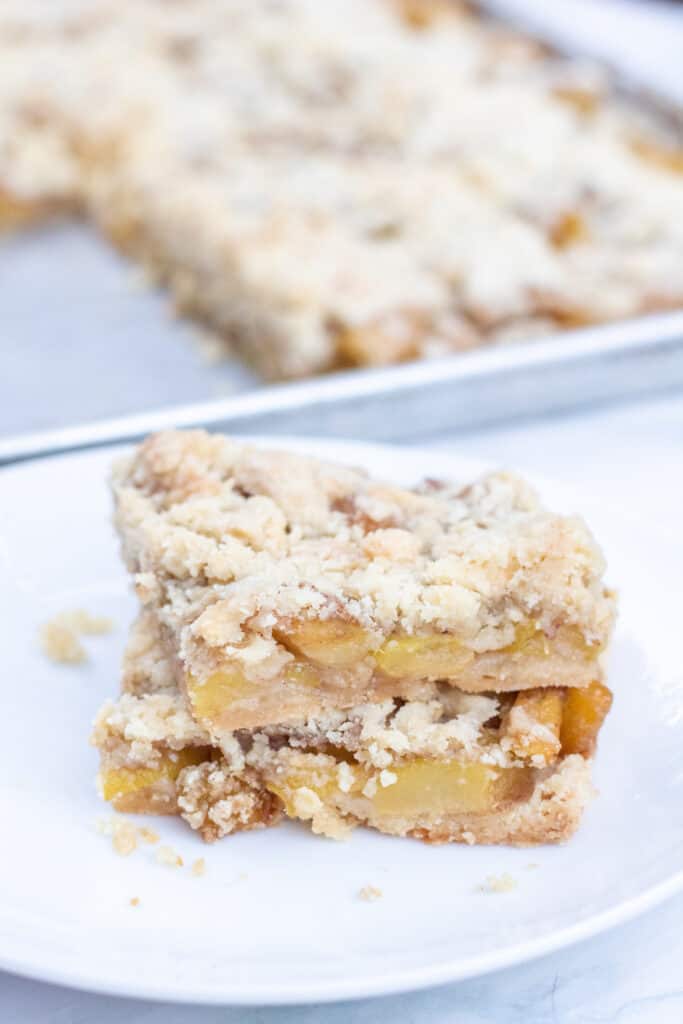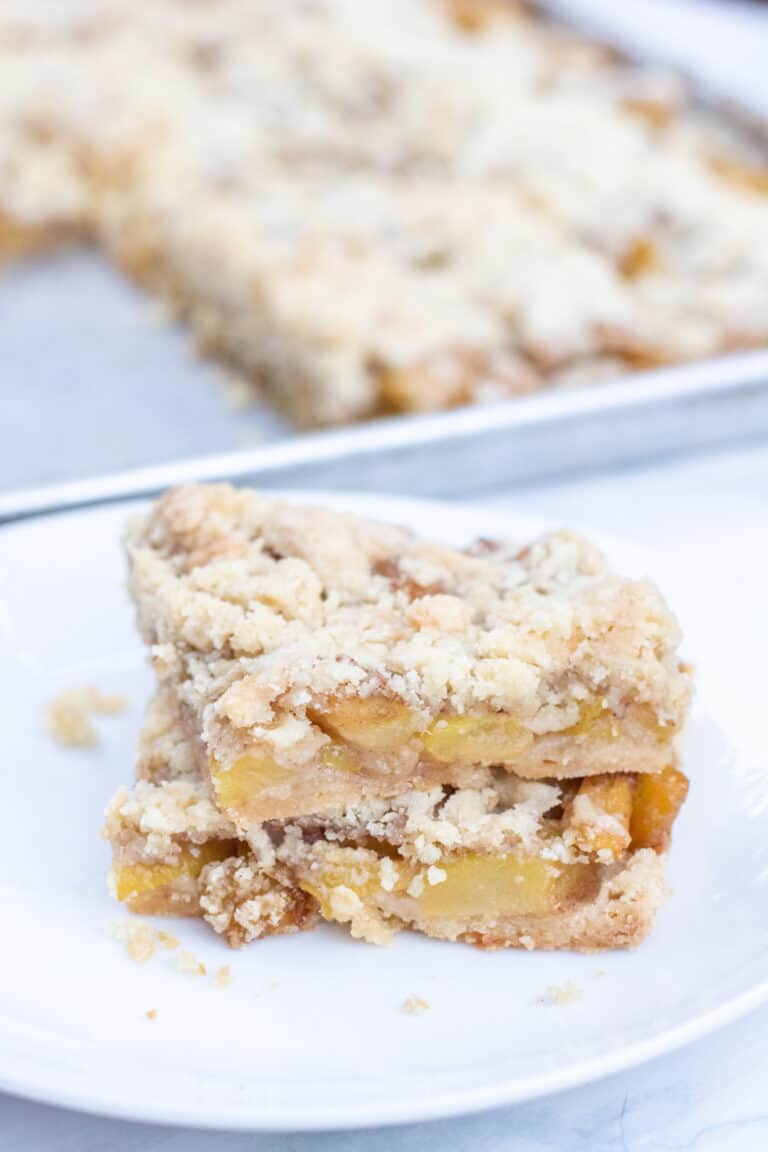 Let me introduce you to a summer staple in our house. I'll be honest, it's a departure from our norm in that there is a lot of sugar and a lot of butter, but oooh man these Zucchini "Apple" Bars are one of my family's favorite late-summer treats. Packed full of fresh garden zucchinis but tastes exactly like apples?! What's not to love?
Ingredients Needed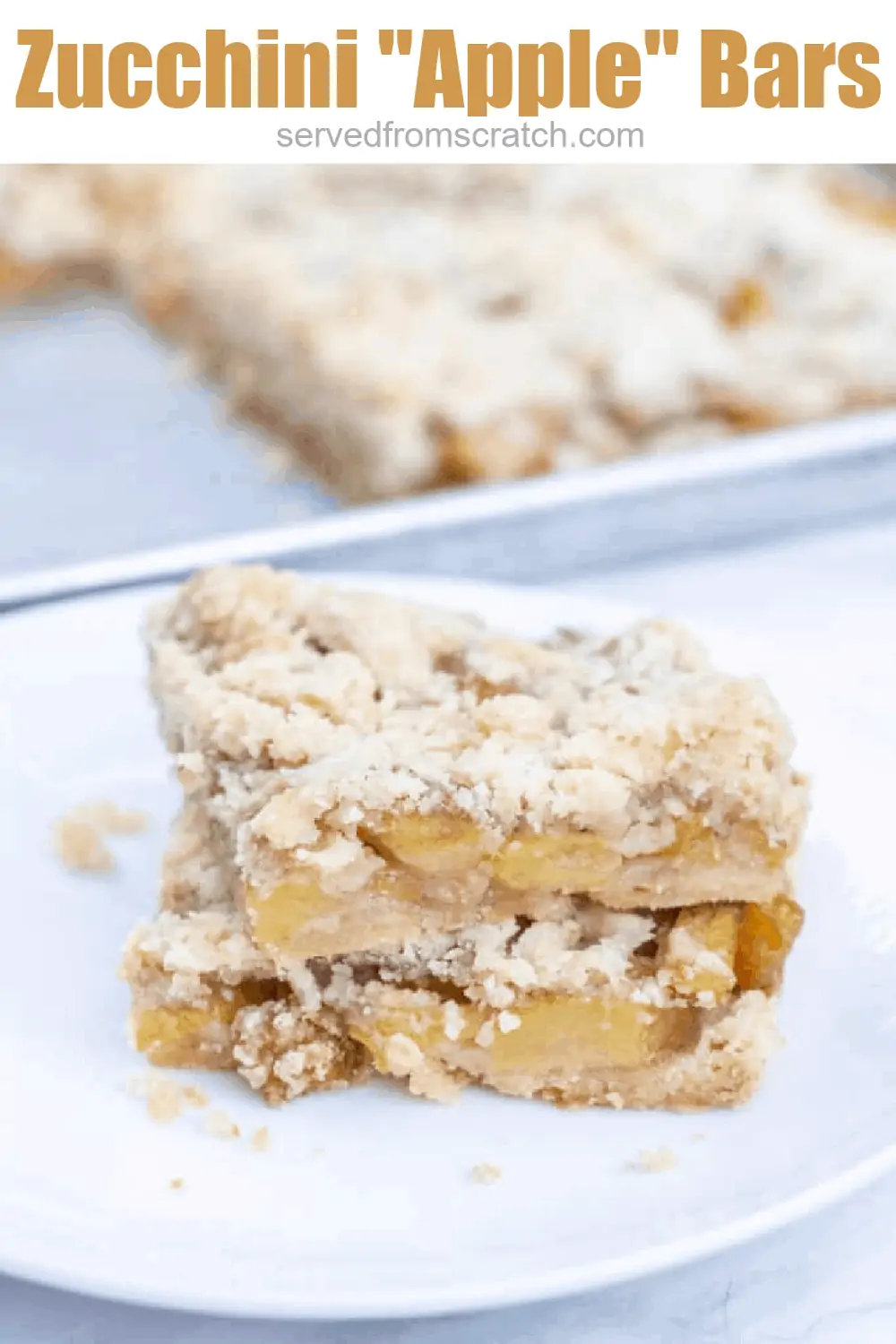 Simple ingredients is all you need for these mock apple zucchini bars.
Garden Fresh Zucchini - Either your garden or your favorite farmer's market (or grocery store!) farmer's garden
Salted butter - Unsalted butter will work too, just add a healthy 1/4 teaspoon of kosher salt to the crust dough.
All Purpose Flour - We don't recommend using bread flour or whole wheat flour because it will make a tougher crust / crumble.
Sugar
Cinnamon and Nutmeg
Lemon Juice - Sometimes we use fresh, but that's from a lot of lemons, so we've used bottled, too.
Prep the Zucchini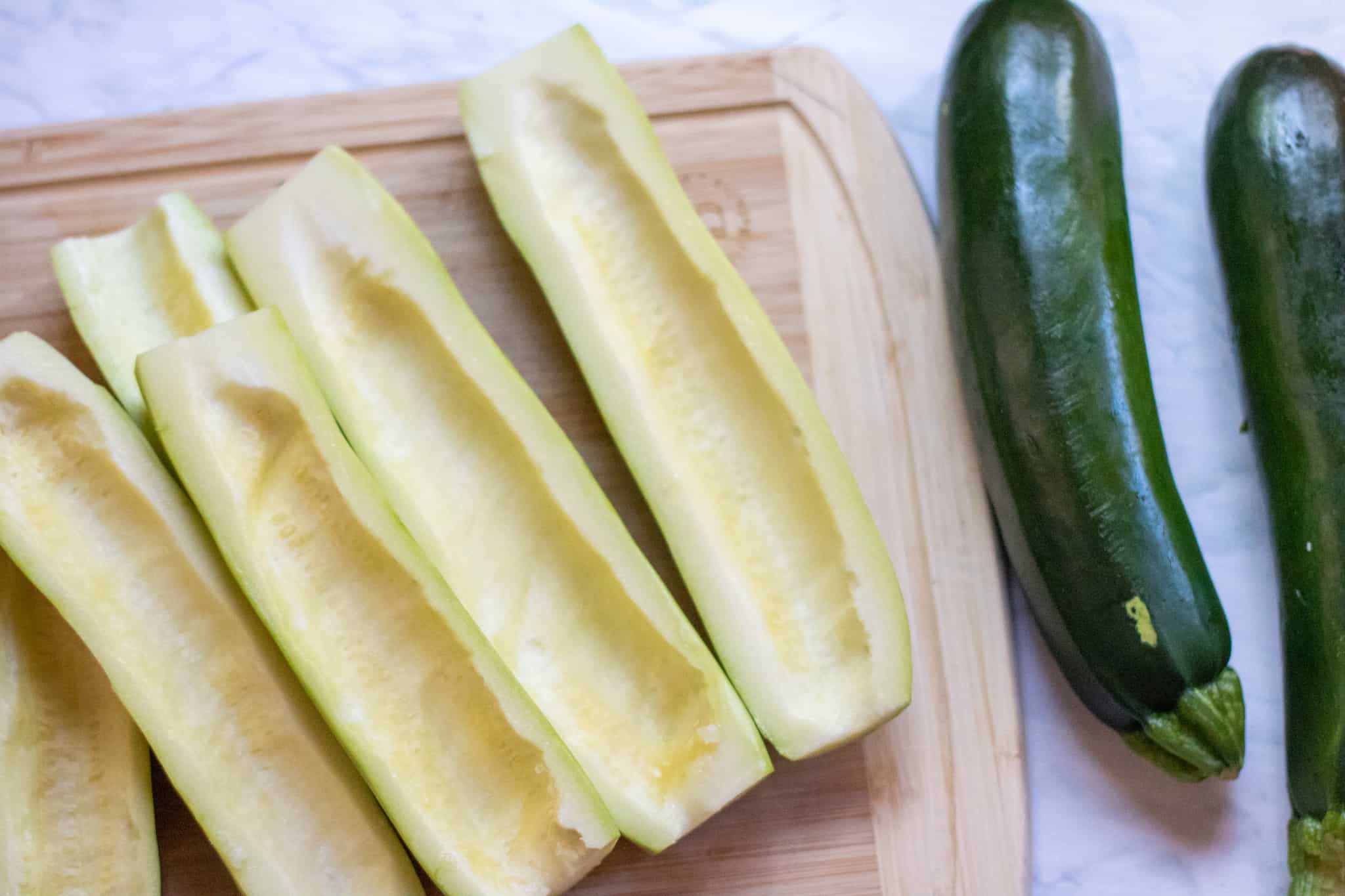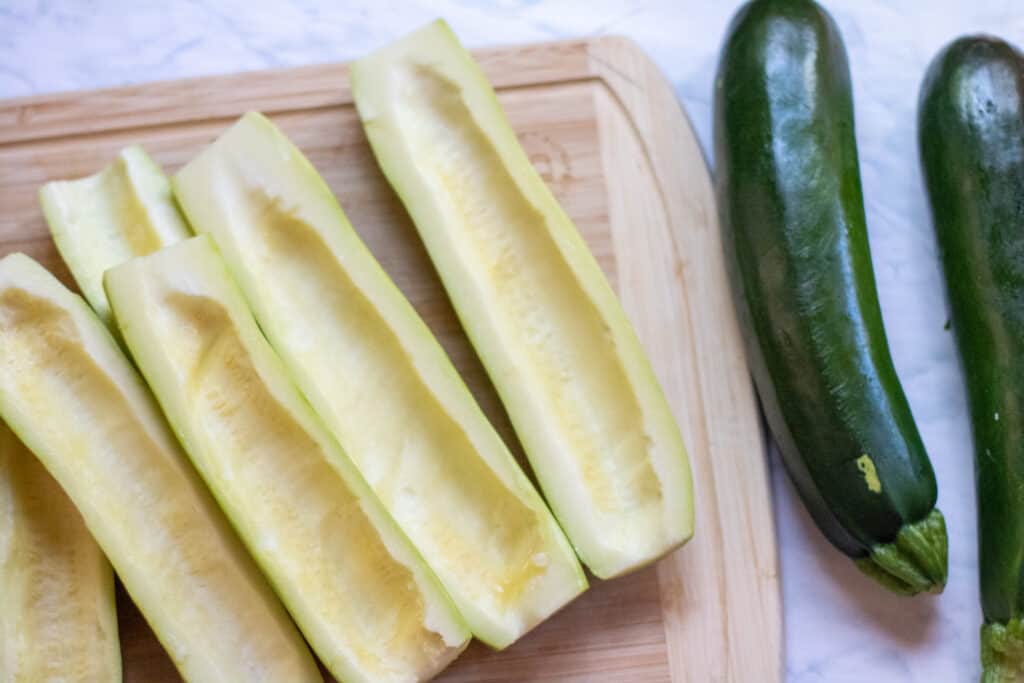 For this recipe, you'll need 8 cups of cored and cubed zucchini, which is usually about 5 lbs of whole zucchinis.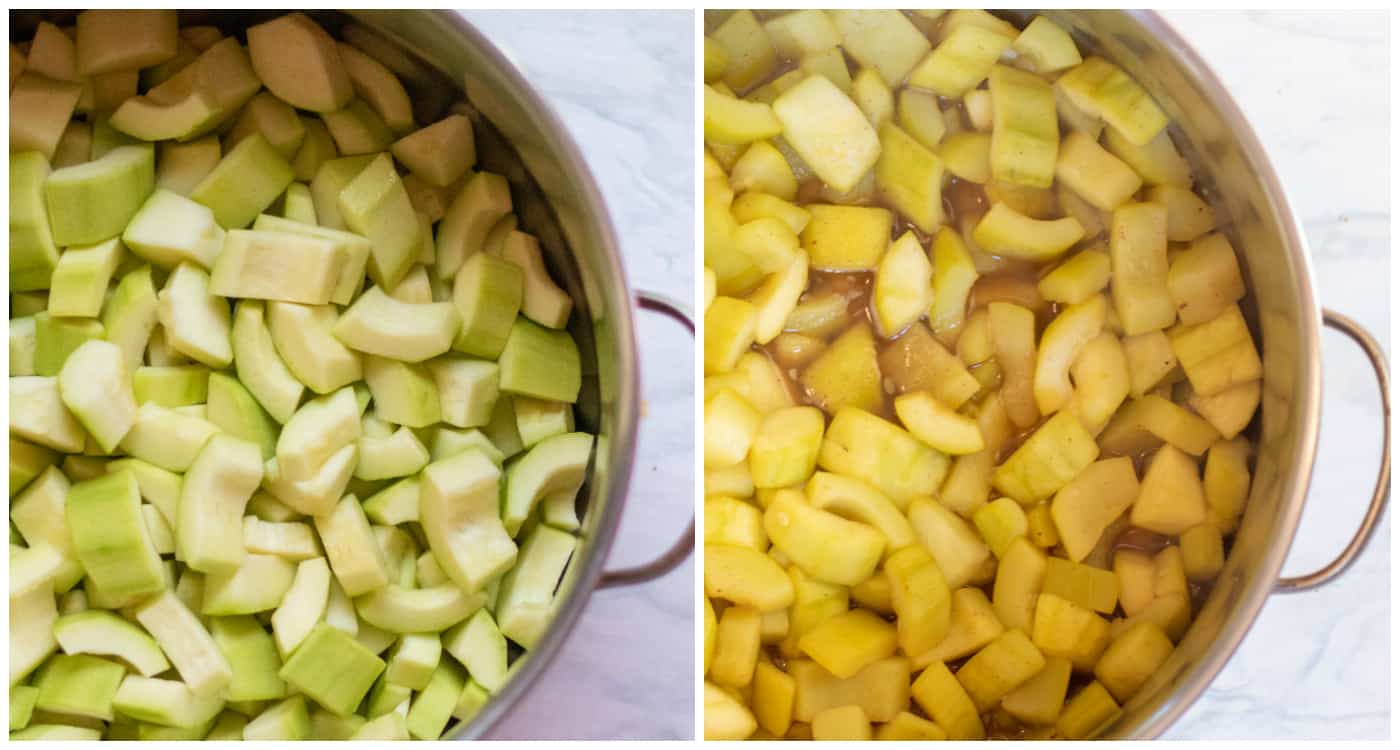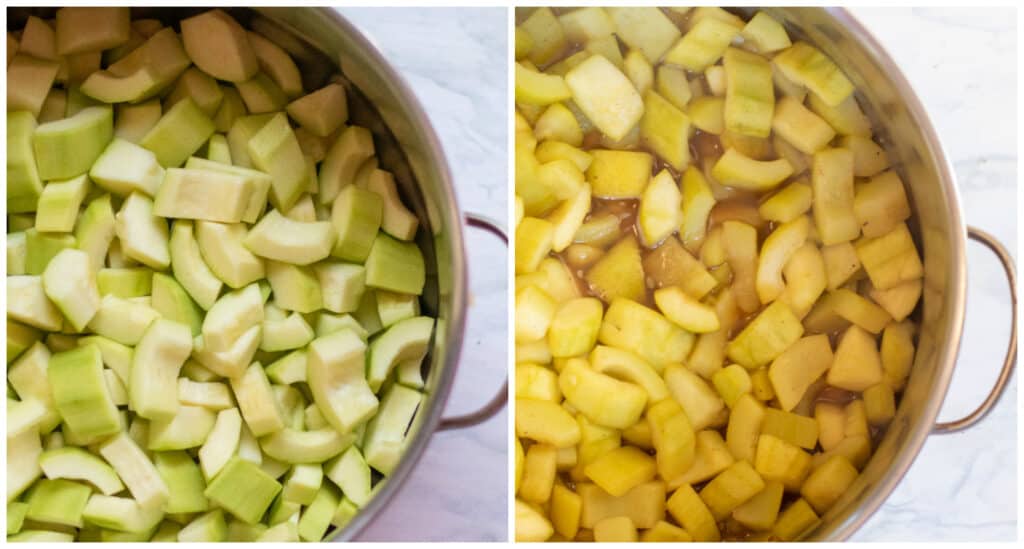 As you can see, my "cubing" is more like "cube-like." That's ok, just make sure that they're all about uniform size to ensure even cooking. Once your zucchini is prepped, then it's just a matter of cooking it in lemon juice until it's tender, then adding the sugar, cinnamon, and nutmeg. When it's done, your kitchen will smell like you've just cooked a bunch of apples!
TIP: You want your cooked zucchinis to be very soft and tender. Between the lemon juice and the liquid that the zucchinis will release while they cook, you'll notice quite a bit of liquid in the pot. As they cook, the liquid will reduce and you'll know your zucchinis are close to being done when that liquid starts to thicken.
Make the Crust and Crumble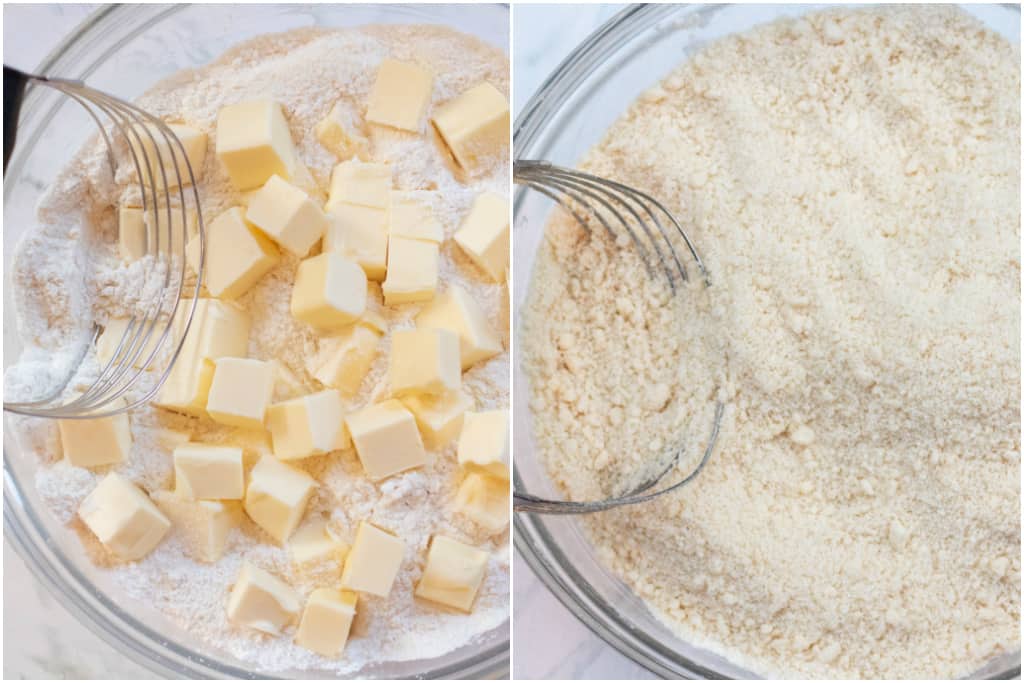 I love this crust / crumble topping for these zucchini bars because it is so easy. Just add the flour, sugar, and some cubed room temp butter (firm enough to hold it's shape, but soft enough for a butter knife to easily go through it), and then cut it all together until a crumble that resembles almost a cornmeal-like texture.
You can totally do this with a fork, but honestly, if you're making a lot of butter doughs, I highly recommend a pastry cutter. They're fairly inexpensive and well worth every penny (and more)!
TIP: Make sure that your butter is cut in well because that will ensure that the fat in the crust/crumble is evenly distributed, making a better crust / crumble for these Zucchini Apple Bars!
Assembling Bars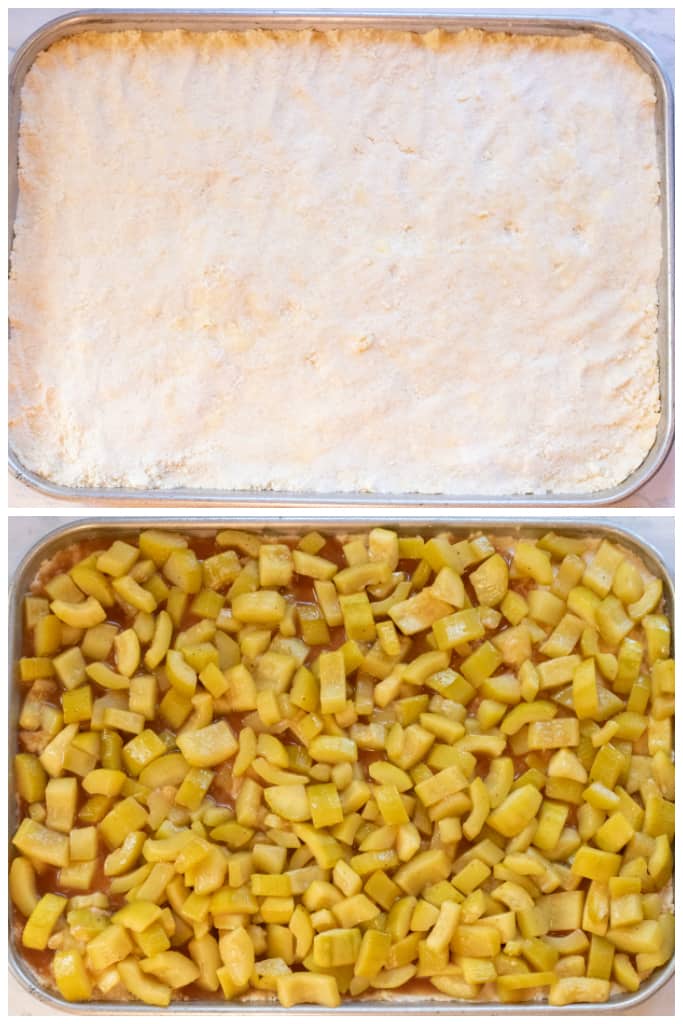 A rimmed baking sheet (jelly roll baking pan) is best for this recipe, but you could also use a higher rimmed baking pan or even a casserole dish for thicker bars.
Use half of your crumble and line your pan with a nice thin crust and then pre-bake it for 10 minutes. This is a crucial step - it will prevent your bottom crust from getting soggy.
Once it's baked (and your zucchini is cooled), add it to crust.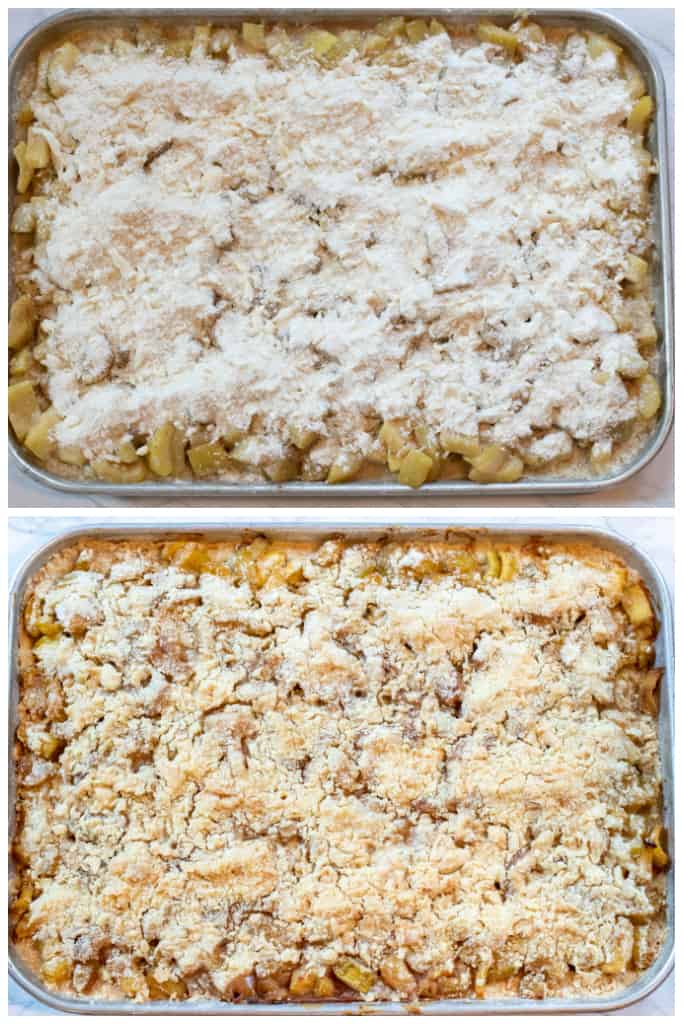 Top the zucchini with the remaining crumble.
Then bake until golden and delicious!!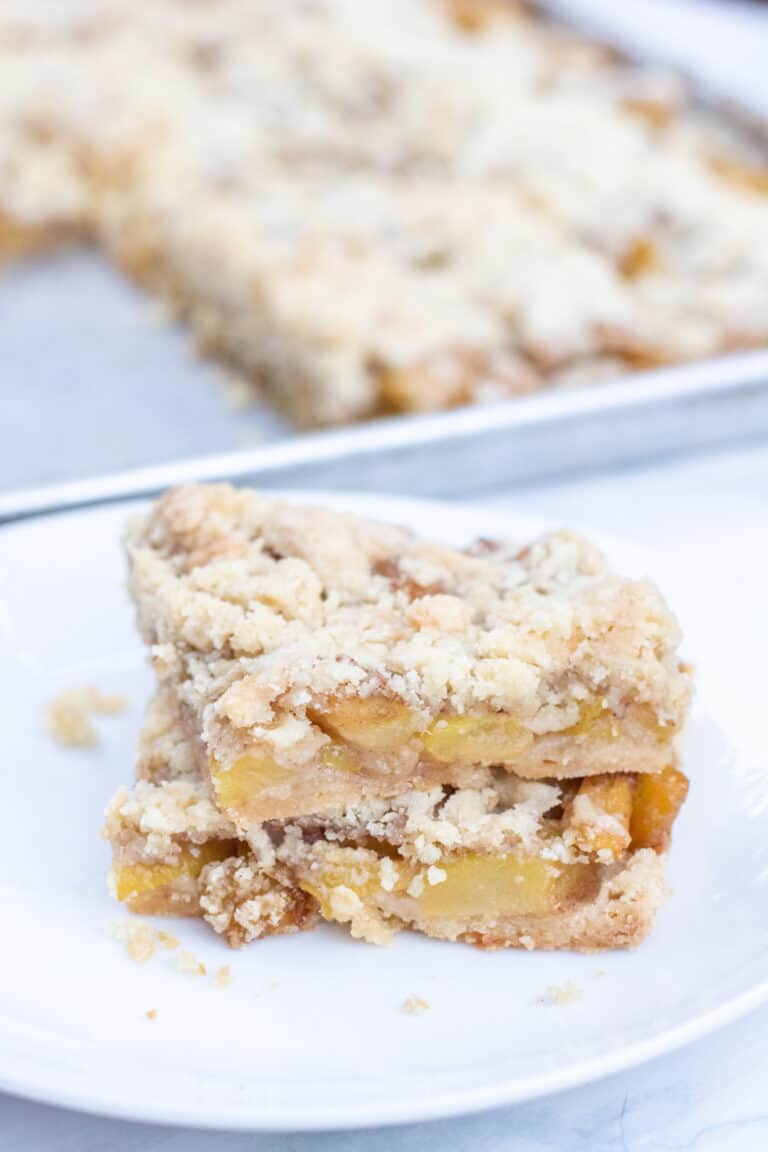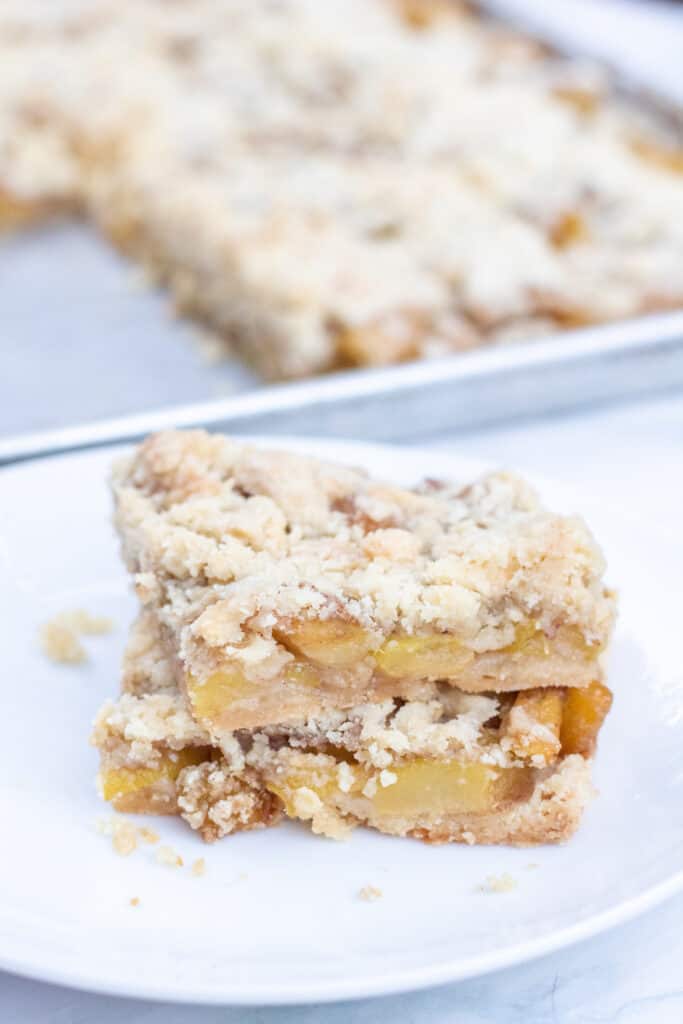 Zucchinis? Where. Honestly, that's what you'll hear after you serve these delightful Zucchini "Apple" Bars that taste nothing like zucchini!
Seriously, this is one of our favorites and it's always a crowd-pleaser. And we love to see the look on people's faces when we tell them it's made only with zucchini and not apples!
Our Other Favorite Summer Desserts
No Churn Caramelized White Chocolate Chip Ice Cream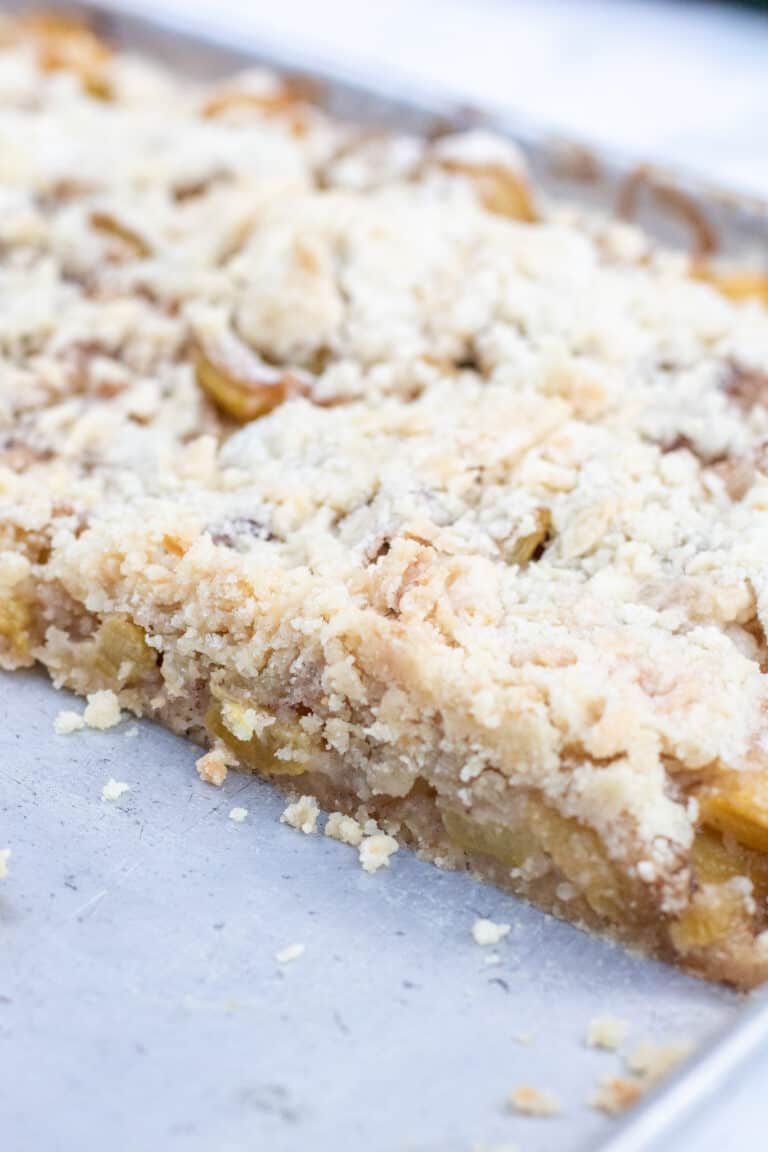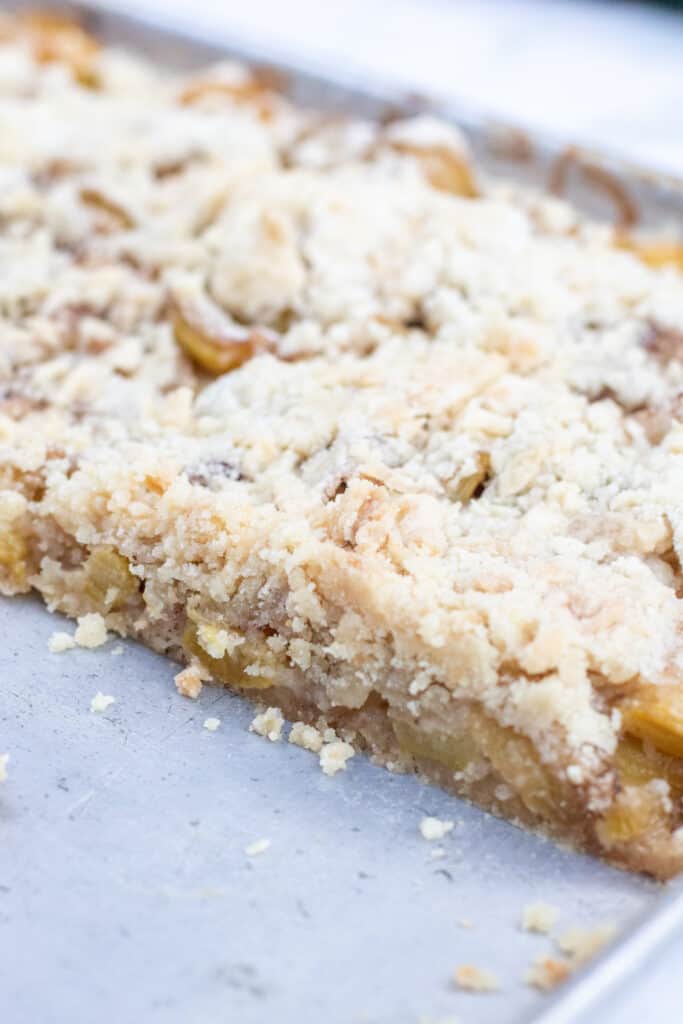 FAQs
Can I use those HUGE zucchinis in my garden?
Totally. This recipe is actually great for those kind of zucchinis because once zucchinis get that big they're not as tender, but that's no problem for this recipe.
How do I know my zucchini is tender enough?
You'll know the zucchinis are done when they no longer an opaque color but they start to turn a little translucent. Also, the liquid in the pot will be thick enough that if you push back some of the zucchini, the liquid will not immediately rush back to fill the void.
Can I use a different sized pan?
We make this recipe with a 12 x 16 inch jelly roll pan. But you can definitely use something else. It just means that your bars may be a little thicker and it may adjust the cooking time a little. We like to use the 12 x 16 because we like our bars to be thin.
It's been 50 minutes and my crust isn't golden yet!
That's ok! Just let it bake longer until the crumble starts to golden. It can take a lot longer than 50 minutes to bake if there's a lot of liquid still in your zucchini mixture when you pour it in. It will still be delicious, it will just take longer to cook.
Enjoy! As always, if you make this recipe or any of my others, I love to hear what you think! Leave a comment below, email me, or you can find me on Facebook, Instagram, and Pinterest!
If you want to see more, be sure to sign up for my 5 Easy Ways to Start Cooking From Scratch!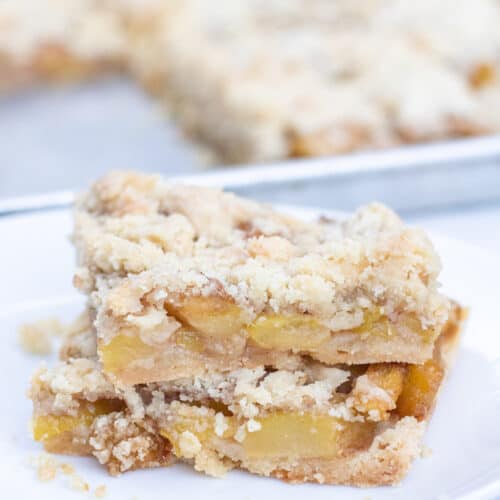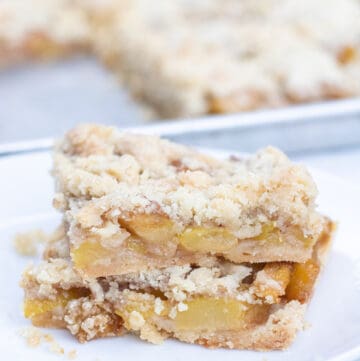 Zucchini "Apple" Bars
It's an apple bar without any apple! These Zucchini "Apple" Bars are made with garden fresh zucchinis and a buttery crust and crumble but they taste just like apples!
Print
Pin
Rate
Ingredients
Zucchini Filling
8

cups

fresh zucchini, peeled and de-seeded

about 5 lbs of whole zucchinis

2/3

cup

lemon juice

1

cup

granulated sugar

1/4

teaspoon

nutmeg

1/2

teaspoon

ground cinnamon
Crust / Crumble
4

cups

All purpose flour

1 1/2

cups

granulated sugar

3

sticks

salted butter, cubed

1 1/2 cups
Instructions
Pre-heat oven to 350 degrees.
Prep Zucchini Filling
Peel, de-seed, and cube the zucchinis. Add to a large pot with lemon juice and heat over medium heat.

Stir occasionally as zucchinis cook and liquid begins to reduce. Cook until zucchini is very tender (about 20 minutes)

Turn heat down to medium / low and add sugar, cinnamon, and nutmeg to the pot. Let simmer for about 5 minutes. Then remove from heat and set aside to cool.
Make Crust / Crumble
While zucchini is simmering, make your crust / crumble by adding flour and sugar to a large bowl. Mix well and then add cubed butter and cut butter into flour and sugar until all of the butter is well incorporated and it's almost a cornmeal like texture.

To a large rimmed baking sheet (12 x 16), add half of the crust / crumble dough. Press it down with your fingers to make a thin, flat, even layer across the baking sheet.

Bake the dough for 10 minutes.
Assemble Bars
Remove pre-baked crust from oven. Pour zucchini (plus any liquid) onto the crust. Top with remaining crumble in an even layer across the top of the zucchini.

Bake for 45-50 minutes or until the top of the crumble begins to turn brown (Check after 40 minutes as all ovens are little different).

Let cool and enjoy! Store in the fridge for up to a week.
Notes
Be sure to cube your zucchini in uniform(ish) sizes so that they are evenly cooked.
You'll know the zucchinis are cooked when they begin to turn a little translucent.
Most of the liquid will cook off from the zucchinis, but still pour it all on to the crust. If there's a lot of liquid, it may adjust the cooking time.
Be sure to cut your butter into the flour and sugar well. If there are clumps of butter, this will also adjust the cooking time and it will take longer for the crumble to turn golden brown.
Nutrition
Calories:
266
kcal
|
Carbohydrates:
39
g
|
Protein:
3
g
|
Fat:
12
g
|
Saturated Fat:
7
g
|
Cholesterol:
30
mg
|
Sodium:
105
mg
|
Potassium:
141
mg
|
Fiber:
1
g
|
Sugar:
22
g
|
Vitamin A:
436
IU
|
Vitamin C:
10
mg
|
Calcium:
13
mg
|
Iron:
1
mg