These Sweet Sesame Ginger Meatballs are Asian style turkey meatballs that can be served as an appetizer or on a bed of rice for a complete meal!
Somehow, this is the first meatball recipe posted here on SFS! I know, I'm as shocked as you are. However, I have to say, these Sweet Sesame Ginger Meatballs are a pretty amazing first meatball.
Not only are these little sweet sesame bites of Asian inspired turkey meatballs easy to make, but because they're made with ground turkey, they're lower in saturated fat that ground beef, but still packs the same protein punch.
Ingredients Needed:
Ground turkey - Ground chicken is also great for this!
Panko bread crumbs - You could also use a regular bread crumb
Egg - To bind
Sesame oil - This is necessary fat added to the meatballs, since the turkey itself is so lean. Plus it adds a great sesame flavor.
Soy Sauce - For that classic salty flavor. We like things slightly salter, but if you don't, then we suggest using a low sodium soy sauce.
Hoisin - To finish the meatballs in, a coat of sweetness. Did you know you can make your own Homemade Hoisin Sauce?
Fresh Ginger and Garlic - You can totally use powdered, too. See recipe notes
Sesame Seeds and Green Onion - To garnish
Do you have everything in your pantry already? Ok maybe not the panko bread crumbs, but if you don't, you should. That way you can also make Baked Panko Chicken Tenders, Ranch Chicken Tenders, and Panko Parmesan Zucchini Fritters!
Step-by-Step Instructions
Step 1: Mix the ground turkey and fresh minced ginger and garlic to a large bowl. Give it all a good mix, first.
Step 2: Next, mix in the sesame oil, sesame oil, soy sauce, and panko breadcrumbs and give it another good mix.
Tip: Not sure about the flavor? No problem - just try it! No no, don't eat raw meat! Take a tiny bit and give it a quick fry in a pan with some oil to taste it. Then you'll know if it's missing something. But trust me, if you like sweet and salty flavors - you're going to love these!
Step 3: Roll out your meatballs.
Tip: Be gentle! Don't roll your meatballs too tightly. If they're packed too tightly, then you're going to get tough, chewy, and rubbery meatballs.
Step 4: Bake in the oven.
While there is a time and a place for pan frying meatballs, baking these are our preferred method.
Step 5: Give the little meatballs one last cook in a sauté pan in a sweet-salty hoisin soy sauce mixture until it bubble and thickens and coats the meatballs.
And done! Sprinkle with some sesame seeds and fresh chopped green onions and these Sweet Sesame Ginger Meatballs are little bites of sweet, salty, Asian inspired deliciousness.
How to Serve:
With ANYTHING.
As an appetizer, on a toothpick.
Or as a meal, on a bed of rice!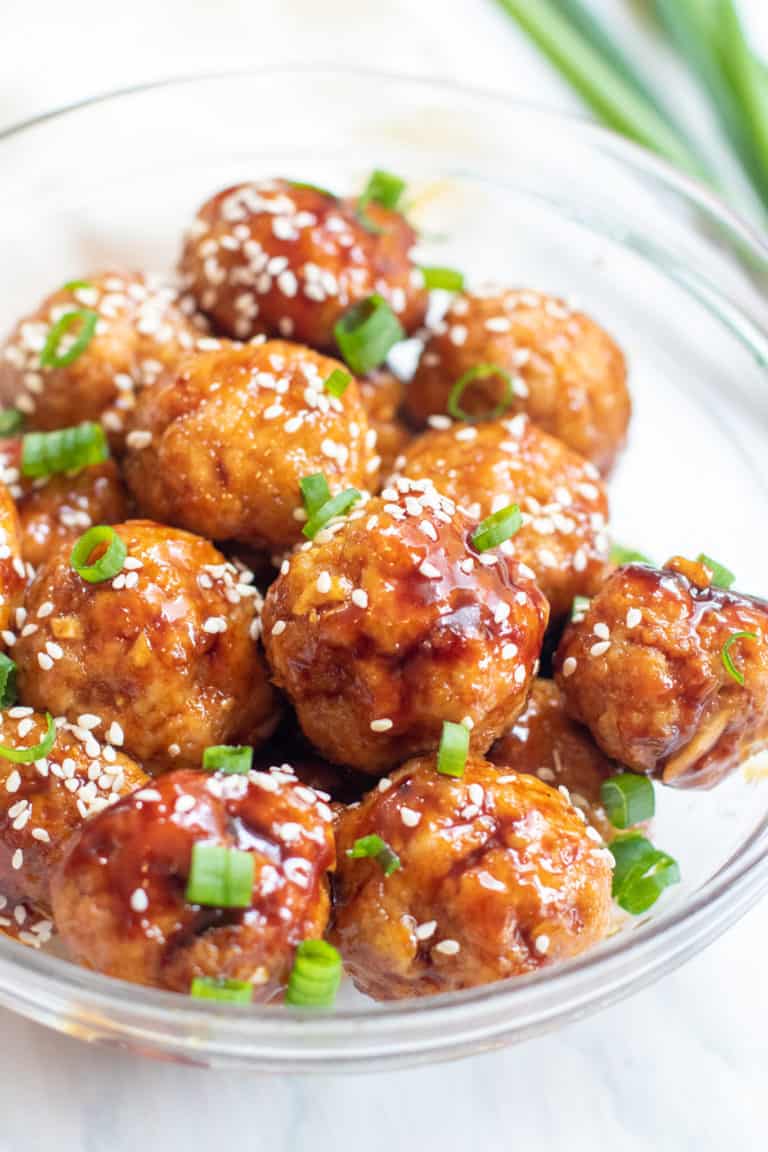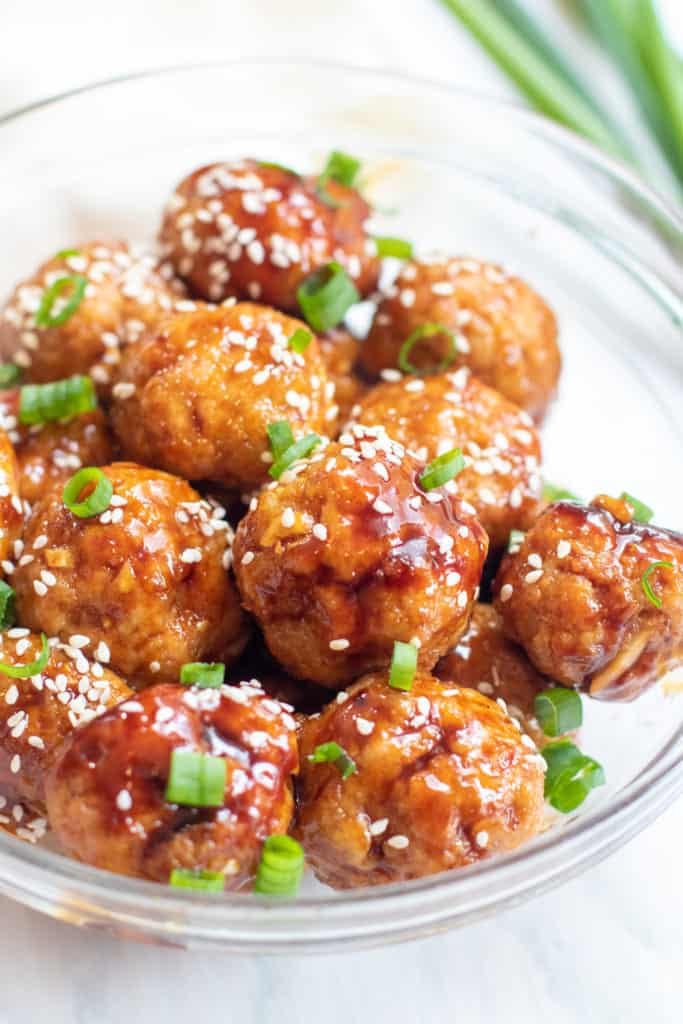 Or just eat out of a bowl! However you want to serve them, do it. Just make them. Trust me, you won't be disappointed.
Other Take Out Inspired Dishes
20 Minute Sweet and Spicy Noodles
Super Easy Vegetarian Fried Rice
Homemade Crispy Sesame Chicken
Chicken and Broccoli Sesame Noodles
Crock Pot Chicken and Broccoli
However you eat them, let me know! I love hear from you. Find me on Facebook, Instagram, and Pinterest!
Sweet Sesame Ginger Meatballs
These Sweet Sesame Ginger Meatballs are an Asian style turkey meatball that can be served as an appetizer or on a bed of rice for a complete meal!
Print
Pin
Rate
Ingredients
1

lb

ground turkey

1

tablespoon

fresh ginger

minced or grated

4

cloves

fresh garlic

minced or grated

1

large egg

3/4

cup

panko bread crumbs

2

teaspoon

sesame oil, divided

4

tablespoons

soy sauce, divided

or low sodium soy sauce

2

tablespoons

hoisen

1/3

cup

water

fresh diced scallions

sesame seeds
Instructions
Pre-heat oven to 400 degrees and lightly grease a large baking sheet.

In a large bowl, add turkey and garlic and ginger and mix well. Then add egg, panko, sesame oil, and 1 tablespoon of soy sauce and mix well.

Roll out 1 1/2 - 2 inch meatballs and place on baking sheet. (Approximately 20)

Bake for 10 mins and then rotate pan and bake for another 10 minutes.

Heat a large sauté pan to medium. Transfer meatballs to a large sauté pan that will fit them all. In a small bowl mix the remaining 3 tablespoons of soy sauce , 2 tablespoons of hoisin, 1 teaspoon of sesame oil. Coat and turn meatballs in sauce as it bubbles and thickens and then add water or stock to pan to deglaze it, and cook for another 3-4 minutes.

Remove meatballs, add to a bowl and pour remaining sauce on meatballs. Serve as an appetizer or over a bed of rice.
Notes
The nutritional value is approximately per meatball.
Tip: Double the sauce if serving over rice.
Substitutions:
Turkey: Use another lean ground meat like chicken.
Soy Sauce: We like these a little bit saltier, but if you tend to prefer less salt, use a low sodium soy sauce.
Fresh Garlic and Ginger: Use ground by substituting 1 tablespoon fresh for 1 teaspoon of ground.
Nutrition
Calories:
45
kcal
|
Carbohydrates:
3
g
|
Protein:
6
g
|
Fat:
1
g
|
Saturated Fat:
1
g
|
Trans Fat:
1
g
|
Cholesterol:
13
mg
|
Sodium:
255
mg
|
Potassium:
85
mg
|
Fiber:
1
g
|
Sugar:
1
g
|
Vitamin A:
6
IU
|
Vitamin C:
1
mg
|
Calcium:
7
mg
|
Iron:
1
mg