This Easy Chicken Scampi recipe is a twist on a classic dish that you already know and love and is easily made at home in just about 30 minutes! Made with fresh simple ingredients, this lighted-up restaurant copycat is packed full of colorful bell peppers, Italian flavors, and a bright lemon sauce.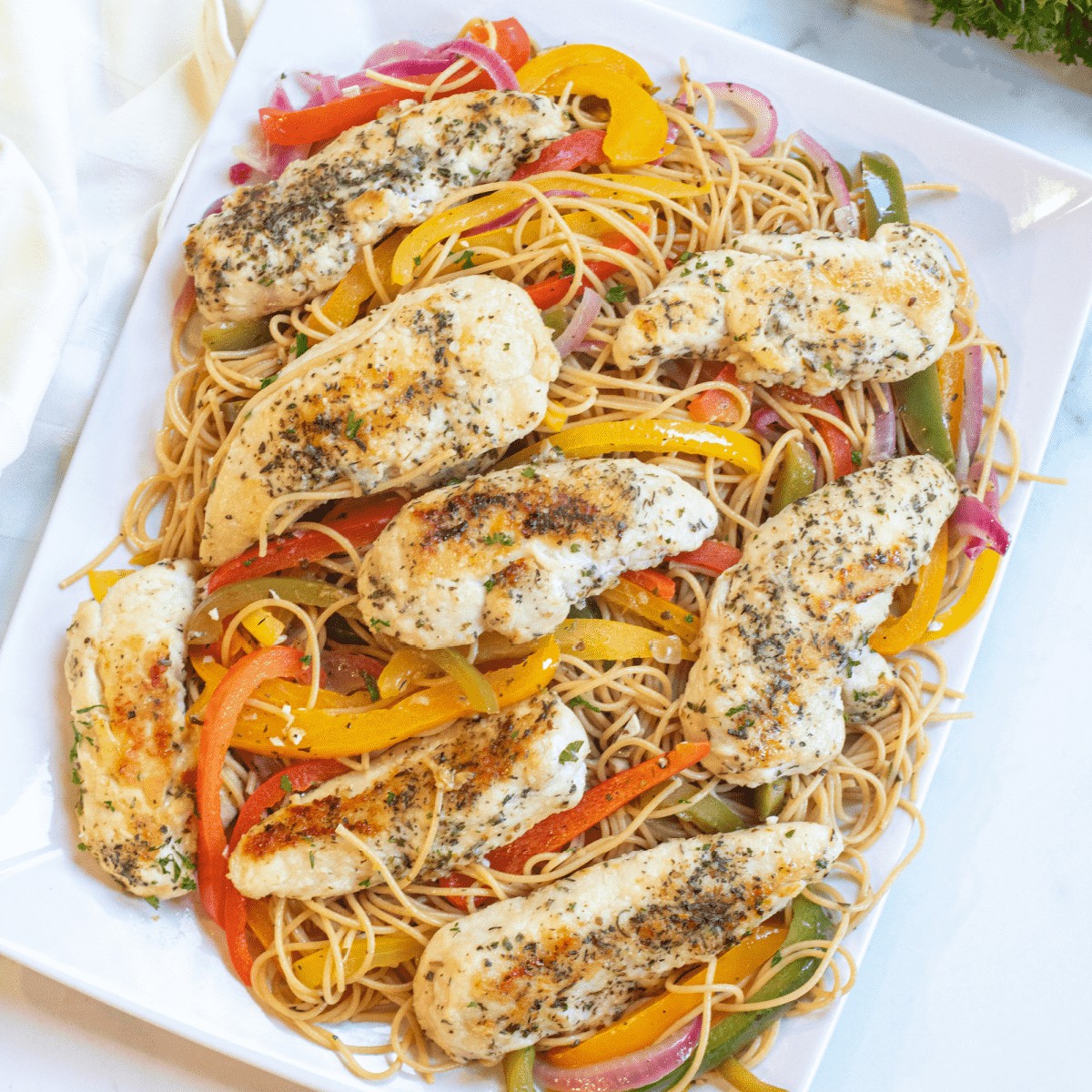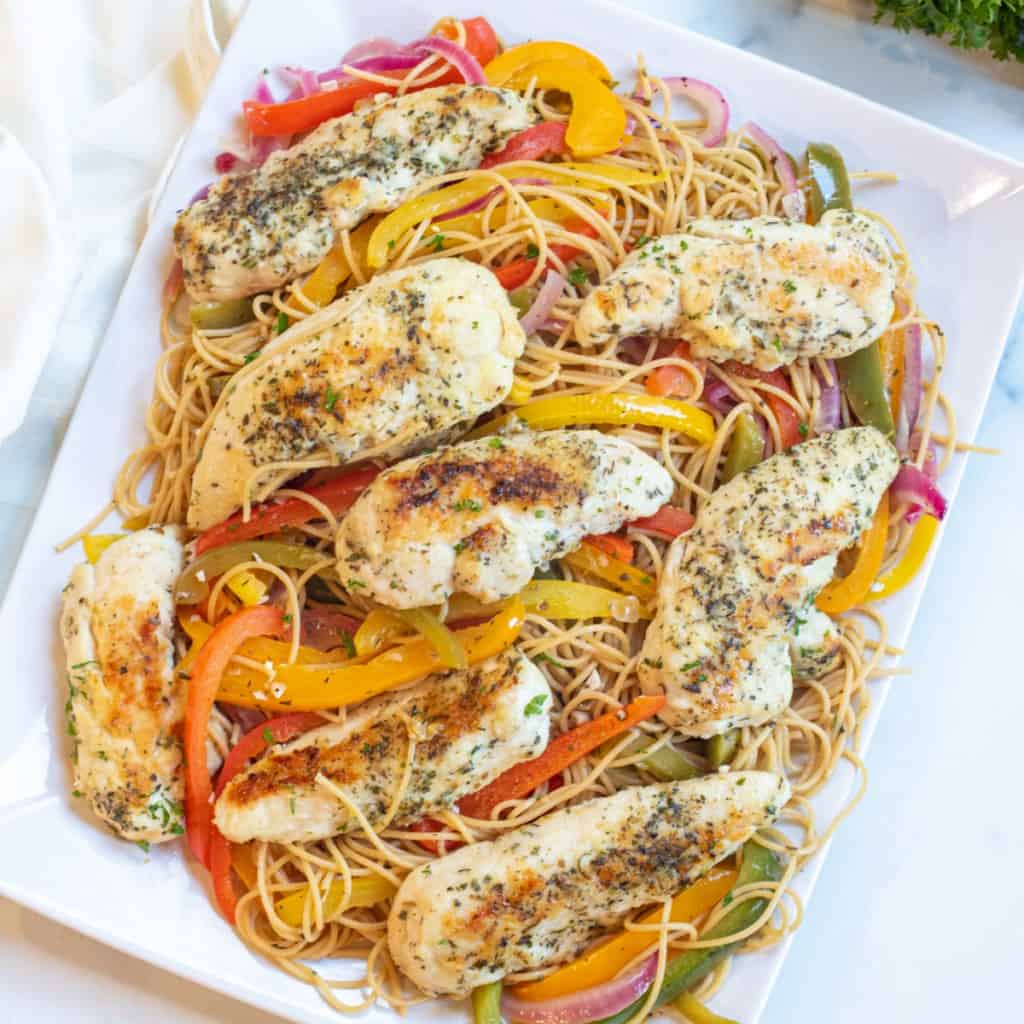 Recently I taught my girls the phrase "Buon Appetito," which in Italian means "Enjoy your meal." We say it before we begin a meal, just as it's done in Italy. Because yes, dinner is something that we do every single night of every single day, but it's still something that we all are lucky enough to enjoy, together. Which in and of itself, should be recognized and celebrated. So, in all the Italian feels, we're finally sharing one of our Italian-inspired classics, this Easy Chicken Scampi!
This chicken scampi recipe is a winner in our house because any meal that is this well-rounded and packed full of veggies that my kids devour is guaranteed to be! They love all of the colors and the subtle added sweetness of the bell peppers, and I love all of the vitamin A, vitamin C, and potassium they're packed with!
What is Scampi?
"Scampi" is actually Italian for langoustines, which is a little crustacean (also known as the "Norway Lobster") that the "scampi" dish was born from. Now, the term scampi that most of us are familiar with is an Italian-American dish that typically means a seafood (mostly shrimp) or poultry dish that is made in a sauce made of butter, garlic, wine, and parsley.
While traditional scampi recipes are made just with seafood or poultry in the delightful sauce, the Americanized version of many scampi dishes is served with pasta. In Italy, pasta and the protein of the meal are served in different courses anyway. But as we do not have the luxury of time for traditional (and glorious) 5-course Italian meals, we make our Chicken Scampi recipe a full meal with pasta.
Ingredients Needed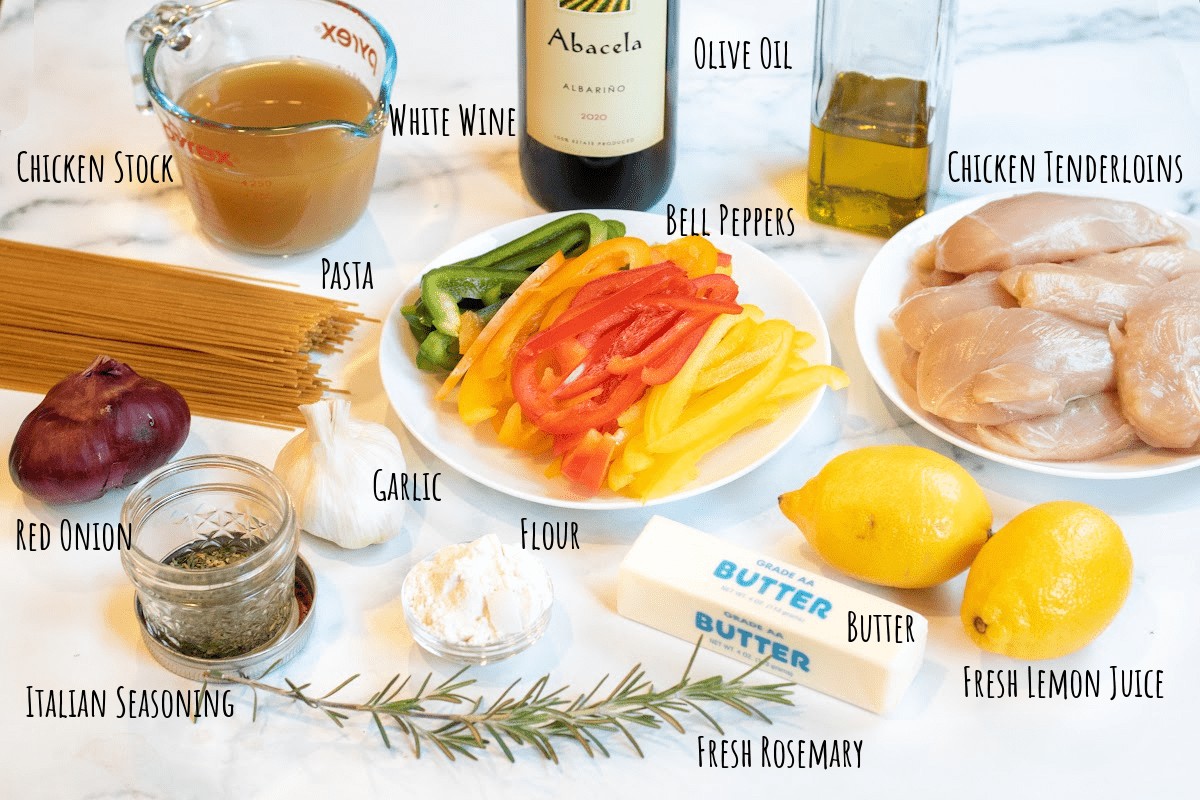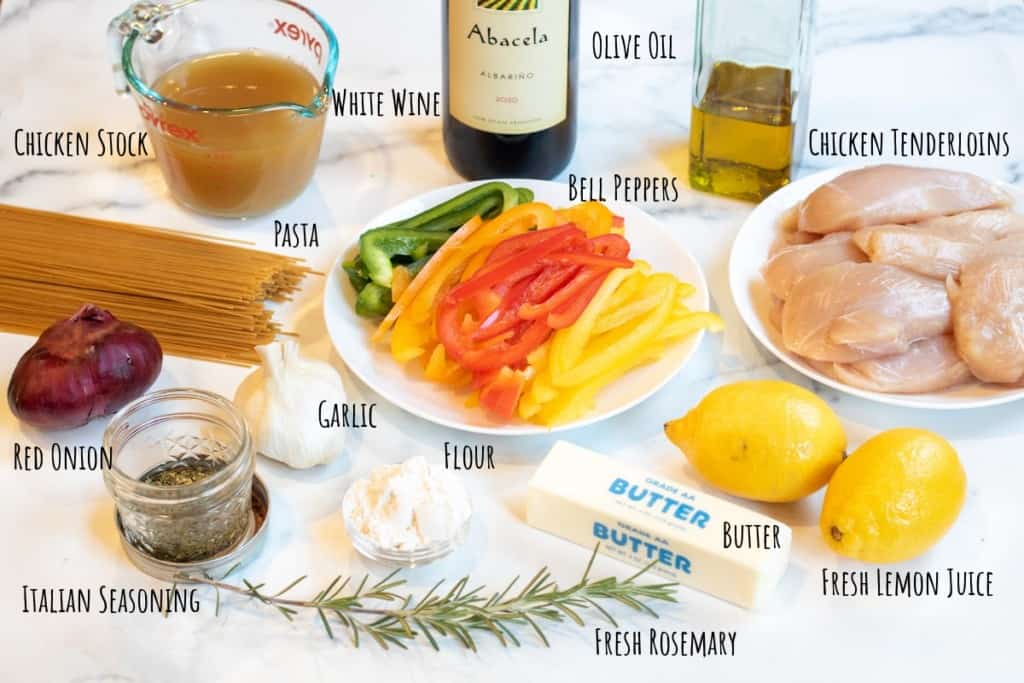 Chicken - We like to use a tenderloin for this recipe because they're already cut into nice tender sizes. But we've of course also use chicken breasts cut into chicken tender sizes. This recipe is also great with shrimp!
Onion and Bell Peppers - I've found that the more colorful a dish, the more excited my kiddos are to eat it. Which is why I love to add the whole rainbow to this dish with red onion and all the colors of bell peppers!
Chicken Stock - This of course can be made with a vegetable stock too and using a homemade chicken stock always adds more flavor!
White Wine - Optional, as you can totally sub for all chicken stock, but it does add to the flavor. For choosing which wine to cook with, we always cook with a dry white wine. Stay away from anything sweet like anything "late harvest" or wines like moscato, which are very sweet. Other than that, just use what you would normally drink. In this picture we have an Albarino from a local Southern Oregon winery, Abacela.
Oil, Butter, Garlic, Fresh Lemon Juice - Oil for the chicken, butter and garlic for the scampi sauce.
Flour - Just a touch to lightly coat the chicken. We use all purpose flour but you could use whatever you favorite is - including a gluten-free flour.
Italian Seasoning - Use your favorite, but we also include our recipe for our own.
Fresh Rosemary - I have a massive rosemary bush in our yard and so any opportunnity to use some of these fresh fragrant spigs, I'm here for it. Dried of course is also an option!
Pasta - We love a thin whole wheat pasta for this recipe and if you're feeling the full from scratch experience, some Fresh Pasta from scratch!
Step-by-Step Instructions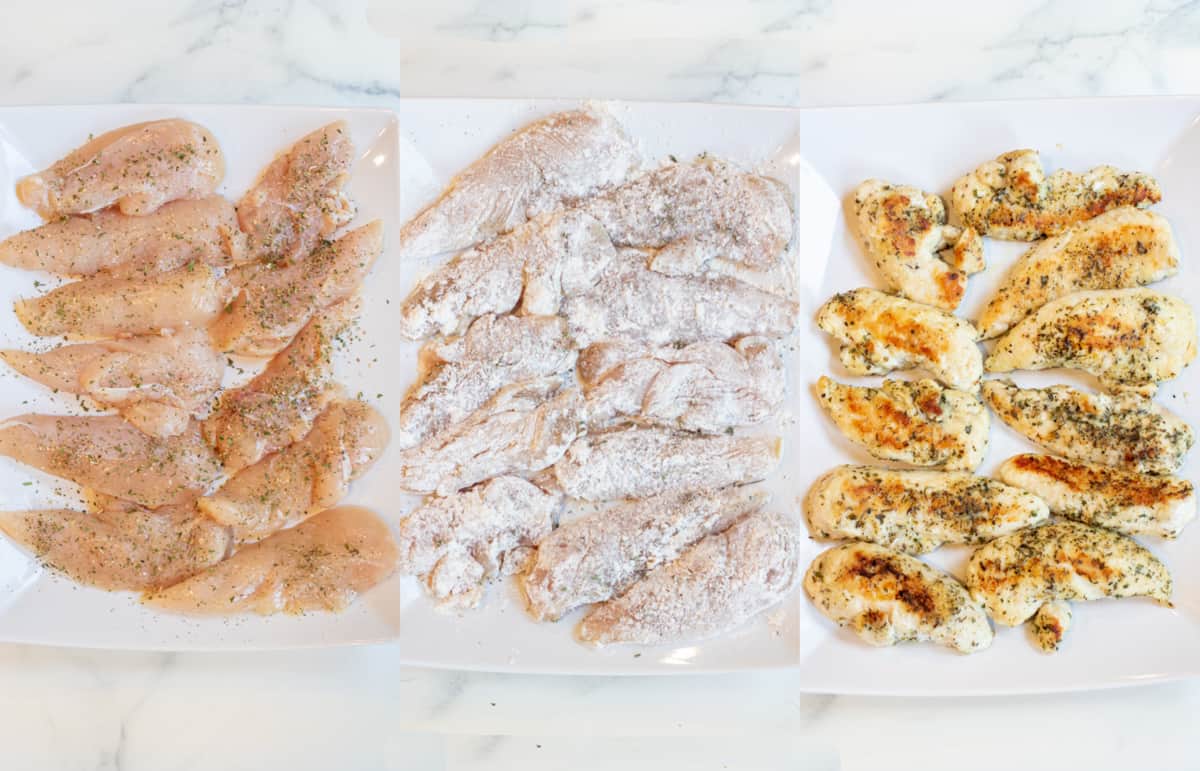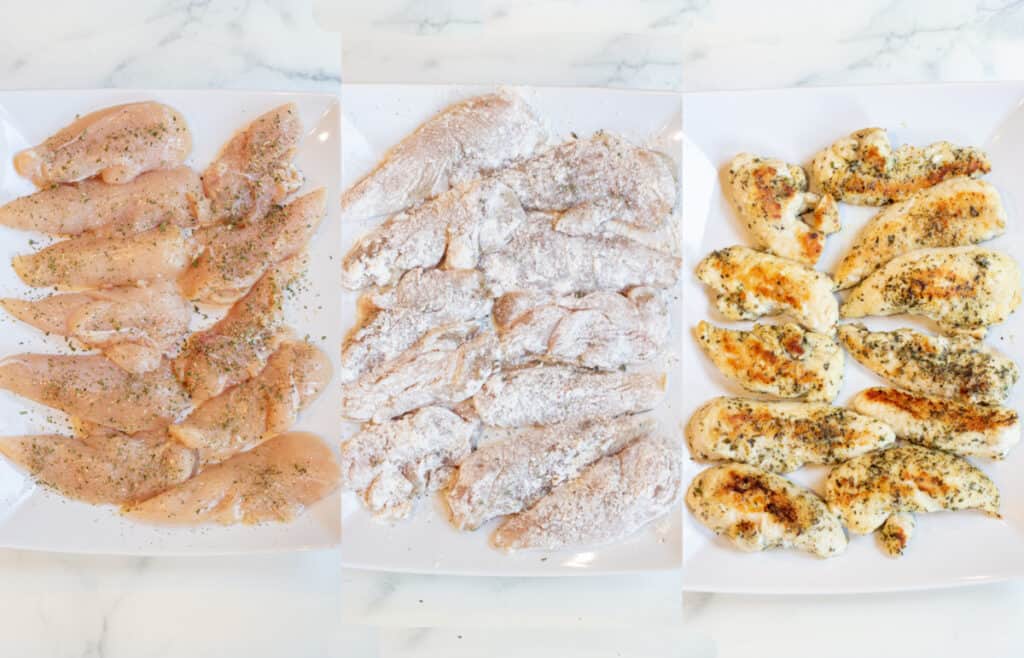 Cook the Chicken
This first step involves seasoning the chicken, giving them a quick dredge in the flour, and then a cook in your pan with some olive oil. The Italian seasoning makes these little tenders so flavorful on their own!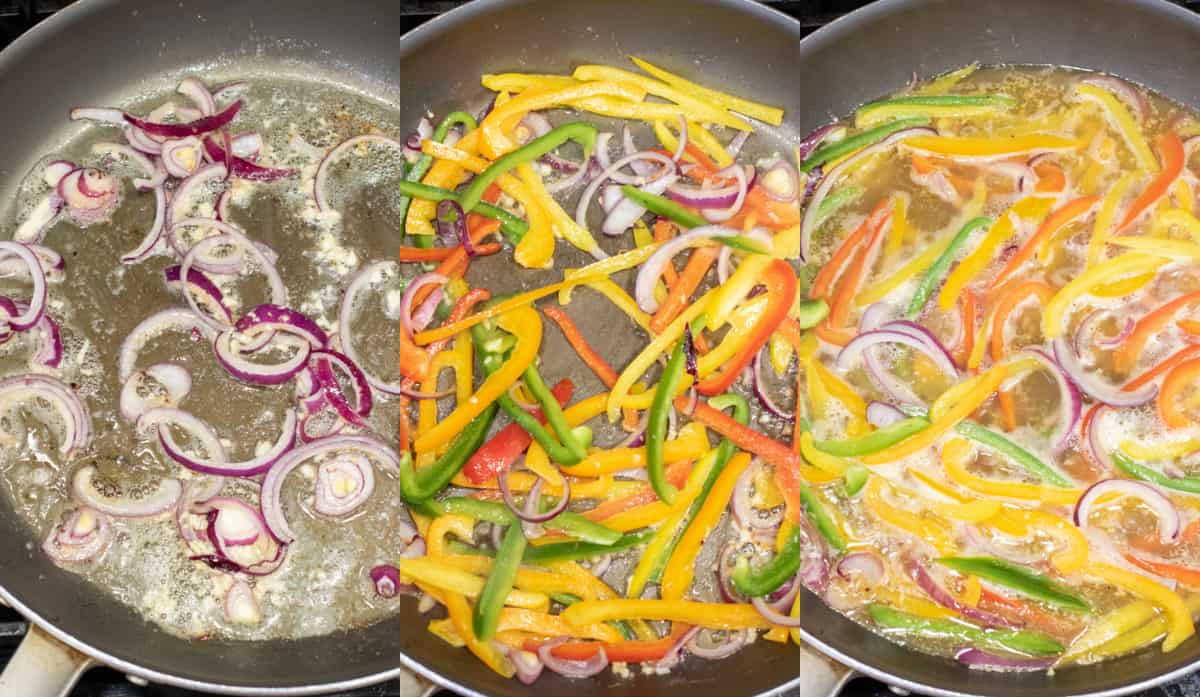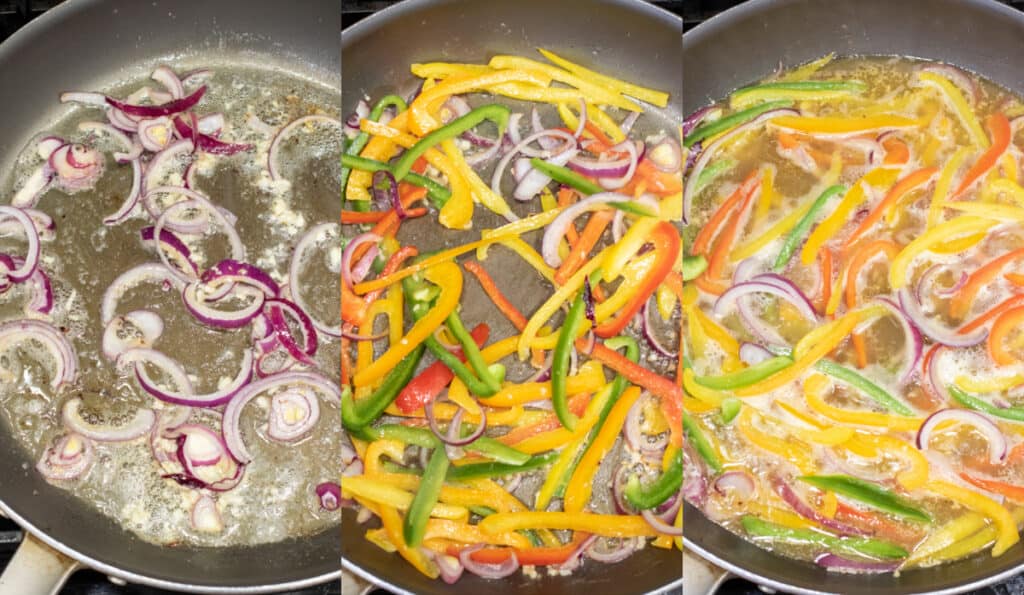 Cook Onions and Pepper and Sauce
Now it's time to cook the rainbow veggies and that garlic butter lemony, oh so classic scampi, sauce.
We love that this chicken scampi recipe is packed full of peppers (any excuse to get the kiddos to eat more veggies, right?) but you can of course omit them if you want just want a chicken a pasta dish.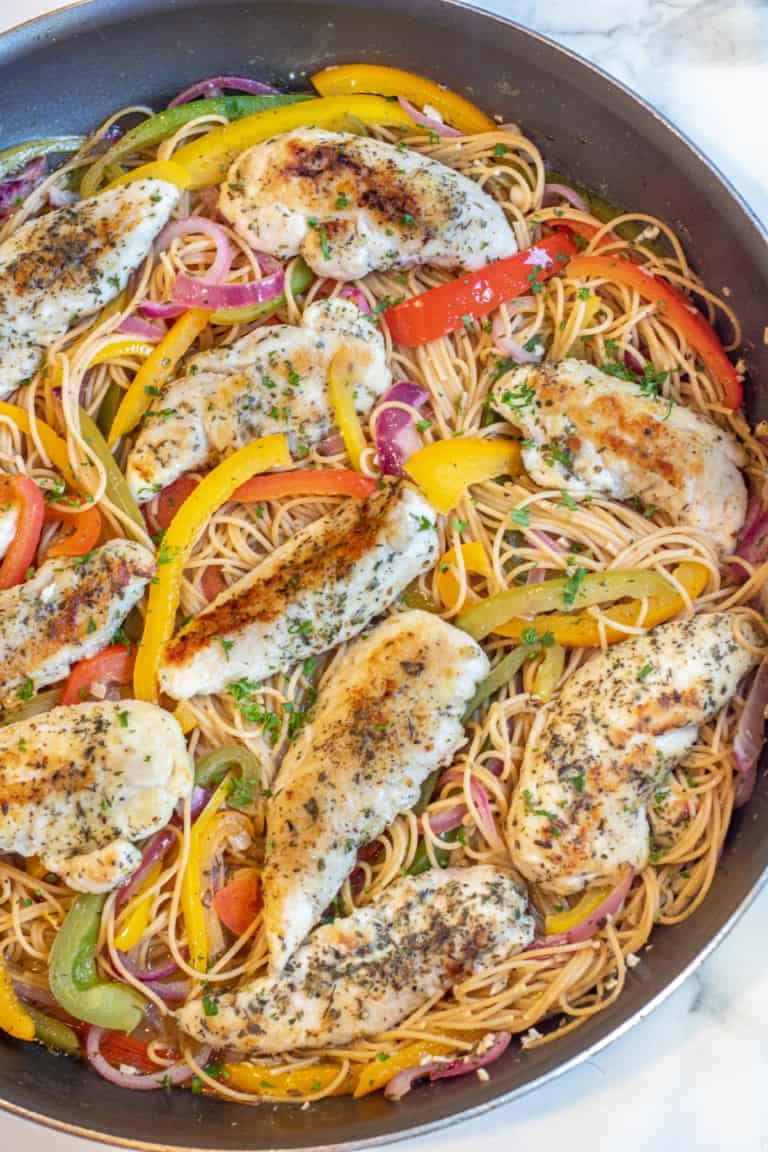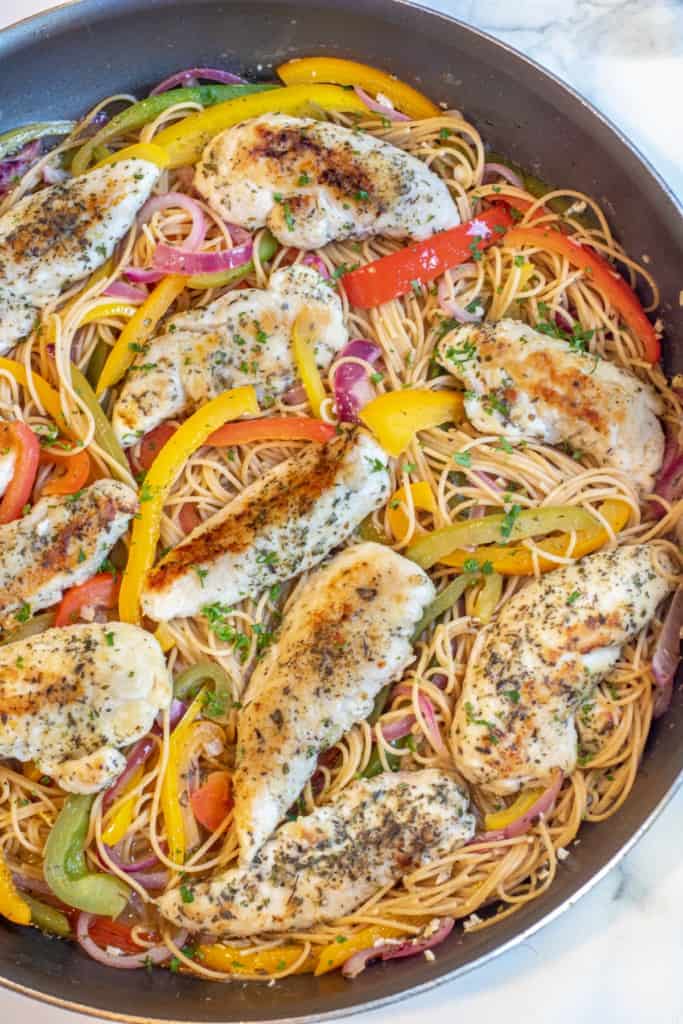 Add Pasta and Chicken
The final step, add that pasta to your sauce and let the pasta finish cooking in the sauce, and then top with your chicken.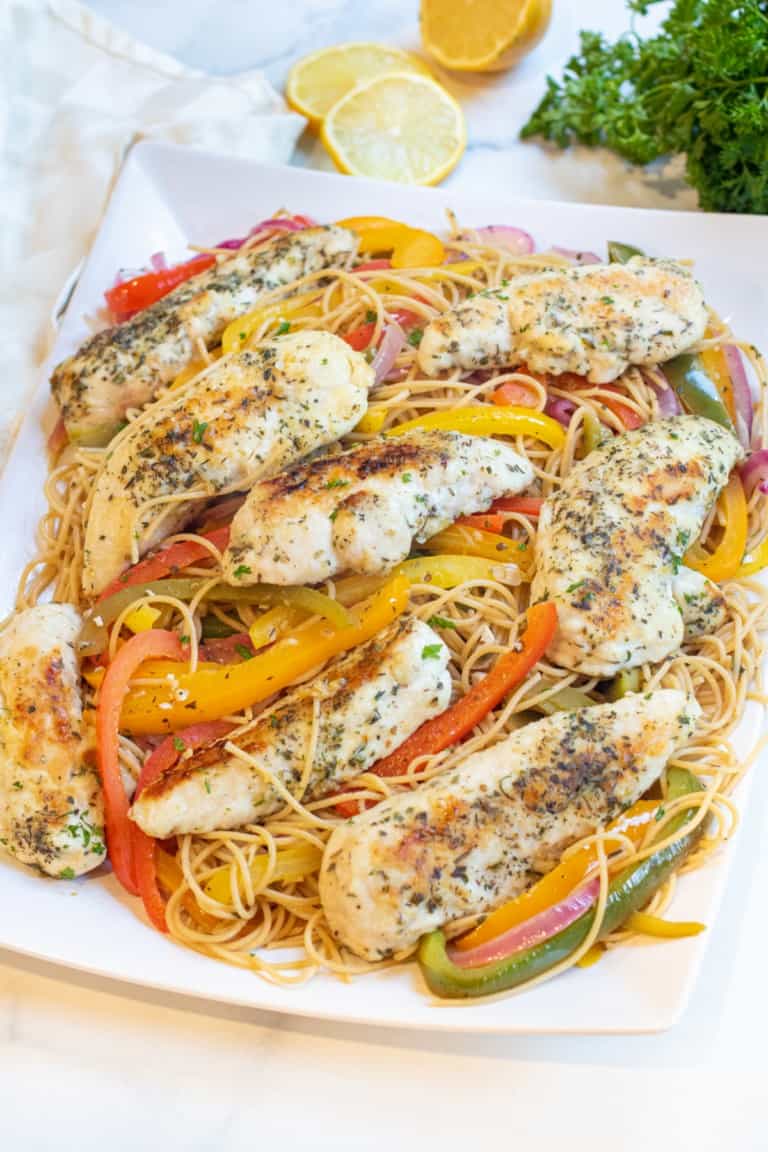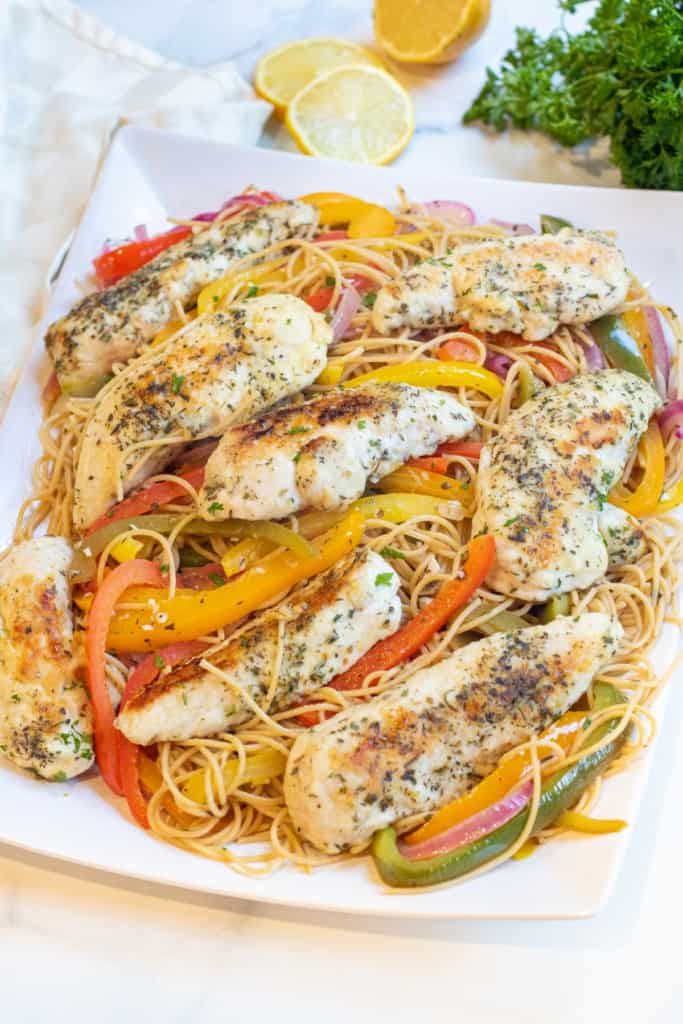 Plate and Serve! We love to serve this easy scampi meal family-style on a large platter, with the extra butter garlic sauce on the side to pour on top!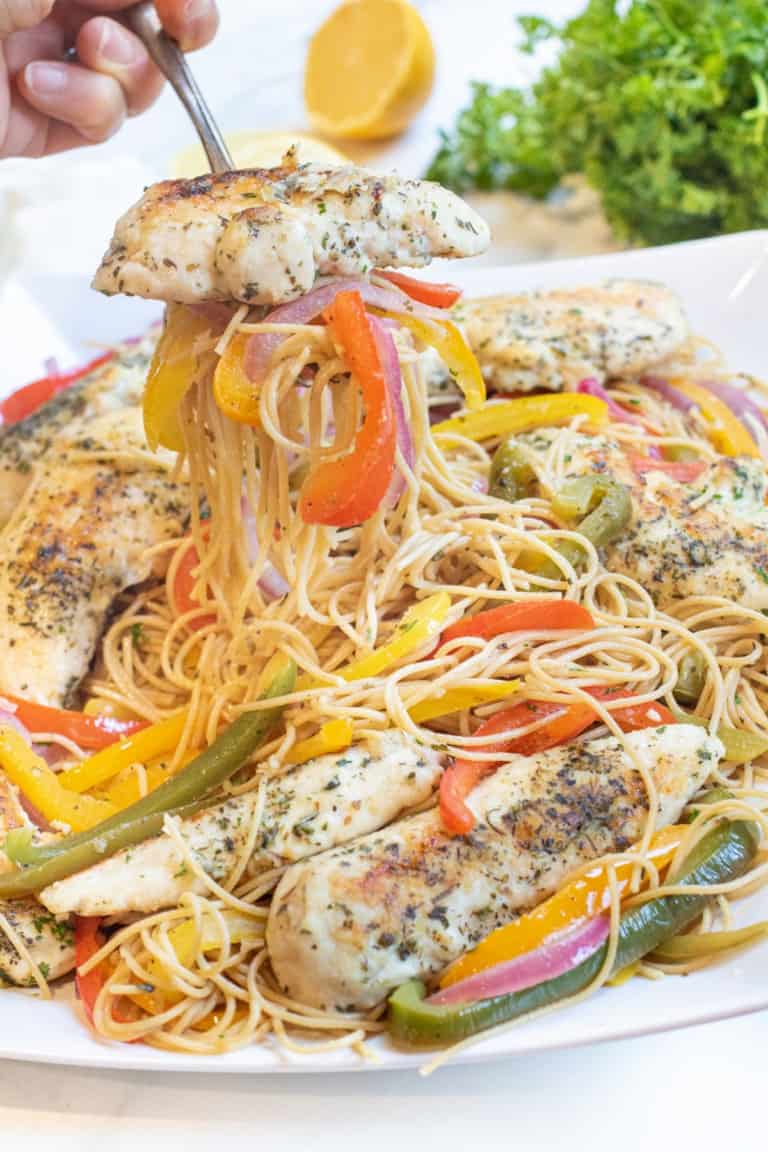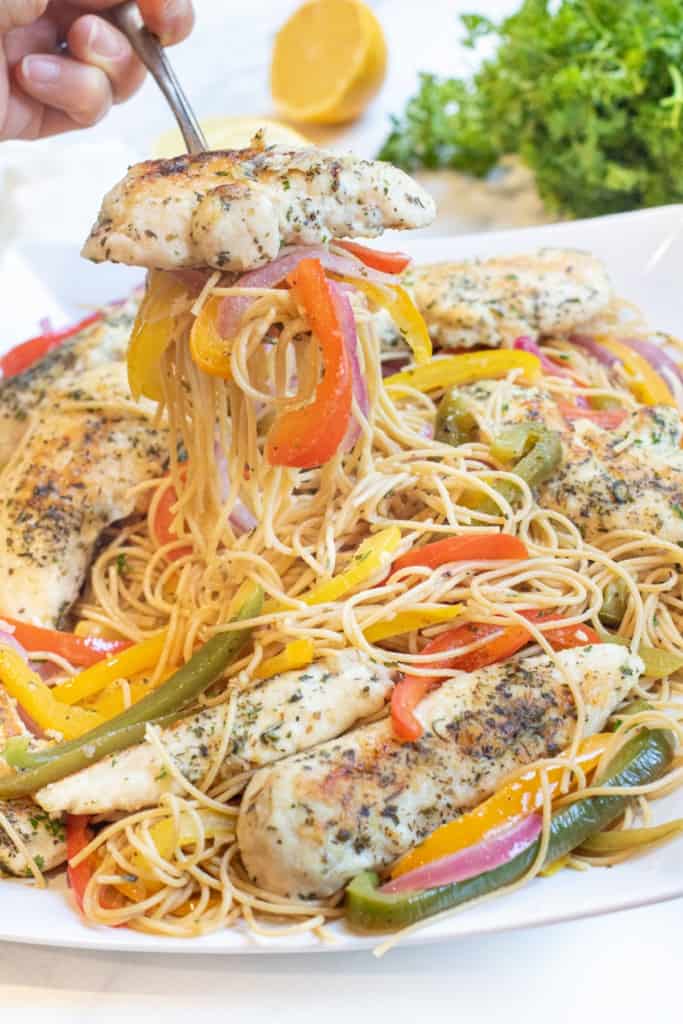 Chicken Scampi, ready in just about 30 minutes and a rainbow-colored, light, healthy, perfect for a family meal dinner!
Other Italian Inspired Favorites
Common Questions
Can I make this with shrimp?
Definitely! See recipe notes for how to substitute.
Do I have to flour the chicken?
Nope! We've made it both ways, with and without the flour, and both are delicious, but that little bit of a flour coating on the chicken does add a nice flavor and texture to the chicken. You can also use a gluten-free flour.
Do I have to use wine?
Nope! You can use all chicken stock, but the alcohol in the wine will cook off so this is a family-friendly meal!
What kind of wine do I use?
Anything white and dry (not sweet) that you would drink! You may see in the store "cooking wine" which is not the same. They have alcohol, but also with it a ton of added preservatives.
What kind of pasta can I use?
Your favorite! We love this with a thin spaghetti but you can use any of your favorites. See recipe notes for using Fresh Homemade Pasta.
Do leftovers freeze well?
They sure do! Store in the freezer for up to 3 months. Thaw in the fridge and then reheat on the stovetop in a skillet.
What else can I serve it with?
Rice or mashed potatoes are great gluten-free options. Or with some crusty bread, like our Easy Crusty French Baguette.
Enjoy! As always, if you make this recipe or any of my others, I love to hear what you think! Leave a comment below, email me, or you can find me on Facebook, Instagram, and Pinterest!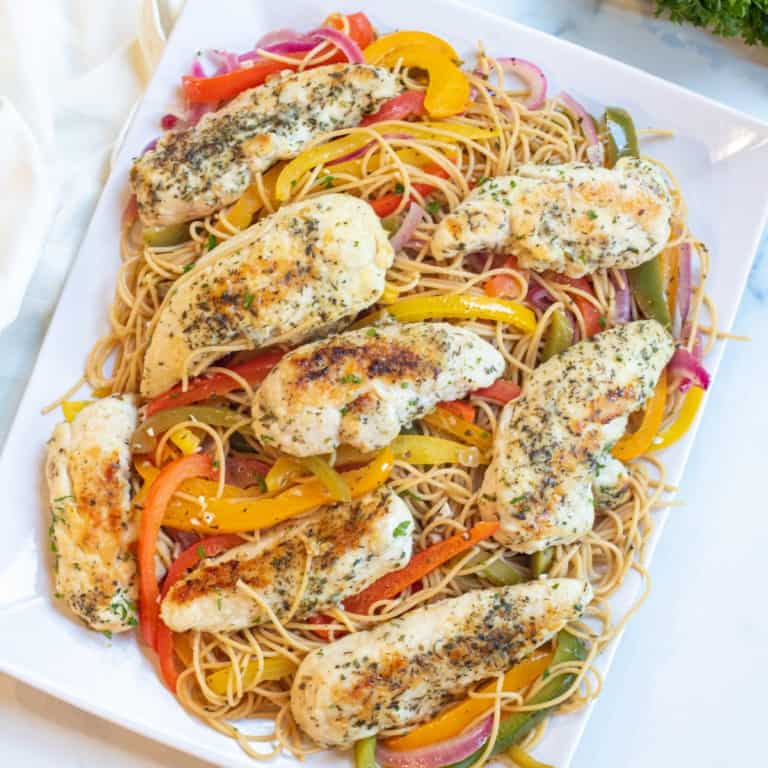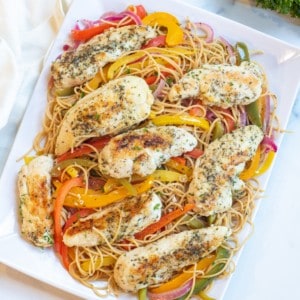 Easy Chicken Scampi
An Italian inspired 30 minute meal packed full of rainbow veggies, chicken, and butter, lemon, garlic sauce.
Print
Pin
Rate
Ingredients
Italian Seasoning
1

teaspoon

dried parsley

1

teaspoon

dried oregano

1/2

teaspoon

dried basil

1/2

teaspoon

dried thyme

1/2

teaspoon

fresh rosemary

minced
Chicken Tenderloins
1 1/ 2

lbs

chicken tenderloins or tenders

1

teaspoon

salt

2

teaspoons

Italian seasoning

3

tablespoons

flour

1

tablespoon

olive oil
Scampi
8

oz

thin spaghetti

or your favorite pasta

4

tablespoons

butter

3-4

cloves

garlic

minced

1/2

medium red onion

thinly sliced

1/2

red pepper

thinly sliced

1/2

yellow pepper

thinly sliced

1/2

orange pepper

thinly sliced

1/2

green pepper

thinly sliced

1

cup

chicken stock

1/2

cup

white wine

2

tablespoon

lemon juice

1 1/2

teaspoon

Italian seasoning

1/2

teaspoon

salt

1/8

teaspoon

black pepper

fresh parsely for ganish
Instructions
Mix all of the Italian seasoning ingredients in a small bowl and set aside.

Season chicken with salt and pepper and Italian seasonings on each side then gently pat.

Add flour to a plate and gently dredge each chicken tender in the flour, giving them a very thin coat of flour.

Heat a large pot of salted water for the pasta on high.

Heat olive oil in pan and then add chicken. Cook on medium on each side for 3-4 minutes until internal temperature reaches at least 165 degrees and then set aside.

Once the water comes to a boil, cook pasta for 5 minutes (or 1 minute less than recommended time on box). Once done, drain, rinse with cold water, and set aside. If using fresh pasta, see recipe notes.

Heat pan to medium and add butter to deglaze the pan from the chicken. And add garlic and onions. Cook for 1-2 minutes stirring often. Add the peppers, and stir and saute for another 1-2 minutes.

Add wine, lemon juice, and chicken stock and the rest of the Italian seasoning (1 1/2 teaspoons), to the pan and bring to a gentle boil. Reduce heat and let simmer for approximately 8-10 minutes - this is what will allow the alcohol to cook off and the peppers to soften.

Add pasta to sauce and mix and and chicken to pan and cook for another minute until pasta is reheated.

Plate, garnish with fresh parsley, and drizzle remaining sauce over plate.
Notes
Storage
Fridge: Store in an airtight container for 3-4 days in the fridge.
Freezer: Freeze for up to 3 months.
Reheat: For best results, reheat in a skillet on the stovetop.
Substitutions
Italian Seasoning: This recipe includes our favorite Italian seasoning mix, but you can use your own!
Rosemary: Use scant 1/4 teaspoon of dried for fresh.
Chicken: Substitute shrimp for chicken. Add shrimp to oil sprinkle with 1 teaspoon Italian seasoning and cook for 2 minutes. Flip and sprinkle with the rest of the Italian seasoning and cook for another 2-3 minutes until shrimp is pink.
Wine: You can omit and substitute for all chicken stock.
Pasta: Use your favorite kind of pasta and follow cooking time instructions on the package - subtracting 1 minute to allow for final cooking in the pan.
Fresh Pasta: Freshly made pasta only takes a few minutes of cooking. Cook in boiling water for just 1 minute before adding to the pan, or you can cook right in the pan with the sauce for about 4 minutes until it is al dente, although in that case, we recommend adding another 1/2 cup of chicken stock to the sauce.
Make it Gluten-Free: Use gluten-free flour to coat the chicken and serve it on it's own (double the peppers) or over rice or mashed potatoes.
Nutrition
Calories:
553
kcal
|
Carbohydrates:
38
g
|
Protein:
55
g
|
Fat:
17
g
|
Saturated Fat:
7
g
|
Polyunsaturated Fat:
2
g
|
Monounsaturated Fat:
6
g
|
Trans Fat:
1
g
|
Cholesterol:
166
mg
|
Sodium:
974
mg
|
Potassium:
1114
mg
|
Fiber:
3
g
|
Sugar:
4
g
|
Vitamin A:
1011
IU
|
Vitamin C:
57
mg
|
Calcium:
62
mg
|
Iron:
3
mg