Make your own French Onion Soup from scratch with a secret ingredient that makes this soup better than any other - ham stock from scratch!
Oh hey, 2015. You came out of nowhere! What a crazy end of the year / beginning of the year it's been! Between the holidays and the New Year, and then all the work catch up from being out of the office for the holidays and new year, it's been pretty crazy. So crazy that even though I did a ton of cooking for our annual Christmas Eve dinner, and for our long ski/snow New Years weekend in Bend, OR (where we cooked most of our meals in our condo with friends instead of going out), I failed on the photo taking end. Luckily though, between Christmas and the New Year I did manage to capture this soup. This amazing amazing amazing French Onion Soup From Scratch. It's a soup that we made an obscene amount of for two people and happily ate it for days and days reveling in it's deliciousness from the 1st bowl on day one to the 4th bowl on day 4. It is that good.
What makes it so good? This bad boy right here. And I have to admit, we are a household that buys and cooks a whole ham just to make this soup. This soup is the best part of a ham. No joke. We've done this twice now, bought a ham when it was on super sale then cooked it when we were ready for French Onion Soup. The ham? Oh yeah that got used to make sandwiches (like the amazing Croque Monsieur ) and quiches (like the Spinach Ham and Cheddar Quiche), but those are all afterthoughts. The focus of this ham is totally, hands down, no questions asked, this soup.
Why? Because of that deliciousness right there.
And the ham bone. Once we stripped the ham and put away all of the meat, I added water to the ham grease and bone in my beautiful new Le Crueset Dutch Oven! It was an amazing surprise Christmas present from my studly husband even though we had said no gifts because we'd bought ourselves a brand new amazing mattress for Christmas. He's so sneaky.
So after we added the water, we let this simmer for quite a few hours on medium low to make the most wonderful, rich, and flavorful ham stock.
The next day we finished making the soup. And because we had about 3 quarts of stock, I sliced up 8 onions. 5 large white and 3 smaller sweeter yellow onions. Proper onion to broth ratio for this soup is also key. That ratio: the more onions the better!
Into the dutch oven with a couple of tablespoons of butter.
And then we realized we're idiots and that filling the dutch oven to the brim with onions would never let them all cook nice and slowly like they needed to. So we separated them out into two pans. This big saute pan,
and the dutch oven. This allowed for the proper slow simmering of the onions. Slow being the operative word.
The key for the onions are sautéing them over low / med low heat, stirring regularly ensuring no burning (you don't want the usual quick browning) of the onions. Any burnt onions would throw the flavor of the soup way off. Ideally, perfectly caramelized onions (like the ones that take at least an hour), would provide a richer color to the soup, but to err on the side of caution, we just slowly sautéed the onions.
Meanwhile, I took a couple of loaves of Dan's Como Bread out of the oven. Mmm fresh bread.
And our cheese of choice was a lovely gruyère. We've made French Onion soup from scratch before with our homemade mozzarella, but it's just not melty enough. My cheese just doesn't produce that same ooey gooey melty cheesiness that's needed for this soup.
Once the onions were nice and soft and tender, we added them all back into the dutch oven with the ham stock to heat up on medium.
When it all heated back up, we turned our oven to broil, ladled in the onions and broth, and my adorable husband sliced a few pieces of the fresh como bread to fit our new little soup crocks. My mother in law is the beesstt. When she came to visit in September, one of our many cooking conversations were about how we love the French Onion soup recipe (it's hers) and that we've made it but we didn't have any proper soup crocks for it. Then these arrived in the mail for Christmas. And not just a couple of them, eight of them. Because she knows we like to entertain. Ahh I love her.
On top of the bread we added a healthy dose of the shredded gruyère,
Under the broiler for a couple of minutes until all the cheese was melted and out came this French Onion Soup From Scratch- the best soup I have and probably ever will eat.
It's just sooo incredibly flavorful. The ham broth truly makes this soup. That, with all of the onions and the homemade bread and the melted nutty gruyère,
I'm obsessed with this French Onion Soup From Scratch. I have yet to find another that's as delicious and I'm sure it's because of that ham stock! This is a seasonal classic in our household now, for sure!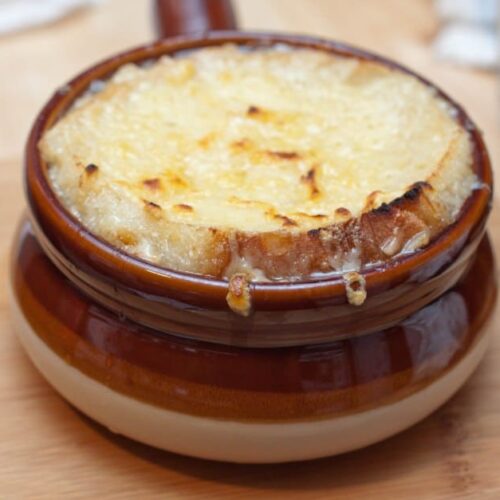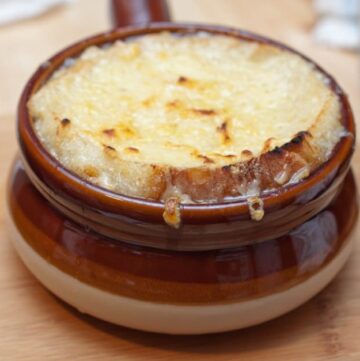 Ingredients
3

quarts

of ham stock

This is the key to the soup. Homemade is best!

5

lg. white onions

sliced

3

sm. yellow onions

sliced

2

cloves

of garlic

minced

3

tablespoons

of butter

Fresh bread slices

Shredded Gruyère cheese

1/2 - 1

tablespoon

of salt

pending how salt rich your stock is

Fresh ground pepper to taste
Instructions
To make homemade ham stock, add ham bone to ham grease from cooked ham (optional), and simmer on medium low with 4 -5 quarts of water until stock is rich and flavorful. 2-4 hours.

Saute sliced onions with garlic and butter slowly on medium / low heat, stirring constantly. Be sure that the onions do not burn!

Add sautéed onions to a large dutch oven or pot with ham stock and heat on medium until stock is hot. Add salt and pepper.

Turn oven to broil and bring tray to top, leaving enough room for soup crock.

Fill soup crocks with onions and broth, add fresh sliced bread, top with cheese. Put crocks on baking sheet (to catch any dripped cheese) and broil for 1-2 minutes until the cheese is melted and slightly brown.

Yields about 4 quarts of broth with onions. Plenty for leftovers or to be frozen for later use!