This is hands down, the best French Onion Soup From Scratch with a secret ingredient that makes this soup better than any other - homemade ham stock!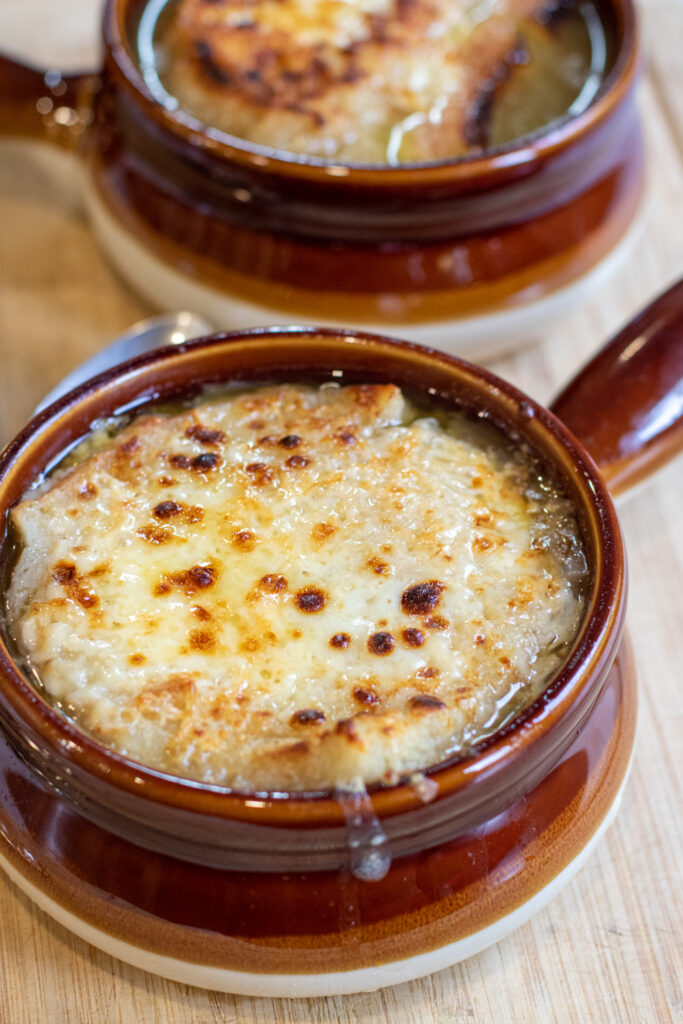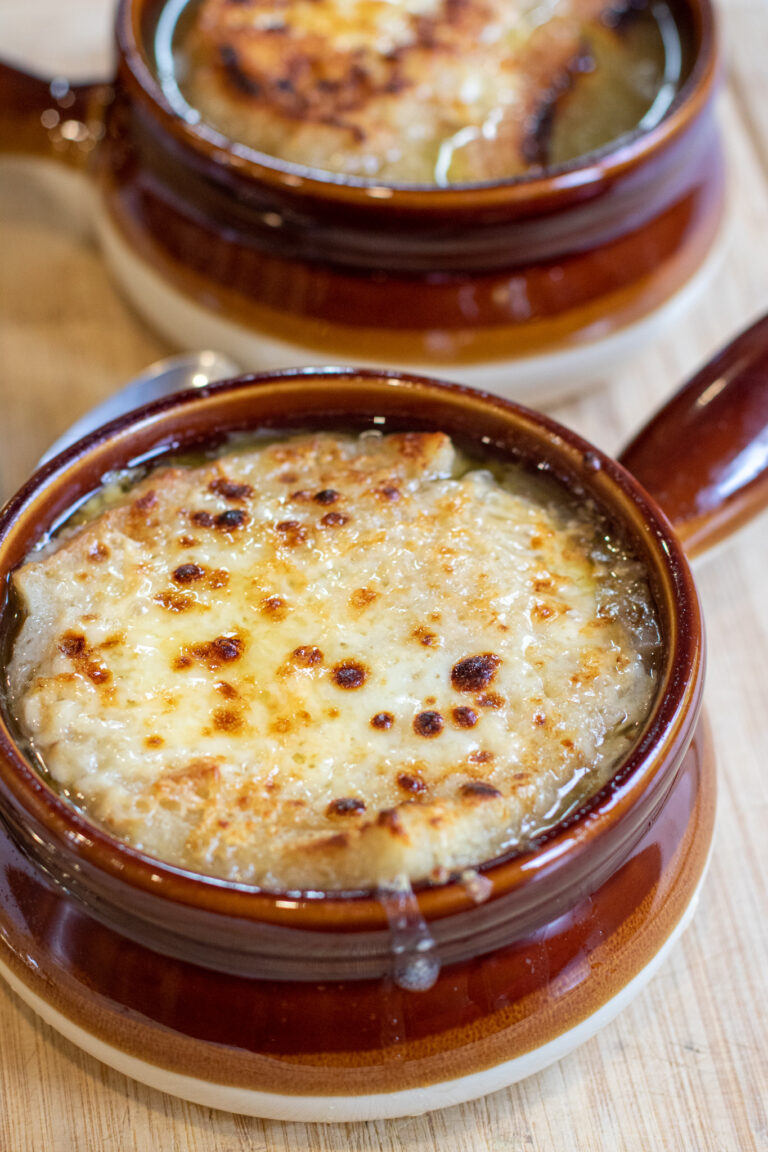 What a crazy end of the year / beginning of the year it's been! A ski trip to bend, and just the general craziness of the holidays, phew. However, one of my favorite part of this holiday season is the holiday ham. And what do we get from holiday hams? This amazing French Onion Soup From Scratch!
This soup is so good, that we've made an obscene amount of for two people and happily ate it for days and days reveling in it's deliciousness from the 1st bowl on day one to the 4th bowl on day 4. It is that good.
Key to French Onion Soup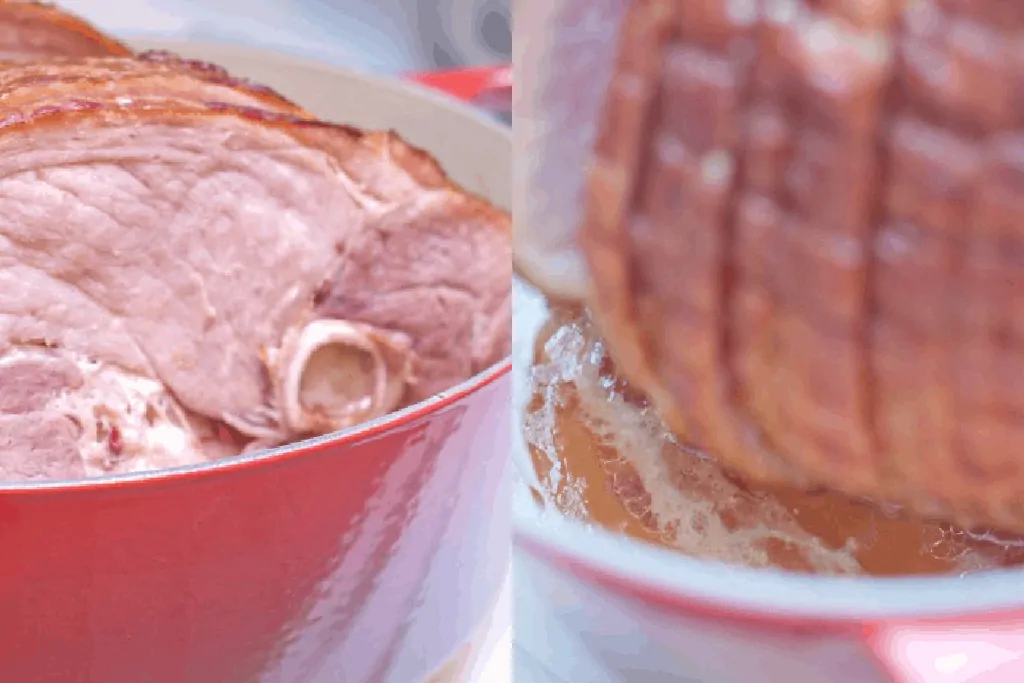 It's ham! Did you make a holiday ham? Did you make a Sunday ham? No matter what, save that ham bone, and especially that grease!
Because then, you can make a Ham Stock! Which is truly key to this recipe. I mean what makes more sense than ham stock in a onion and cheese soup?? It's like a delicious bowl of ham and cheese!
No joke. We've done this twice now, bought a ham when it was on super sale then cooked it when we were ready for French Onion Soup. The ham? Oh yeah that got used to make sandwiches (like the amazing Croque Monsieur ) and quiches (like the Spinach Ham and Cheddar Quiche), but those are all afterthoughts. The focus of this ham is totally, hands down, no questions asked, this soup. Why? Because of that deliciousness right there.And the ham bone. Once we stripped the ham and put away all of the meat, I added water to the ham grease and bone in my beautiful new Le Crueset Dutch Oven!
And because we had about 3 quarts of stock, I sliced up 8 onions. 5 large white and 3 smaller sweeter yellow onions. Proper onion to broth ratio for this soup is also key. That ratio: the more onions the better!
Tip: Use both white and yellow or just white or just yellow. Use whatever you have / want.
Into the Dutch Oven with a few of tablespoons of butter for the proper slow simmering of the onions. Slow being the operative word.
The key for the onions are sautéing them over low / med low heat, stirring regularly ensuring no burning (you don't want the usual quick browning) of the onions. Any burnt onions would throw the flavor of the soup way off.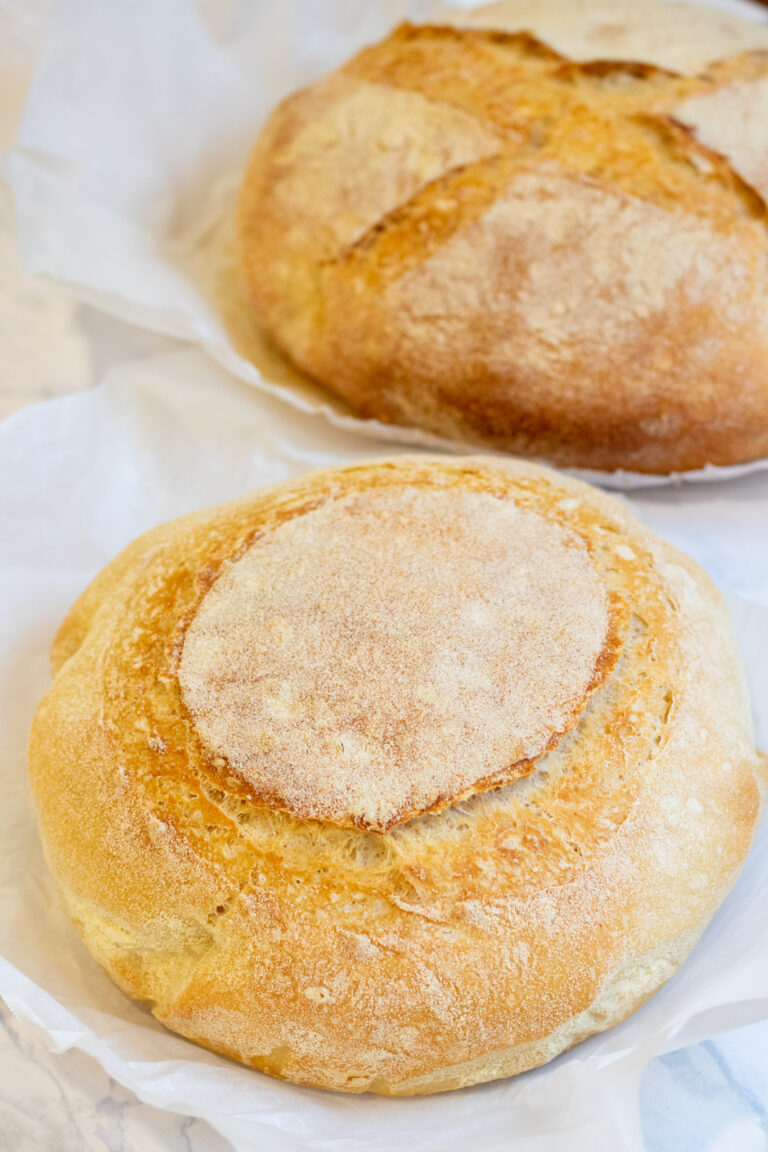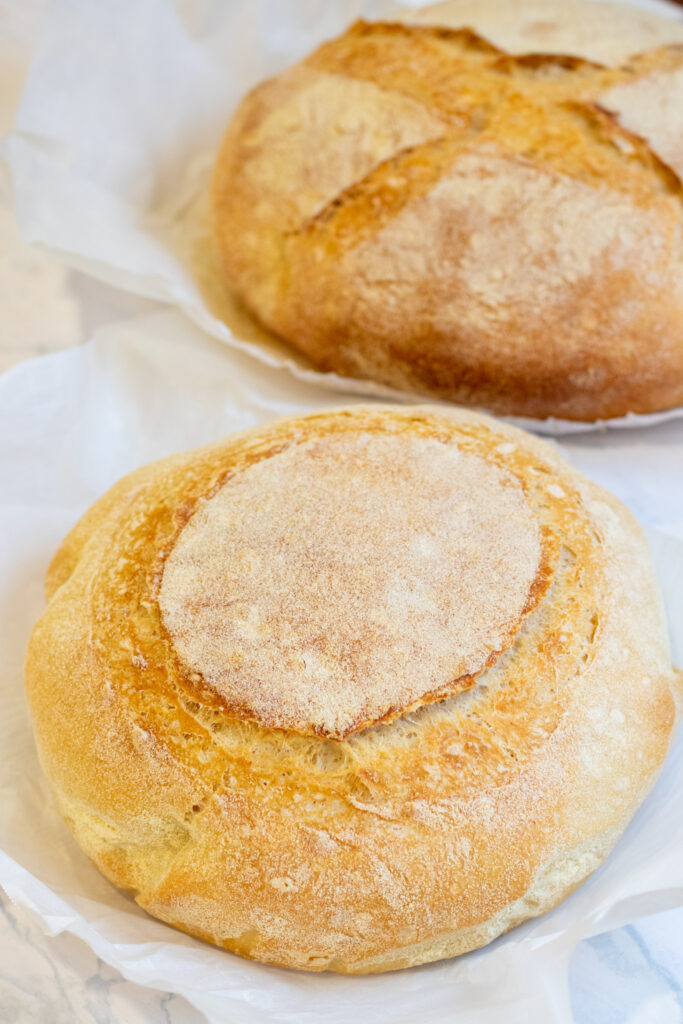 Meanwhile, I took a couple of loaves of Dan's Como Bread out of the oven. Mmm fresh bread.
Our cheese of choice for this recipe is Gruyère and sometimes a little fresh mozzarella, too!
Once the onions were nice and caramelized, we added them all back into the Dutch Oven with the ham stock to heat up on medium.
When it all heated back up, we turned our oven to broil, ladled in the onions and broth, and my adorable husband sliced a few pieces of the fresh Como Bread to fit our new little soup crocks.
On top of the bread we added a healthy dose of the shredded gruyere.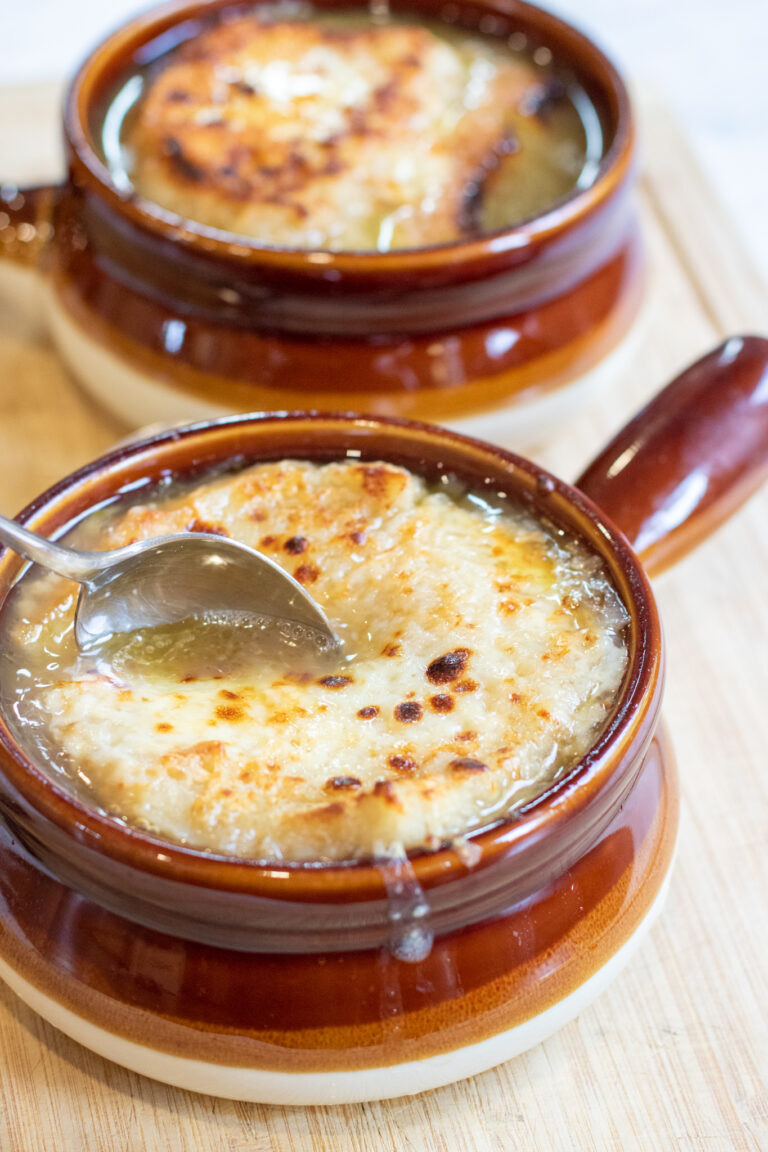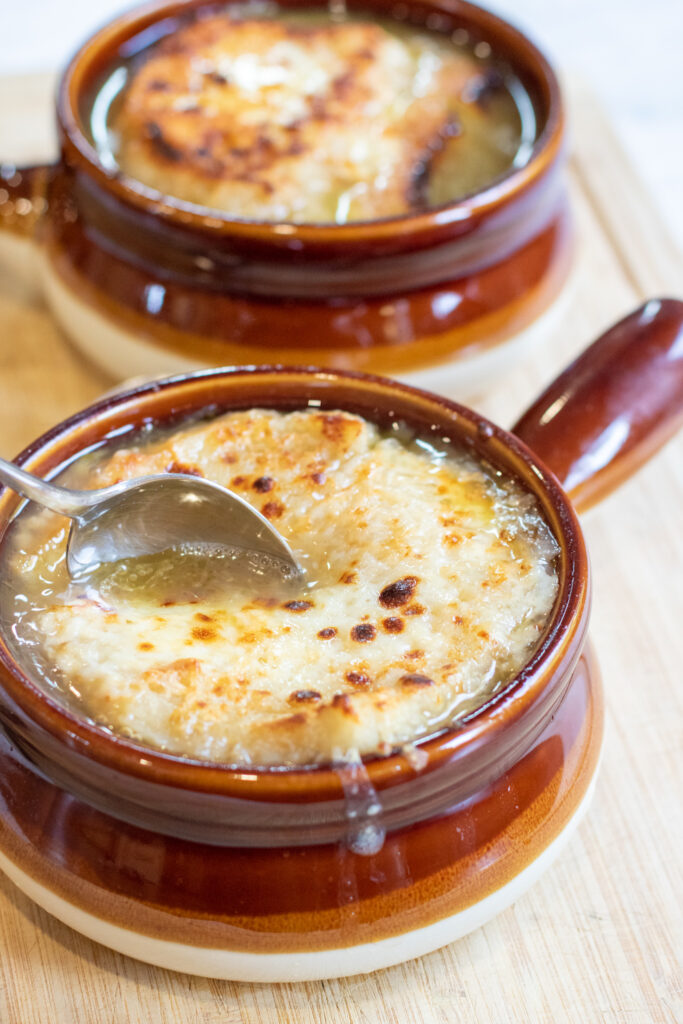 Under the broiler for a couple of minutes until all the cheese was melted and out came this French Onion Soup From Scratch- one of my absolute favorite soups!!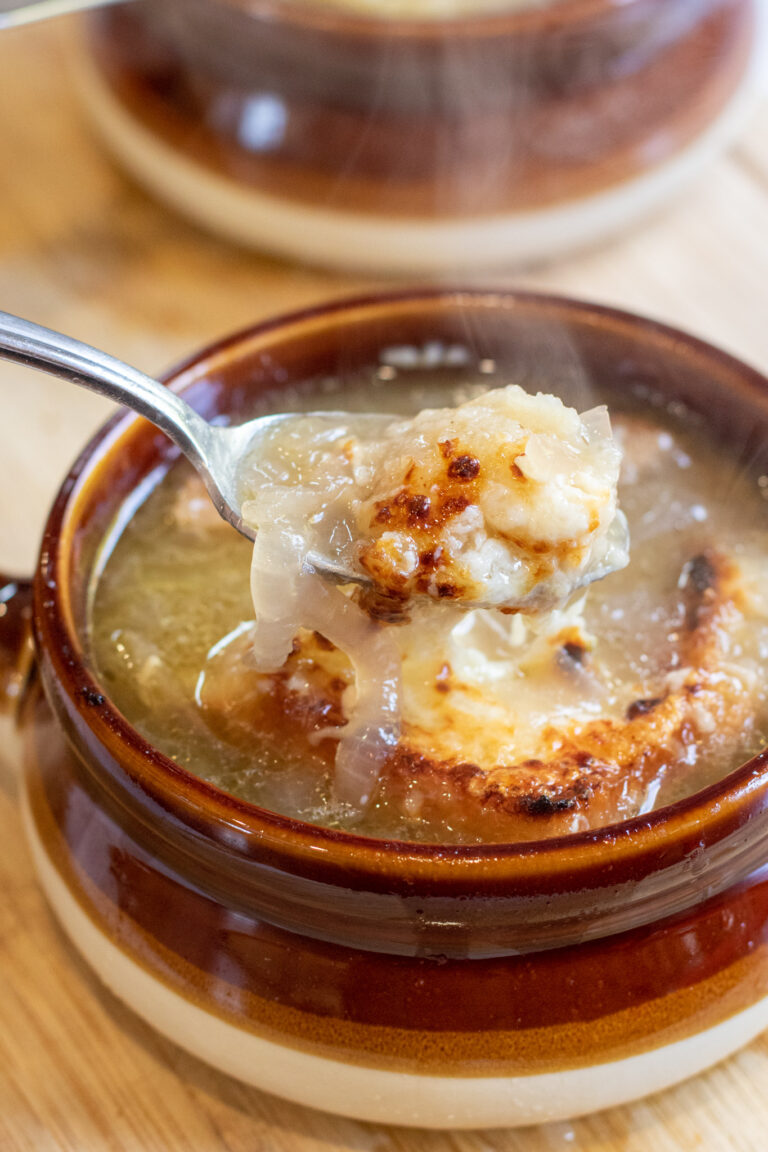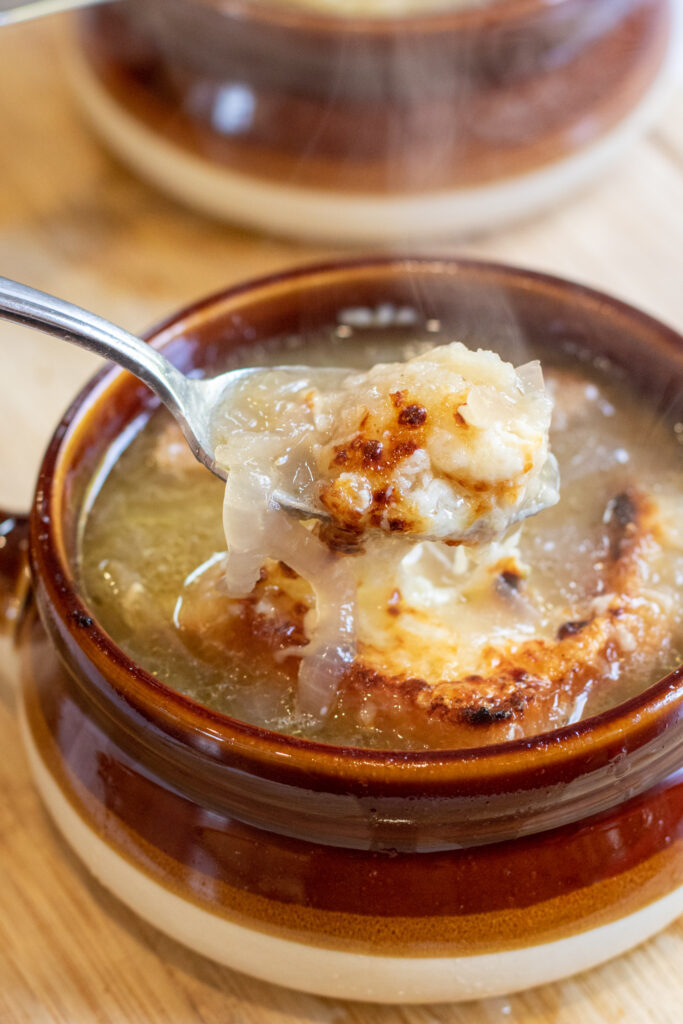 It's just sooo incredibly flavorful. The ham broth truly makes this soup. That and all of the onions and the homemade bread and the melted nutty gruyere.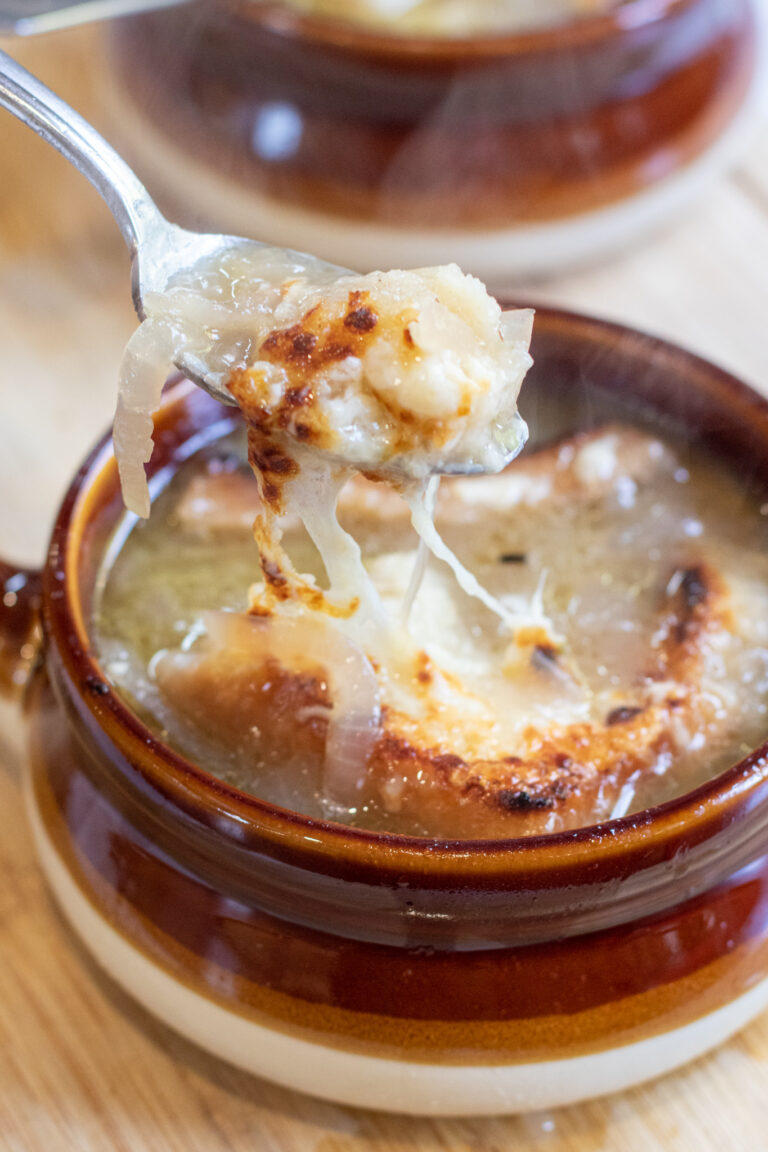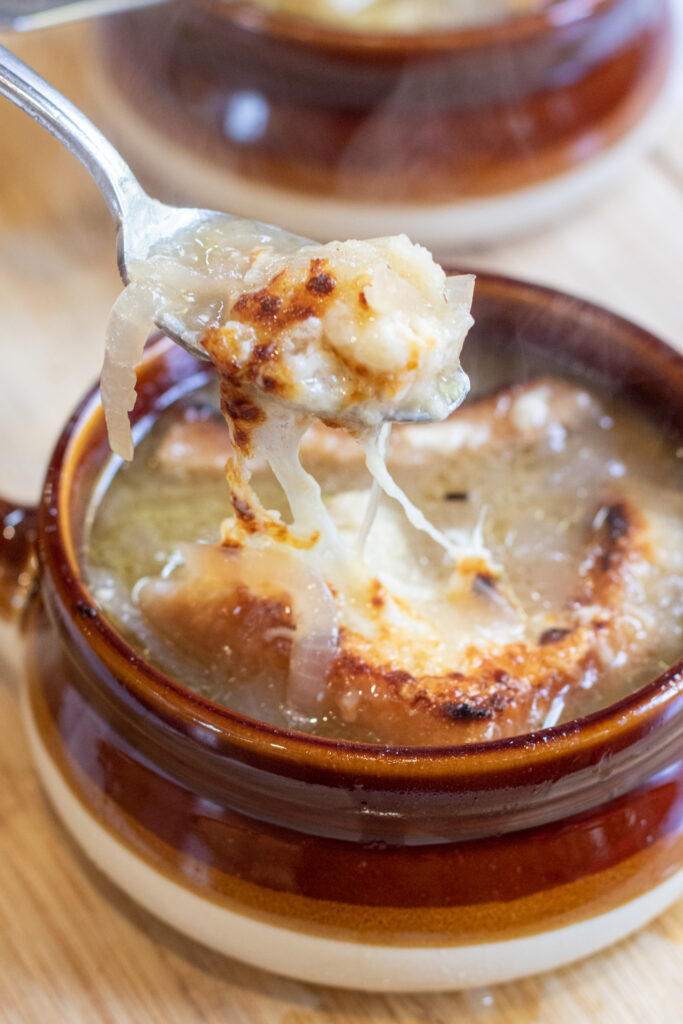 I'm obsessed with this French Onion Soup From Scratch. I have yet to find another that's as delicious and I'm sure it's because of that ham stock! This is a seasonal classic in our household now, for sure!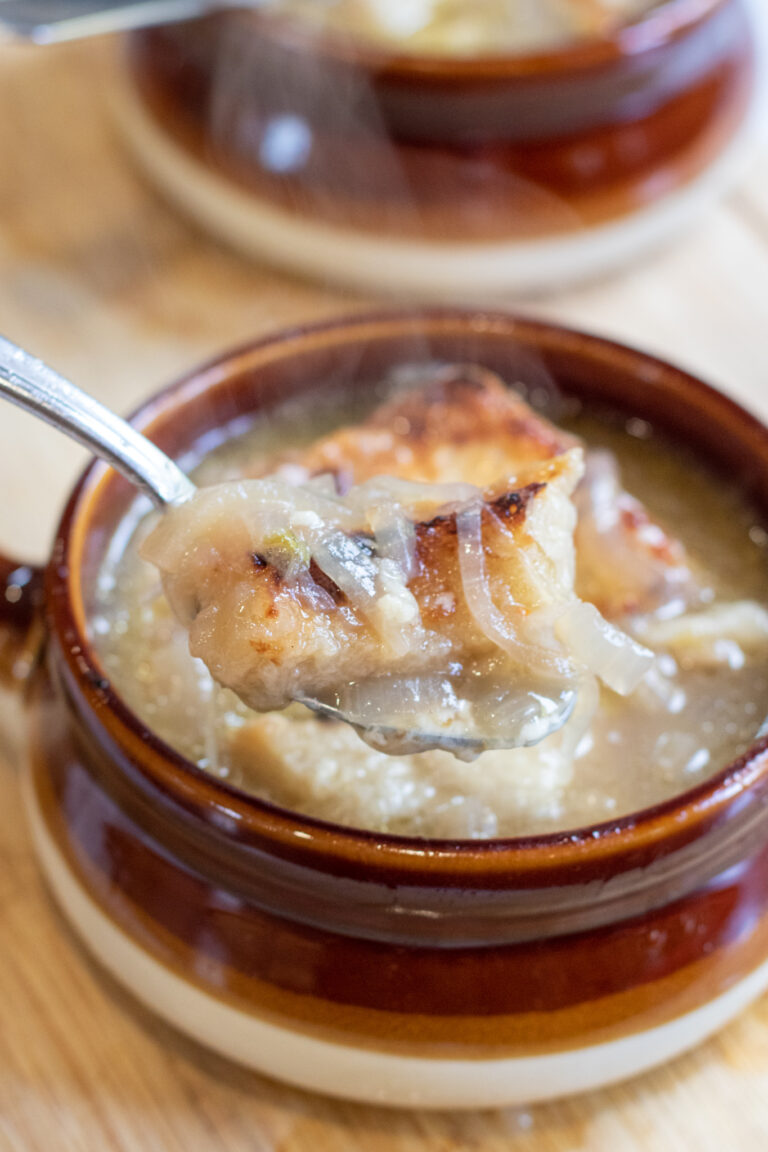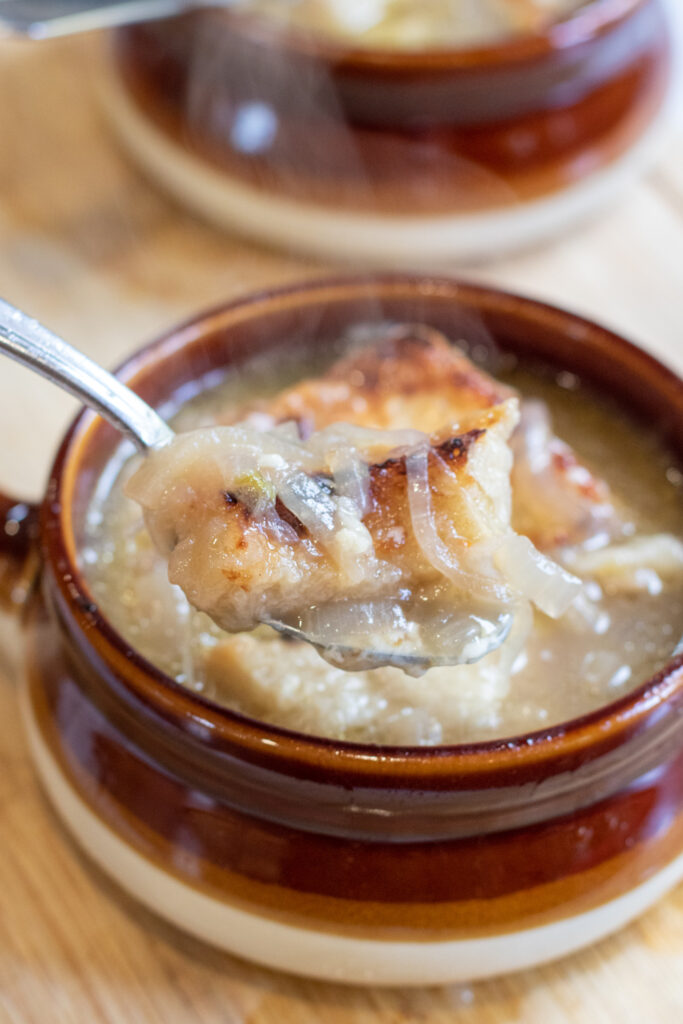 Helloooooo perfection! Seriously, we absolutely LOVE this soup and make it EVERY. SINGLE. TIME. we have a leftover ham bone!
Leftover Ham Recipes
Spinach, Ham, and Cheddar Quiche
Our Other Favorite Soup Recipes
Enjoy! As always, if you make this recipe or any of my others, I love to hear what you think! Leave a comment below, email me, or you can find me on Facebook, Instagram, and Pinterest!
If you want to see more, be sure to sign up for my 5 Easy Ways to Start Cooking From Scratch!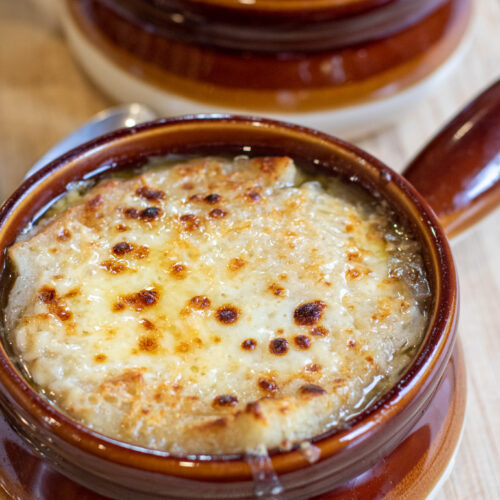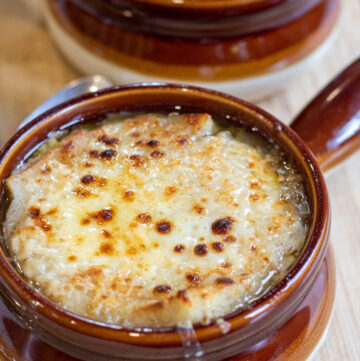 Ingredients
Make Ham Stock
1

quarts

ham bone

ham grease from cooked ham

celery, onion, carrots, fresh garlic - whatever you have

to add flavor

5

large

white onions

sliced thin

3

small

yellow onions

sliced thin

2

cloves

garlic

minced

3

tablespoons

salted butter

Fresh Como Bread Slices

cut to fit soup crocks

1-2

Shredded Gruyère cheese

1/2 - 1

tablespoon

of salt

pending how salt rich your stock is

Fresh ground pepper to taste
Instructions
Make Ham Stock
To make homemade ham stock, add ham bone and ham grease from cooked ham (optional), with 4 -5 quarts of water and whatever veggie scraps you have. Heat on medium high until boiling and then turn down to simmer for 2-4 hrs or until you have a lovely rich stock.

You can prepare this in advance and store the stock in the fridge for up to 4 days or freeze for up to 6 months.
Caramelize Onions
In a Dutch oven or large stock pot, sauté sliced onions with garlic and butter slowly on medium stirring often, and cooking for about 10 minutes. Then let the onions caramelize and only story every few minutes for at least another 50 mins or up to 3 hours until caramelized. Be sure that the onions do not burn, but a little sticking to the pan is what will help develop the brown color. If they're sticking too much, add a tablespoon of water. To quicken the caramelization, you can add a teaspoon of sugar.

Add ham stock to onions and heat (if stock was previously made) until stock is fully heated. Add salt and pepper to taste.
Assemble Soup
Turn oven to broil and set tray to 2nd level.

Fill soup crocks with onions and broth, add fresh sliced bread, and top with cheese. Put crocks on baking sheet (to catch any dripped cheese) and broil for 1-2 minutes until the cheese is melted and slightly browned.

Serve immediately and enjoy!
Notes
Yields about 4 quarts of soup.
Substitute gruyere for some fresh mozzarella.
Make it in advance! You can freeze the ham stock and onions for up to 3 months.