You've heard of New England & Manhattan, but have you ever tried Rhode Island Clam Chowder? It's their clear broth sibling that's lighter and healthier than the others!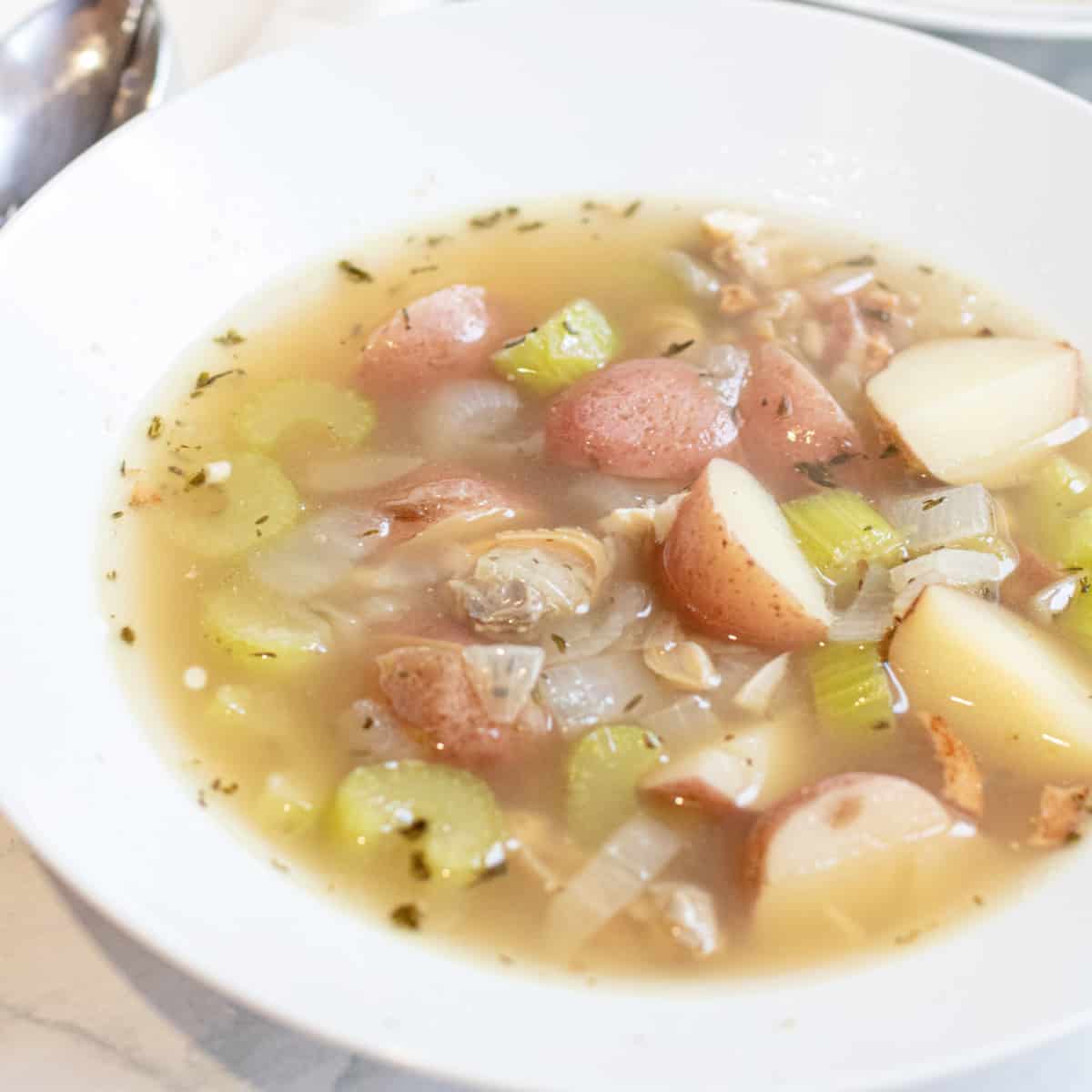 I don't know about you, but until about a few months ago, I thought there were only two types of clam chowder. Creamy New England Clam Chowder, and tomato-based Manhattan Clam Chowder. Blew my mind when I discovered this hidden gem of the clam chowder world, Rhode Island Clam Chowder!
It's not as creamy as New England, or have the spice of Manhattan, but instead, this 3rd sibling of the clam chowder world is like the lighter, cleaner, healthier sister, thanks to its clear broth and veggies - with bacon, of course!
Ingredients Needed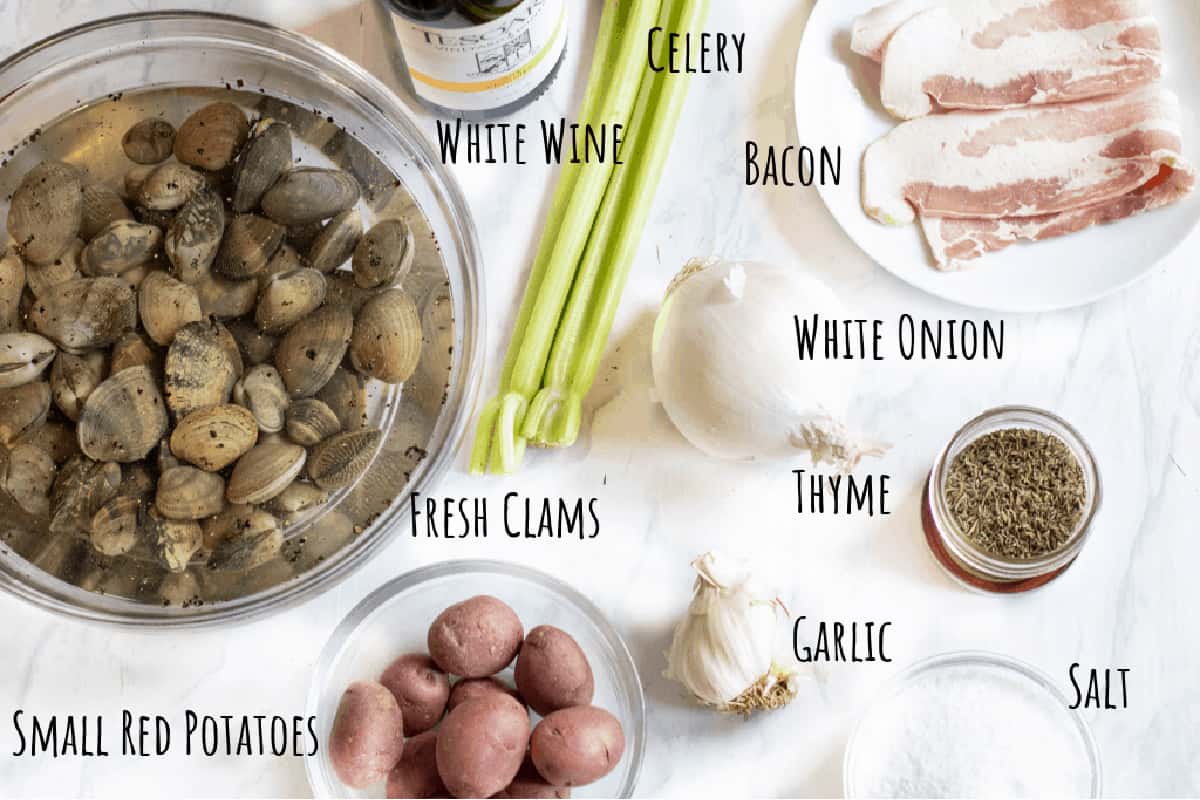 Simple, yet delicious. Standard of our soup here at SFS.
Clams - Fresh is of course preferred, but no shame if you only have access to canned! If using fresh, we use manila clams which are small and sweeter in flavor in the clam world. They're also the steamer clam of the west coast, which is what's most available to us. On the east coast, quahog clams are what you'll find most common and are the best for chowders.
Red Potatoes - We love small reds in this, but you could use any potato that you have.
Celery, Onion, and Garlic - Veggies for flavor, and staples in our soups!
White Wine - To cook the clams and add flavor! Be sure to use a dry white, and then a general rule for cooking with wine - don't cook with it if you won't drink it.
Bacon - Aren't all soups better with salty smoky bacon?
Thyme - Fresh or dried, whichever you have. See recipe notes for conversion.
How to Clean Clams
If using fresh clams, one of the most important pieces of this recipe is cleaning those clams. You need to do this to be sure to get rid of all of the grit and sand that these little guys have inside.
The first thing to do is check for any open clams. Usually, this means that the clam inside is dead. Discard.
2. Fill a bowl with cold water and add your clams. Be sure that all of the clams are submerged and also that your water is cold. Do not use hot water! This will kill the little guys. Grind some black pepper into the bowl - this will also help them purge the salt and sand from their shells. Put the bowl in the fridge and let sit for 1 hour.
3. After an hour, drain water from your bowl and give the clams another good rinse with cold water. Then use a stiff-bristle brush to scrub any excess dirt off of the exterior of the shell.
Then, they're ready to cook!
Making the Chowder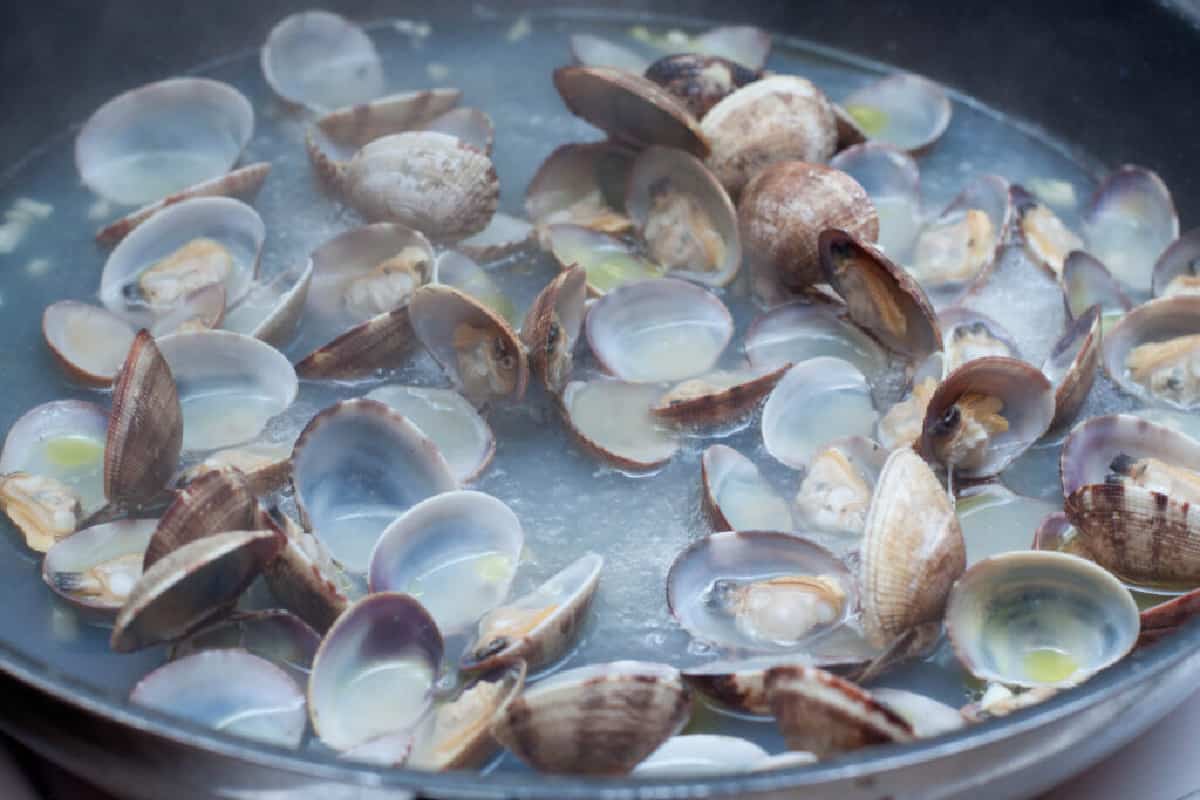 Step 1: Cook your clams.
Steam 'em! This is a super simple process to cook your clean little clams by adding garlic and white wine to a sauté pan and then letting them cook in the steam until they open. Be sure to check for any that did not open and discard them. This means that they were already dead before the cooking process started or that they were full of mud.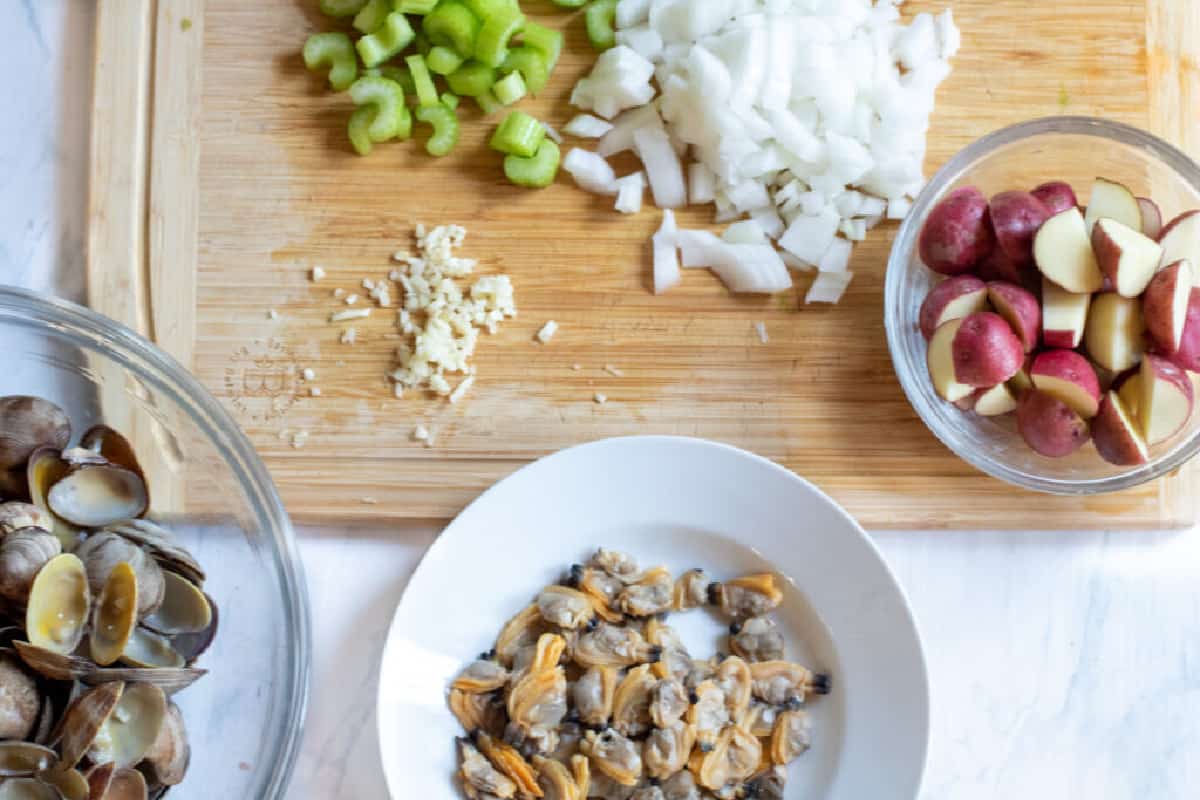 Step 2: While your clams are steaming, prep your potatoes, celery, onions, and garlic. Also, in the pot you intend to use for your chowder, fry up your bacon until crispy and set aside. Reserve 1/2 tablespoon of bacon grease in the pot but discard the rest.
Step 3: When your clams are done, remove them from their shells and give a quick chop - especially if you're using a bigger clam.
Step 4: Sauté your garlic, onion, and celery in your pot with the reserved bacon grease. Then add the potatoes, some water (or some clam juice if using canned clams or if you just have clam juice), and thyme, and let cook for 20 minutes until the potatoes are almost tender. Once the potatoes are tender, add the clams and bacon and let simmer for another 5-10 minutes.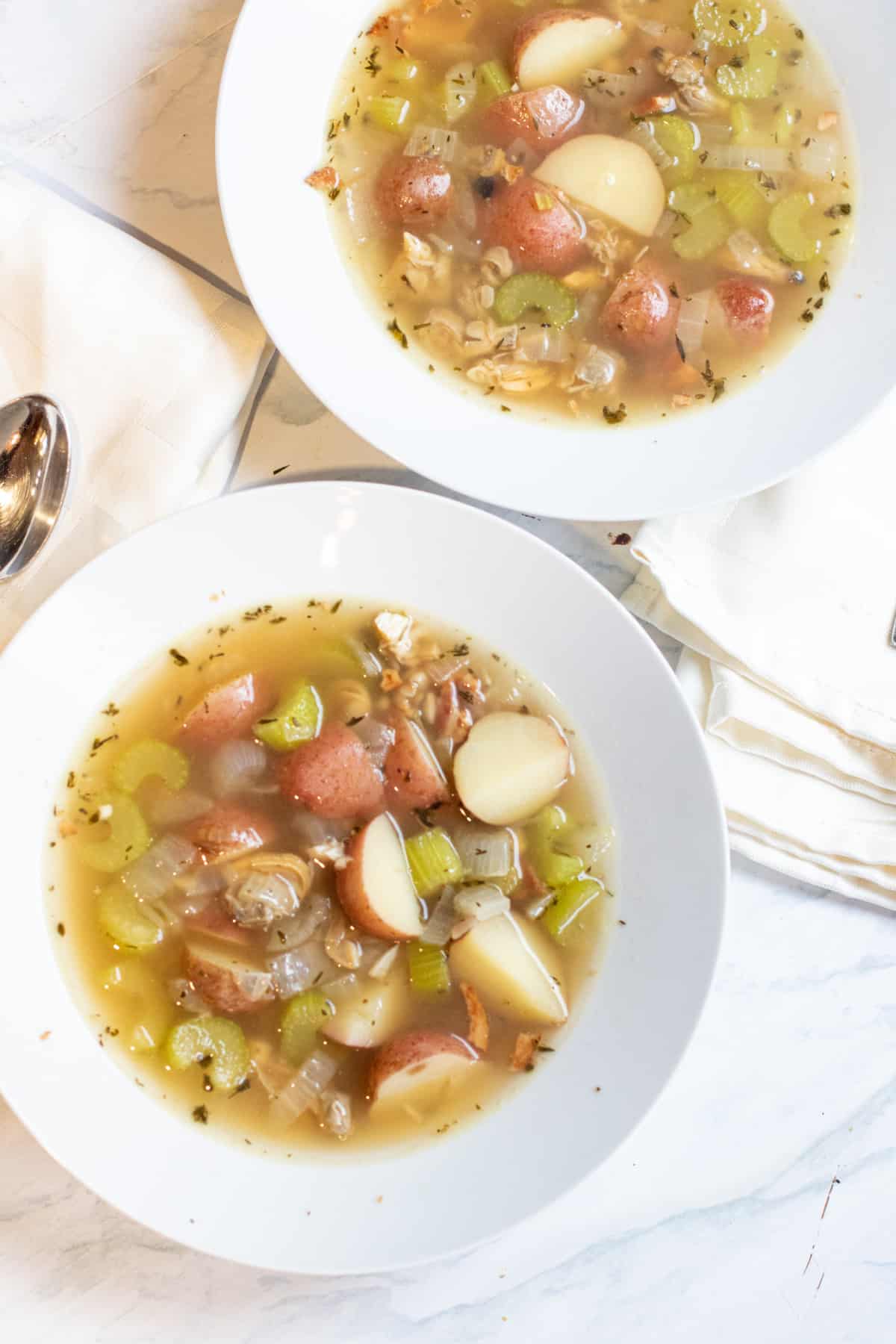 When you're done you have a flavorful clear broth bowl of Rhode Island Clam Chowder!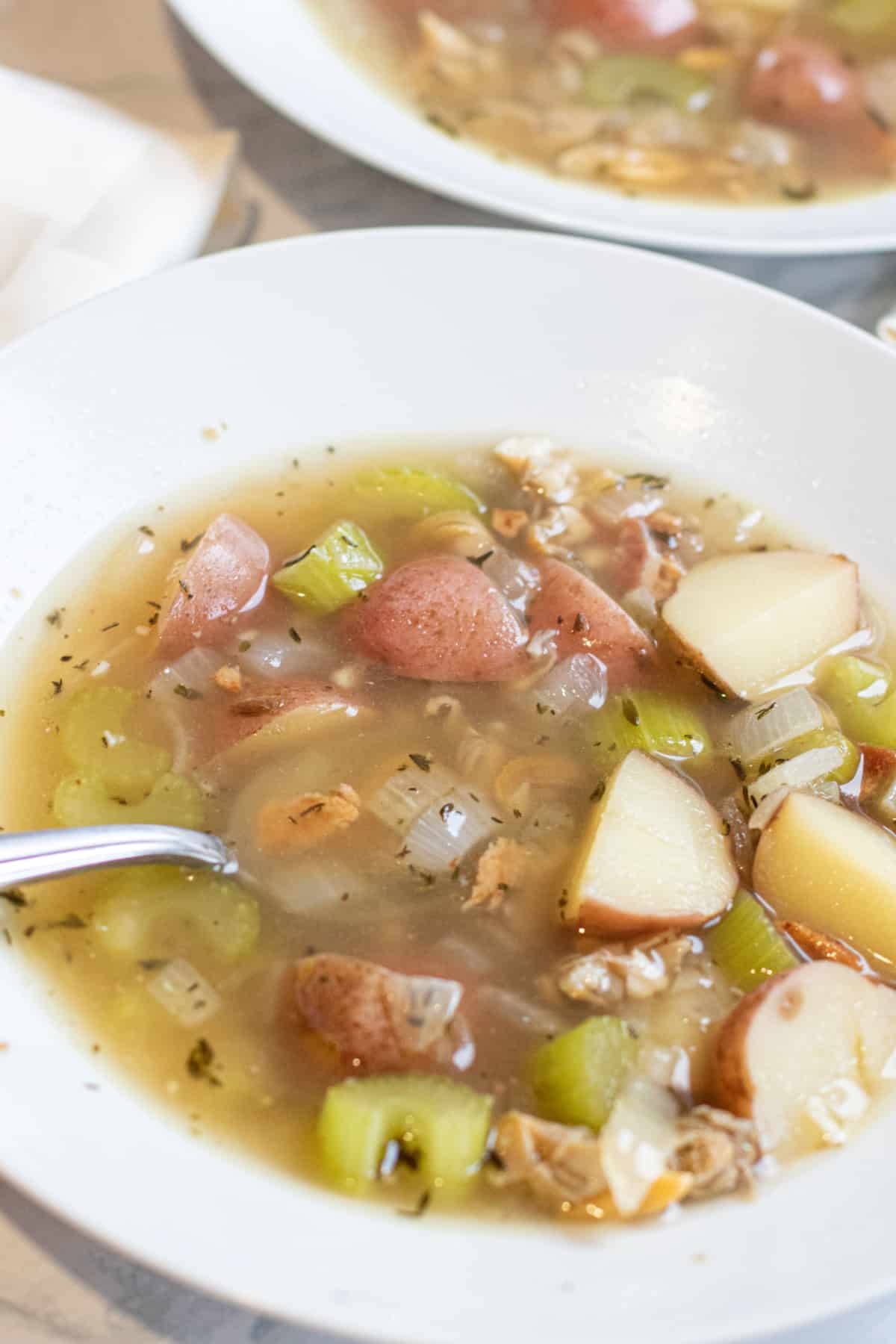 Made with plenty of clams, because is there anything more disappointing than a clam chowder that you have to go on a hunt for the clams? Also, the smoky bacon is the perfect flavor addition.
Yum! You're on to something, Rhode Island. Although New England Clam Chowder will always have a special place in my heart, this Rhode Island Clam Chowder is definitely a perfect healthy alternative!
Other Favorite Soups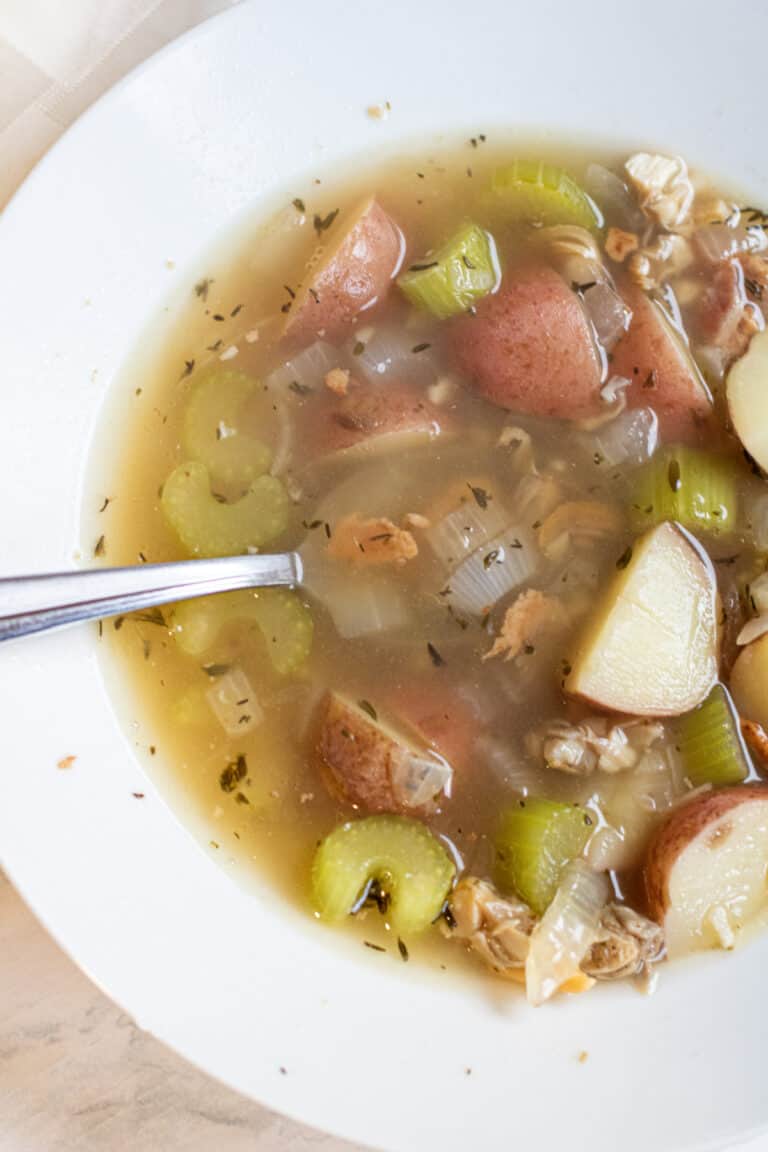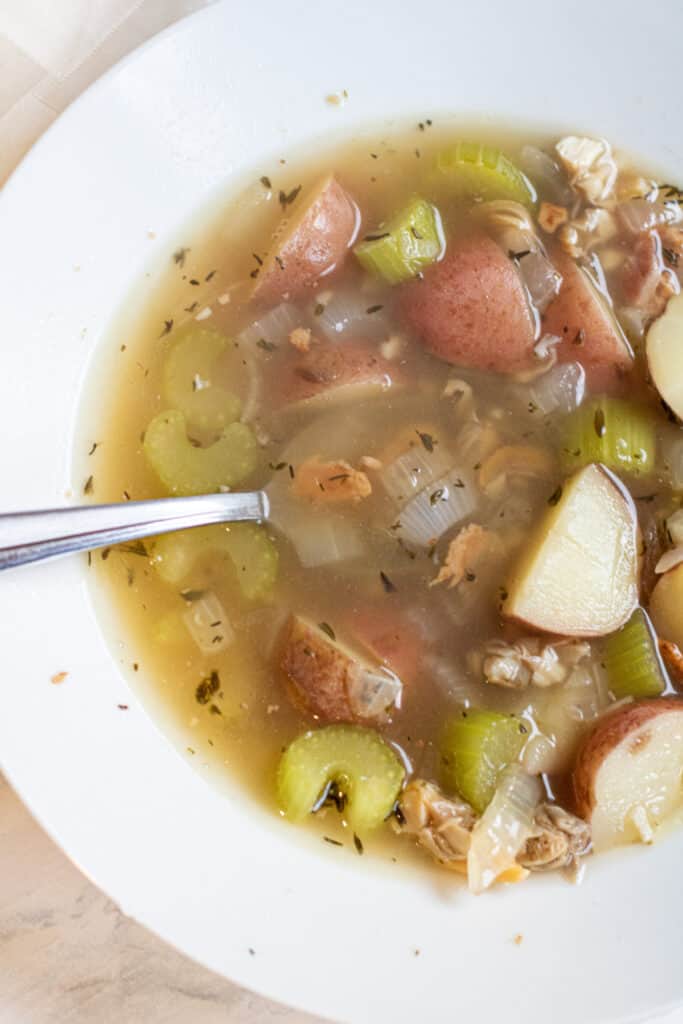 FAQs
Can I use canned clams?
Yes. If you don't have access to fresh clams, you can absolutely use canned. I suggest canned whole baby. This way you can give a quick chop to the size you want, instead of starting with something that is already chopped.
What do I use for clam juice if not using canned clams?
You can totally buy clam juice on its own and use some of it for the broth if you'd like. This will add an additional salty, briny flavor.
Can I use the liquid from the steamed clams?
Yes, but just a little. I'd suggest only about 1/4 cup of it.
Are clams healthy?
They sure are! Not only are they low in calories and carbs, but they're also high in protein and rich in omega-3 fatty acids, iron, zinc, magnesium, and Vitamin B12!
Can I use fresh thyme?
Absolutely. Fresh thyme is wonderful in this recipe. Use 3 sprigs and keep them whole so that when the soup is done, you can pull them out.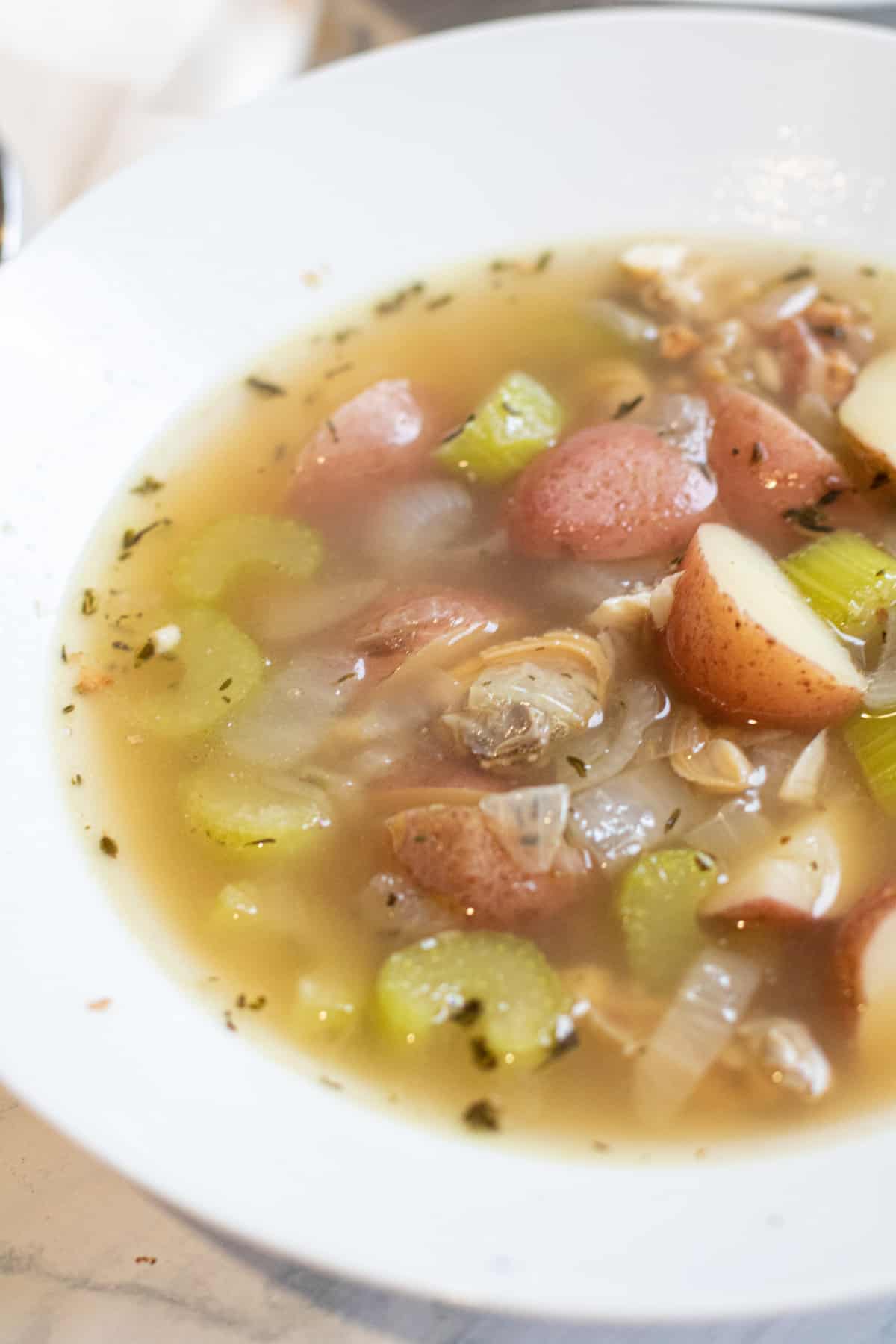 Enjoy! As always, if you make this recipe or any of my others, I love to hear what you think! Leave a comment below, email me, or you can find me on Facebook, Instagram, and Pinterest!
If you want to see more, be sure to sign up for my 5 Easy Ways to Start Cooking From Scratch!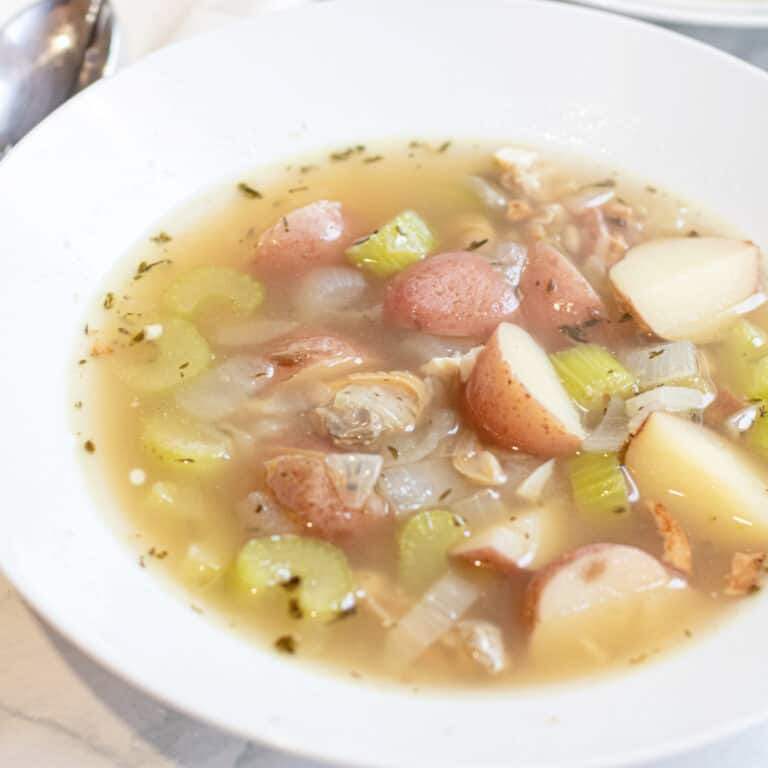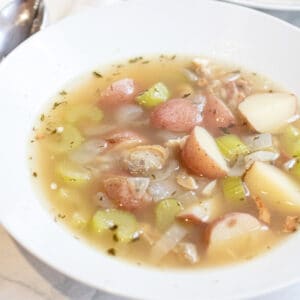 Rhode Island Clam Chowder
You've heard of New England & Manhattan, but have you ever tried Rhode Island Clam Chowder? It's a lighter, brighter version of the classics!
Print
Pin
Rate
Ingredients
2

lbs

fresh clams

steamed and chopped (instructions to follow)

4

cloves

garlic, divided

minced

1/3

cup

dry white wine

1

tablespoon

of olive oil

4-6

small red potatoes, quartered or cut small

about 1 1/2 cups

2-4

slices

bacon

fried crispy and crumbled

2

stalks of celery, chopped

1 cup

1/2

large

white onion, chopped

1 cup

1

teaspoon

dried thyme

1

teaspoons

salt

pepper to taste

3

cups

of water

or clam juice, see notes.
Instructions
Clean clams by rinsing them well and placing them in a bowl filled with cold water and sprinkled with ground pepper. Let sit for 1 hour.

Meanwhile, prep your veggies and in a large pot or dutch oven, cook your bacon until crispy. Remove bacon and place on paper towel lined plate to cool. Remove most of the bacon grease, but reserve a little (at least 1/2 tablespoon) in the pot.

After the hour, scoop out clams with a slotted spoon (do not pour into a colander, sand will have rested to the bottom of the bowl), rinse again, and scrub the outside of the shells to remove any last bits.

In a large sauté pan on medium, heat olive oil and sauté garlic 1/2 of the garlic for 1 - 2 minutes. Add white wine and cook for about 2 - 3 minutes. Add clams and cover pan. Let steam for 8-10 minutes until clams are opened.

Remove clams from pan and discard any clams that have not opened. Clean clams out of shells, give a quick chop on a cutting board, and set aside.

Heat the pot you cooked your bacon and that has some bacon grease to medium. Add onions, garlic, and celery. Cook, stirring occasionally for about 6 minutes. Add potatoes, thyme, and then water +/ clam juice enough to cover all ingredients. Add 1-2 teaspoons of salt and fresh ground pepper. Bring to a boil, then simmer until potatoes are soft, approximately 20 minutes.

Once potatoes are almost tender, add clams and crumbled bacon to the pot and let simmer for another 5-10 minutes.

Season with additional salt and pepper to taste.

Serve and enjoy!
Notes
Water and Clam Juice
For the broth of the chowder, you can use either just water or a combination of water and clam juice. Use max 1/2 cup of clam juice. It will add a briny, salty flavor so if using any amount, cut the salt. Also, if using clam juice I would substitute the bacon grease to cook the onions and garlic in and use olive oil or butter instead.
Canned Clams- Just reserve some of the juice from the can.
Fresh Clams - You can buy some clam juice, or you can also use up to 1/4 cup of the broth from the steaming of the clams.
Substitutions
Thyme: Substitute 3 sprigs of fresh thyme and add whole to the chowder. Remove sprigs before serving.
Bacon Grease: Use 1/2 - 1 tablespoon of butter or olive oil. We suggest this especially if you're using 1/2 cup of clam juice mixed with the water because of the saltiness of the clam juice.
Nutrition
Calories:
177
kcal
|
Carbohydrates:
26
g
|
Protein:
9
g
|
Fat:
3
g
|
Saturated Fat:
1
g
|
Cholesterol:
12
mg
|
Sodium:
1042
mg
|
Potassium:
700
mg
|
Fiber:
3
g
|
Sugar:
3
g
|
Vitamin A:
129
IU
|
Vitamin C:
14
mg
|
Calcium:
39
mg
|
Iron:
2
mg