You've heard of New England & Manhattan, but have you ever tried Rhode Island Clam Chowder? It's a lighter, brighter version of the classics!
I don't know about you, but until about a few months ago, I thought there were only two types of clam chowder. Creamy New England Clam Chowder, and tomato based Manhattan Clam Chowder. Blew my mind when I discovered this hidden gem of the clam chowder world, Rhode Island Clam Chowder (which really, c'mon, RI, don't you know you're already a part of New England?).
This lesser known chowder is a lighter variety, sans cream, sans tomatoes, but super delicious. Although, it's weird to call this a chowder, because to me (a former New Englander), chowda means thick and creamy. But hey, if those rebels in Rhode Island call it a chowder, I'll go with it.
First part of any great clam chowder, fresh clams. A total pain to clean to make sure all the sand and grit is out of them, but worth it for the freshness. I soaked them in bowl of water for about an hour, and I read that ground pepper helps coax them to spit out the sand, too so I gave that a whirl and added some fresh ground pepper to the water. Whether that actually helped or not, I have no idea. I figured it was at least worth a shot.
Meanwhile, I chopped up some onion, celery,
and red potatoes. Oh, and I crisped up a couple of slices of bacon.
After an hour of soaking, I removed the clams from the bowl (with a slotted spoon as to let the sand that had been cleaned out stay rested at the bottom of the bowl), and then gave them a final scrub to get anything else left on the shells off. I minced a couple of cloves of garlic and tossed it into a heated pan with a touch of olive oil, added about a 1/3 cup of white wine and let it cook for a minute, then added the clams, covered the pan, and let them steam for about 10 minutes until they opened. Oh hey, lovelies.
Then I cleaned the clams out of their shells, discarding any little guys who didn't open, and I gave them a quick chop. This is also when my husband came home and I started to tell him a story about one of my crazy co-workers (she keeps telling people they're violating Homeland Security protocols at our little not for profit senior healthcare organization...) which totally distracted me from taking photos. So while I talked I finished making the soup- sautéing the celery and onions in a pot, then adding the clams and potatoes, 2 cups of water, thyme, salt, pepper, and the crumbled crispy bacon, brought it to a boil, and then let it simmer for about 30 minutes.
After 30 minutes, I had this lovely "chowder"! I will definitely will double the clams next time, but it was still a pretty darn good, soup Rhode Island Clam Chowder.
Clams and bacon. Yum! You're on to something, Rhode Island. Although New England Clam Chowder will forever be my favorite of the clam chowders, I've gotta say this Rhode Island Clam Chowder is definitely a nice healthy alternative!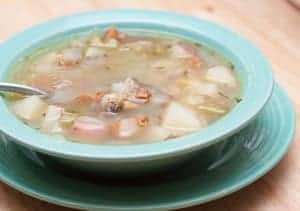 Rhode Island Clam Chowder
You've heard of New England & Manhattan, but have you ever tried Rhode Island Clam Chowder? It's a lighter, brighter version of the classics!
Print
Pin
Rate
Ingredients
1 1/2 - 2

lbs

of fresh clams

steamed and chopped (instructions to follow)

1-2

cloves

of garlic

minced

1/3

cup

white wine

1

tablespoon

of olive oil

divided. 1/2 for steamed clams, 1/2 for celery and onion

2

red potatoes

chopped

2

slices

of bacon

fried crispy and crumbled

2

stalks of celery

chopped

1/2

white onion

chopped

1

teaspoon

dried thyme

2

teaspoons

of salt

pepper to taste

2

cups

of water

or clam juice (less salt if using clam juice)
Instructions
Clean clams by rinsing them well and placing them in a bowl filled with water and sprinkled with ground pepper. Let sit for 1 hour.

After the hour, scoop out clams with a slotted spoon (do not pour into a colander, sand will have rested to the bottom of the bowl), rinse again, and scrub the outside of the shells to remove any last bits.

In a large saute pan on medium, heat 1/2 a tablespoon of olive oil and saute garlic for 1 - 2 minutes. Add white wine and cook for about 2 - 3 minutes. Add clams and cover pan. Let cook / steam for 8-10 minutes until clams are opened.

Remove clams from pan and discard any clams that have not opened. Clean clams out of shells, give a quick chop on a cutting board, and set aside.

In a medium pot, heat remaining olive oil on medium and add onions and celery. Cook, stirring occasionally for about 6 minutes. Add clams, crumbled bacon, potatoes, thyme, and then clam juice +/ water, enough to cover all ingredients. Add 1-2 teaspoons of salt and fresh ground pepper. Bring to a boil, then simmer until potatoes are soft, approximately 30 minutes.

Season with additional salt and pepper to taste.

Serve and enjoy!