This post may contain affiliate links. Read my disclosure policy.
Have you been wanting to try an easy Indian dish at home? This creamy Saag Paneer is the perfect intro dish to start with!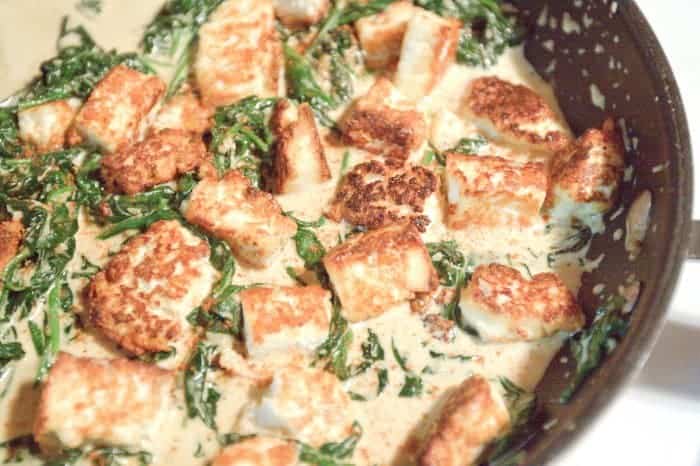 You know what I love most about this blog? The fact that it's encouraged us to cook things that have been on that "we should make this…" list. Indian food, that was on that super long list. I love the depth of Indian flavors, but I've never cooked it at home and I have no good excuse for why I haven't. But in searching for cheeses we could make at home, I came across paneer and ohmygod, I love this cheese and this Saag Paneer!
Saag Paneer is a Northern Indian dish of spinach and fresh paneer. It's so easy. And so delicious. Fresh spinach, paneer, gram masala (a mixture of spices that I found in New Seasons but then realized we could totally make from scratch; it's on our list), garlic, ginger, cayenne, canola oil, heavy cream, and we deicided to serve it over some basmati rice.
I made the paneer last night, so this made the whole process even faster and easier! In our little food processor, I tossed in the garlic and ginger with a little water.
And mixed into a paste. In the meantime, I put the basmati rice in the rice cooker to cook.
And then fried the cheese. YES. I fried. The. Cheese.
Canola oil in the pan and the paneer in with it to fry. I watched this pretty closely to make sure they didn't burn and also to turn them periodically to make sure they cooked on each side.
If you're going to eat fried cheese, it might as well be homemade cheese, right? I'll answer that for you, Yes.
Once the cheese was done, I got rid of the excess oil (6 Tablespoons was way too much) and then put the delicious garlic and ginger paste into the hot pan to cook up and fill our kitchen with the most amazing garlic ginger aromas…
Then I put the cleaned baby spinach in and sauteed that up.
Once the spinach was cooked, I added the heavy cream and all the spices. Dan and I like heat and spice so I added more than the recipe called for. I put in what it said, then added a few generous pinches more of cayenne, gram marsala, and curry for fun. What I didn't add enough of was salt, don't forget the salt!
As all of those flavors were melding, I added the cheese. I was drooling at this point. Can you blame me?
Once the rice was done, I plated that and topped it with the saag paneer to make this deliciousness. This would also be amazing with some homemade Garlic Naan From Scratch!
We paired it with Tesoaria's Bulls Blood. If you haven't had Tesoria yet, GO. It's our 3rd wine club membership and it's undoubtedly my favorite. Their Bulls Blood (the most delicious red blend) is fruity but full and tannic and perfect for a dish like this. The fat in the cheese and cream were cut amazingly by the tannins of this deliciously smooth red.
I am so in love with this dish. I cannot wait to make it again and to explore more Indian cooking!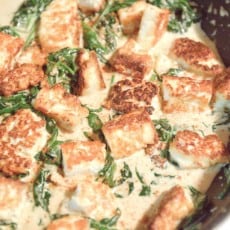 Saag Paneer
Have you been wanting to try an easy Indian dish at home? This creamy Saag Paneer is the perfect intro dish to start with!
Print
Pin
Rate
Ingredients
A classic Indian Spinach and Cheese dish made from Scratch!

Write a reviewSave RecipePrint

Ingredients

4

cloves

garlic

chopped

1

1″ piece of ginger, peeled and chopped

6

cups

finely chopped spinach

7-8

oz

Paneer

recipe link below

Kosher salt

to taste

6

tbsp.

heavy cream

½

tsp.

garam masala

¼

tsp.

cayenne

Indian flatbread or rice

for serving
Instructions
Heat oil in a 12″ nonstick skillet over medium heat. Working in batches, add cheese, and fry until golden brown, about 6 minutes. Using a slotted spoon, transfer cheese to a plate and set aside; reserve skillet,

Make the spinach: Place garlic, ginger, chiles, and ¼ cup water into blender and purée into a smooth paste. Return skillet with oil to stove, and heat over medium-high heat. Add ginger-garlic paste, and cook, stirring, until fragrant, about 30 seconds. Add spinach, salt to taste, and cook, stirring often, until spinach wilts, about 1 minute. Reduce heat to medium-low, cover, and cook, stirring often, until spinach is very soft, about 15 minutes. Stir in cream, garam masala, and cayenne.

Add cheese to skillet, cover, and continue cooking until liquid thickens and spinach is soft, about 15 minutes. Serve with flatbread or rice, if you like.