Love Indian food and have been wanting to try to make it at home? Then this creamy Saag Paneer is the perfect dish for you! It's an incredibly easy but super flavorful dish and the perfect introduction to Indian cooking at home!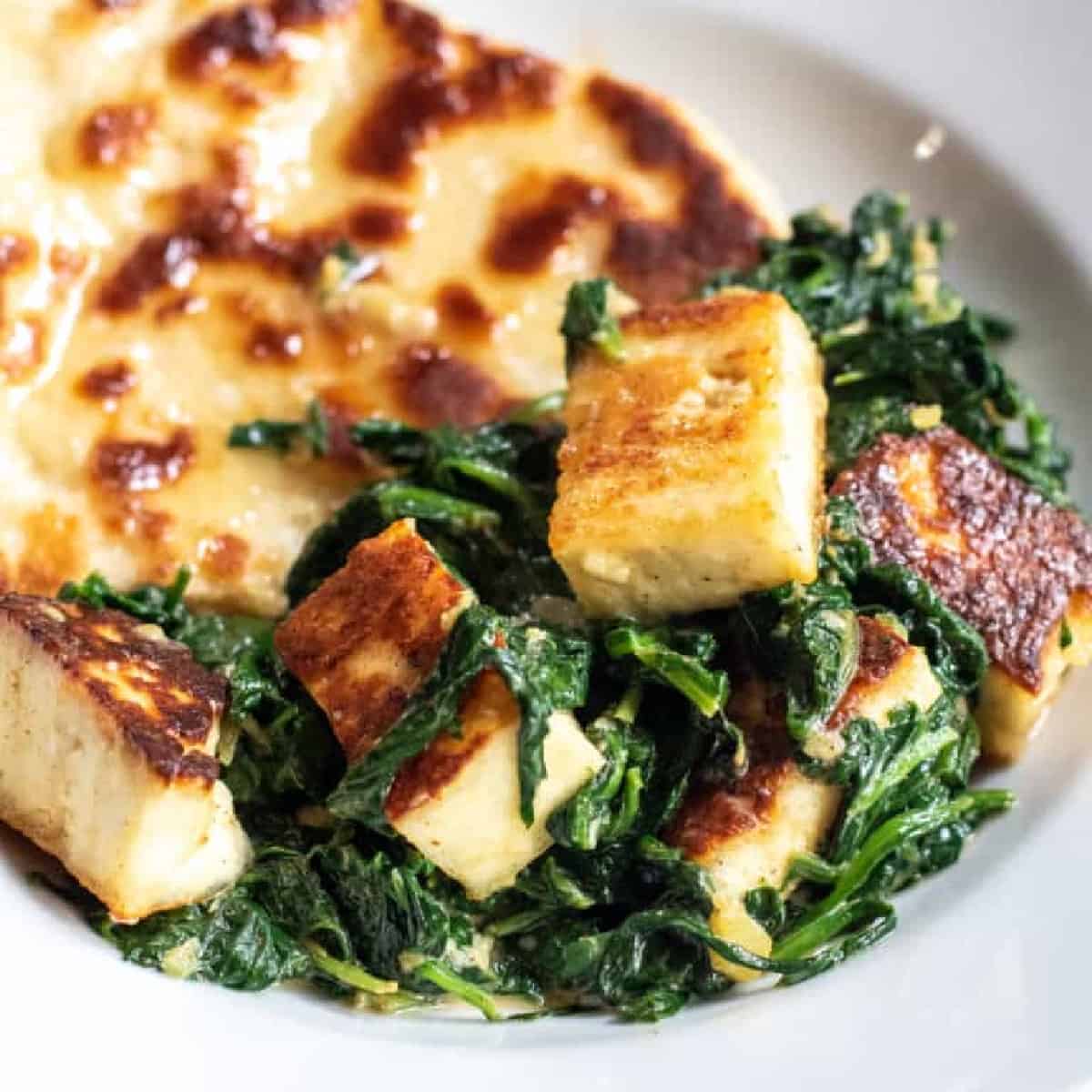 Looking for something new to make to switch up your dinner rut? This Saag Paneer is a nice easy variation of the classic Indian dish!
What is Saag Paneer?
Saag Paneer is a North Indian vegetable dish with soft, fried paneer cheese. Saag just means greens in Hindi and most commonly spinach is used, but collard greens, mustard greens, or even broccoli can also be used.
It's rich, and creamy, and the flavors are complex thanks to the garam masala spice blend made up of cinnamon, mace, peppercorns, coriander seeds, cumin seeds, and cardamon.
Ingredients Needed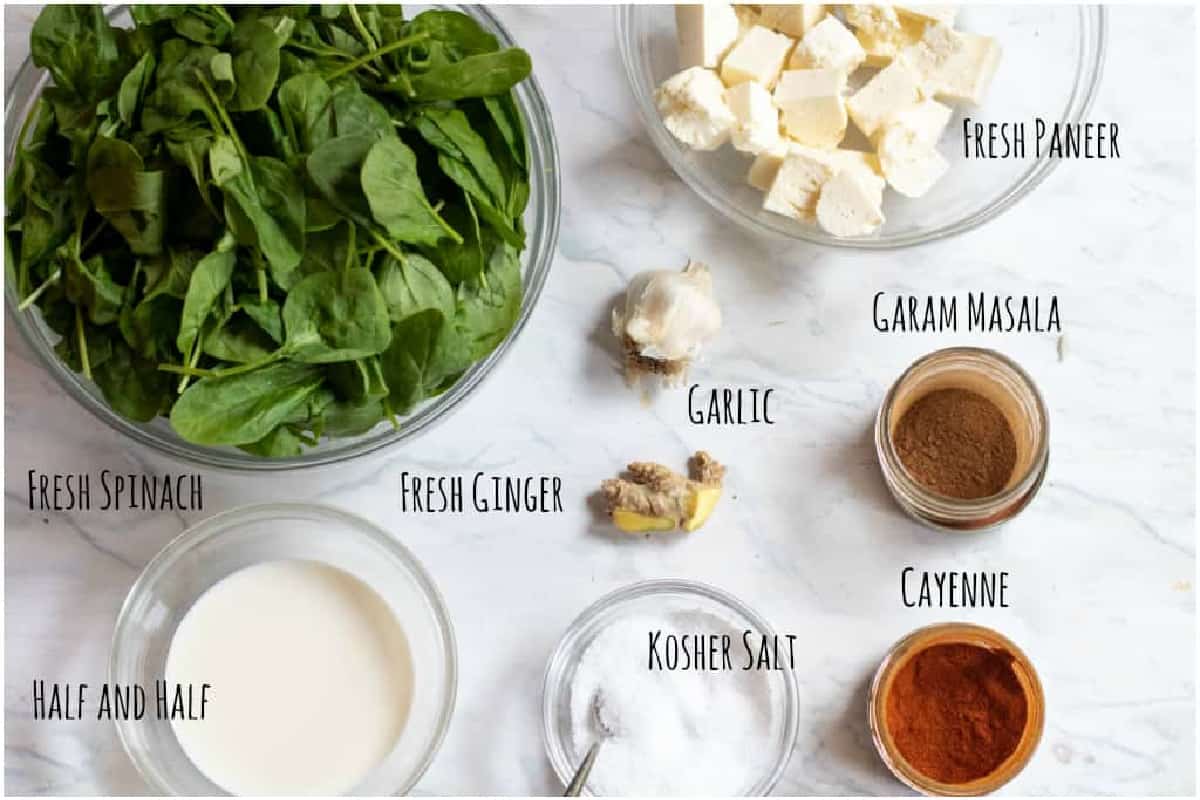 This is a dish that I love to make for a meatless meal that is full of flavor and still fairly simple.
Paneer Cheese - We usually make our own Homemade Paneer, but of course, you can also buy some at your favorite store.
Fresh Spinach - This could also be made with collard greens, mustard greens, or even kale. Although spinach is my favorite!
Half and Half - Typically it is made with heavy cream, but to make it a little lighter I like this just as much with half and half.
Fresh Garlic and Ginger - Definitely want fresh for this, substituting ground won't be the same!
Garam Masala and Cayenne - This is where all of the flavor comes from!
Canola or vegetable oil for frying the cheese - whichever you have, but you want to make sure you use a neutral flavored oil to not affect the flavors of the dish.
Step-by-Step Instructions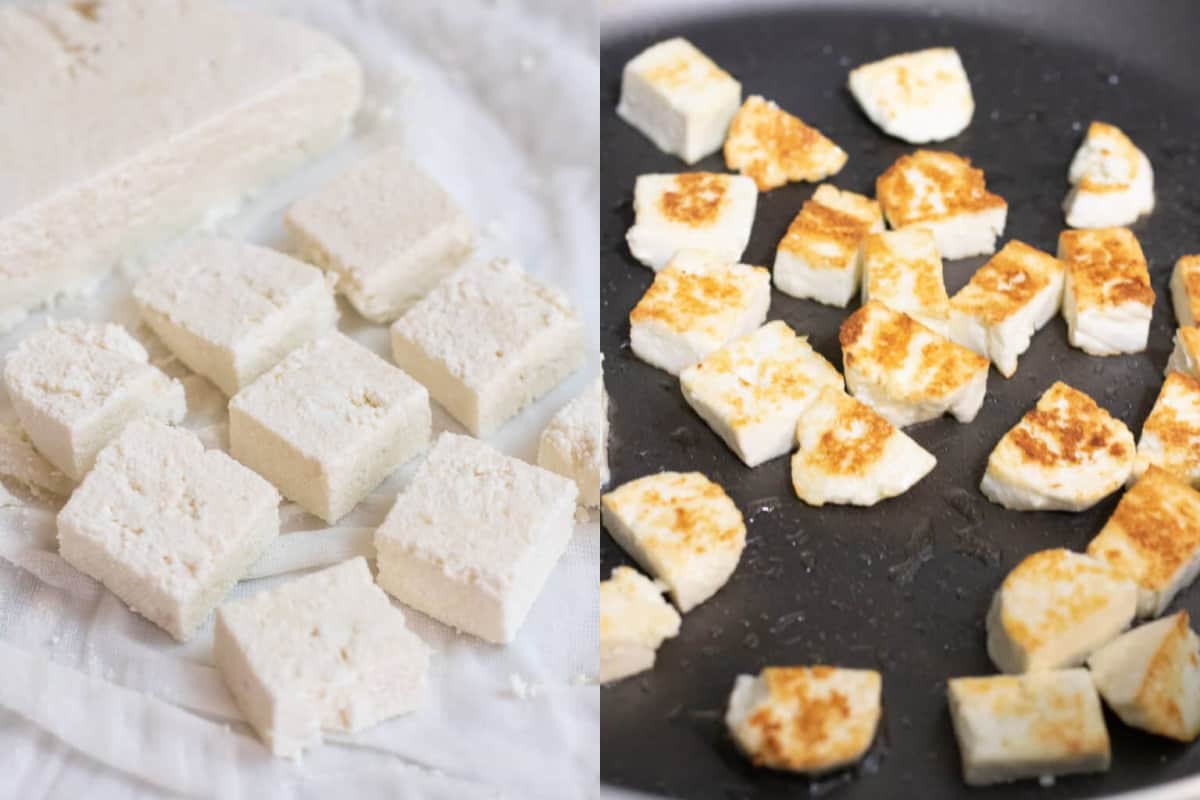 Step 1: Fry your cheese! Give 'em a little nice sear and browning on both sides. Don't worry, the cheese won't melt because of its low acidity. Once the cheese is lightly seared, then remove them from the pan, but be sure to leave the oil in the pan, you'll need it.
Tip: This will allow you to just toss your cheese at the end of cooking to soak up all of the flavors!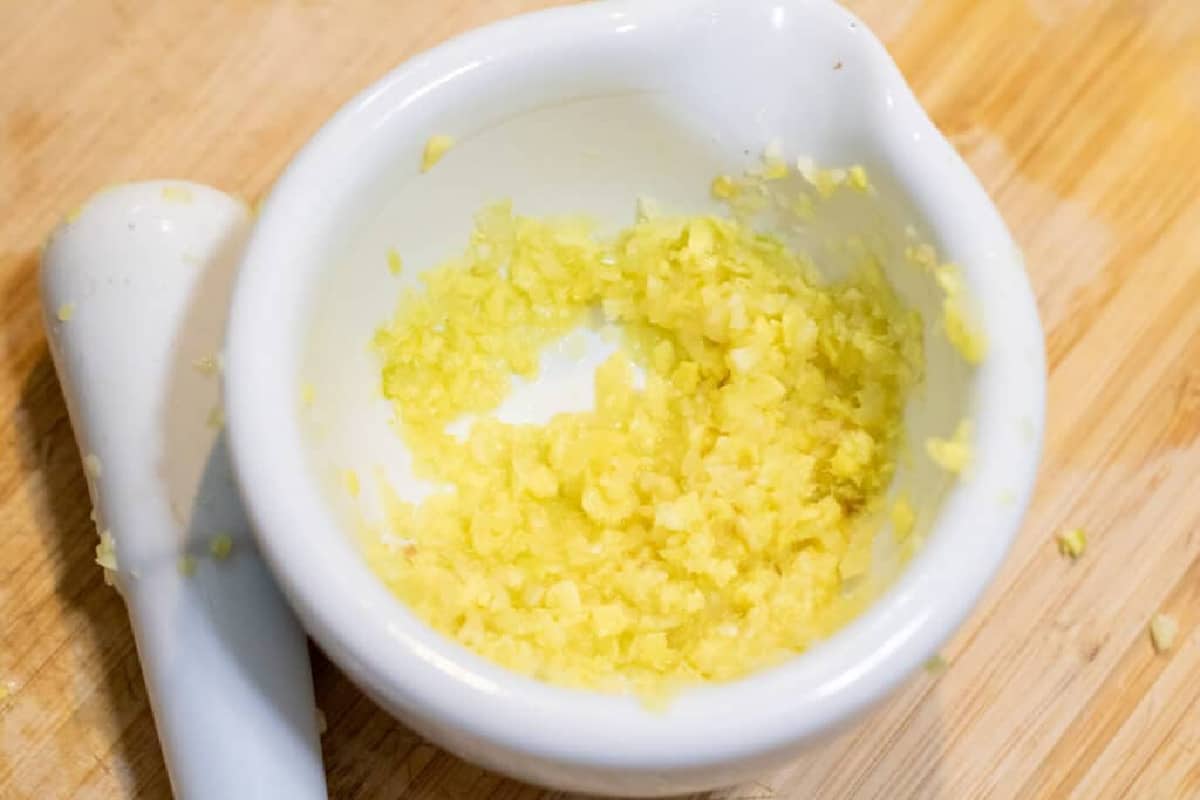 Step 2: Give the spinach a chop and then prep the ginger and garlic. You can just mince the ginger and garlic but you'll get the most flavor from them if you can grind them into a paste. You can do this with a mortar and pestle like this one or if you don't have one, you can also use a rolling pin, spice grinder, or even just anything else that you have with a blunt edge (that's safe!) to use to grind them down.
Step 3: Add this paste to your hot pan with leftover oil from frying the cheese, and give it a quick cook and then add the spinach and saute for a few minutes, before adding the half and half and spices and giving another stir to let it all meld together.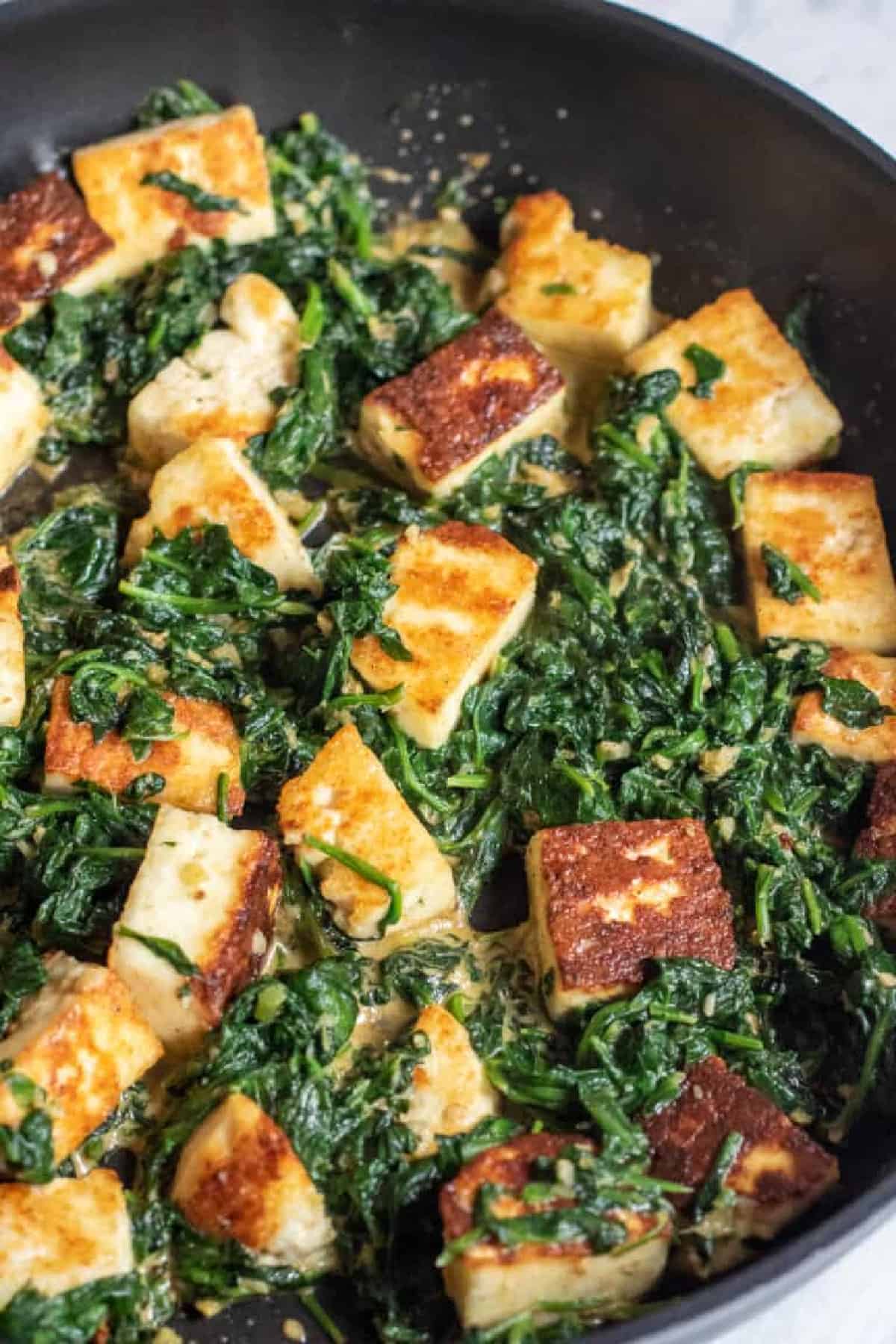 Step 4: Add the cheese back in, give another stir, and you're ready to serve!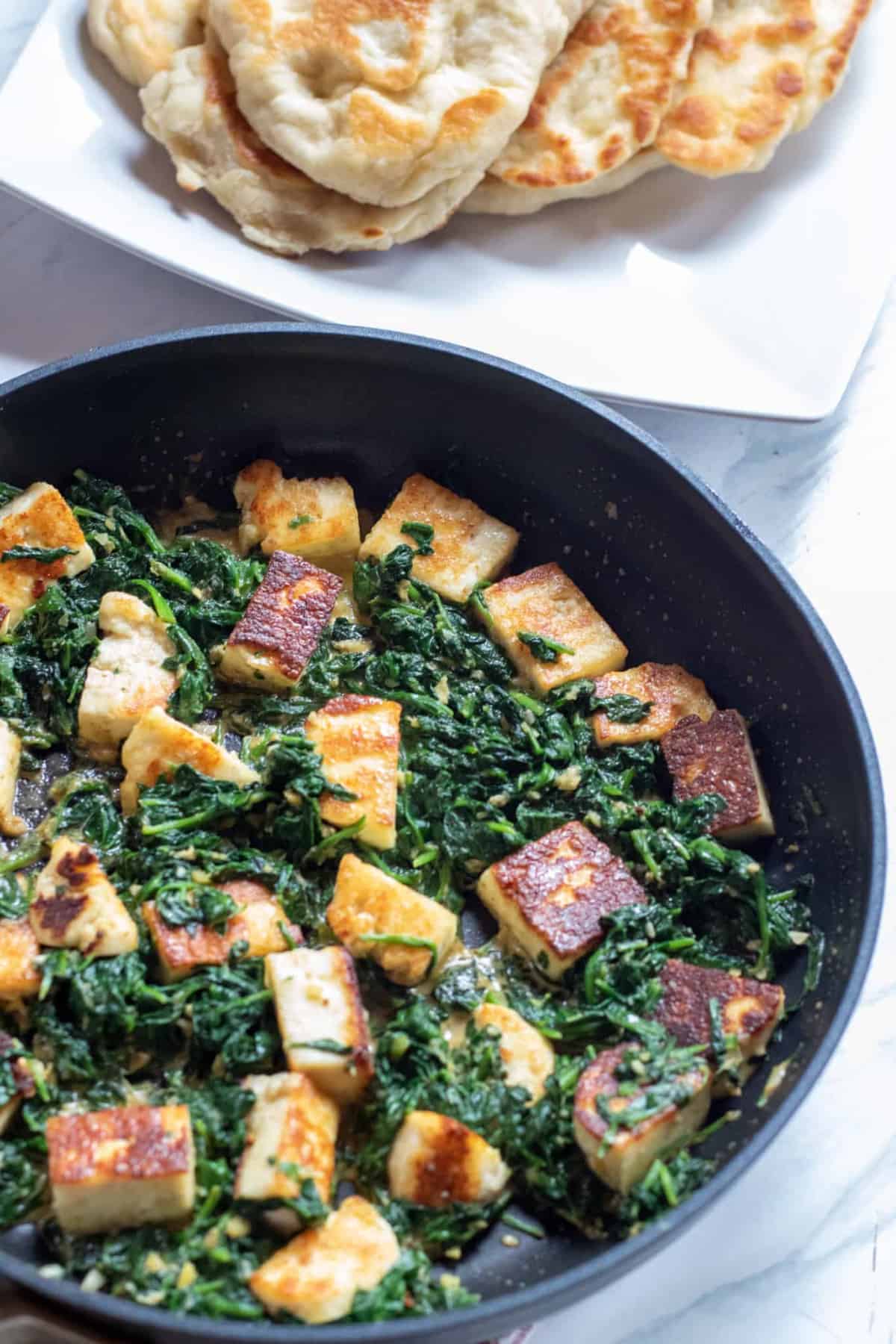 Our favorite way to make this a meal is to serve it with some of our Garlic Naan From Scratch and basmati rice!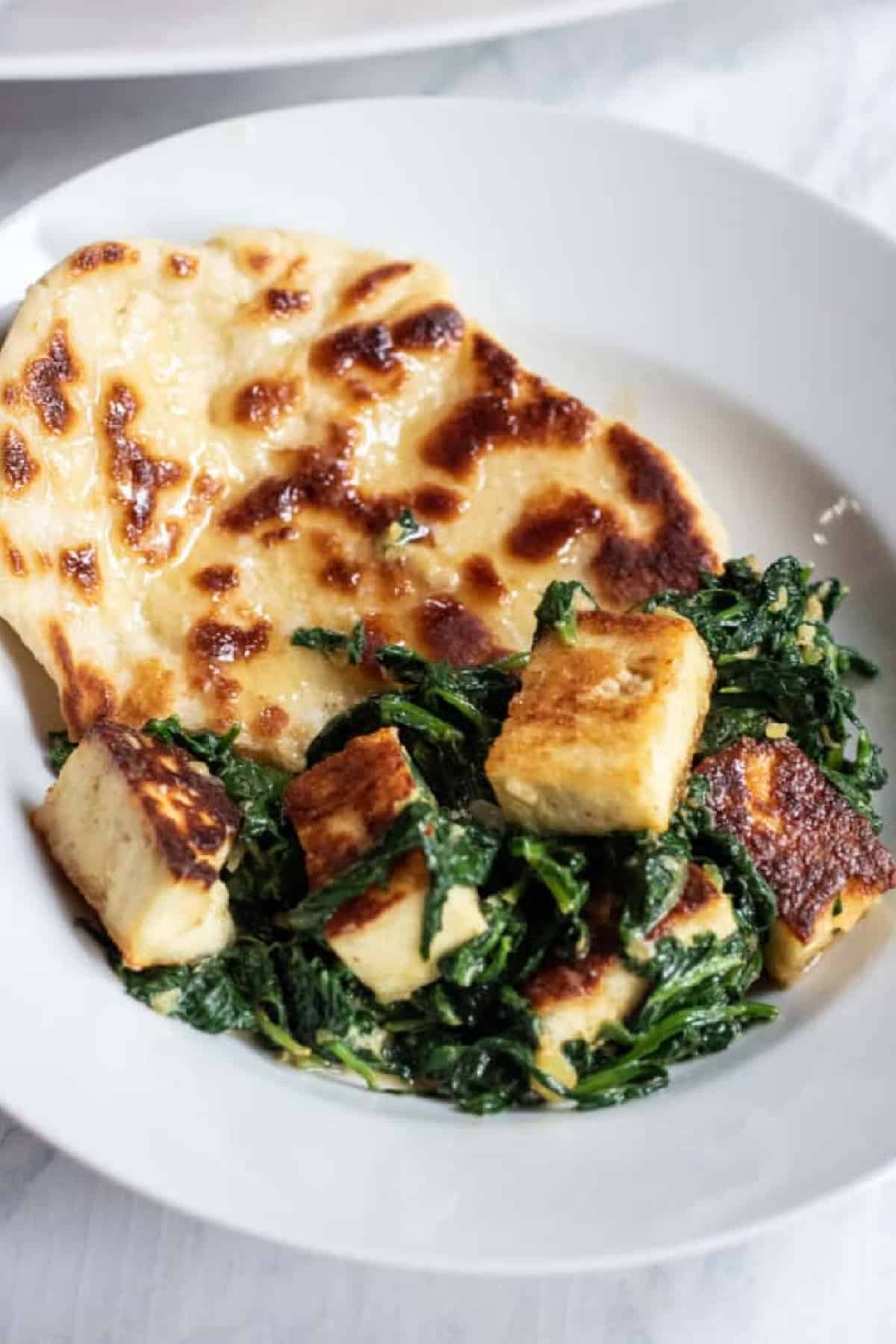 No matter what you serve it with, just make it. You won't regret it. It is a delightful departure from our normal dinner routine. Plus, I mean twist my arm to give me an excuse to make some of our Homemade Paneer.
Other Bold Flavored Dishes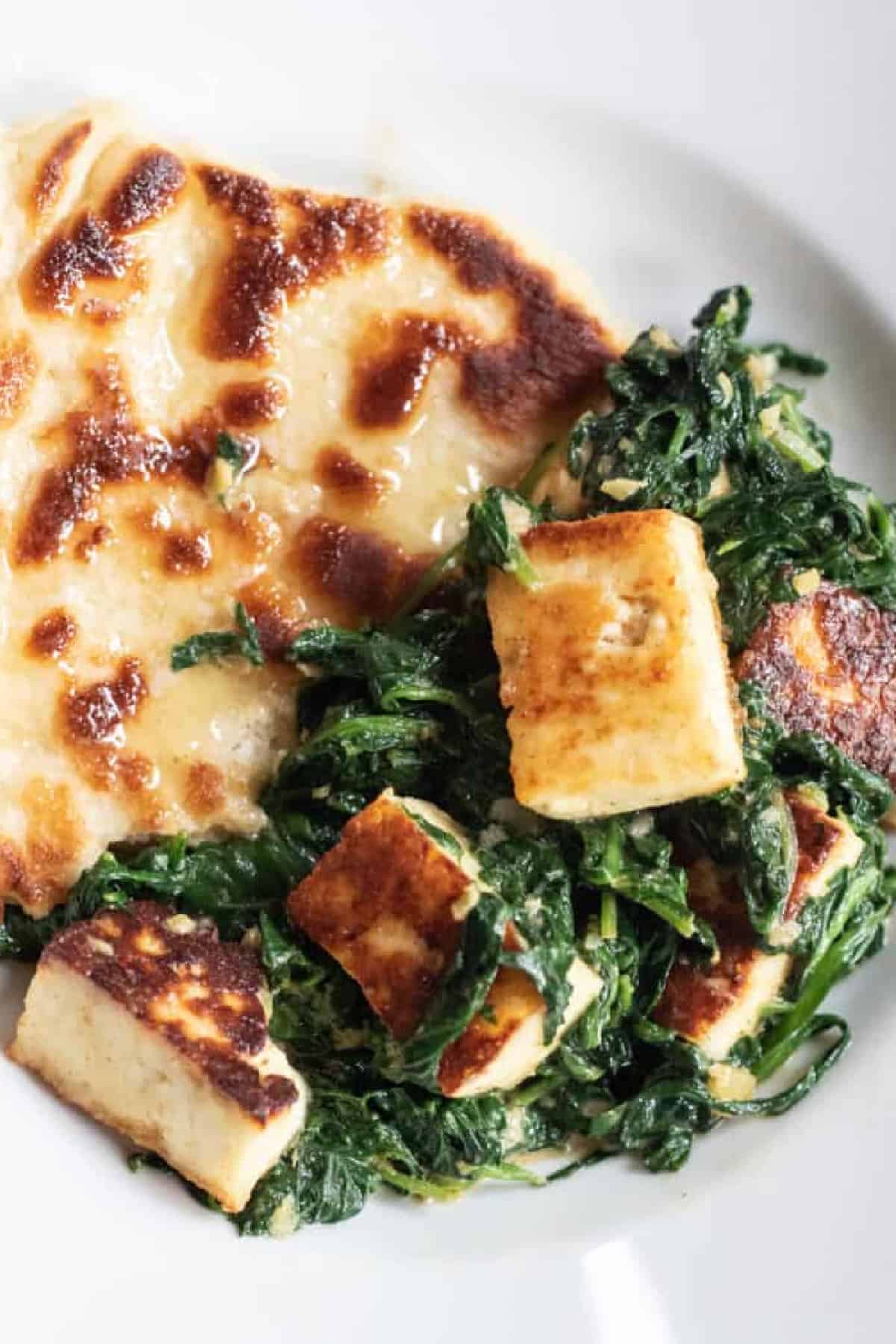 Enjoy! As always, if you make this recipe or any of my others, I love to hear what you think! Leave a comment below, email me, or you can find me on Facebook, Instagram, and Pinterest!
If you want to see more, be sure to sign up for my 5 Easy Ways to Start Cooking From Scratch!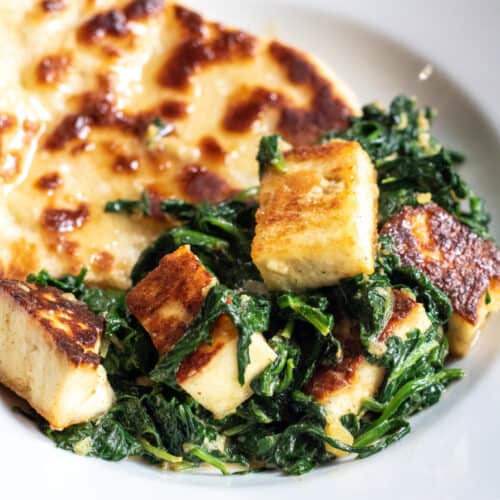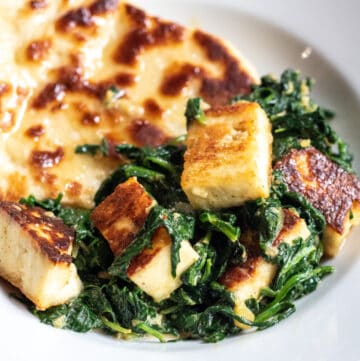 Saag Paneer
Love Indian food and have been wanting to try to make it at home? Then this creamy Saag Paneer is the perfect dish for you! It's an incredibly easy but super flavorful dish, and the perfect introduction to Indian cooking at home!
Print
Pin
Rate
Ingredients
7-8

oz

Paneer

2

tablespoons

vegetable oil or canola oil

4

cloves

garlic, minced

1

1″ piece of ginger, peeled and minced

1 -2

tablespoons

water

8

cups

fresh spinach

approximately 8 oz

Kosher salt

to taste

1/2

cup

half and half

½

teaspoons

garam masala

¼

teaspoons

cayenne
Instructions
Place garlic, ginger, a tablespoon or two of water in a mortar and pestle and crush into a paste (or use a small blender or a spice grinder and then mash in a bowl with some water).

Heat oil in a nonstick skillet over medium heat. Add cheese and fry until golden brown for about 3 minutes and then with tongs turn to fry on other side for another 3 minutes. Using a slotted spoon (to reserve oil), transfer cheese to a plate and set aside and reserve the oil in the skillet.

Add ginger-garlic paste, and cook, stirring, until fragrant, 30-60 seconds. Add spinach, salt to taste, and cook, stirring often, until spinach wilts, about 3-5 minutes. Reduce heat and stir in cream, garam masala, and cayenne. Continue to cook for another 2 minutes stirring in spinach.

Add cheese to skillet and continue cooking, stirring constantly allowing the liquid to thicken, about 5 minutes, or until it's to the consistency you'd like.

Serve with your favorite Naan and rice!
Nutrition
Calories:
351
kcal
|
Carbohydrates:
8
g
|
Protein:
13
g
|
Fat:
31
g
|
Saturated Fat:
20
g
|
Cholesterol:
59
mg
|
Sodium:
97
mg
|
Potassium:
515
mg
|
Fiber:
2
g
|
Sugar:
1
g
|
Vitamin A:
7714
IU
|
Vitamin C:
24
mg
|
Calcium:
446
mg
|
Iron:
2
mg