Creamy, dreamy, and packed full of flavor, our Creamy Curried Cauliflower Soup is so healthy and delicious and just so happens to be a gluten-free and vegan cauliflower soup, too!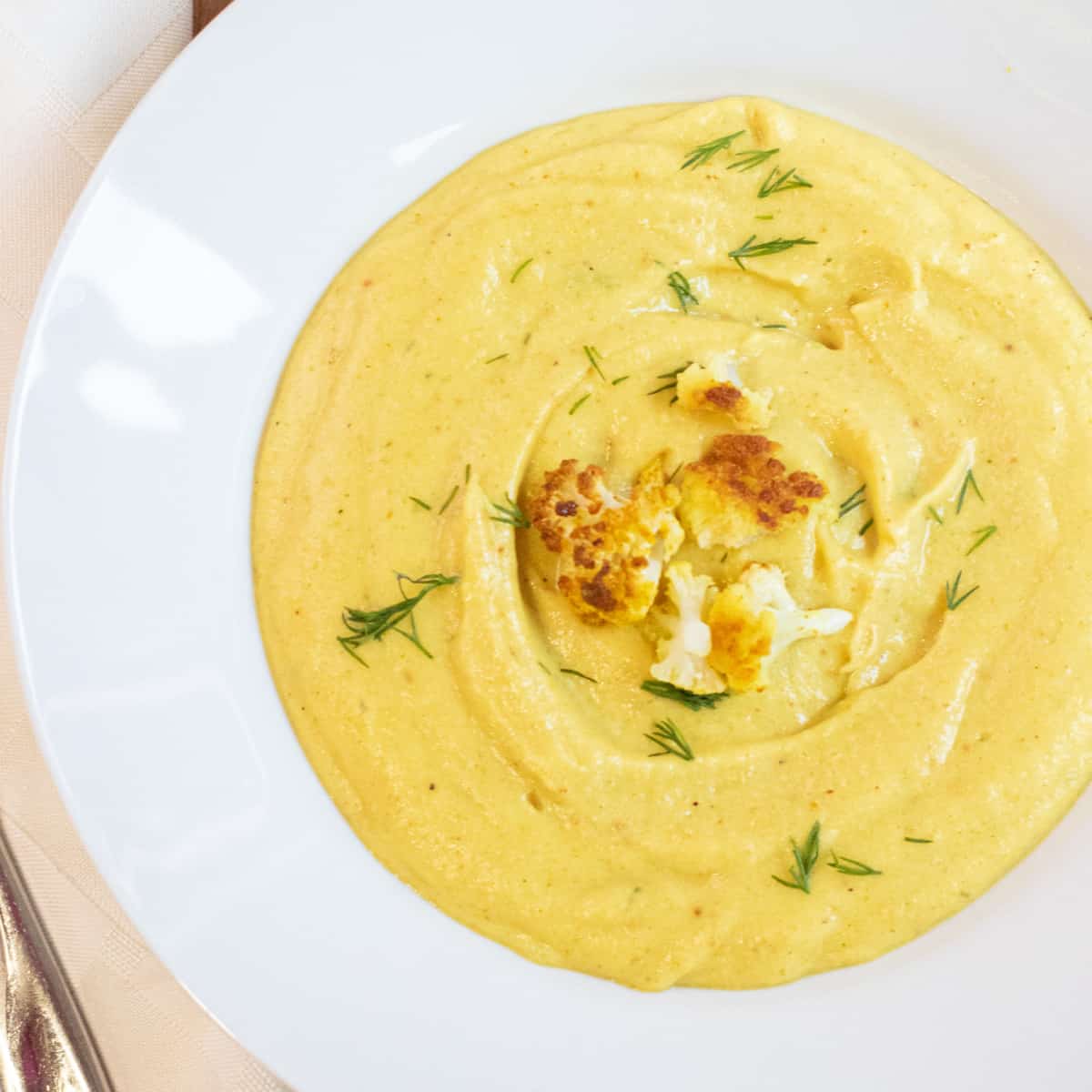 Packed full of flavor, our latest soup recipe is one that I've been eating on repeat! Our Creamy Curried Cauliflower Soup is creamy without any cream, or dairy at all, and is made with just a few simple ingredients but a ton of spices and flavor. Thick and creamy and dreamy and oh so easy to make, it also is a vegan cauliflower soup that's gluten-free as well, but one that will be enjoyed by nonvegans and gluten-lovers, too!
Ingredients Needed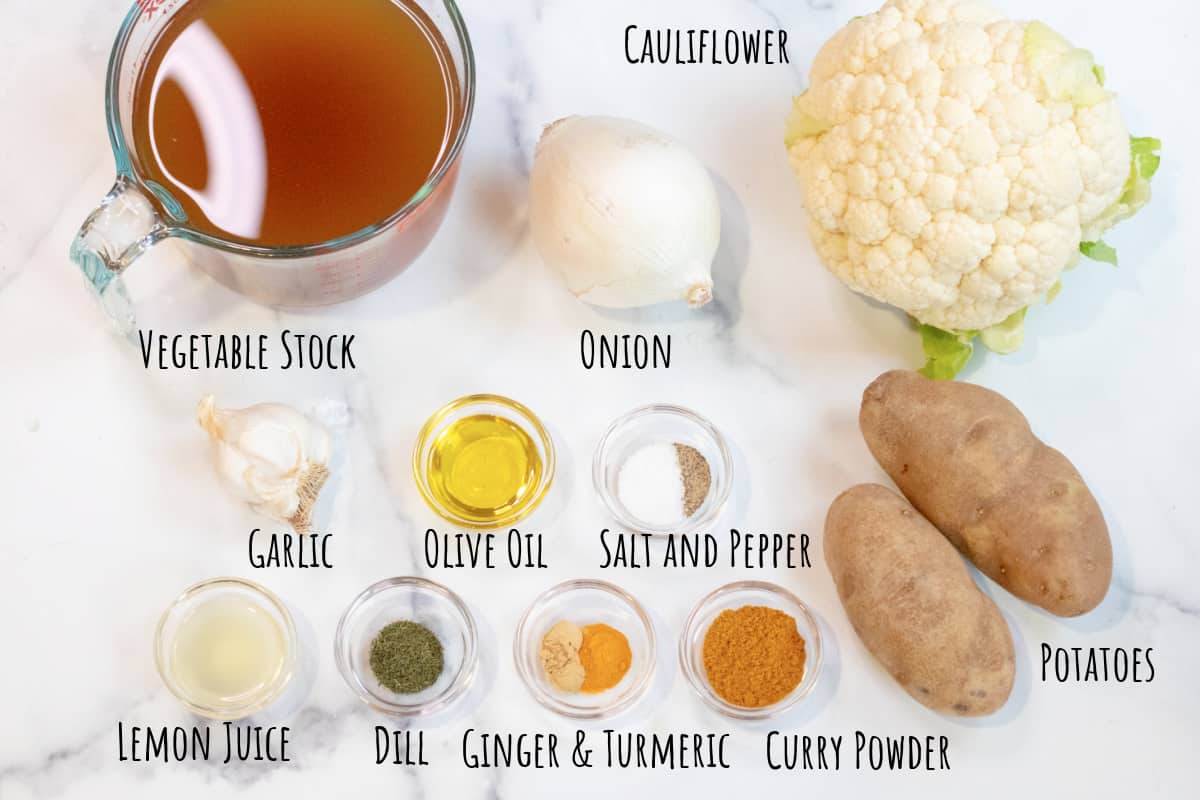 Cauliflower - Fresh is of course best, but frozen will work, too!
Potatoes - Just enough to add the right amount of starchy body to the soup. Russets are our favorite, but you could use your favorite, or even add some sweetness with some sweet potatoes!
Vegetable Stock - Have you made your own yet?
Onion and Garlic - Always, in all soups!
Curry Powder - For the "curried" part of this vegan cauliflower soup!
Ginger and Turmeric - Great compliments to the curry.
Dill - Fresh and/or dried! This adds a great complimentary herbal flavor to the curry!
Olive Oil, Salt, and Pepper - For roasting.
Lemon Juice - Just a touch to add the right amount of acidity.
So Easy to Make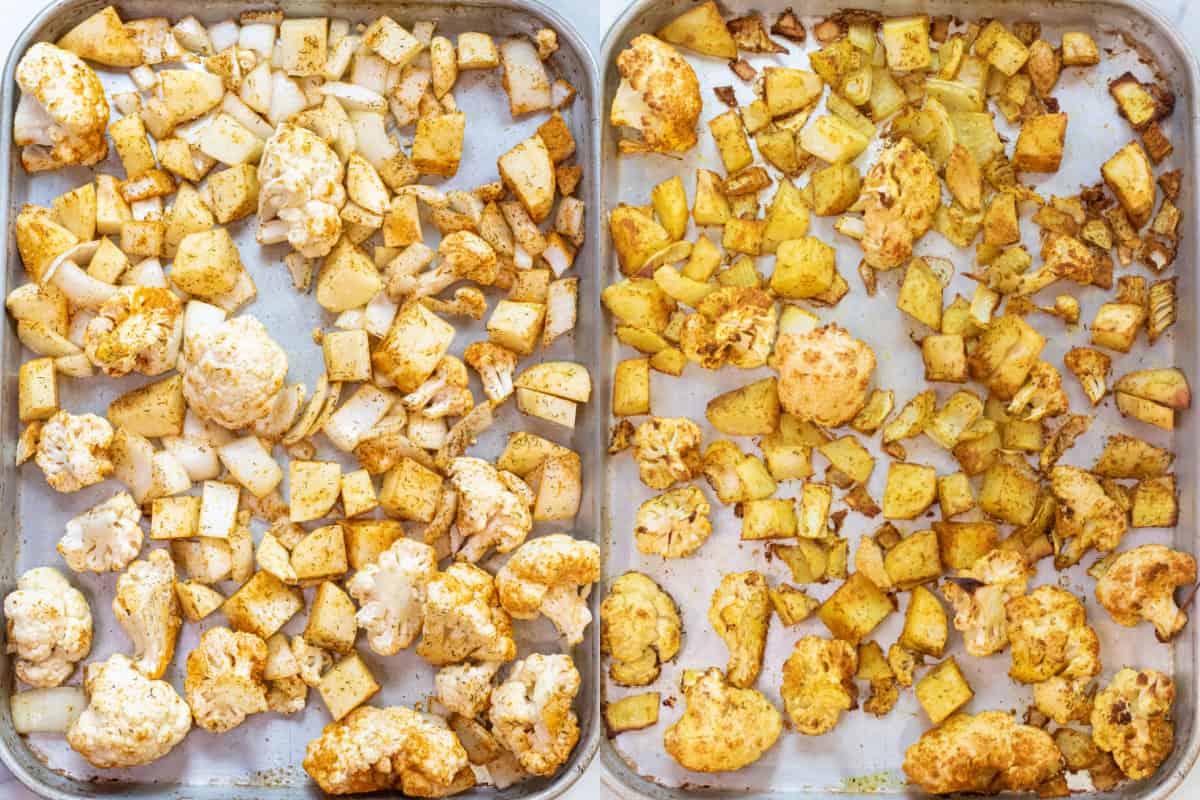 Roast The Veggies
One of the things I love about this curried cauliflower soup is that you pop all of the veggies coated in that incredibly flavorful savory curry spice mixture, and let it roast. No watching a pot, no simmering, just let it roast for 45 minutes so you can go about your life while it does its thing.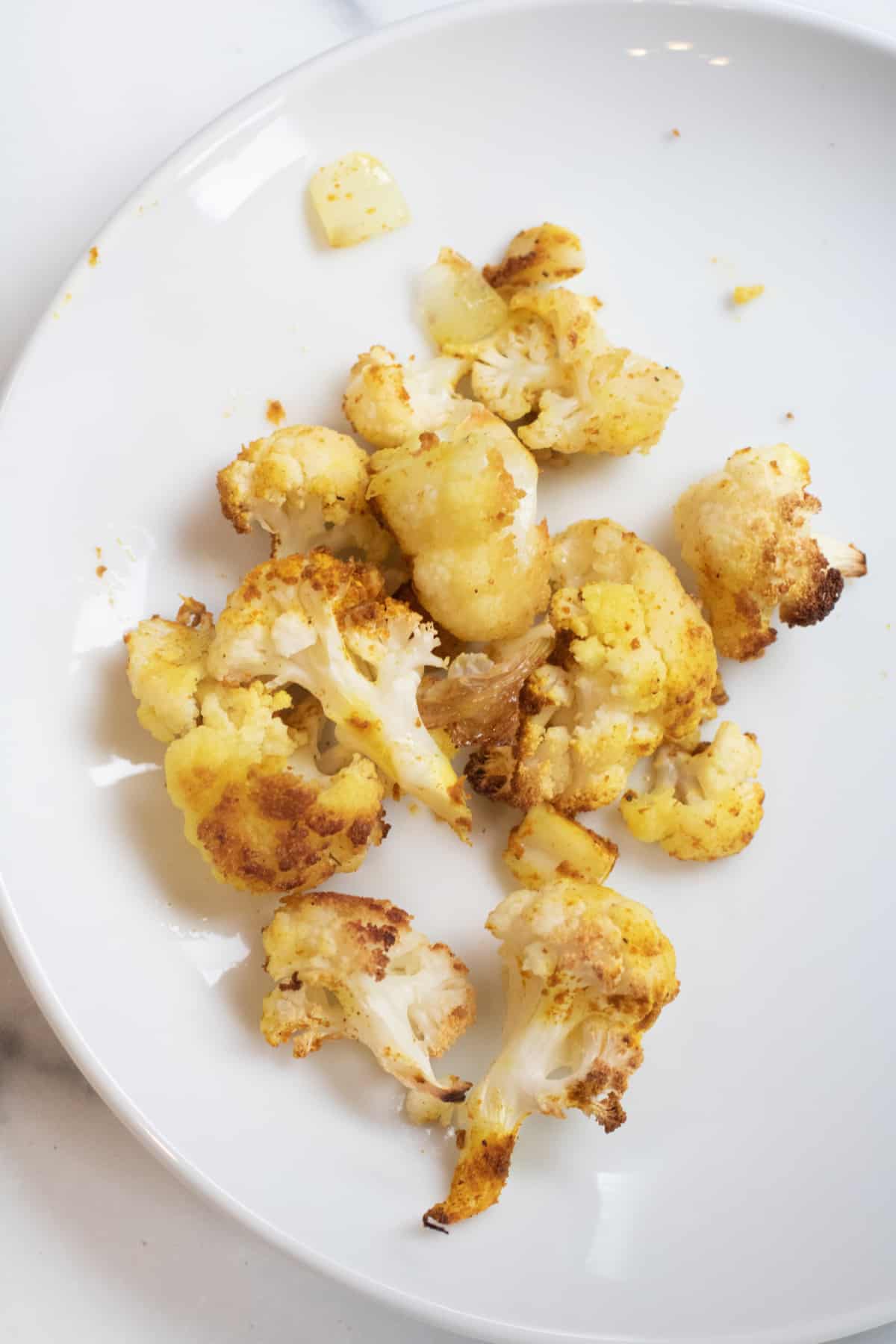 Be sure to pull aside a few of the roasted bits of cauliflower to be able to top your soup!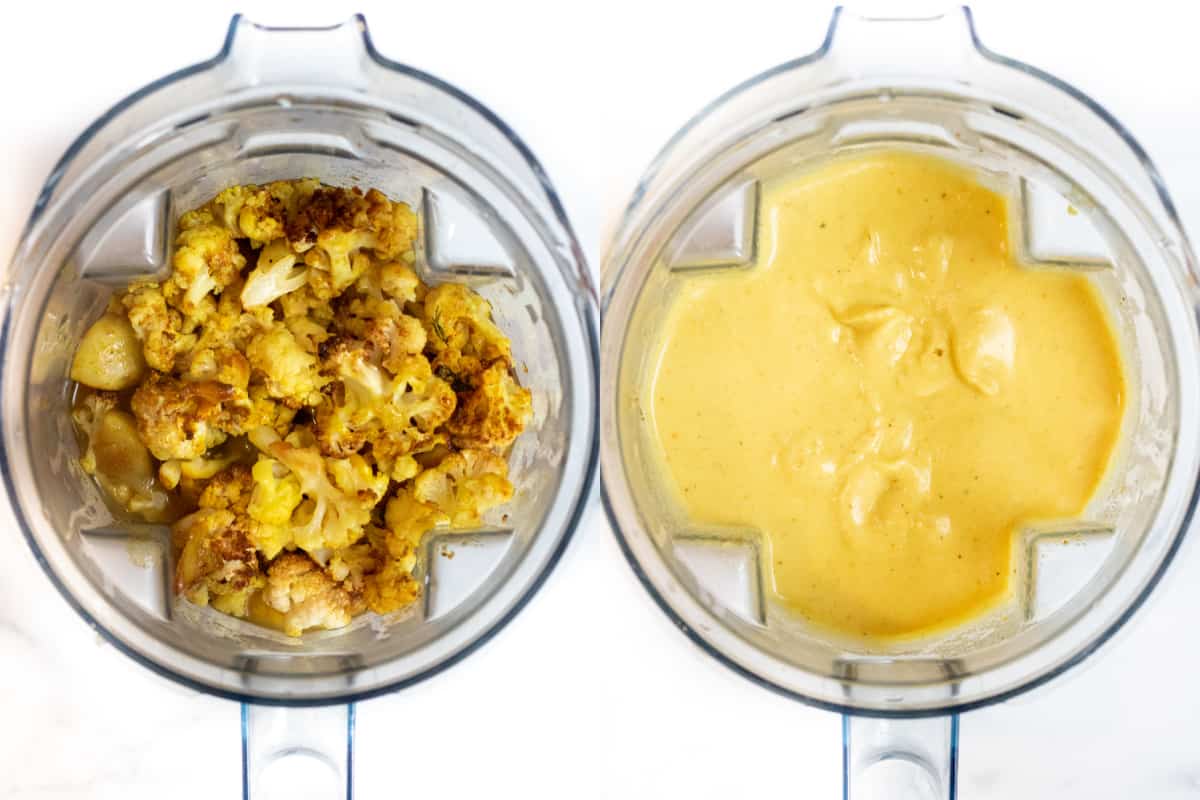 Blend
Once roasted, to make this creamy dreamy cauliflower soup, it's just a blend in your high-powered blender or blitzed with your immersion blender.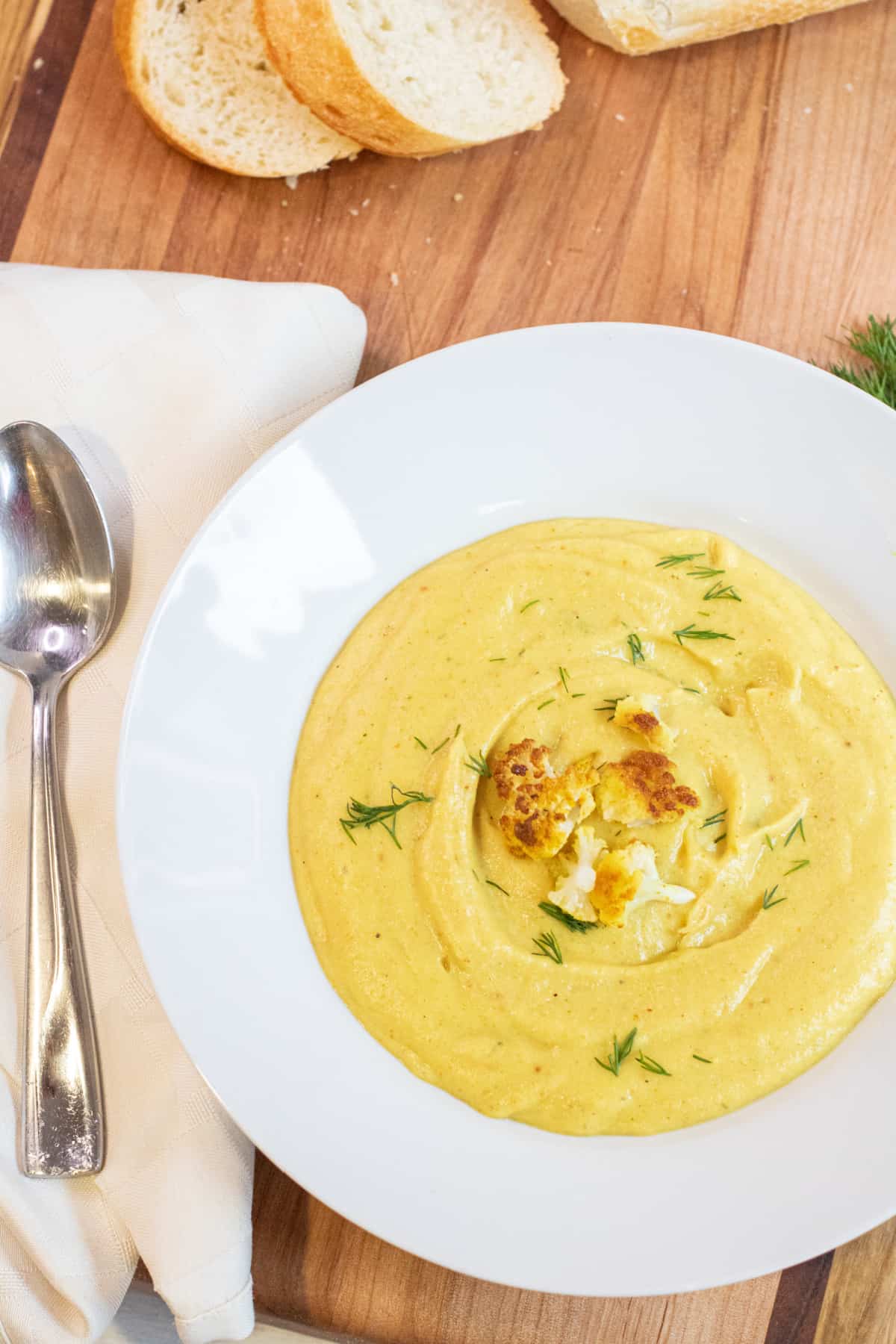 Done! Creamy Curried Cauliflower Soup! Topped with some of that saved roasted cauliflower and fresh dill, this vegan cauliflower soup looks so much fancier than it is to actually make!
Recipe Tips
Roasting Tip
For the best results of roasting the veggies, a keyword to keep in mind: Even.

Chop Evenly. Do your best to keep the veggies chopped as evenly in size as possible. With that said though, remember not all veggies roast at the same rate. Potatoes take longer than cauliflower, so you can chop your potatoes a little bigger than the cauliflower, but keep all of your potatoes the same size and your cauliflower the same size.
Coat Evenly. Be sure that when you oil and spice the veggies you evenly coat them.
Space Evenly. Be sure to evenly space your veggies on your baking sheet in one layer.
Blending
We absolutely love our Vitamix for all of our blending needs, but you can use another strong blender or immersion blender. Keep in mind you may need to blend in batches depending on the size of your blender. Also, if blending with an immersion blender, add it all with the stock to a pot over low on the stovetop.
Finishing Touches
While we love some reserved roasted cauliflower pieces and fresh dill to top this soup with, you can add a variety of other toppings! Some great ones include:

Croutons
Crispy Fried Onions
Sour Cream
A drizzle of olive oil or cream
Green Onions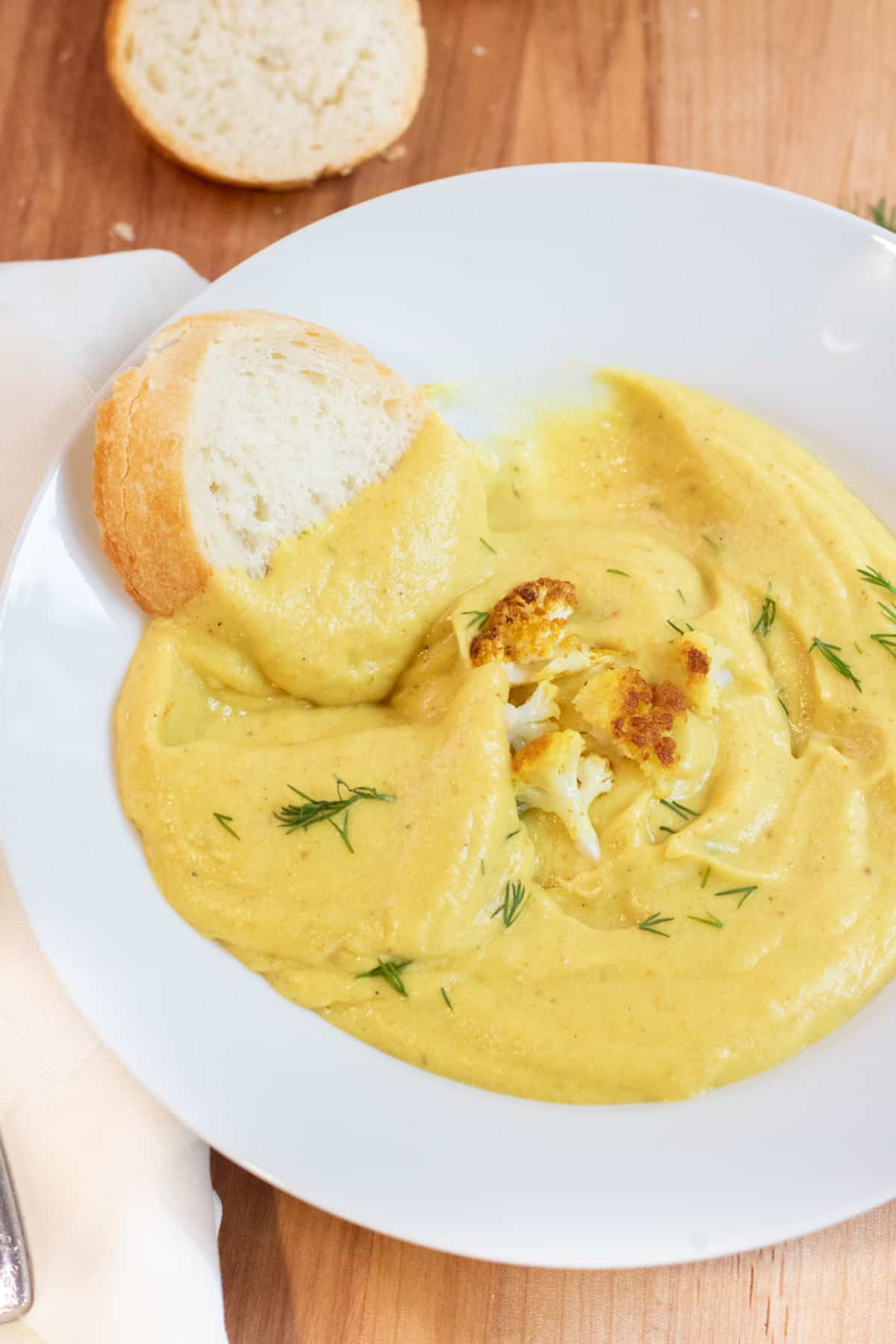 This creamy cauliflower soup is just begging for your favorite bread to sop it up with!
Serve it With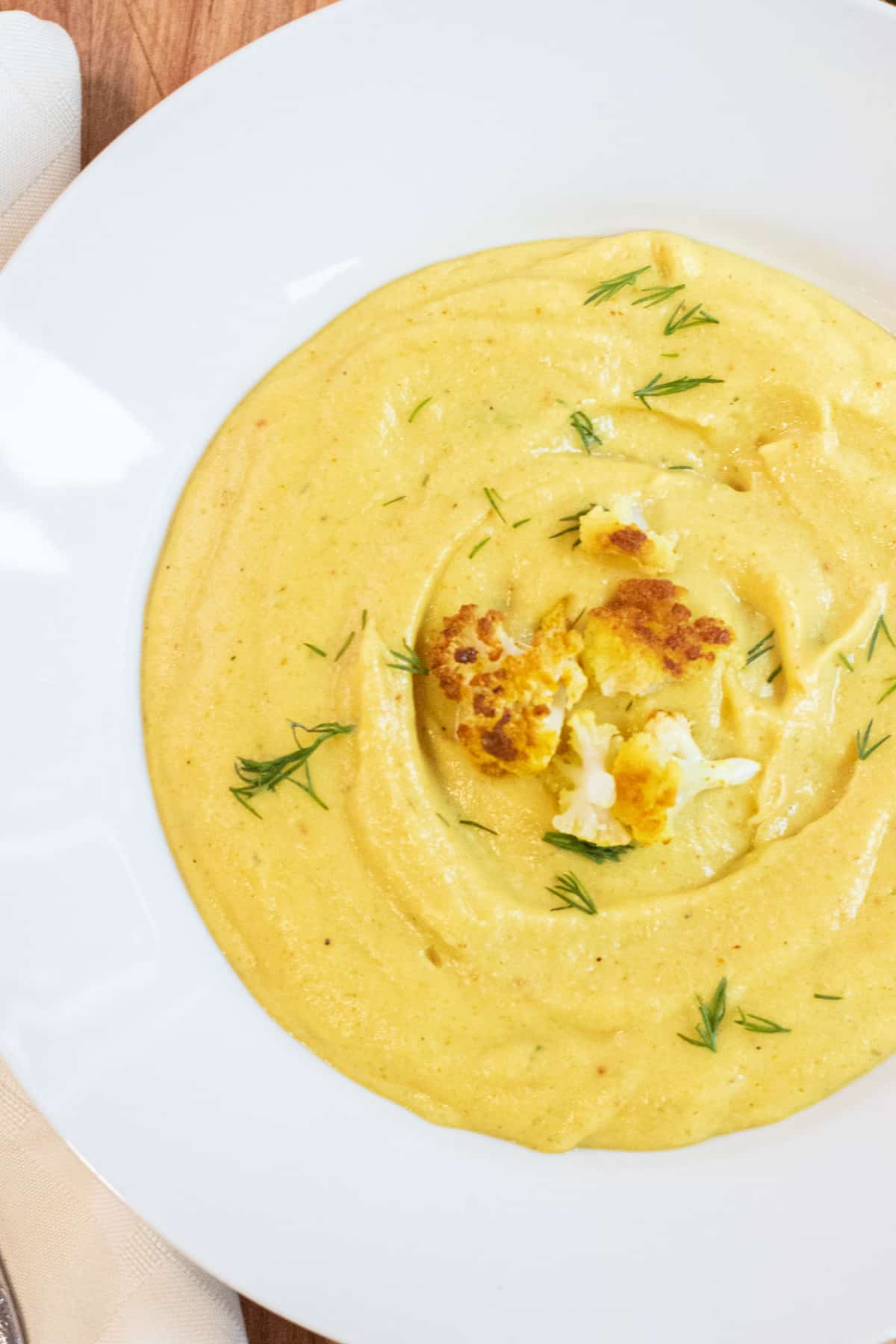 Enjoy! As always, if you make this recipe or any of my others, I love to hear what you think! Leave a comment below, email me, or you can find me on Facebook, Instagram, and Pinterest!
If you want to see more, be sure to sign up for my 5 Easy Ways to Start Cooking From Scratch!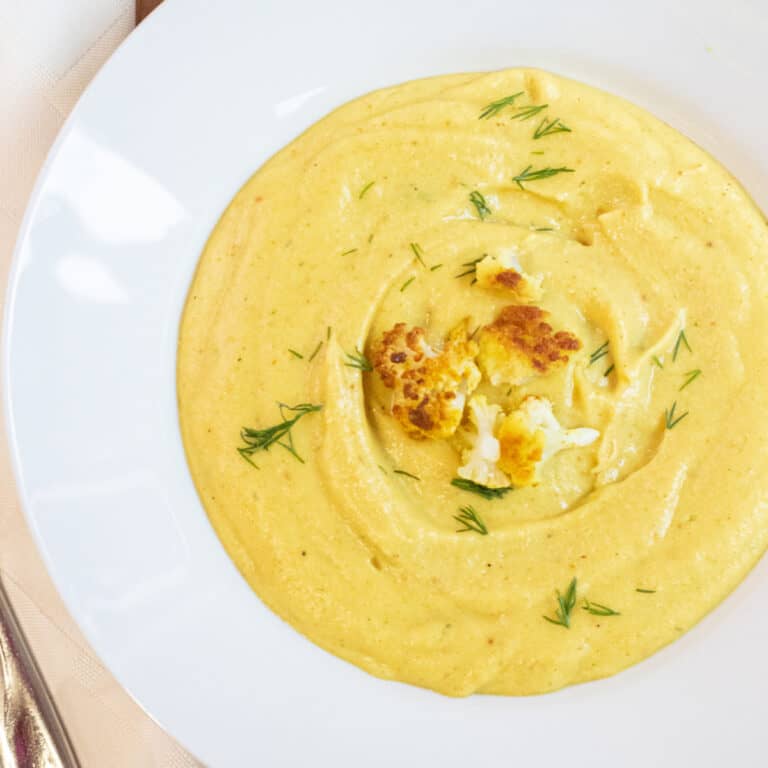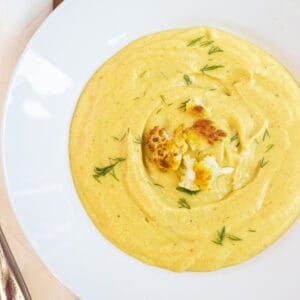 Creamy Curried Cauliflower Soup
A creamy dreamy and incredibly flavorful cauliflower soup!
Print
Pin
Rate
Equipment
Vitamix or high powered blender

large roasting pan or rimmed sheet
Ingredients
1

large

head of cauliflower

approximately 4 cups of florets or 1 lb of florets

2

large

russet potatoes

approximately 2 cups or 12 oz

3

cloves

fresh garlic

1

white onion

chopped, approximately 1 cup

4

cups

vegetable stock

2

tablespoons

olive oil

1

teaspoon

kosher salt

2

teaspoons

curry powder

1

teaspoon

ground turmeric

1/8

teaspoon

chili powder

1/2

teaspoon

ground ginger

1/4

teaspoon

dried dill

1

tablespoon

lemon juice

fresh dill

to garnish
Instructions
Cut cauliflower into florets, doing your best to keep them all around the same size. Do the same for the onion. Peel and chop your potatoes in slightly large sizes than the cauliflower, but also in equal-sized pieces. Add to a large bowl and add whole garlic cloves.

In a small bowl, add salt, curry, turmeric, chili powder, ginger, and dill. Mix.

Drizzle olive oil over the cauliflower and potatoes in the bowl and mix well. The sprinkle half of the spices and mix well. Add the other half of the spices and mix again, ensuring that all of veggies are coated.

Pour the contents of the bowl onto a large-rimmed baking sheet or baking dish and spread them out so that they are in an even layer. Roast for 40-45 minutes until potatoes are fork tender.

About 5 minutes before the veggies are done roasting, add vegetable stock to a large pot (if using an immersion blender) and heat on medium-low. If using a high-powered blender, you can just heat the stock in the microwave or a smaller pot.

Once the veggies are done, reserve a few pieces of the cauliflower and set aside to garnish the soup with (if desired) and then add them add the rest to the blender (depending on the size of your blender, you may need to do it in batches) and add the warm stock and lemon juice and blend until creamy. Or add veggies to the large pot of stock and use an immersion blender to blend until creamy.

Serve immediately and top with reserved roasted cauliflower pieces and fresh dill.
Notes
Storage
Fridge: Store soup in an airtight container for up to 4 days.
Freezer: Store in a freezer-safe container for up to 3 months.
Substitutions
Cauliflower: You can use frozen cauliflower, you'll need about 4 cups or 1 lb worth of florets. Thaw before roasting.
Potatoes: Russets are our favorite, although you could use yellow as well. Sweet potatoes could be used to add even more sweetness to the soup, too!
Onion: White or yellow.
Dill: You can use all fresh by using 1 teaspoon fresh for the 1/4 teaspoon dried.
Nutrition
Calories:
175
kcal
|
Carbohydrates:
34
g
|
Protein:
6
g
|
Fat:
3
g
|
Saturated Fat:
1
g
|
Polyunsaturated Fat:
0.4
g
|
Monounsaturated Fat:
2
g
|
Sodium:
1065
mg
|
Potassium:
990
mg
|
Fiber:
5
g
|
Sugar:
6
g
|
Vitamin A:
357
IU
|
Vitamin C:
77
mg
|
Calcium:
59
mg
|
Iron:
2
mg