Don't let those chicken bones go to waste, save some money, and add some from scratch flair to all of your soups and favorite recipes by following these simple steps to learn how to make your own Chicken Stock From Scratch!
Use it to make some of our favorite soups like our Crock Pot Chicken Pho, or Homemade Condensed Cream of Chicken Soup!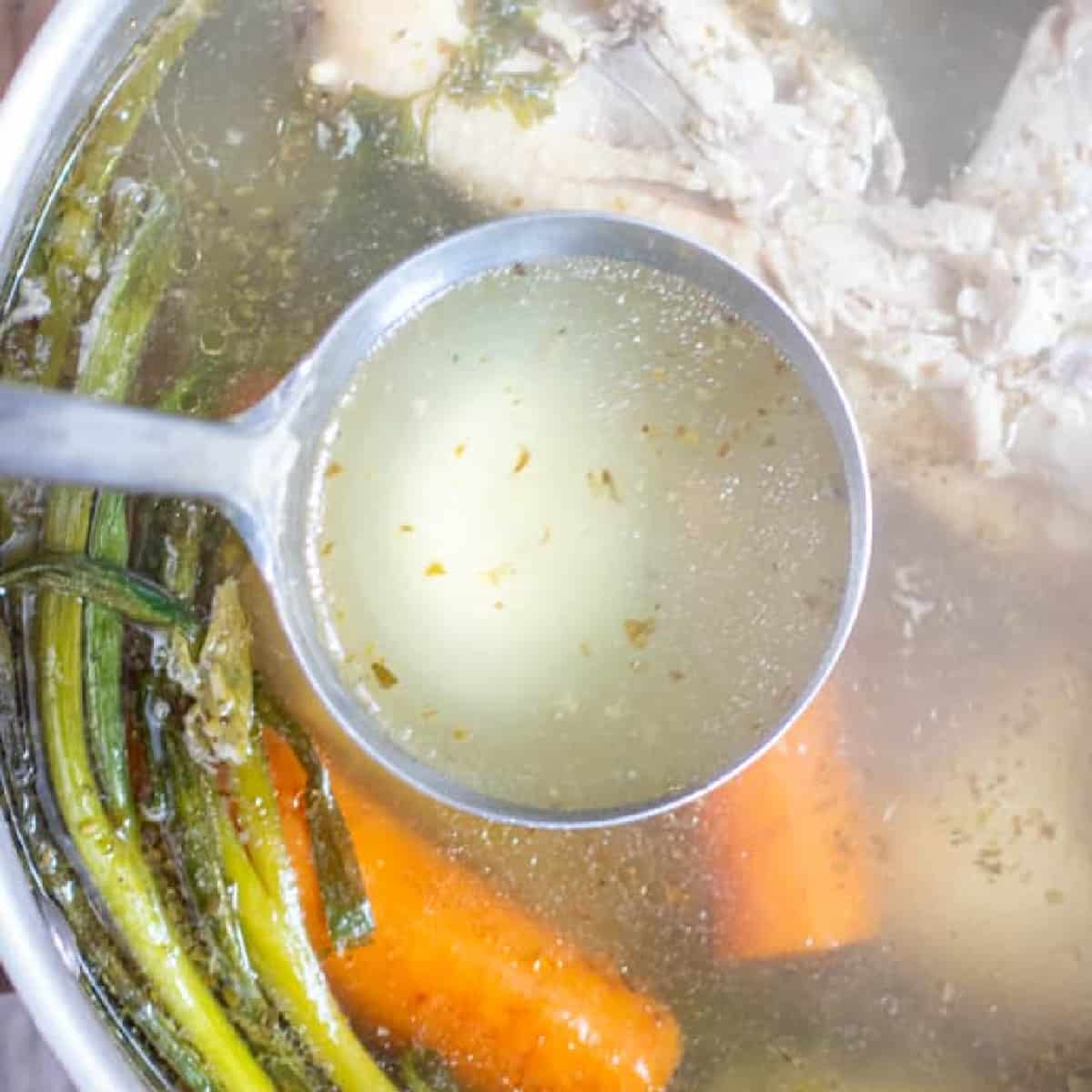 Homemade Chicken Stock From Scratch is probably one of the easiest ways to add a little from scratch flair to your favorite soups and any other recipes that use a flavorful stock. Not only is it delicious, so customizable, but it also allows you to get even more use out of leftover chicken bones.
Ingredients Needed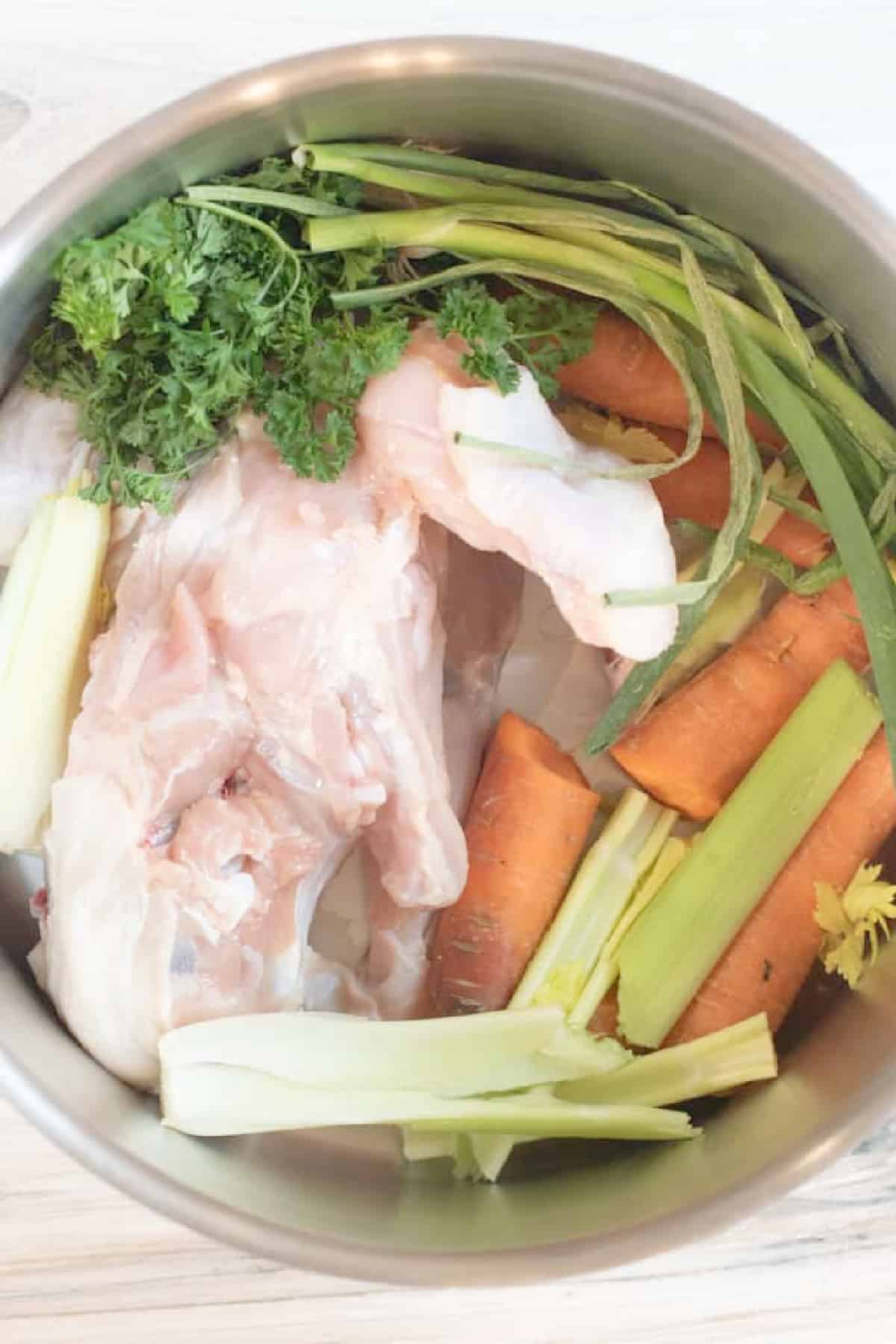 One of the best parts of making your own chicken stock from scratch is that there's really no rule about what to put in it, except chicken bones. From there, it's up to you or whatever you have in your fridge. It's a great way to use those veggies that getting just a little too old. Some of our standards in homemade chicken stock:
Carrots
Celery - especially the core and the leaves
Onions
Garlic
Fresh herbs - a perfect way to use up the rest of that bunch of parsley that you bought for something else but didn't get to using the whole bunch.
Green Onions / Chives - These usually always go into my stock because I always seem to have some leftover from something and am never able to use all of them in time.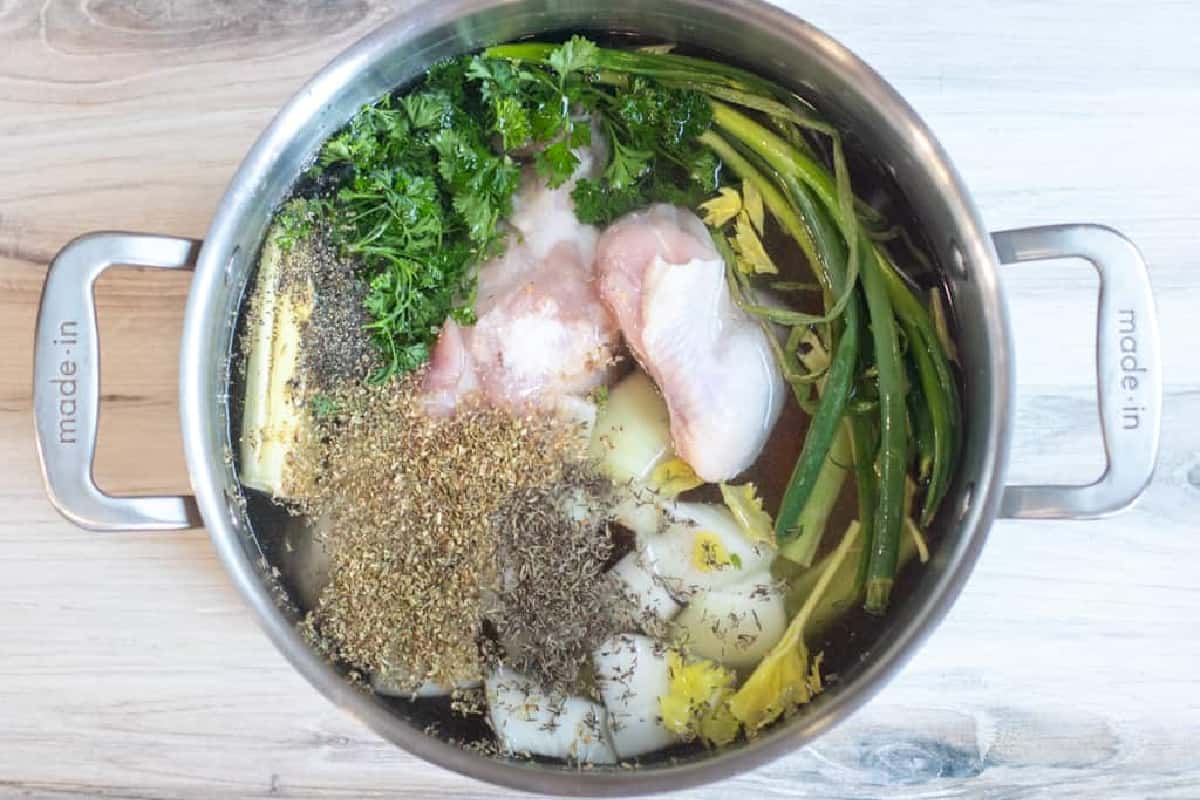 Dried Herbs and Spices - We love to add oregano, thyme, sage, and of course plenty of salt and pepper.
Chicken Stock vs. Chicken Broth
Is there a difference? Yes, yes there definitely is!
Chicken Stock is made from simmering chicken bones for an extended period of time. This makes it thicker and richer due to the marrow from the bones.
Chicken Broth is thinner than stock as it is made from simmering the chicken meat without the bones.
Slow and Steady Simmer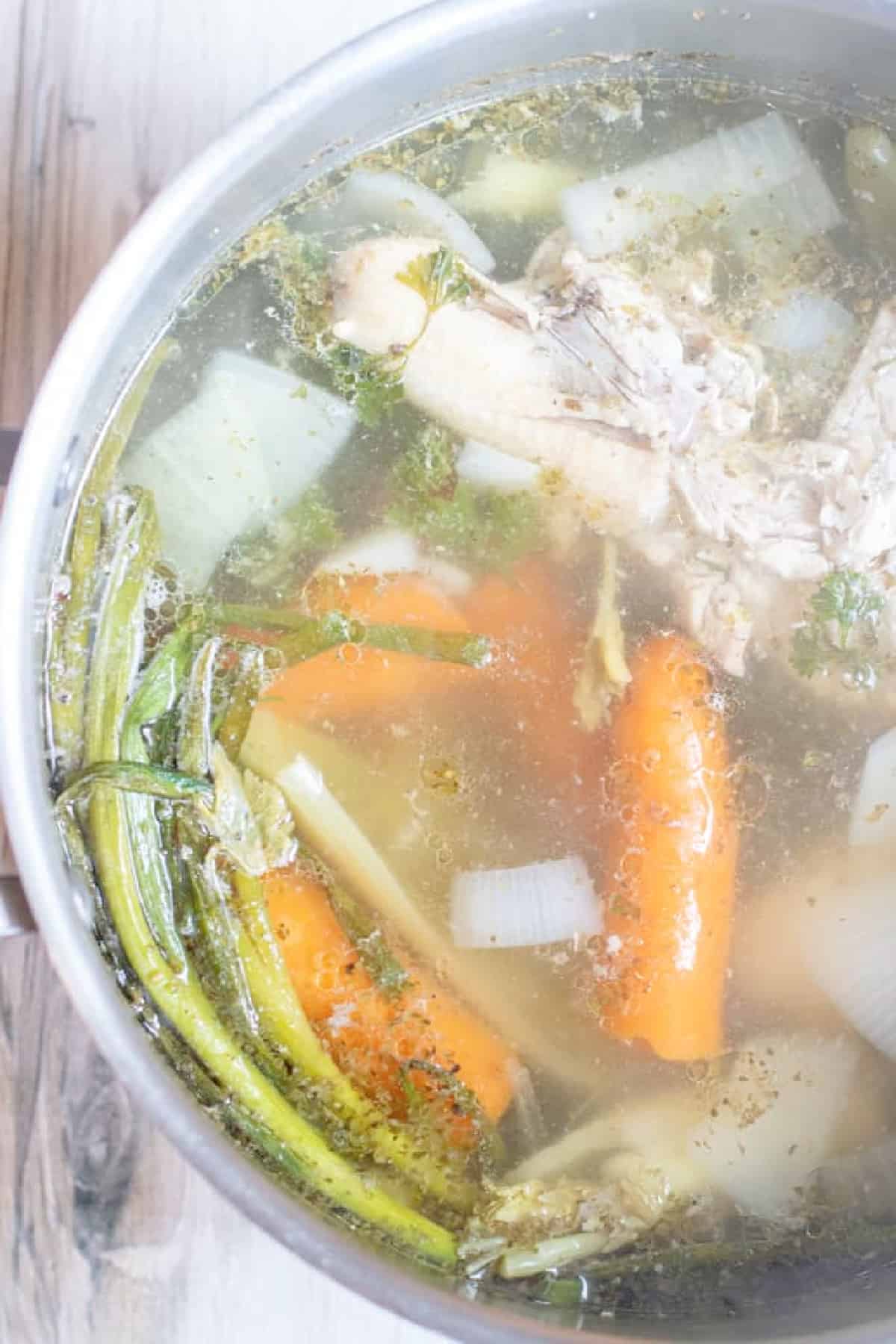 The key to making a good stock is the nice long simmer. This is what will allow it to become rich and flavorful.
Bring it to a boil, but then reduce the heat to a simmer. This will create a nice clean both.
But if for some reason you've let it boil too long and have a cloudy stock, no problem, you can easily Clarify Stock.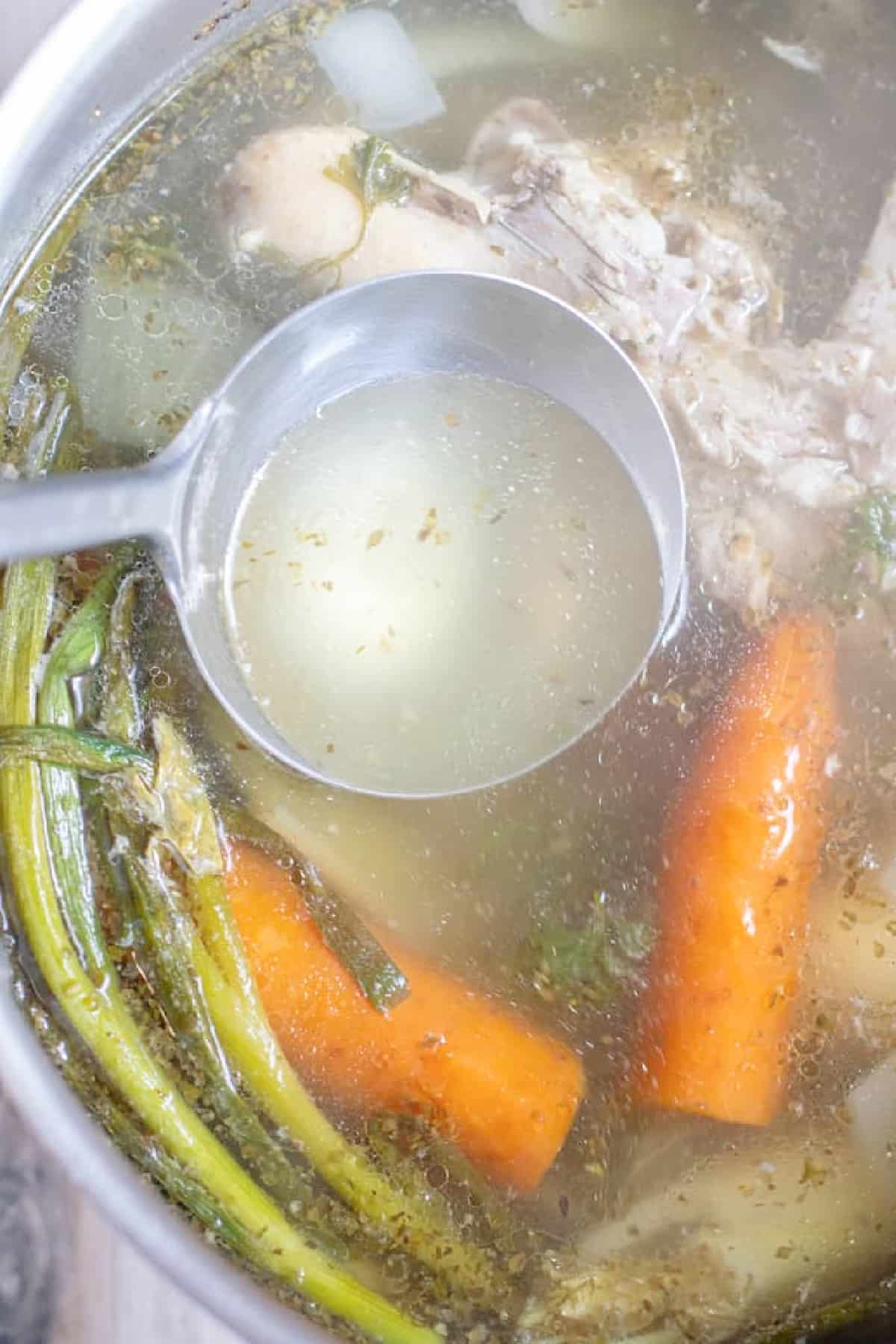 So rich and flavorful!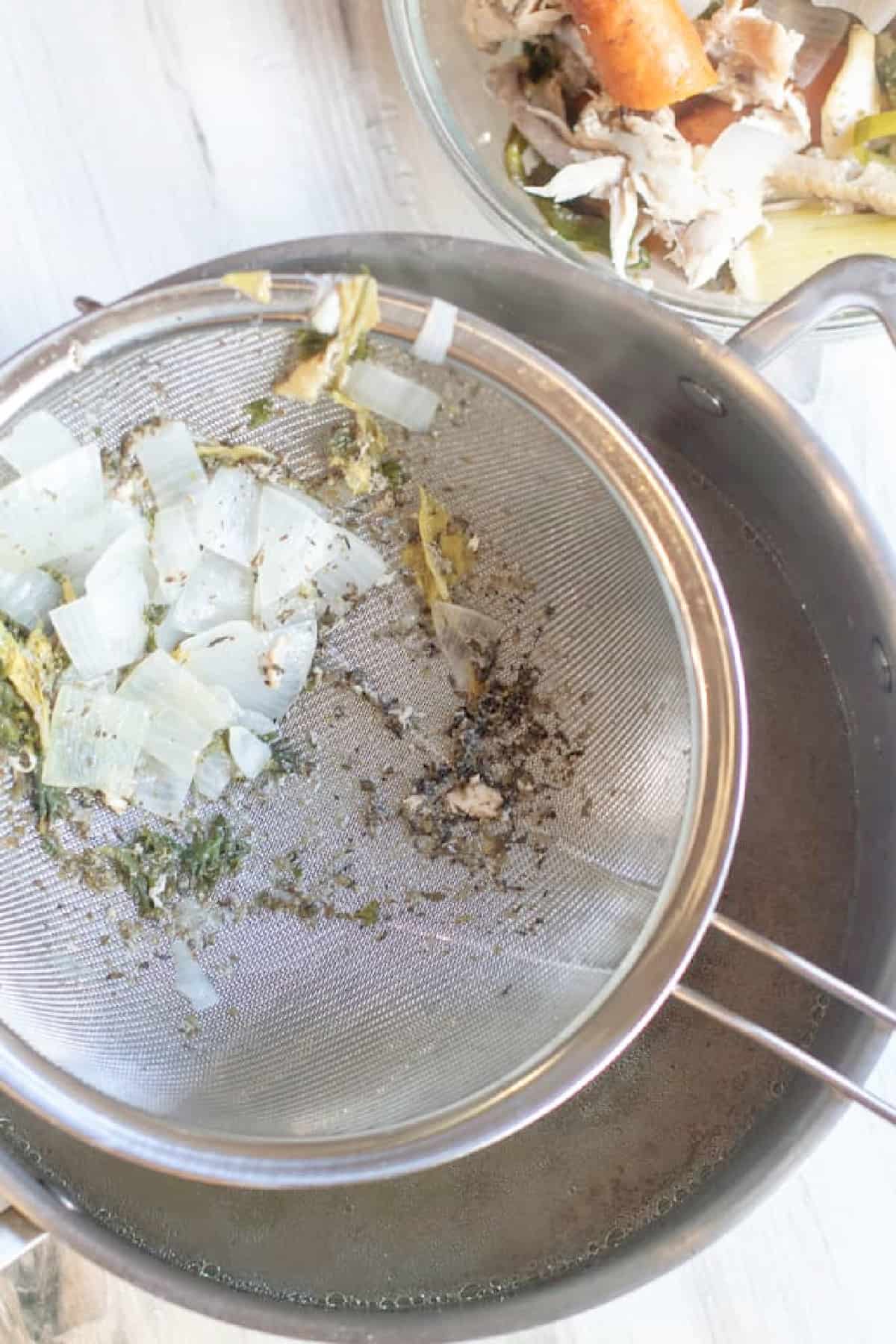 Remove the veggies, bones, and herbs for a clear homemade chicken stock from scratch. We love to use a small sieve to do this. The finer the sieve, the more of those small herbs you'll be able to remove.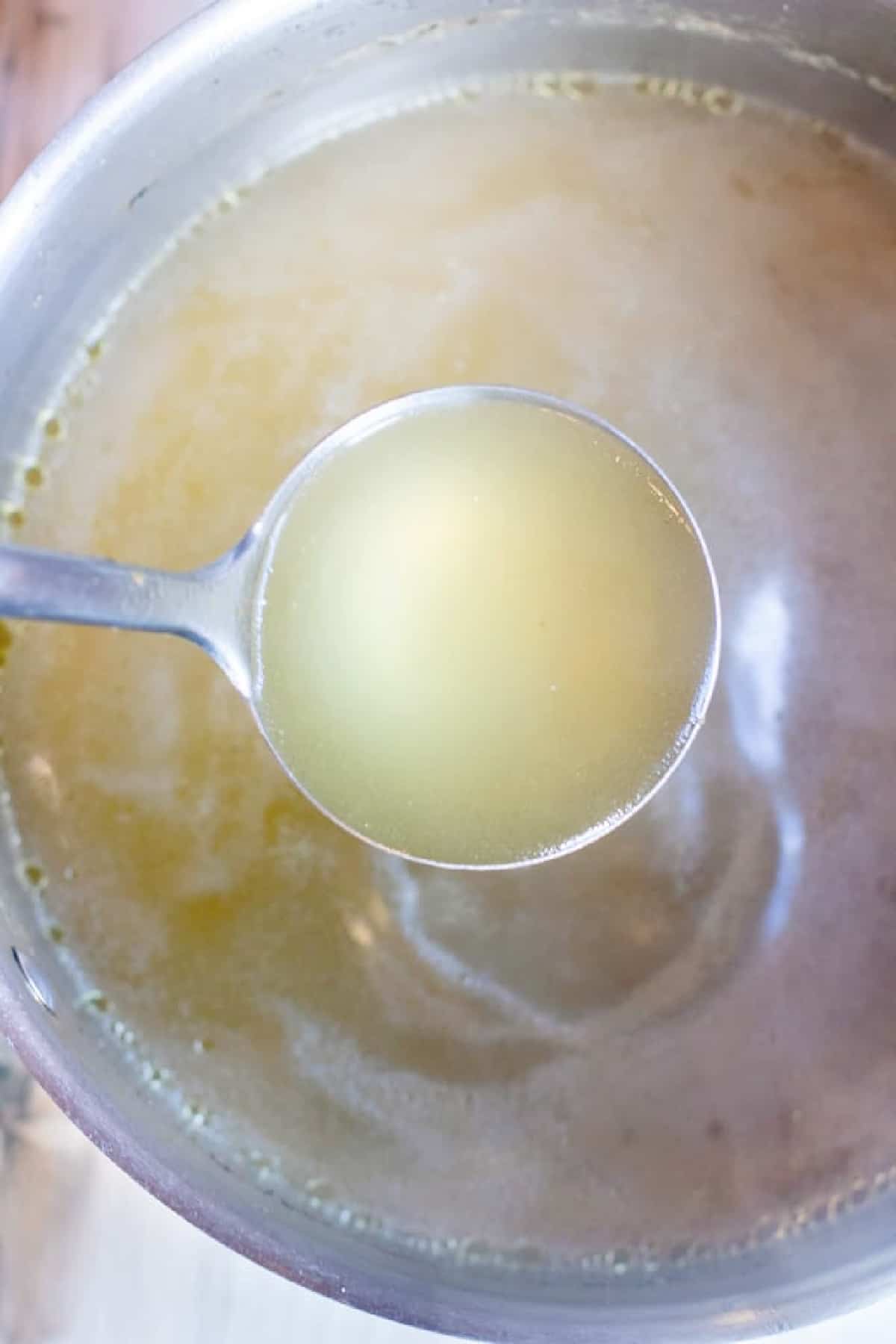 Chicken Stock From Scratch! Ready for a gazillion different uses - and a perfect way to add a little from scratch to any meal!
Enjoy! As always, if you make this recipe or any of my others, I love to hear what you think! Leave a comment below, email me, or you can find me on Facebook, Instagram, and Pinterest!
If you want to see more, be sure to sign up for my 5 Easy Ways to Start Cooking From Scratch!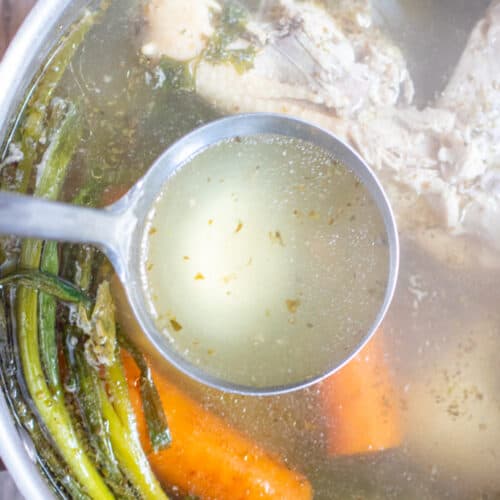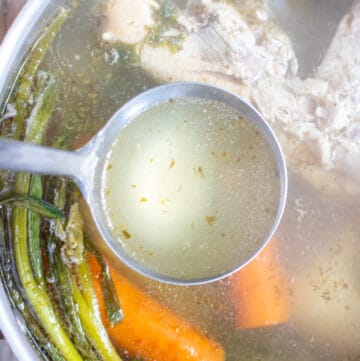 Ingredients
chicken bones

2

carrots / carrot tops

2

celery stalks or a core and leaves

1

large

onion

3-4

whole

garlic cloves

1

tablespoon

kosher salt

1

tablespoon

oregano

1

tablespoon

dried thyme

or fresh

1

tablespoon

dried sage

or fresh

leftover bunches of parsley

2

teaspoons

black pepper
Instructions
Add everything to a large pot and fill with water.

Heat over high and bring to a boil, then lower heat to bring it to a gentle simmer.

Let simmer for at least 3-4 hours, skim off any foam that comes to the top if necessary.

Use immediately or let cool before storing in fridge for freezer.
Notes
Additional vegetable / herb options:
Basically, any vegetable or fresh herb that you have in your fridge that needs to be used before going bad is a good option! We also use Green onions, rosemary, marjoram, and celery salt.
Storing:
Be sure to allow your stock to cool before storing it in the fridge or freezer. By not allowing it to cool and then storing, the container won't cool all the way and the heat from the stock will raise the temperature in the fridge which could affect the other foods in the fridge. However, be mindful that there is a risk for bacteria to grow on food left out at room temperature for more than 2 hrs, so even if your stock isn't completely cool, that's ok. There's a greater risk of bacteria for warm stock being left out for more than 2 hrs than storing warm food in the fridge.