Making your own Fresh Pasta at home just takes two ingredients and the delicious freshness makes it totally worth the extra work!

There are some things that just ruin you forever. Like the first time you have a fresh from the garden heirloom tomato. Or the first time you have a warm, fresh out of the oven piece of homemade bread. And definitely the first time you have fresh, homemade pasta. Grocery store tomatoes, bagged bread, and boxed pasta just never taste the same again.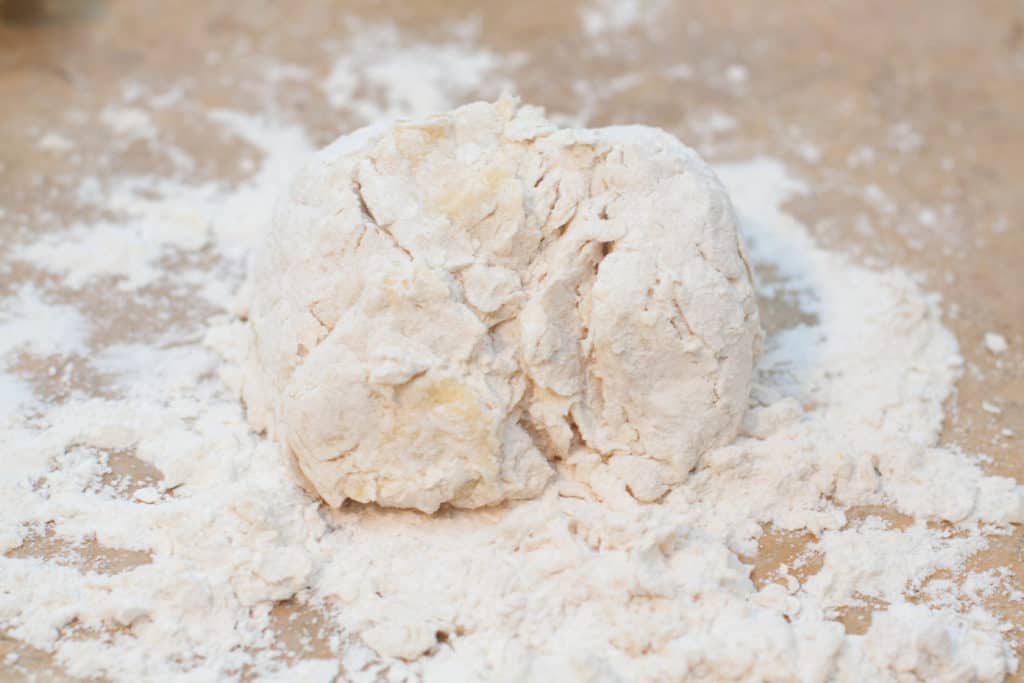 We don't eat a ton of pasta in our house mainly because we've been so ruined spoiled by homemade pasta that unless I have time to make it fresh, I don't really want it. But now that our little one is so much more engaged and ready to use her little high chair that we can attached right the bar, I can show her just how easy making fresh pasta is! Plus, it's fall, AKA Pumpkin Season, Soup Season, and pasta making season!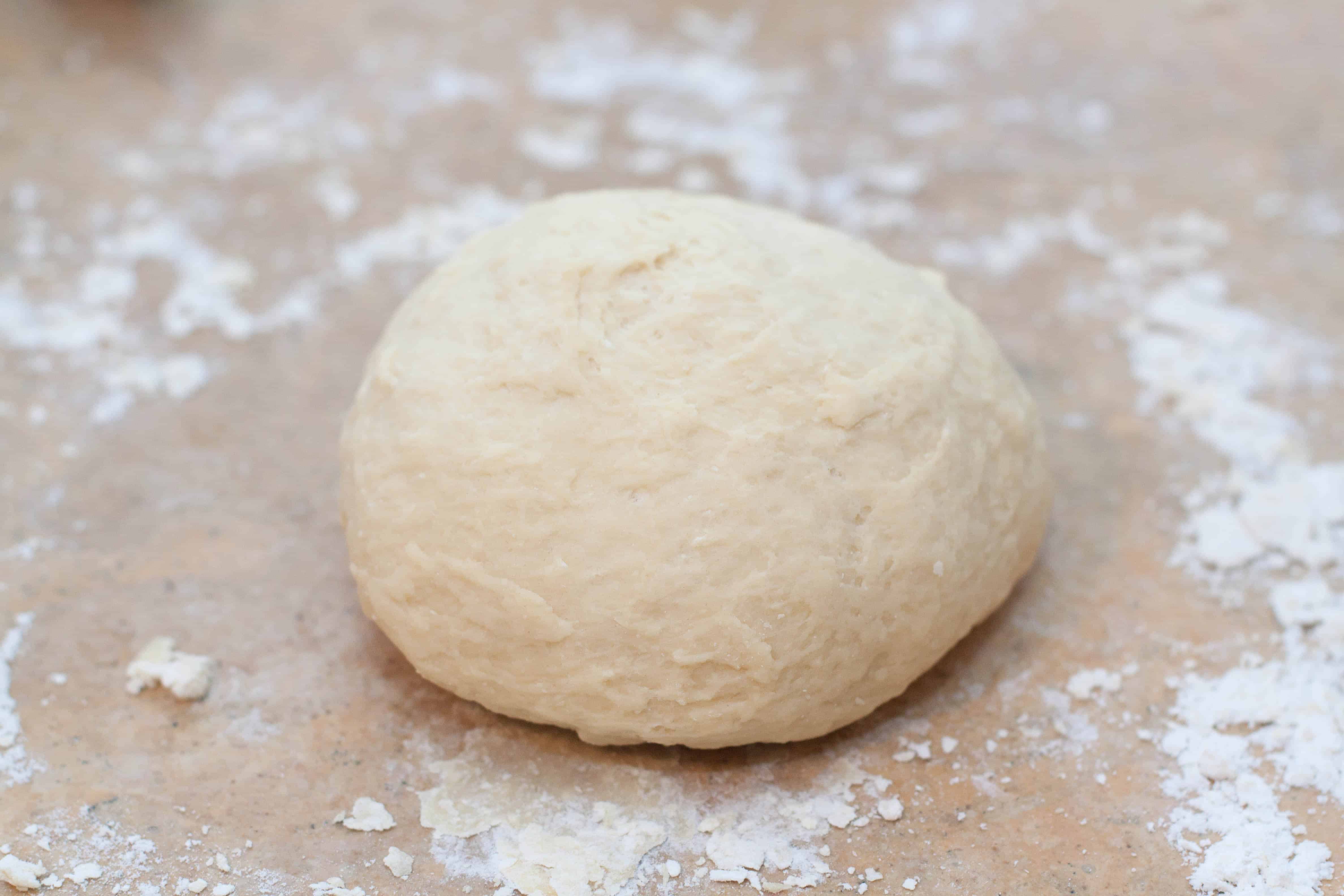 For the dough, it's just 3 simple ingredients: flour, eggs, and salt all mixed together, kneaded together until smooth,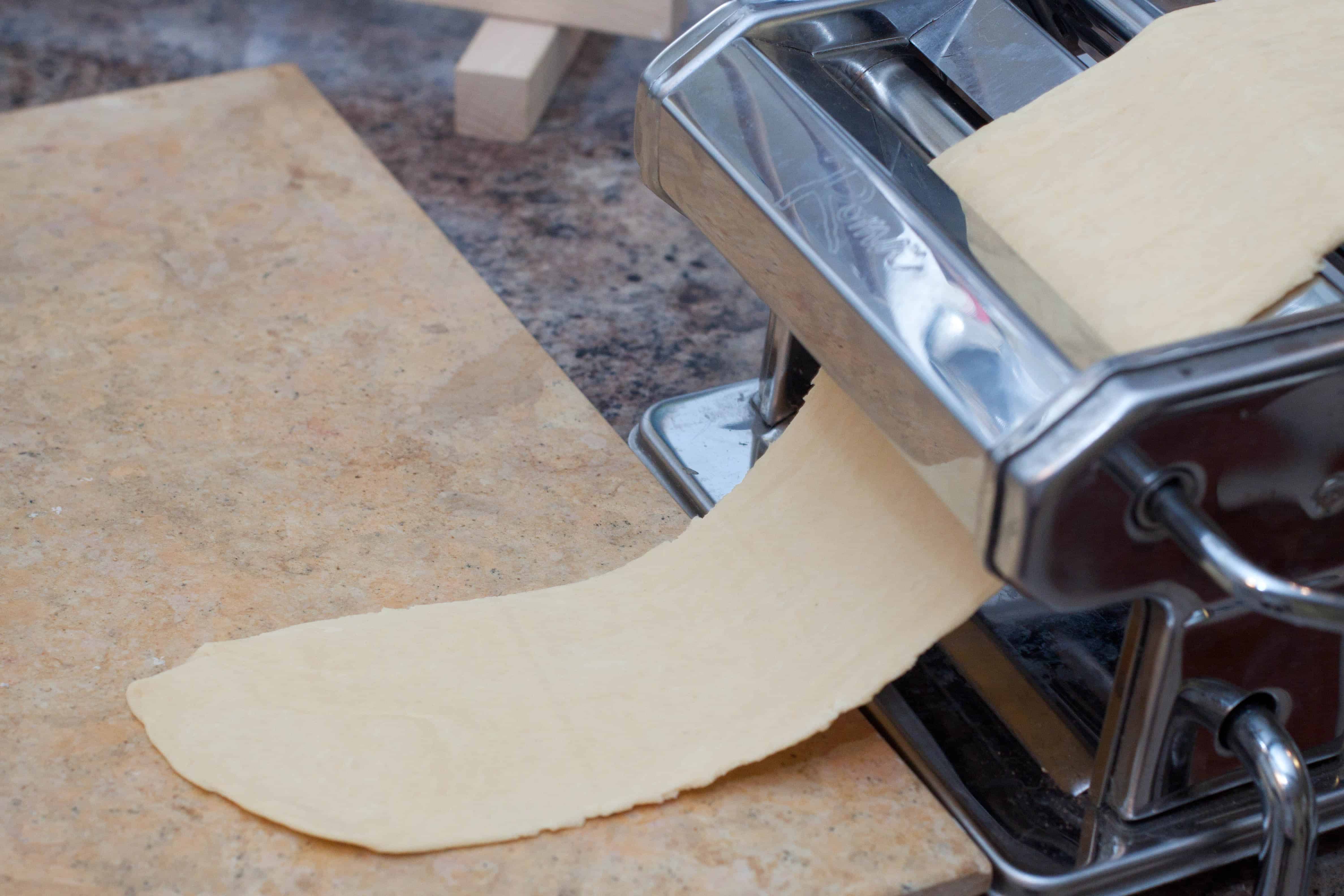 then let all the gluten you just activated rest at room temperature for about 20 minutes. Once it's rested it'll be ready to run through your handy dandy pasta roller – you can get one like this guy which is only $30! To roll it out, I take a palm full of dough and flatten it to about a half an inch thick. Then on the widest setting I run that piece through the machine and then set the width for a setting or two smaller and run it through again, repeating until you're at the smallest width setting for a really nice thin, long sheet of pasta.
I think the hardest thing about making fresh pasta is knowing when it's ready to run through the roller. And that's something that just takes practice. You want your dough to have just the right amount of moisture so it runs through nice and smoothly, but doesn't stick. If it's too dry, hasn't been kneaded enough, or if you haven't let it rest, it wont go through the roller very well. You'll know pretty quickly if the dough's not right. Sometimes that just means kneading it a little more and letting it rest again or adding a tiny bit more water, kneading and resting before trying again. But once you've got, you'll know what feel you'll want for the dough next time.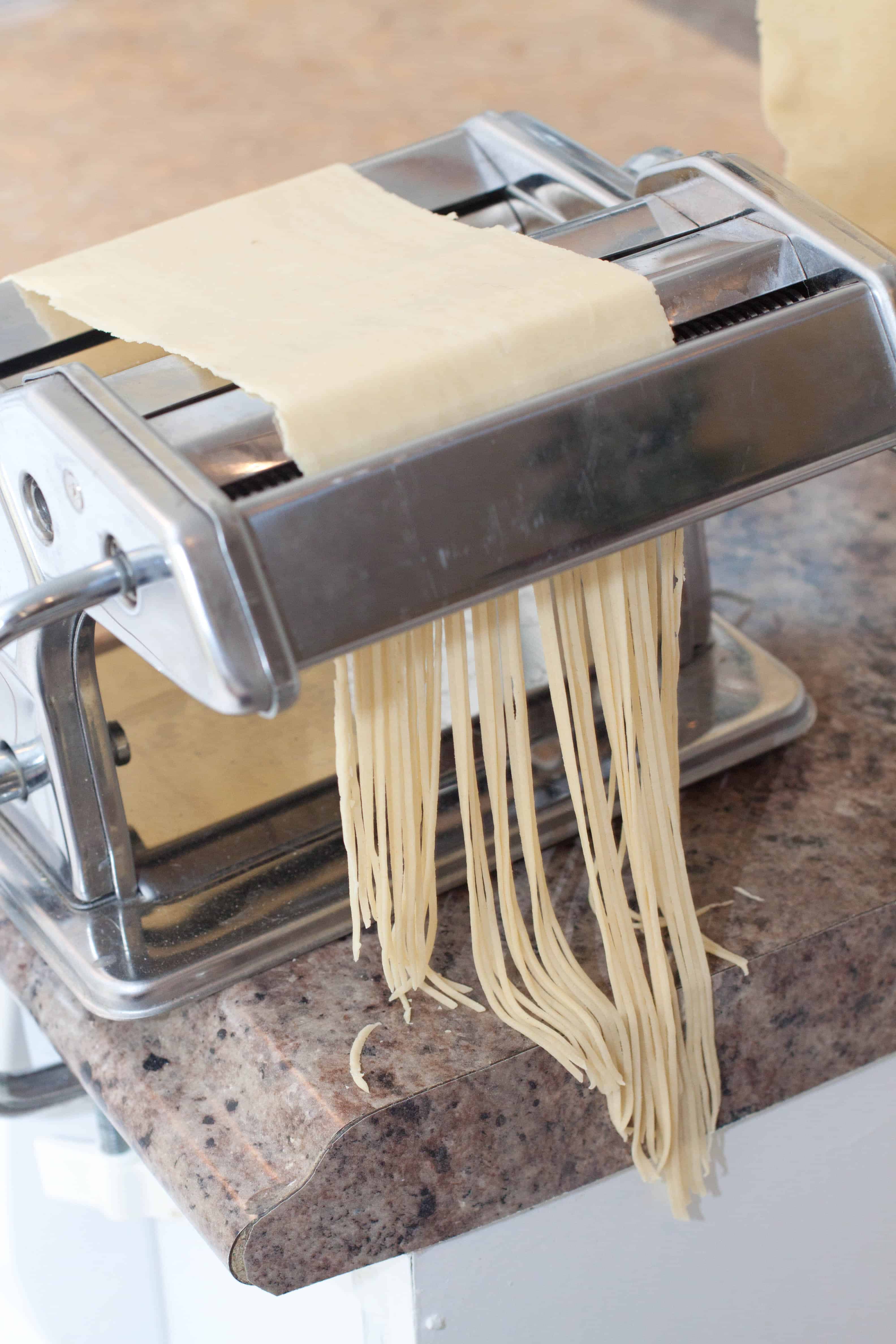 With those nice long sheets, then it's ready to run through the other end to be cut to the pasta size you want! My roller has two settings, angel hair and fettuccine.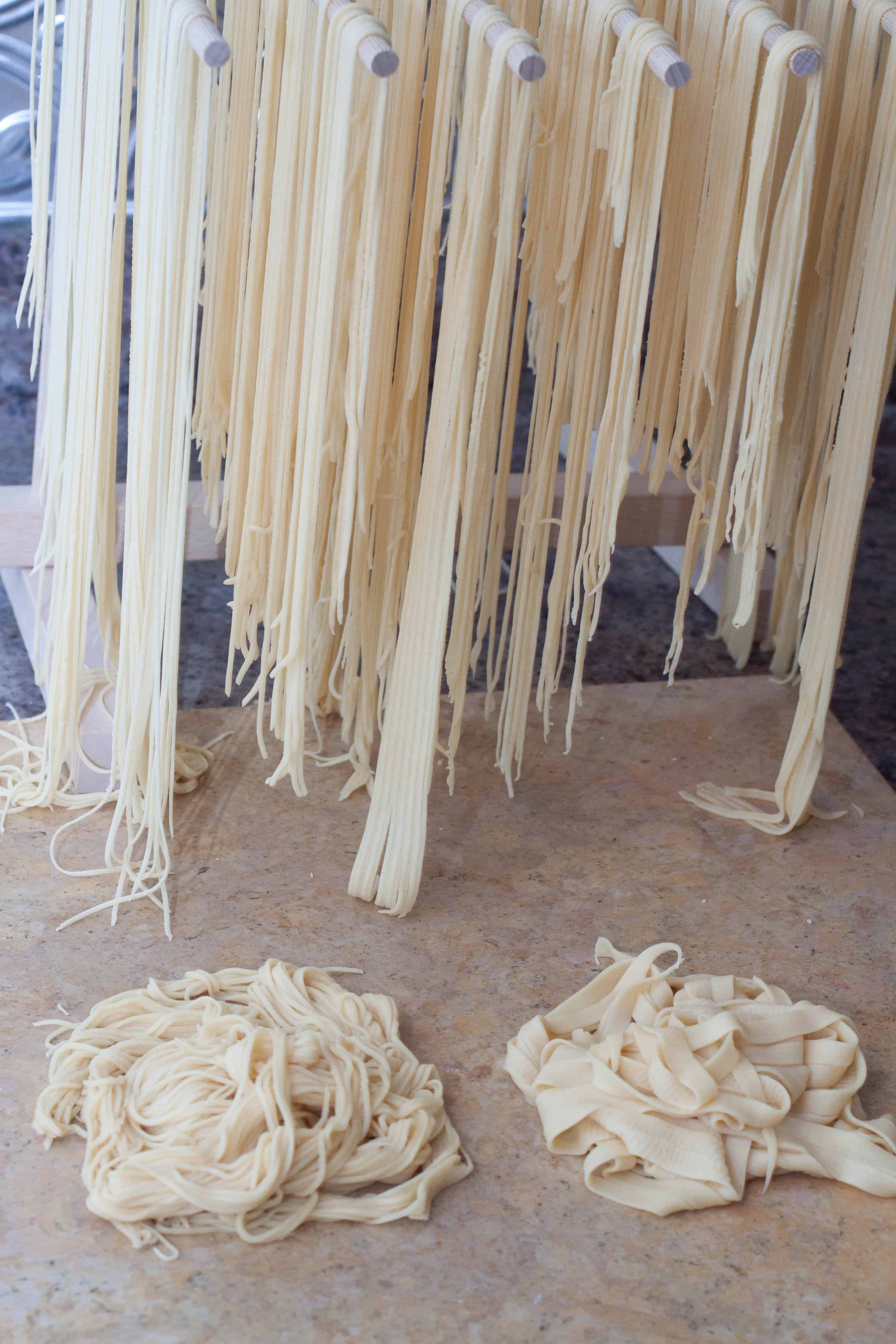 Be sure to get a little pasta drying rack, too! I love this one because it folds down flat so it's super easy to store. And then you have deliciously fresh, homemade pasta!
You can dry it completely and then store in an airtight bag, or cook it right away with some Fennel Frond Pesto, or Parsley Pesto, or make some Garlic Fried Noodles with it!
Happy Fall pasta making!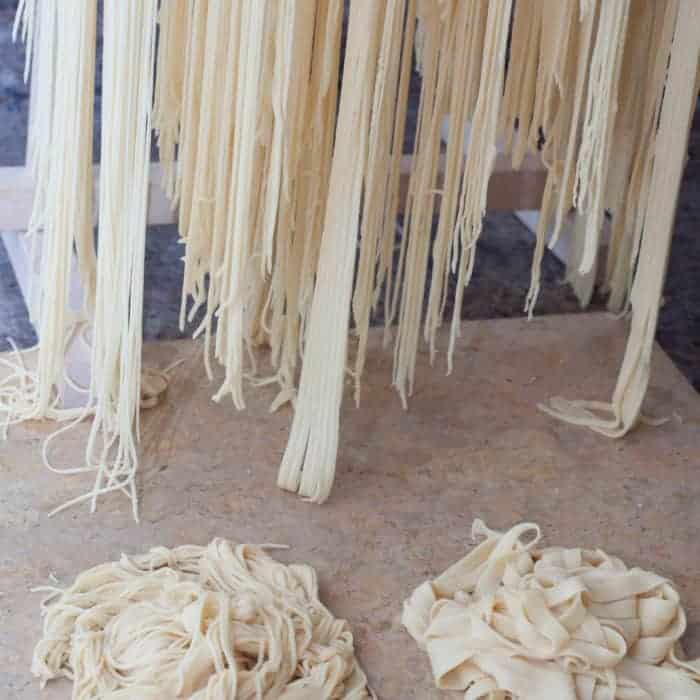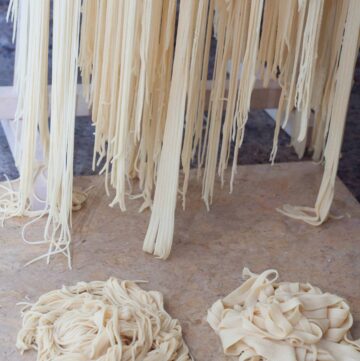 Ingredients
3 1/2

cups

all purpose flour + 1/2 cup flour

4

large eggs
Instructions
In a wide, shallow bowl mound 3 1/2 cups of the flour and then hollow out a well within the flour and slowly add the eggs.

Keep the other 1/2 cup of flour out in a bowl.

With a fork, whisk the eggs and slowly incorporate the flour while whisking.

When a dough begins to form, start kneading the dough with the palms of your hands on a clean surface or board. If the dough seems really sticky, slowly add flour from the reserved 1/2 cup.

Once the dough seems like a "cohesive mass" (thanks Mario Batali) then scrape clean your surface, lightly flour it, and then continue to knead the dough for 3-4 minutes, adding a touch more flour to your work surface when needed (har har).

Form the dough into a large ball and then wrap in plastic wrap and let rest for 20-30 minutes.

Set up your pasta roller or attachment and then roll out and cut your fresh, light pasta!