Simple but classic, this Italian pasta recipe is one that is hard not to love and so incredibly easy to make. Our 20 Minute Cacio e Pepe is a cheese and pepper packed pasta that's ready and on the table fast!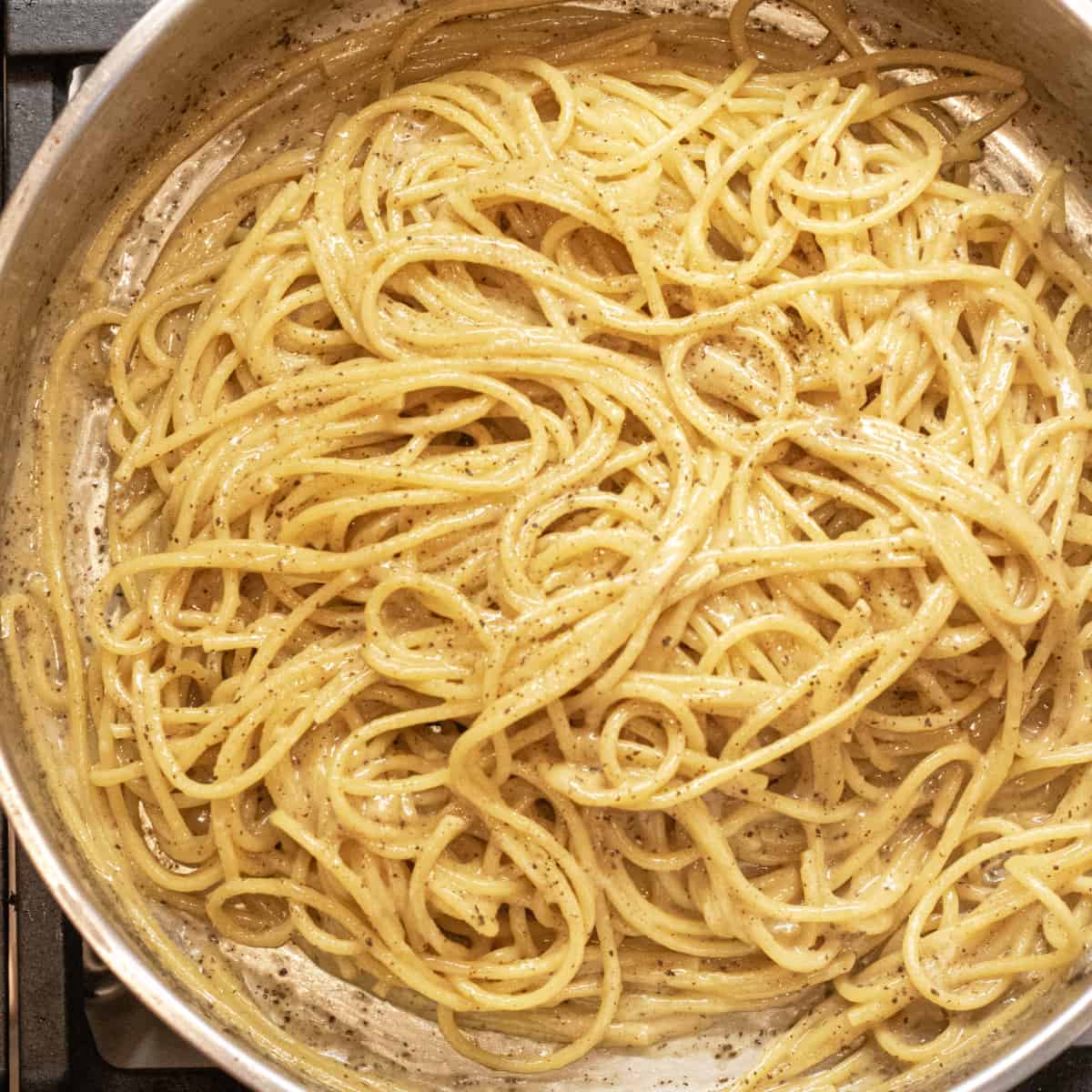 We have a lot of pasta recipes that we love in this house, but I have to say that our new 20 Minute Cacio e Pepe recipe has taken the lead! This classic Italian pasta recipe is surprisingly easy to make and also just so simple and delicious. It's perfect for a simple vegetarian pasta dinner, quick lunch, or as a side to any meal. While I'd say it's for the pepper lover, our 5-year-old who claims to not love pepper had second helpings and asked for it the next day, too!
What is Cacio e Pepe?
Quite simply it is "cheese and pepper" in Italian. This simple pasta recipe originated in Rome and while it is traditionally made with tonnarelli pasta, it is commonly found to be made with the (very similar) spaghetti. Tonnarelli is just a little thicker and has a square end vs. spaghetti's rounded end. You could of course make it with whatever pasta you have on hand, especially if you have some fresh homemade pasta!
Ingredients Needed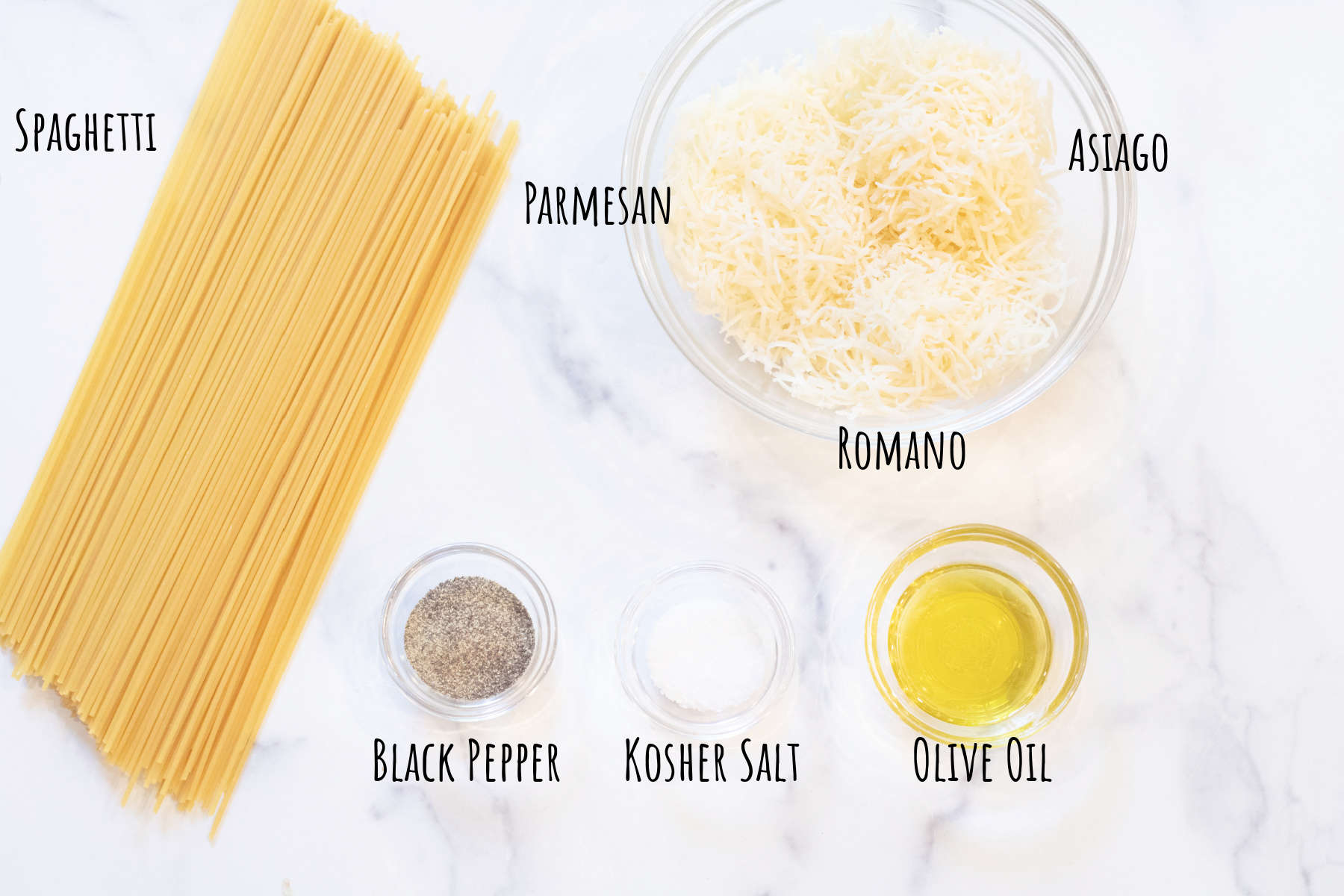 Spaghetti - This is our preferred pasta for this Italian classic, but if you wanted to be truly authentic, then it would be made with tonnarelli. You can use whatever pasta you have, just be sure to adhere to the cooking time. And of course, this is an outstanding recipe with fresh homemade pasta!
Cheese - Traditionally Cacio e Pepe is made with just Romano Pecorino cheese, but we love a blend of Romano, Parmesan, and Asiago. You can of course use any combination or the three or less that you'd like.
Pepper - The Pepe! You can use preground or freshly ground pepper, whichever you have/prefer. Freshly ground pepper has a much fresher, spicier taste. When I make this for my family, I will use pre-ground pepper, but for myself, I make it with freshly ground.
Olive Oil - We prefer to use olive oil for this recipe, but you can also use butter.
Kosher Salt - Just for the pasta water - because remember to always salt your pasta water!
SO Easy to Make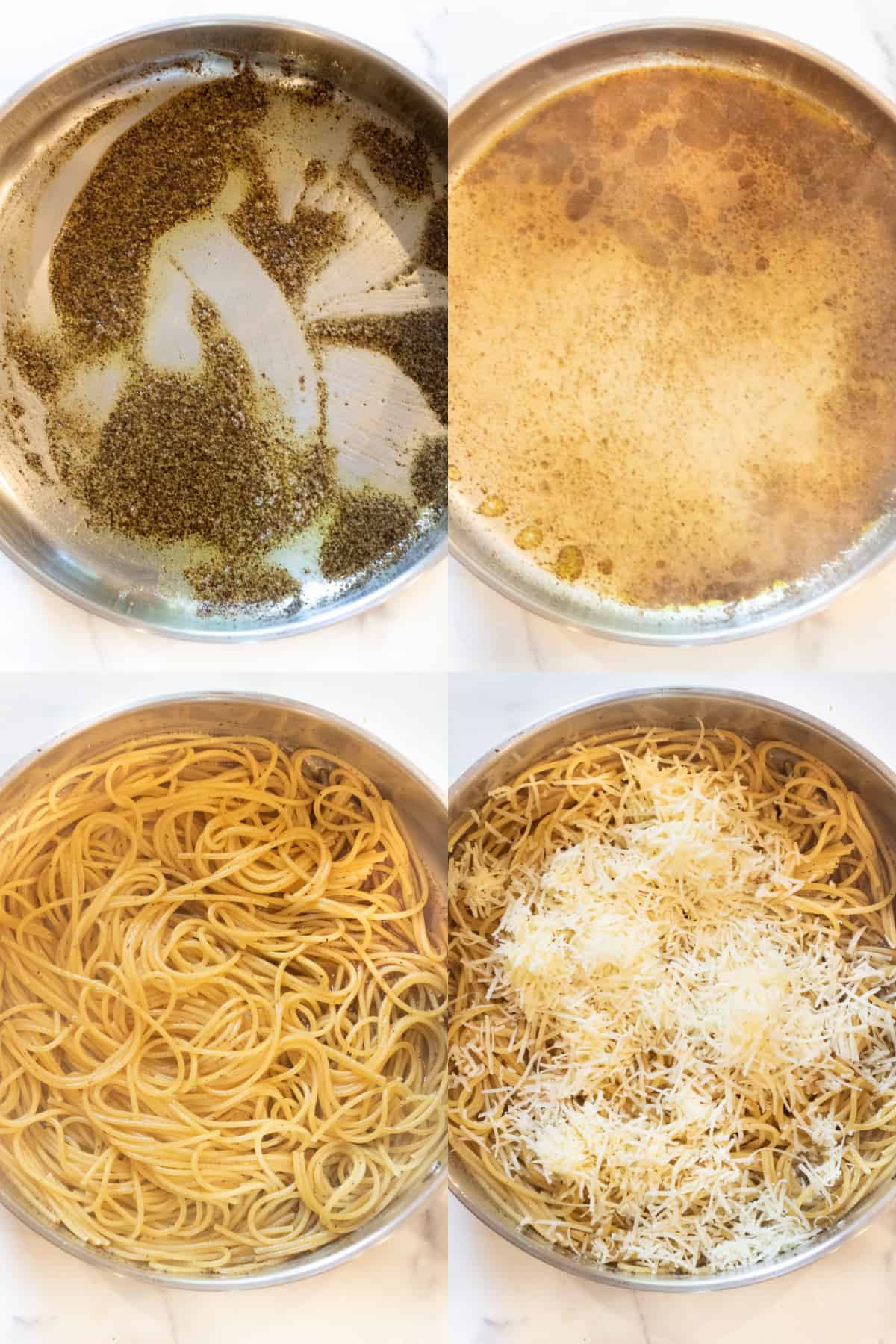 We just love a pasta recipe that's fast and easy to make to get dinner on the table quickly on those busy weeknights and this 20 Minute Cacio e Pepe is exactly that! Put that water on to boil to cook your pasta and then heat some oil, saute some pepper, add pasta water, the pasta with a little more oil, and then cheese. That's it!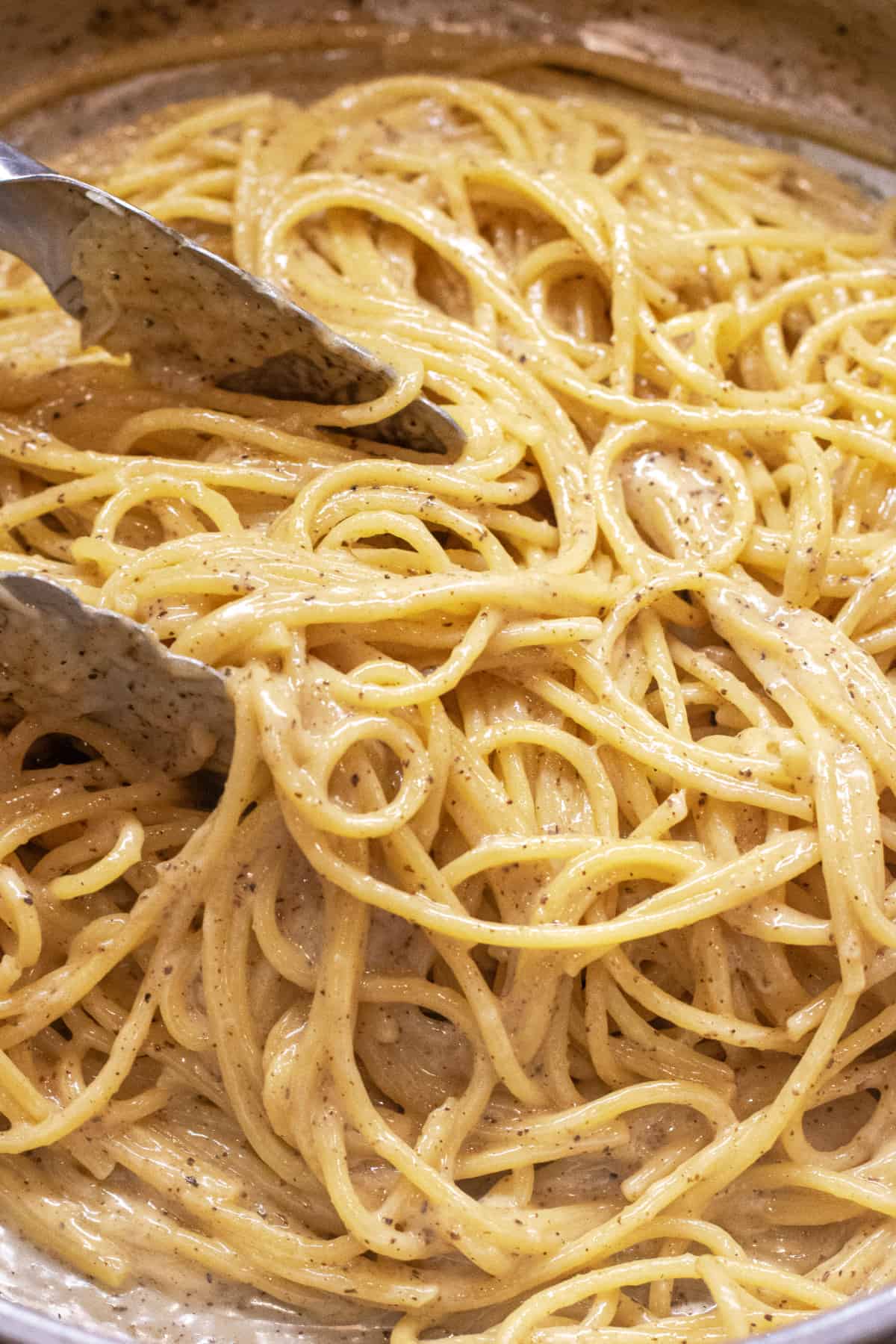 Give it all a good mix to let the cheese melt, get all creamy, and coat all of your pasta. Thanks to that starchy pasta water, all of that melty cheese will cling nicely to your pasta for fully coated spaghetti.
Recipe Tips
Always salt your pasta water
This will not only flavor your noodles, but it will also help with reducing the stickiness of the cooked pasta, and, most importantly, it helps thicken the sauce and allows it to stick to the pasta when you add it to the cooked pasta.
Use freshly grated cheese
Whenever you want the ultimate melt with your cheese, it's important to freshly grate cheese from a block and not use pre-shredded cheese. This is because the pre-shredded cheese you buy from the store has anti-clumping agents added, which will ultimately affect the meltiness of your cheese.
Don't skip using the reserved pasta water!
This is another crucial step to making this classic Italian pasta recipe. That starchy salty water is what will ensure that all of that melty cheese sticks to your noodles!
Ground Pepper vs. Freshly Ground Pepper
This is totally a personal preference, but freshly ground pepper is going to have the strongest, freshest, and spiciest flavor while pre-ground pepper is going to have a little more muted pepper flavor in comparison.
Don't overcook the pasta
Because the pasta will be doing some more cooking while in the pan with the cheese, don't fully cook your pasta in the pasta water, cook it just 1 minute less than al dente, and then let it finish cooking in the pan with all of that cheese!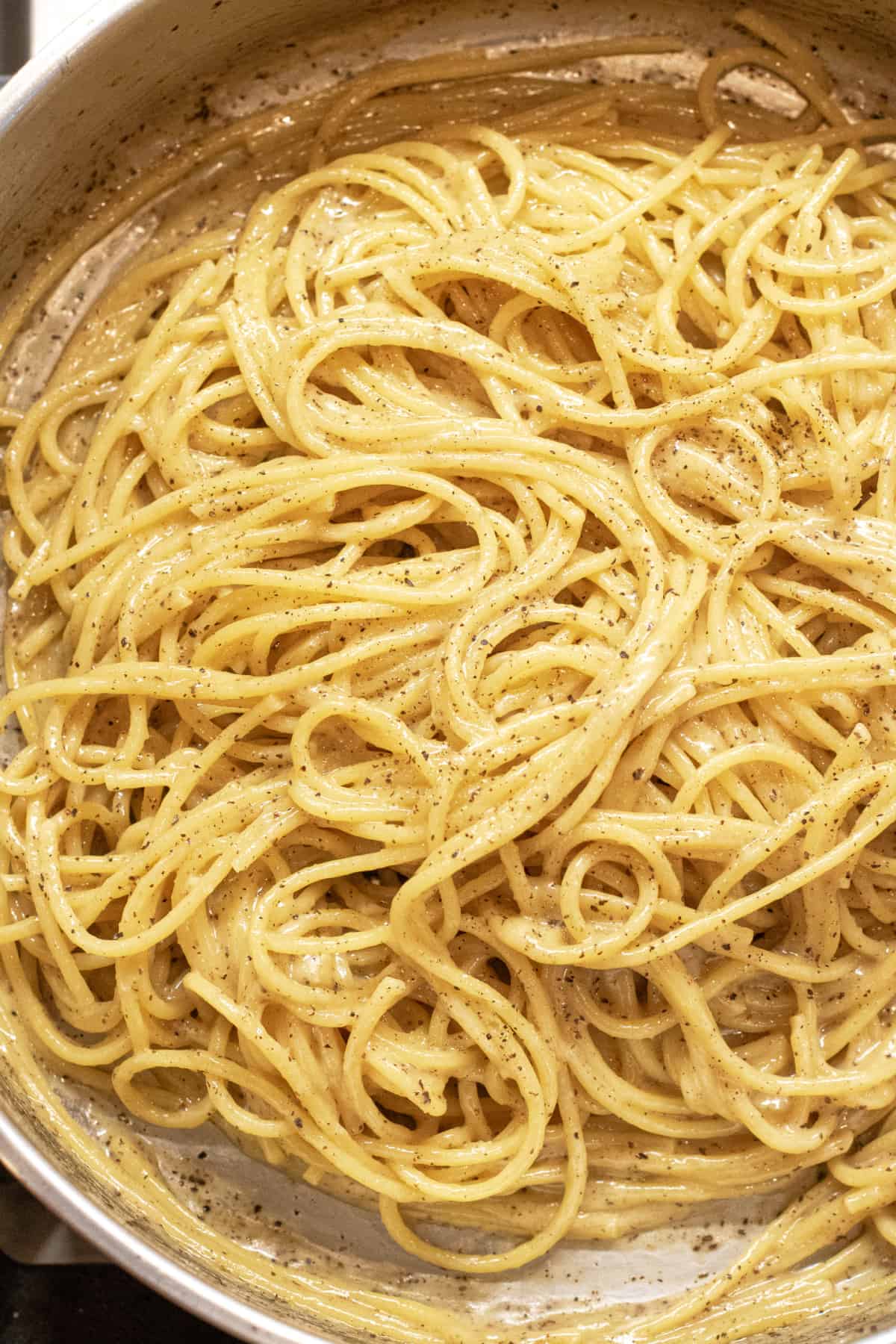 20 Minute Cacio e Pepe! Do you see how glossy that pasta is? That's thanks to all of that cheese clinging to those spaghetti noodles for all of the cheesy pepper flavors you want in every single bite!
You Also Might Like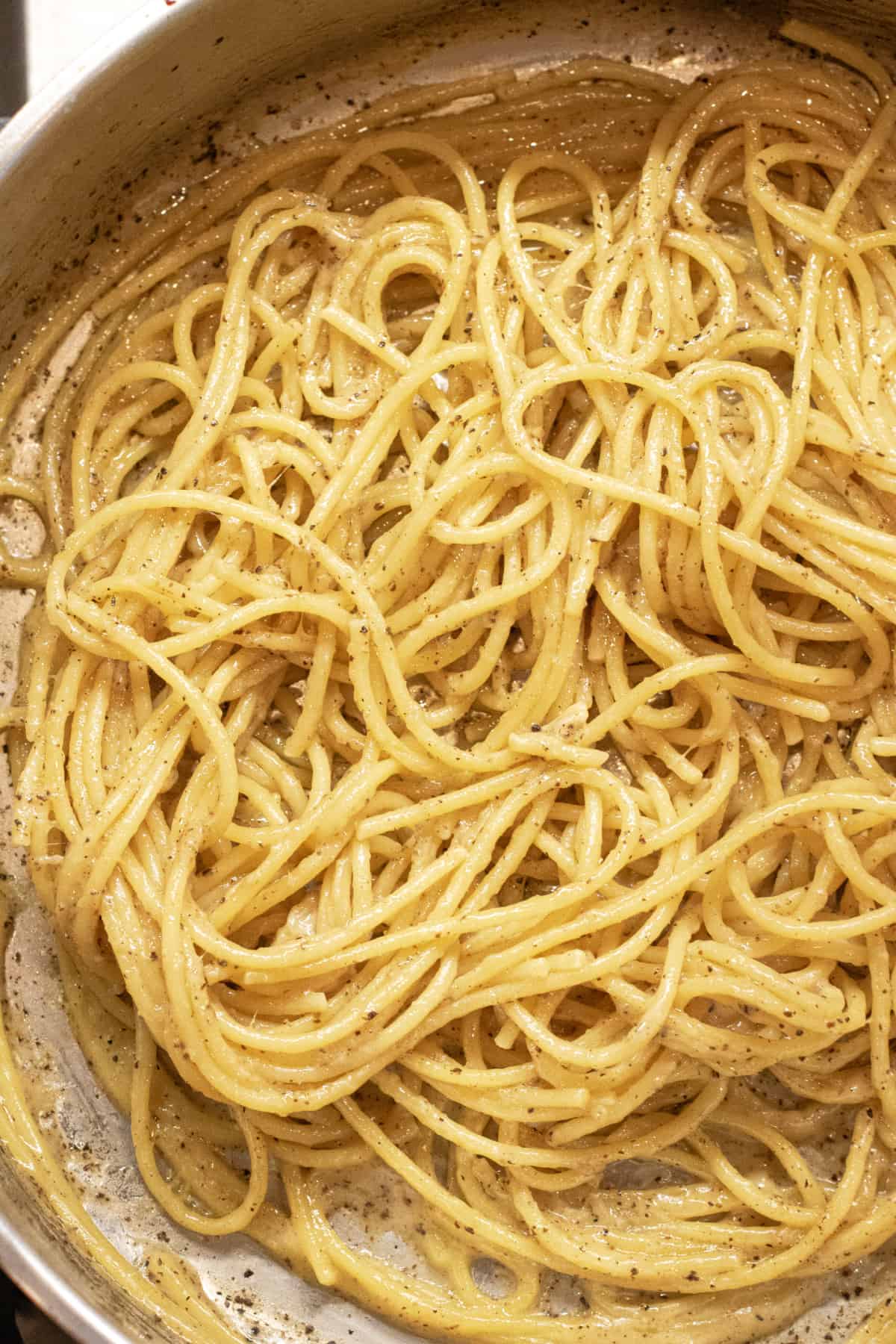 Enjoy! As always, if you make this recipe or any of my others, I love to hear what you think! Leave a comment below, email me, or you can find me on Facebook, Instagram, and Pinterest!
If you want to see more, be sure to sign up for my 5 Easy Ways to Start Cooking From Scratch!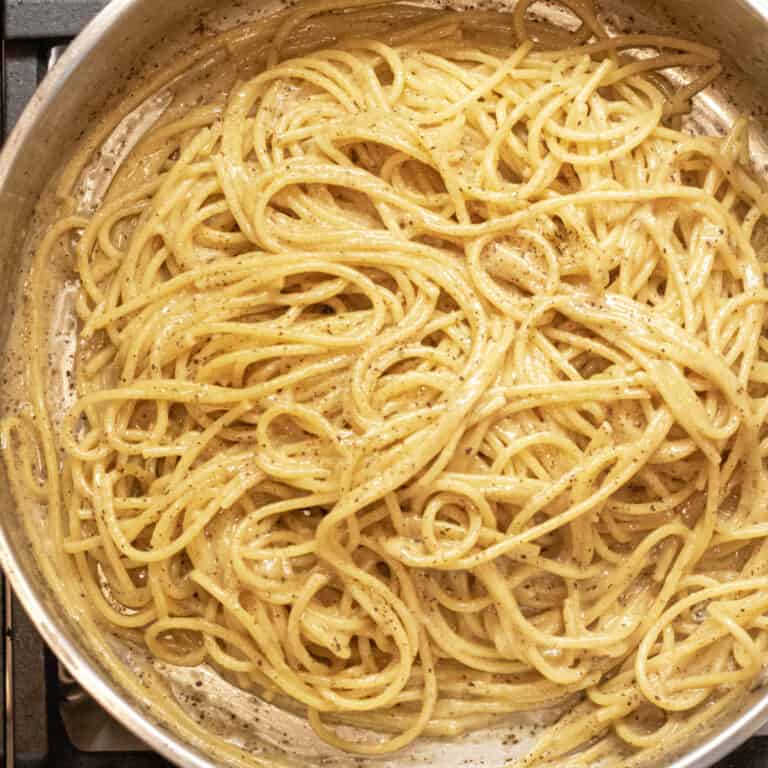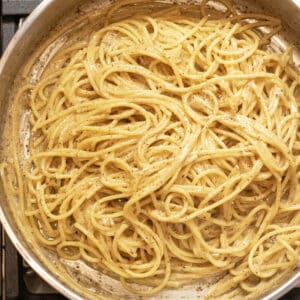 Ingredients
1/2

lb

pasta

spaghetti is our favorite, but you can use yours!

2

tablespoons

extra virgin olive oil

divided

2

teaspoons

ground black pepper

2/3

cup

reserved pasta water

1/2

cup

Parmesan cheese

freshly shredded

1/2

cup

Asiago cheese

freshly shredded

1/2

cup

Romano Pecorino cheese

freshly shredded

1

teaspoon

kosher salt

for the pasta water
Instructions
Cook Pasta: Heat a pot of water with salt over high heat and bring to a boil. Add pasta and cook 1 minute less than al dente as listed on the box. If using fresh pasta, boil for only 2 minutes.

Toast Pepper: When pasta is only 3 minutes from being done, add 1 tablespoon of olive oil to a saute pan and heat over medium. Add pepper and mix well, toasting for 1 minute.

Add Pasta: Scoop out 2/3 cup of pasta water from the cooking pasta pot and add to the pan with the oil and pepper. Let simmer for 1 minute.

Drain the pasta and add it to the pan and stir to combine with the pasta water, oil, and pepper. Add the remaining tablespoon of olive oil and mix well.

Add Cheese: Add half of the cheese and stir with pasta. Add the remaining cheese and stir until it all has melted. Finish with a pinch more pepper if desired.
Notes
Substitutions
Pasta: Use your favorite, fresh homemade pasta, or to be truly authentic, use tonnarelli. Just be sure to follow the cooking time instructions for whatever pasta you're using, and remember, fresh pasta only takes a couple of minutes.
Cheeses: Traditionally, Romano Pecorino is what is used and this simply means it is Romano made from sheep. If it is labeled just Romano, then it is likely made with cow's milk, which is also delicious for this recipe. We love the combination of all three of these cheeses, but you can use all of one or any combination that you have/would like. Just be sure you do not use pre-shredded cheese and shred your own because pre-shredded cheese does not melt as well as freshly shredded.
Pepper: Freshly ground or pre-ground is great for this recipe, or a combination of both. Freshly ground pepper is going to have a stronger, spicier pepper flavor. I use pre-ground pepper when I make this for my kids, but prefer freshly ground for myself.
Olive Oil: You can also use salted butter.
Don't skip the pasta water!
This is a key step to ensuring that the cheese melts and clings to your pasta.
Nutrition
Calories:
299
kcal
|
Carbohydrates:
7
g
|
Protein:
18
g
|
Fat:
23
g
|
Saturated Fat:
10
g
|
Polyunsaturated Fat:
1
g
|
Monounsaturated Fat:
11
g
|
Cholesterol:
40
mg
|
Sodium:
1868
mg
|
Potassium:
288
mg
|
Fiber:
1
g
|
Sugar:
3
g
|
Vitamin A:
664
IU
|
Vitamin C:
5
mg
|
Calcium:
589
mg
|
Iron:
1
mg