This Homemade Mushroom Marinara is for the mushroom lover! It's packed full, super flavorful, freezer friendly, and easy to make!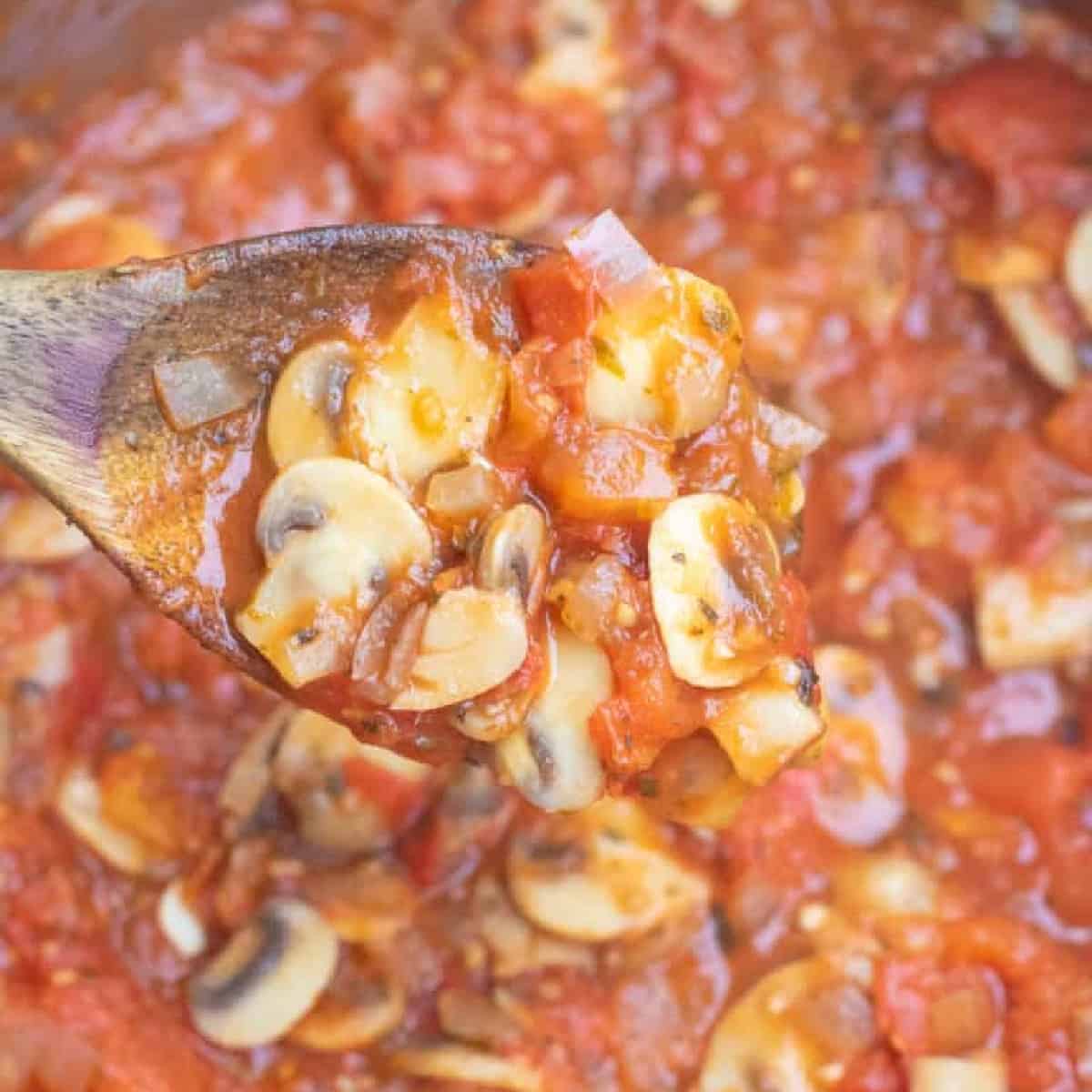 Ahh the mushroom. As my dad used to say, "they're good people." We love all things mushroom around here (my 4 year old's favorite pizza toppings are mushrooms and onions!), and we're adding this Homemade Mushroom Marinara to the top of our list of fungi favorites!
What is Marinara?
What makes Marinara Sauce different than the sauces you see in your grocery store, is that they're typically made with fewer ingredients, particularly without any added sugar.
Now a true, traditional marinara sauce does not have mushrooms. For a more traditional marinara sauce, then you can check out our Fresh Tomato Marinara Pasta.
For this marinara, we're still keeping it fresh and simple, but also incorporating some of our favorite ingredients.
Ingredients Needed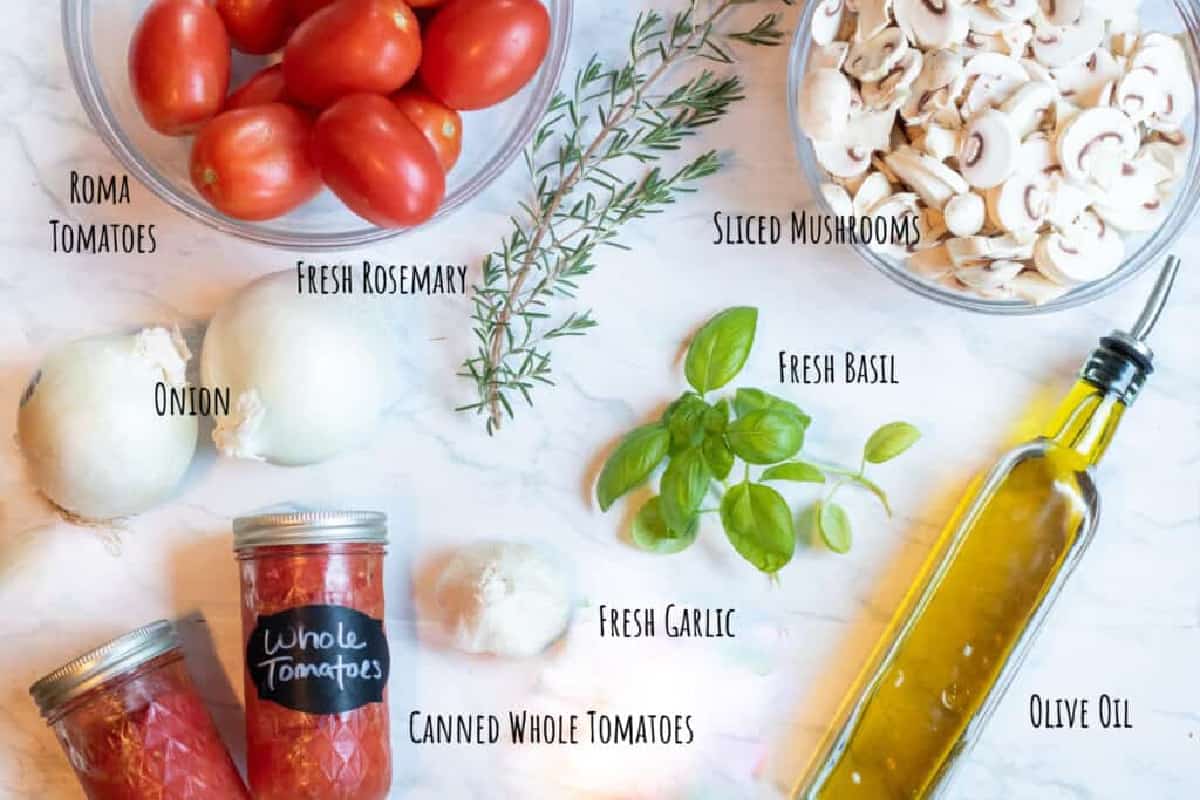 As it should be no surprise to anyone who's been visiting SFS for awhile now, fresh, is the name of the game here.
Fresh Mushrooms - I love white buttons for this recipe but any of your favorites would be great!
Fresh Roma Tomatoes - Romas are the best for sauce making because of they have low moisture which means that they need less time to cook down to create a nice thick sauce. Also, they have fewer seeds than other varieties.
Canned Tomatoes- In addition to fresh, we also supplement with some canned whole and tomato paste. Have you canned some of your own Canned Whole Tomatoes, yet?
Fresh Garlic and Onions - Staples to any sauce! We prefer white onions, but yellow would also be great.
Fresh Rosemary and Basil - You can also use dried if that's what you have, see recipe notes.
Olive Oil
Oregano, Salt and Pepper to taste.
Tip: No whole tomatoes? No problem. You can use other high-quality canned tomatoes, too. Others include crushed or diced, the most important thing is that they are a high-quality tomatoes, like the Muir Glen or Cento San Marzano.
Step-by-Step Instructions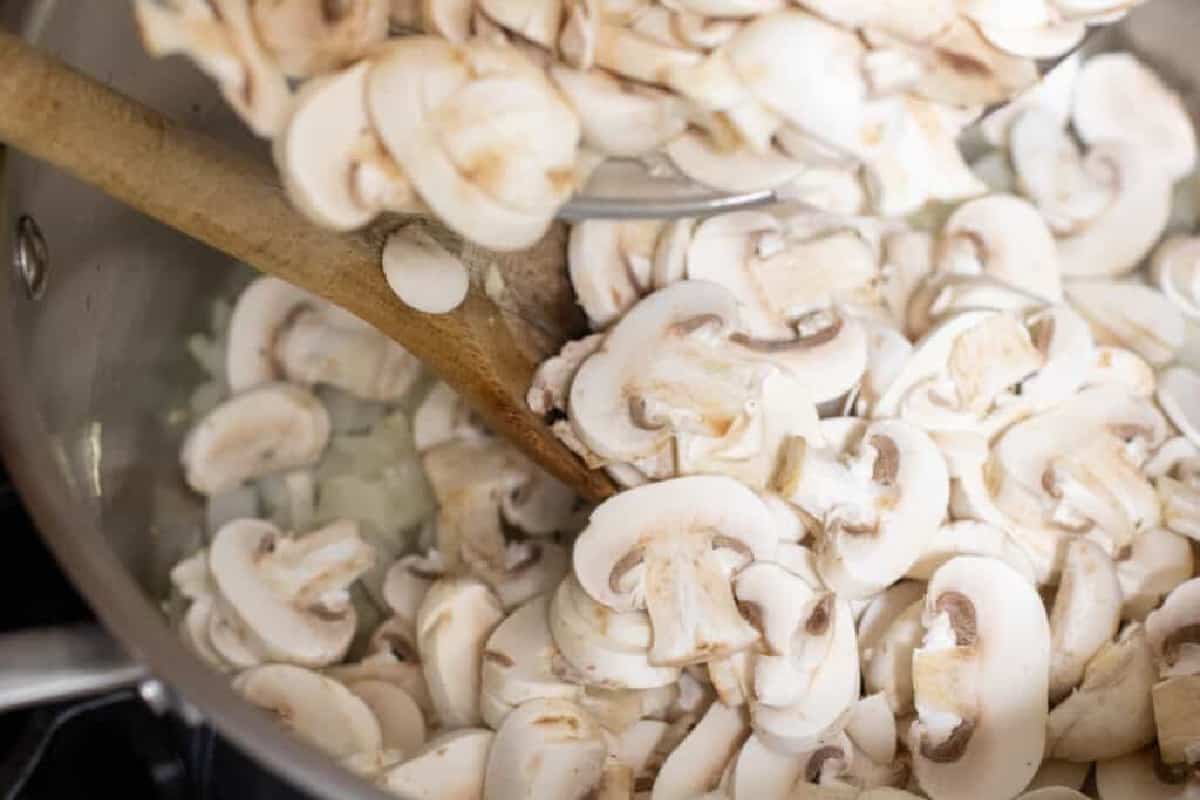 Step 1: Sauté garlic and onion and then add the mushrooms to sauté. Yes, it's a lot of mushrooms!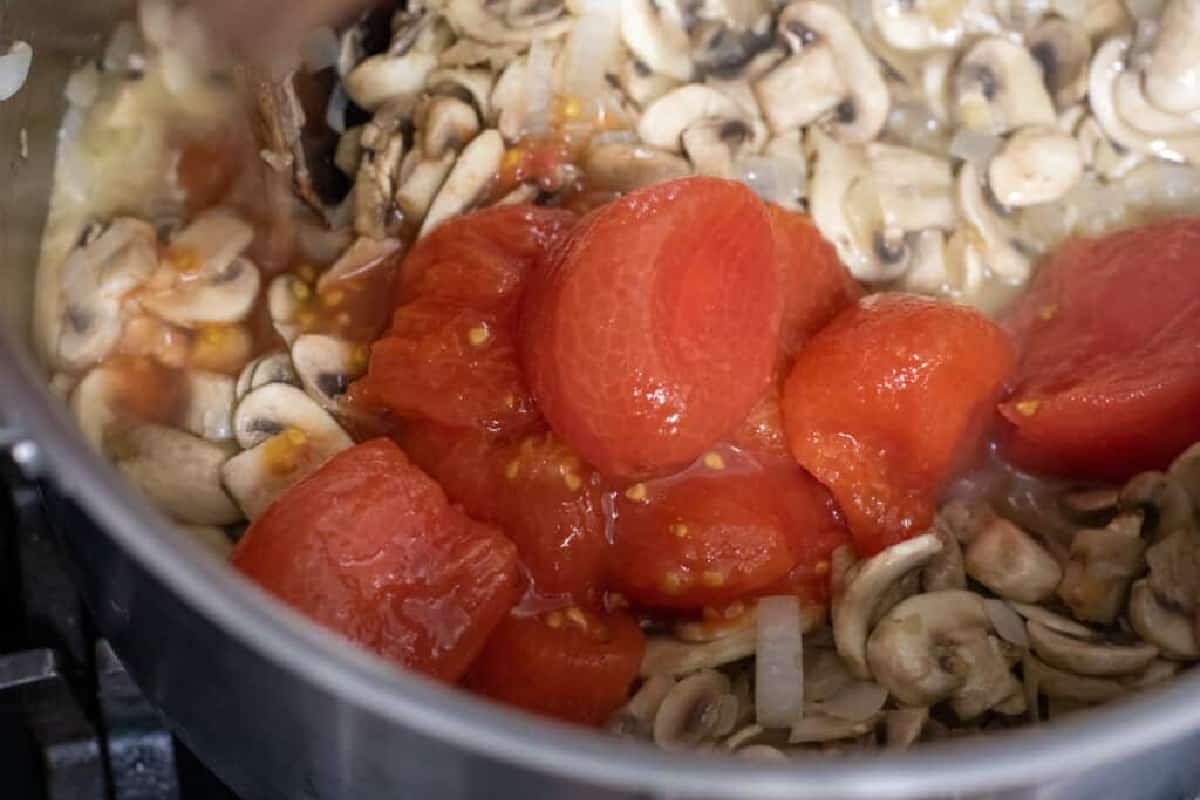 Step 2: Once those 'shrooms have cooked down, it's time to add the tomatoes, whole and fresh diced.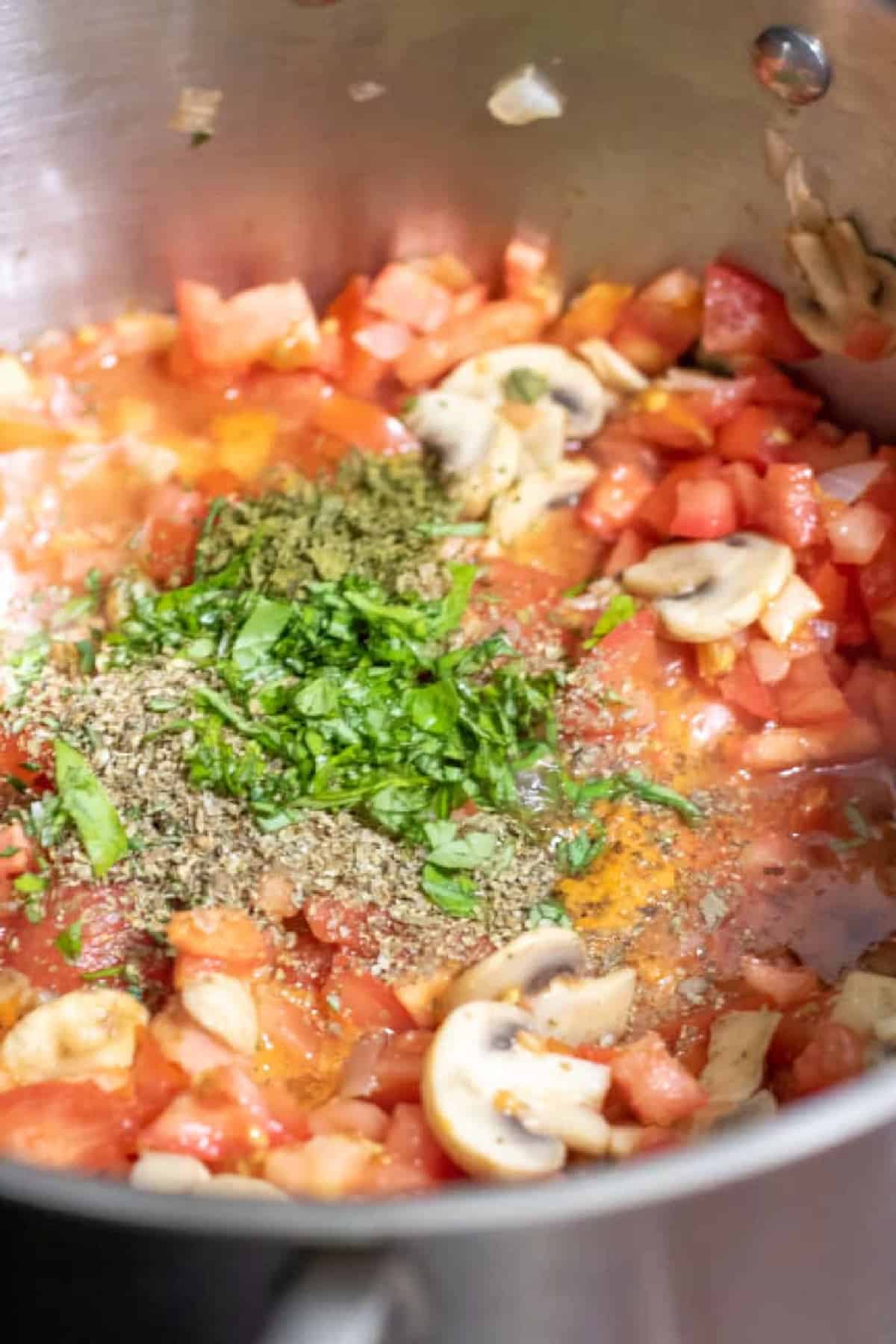 Step 3: Add fresh and dried herbs and salt and pepper.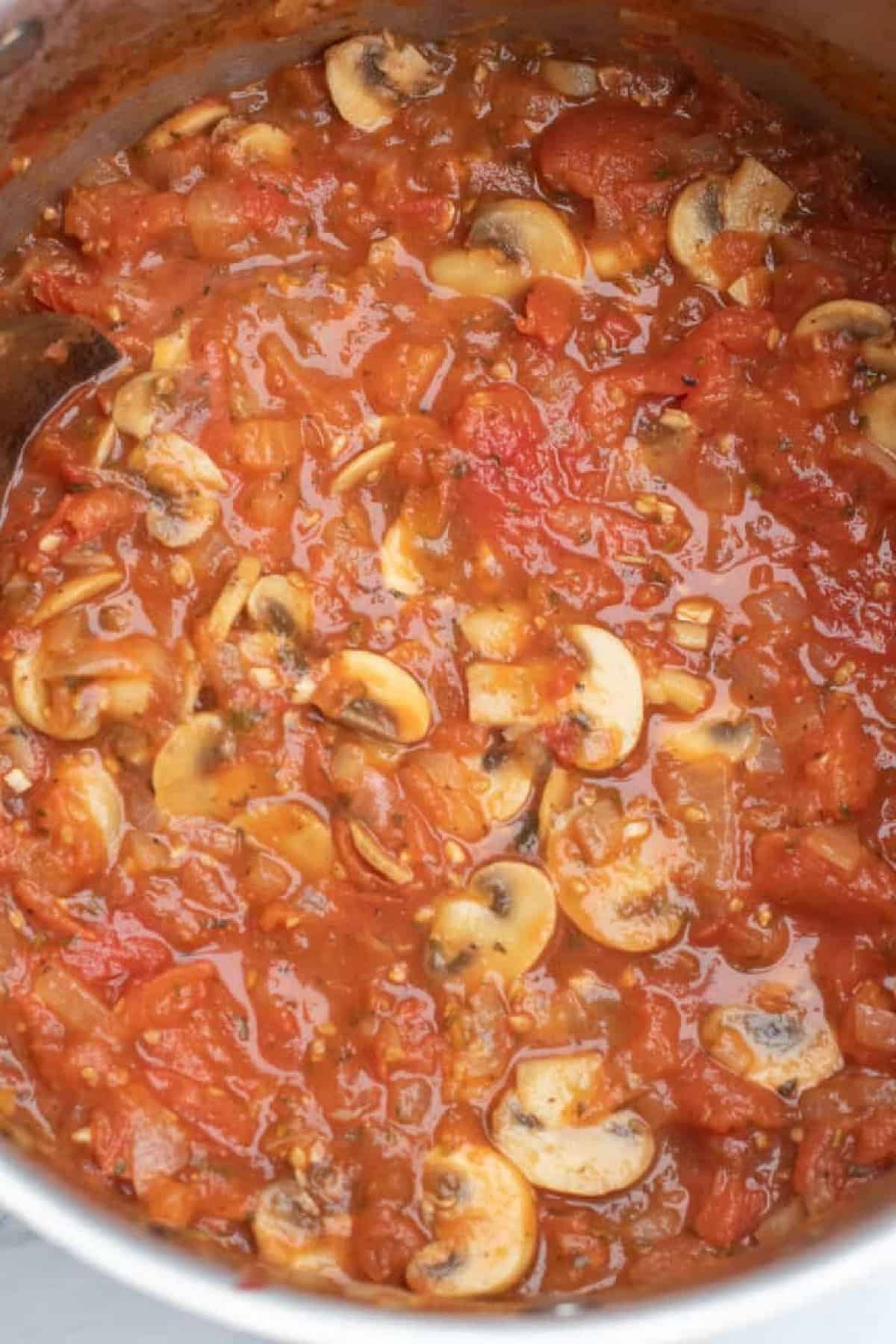 Step 4: Let simmer for 45 minutes until sauce has thickened, stirring often.
Once thickened to your liking and then you're done! This is definitely not a sauce for the faint of mushroom-lovin' heart.
Serve it with your favorite kind of pasta, Fresh Ricotta Ravioli From Scratch, Gnocchi From Scratch, or use it as a sauce in a lasagna: hint, hint to how we used it!
More Mushroom Lovin' Recipes
Can't get enough of 'em? Me neither.
FAQs
Can I use all canned tomatoes?
Definitely. You can substitute the 2 lbs of fresh romas for another 28 oz can.
Can I use other kinds of tomatoes?
You can, but Romas (or any other plum tomatoes) are really the best because they're the best for sauces because they have low moisture which means that they need less time to cook down to create a nice thick sauce. Also, they have fewer seeds, a thicker fruit wall, and a denser flesh.
Can I substitute dried herbs for fresh and fresh for dried?
Of course. To substitute dried for fresh just at a 1:3 ratio. This means for 1 tablespoon of fresh herbs, substitute 1 teaspoon (since there are 3 teaspoons in a tablespoon).
Can I freeze this?
Sure can. For up to 3-4 months!
Can I can it?
Yes, but because of the low acidity in this sauce, to safely can I would only do so using a Pressure Canner and following instructions from your canner based on your altitude.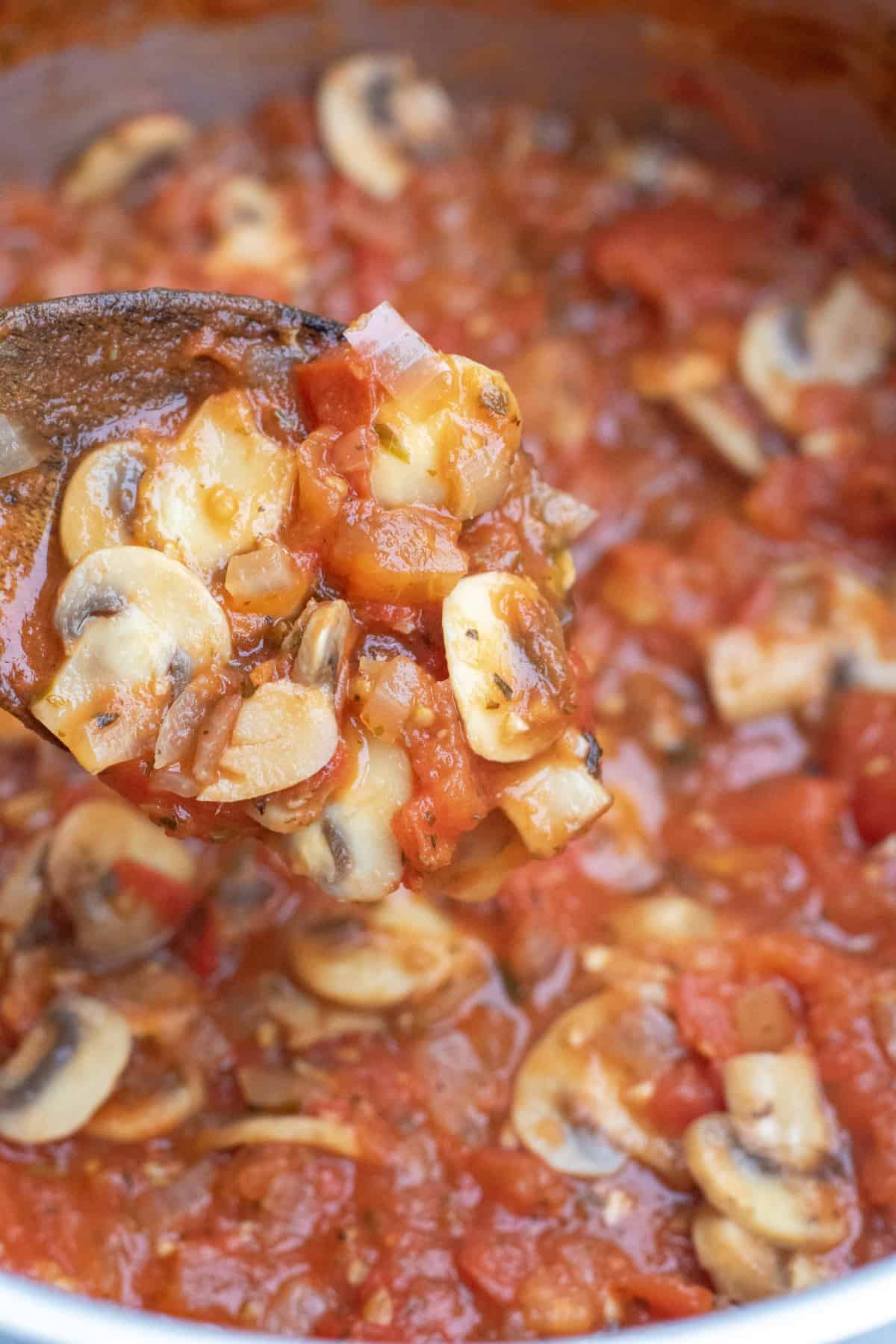 Enjoy! As always, if you make this recipe or any of my others, I love to hear what you think! Leave a comment below, email me, or you can find me on Facebook, Instagram, and Pinterest!
If you want to see more, be sure to sign up for my 5 Easy Ways to Start Cooking From Scratch!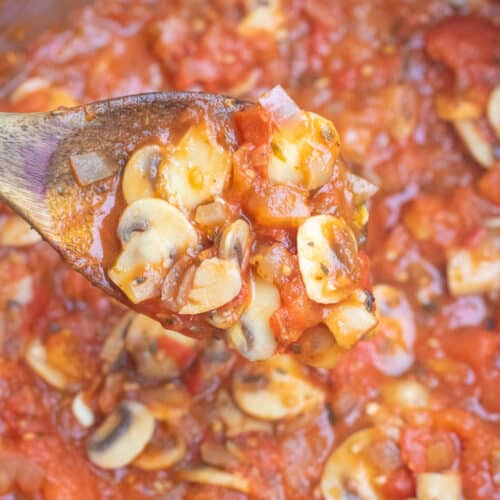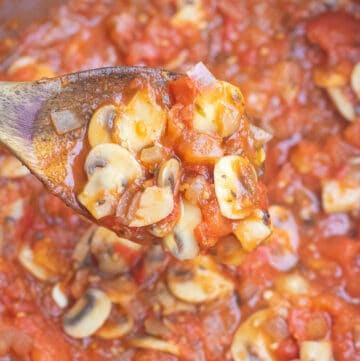 Homemade Mushroom Marinara
This Homemade Mushroom Marinara is for the mushroom lover! It's packed full, super flavorful, freezer friendly, and easy to make!
Print
Pin
Rate
Ingredients
2

tablespoons

olive oil

1

cup

onions, diced

about half of a large onion

24 - 28

oz

canned whole tomatoes

2

lbs

fresh roma tomatoes

diced

5-6

large

garlic cloves

1

lb

mushrooms, sliced thin

1

tablespoon

fresh basil, minced

1

tablespoon

fresh rosemary, minced

2

teaspoons

dried oregano

1

teaspoon

salt

1/4

teaspoon

fresh ground pepper to taste
Instructions
In large stock pot, heat oil over medium/medium-low. Add onion and garlic and sauté until it starts to brown, stirring often. Approximately 2-3 minutes.

Add mushrooms to pot, stir, and cook until they have released most of their liquid. 5-7 minutes.

Add whole tomatoes (with fluid) and fresh diced tomatoes and bring heat up to medium. Stir well, break up whole tomatoes a bit with a wooden spoon as you stir.

Add oregano, rosemary, basil, salt, and pepper and mix well.

Turn heat down a little to medium-low, and let rapid simmer for at least 45 minutes, stirring often. Or low and let it gently simmer, although it will reduce more slowly at a lower temp.

Once it has thickened to your liking, serve over your favorite pasta or lasagna.
Notes
Substitute crushed tomatoes for whole, or substitute another can of 28 oz tomatoes for the fresh romas. Our favorite brands are Muir Glen or Cento San Marzano.
Substitute dried herbs for fresh by subbing 1 teaspoon of dried herbs for every 1 tablespoon of fresh herbs.
To freeze: Let cool completely and then add to freezer safe bags / containers for up to 3-4 months.
Store in airtight container and store in fridge for up to 5 days.
Nutrition
Serving:
1
Batch
|
Calories:
866
kcal
|
Carbohydrates:
133
g
|
Protein:
37
g
|
Fat:
34
g
|
Saturated Fat:
5
g
|
Sodium:
4513
mg
|
Potassium:
6708
mg
|
Fiber:
36
g
|
Sugar:
75
g
|
Vitamin A:
9518
IU
|
Vitamin C:
289
mg
|
Calcium:
715
mg
|
Iron:
22
mg