Learn how to make Canned Whole Tomatoes from fresh tomatoes! It's a super easy way to can them from fresh out of the garden to enjoy them all year long!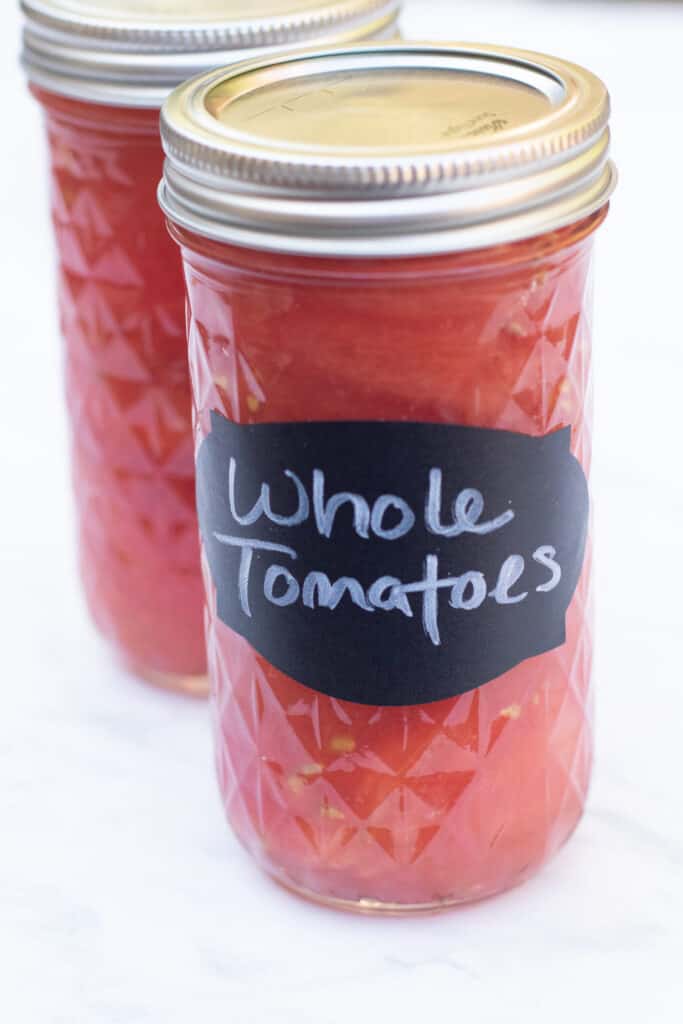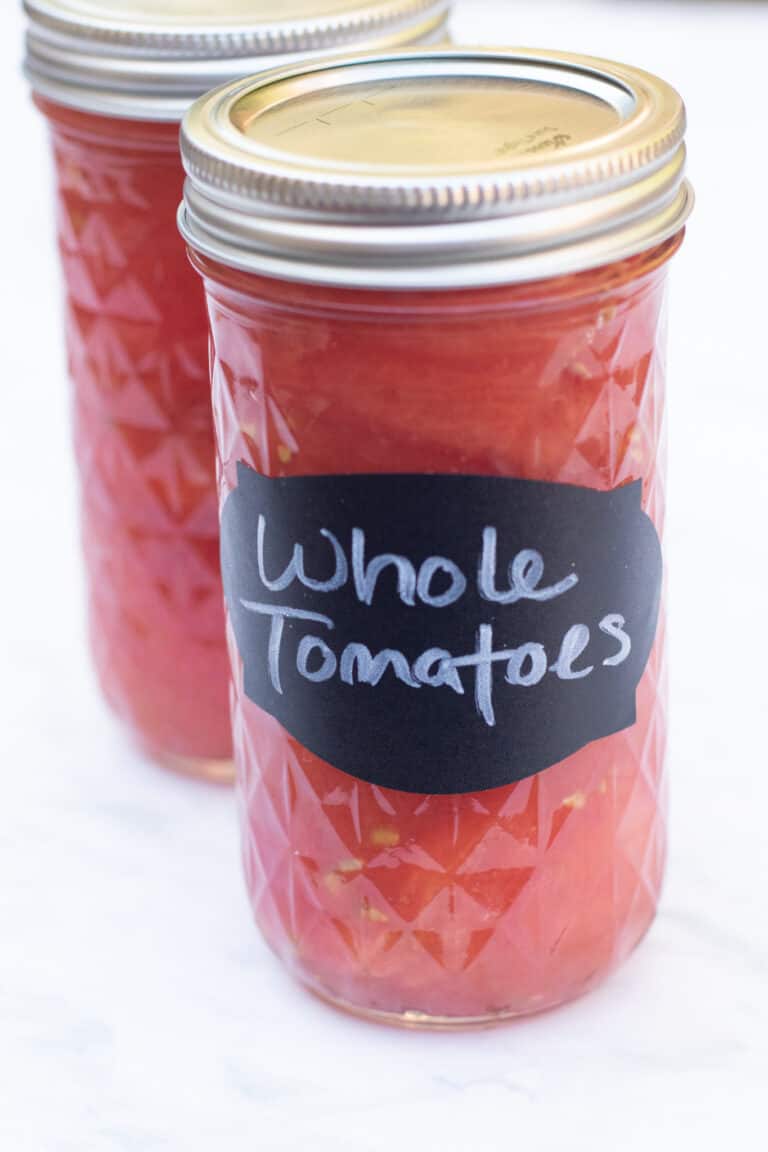 Anyone else still pulling tons of tomatoes out of their gardens? Every year I always say that I'm going to do better than last year and get our gardens planted on time, and every year I manage to mess it up and plant everything way late. Which means come October, we still have a ton of tomatoes coming in. My favorite way to save them to enjoy all year, making them into Homemade Canned Whole Tomatoes!
Ingredients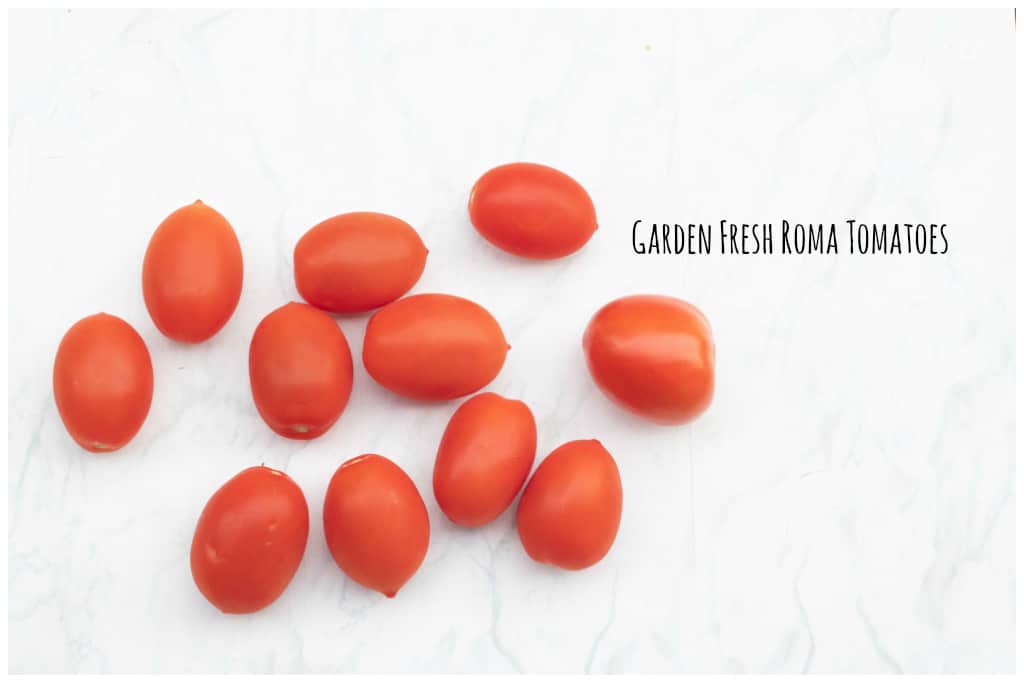 Fresh Romas - Romas are the best for not only canning, but also for general sauce making.
Lemon juice and salt - For the canning process.
What is a Roma Tomato?
Roma tomatoes are plum tomatoes, and are often called paste tomatoes. They're the best for sauces because they have low moisture which means that they need less time to cook down to create a nice thick sauce. Also, they have fewer seeds, a thicker fruit wall, and a denser flesh.
The best varieties of romas to use for your sauces, are:
San Marzano
Amish Paste
Viva Italia
Big Mama
Golden Mama
Don't know what variety your Romas are? No problem! If they were labeled Roma, you're good!
Step-by-Step Instructions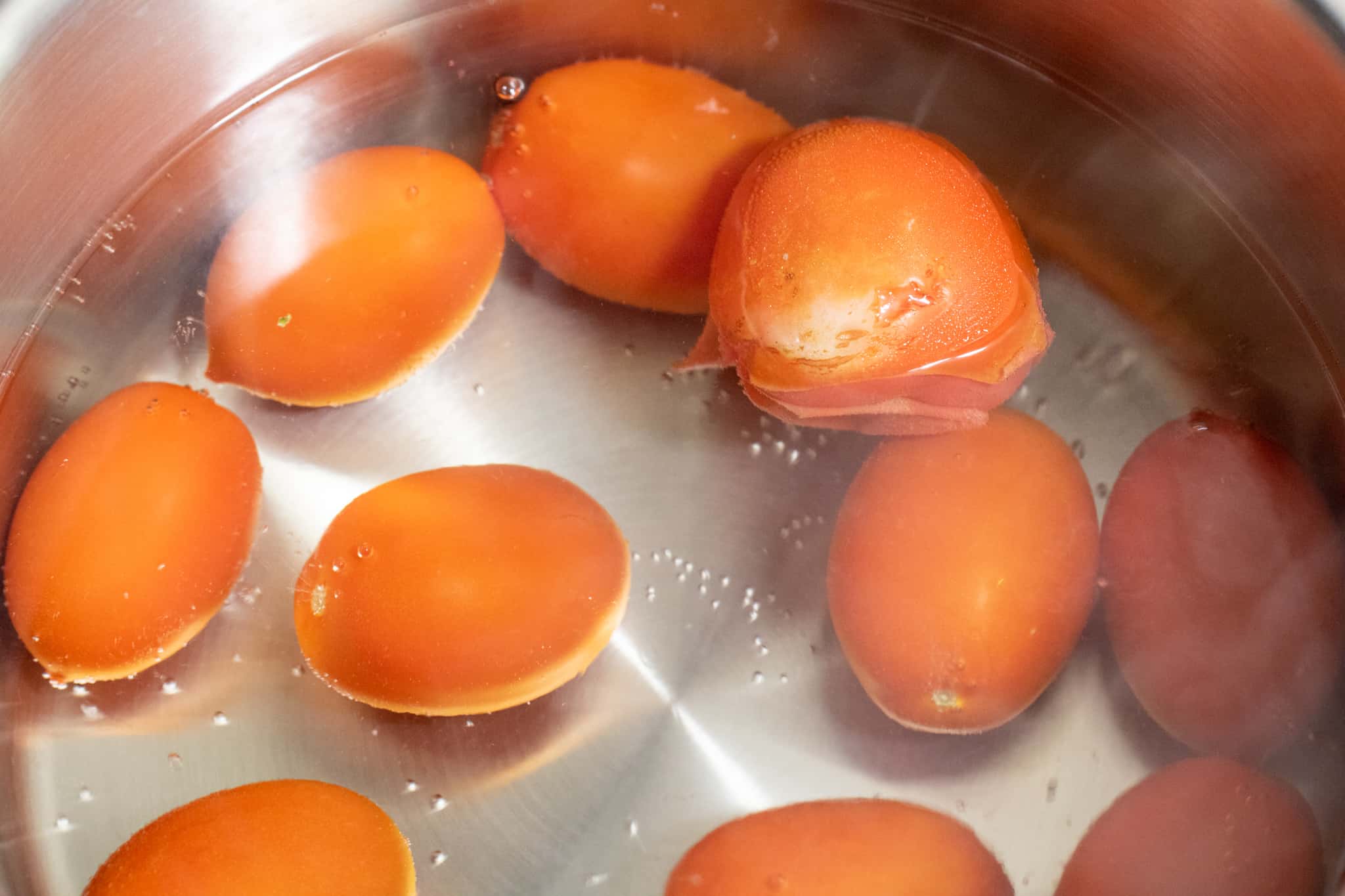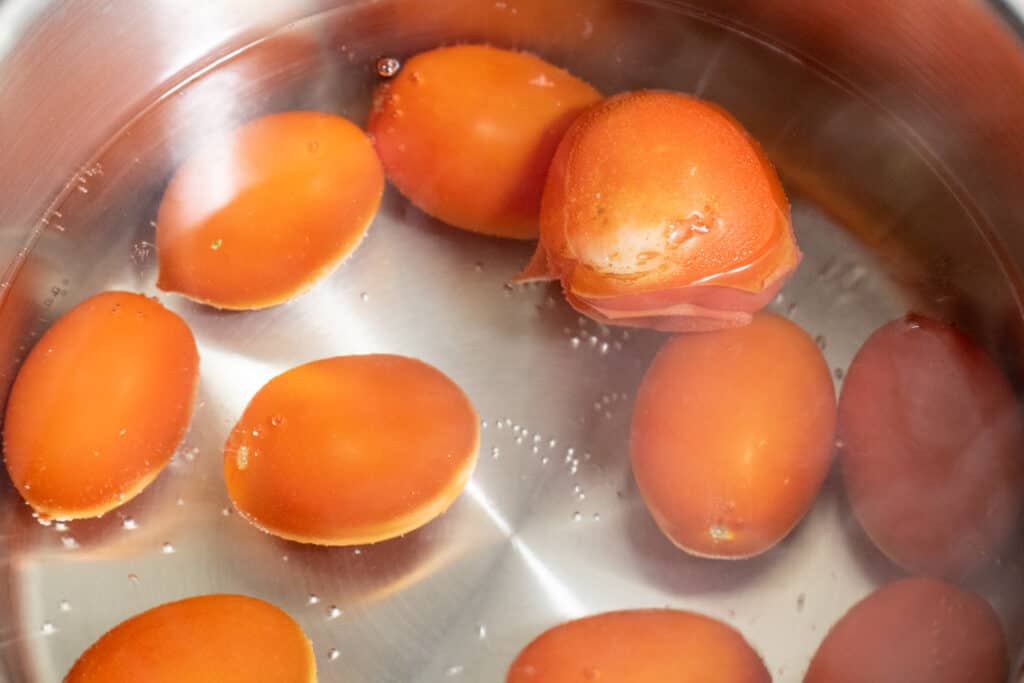 It may not be as easy as opening a can, but buying them in a grocery store was also easier than all of that watering and weeding you did all summer to keep your tomato plants alive. That's not the point, but you already know that.
Step 1: Peel them by dropping them in boiling water for about 30-60 seconds.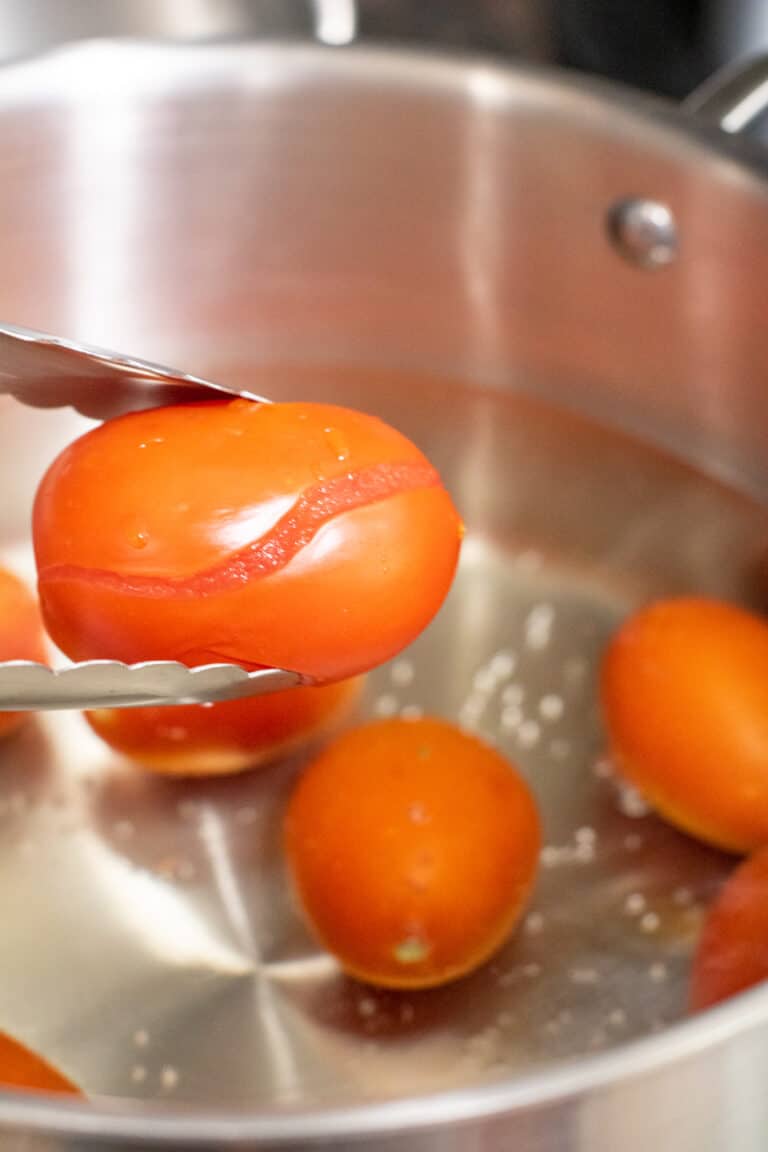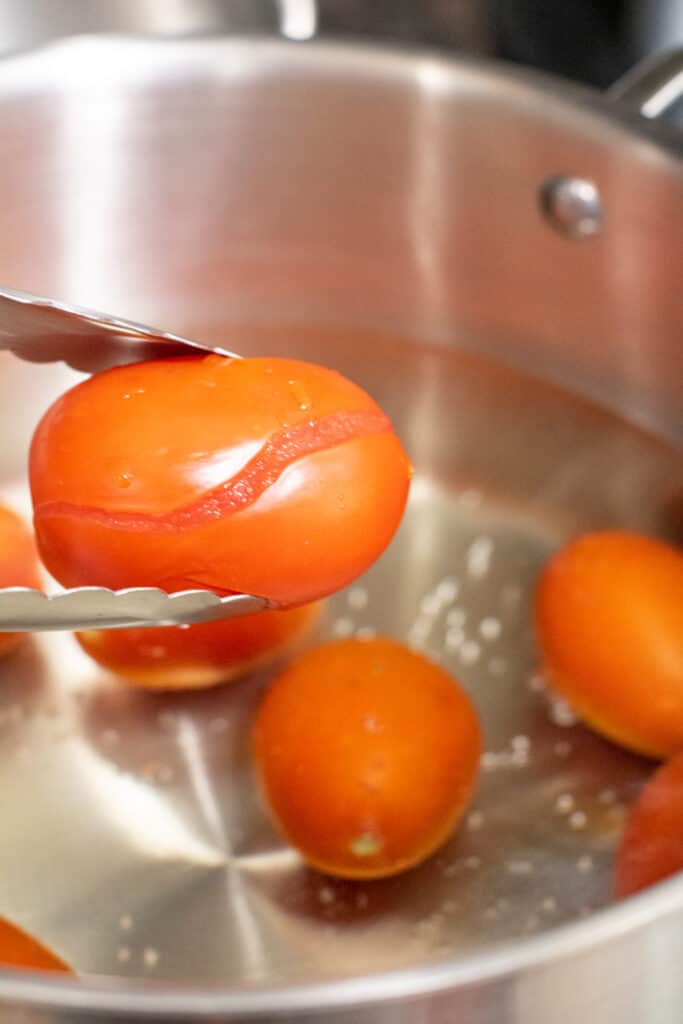 You'll know they're ready when the skin starts to split.
Tip: If you're doing a double (or even more) of this recipe, put them in the water in batches. Putting too many at once because it will cool your water.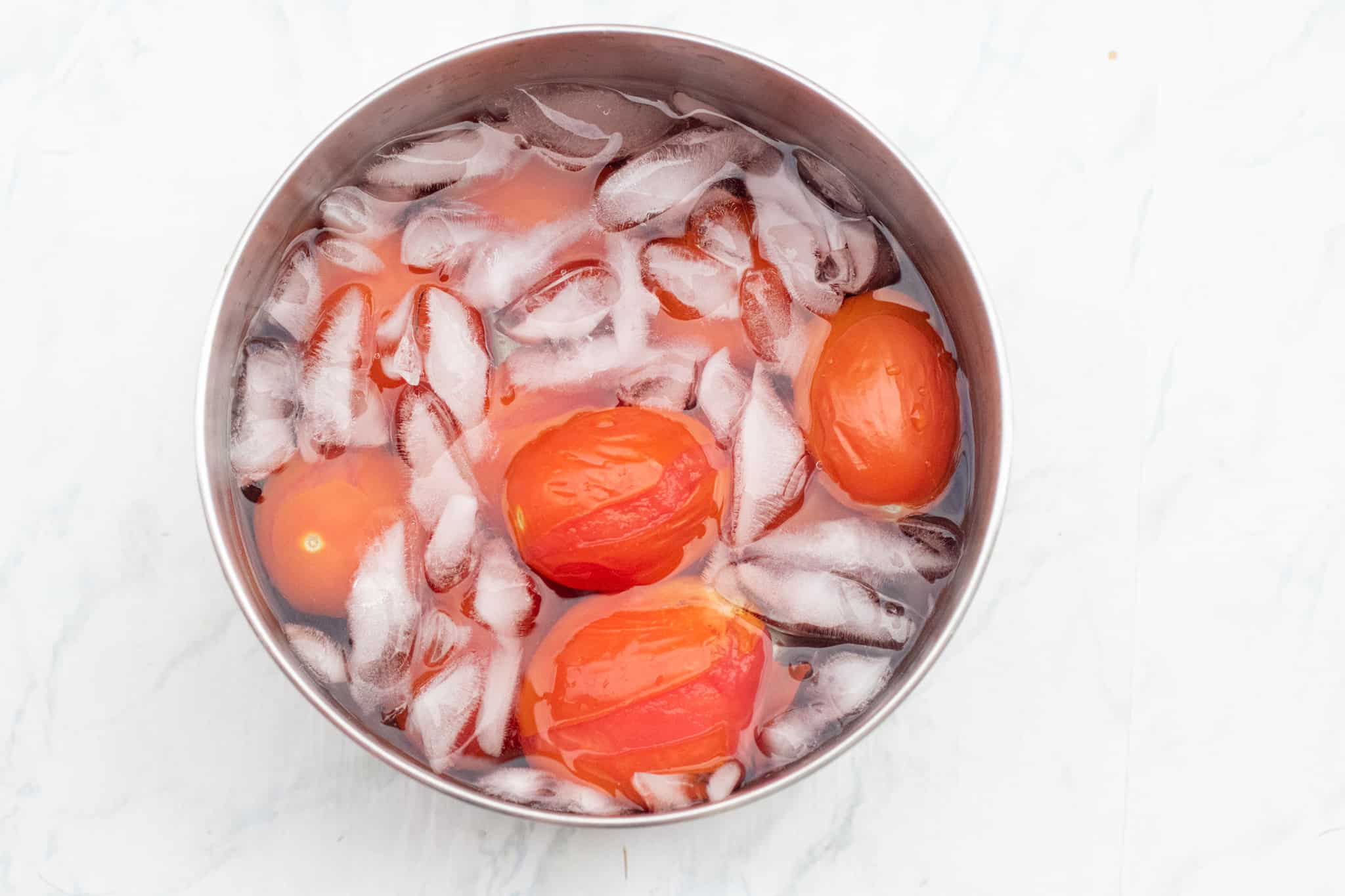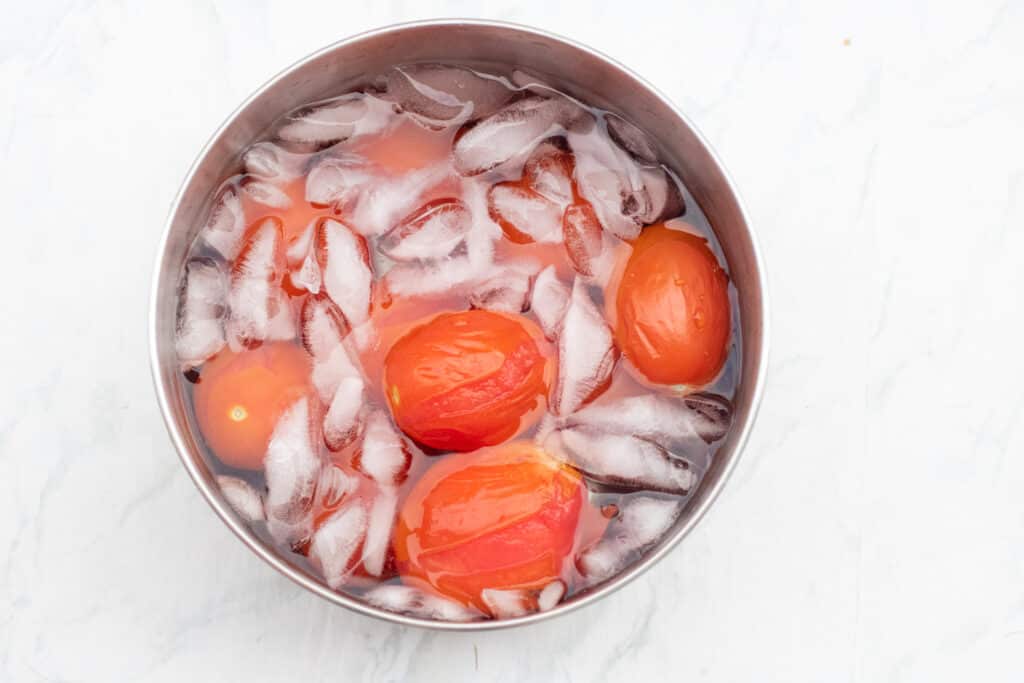 Step 2: Add them to an ice bath to cool them so you can handle them.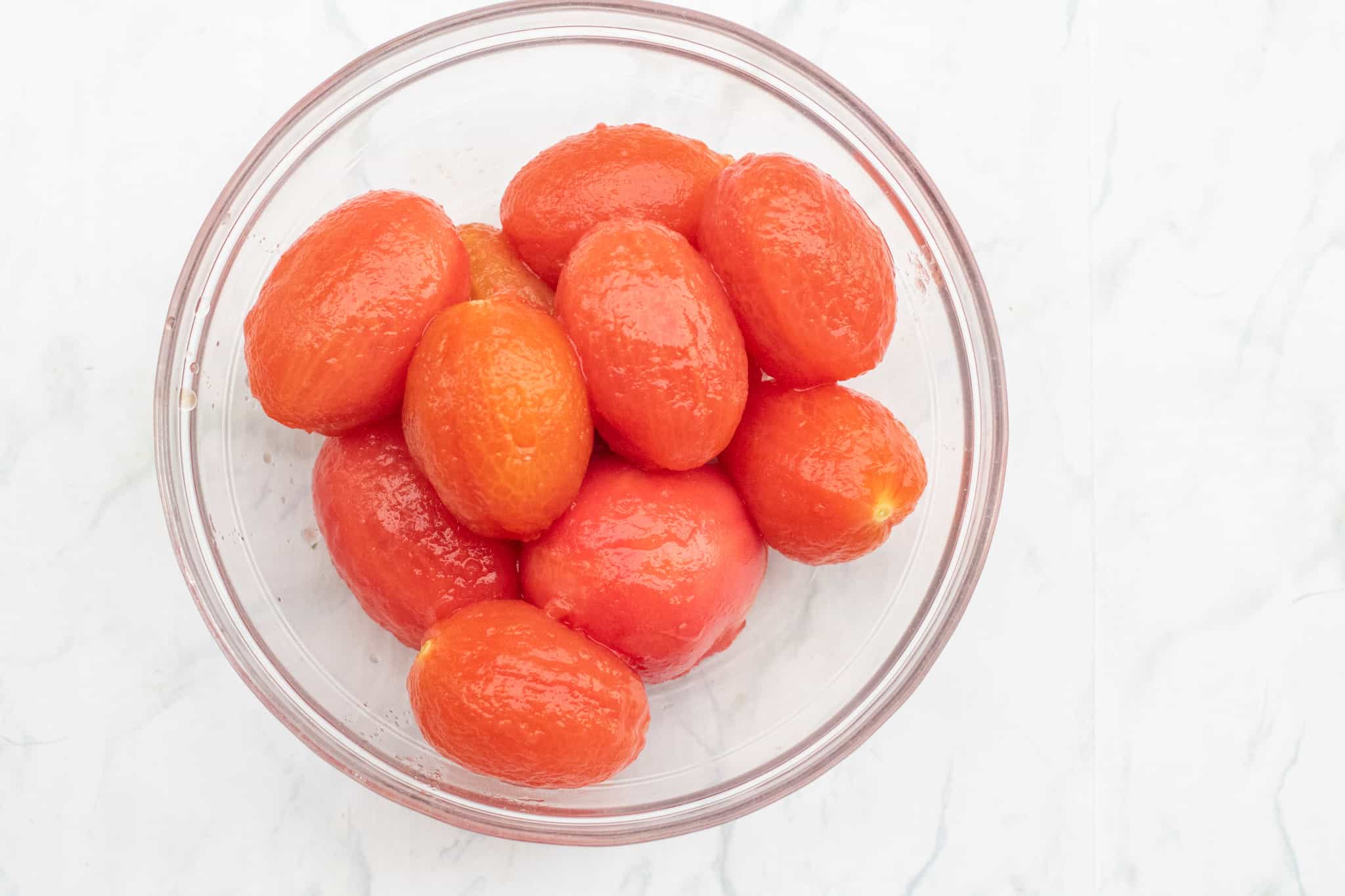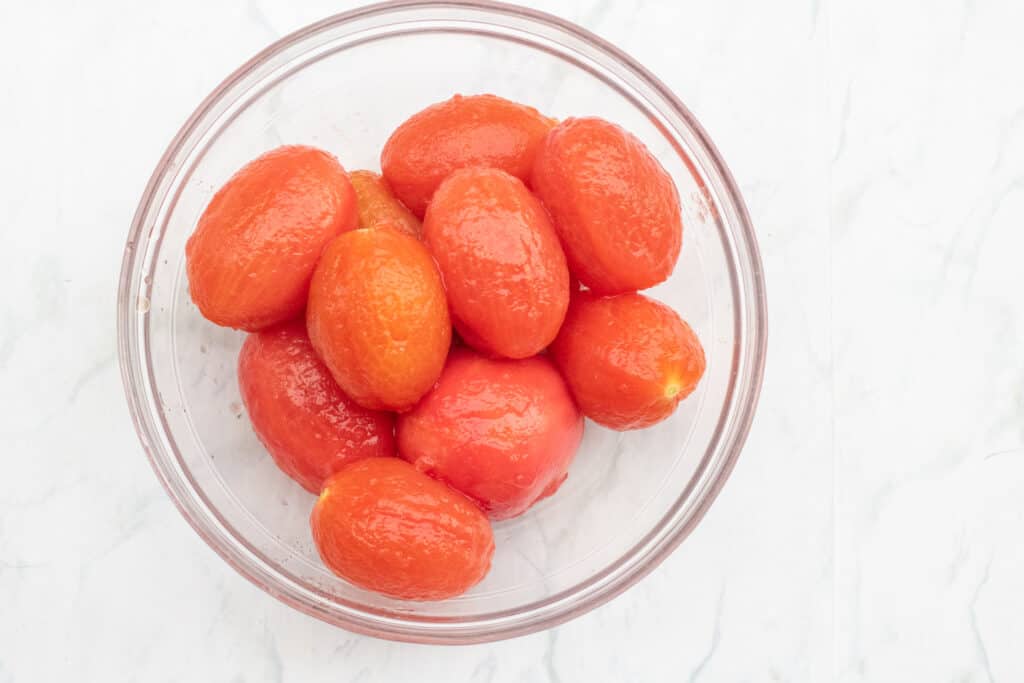 Step 3: Remove the skins. They will come off easily with a gentle peel.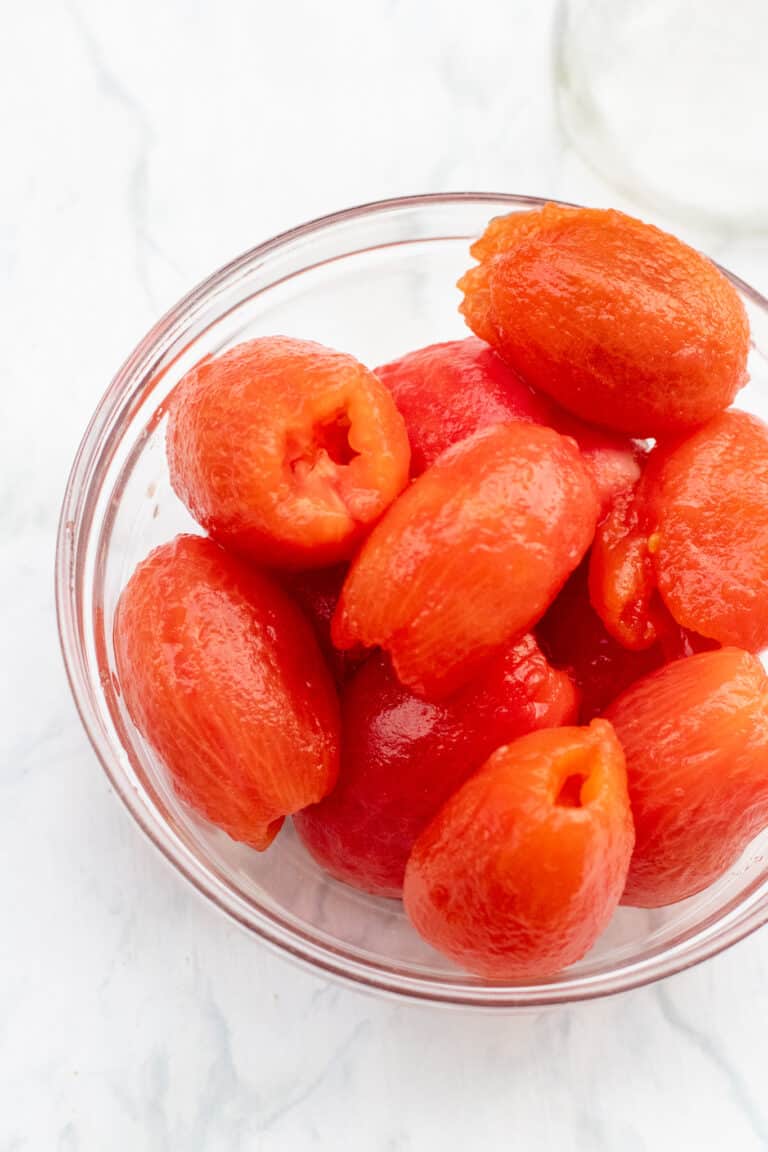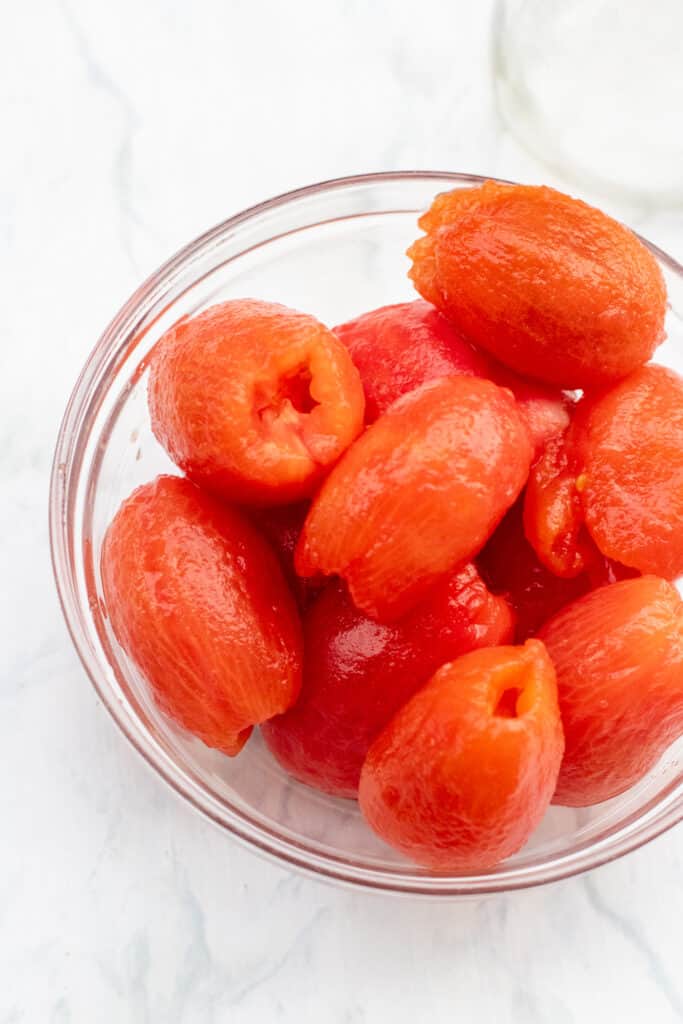 Step 4: Cut out the top part of the core. Easily done with a little paring knife.
Tip: I do this after the boil because otherwise if you cut too deep you may lose a lot of that juice from within the tomato to your pot.
Now you're ready to can!
To Use Immediately
If you're not going to can, no problem! You can store these whole tomatoes in an airtight container in fridge for up to 5-7 days. I sometimes will put them in a large mason jar, give them a little squeeze to release the liquid and then keep it in the fridge until I ready to make my sauce.
Canning
Tomatoes have previously been deemed safe for water bath canning as they are a high acid food, however, they have recently been flagged as borderline for the pH (According to the NCHFP) and that's why I always add a little bit of lemon juice just to be sure. Botulism is no joke, so I don't want to mess around with it or any other food borne illness.
Prep your jars by: Washing and sterilizing the jars and lids. You can do this by either 10 minutes in a boiling water bath, or by placing JUST THE JARS in 225 ° F oven for at least 10 minutes. Always sterilize your lids in a water bath. The rings only need to be properly washed.
Once your jars are sterilized, add 2 tablespoons of lemon juice (concentrated, not fresh) for every quart jar. You could also use a 1/2 teaspoon of citric acid. Which if you're doing any kind of cheese making, you definitely want to have this in your pantry.
I also add a teaspoon of salt, because well, salt just makes everything better.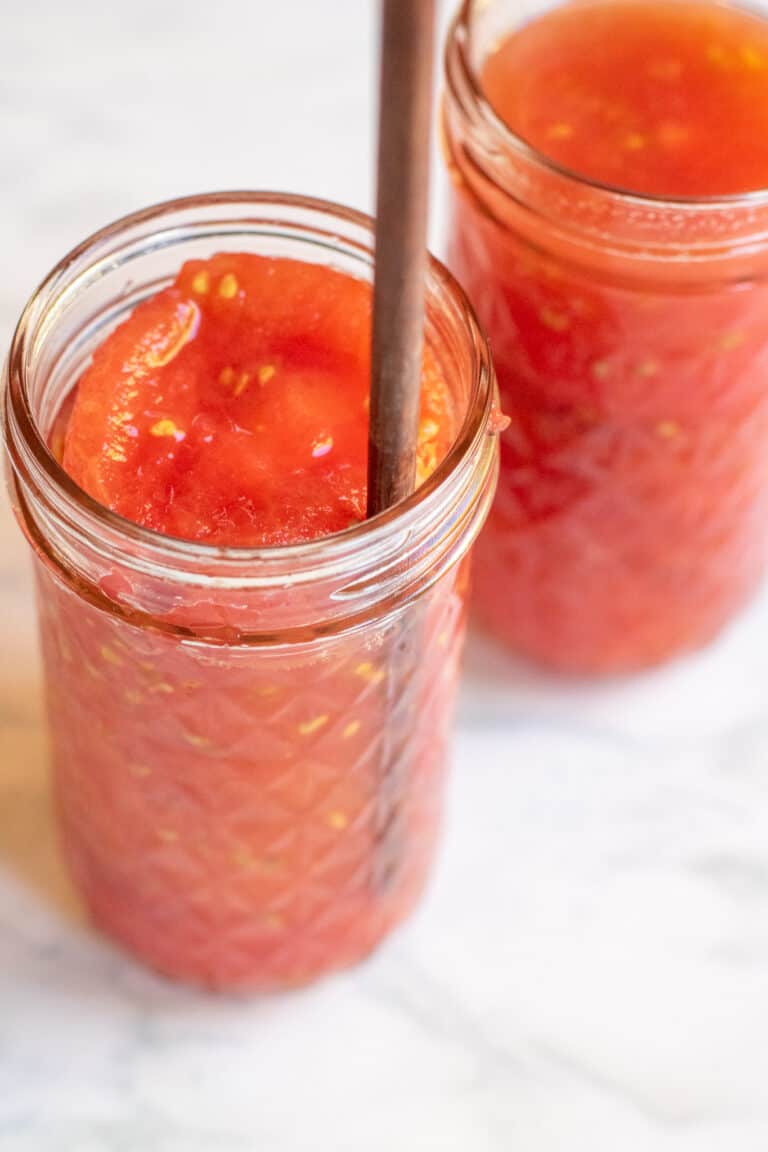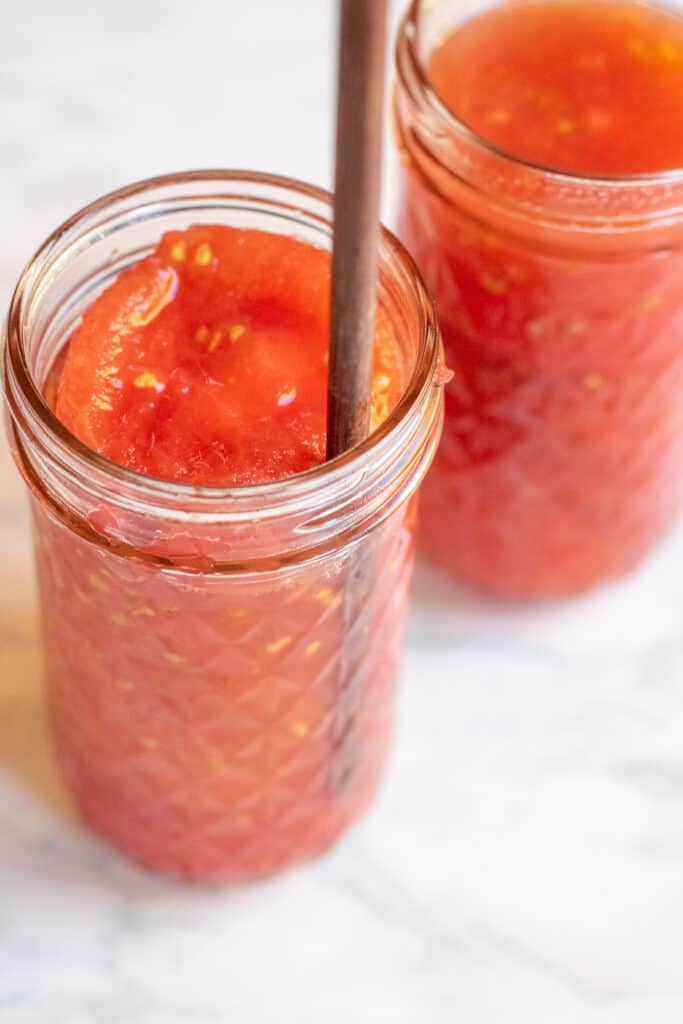 Then it's just adding the tomatoes. I use my hand to squeeze them down a bit to release some of the juice from the tomatoes and squish them in.
IMPORTANT: Be sure to leave 1/2 – 3/4 inch headspace from the top and remove bubbles.
Headspace is the distance between the surface of food and the underside of the lid. Leaving the specified amount of headspace in a jar is important to assure a vacuum seal. If too little headspace is allowed the food may expand and bubble out when air is being forced out from under the lid during processing. However, you also don't want too much headspace, because that could prevent a proper seal from forming, also.
Remove Bubbles: By using a knife, or even better, something plastic or wooden like a chopstick (using a knife could etch the glass and potentially lead to glass breakage over time), gently run it along the edge of your jar. If you have too many bubbles, that could add to your headspace and then prevent a proper seal.
I use two 12 oz mason jars for this recipe which is equivalent to a 24 oz can. While most cans are in 28 oz, there aren't any canning jars and those 4 oz that you're losing will be from the liquid.
Processing
Equipment Needed:
Mason Jars - I use 2 12 oz for this recipe.
Large Stock Pot - that will fit your chosen mason jar sizes.
Canning Tons - or other tongs to be able to safely remove the jars from the pot.
Steps by Step:
Place the sealed jar(s) in a large pot of water, ensuring that the water is a couple of inches above the jars.
Bring the water to a boil and start process for 85 minutes. Please refer to this chart for recommendations based on your altitude.
Carefully remove jars and let cool before storing for at least 24 hrs. Check the lids for a good seal, and then store.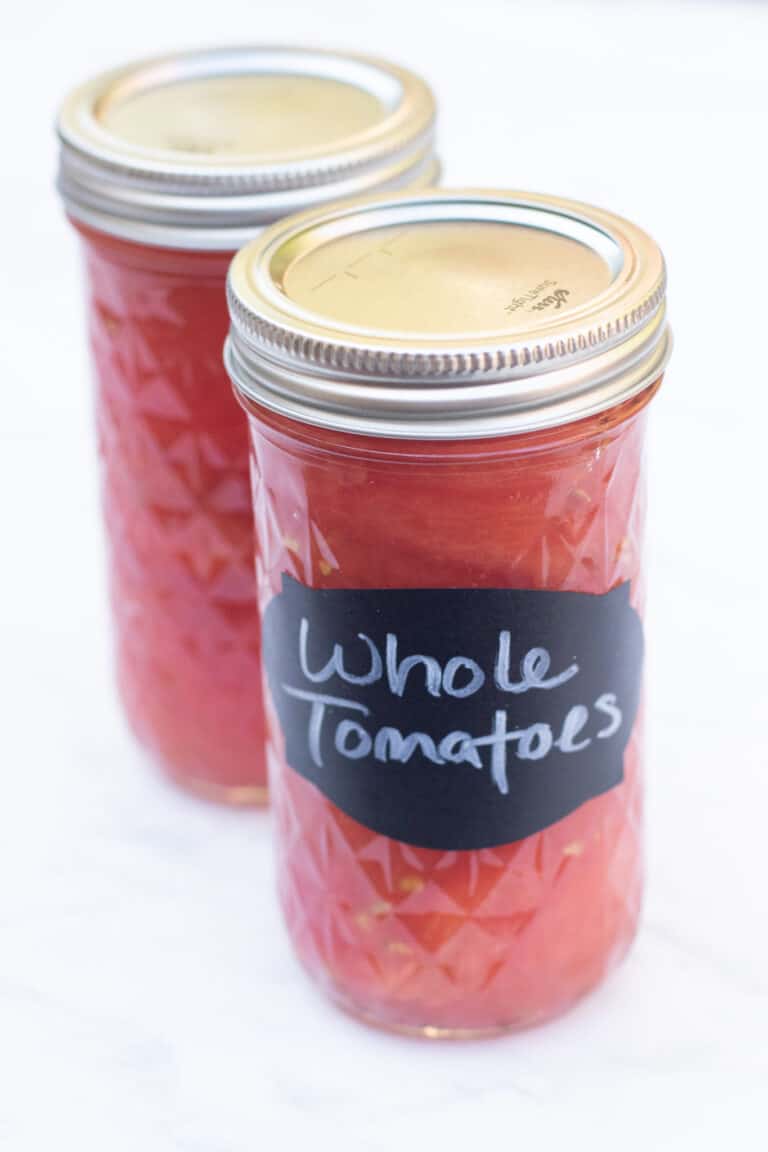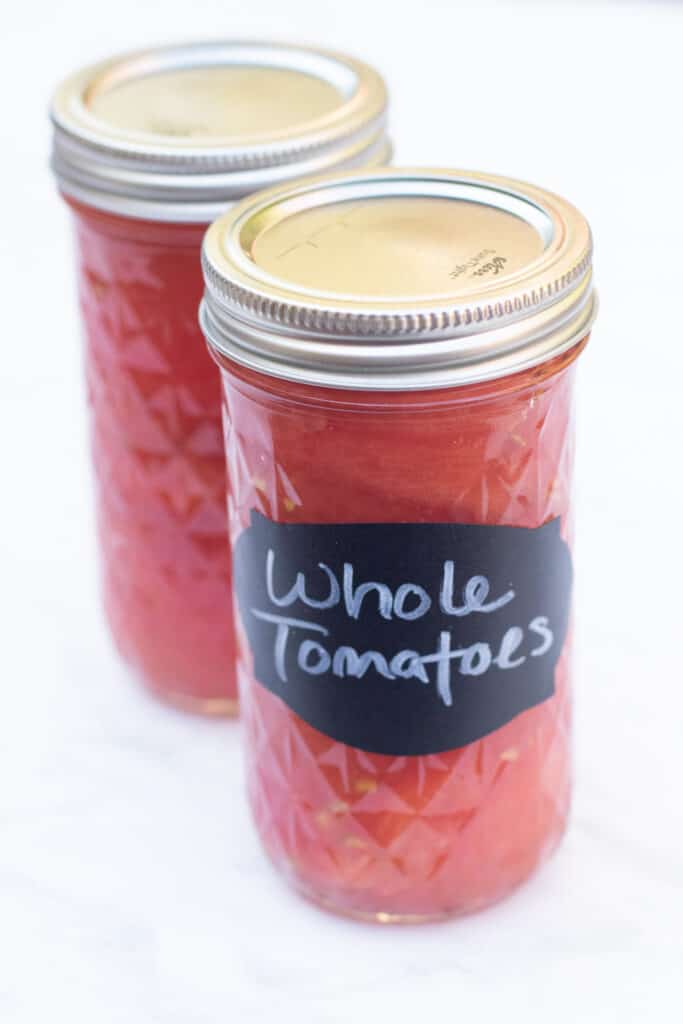 Ahhh fresh from the garden Canned Whole Tomatoes! Ready for any of your canned tomato recipes! Stay tuned for my favorite marinara sauce that I use these for!
Other Canned Tomatoes
Don't have an abundance of Roma tomatoes, but have a ton of cherry tomatoes still? Great! I love to make Sun-Dried Cherry Tomatoes!
You could also turn these into Diced Tomatoes, as well! Follow Steps 1 through 4 and then just slice tomatoes in half, remove seeds, and then give a quick dice!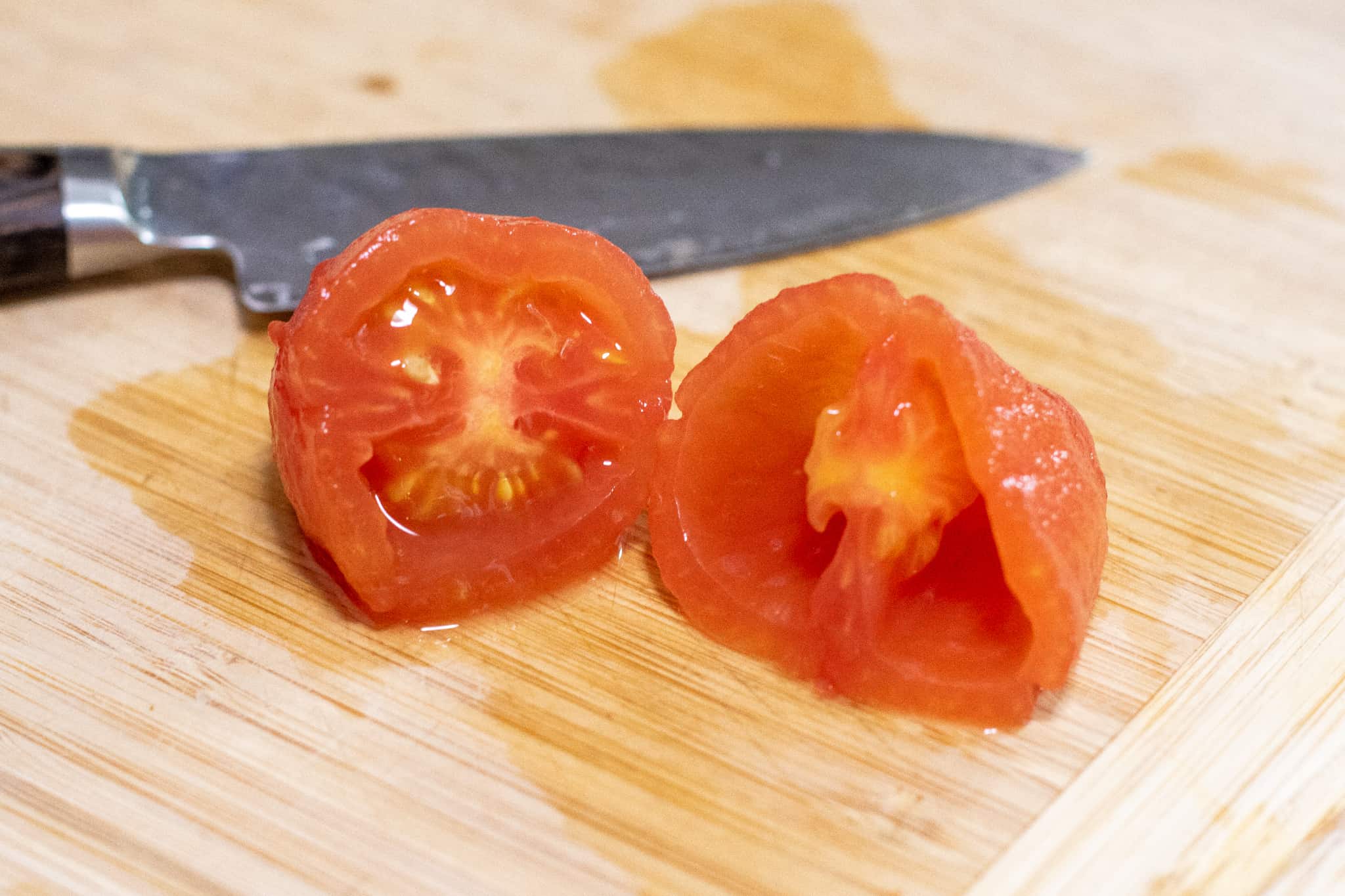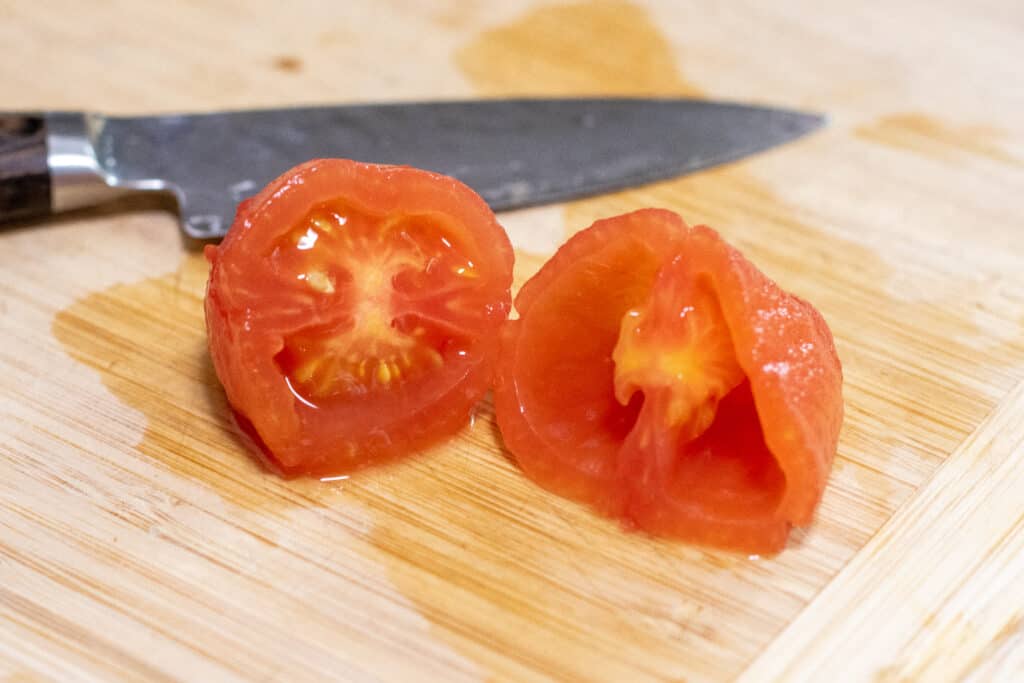 Then fill jars are you'd like and follow the same Processing Instructions above for canning!
Tools and Products Used
Here are the tools and products that I use for this recipe! You can find them on Amazon.
Shun Paring Knife (or this one which is more affordable)
Useful Canning Tips
Be sure to heat the jars, but doing the lids is unnecessary.
It used to be recommended that you heat both, but now it's been determined that it's no longer necessary
Do not use fresh lemon juice!
Although it seems counter intuitive, especially since you're use fresh tomatoes. But the citric acid level in individual lemons actually vary. The best way to know for sure, is to use bottled lemon juice.
Be careful with a glass top stove!
Some glass stove tops can't take the heat so be careful if you have one and check the manufacturer because it can't handle the heat, then it could break the top or cause food spoilage because proper temps may not be maintained.
Be careful when removing bubbles.
You can use a knife to do this, although you have to be careful because it could damage the jar over time. I usually use a wooden chopstick.
Don't over tighten your lids.
You can actually over tighten your lids. Just screw them on with your fingers until tight. Don't use your whole palm or give it a ton of elbow grease. By over tightening, you can actually buckle the lids or result in seal failure.
Headspace - Not too much and not too little!
Be sure that you leave only 1/2 - 3/4 inches. Too much or too little could prevent a proper seal.
Enjoy! As always, if you make this recipe or any of my others, I love to hear what you think! Leave a comment below, email me, or you can find me on Facebook, Instagram, and Pinterest!
If you want to see more, be sure to sign up for my 5 Easy Ways to Start Cooking From Scratch!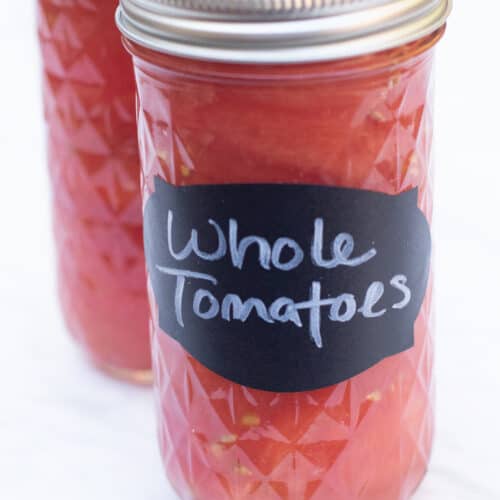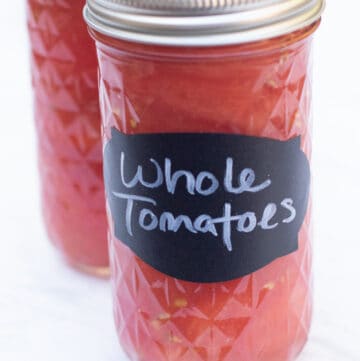 Homemade Canned Whole Tomatoes
Learn how to make your own Canned Whole Tomatoes! It's a super easy way to can those fresh garden tomatoes to enjoy them all year long!
Print
Pin
Rate
Instructions
If Canning: Prep your canning jars by giving it (them if you're increasing the volume of the recipe) and the lids a water bath for at least 10 minute to sterilize them. Set aside to dry.

Wash tomatoes. In another large pot, add tomatoes to water and bring to a boil. Let boil for 30 - 60 seconds until you see the skins of the tomatoes split.

Fill a large bowl with ice, and add tomatoes to cool. Gently remove skins with your hands and discard skins.

With a small pairing knife, remove core from top of tomatoes.

If Not Canning: Add tomatoes to a large mason jar or other air tight container. Squeeze the tomatoes a bit as you put in container to release some of the liquid. Store in fridge for up to 5-7 days.

If Canning: Add 1 tablespoon of lemon juice and salt to jars and then add tomatoes a couple at a time. With you hand, gently press down on tomatoes to release some of the juice and air bubbles.

Prep water bath for canning.

Fill jars with tomatoes, leaving at least 1/2 to 3/4 inch space from top of tomatoes to bottom of the lid.

Add to water bath and process for 85 minutes.

Seal jars and let sit for at least 24 hrs and then check to ensure the lids are sealed.
Notes
2 lbs of tomatoes = 12 oz jars or 24 oz. Measure just under the 2 lb mark rather than just over as 2 lbs exactly will fill the jars. If making to use immediately, or within the next 5-7 days you can store in any airtight container.
You can substitute 1/2 teaspoon of citric acid for 2 tablespoons of lemon juice concentrate.
Be sure to use lemon juice concentrate and not fresh lemon juice as fresh lemon juice will have varying citric acid levels.
Be sure to follow safe canning instructions by referring to this chart for recommendations based on your altitude.
You can also make canned diced tomatoes, see instructions above in post.
Nutrition
Calories:
170
kcal
|
Carbohydrates:
37
g
|
Protein:
8
g
|
Fat:
2
g
|
Saturated Fat:
1
g
|
Sodium:
2371
mg
|
Potassium:
2150
mg
|
Fiber:
11
g
|
Sugar:
25
g
|
Vitamin A:
7557
IU
|
Vitamin C:
136
mg
|
Calcium:
91
mg
|
Iron:
2
mg