Everything you need in one pan. This Green Bean and Mushroom Braised Chicken is an easy and delicious weeknight dinner.

You guys already know how much we love chicken dinners in this house. But usually it's either thrown in the trusty Crock Pot or baked. I have no idea why, but for some reason we hardly ever braise it... until now. This Green Bean and Mushroom Braised Chicken has seriously upped our chicken dinner game!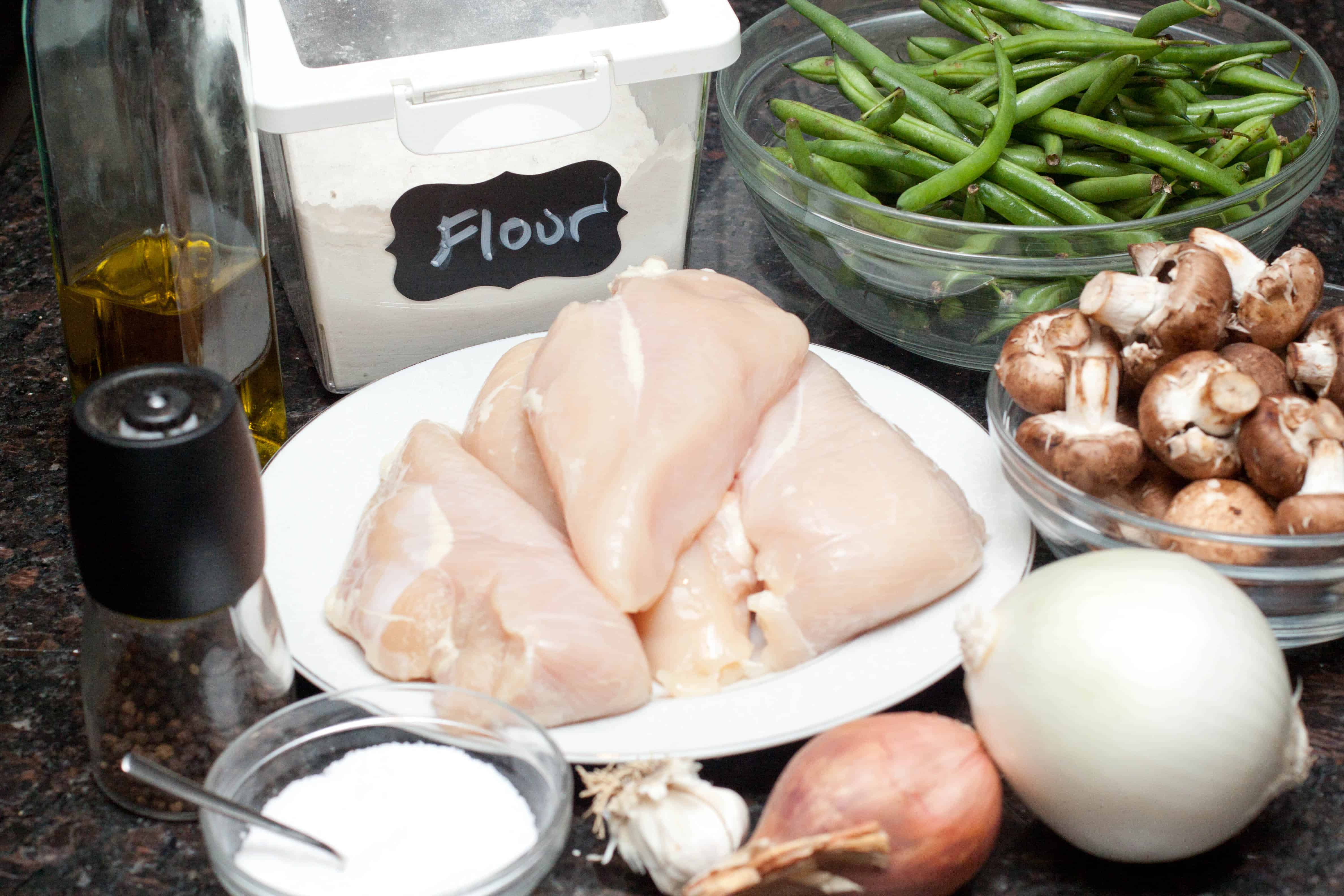 Not only is it easy and fairly low maintenance, it's still really healthy. The only thing missing here is the beef stock - which by the way, have you started making your own yet??
First I sauteed the onions, shallots, and garlic in a large saute pan (use the biggest, deepest one you have).
Meanwhile, I gave 4 large chicken breasts a light coating of flour. No egg, just salt, pepper, and flour.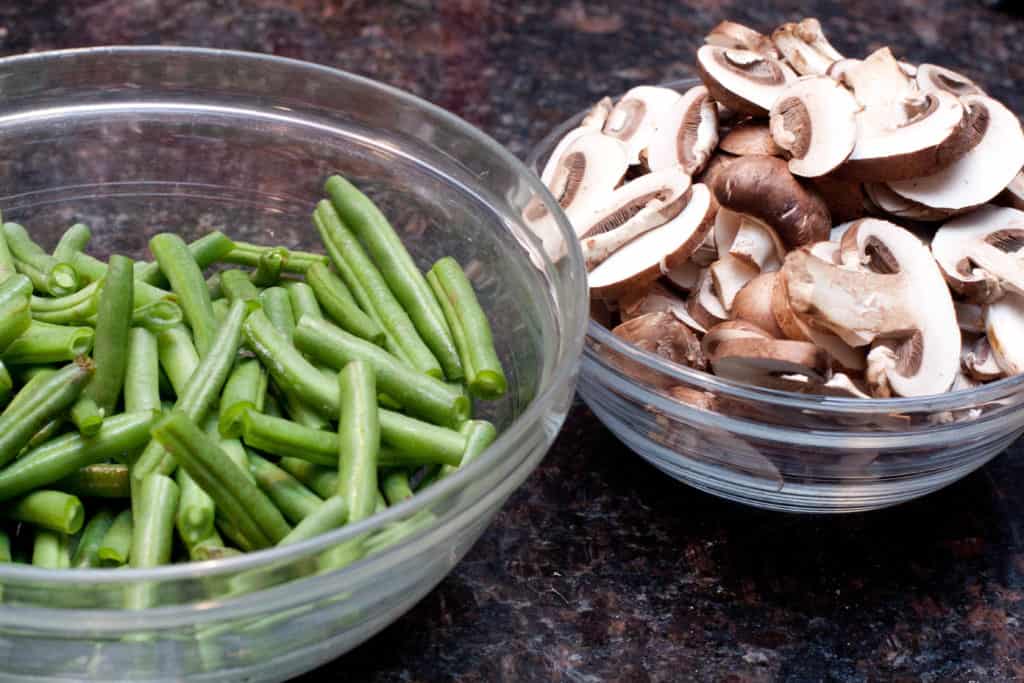 Then a quick slice of some fresh mushrooms and trim of some fresh green beans. Emphasis on fresh. Canned or frozen veggies just wont be the same.
Once the onions were done, I removed them from the pan and then gave the chicken breasts a quick sear to brown them on each side. Then the onions went back in the pan with the fresh veggies and the beef stock, and the whole pan went into a nice hot oven. Easy. So easy, I could manage to throw this all together while the little munchkin played with some toys in her highchair.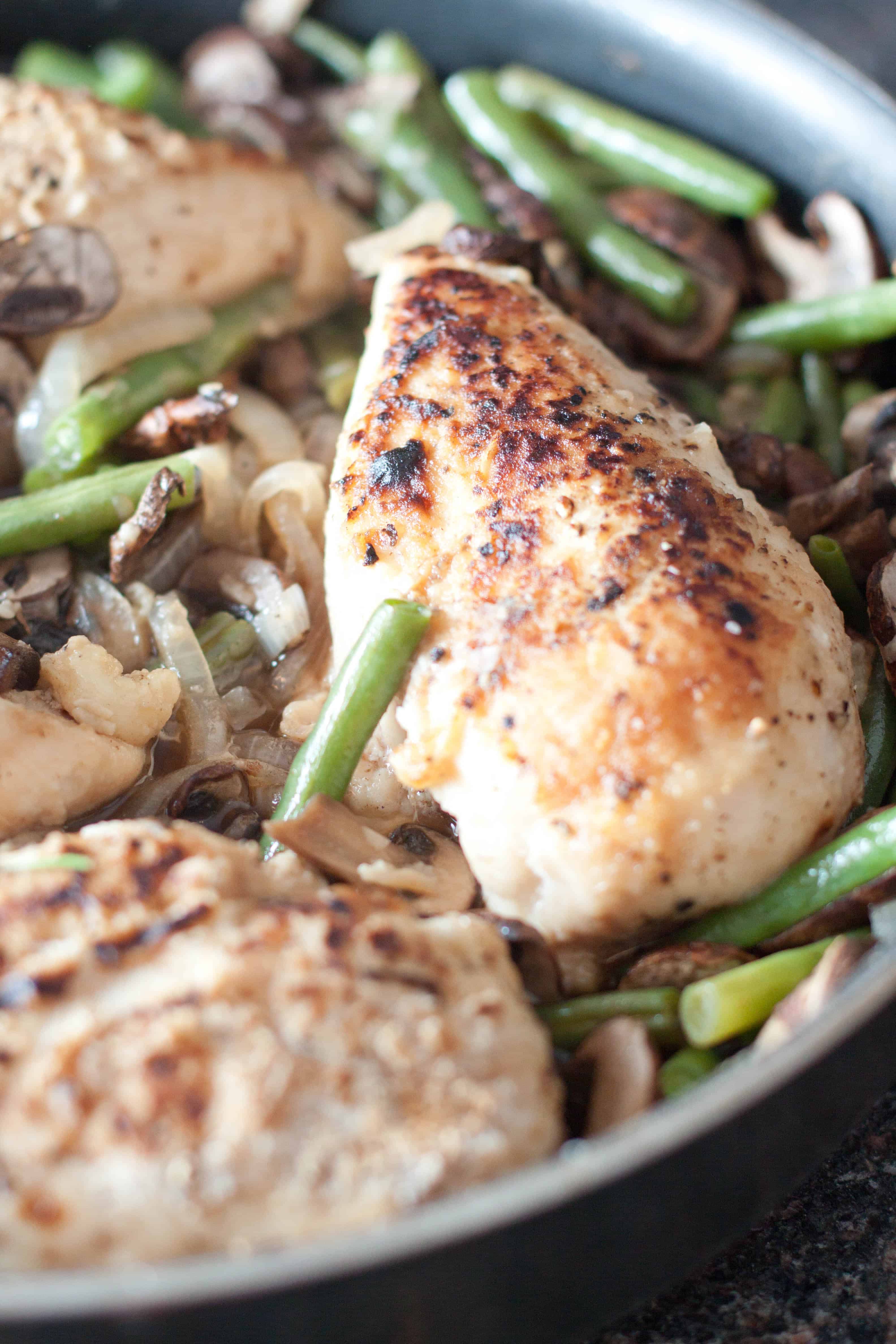 And then I had 45 glorious minutes of "free" time while everything braised in the oven. Can I just say that I had noooo idea how valuable this time was/is now that we have a little one? In that time I: finished washing / putting away a load of cloth diapers, took down all the ornaments from our Christmas tree, and folded two loads of laundry from the day before. What the heck did I do with all of my time before the baby?!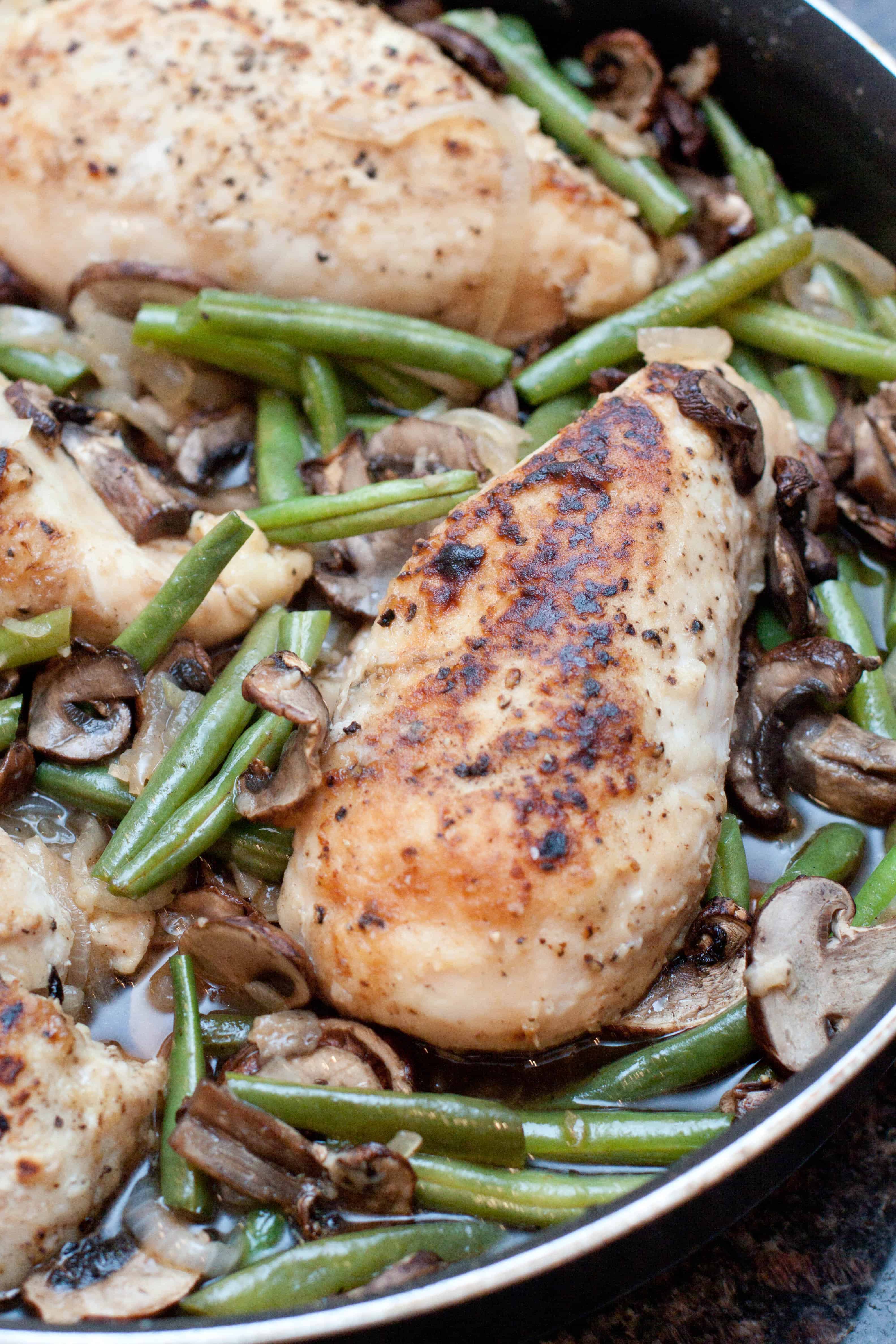 So thank you, beautiful Green Bean and Mushroom Braised Chicken, your easy low maintenance cooking makes this busy mama's life a little more manageable but still delicious!
Enjoy!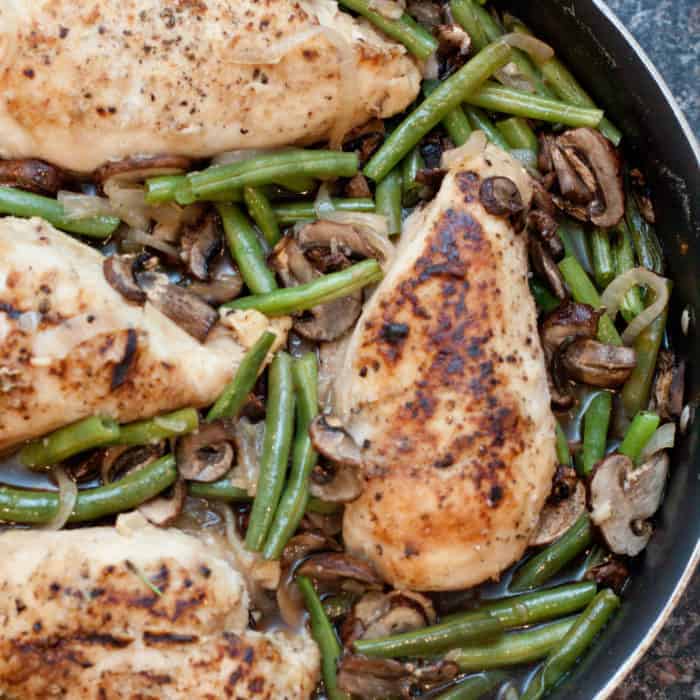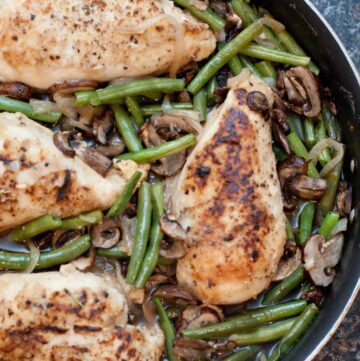 Green Bean and Mushroom Braised Chicken
This Green Bean and Mushroom Braised Chicken is an easy and delicious weeknight dinner, all in one pan.
Print
Pin
Rate
Ingredients
4

boneless chicken breasts

1

large white onion

sliced thin

1

shallot

minced

3

garlic cloves

minced

2

lbs

green beans

trimmed and halved

1 1/2

lbs

crimini mushrooms

sliced

1 1/2

cups

beef stock

or chicken, whatever you have*

1 + 1/2

tablespoon

olive oil

salt and pepper

1/3

cup

flour
Instructions
Pre-heat oven to 350 degrees

Generously salt and pepper both side of chicken breasts.

On a large plate, add flour evenly and coat both sides of breasts with flour, roll on to sides of breast for full coating. Add more flour as needed and set breasts aside.

In a large sautee pan or cast iron skillet, heat 1 tablespoon of olive oil over medium heat. Add onions, garlic, and shallots and saute for 5-7 minutes or until onions begin to caramelize. Remove onions from pan.

Add additional 1/2 tablespoon of oil to pan, turn heat to high, and sear chicken breasts. 3-4 minutes on each side or until they're nicely browned.

Return onions to pan and add green beans and mushrooms (It will look like it's overflowing, but everything will cook down).

Add beef (or chicken) stock and an additional tiny pinch of salt and a few grinds of pepper if desired (Keep in mind the salt level of your stock - low sodium stock add the extra salt).

Put pan in oven. After 25 minutes, remove pan and stir veggies so that they all get coated with stock. Return to oven to finish cooking.

Serve hot and enjoy!