Homemade Mini Almond Joys are incredibly easy to make and taste just like the candy bar!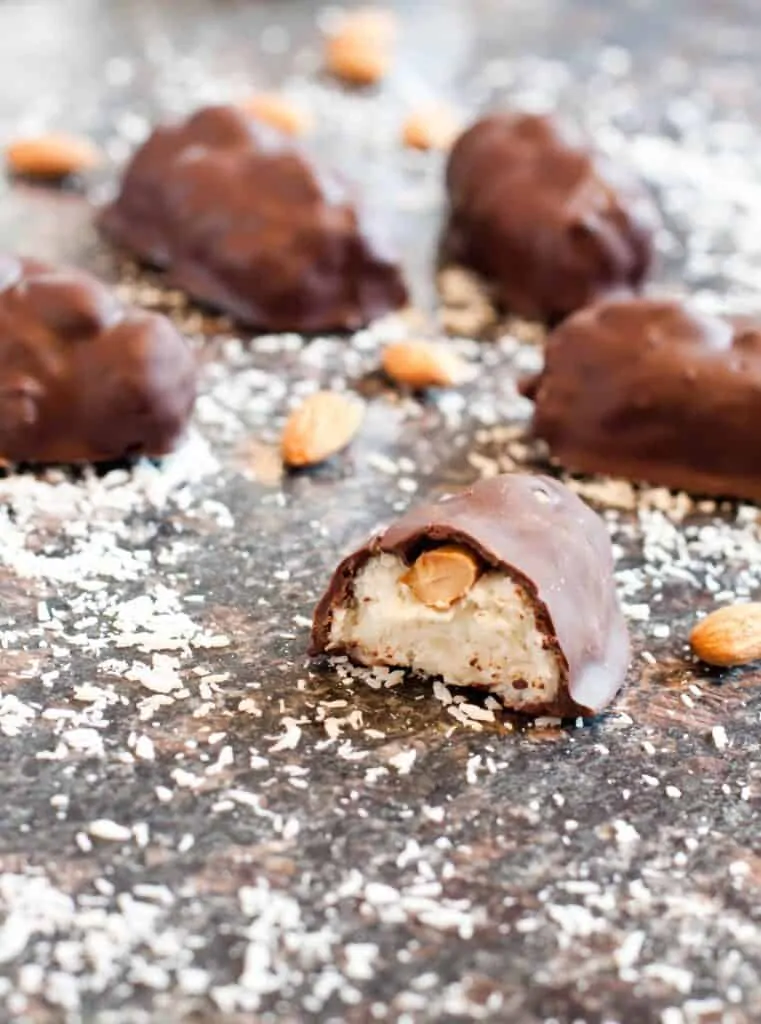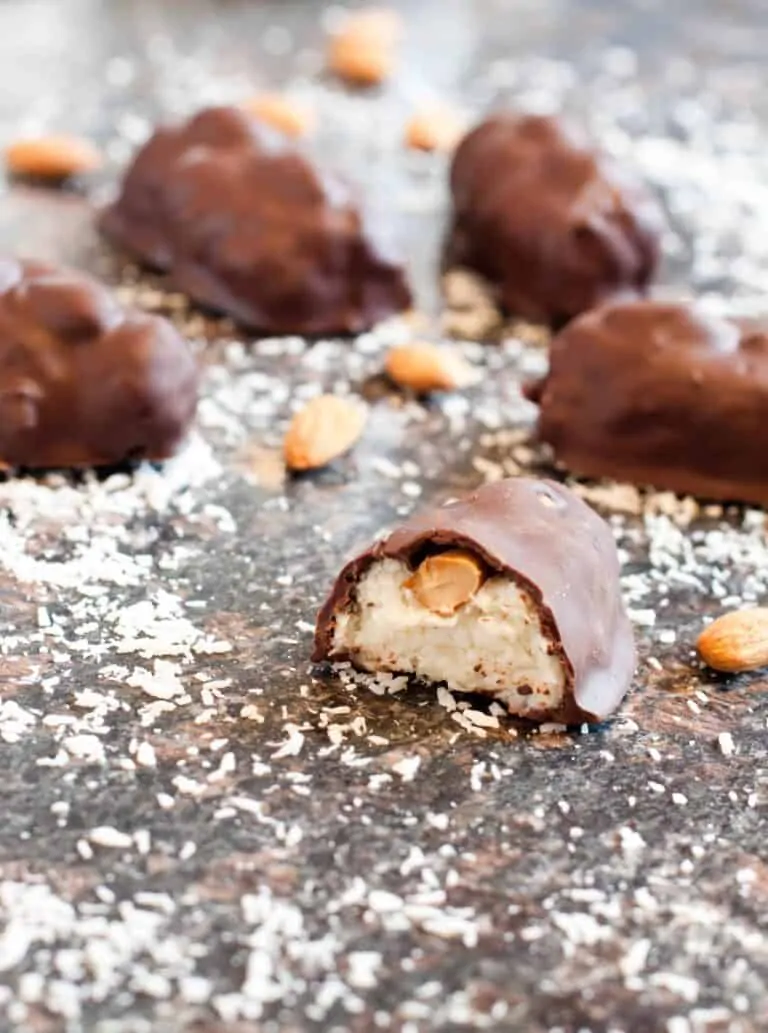 Happy New Year, friends! I hope everyone had an amazing holiday season and a festive New Years celebration! Have you made any resolutions this year? One of mine: make more candy! First up, Homemade Mini Almond Joys! Guess that means I'm adding a few more workouts to 2017, too 😉
Ingredients Needed
This recipe may not be the most from scratch recipe we have with a few canned / bagged ingredients. But condensed milk is definitely on my list!
Shredded Coconut - Unsweetened for this recipe because there's enough sweetness from the other ingredients.
Confectioners Sugar - Be sure to use this kind of sugar as white wont work quite the same and brown will adjust the flavor entirely.
Unsweetened Condensed Milk - Again, unsweetened for this due to the sugar level, but if you did want them super sweet, you could use Sweetened Condensed Milk.
Chocolate Chips - Or melting chocolate. This is for the chocolate coating. We prefer a 60% cacao, but you could definitely use semi-sweet chocolate chips, too.
Vanilla Extract - Have you

made your own

, yet??
Salt and Almonds - Just a touch and then to make it an Almond Joy.
Tip: Leave out the almonds all together and you have your own Mini Mounds! Because 🎶 Alllmonddd Joys have nuts. Mounds don't. 🎶
Step-by-Step Instructions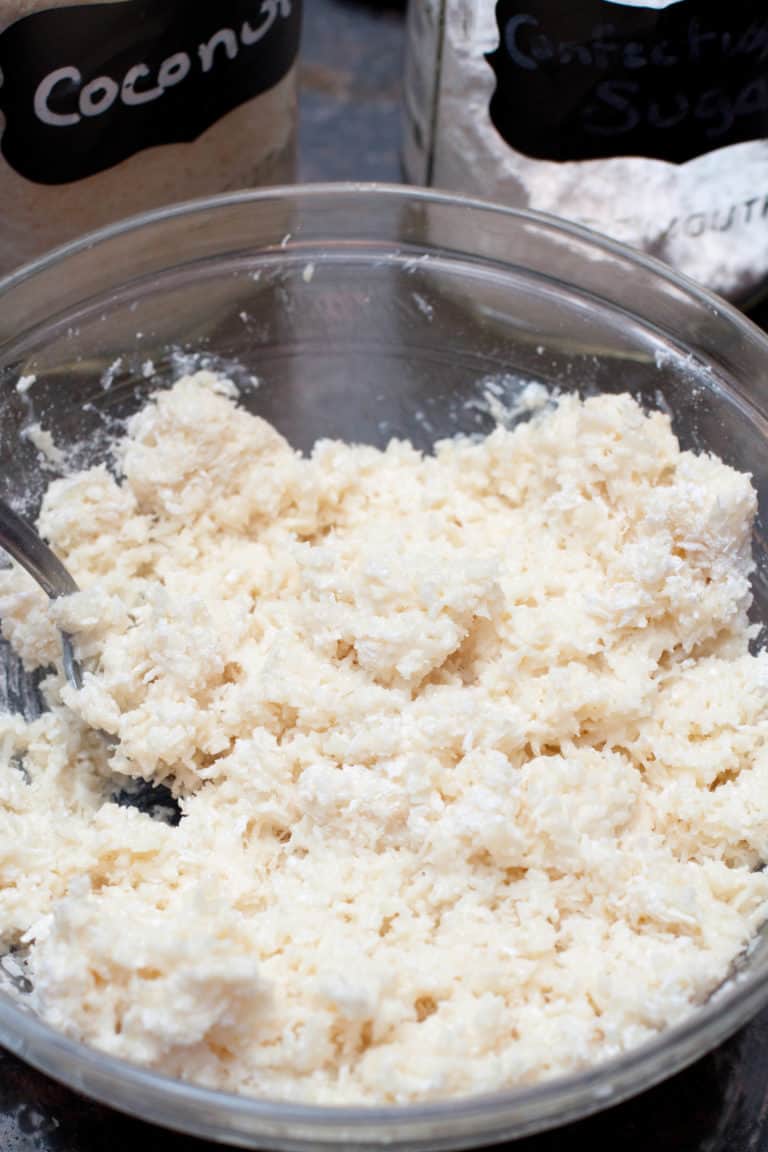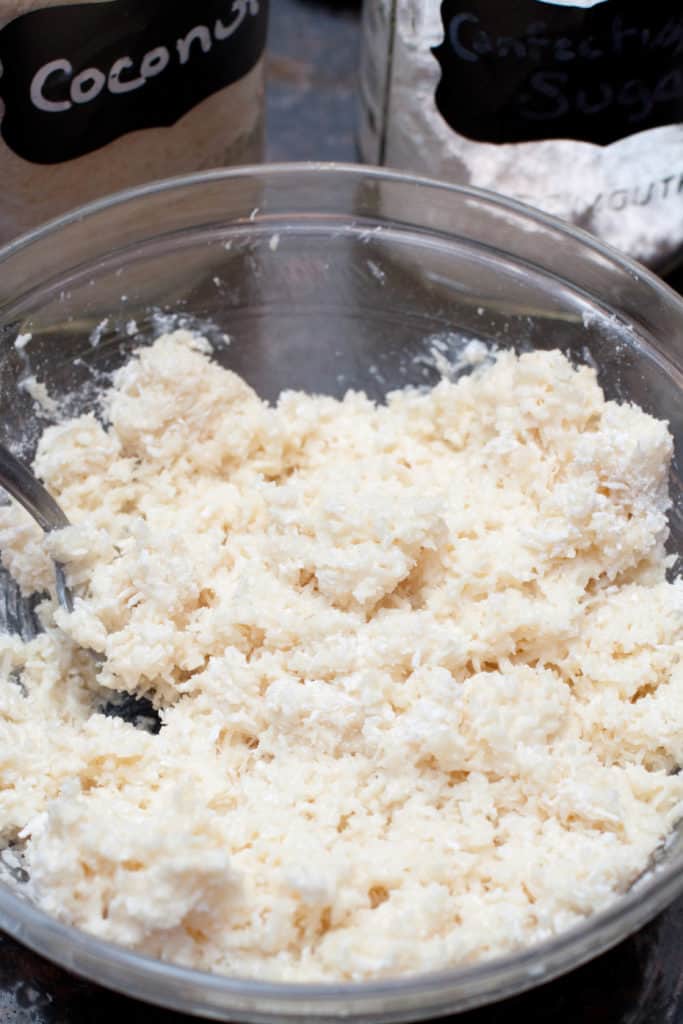 Step 1: Mix of the shredded coconut, condensed milk, sugar, vanilla extract, and salt and then popped it all into the freezer to cool for 30 minutes. This will help set it and make it easier to shape.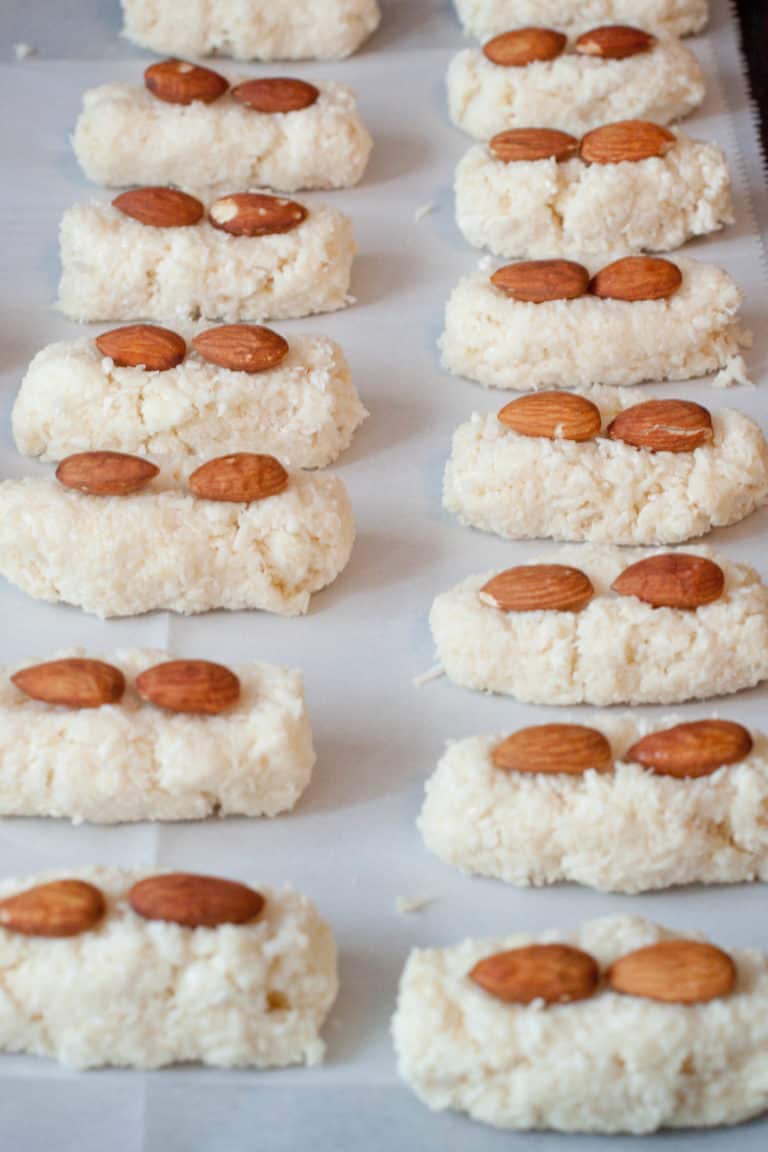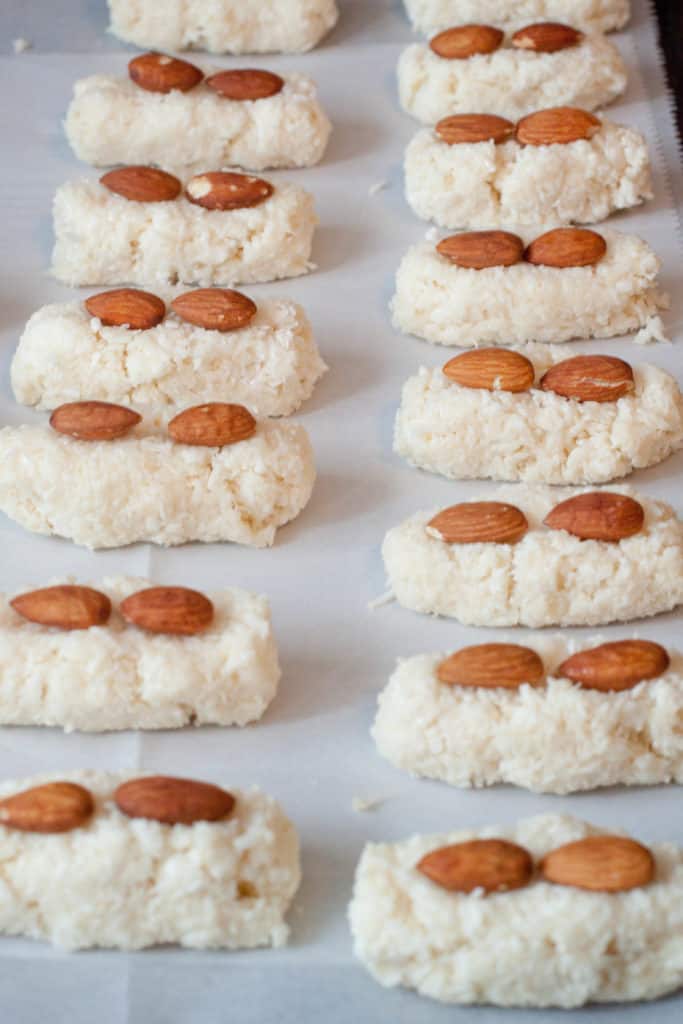 Step 2: Mold your sweet coconut mixture into little mounds. Here, you can choose to add roasted almonds on top, or leave them without and make yourself a few Mini Mounds bars, '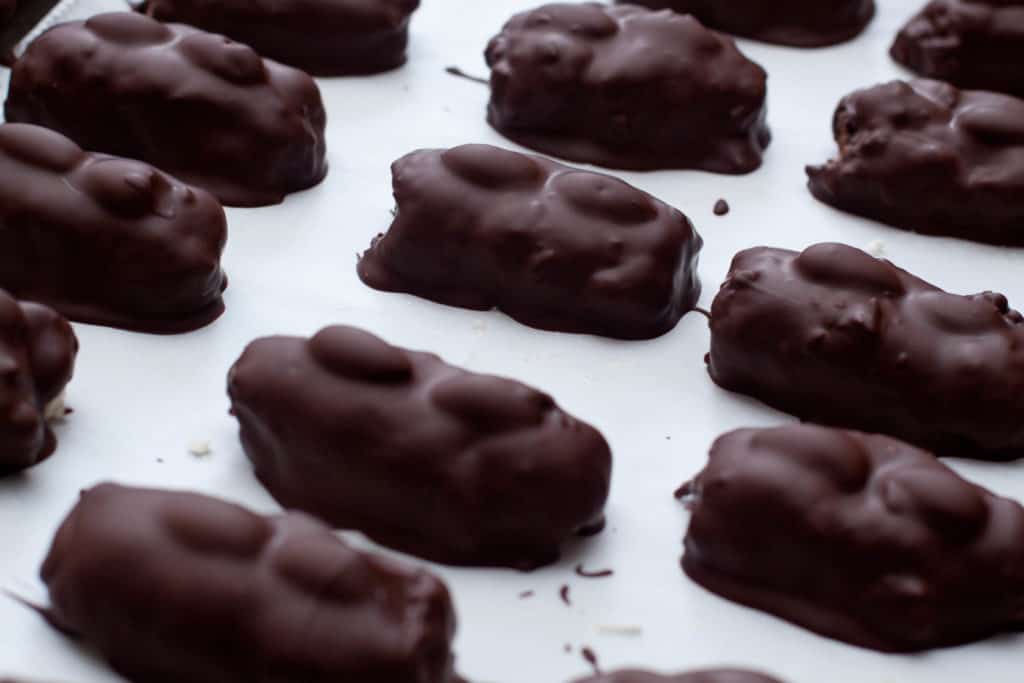 Step 3: Melt some chocolate and dip in the melted chocolate chips and transfer to fridge to set the chocolate.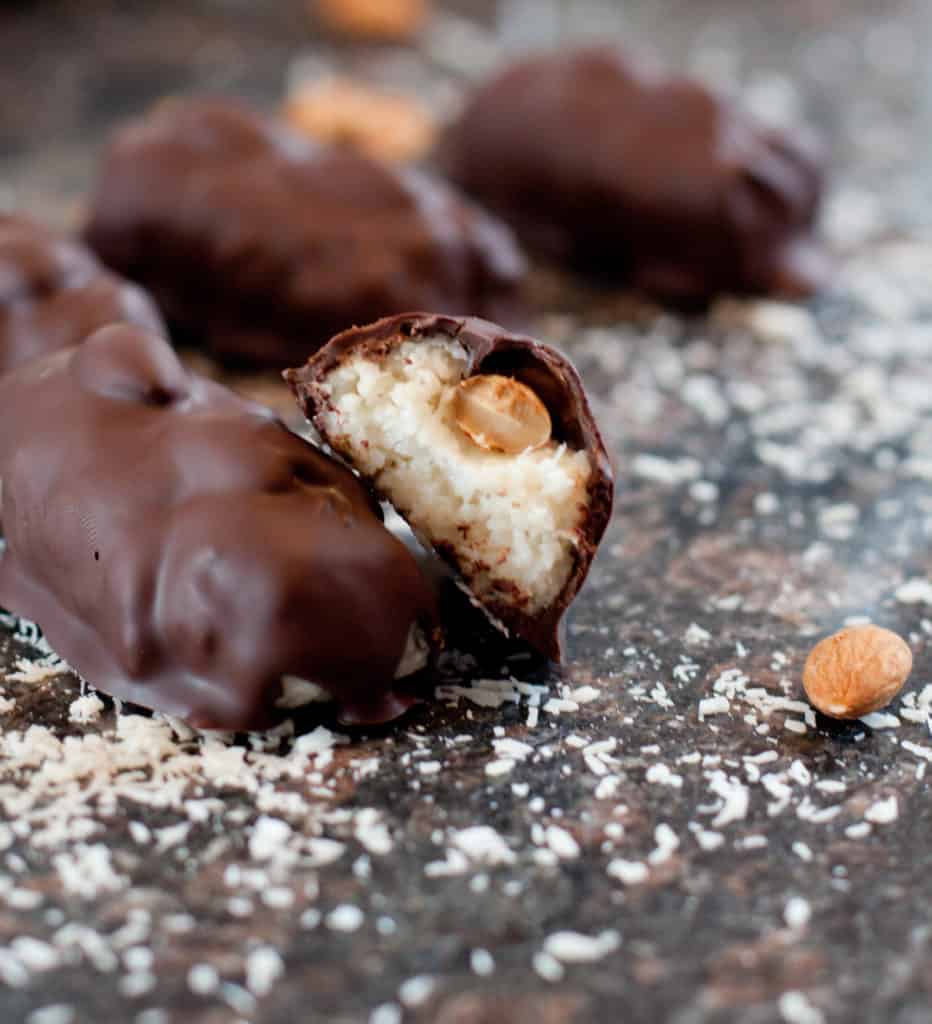 And done! These guys are delicious. Too delicious. Like so delicious I had a really hard time showing any restraint and might have eaten 3 of them in embarrassingly rapid succession.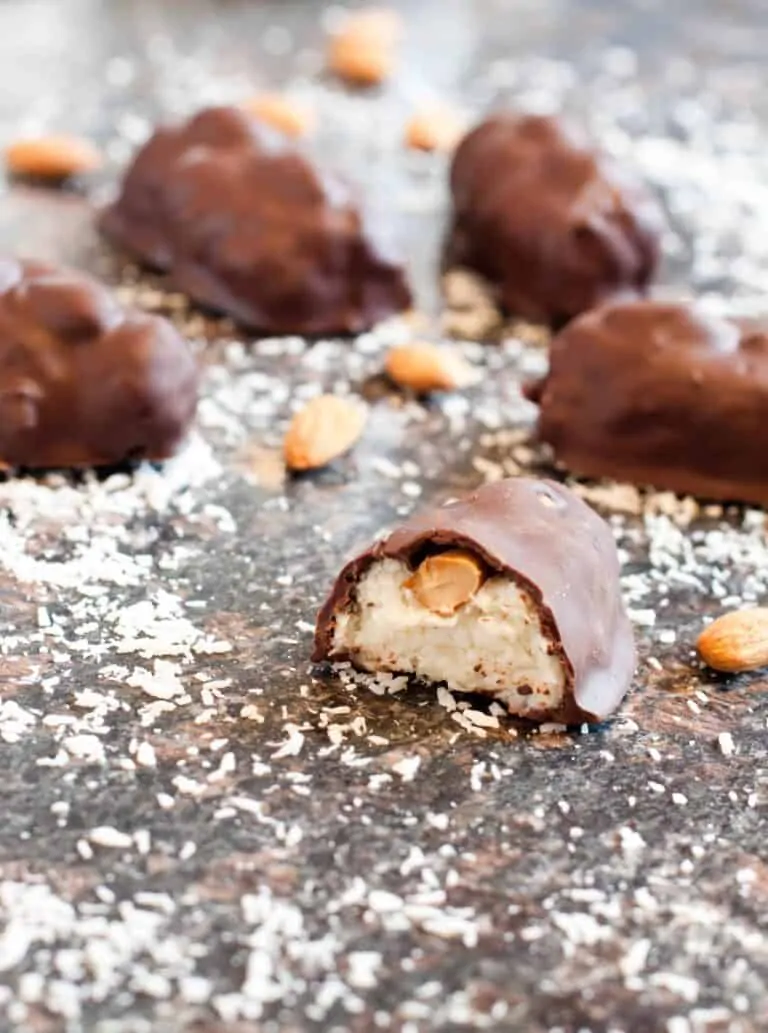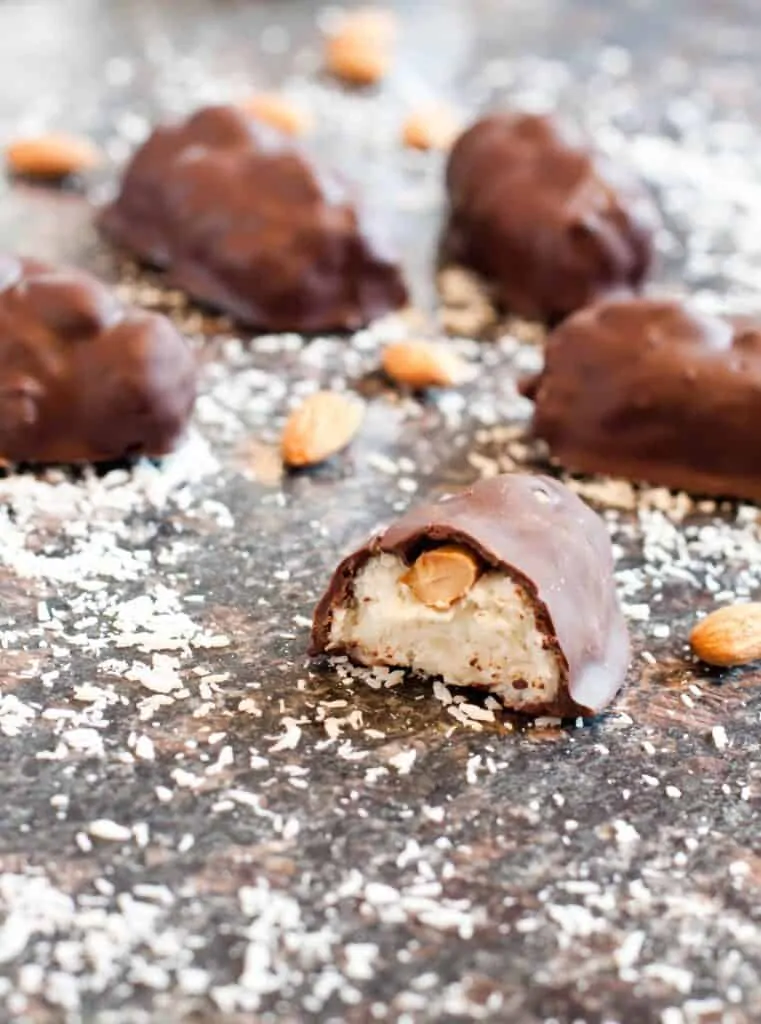 But it's ok, they're Homemade Mini Almond Joys, so that's really only like eating 1, right? Anyway, here's my New Years gift you, friends! You can thank me (or curse me) for it later.
Other Favorite Candy Recipes
Happy Candy Making, friends!
Enjoy! As always, if you make this recipe or any of my others, I love to hear what you think! Leave a comment below, email me, or you can find me on Facebook, Instagram, and Pinterest!
If you want to see more, be sure to sign up for my 5 Easy Ways to Start Cooking From Scratch!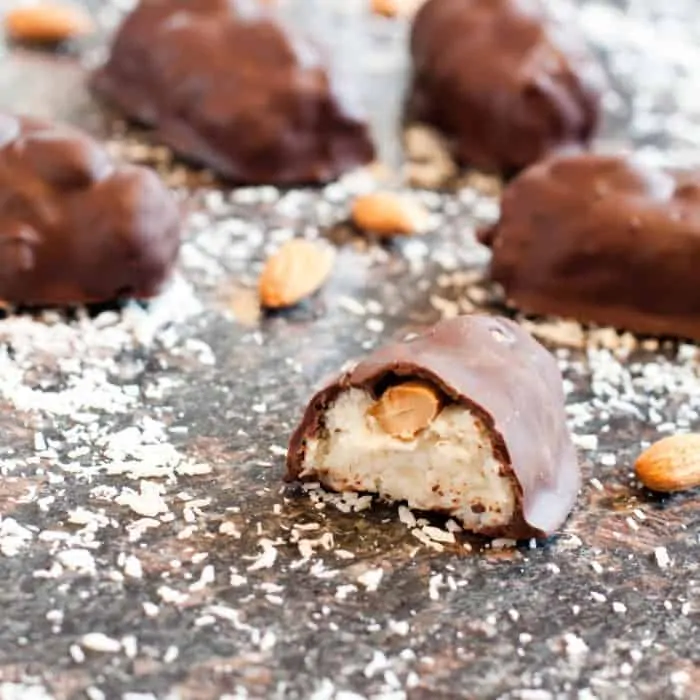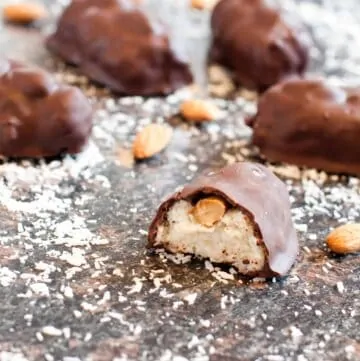 Homemade Mini Almond Joys
Homemade Mini Almond Joys are incredibly easy to make and taste just like the candy bar!

Print
Pin
Rate
Ingredients
40-45

whole raw almonds

2 1/2

cups

of unsweetened shredded coconut

7

oz

sweetened condensed milk

1

teaspoon

vanilla extract*

1/4

teaspoon

salt

1

cup

powdered sugar

1 1/2

bags

about 20 oz of bittersweet chocolate chips
Instructions
Pre-heat oven to 350 degrees. On a baking sheet, roast almonds for 10 minutes. Remove from heat and let cool.

In a medium bowl mix together the coconut, sugar, and salt. Add the condensed milk and vanilla and mix well. Cover and place in freezer to chill.

Line a baking sheet with parchment paper and remove coconut mixture from freezer. Form the mixture into logs about 4 inches by 1 1/2 -2 inches thick. Press two almonds on top. The mixture will get sticky, clean hands periodically to make it easier to work with.

In a small to medium saucepan, bring a few inches of water to a boil and place a heat resistant bowl on top. Melt the chocolate chips, stirring often. Once all the chocolate is melted, remove pan from heat.

One at a time, place the logs on to a fork and with a spoon, spoon the melted chocolate over the log. Be sure your logs aren't longer than the fork- or use something else that will support the full log, otherwise they will fall apart.

Give a gentle shake to get excess chocolate off and slide the fork along the side of the bowl to remove excess from the bottom. Use small spoon or toothpick to gently slide log off of the fork and back on to the parchment paper.

Once all the logs are covered in chocolate, place sheet in fridge to cool for at least 30 minutes.

Enjoy for up to a week in an airtight container in the fridge.