It's easier than you think to make your own Chocolate Crunch Bars at home. They're just as delicious and they're even gluten free and vegan friendly!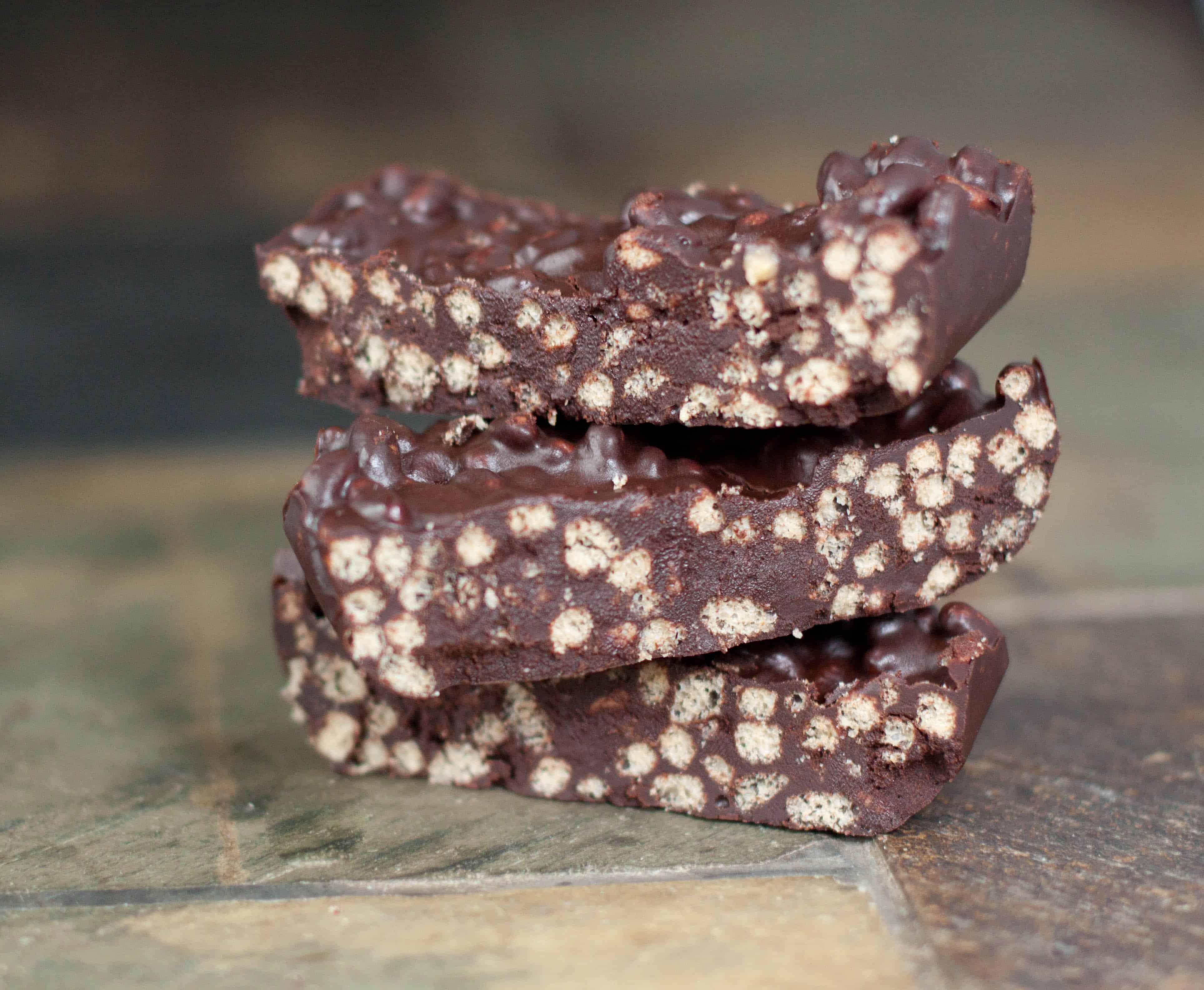 It's November! Which means it's my birthday month! With this birthday coming up, I've been thinking of my dad a lot. Halloween brought back a lot of great memories of him taking my brother and I out trick-or-treating around our neighborhood while my mom stayed at the house giving out candy. It also made me think of one of his favorite Halloween candy, the Crunch Bar. Which then made me want crunch bars, and even though I could have walked down the street to Walgreens and bought a gazillion post Halloween candy for 75% off, that's not how we roll around here. I made them from scratch. That's right, Chocolate Crunch Bars from scratch.
I found a Vegan recipe which I was psyched about. Ok, clearly we are not a vegan household. I cannot imagine my life without eggs and cheese. But, I have to say that for desserts, I really like vegan recipes. There's something really refreshing about using natural sweeteners like maple syrup and coconut oil instead of butter.
For rice cereal, I used this awesome stuff. Veganic... I know. But how cool is it that you can scan the code at the bottle and find the exact source of every ingredient down to the grain?! Super cool.
Have I mentioned yet how easy these crunch bars are? They're stupid easy. I just melted coconut oil with the cacao powder and maple syrup...
...then added the vanilla extract and gave it a good mix.
Then added to the rice cereal...
...yummm.
Gave it a good mix,
And then I poured it into a parchment paper lined 9X5 bread pan.
A nice even layer, popped into the freezer.
15 minutes later, it was set.
And done. So easy!
Cut into bars...
And we had ourselves some homemade Chocolate Crunch Bars!
My dad would have loved these!
Want to make some other Candy From Scratch? Try some Inside Out Peanut Butter Cups (also vegan!) or some Peppermint Patties!
Want to see more? Be sure to follow me on Facebook, Instagram, and Pinterest for more From Scratch recipes and inspiration!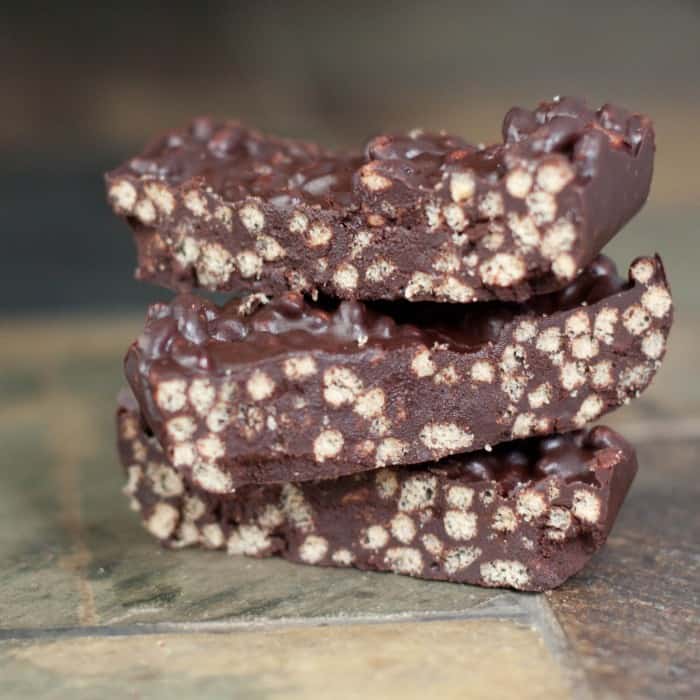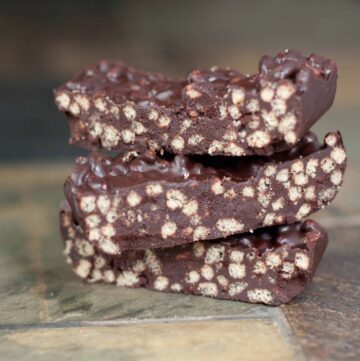 Chocolate Crunch Bars - Vegan
The classic Crunch Bar made at home and Vegan friendly!
Print
Pin
Rate
Ingredients
1/2

cup

of cocoa powder

1/2

cup

of coconut oil

5

tablespoons

of pure maple syrup

1

teaspoon

of pure vanilla extract

1

cup

of rice cereal

One Degree makes a gluten free option!

pinch

of salt
Instructions
Melt coconut oil with cacao powder in small saucepan on low heat. Add maple syrup, vanilla, and a pinch of salt and mix well.

In a bowl, mix rice cereal and chocolate mixture so rice cereal is completely covered and mixed well.

Line a 9X5 bread pan with parchment paper. Pour in rice cereal and chocolate mixture. Level into a even layer.

Place in freezer for 15 minutes until completely set.

Lift parchment paper out of pan and separate the bar from paper. Cut into bars and enjoy! Keep in freezer so chocolate stays set.

Keep in freezer or fridge until ready to serve.