These delicious Vegan Inside Out Peanut Butter Cups are for the peanut butter lover and are incredibly easy to make and are only five simple ingredients!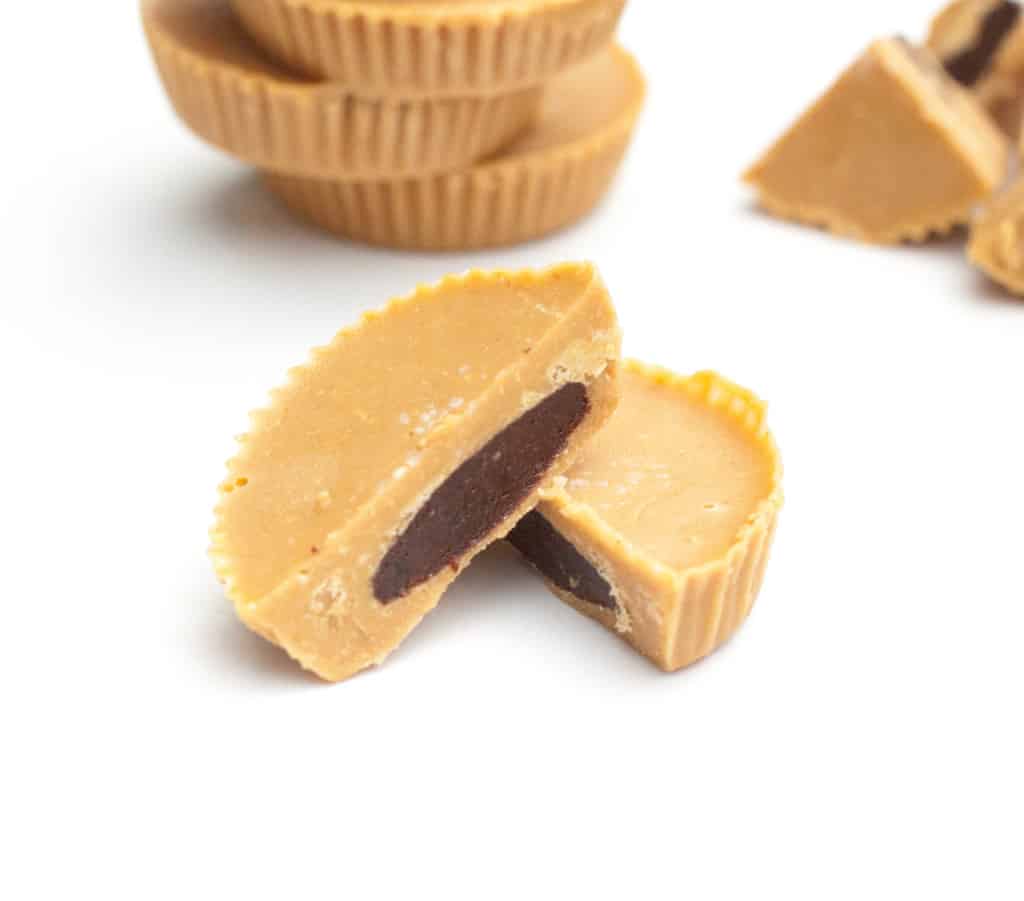 Who doesn't love peanut butter cups? Honestly, I think if I ever met someone who said that they didn't, I'd have to just walk away. How can you trust someone like that?! Kidding. Kind of...because peanut butter and chocolate is kind of the best combination on Earth. By kind of, I mean totally is.
For the Peanut Butter Lover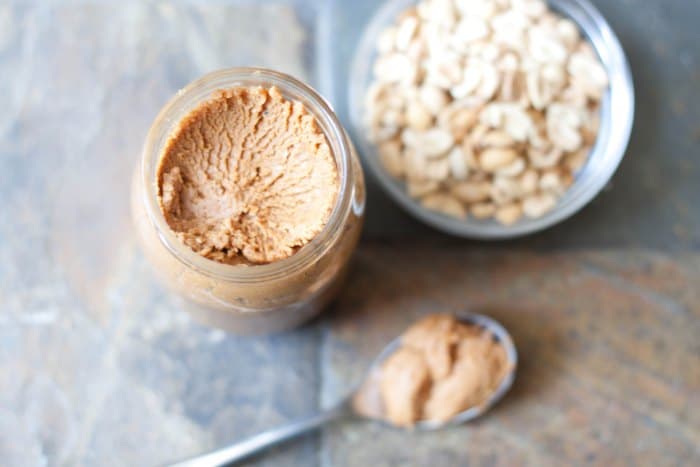 I don't do chocolate often, but when I do, it's usually with peanut butter. Because really, is there a better combo out there?
Once you have your Homemade Peanut Butter (or your favorite store bought creamy peanut butter), then it's just another 4 ingredients! That's right, just four!
Dates - Whole and pitted! We love medjool dates for this recipe!
Confectioner's Sugar - This sugar will melt with your peanut butter better than a regular granulated sugar.
Unrefined Coconut Oil - You could also use refined as it will have less of a coconut flavor. Or if you're not a coconut fan at all, sub it for another oil like olive oil or almond oil.
Cocoa Powder - Unsweetened is what we usually use, but you could totally use sweetened to make the filing a bit sweeter. We've also made this with the super food cacao, too!
Step-by-Step Instructions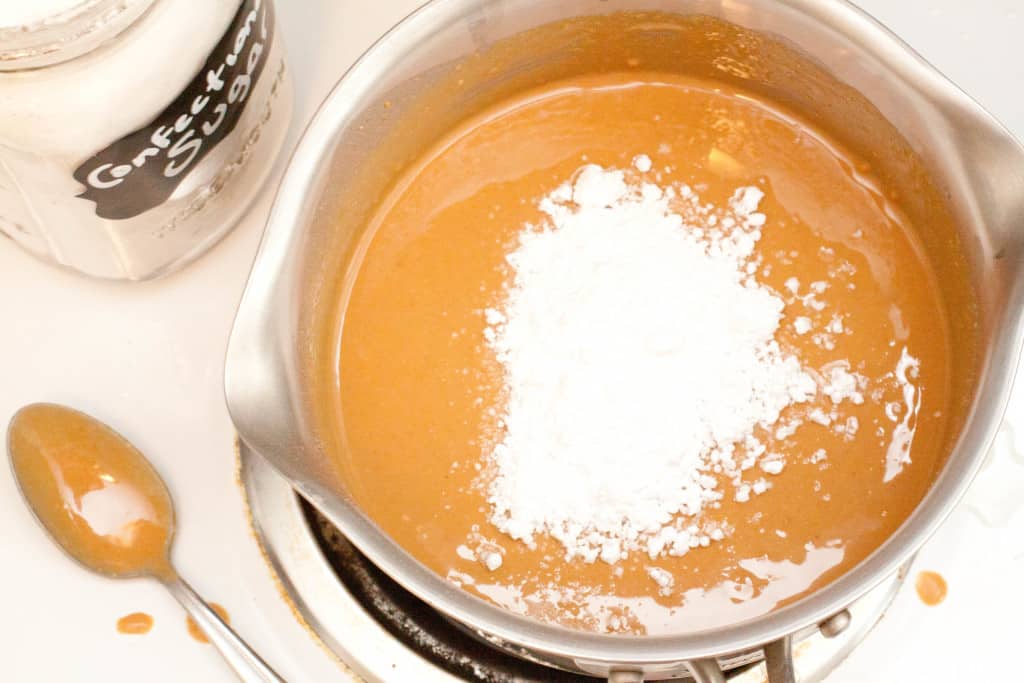 Step 1: Melt the coconut oil with the peanut butter and then add the confectioner's sugar to sweeten it up.
Note: You can adjust this based on your peanut butter / tastes. Since I added a little extra honey in this batch of peanut butter, so I used a tad less sugar. Another reason why cooking from scratch is so great - there's so much control in the flavors of what you're eating! You can make subtle changes to fit your mood.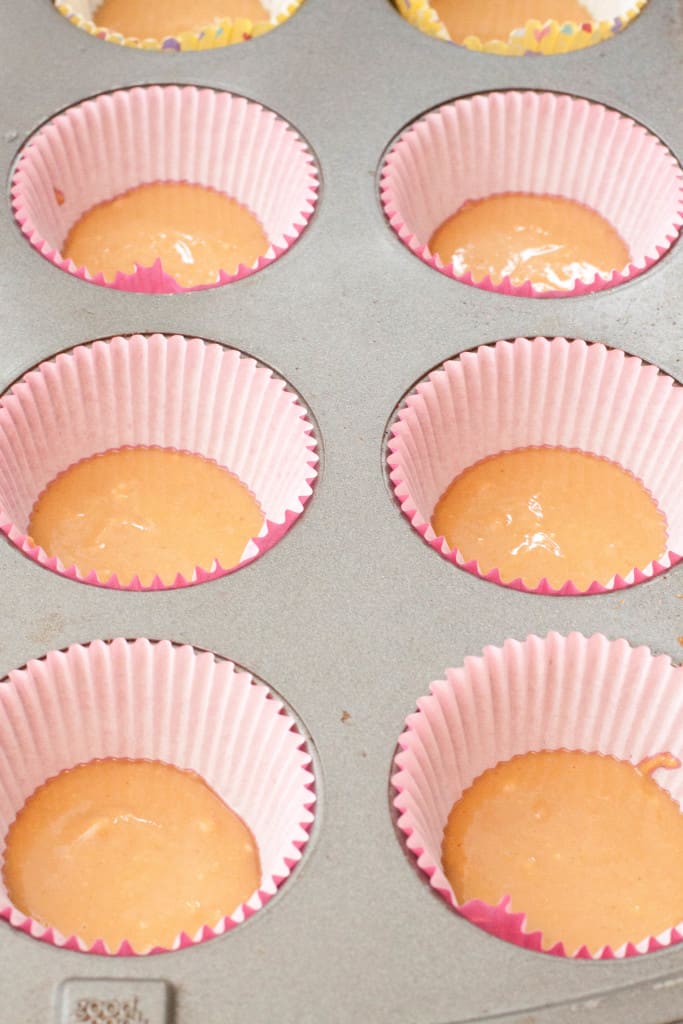 Step 2: Once melted, I then added just a thin layer of it into the wrapper filled muffin tray.
Tip: How much to add? Well, just think of how thick do you want the bottom layer of your peanut butter cup to be. If you want a nice thick layer and then the chocolate, add more. If you want a really thin layer of PB and lots of chocolate, add less. Did I mention how great making things from scratch is because of the control?
Step 3: Put the muffin tray in the freezer so the peanut butter can set.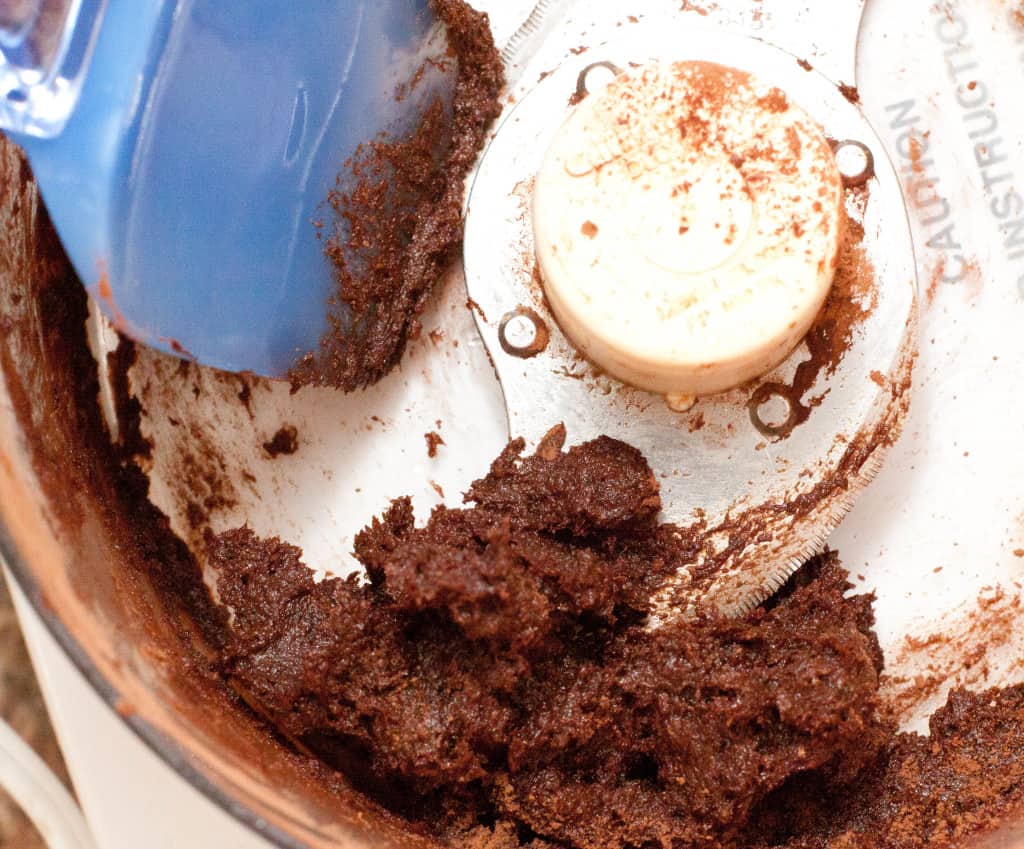 Step 4: While the peanut butter sets, put the dates and cocoa powder in to the food processor and blended. An incredibly simple, healthy, and delicious chocolately filling.
No food processor? You could also chop it all up by hand by giving the dates a really good chop on a cutting board, until mostly all broken up and then add to a bowl and mix with cocoa powder, mashing it all together with a fork.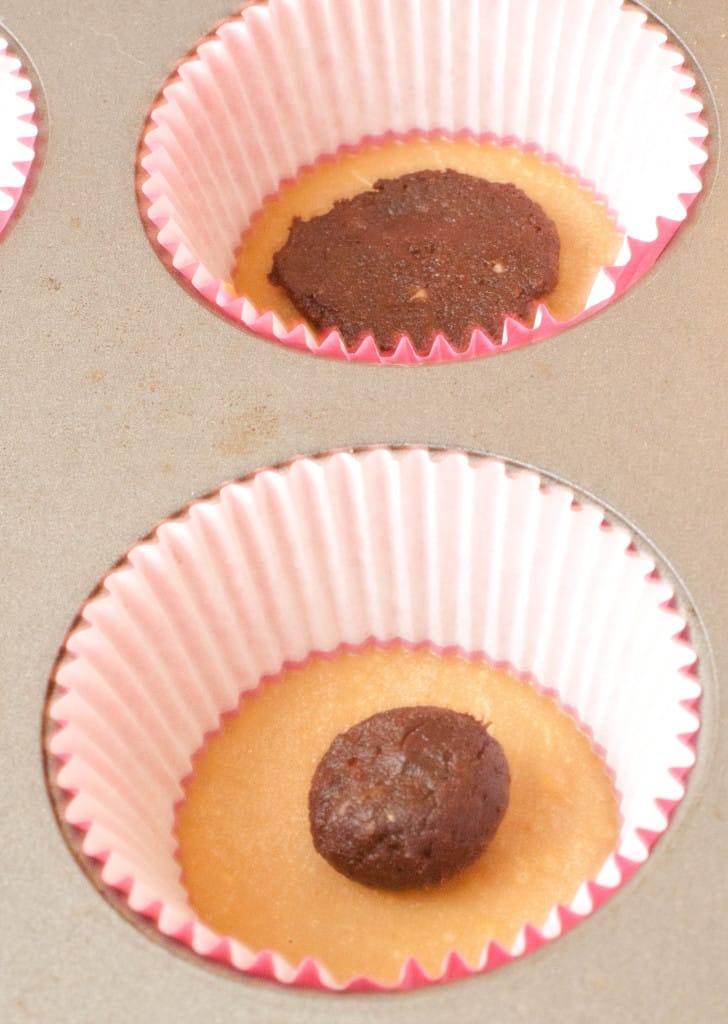 Step 5: Once the fist layer of peanut butter has hardened in the freezer, then you can "fill" the center of the cups, with your date mixture by rolling out small balls of the date/chocolate mixture and then added them to the center of the frozen first layer of peanut butter.
Note: It's sticky, but as long as you wash your hands between a few ball rolls, you'll be fine.
Once filled, then you can squish them down into a nice circle.
Again, the beauty of this is you can totally control exactly how much of a chocolate center you want, just keep in mind the bigger the layer of chocolate, the more PB it'll take to cover it to create a nice even layer without chocolate coming out the top.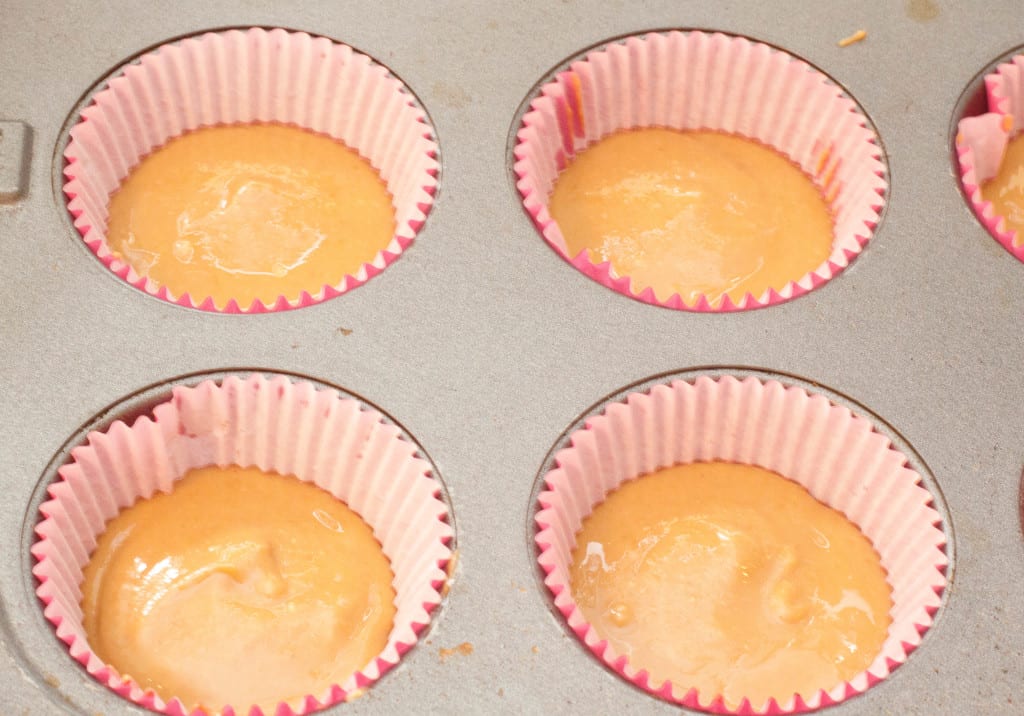 Step 6: Add the final layer of peanut butter on top and pop 'em back in the freezer for them to harden for about 30 minutes.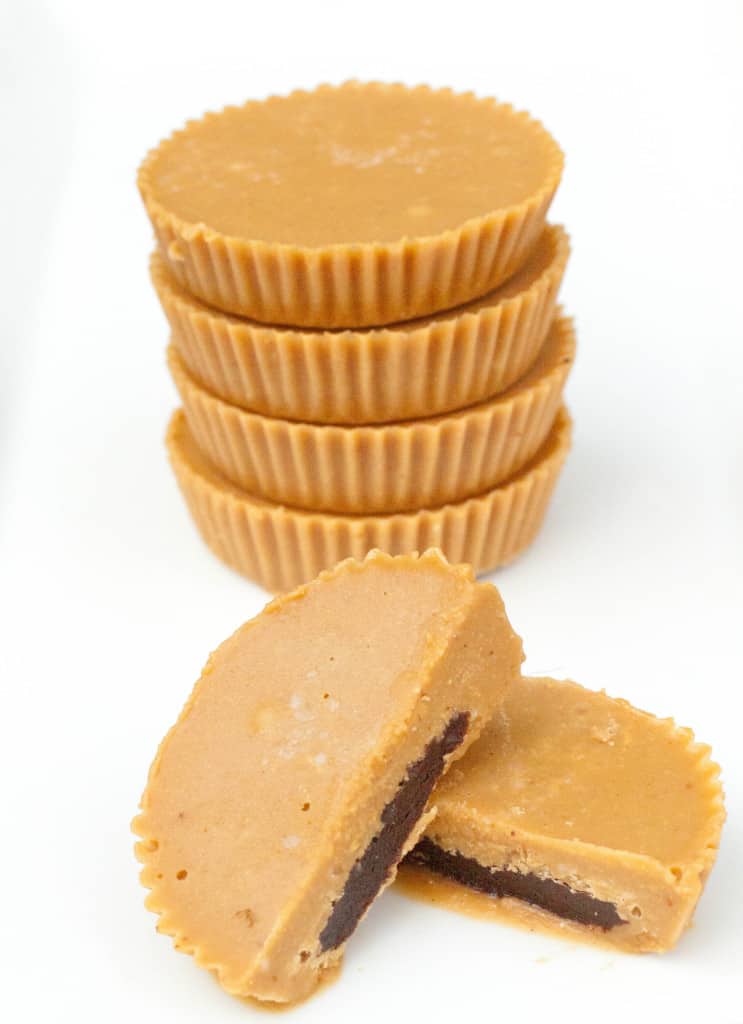 And done! Inside Out Peanut Butter Cups - Vegan for the Peanut Butter lover!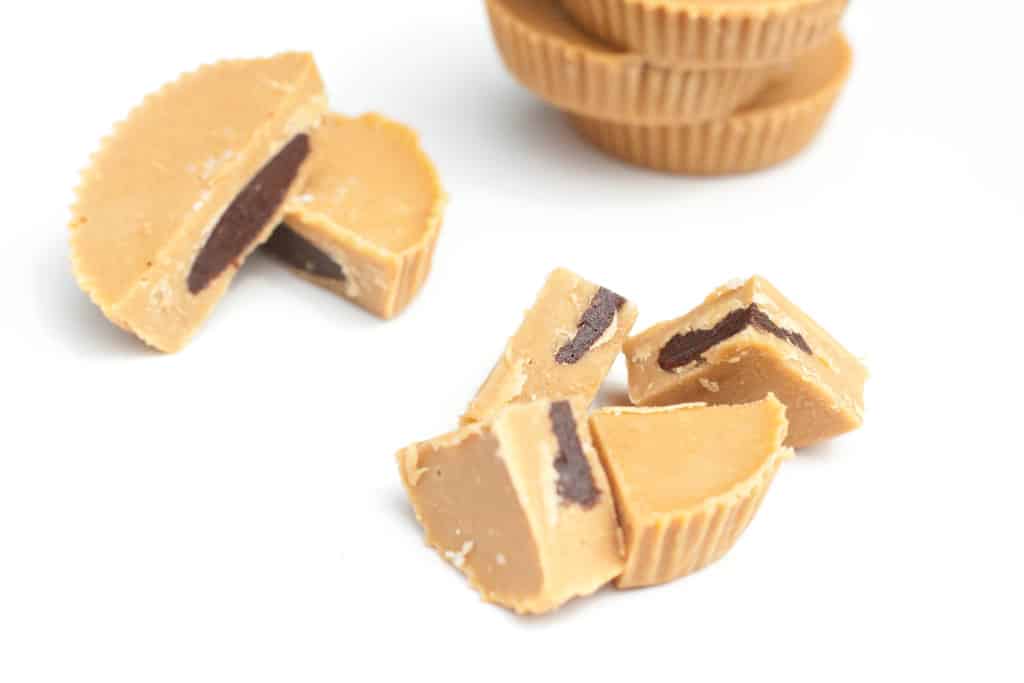 I ended up cutting these Vegan Inside Out Peanut Butter Cups up into halves and quarters for portion control and then popped 'em back in the freezer as the perfect snack! 'Cause you know, for some reason eating tiny little pieces of peanut butter cups seems like you're totally behaving, even when you end up eating like 4... ok 8... of them. 😉
More Homemade Candy
Copycat Butterfinger Candy Bites
Enjoy! As always, if you make this recipe or any of my others, I love to hear what you think! Leave a comment below, email me, or you can find me on Facebook, Instagram, and Pinterest!
If you want to see more, be sure to sign up for my 5 Easy Ways to Start Cooking From Scratch!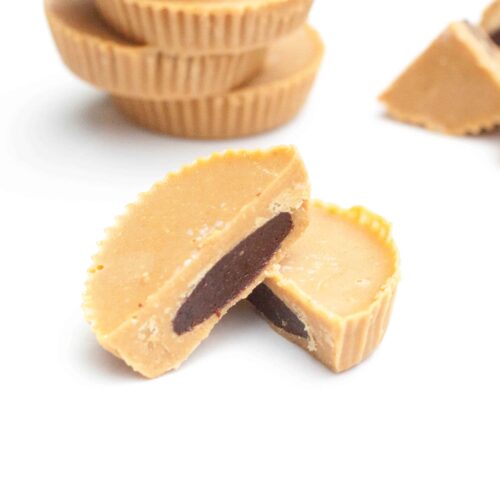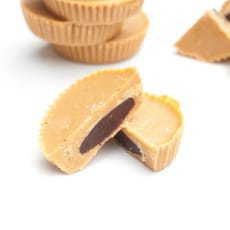 Inside Out Peanut Butter Cups
Peanut Butter Cups for the Peanut Butter Lover!
Print
Pin
Rate
Ingredients
1

cup

creamy peanut butter

1/2

cup

unrefined coconut oil

3-5

tablespoons

confectioner's sugar

10-14

dates

pitted

2

tablespoons

unsweetened cocoa powder
Instructions
Line a standard muffin tin with 12 muffin liners.

Melt the coconut oil over low heat and stir in the peanut butter until fully combined. Whisk in the powdered coconut sugar until smooth. Taste and whisk in more if desired.

Pour about a tablespoon of peanut butter in the bottom of eat wrapper. Place muffin tin in the freezer for about 10-20 minutes until hardened.

While in the freezer add the dates and the cocoa powder to a food processor. Blend until it forms a large ball.

Remove the cups from the freezer. About a tablespoon + (based on preference) at a time, roll date and cocoa mixture into a small ball. Add to the center of the bottom of the muffin wrappers and then flatten so that there's still an edge around the peanut butter layer.

Top with 1 tablespoon or so of the melted peanut butter mixture to cover the chocolate. Settle and even out the peanut butter by gently tapping the muffin tin on the counter.

Place in the freezer for about 30 minutes for the peanut butter to fully harden.

Store in fridge or freezer in an airtight container.
Notes
* Find my homemade peanut butter recipe here: http://servedfromscratch.com/alton-browns-peanut-butter/
No food processor? You could also chop it all up by hand by giving the dates a really good chop on a cutting board, until mostly all broken up and then add to a bowl and mix with cocoa powder, mashing it all together with a fork.
Adapted from Edible Perspectives