These easy to make Peanut Butter Balls are made with homemade peanut butter, vegan, and incredibly fast to make. The perfect bite of peanut butter chocolate delicousness!
Is there a better combination than peanut butter and chocolate? I doubt it. Even being a not so huge chocolate or peanut butter fan, there's something about peanut butter and chocolate together. It's amazing. And dangerous. And these little balls are just too stinkin' easy to make. We devoured them. And then wished there were more but were happy they were gone.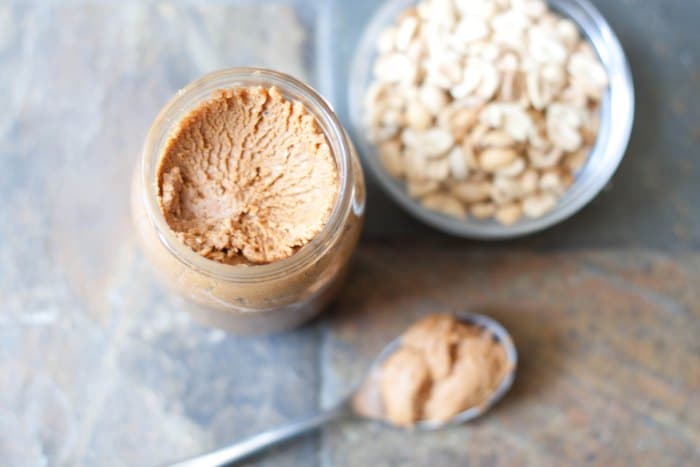 Seriously so easy. And Vegan and raw which means they're totally healthy for you, right? Yup, I'm going with that. Plus, we used our very own Peanut Butter which is pretty freakin amazing, if I do say so myself 😉
All these little bites of deliciousness are is some peanut butter, pure maple syrup, salt, and some coconut flour combined,
and some puff cereal too to add a little bit of crunch on the inside. I used Kashi's whole grain puff cereal, but you can totally use any kind or even a gluten free one to make them gluten free. Or you could just not add them at all, but the added crunch is really good.
Then I rolled the dough into little balls. And clearly my ball rolling skills needs serious help.
Then they got a little dunk in my melted semi-sweet chocolate baking bars with just a touch of coconut oil.
Yummmm.
I popped them into the freezer for about 30 minutes for the chocolate to harden.
Then, to make sure they weren't poisonous or anything before we fed them to our guests, I took a bite. Quality control, ya know. Just doing my due diligence as a proper hostess.
However, since we weren't having them until dessert, I immediately put them back in freezer because it was sooo warm out. Can you see how the little guys were sweating already? They started to melt pretty quickly.
But once we finished our lovely Vegan meal with our favorite newlyweds Charles and Alicia, I brought these bad boys back out and between the four of us, we finished them. All of them. It was hot out an all, we couldn't just leave them out to melt, right? 😉
For some more chocolate peanut butter goodness, go check out my buddy The Cozy Cook's No Bake Chocolate Peanut Butter Rice Krispie Treats! Talk about a delicious sounding mouth full!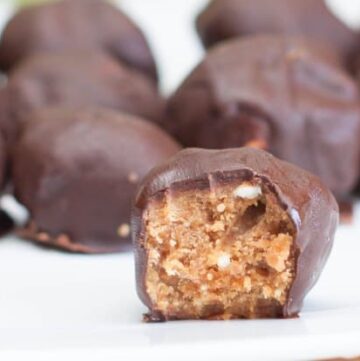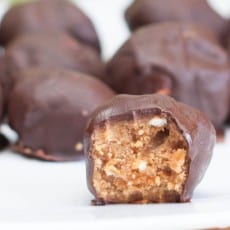 Ingredients
3.5-4

tablespoons

pure maple syrup

to taste

2-3

tablespoons

coconut flour

fine grain sea salt

to taste

6

tablespoons

gluten-free rice crisp cereal

1

bar of semi sweet baking chocolate

1/2

tablespoon

coconut oil
Instructions
Stir the jar of peanut butter well before using. In a large bowl, mix together the peanut butter and maple syrup vigorously, for 30-60 seconds, until it thickens up. It will go from runny to thick during this time.

Stir in the coconut flour until combined (if your PB is dry, you might be able to skip this step or only use half). We're looking for a texture that isn't too sticky, but not too dry either. Let it sit for a couple minutes to firm up as the coconut flour will continue to absorb moisture with time. Add a touch more coconut flour if necessary. Or if it's too dry, add a touch more syrup.

Add salt to taste and stir in the cereal.

Shape into small balls (I made about 18).

In a small pot, add the chocolate chips and coconut oil and heat over low heat, stirring frequently. Once half the chips have melted, remove from heat and stir until completely smooth.

Dip the balls into the melted chocolate with a fork or a spoon. Tap off excess chocolate on the side of the pot and place the ball on a plate or cutting board lined with parchment. Repeat for the rest.

Freeze the balls for another 15-30 minutes, until the chocolate is completely set.