All of the flavors you'd expect but in a warm, comforting bowl of soup. This Egg Roll Cabbage Soup is packed full of vegetables and pork, ready in no time, easy to make, and has all the components you want from an egg roll, including a crunchy topping!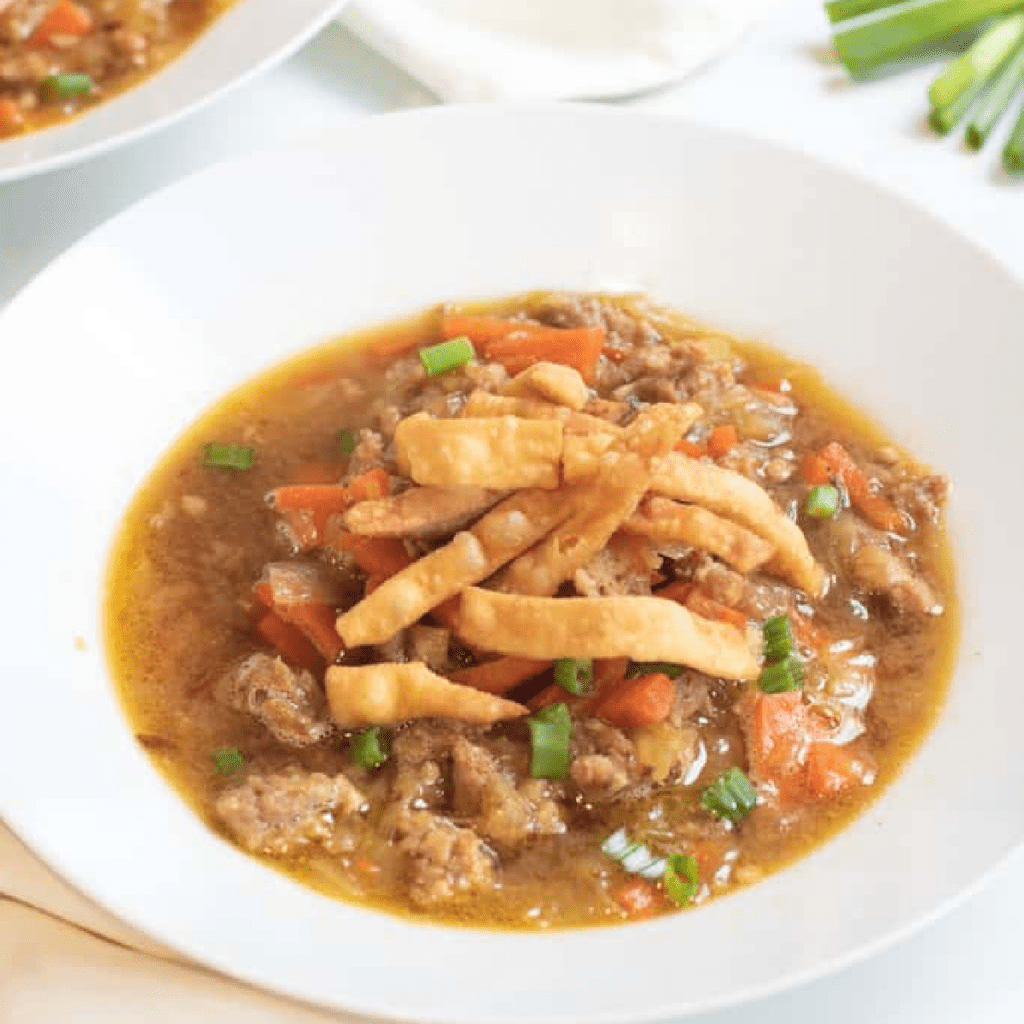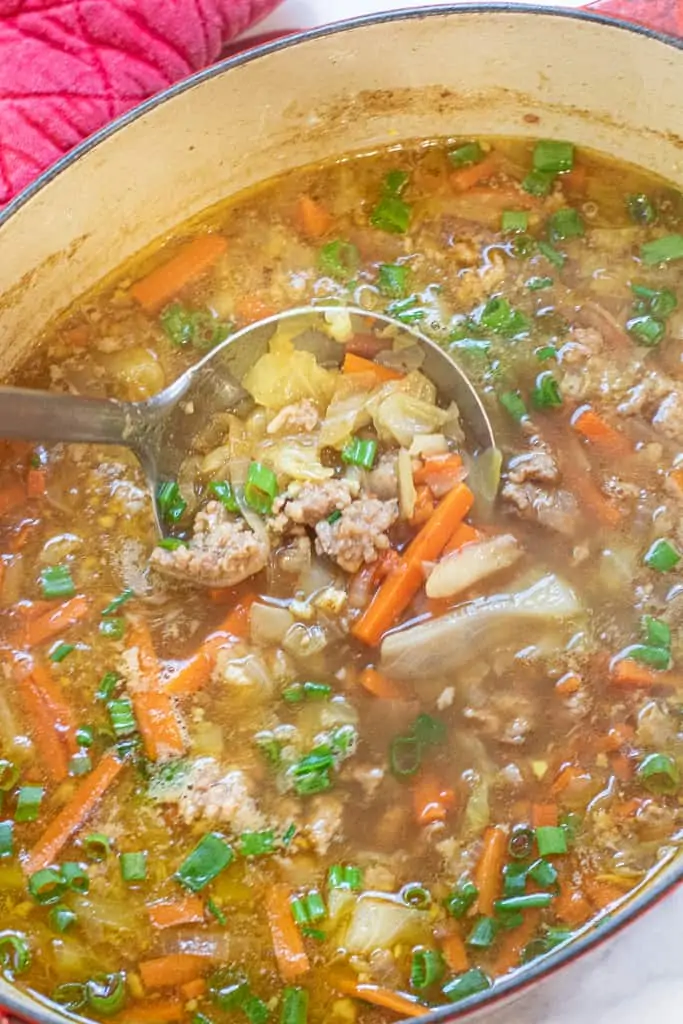 It's a new favorite in our house! This Egg Roll Cabbage Soup is our latest easy, flavorful, and comforting soup! It has all the flavors and components of an egg roll, the cabbage, the carrots, the pork, the flavors, and even the crunchy egg roll wrapper, but in soup form. >Swoon< Add a new cabbage soup to your menu with this little Asian-style egg roll soup recipe!
Ingredients Needed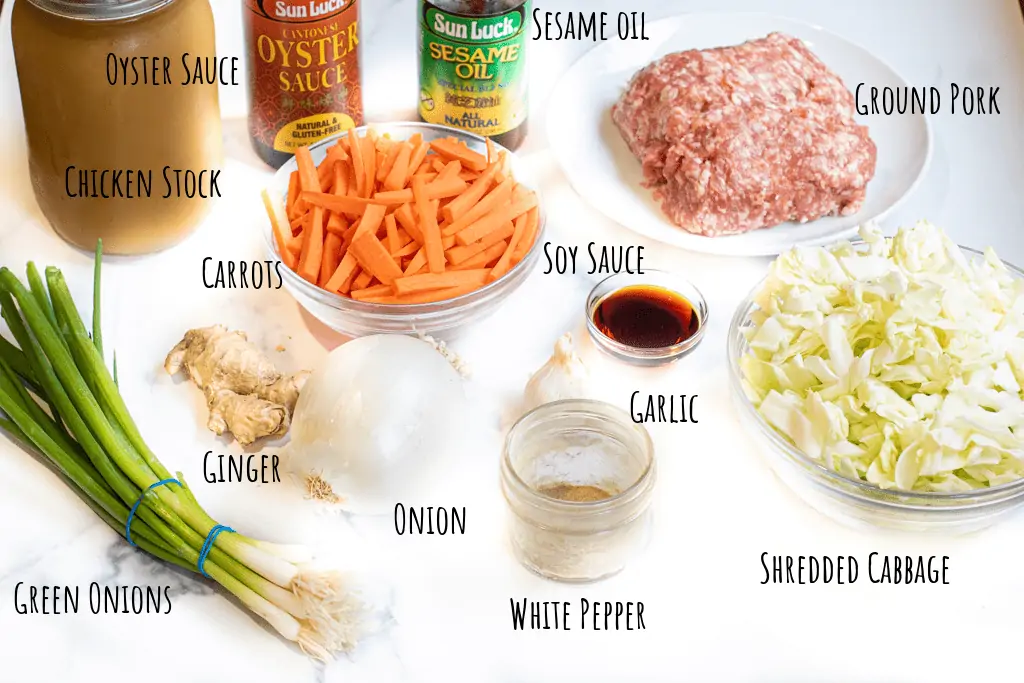 Ground Pork - Ground beef also works for the recipe or if you prefer a vegetarian version, you could omit the pork entirely, although it adds so much flavor.
Cabbage - Green cabbage is our favorite, but you could use some purple, napa, or a mix of any/all of them.
Carrots - We like to cut them into matchsticks, but you could also chop them, whichever you prefer.
Onion - Some white onion for the soup and then green onions to garnish.
Fresh Ginger and Garlic - Dried could also be used, too - see recipe notes.
Fish Sauce, Soy, and Sesame Oil - To add some Asian flavors and umami!
White Pepper - Just a touch.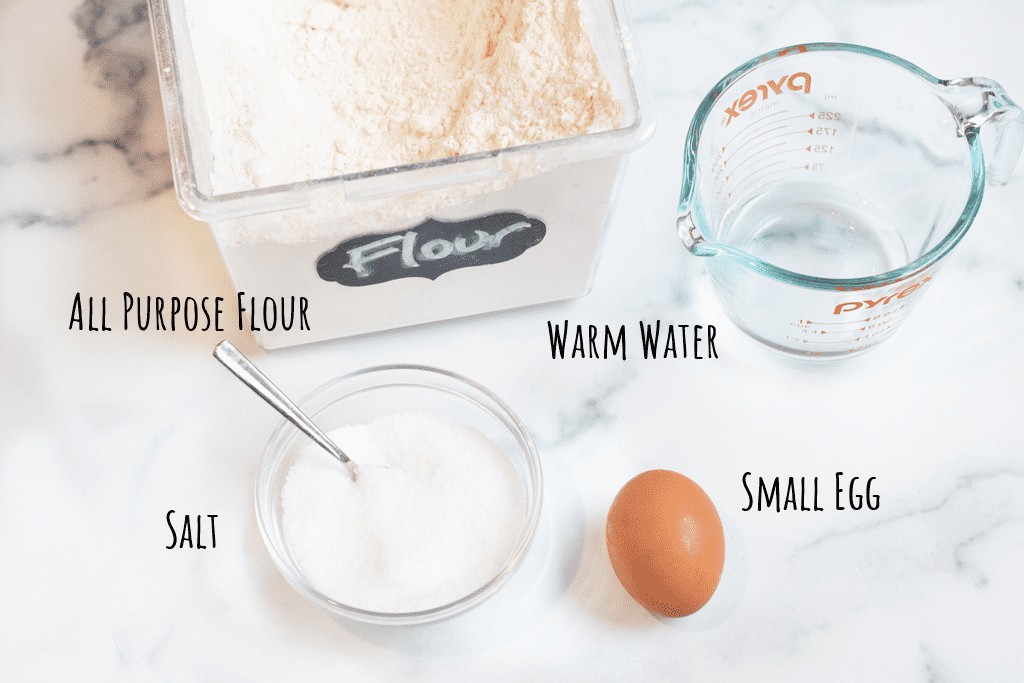 Now for the optional from scratch flair by making your own egg roll wrapper crispy fried topping! For this, we make our own super quick egg roll wrapper, which is basically an egg noodle but fried.
Flour - We use all purpose, but you can also use a gluten-free flour to keep this soup gluten-free.
Egg - This helps to make the dough a bit thicker.
Warm Water - If the water is a little warm, it will help
Kosher Salt - You can use regular iodized table salt, too.
We made this soup many times throughout the recipe testing, and it was good, but there was something missing to really make it like an egg roll. And this is exactly it! These crispy, crunchy, fried egg roll wrapper strips really take it to the next level to be a true Egg Roll Cabbage Soup!
You could of course buy some premade egg roll wrappers from your local market and cut and fry them to save time, too. Totally up to you - as with most of our recipes, add as little or as much from scratch flair as you can/want.
Easy to Make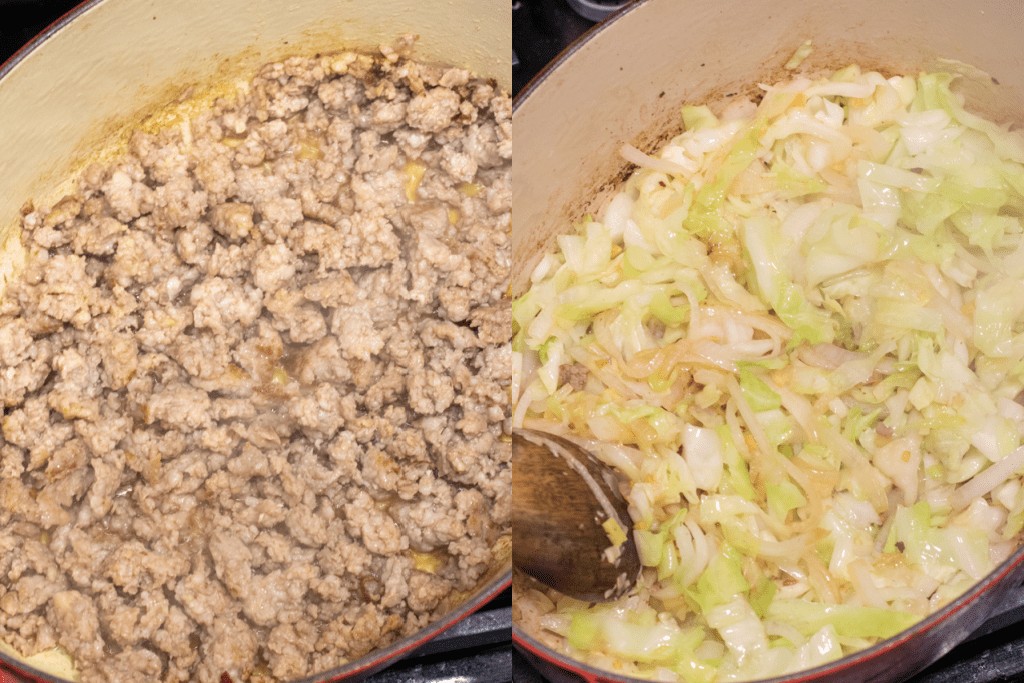 Saute. The first step is to cook the pork and then the onion, garlic, ginger, and cabbage.
Reduce Grease: Dependent upon the pork/meat that you use, you may have a bit of excess grease after cooking. We remove the pork from the pan and let it drain on a paper towel-lined plate. Once you do this, you can then also remove some of the excess grease from the pan. But you do want to make sure that you keep some to saute the onion etc. in because helloooo flavor!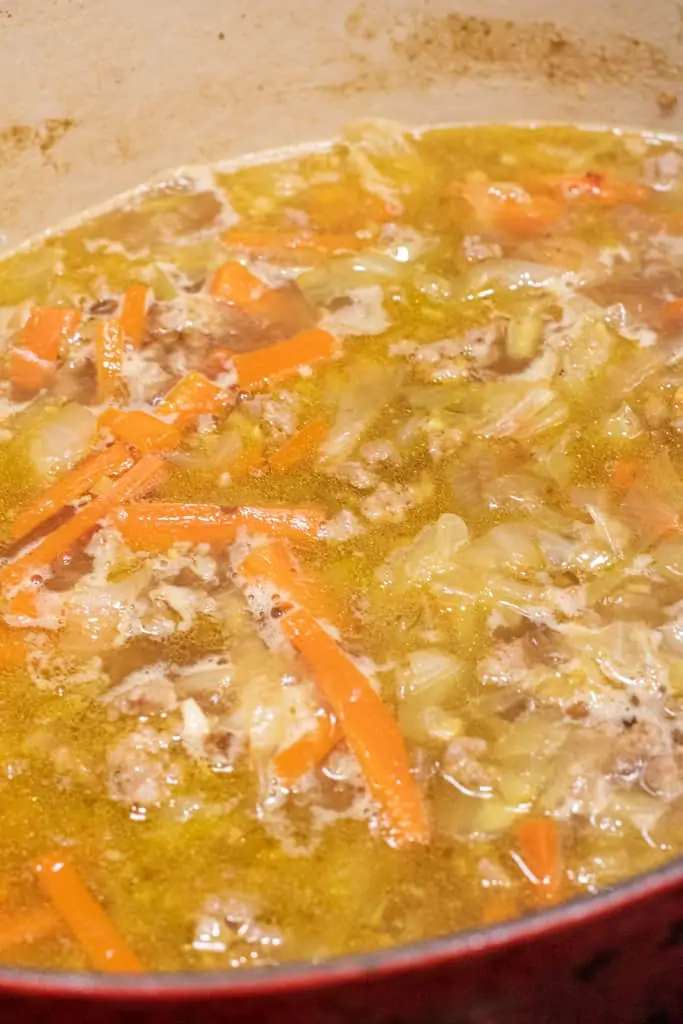 Let Simmer. Then it's just a matter of adding the soy, fish sauce, and your carrots and stock and letting it all simmer for the flavors to develop together.
Meanwhile, you'll have plenty of time to make your egg roll wrappers.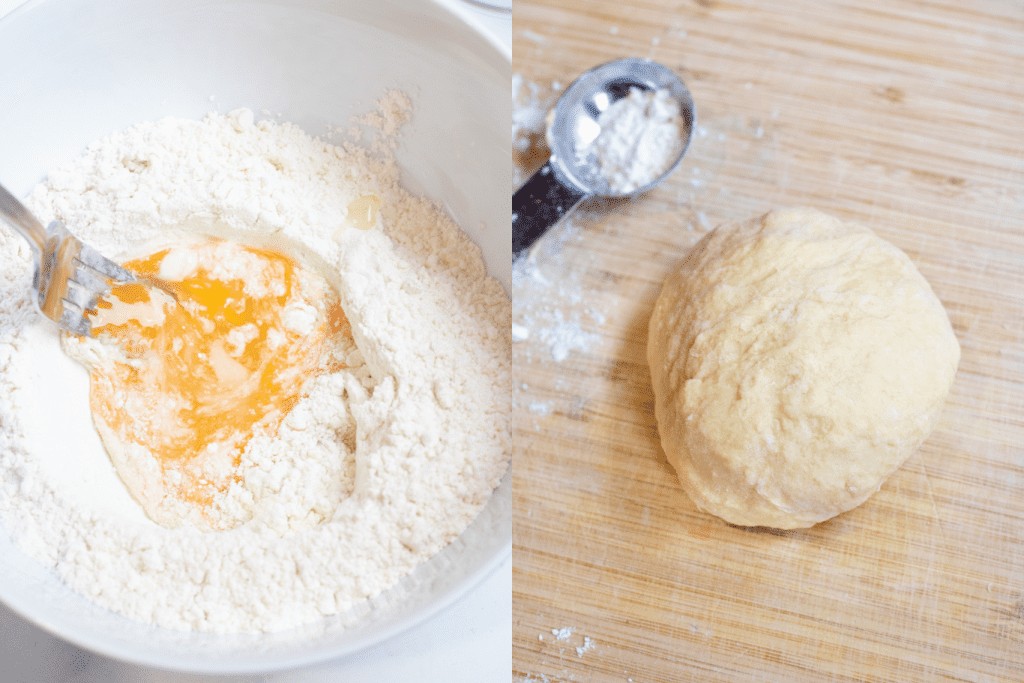 Mix. This dough is very simple to come together. You can either do this by hand or using a stand mixer. It's a low volume of dough, so it's very easy to mix by hand by using a well method with your flour and slowly incorporating the egg with a fork, and then adding the water to continue mixing until you have a nice smooth slightly tacky dough.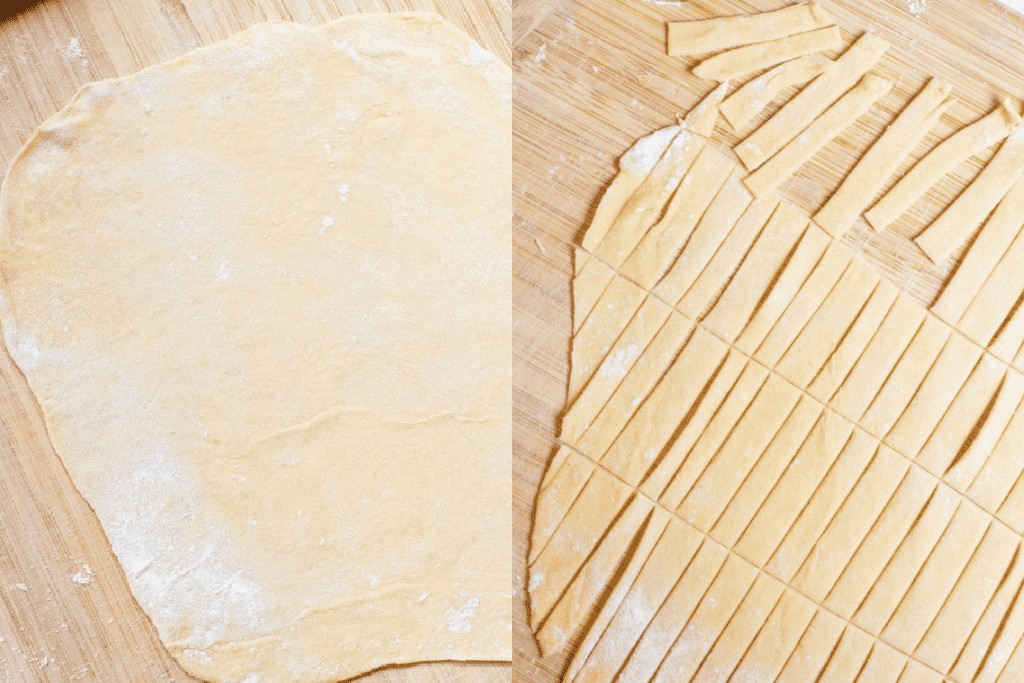 Roll and Cut Dough. Use a rolling pin to roll the dough out as thin as possible. Then cut the dough with either a knife or a handy dandy little pasta roller to get little 2-3 inch by 1/4 - 1/2 inch strips.
If your dough is still pretty sticky, add more flour to your surface and your rolling pin to keep it from sticking. Don't be shy with it, too. You want to make sure that you can easily roll out the dough and that it's not sticking to your rolling pin or the surface you're rolling it out on.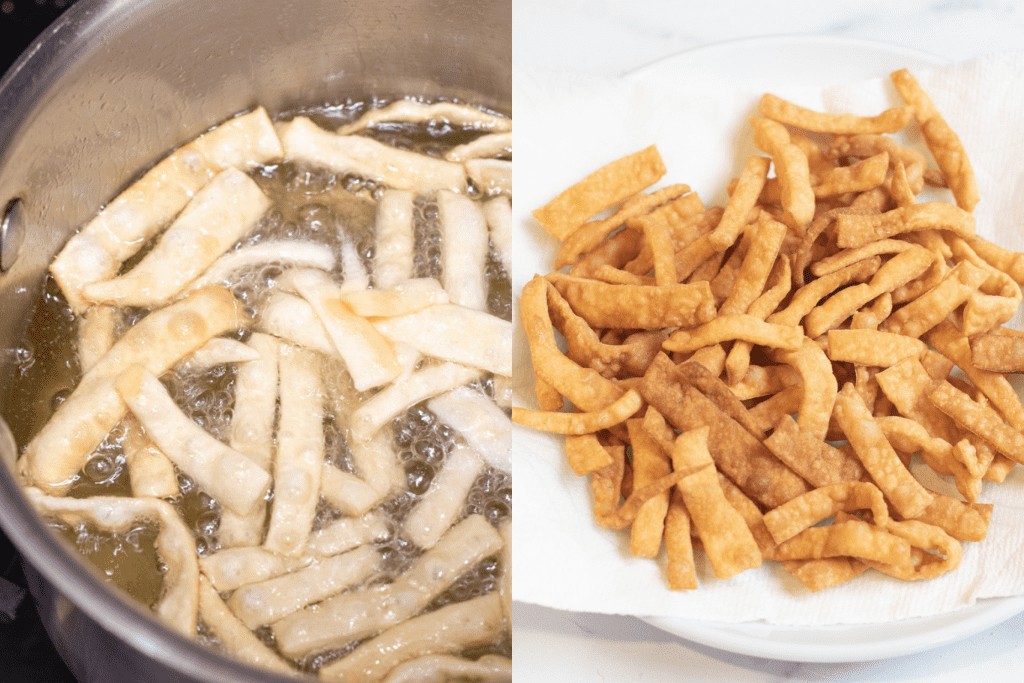 Fry until crispy. Heat some vegetable oil or peanut oil in a pan and then fry your little egg roll wrapper strips until they're nice and crispy!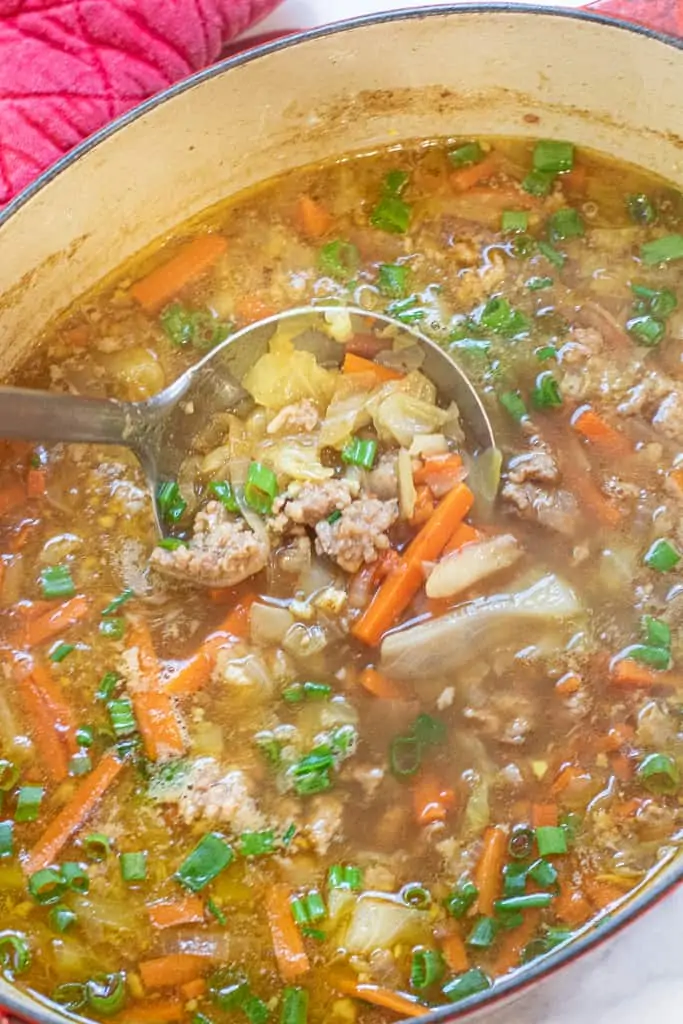 By now, your cabbage soup should be done, ready for some green onion garnish and serving!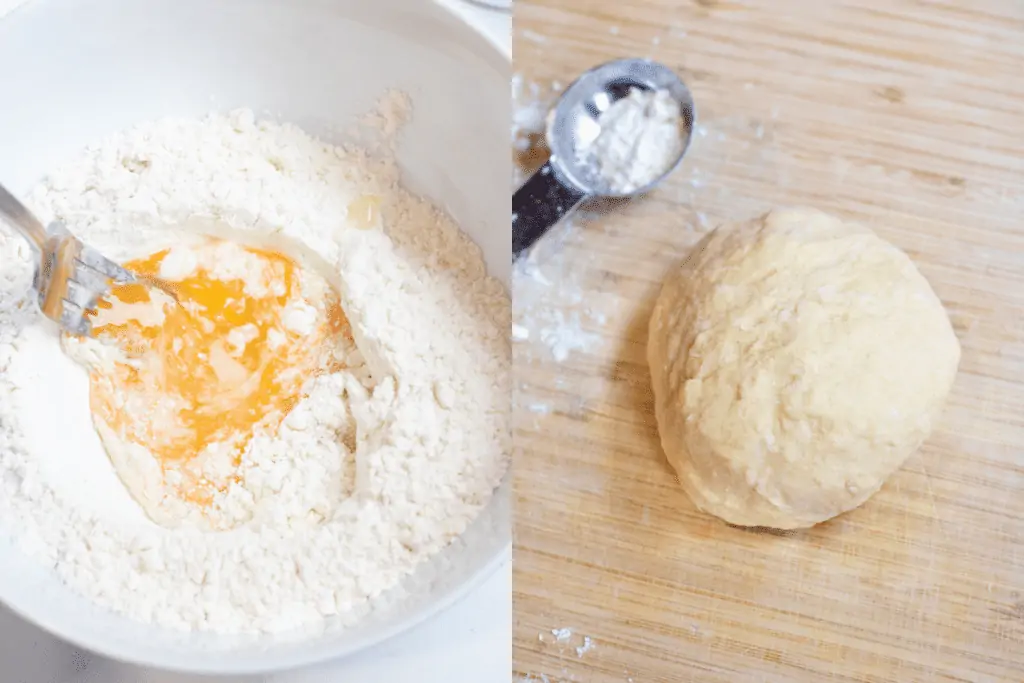 Ladle that delicious soup into a nice big bowl and then add those delightfully crunchy bites of egg roll wrapper right on top! We like to keep all the crispy fried egg roll wrapper strips nice and close so that we can be sure to get a little bit of each in every bite!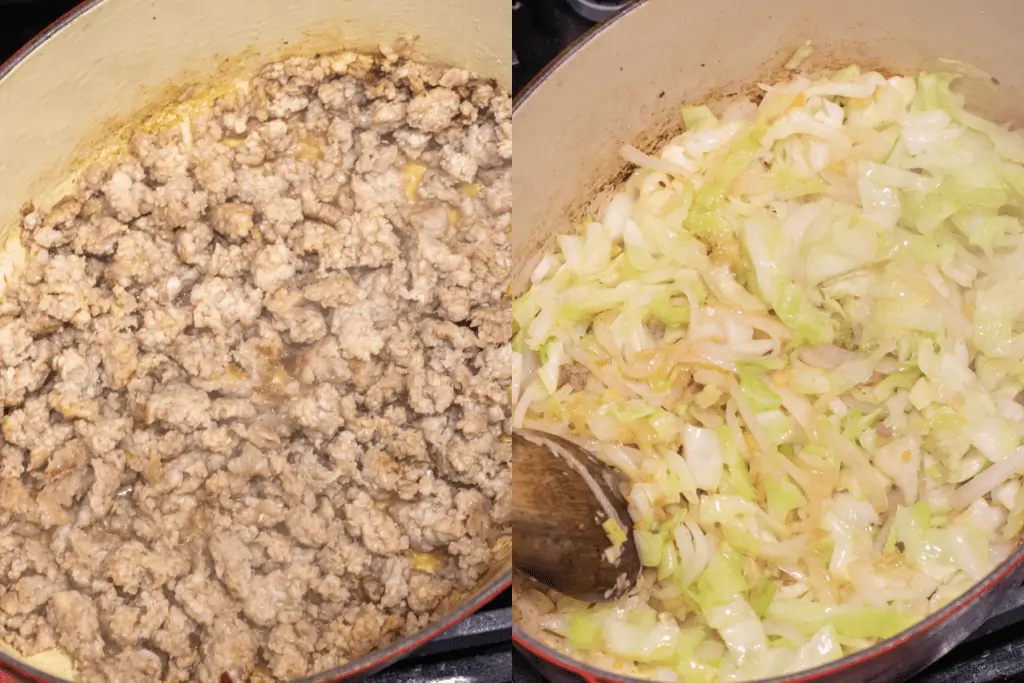 My whole family adores this soup. I love how cabbage and carrot-packed it is for my little ones! It's such a fun twist on a take-out classic, but just a lil' bit healthier and lot more comforting!
Tips
Don't overcook the carrots. This soup can simmer for as little as 20 minutes to develop great flavor, and as long as 60 to continue to develop flavor! If you decide to simmer for longer, wait to add the carrots until about the last 20 minutes, this way your carrot sticks won't turn to carrot mush.
Use warm water for the dough. This will help the dough roll out easier.
Keep the flour nearby. Adding more flour to this dough to make it workable is totally fine. Add what you need to your surface and a rolling pin to make sure it rolls out smoothly and does not stick.
Roll dough out on parchment paper. This will allow you to cut right on the parchment paper and then move each batch of dough aside to roll it all out.
Make as much of the egg roll wrapper strips as you think you'll need. The dough recipe will make a lot of them and we found that my family of 4 didn't quite use 1/2 of the strips when all of the dough was rolled out. This dough freezes great too, so you can use half now and use the other half for the next batch! Or just keep 'em around for snackin'.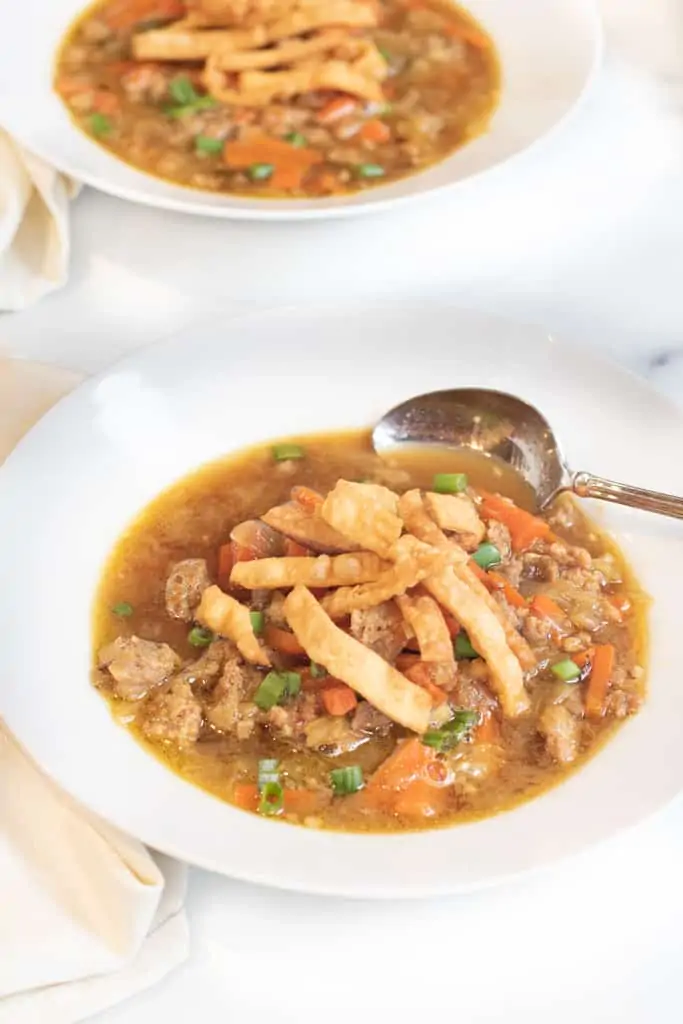 Egg Roll Cabbage Soup, who would have thought an egg roll in a soup could be just as delicious as the OG take-out favorite? Find out for yourself and if you do, I'd love to hear what you think! Leave a comment below, email me, or you can find me on Facebook, Instagram, and Pinterest!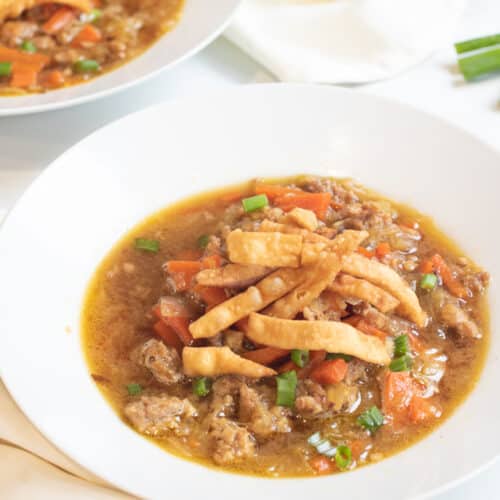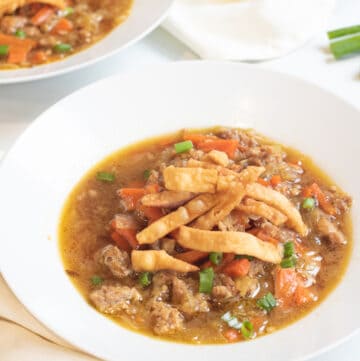 Egg Roll Cabbage Soup
A take-out favorite made into a warm and comforting soup!
Print
Pin
Rate
Ingredients
1

lb

ground pork

3-4

cloves

garlic

minced, about 1 teaspoon

1

tablespoon

minced fresh ginger

4

cups

shredded cabbage

2

cups

carrot

Julienne or matchstick cut

6

cups

chicken stock

or vegetable

1

tablespoon

soy sauce

1

tablespoon

oyster sauce

2

tablespoons

sesame oil

divided

1/4

teaspoon

white pepper

1/3-1/2

cup

green onions

diced
Crispy Egg Roll Wrapper Strips
1

cup

flour

all purpose or gluten free

1/2

teaspoon

kosher salt

1

small

egg

4-5

tablespoons

warm water

vegeteable or peanut oil for frying
Instructions
In a large pot or dutch oven, heat to medium and add pork. Cook, breaking it up as it cooks, for 4-5 minutes.

Use a slotted spoon to remove the pork from the pot and add to a paper towel lined plate to drain. Set aside. If it is a high fat pork, discard some oil that remains in pan, but leave just a little for flavor.

Add 1 tablespoon of sesame oil to pan and then add garlic, ginger, and onion. Saute for 2-3 minutes, turning to coat in oil.

Add the shredded cabbage and saute for another 5-6 minutes, stirring often often.

Add soy, oyster sauce, last tablespoon of sesame oil,and white pepper and mix well.

Add the chicken stock and bring up to a boil. Reduce to a gentle simmer. Let simmer for 10 minutes, add the carrots and pork and then let simmer for another 20 minutes.

Meanwhile, make crispy egg roll wrapper topping.
Crispy Egg Roll Wrapper Strips
If making your own egg roll wrapper dough: Add flour and salt to a medium wide mouthed bowl. Give a quick mix and then create a well.

Crack the egg into the well and then use a fork to whisk the egg, incorporating the edges of the well while whisking. Slowly add the warm water, one tablespoon at a time, mixing more and more of the dough as you add.

Continue until a shaggy dough is formed. Remove dough from bowl and place on a floured surface and knead for 2-3 minutes until a smooth only slightly tacky dough is formed. If dough is too sticky, add more flour. If dough is too dry and not holding together, add a bit more water.

Cut dough into 4 equal parts. Wrap the dough you're not rolling out in plastic wrap and set aside.

Flour a large cutting board or counter, and use a rolling pin to roll dough out as thin as you can. Flour rolling pin and surface as needed to prevent sticking. Once a large thin disc is rolled out, gently transfer it to parchment paper. Use a knife to or pastry wheel to cut long 1/4 - 1/2 inch wide strips and then cut across to cut 2-3 inch long strips. Set parchment paper aside.

Repeat with the rest of the dough. Or make as much as you want and store the rest of the dough in the fridge or freezer to use another time.

If using pre-made egg roll wrappers, just cut then into the 2-3 inch by 1/4 - 1/2 inch strips.

Add 3-4 inches of vegetable or peanut oil to a pan and heat over medium until it reaches 375°F or use the wooden spoon test to check to see if oil is ready (see recipe notes).

Add dough strips to oil and fry for about 30-60 seconds then turn and let fry another 30-60 seconds until golden brown. Remove with slotted spoon and let drain on paper towel-lined plate. Repeat with all dough strips.

Ladle soup into bowl, garnish with diced green onion and top with crispy egg roll wrapper strips and enjoy!
Notes
Wooden Spoon Test: If you don't have a thermometer to test the temp of your oil, just add the end of a wooden spoon into your oil. If the oil bubbles up around the end of the wooden spoon, the oil is ready. But if it bubbles too vigorously or aggressively, then it's a little too hot and turn down the heat and let it cool a bit first.
Storage
Soup
This soup is great to make ahead and store in the fridge for up to 4-5 days or the freezer for up to 3 months.
Crispy Egg Roll Wrapper Strips
The dough is great to make ahead or store the extra if you don't want to make all of it. Flatten it into a disc, wrap in plastic, and store in the fridge for up to 2 days and the freezer for up to 4 weeks.
Store fried strips in an airtight container in the fridge for up to 3-4 days. Crisp back up by placing on a tray in the oven at 350 degrees for 4-5 minutes.
Substitutions
Crispy Egg Roll Wrapper Strips: Buy pre-made egg roll wrappers and cut and fry.
Pork: Ground beef would also work great for this. Try to use a leaner cut of ground pork or sausage.
Cabbage: Use green, napa, red, or a mixture of any/all three!
Onion: Yellow would be delicious, too!
Ginger and Garlic: Use powdered by using 1/4 teaspoon garlic powder and 1 teaspoon ground ginger.
Flour: Keep it gluten-free by using a 1:1 gluten-free flour.
White Pepper: A fine ground black pepper would work fine, too. But the subtle flavor of white is best for this recipe.
Oyster Sauce: While I don't suggest substituting this, you can use all soy sauce with a 1/4 teaspoon of white sugar added to the soup, or fish sauce also with a 1/4 teaspoon added to the soup.
Nutrition
Calories:
444
kcal
|
Carbohydrates:
32
g
|
Protein:
23
g
|
Fat:
25
g
|
Saturated Fat:
8
g
|
Polyunsaturated Fat:
4
g
|
Monounsaturated Fat:
11
g
|
Trans Fat:
1
g
|
Cholesterol:
85
mg
|
Sodium:
877
mg
|
Potassium:
724
mg
|
Fiber:
3
g
|
Sugar:
7
g
|
Vitamin A:
7220
IU
|
Vitamin C:
21
mg
|
Calcium:
59
mg
|
Iron:
3
mg