First, Mini Sweet Pepper Nachos whaaa? Stoke of brilliance. Sometimes I have them. Mainly they're just accidents, like this was. So I had planned to make spaghetti squash and black bean corn salsa for 6 lovely ladies at a bachelorette weekend getaway. That ended up not happening because our four legged son was sick, so I was left with 3 spaghetti squashes and a ton of fixings for the salsa. I made the salsa and a squash for my studly husband and I, but I still had this huge bag of mini sweet peppers that I was like 'what the heck am I going to do with all of these? In my opinion they are delicious raw, but I knew my husband needed something a little more out of them. So then I saw the leftover black bean and corn salsa and bam! "Nachos". Plus, it's Fiesta Friday! And since I missed last weeks party, I had to come to this week and these little 'nachos' seem like the perfect fiesta finger food!
So I cleaned the adorable little peppers and sliced them in half. When I was almost done with them I realized that I was slicing them in half like I was going to dice them, instead of cutting them in half along the wider edge so they'd make the perfect little boats. Oops.
Then I just filled the little guys with the black bean and corn salsa,
And topped them with shredded extra sharp cheddar cheese! Next time I'm totally putting them on parchment paper and being much more generous with the cheese.
Just 10 minutes in the oven at 350, and we had some tasty little 'nacho' bites! Again, these totally could have used more cheese!
But they were still delicious and a wonderfully quick, healthy snack! Happy Friday!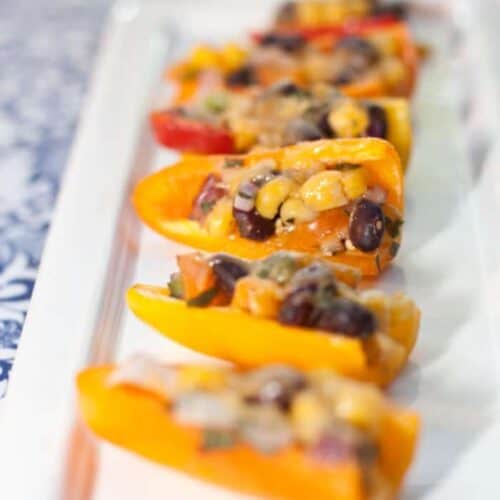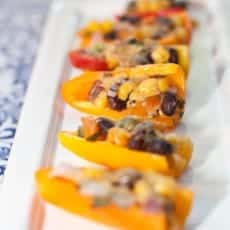 Ingredients
2

ears corn grilled

or 1 1/2 cups of frozen / canned corn

1 1/2

cups

of black beans

dried then cooked or 1 15 oz can- rinsed

1

cup

cherry tomatoes quartered

½

red onion chopped

¼

cup

cilantro chopped

3-5

sweet mini peppers chopped

1

jalapeno chopped

1

lime juiced

½

tsp

black pepper

½

tsp

cumin

¼

tsp

kosher salt

10-12

sweet mini peppers

halved and cleaned

1/2

cup

shredded sharp cheddar cheese
Instructions
Pre-heat oven to 350 degrees.

Clean kernels off of grilled corn and mix corn, beans, tomatoes, onion, pepper, and jalapeno in a bowl. Add cilantro, cumin, and pepper and mix. Add salt and squeeze lime juice on top of salt and then mix together.

Line tray with mini peppers, fill with salsa, and top with cheese.

Bake for 10-15 minutes until cheese is melted and pepper are softened.

Notes

Use the leftover Black Bean and Corn Salsa as a dip or topping on some roasted spaghetti squash as it makes 4 cups of salsa