Looking for a new way to use those overripe bananas? These Banana Maple Munchkins are fun to make, have a delightful touch of maple, and can be either coated with a maple glaze or rolled in cinnamon and sugar!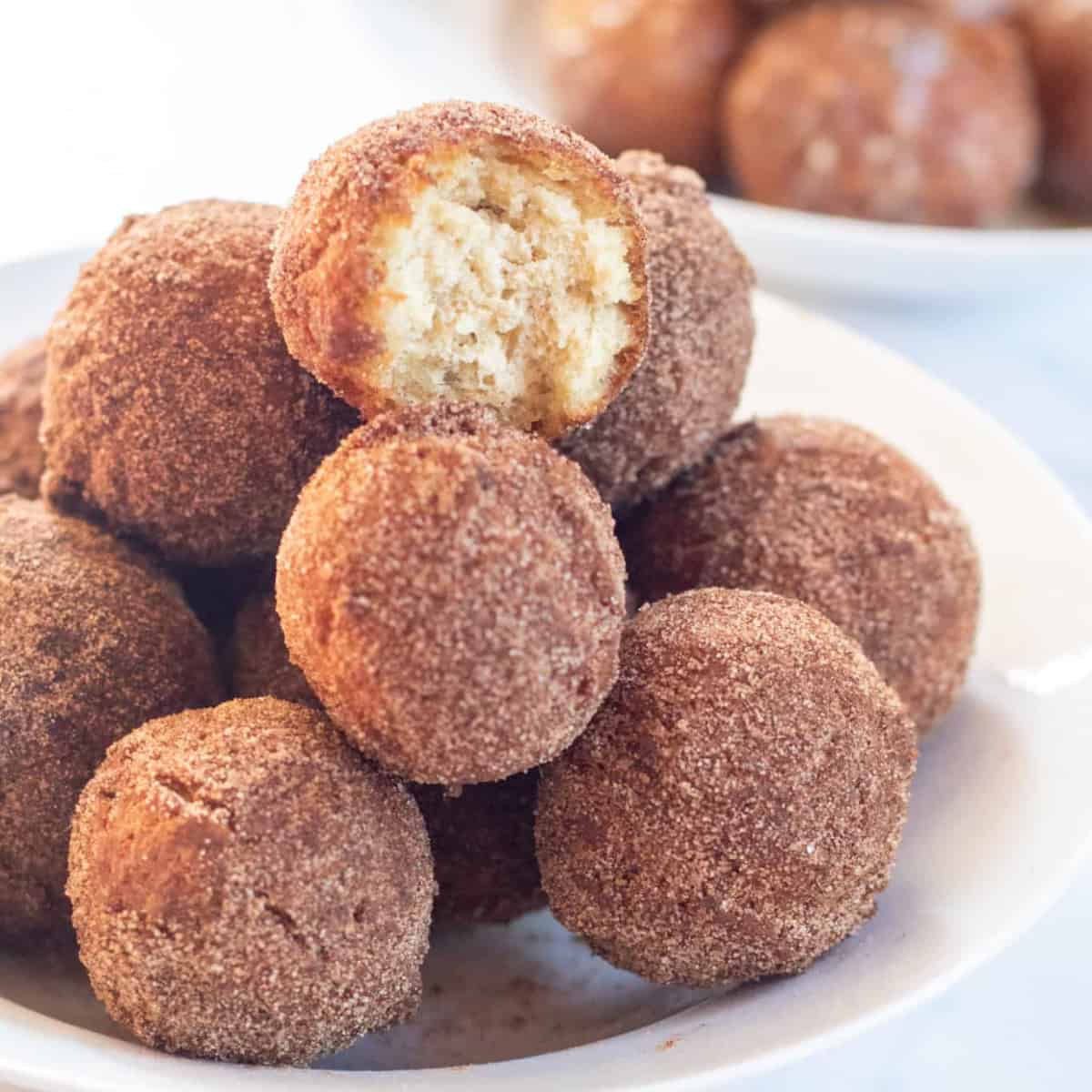 The answer to your overripe banana rut! Inspired by the many overripe bananas in our house right now and the fact that I'm kind of over our regular overripe banana recipes. Wellccommme Banana Maple Munchkins!
These delightful little munchkins are a cakey little ball of banana donut deliciousness that are easy to make and you can choose whether to glaze them with a sweet maple glaze or give them a roll in some cinnamon and sugar - either or, my favorite, both!
Ingredients needed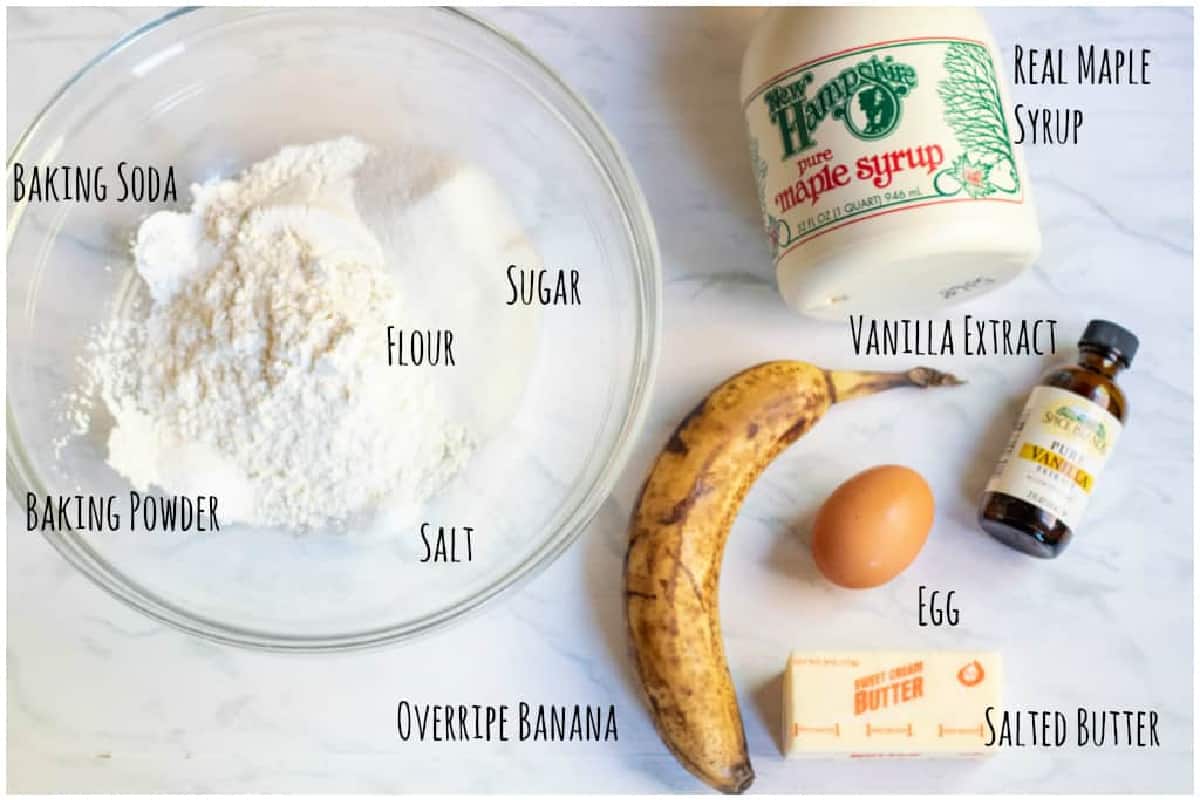 The batter is actually really easy to make and inspired by our Chocolate Glazed Munchkins!
Dry Ingredients: Flour, baking soda, baking powder, salt, and sugar
Maple Syrup: The real stuff is always best!
Butter, Egg, vanilla extract: BTW, have you made your own Vanilla Extract, yet?
Overripe Banana: Duh...
Step-by-Step Instructions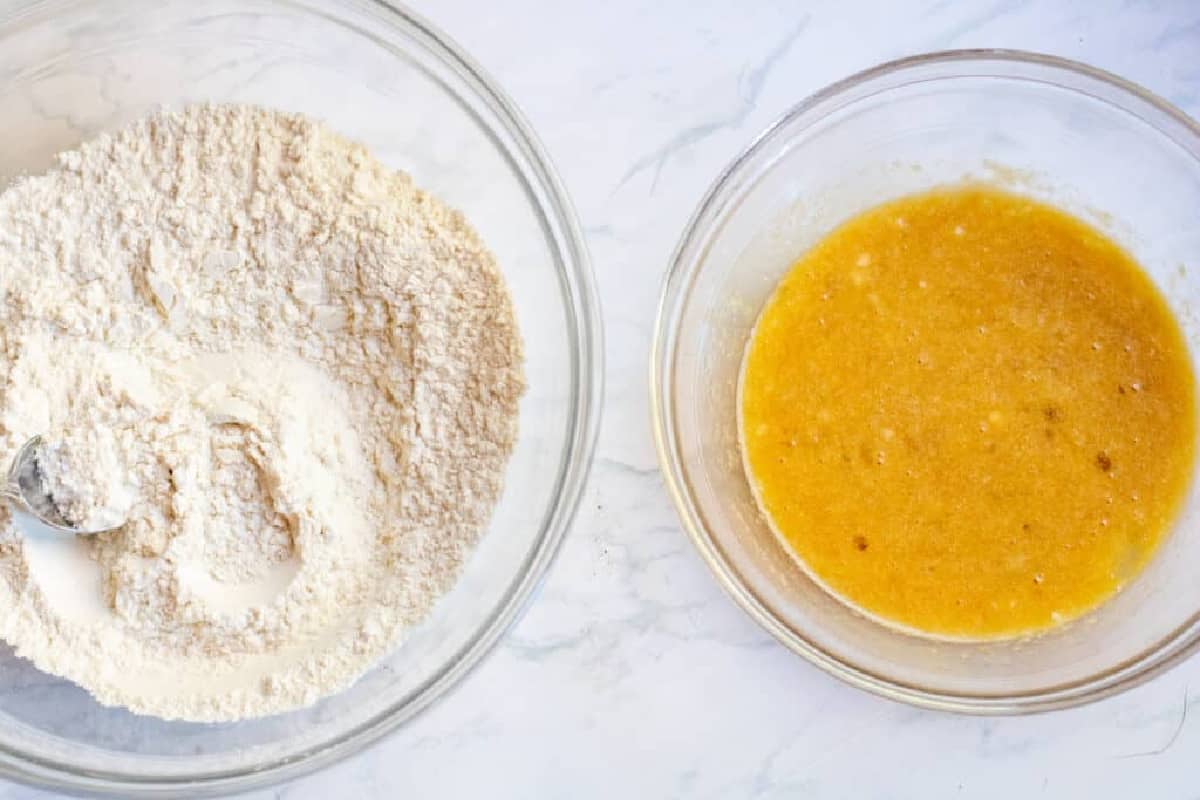 Step 1: Mix dry ingredients in a large bowl and maple, vanilla, mashed banana, and melted butter in a bowl and whisk in the egg.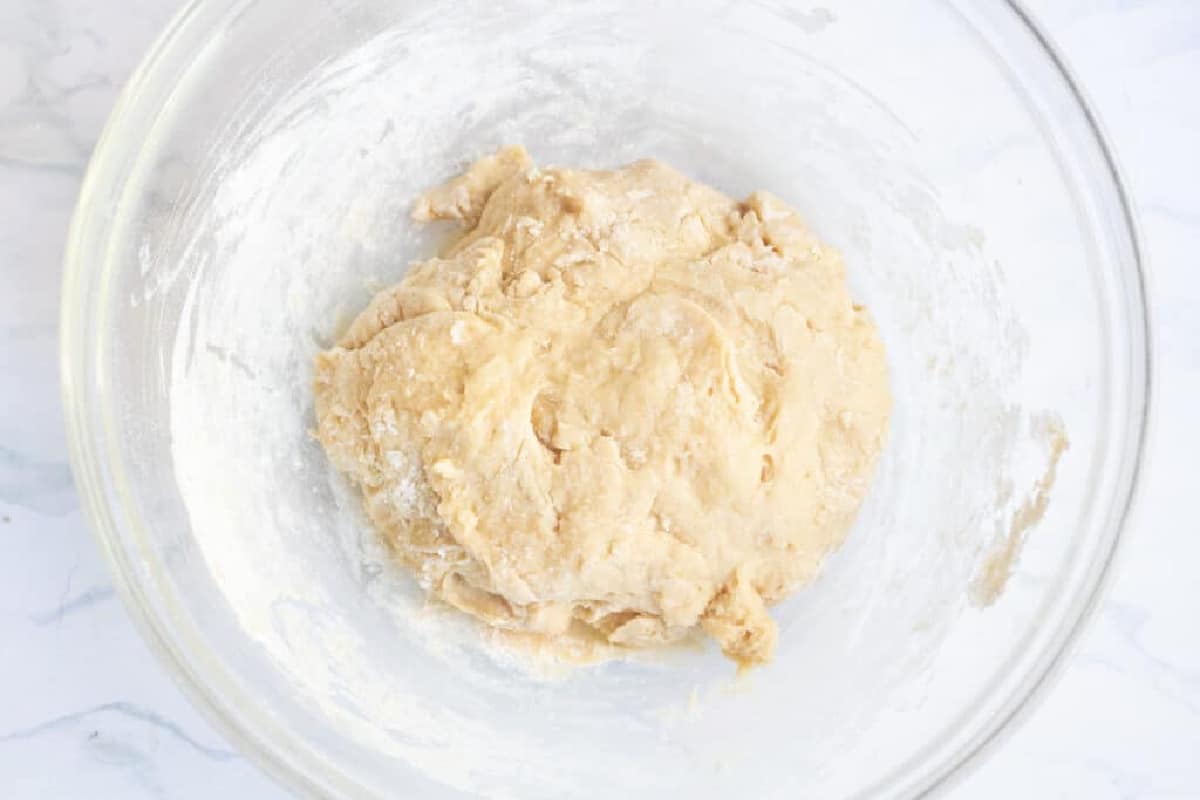 Step 2: Mix into a dough and then let it cool in the fridge for at least 30 minutes. The dough will be pretty sticky, so cooling it will help it set so it will be easier to work with to roll into balls.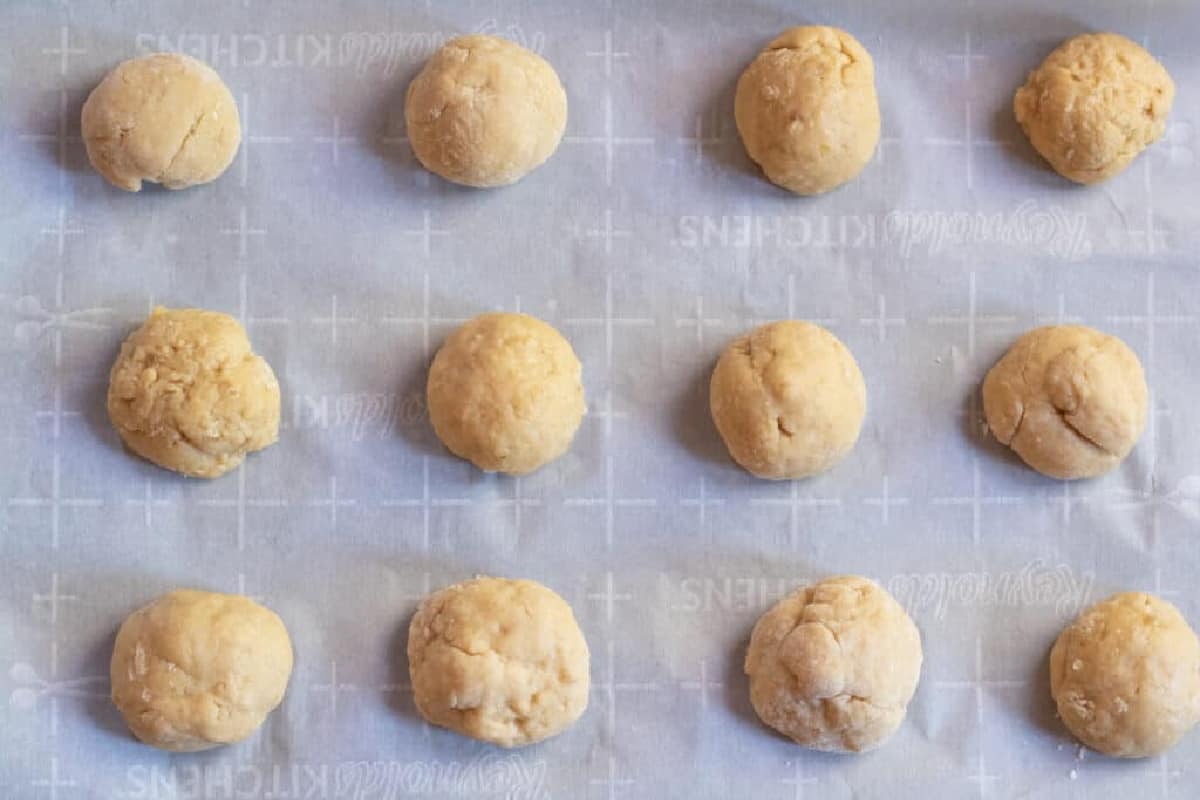 Step 3: Roll dough into adorable little balls! These are pretty big, and they do puff up when they fry. Plus, the bigger they are, the longer they take to cook to ensure they're cooked in the center.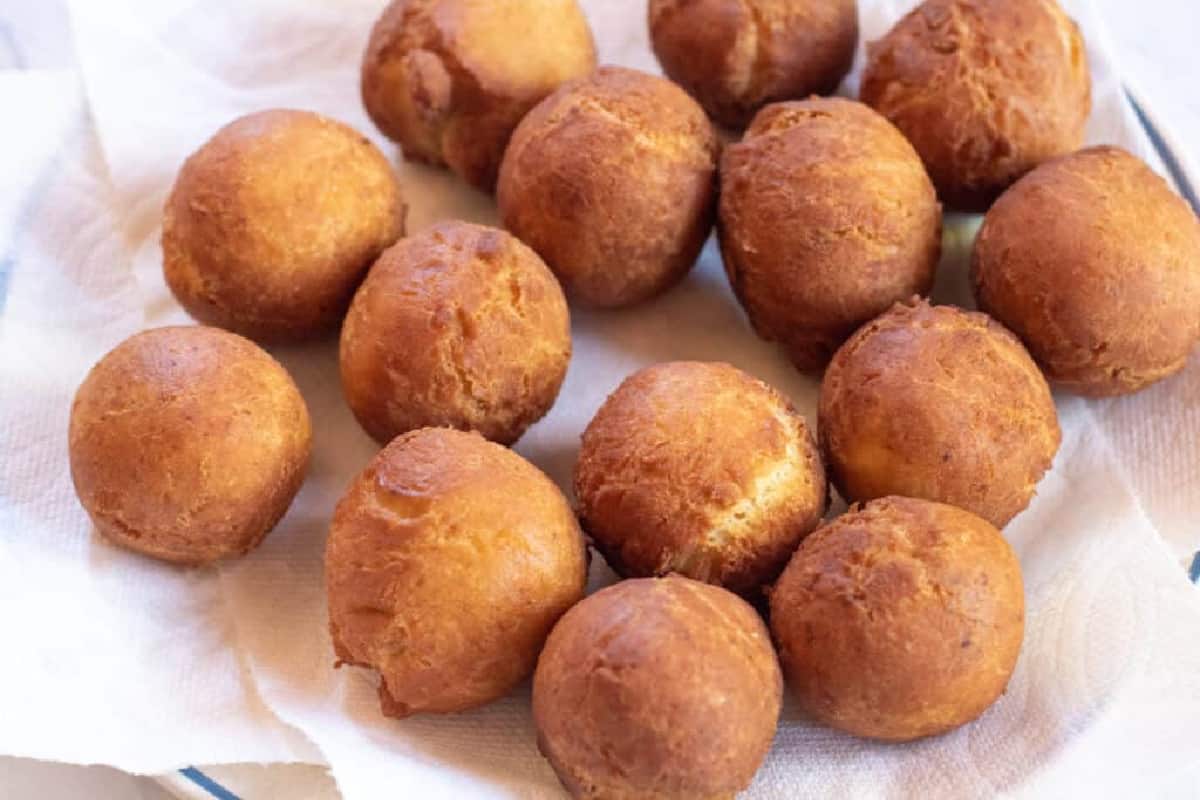 Step 4: Heat some oil to 350 degrees and then fry the lil' bad boys!
TIP: Key for ensuring your oil is at temp (oil too hot will burn the outside and oil too cool won't cook them all of the way through), a thermometer is key. There are a lot out there, but if you're doing a lot of frying or cooking, then you definitely want to invest in a good thermometer. This is the one we absolutely love. No, they're not paying me to say that, although I wish that they were! 😉 We really do just love it and use it for everything from meats to candy!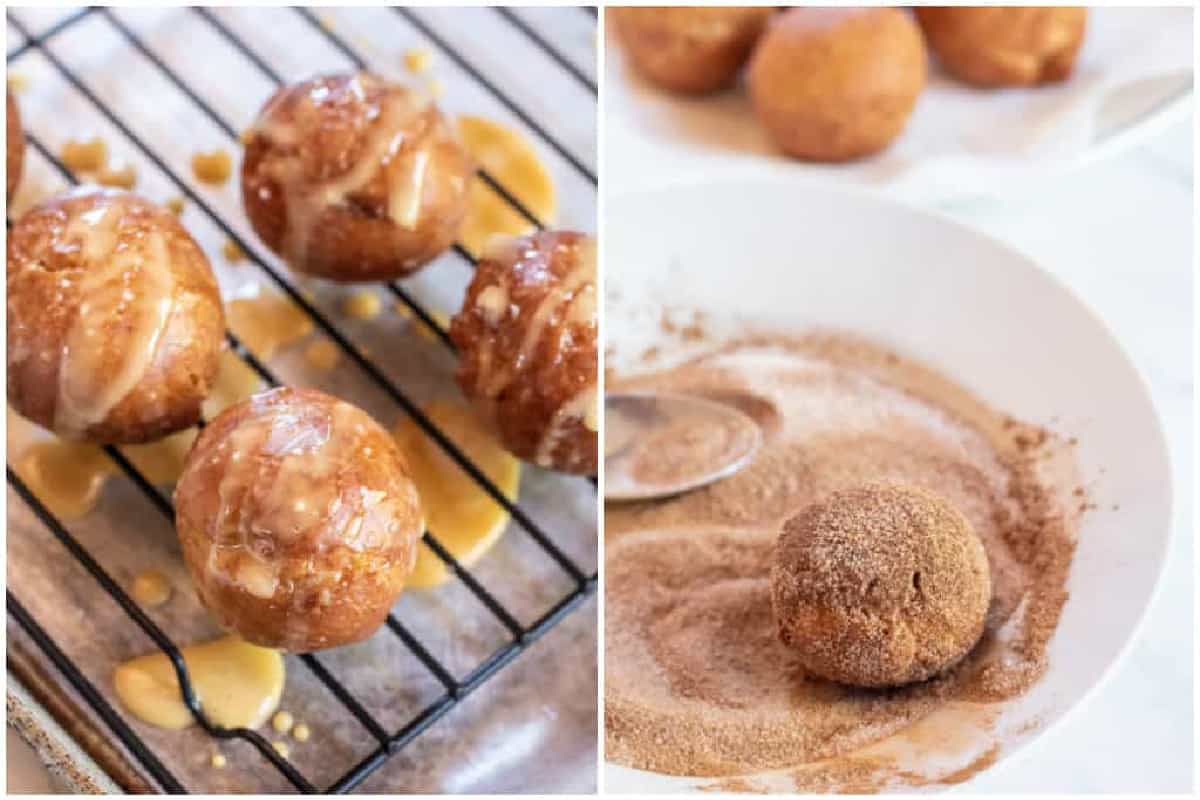 Step 5: Glaze or Coat! Either with a maple glaze (my favorite!) or a delightful coating of cinnamon and sugar!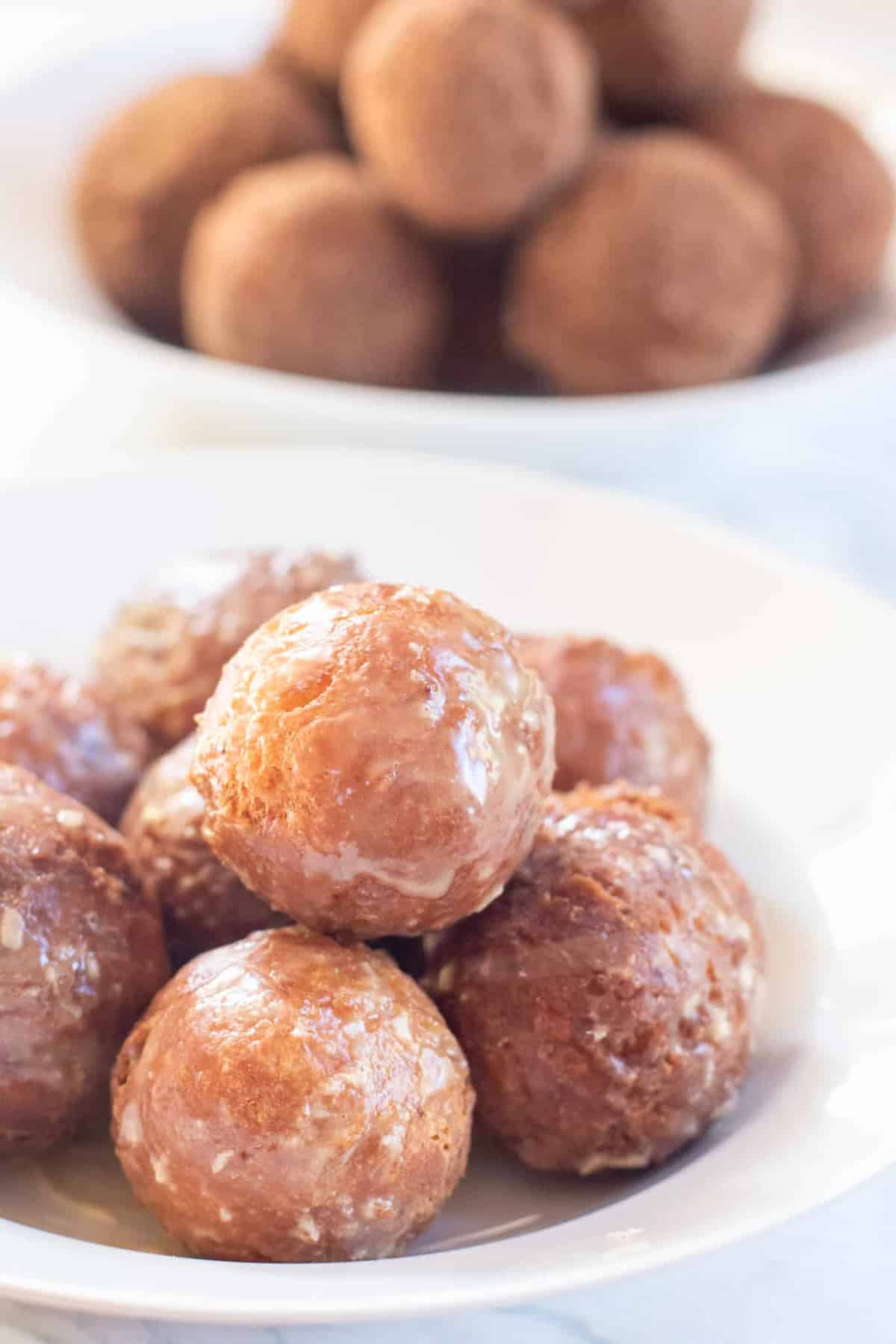 Maple Sugar Glaze... Heeeyyy.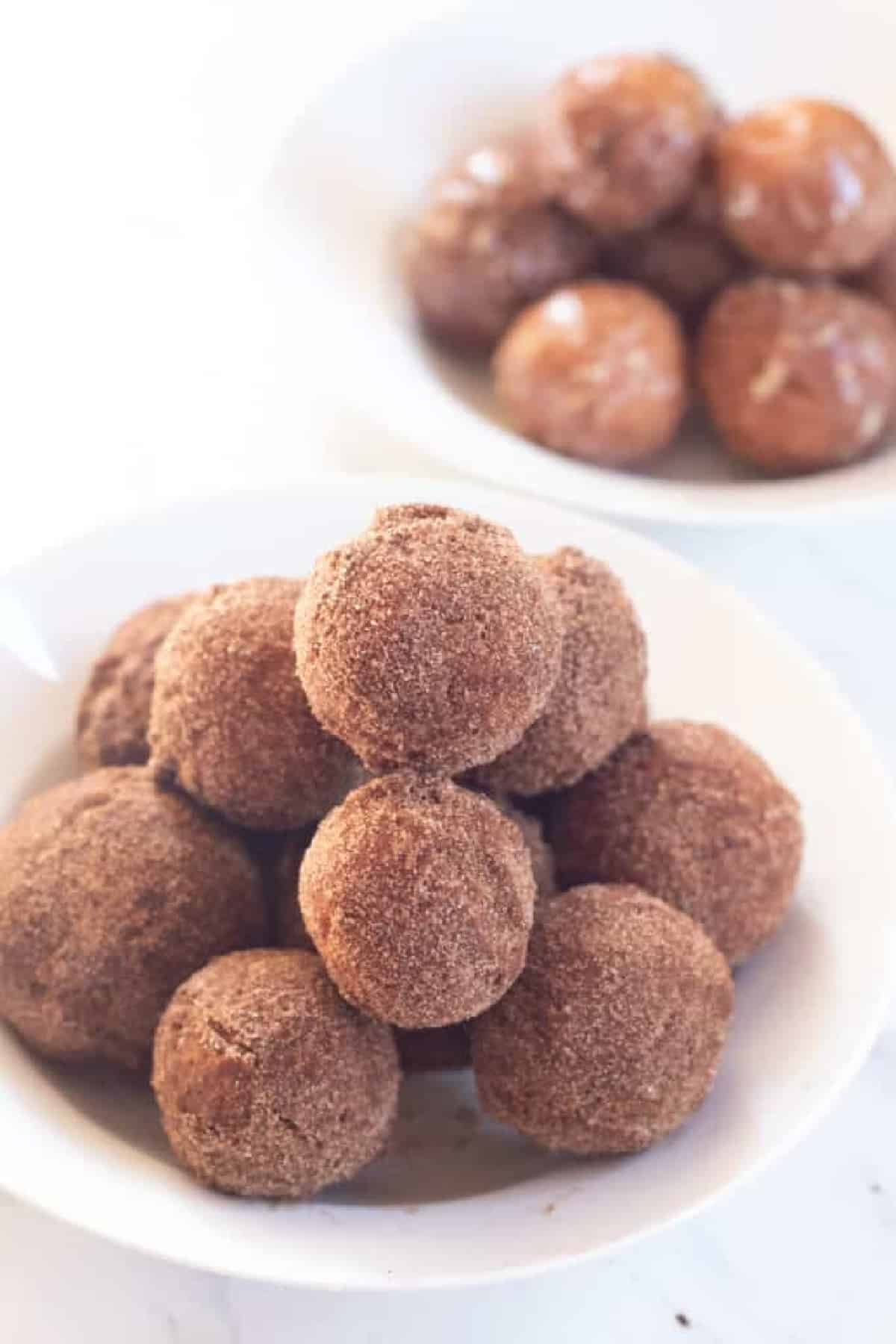 Or coated with cinnamon and sugar. Pay no attention to the inconsistency of the size of the donut holes... I tried a lot of different sizes to see which worked best - and you definitely want a nice smaller 1 1/2 inch ball for the dough. They'll expand in the oil to a perfect munchkin-sized ball!
No matter the size, as long as you cook them long enough so they're no longer doughy in the center, then they are just straight-up delightful.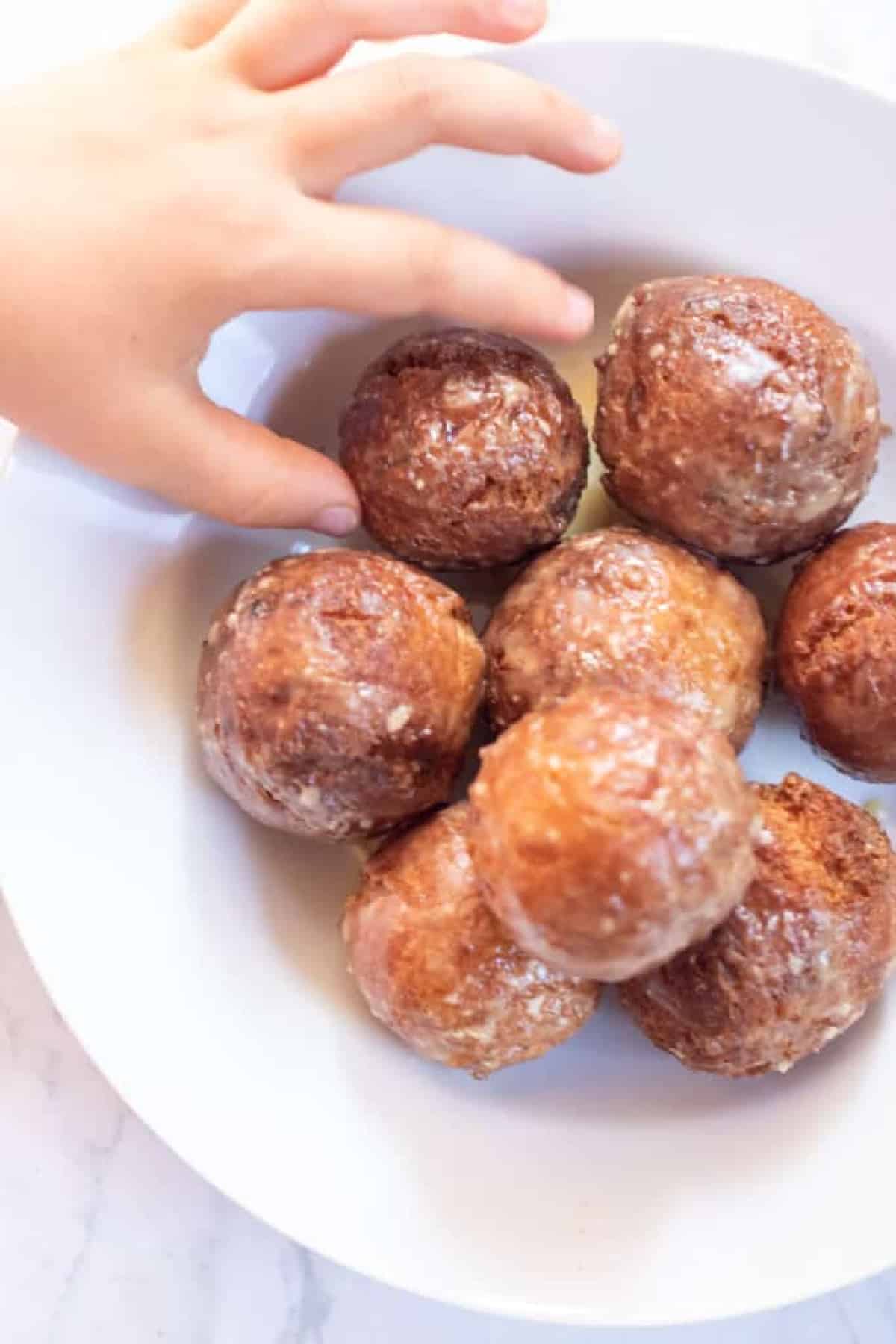 My girls favorites were the maple glazed ones. Probably because they have the most maple flavor with the maple glaze that we also use for our Maple Apple Nut Bread, so I don't blame them.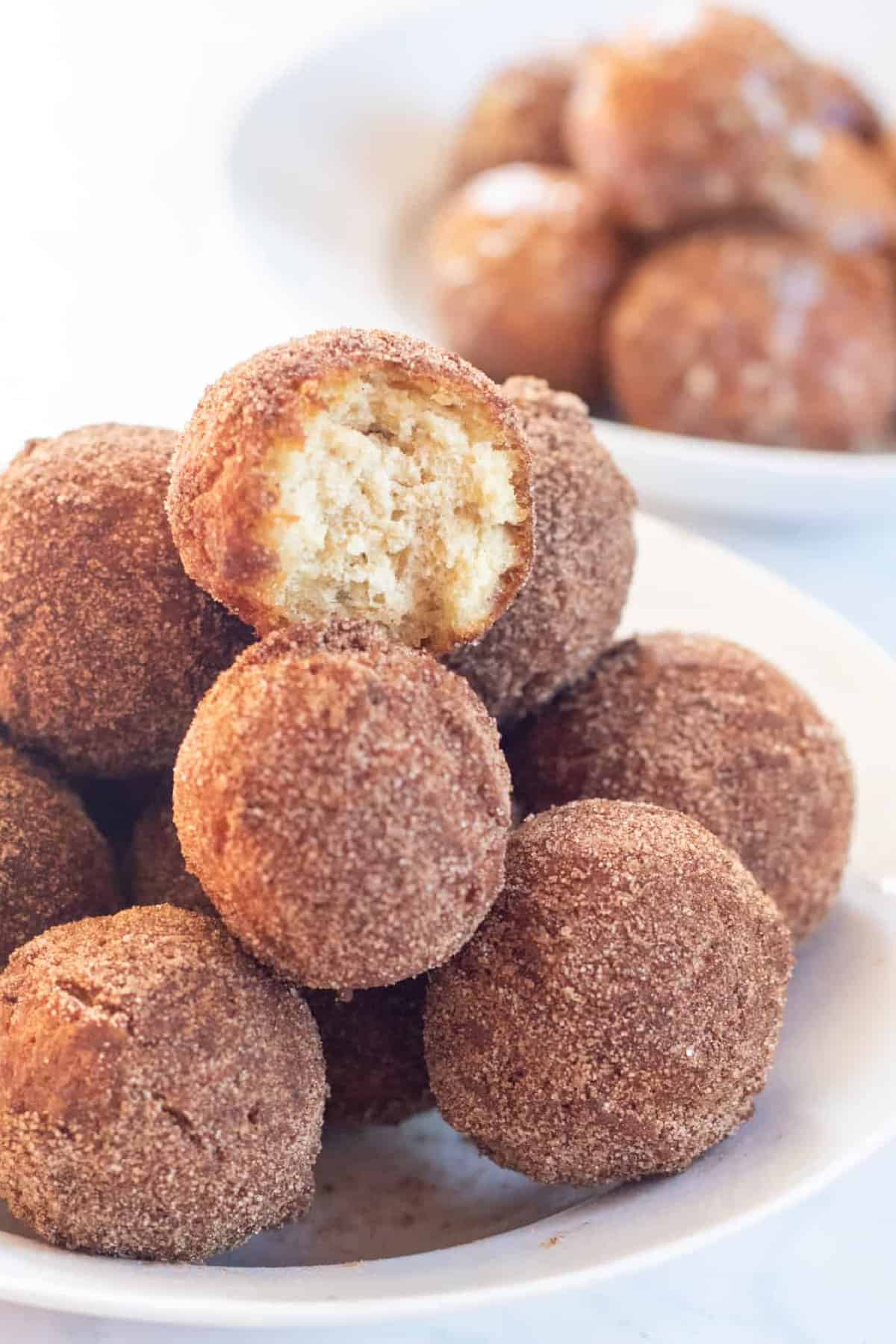 One of my favorite parts of this recipe is that its one that I feel 100% ok with letting my girls go to town on them. I know exactly what's in them and there's not a lot of added sugar and hey, bananas have a lot of fiber and potassium in them! It's practically like they're eating broccoli, right?? 😉
Other Sweet Brunch Treats
Summer's almost over - and not like there was much to it this year, but it also means that cozy big sweater season is right around the corner. Bring on the brunch treats!
Healthy Banana and Strawberry Oat Pancakes
Sourdough Walnut Cinnamon Rolls
FAQs
My dough is super sticky!
When you first mix it all, it will be pretty sticky. Once you chill it, it will help, but also even if it's chilled, the dough will still be a little sticky so flouring your hands or sprinkling a little on the dough to help with the shaping is ok!

My centers are still doughy.
That means they didn't cook long enough. These little guys brown pretty quickly in the oil, just keep turning them and letting them cook.
Enjoy! As always, if you make this recipe or any of my others, I love to hear what you think! Leave a comment below, email me, or you can find me on Facebook, Instagram, and Pinterest!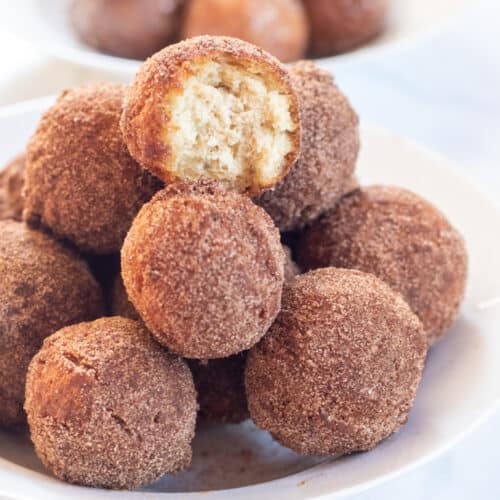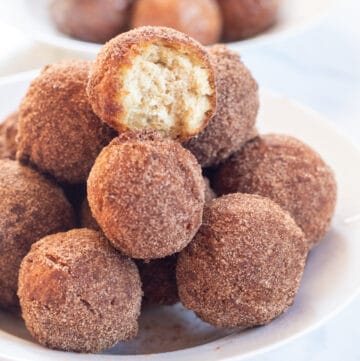 Banana Maple Munchkins (Donut Holes)
Looking for a new way to use those overripe bananas? These Banana Maple Munchkins are super fun to make, have a delightful touch of maple, and can be either coated with a maple glaze or rolled in cinnamon and sugar!
Print
Pin
Rate
Ingredients
2

cups

all purpose flour

1/4

cup

sugar

1

teaspoon

baking powder

1/4

teaspoon

baking soda

1/2

teaspoon

kosher salt

2

tablespoons

butter

melted

2

tablespoons

pure maple syrup

1

teaspoon

vanilla extract

1

overripe banana

mashed

1

medium

egg

Oil for frying
Cinnamon Sugar Coating
2

tablespoons

granulated sugar

1

tablespoon

ground cinnamon
Maple Sugar Glaze
1/2

cup

confectioner's sugar

1/8

cup

maple syrup
Instructions
In a large bowl whisk flour, sugar, baking powder, baking soda, and salt.

In a small bowl add maple syrup, vanilla, and banana. Mash banana with a fork or with a potato masher until well combined. Add melted butter and mix well. Whisk in egg.

Add the wet ingredients to the dry and mix until a sticky dough forms. Cover bowl with plastic wrap and cool in fridge for at least 30 minutes.

Line baking sheet with parchment paper.

Add vegetable oil to a sauce pan so that it is about 3-4 inches deep for frying. Heat over medium heat to 350 degrees. Use a thermometer to ensure temp and that your oil isn't getting too hot. Once it's 350 degrees turn heat down to medium low.

Meanwhile, once dough has chilled, remove from fridge and then roll out into 1 to 1 1/2 inch balls. Use flour to coat hands to work with dough because it will be sticky. Add to parchment paper lined tray.

Line a plate with paper towels and set aside.

Add dough balls, only 4 at a time, to the hot oil and let cook for 3-4 minutes for 1 to 1 1/2 inch balls. For larger balls, cook longer. Use a slotted spoon to turn balls in the oil while they cook to ensure even cooking.

With a slotted spoon, remove donut holes and add to paper towel lined plate.

Cook in batches of 4 until all are done.

Prep Cinnamon Sugar Coating and Maple Sugar Glaze by adding ingredients to separate small bowls.

If using Maple Syrup Glaze, add wire rack to parchment lined baking sheet and add munchkins to wire rack before glazing.

If using Cinnamon Sugar coating, roll munchkins in cinnamon sugar.
Notes
The nutritional value is approximately per donut hole.
Glaze and Cinnamon Sugar Coating amounts are if you are splitting batch. Double each to do a full batch of each topping. But doing both is fun to have a mix!
Store in an airtight container at room temperature up to a week.
Nutrition
Calories:
91
kcal
|
Carbohydrates:
21
g
|
Protein:
2
g
|
Fat:
2
g
|
Saturated Fat:
1
g
|
Polyunsaturated Fat:
0.1
g
|
Monounsaturated Fat:
0.4
g
|
Trans Fat:
0.05
g
|
Cholesterol:
11
mg
|
Sodium:
106
mg
|
Potassium:
49
mg
|
Fiber:
1
g
|
Sugar:
7
g
|
Vitamin A:
52
IU
|
Vitamin C:
1
mg
|
Calcium:
24
mg
|
Iron:
1
mg