You can make your own super healthy, nutrition packed bread from scratch with this Copycat Dave's Killer Bread recipe for the home bread baker!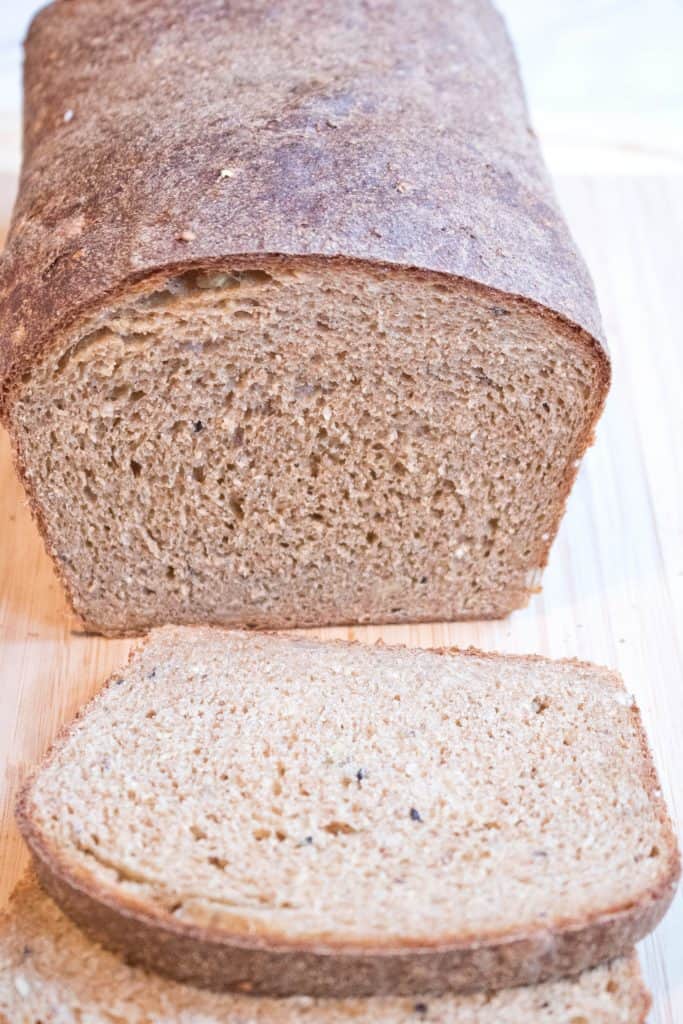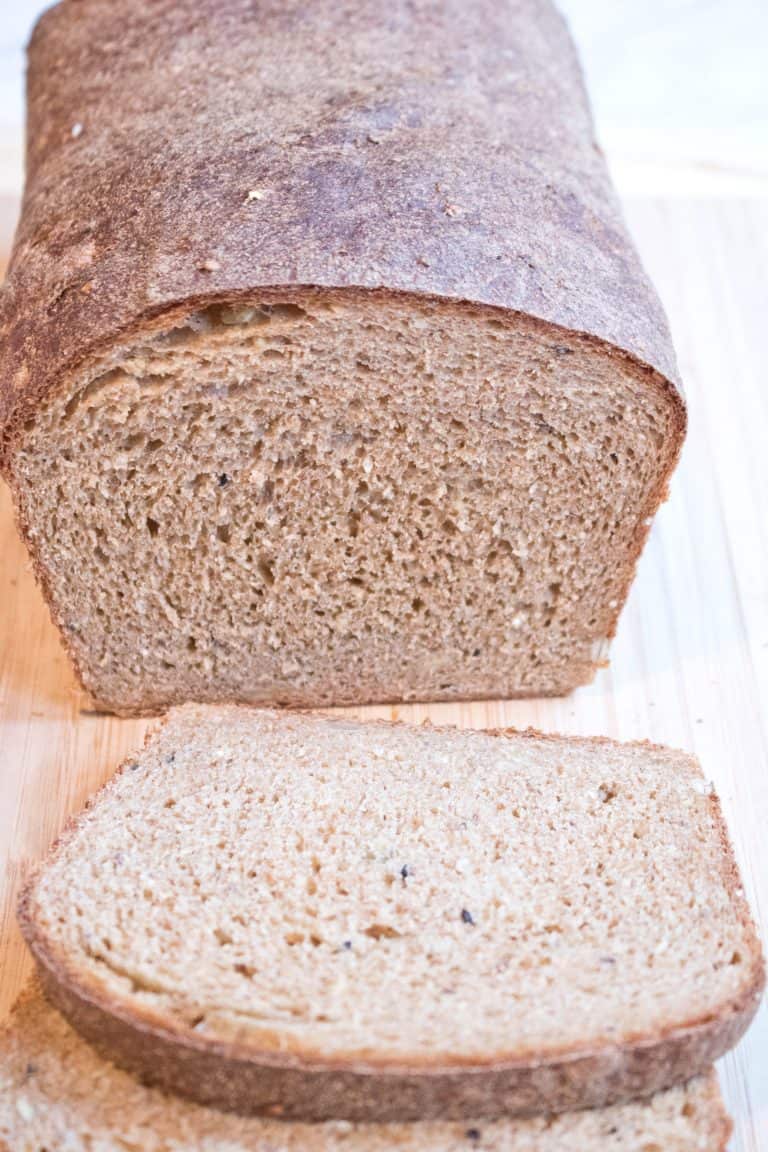 Here's a reboot from the archives, friends! I originally made this recipe almost 3 years ago when I was pregnant with M. I made it quite a few times, but then a lot of you told me you were having difficulties with the recipe. So, I went back to it and played with it and adjusted it and made (and ate) a lot of loaves until I got it right.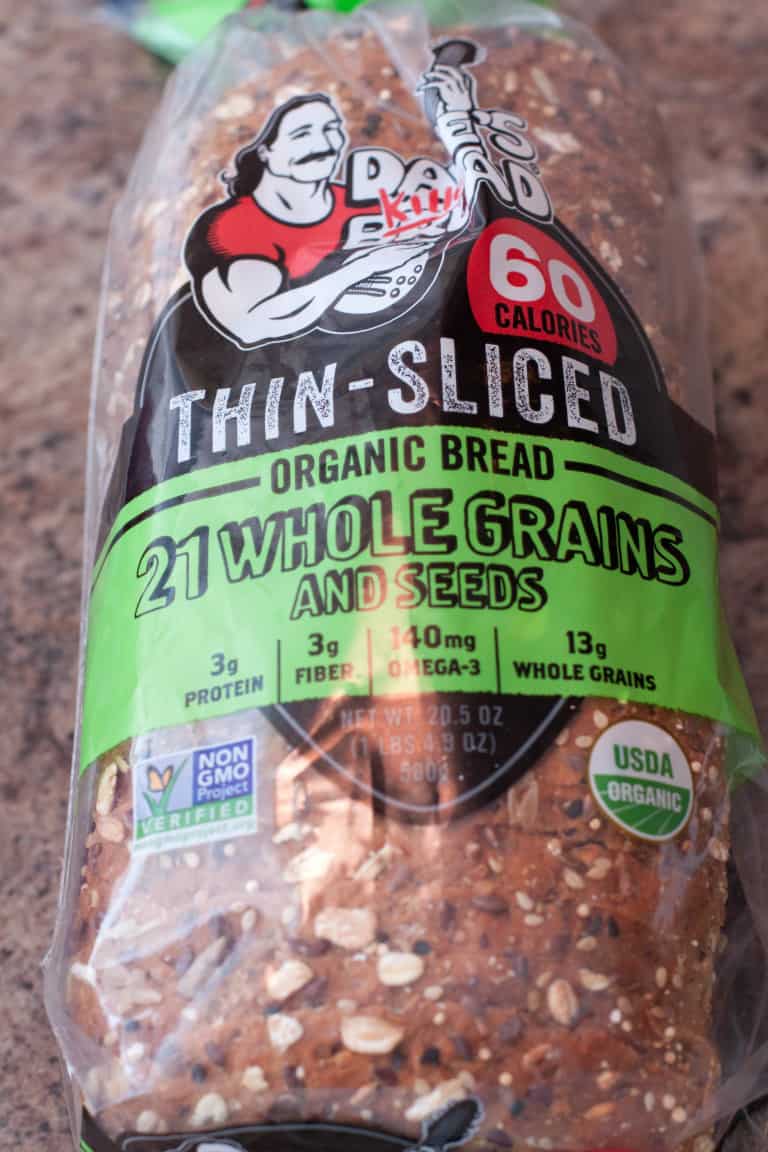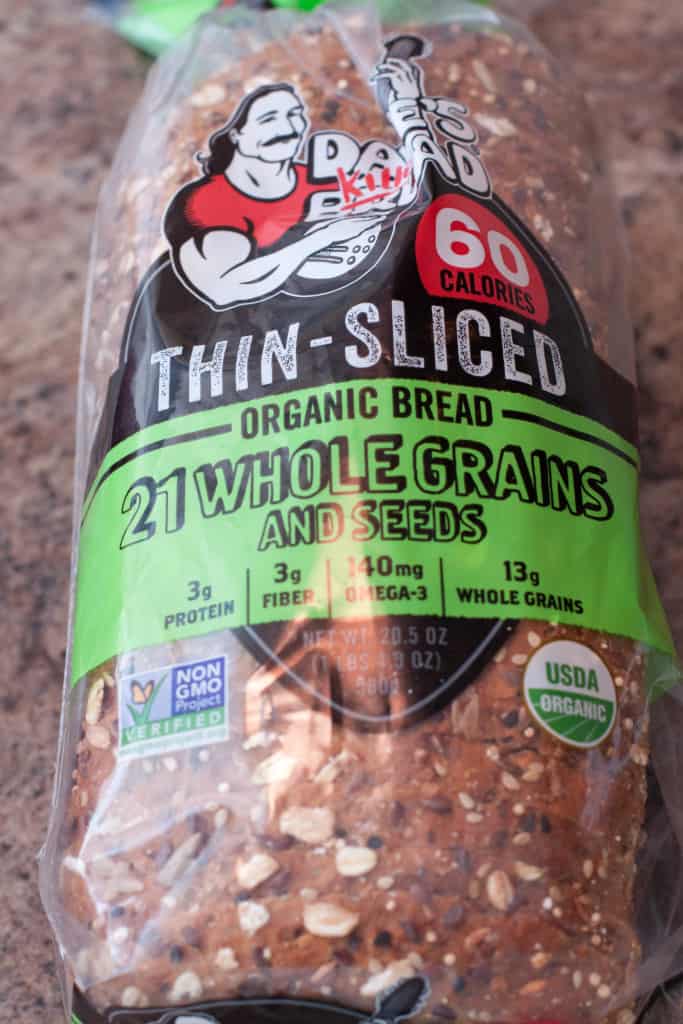 Now is it an exact copy of Dave's? No. But is it a pretty delicious, nutritious close enough to make the at home Copycat Dave's Killer Bread to make the home bread maker happy? Yup, I'm pretty sure it is.
Ingredients Needed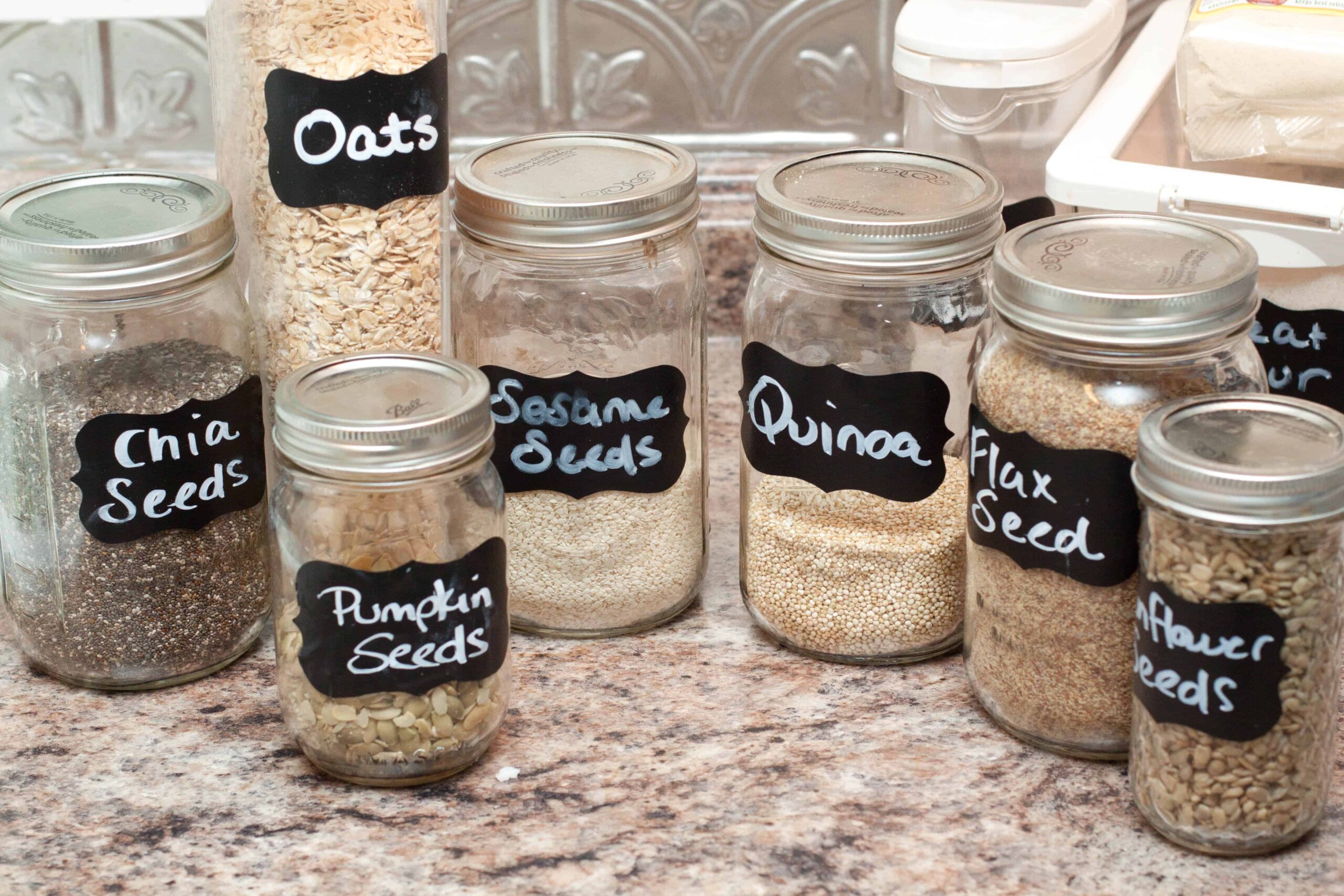 My deep love for all things gluten is pretty evident by all of the bread we make (and eat) in this house. From our Vietnamese Baguette, Dan's Como Bread, No Knead Rosemary Garlic Bread, No Knead NY Deli Rye, and the latest, Whole Wheat Honey Oat Bread, suffice to say we love homemade bread in this house. But we also want to ensure that we're still getting all the same nutrition that I was obsessed with while preggo with both the girls. I'm still nursing our littlest babe and I am a firm believer that what I eat 100% matters to as by way of my milk, I'm setting down fundamental building blocks to good nutrition to this tiny human. Therefore, I want all the nutritional bang for the buck I can get in my food.There's no denying how nutritious Dave's Killer Bread is. The 21 Whole Grains and Seeds is one of my (and M's) favorites. So naturally, I wanted to figure out how to make it from scratch!From scratch, but still packing as much of nutritional punch as possible.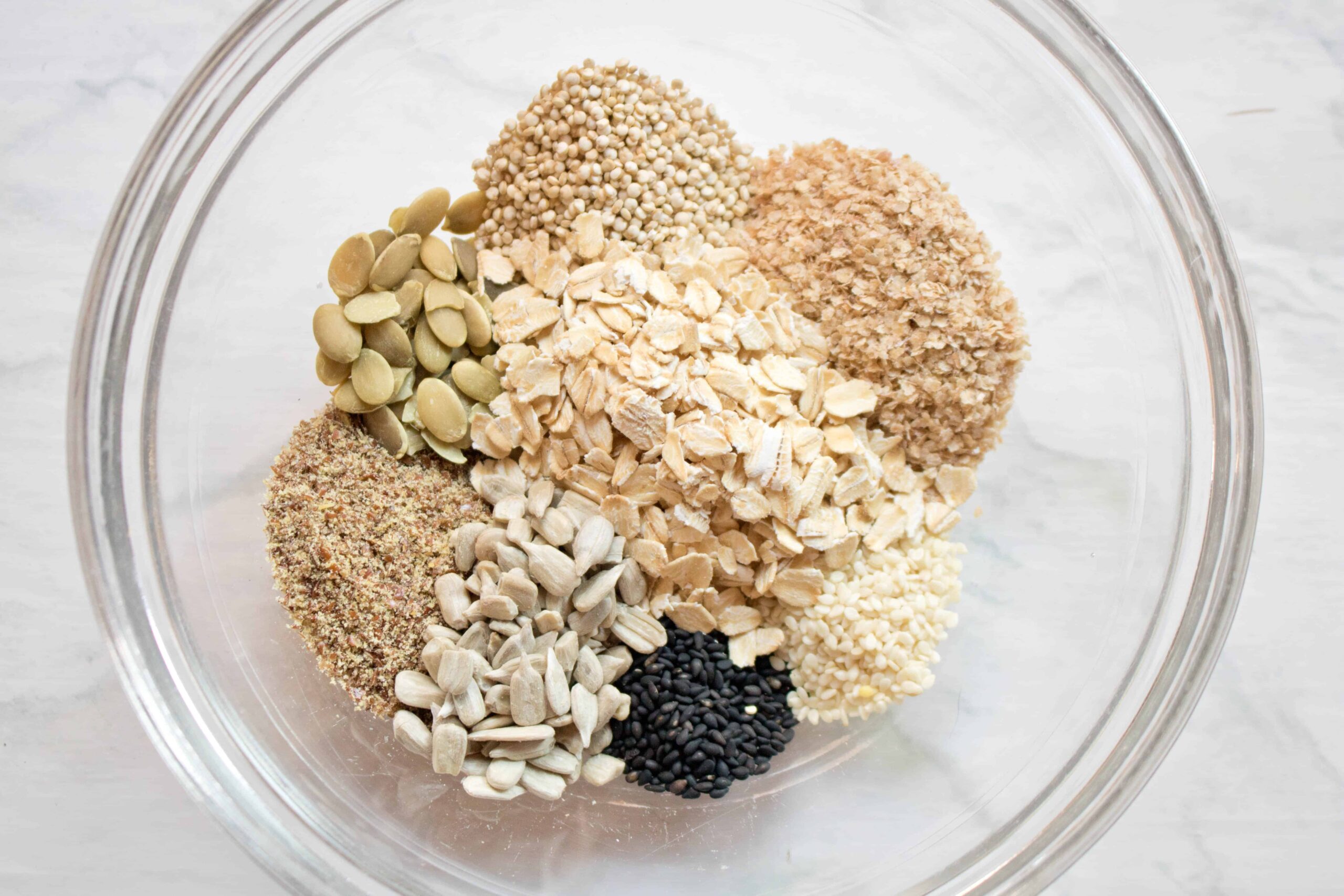 Enter: Oats. Pumpkin Seeds. Ground flax seed. Black sesame seeds. White sesame seeds. Sunflower seeds. Quinoa. Wheat germ. Chia seeds.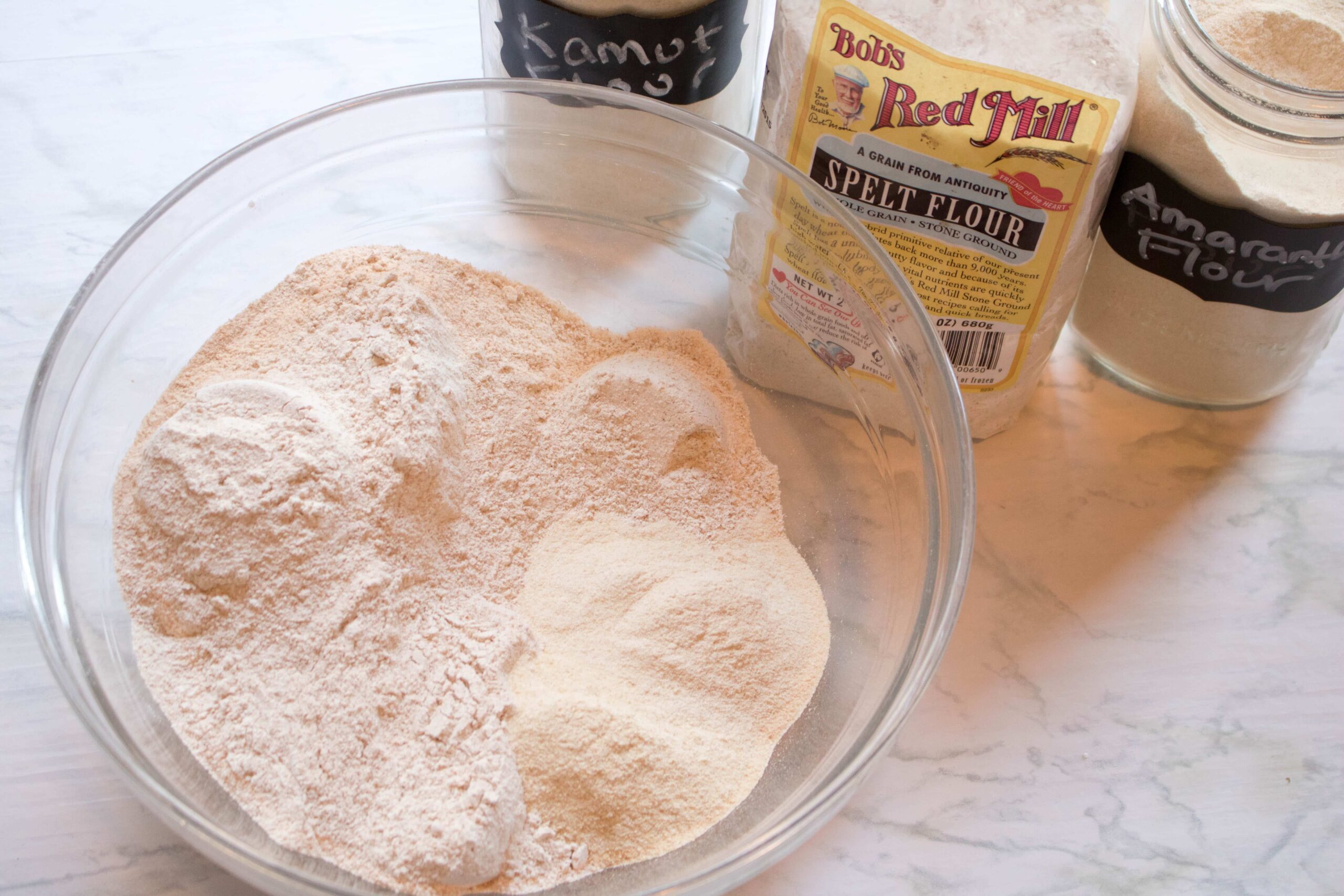 Whole wheat flour. Kamut flour. Amaranth flour. And finally, spelt flour. Ok ok, if you're keeping track, that's only 14 whole grains and seeds. But it gets to a point where if the ingredient list becomes so insane you're going to be spending way more $ on the copycat than the the original.
Now I'm a pretty self proclaimed lazy baker. Hence all of my no knead breads. This bread though, this bread takes some work. Once you've activated your yeast, added your flours and then all of the seeds, you're going to have a super sticky dough. Which is good. It's what you want. It's what you need. Because of the seeds that will suck out a lot of moisture from the dough, in order to get a nice soft crumb (center) of your loaf, you need two things: good hydration and a well kneaded dough.
It's not easy to work with because it's soooo sticky. Your first thought will be to add more flour - but don't do it! Work through the super stickiness, get it all on your hands (take off your rings and jewelry first unlike me...), and work that dough. A lot. Like 15 solid minutes of kneading. Your arms will get sore. Your hands will be covered in dough. Don't do it on a cutting board, do it on your counter top. And work it. Work it good.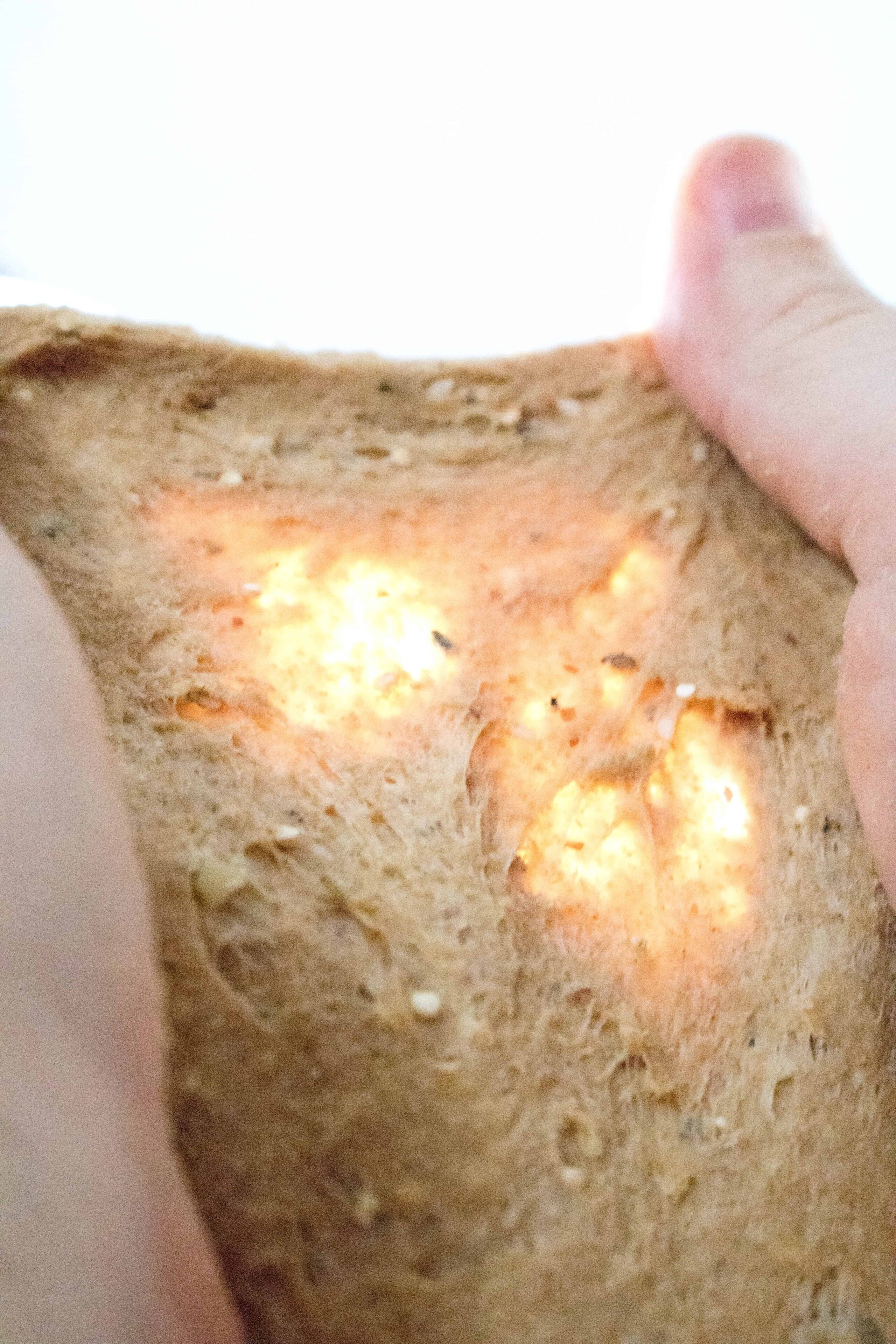 Knead it until it passes the "windowpane" test. This is when you know the gluten in the dough is well developed enough. Essentially, take a small ball of dough and then slowly spread your fingers apart while holding it, stretching it out until it's like a windowpane that you can see light through, but that it doesn't rip. If it rips, that means that the gluten hasn't been worked enough and you have more kneading to do.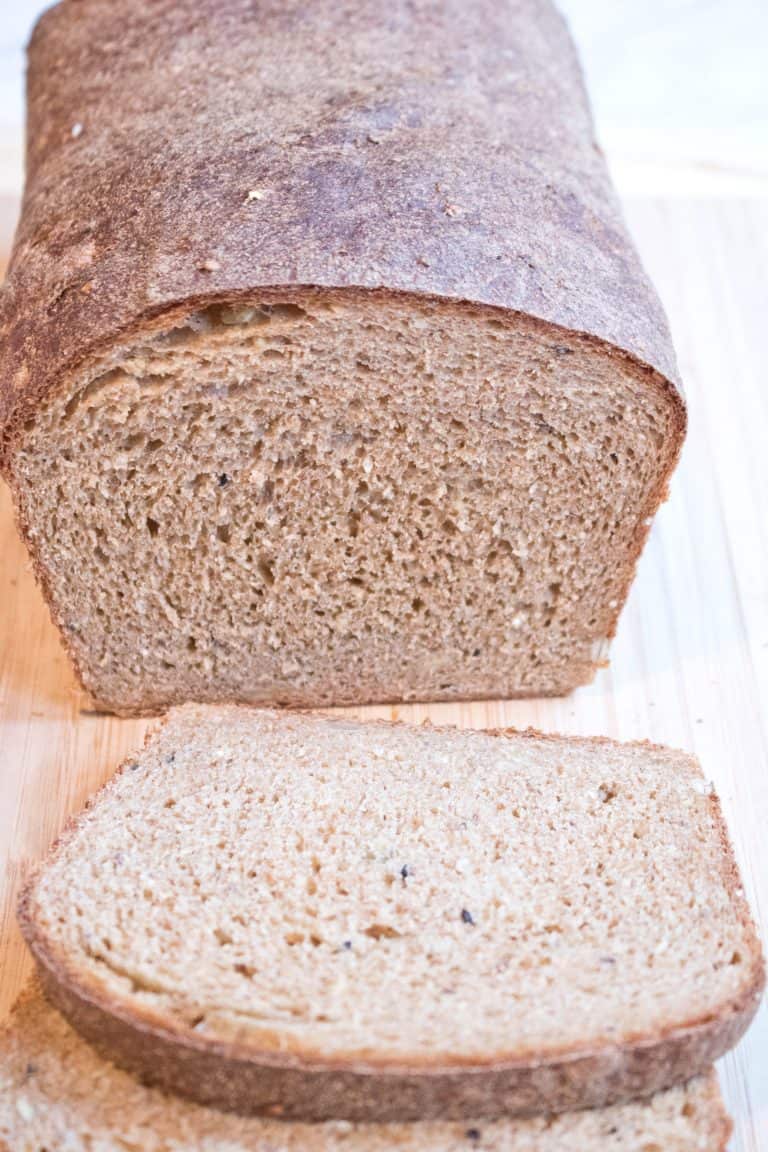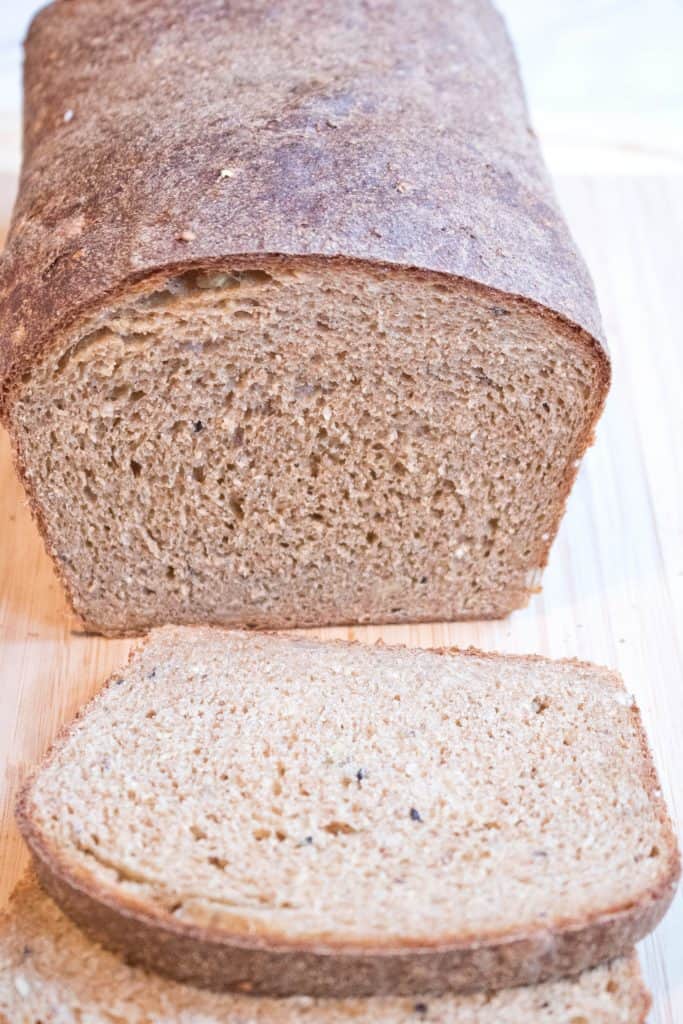 Now with this bread, because it's mostly made up of whole wheat flour, which has less gluten than a standard white bread flour, you will need to work it longer to activate it. Again, your arms will be tired. You'll want to just call it good. But don't! You'll end up with a super dense loaf!
Instead, if you put in the work, you'll get a loaf that has a lovely, soft, chewy center. Not quite as airy as Dave's, but again, a pretty darn good Copycat Dave's Killer Bread.
Then, thanks to Calorie Count I can see exactly how nutritional my copycat is! Sliced nice and thin (I got about 15 thin slices from a loaf), and no, it's not as nutritious Dave's 21 Whole Grains and Seeds, but for a homemade bread, this Copycat Dave's Killer Bread is pretty darn nutritious and delicious.
Enjoy, friends! I hope you all have much more luck with this Copycat Dave's Killer Bread recipe - as always, let me know! I love hearing from you!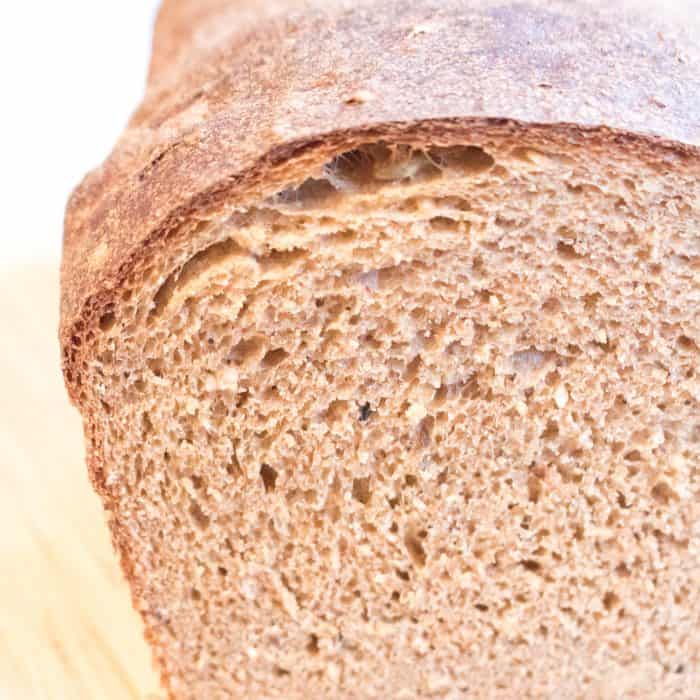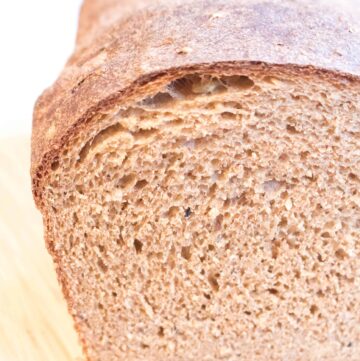 Copycat Dave's Killer Bread
You can make your own super healthy, nutrition packed bread from scratch with this Copycat Dave's Killer Bread recipe for the home bread baker!

Print
Pin
Rate
Ingredients
2 1/4

teaspoons

instant yeast

1

tablespoon

molasses

2

tablespoons

honey

2

cups

warm water

3 1/4

cups

whole wheat flour

1/4

cup

amaranth flour

1/4

cup

spelt flour

1/4

cup

kamut flour

1 1/2

teaspoons

salt

1

tablespoon

ground flax seed

2

teaspoons

dry

unsalted pumpkin seeds

1

teaspoon

black sesame seeds

1

teaspoon

sesame seeds

2

teaspoons

chia seeds

1

tablespoon

quinoa

1

tablespoon

wheat germ

2

teaspoons

dry

unsalted sunflower seeds

2

tablespoons

old fashioned rolled oats
Instructions
Add yeast to the stand mixer bowl and add warm water. Let sit for 3-5 minutes until yeast is activated and foamy.

Meanwhile, in a large bowl, mix your flours and salt together. In a separate bowl, mix together all of the seeds, quinoa, wheat germ, and oats.

Add honey and molasses and mix. Let sit another minute.

Slowly add the flours and salt and using the dough hook, mix on medium until a very sticky dough forms. Add seeds and mix again until all are incorporated.

Remove dough from mixer and on a lightly floured surface (preferably not a wood one, best case granite or marble), begin kneading. The dough will be VERY sticky - that's good! Resist the urge to add a lot more flour and knead for at least 15 minutes until dough begins to soften and come together.

To know when the dough has been kneaded enough and gluten has been activated, conduct "windowpane" test. Take a small ball of dough and hold with your forefingers and thumbs. Hold it up to a light and slowly stretch the dough - if it immediately rips, it needs to be kneaded more. You want it to stretch nice and thin so that you can see through it like a windowpane but it doesn't rip. This will take at least 15 minutes of solid kneading. Don't give up!

Once it passes the windowpane test, add to a lightly oiled large bowl, cover with plastic wrap, and let rise until it doubles in size - approximately an hour.

Pre-heat oven to 425 degrees and lightly grease a 9 X 5 loaf pan.

When proofed, punch down and remove from bowl. Flatten to a large rectangle and fold in sides then roll into a log. Place in loaf pan, seam side down.

Cover with plastic to let rise again. For best results, use a plastic bag to allow room for the dough to rise over the top of the pan. Put pan in bag and tie top then move the tied ends under the loaf pan.

Let rise until almost doubled - about 30-45 minutes.

Bake in center rack of oven for 35 - 45 minutes, until top is golden brown and when bottom of loaf it tapped, it sounds hollow.

Let cool at least 30 minutes before slicing and enjoy!