Make your own, delicious, indulgent, and crave worthy Nutella From Scratch easily with raw hazelnuts and chocolate.
Ok, you know what's the best / worst idea in the world? Making homemade Nutella, obviously the best. However, making homemade Nutella during Lent when you've given up sweets?! Worst. >sob<
Back to the best idea in the world… making Nutella, the delicious delicious hazelnut chocolatey goodness, is actually incredibly easy! All you need are some raw hazelnuts, confectioners' sugar, vanilla extract, cocoa powder, vegetable or canola oil, and milk chocolate (or a higher cacao chocolate to make it vegan!). Now I know what you're thinking- those milk chocolate chips aren't from scratch!
I know… but I only had 5.25 oz of our vegan friendly chocolate chips from scratch 😉 And these little guys take forever to make. Like so long that I wanted to make little gift baggies of homemade chocolate chips as Christmas gifts for our friends and when these 5.25 oz. took me a ridiculous amount of time to make, I realized I didn't love our friends that much. Kidding! I just didn't have enough time, so these chips have been waiting in our freezer to be used. So I just rounded out the rest of the needed 12 oz of chocolate with store bought chips.
Now Nutella has a special place in my heart because I spent some time in Alba, Italy where the Ferrero factory, aka home of Nutella is located. And honest to God, that town smells like freakin' chocolate. I never went to the factory because I was living with a family who had an organic farm and this is how I spent most of my time in Alba, working at this little organic farmers market selling their honey and veggies. But it was at their farm, which was nearby in the little town called Castino, where I was first introduced to the wonderfully evil Nutella toast. Which I blame most of the 15 lbs I gained while there on (worth it!).
Anyway, the first part of making homemade Nutella, toasted hazelnuts. I found these in the bulk section of a grocery store with most of the skins already removed. Most bulk hazelnuts still have their skins and after toasting you can rub them off. I was pretty happy to find these with the skins already removed since the last time I toasted hazelnuts I gave myself a blister because I was a little too impatient to find a towel and rub the skins off and they were still quite hot. Wine may or may not have been involved.
So while the hazelnuts toasted, I melted the chocolate chips in a double boiler,
and then set it aside. I then also began immediately regretting both my decision to give up sweets and to make this Nutella…
Once the hazelnuts were toasted and cooled, I chopped them up in the food processor until they almost formed a paste.
Then I added the rest of the goodness and blended a bit longer,
and then the chocolate for a final blend…
…woa. I'm an idiot.
While I poured the deliciousness into the jar, I got some on my hands. And instinctively, I brought my finger to my lips… and then reminded myself what a silly guilty Catholic I am. >sob<
How delicious is this?! I wish I knew!
But luckily by the time it was done, my much smarter husband was home (originally, it has a pretty texture, but as it cools it thickens up).
So I toasted a piece of his Como Bread and spread this chocolatey hazelnut goodness on it. Then drooled as he ate it and loved it.
Come on over, friends, take this off my hands so it stops staring at me and taunting me. Or come over for the baked goods I have in mind to try with this! …Because apparently I'm a masochist. 😉
Happy Fiesta Friday!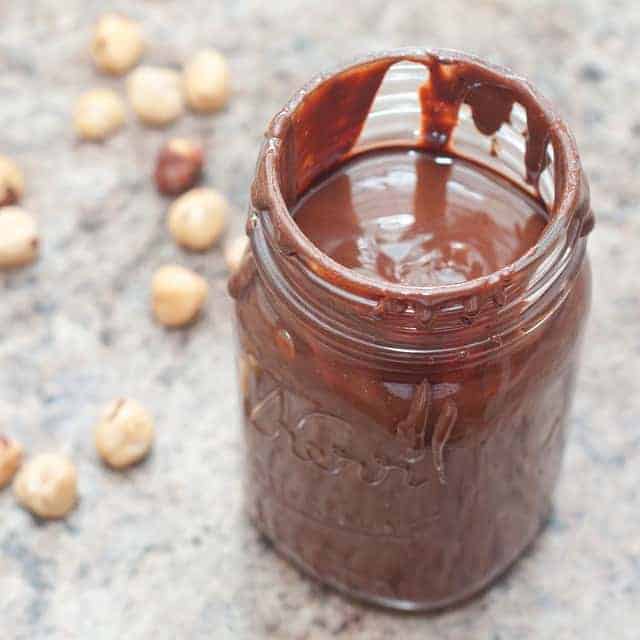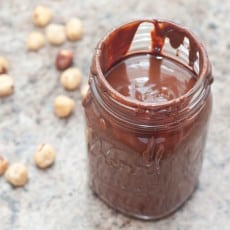 Nutella from Scratch
The notorious chocolate hazelnut spread from scratch!
Print
Pin
Rate
Ingredients
1

cup

hazelnuts

12

ounces

chocolate chopped

2

tablespoons

mild vegetable oil

such as canola

3

tablespoons

confectioners' sugar

1

tablespoon

unsweetened cocoa powder

1/2

teaspoon

vanilla extract

3/4

teaspoon

salt

more or less depending upon your preference
Instructions
Preheat the oven to 350°F

Spread the hazelnuts in a single layer on a baking sheet and toast them in the oven for about 12 minutes, until they've browned a little and the skins are blistered a little. Wrap them in a kitchen towel and rub vigorously to remove as much loose skin as possible. (Some skin will cling to the nuts when you're done. It's okay—not to mention inevitable.) Let cool completely.

Melt the chocolate in a saucepan over gently simmering water or in the microwave. Stir until smooth. Let cool completely.

In a food processor, grind the hazelnuts until they form a paste. Add the oil, sugar, cocoa powder, vanilla, and salt and continue processing until the mixture is as smooth as possible-or as smooth as you like. Add the melted chocolate, blend well, and then strain the mixture to remove any chunks of hazelnut that remain. The resulting homemade Nutella will be thin and somewhat runny and maybe even a little warm but it will thicken as it cools.

Scrape your homemade nutella into a jar or other resealable container and let it cool to room temperature. Cover. The nutella will keep on the counter for up to 2 weeks.