Did you know you can make your own, delicious, indulgent, and crave-worthy homemade Nutella From Scratch? It's surprisingly easy to make with raw hazelnuts and chocolate and it's incredibly delicious and just like the classic we all know and love!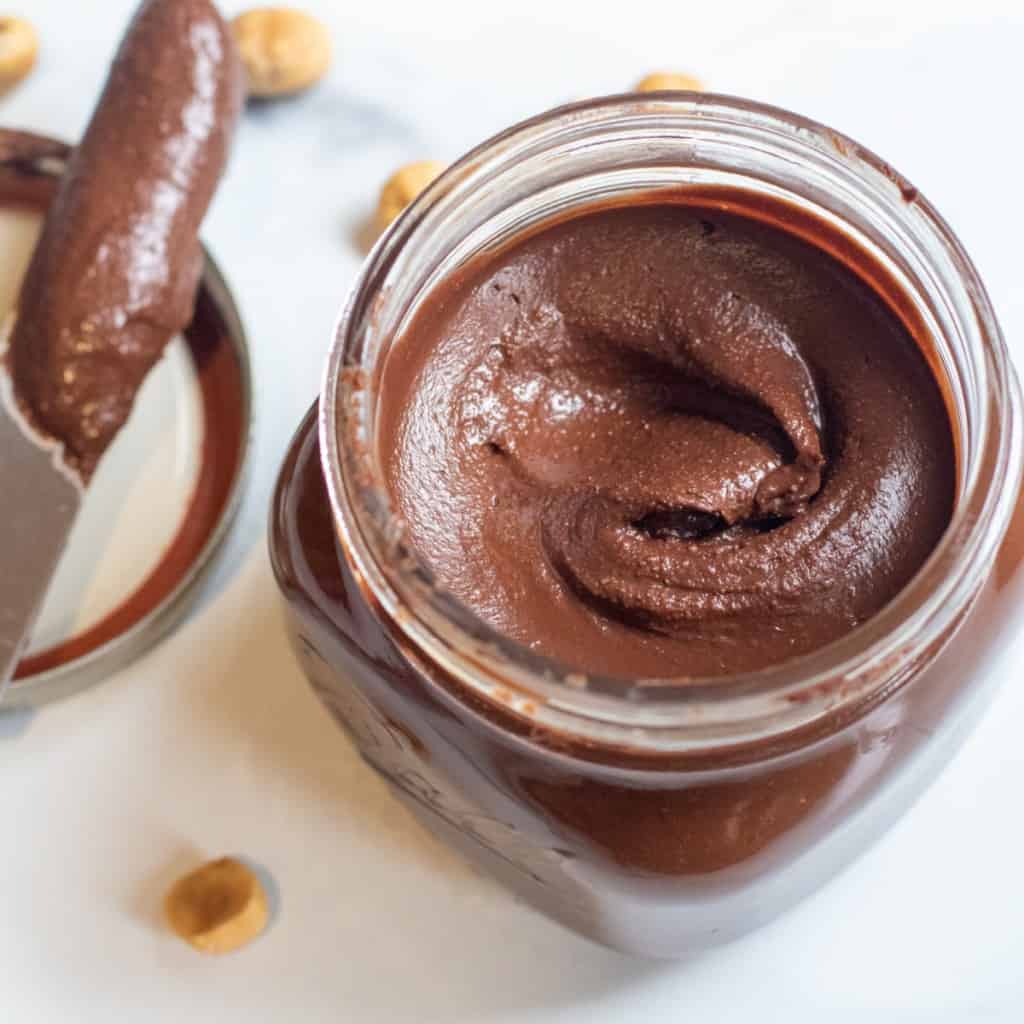 Hands down one of the most amazing and dangerous things we've learned to make from scratch over the years is this creamy, dreamy, rich, and incredibly delicious, Nutella From Scratch! Seriously, it is so SO GOOD. And, it's so SO easy and can be made in mere minutes. Which makes it eat-it-by-the-spoonful, put-it-on-every-thing, kind of dangerous, which just happens to be my favorite kind.
Ingredients Needed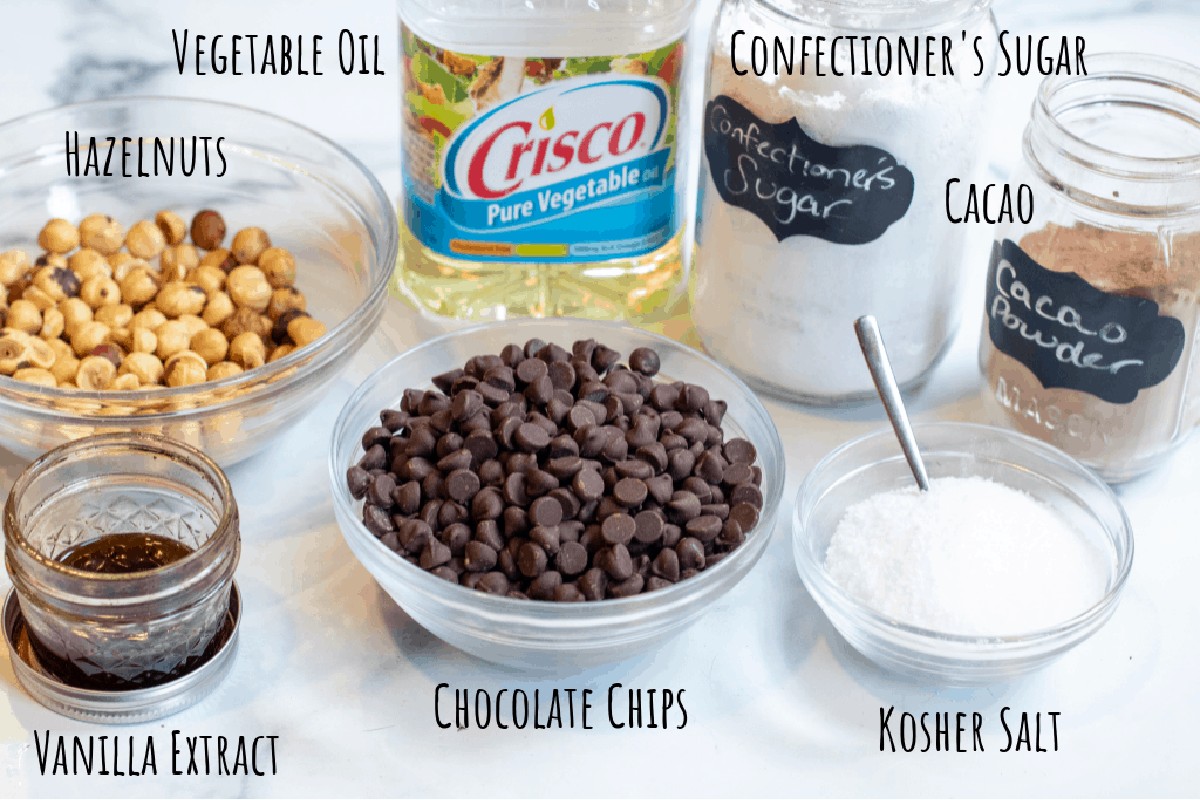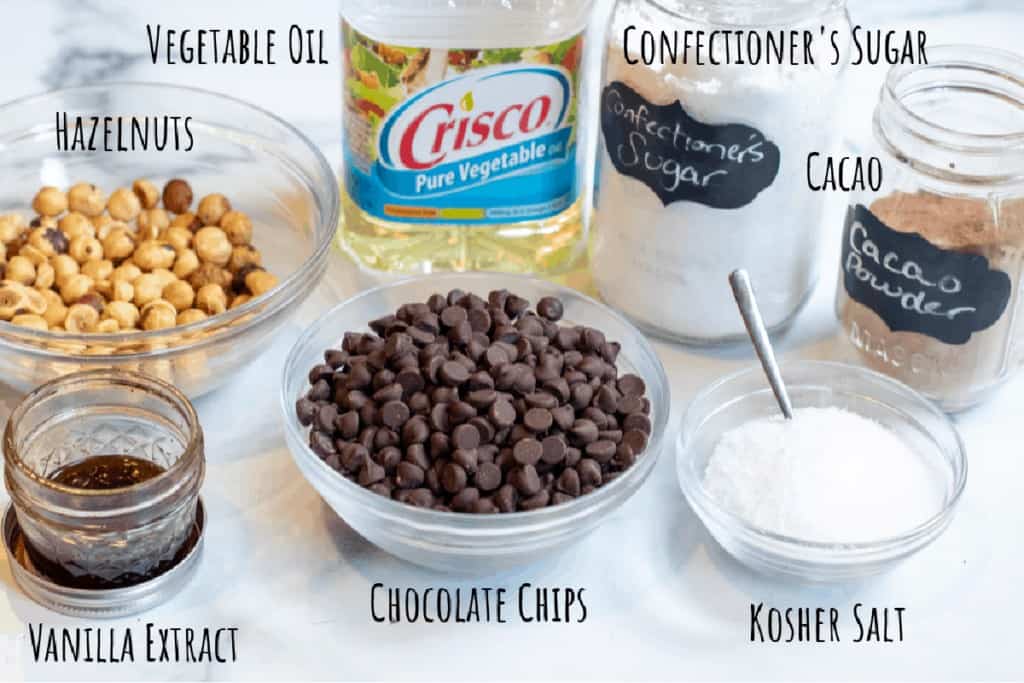 The ingredients that you need are all pretty common, the two big necessary ingredients, the backbone of a homemade Nutella: hazelnuts and chocolate.
Roasted Hazelnuts - You can find these in the bulk section of a grocery store. You could get straight raw hazelnuts and roast them yourself, but we prefer to buy them roasted and skins removed already.
Chocolate Chips - You can you use any brand or kind that you would like - just make sure it's something that'll melt nicely. I personally like milk chocolate chips, but you can also use semi-sweet and even better, you can make this homemade Nutella vegan by using vegan chocolate chips!

Cacao Powder

- Now you know it wouldn't be a SFS recipe if we didn't "sneak" a superfood in! You could also use cocoa, but we prefer the added magnesium, antioxidants, calcium, and zinc you get from cacao!
Vanilla Extract - Have you made your own yet?
Confectioner's Sugar - Just a touch of added sweetness.
Oil - Vegetable Oil or another neutral-flavored oil like canola.
Kosher Salt - Just a pinch!
Step-by-Step Instructions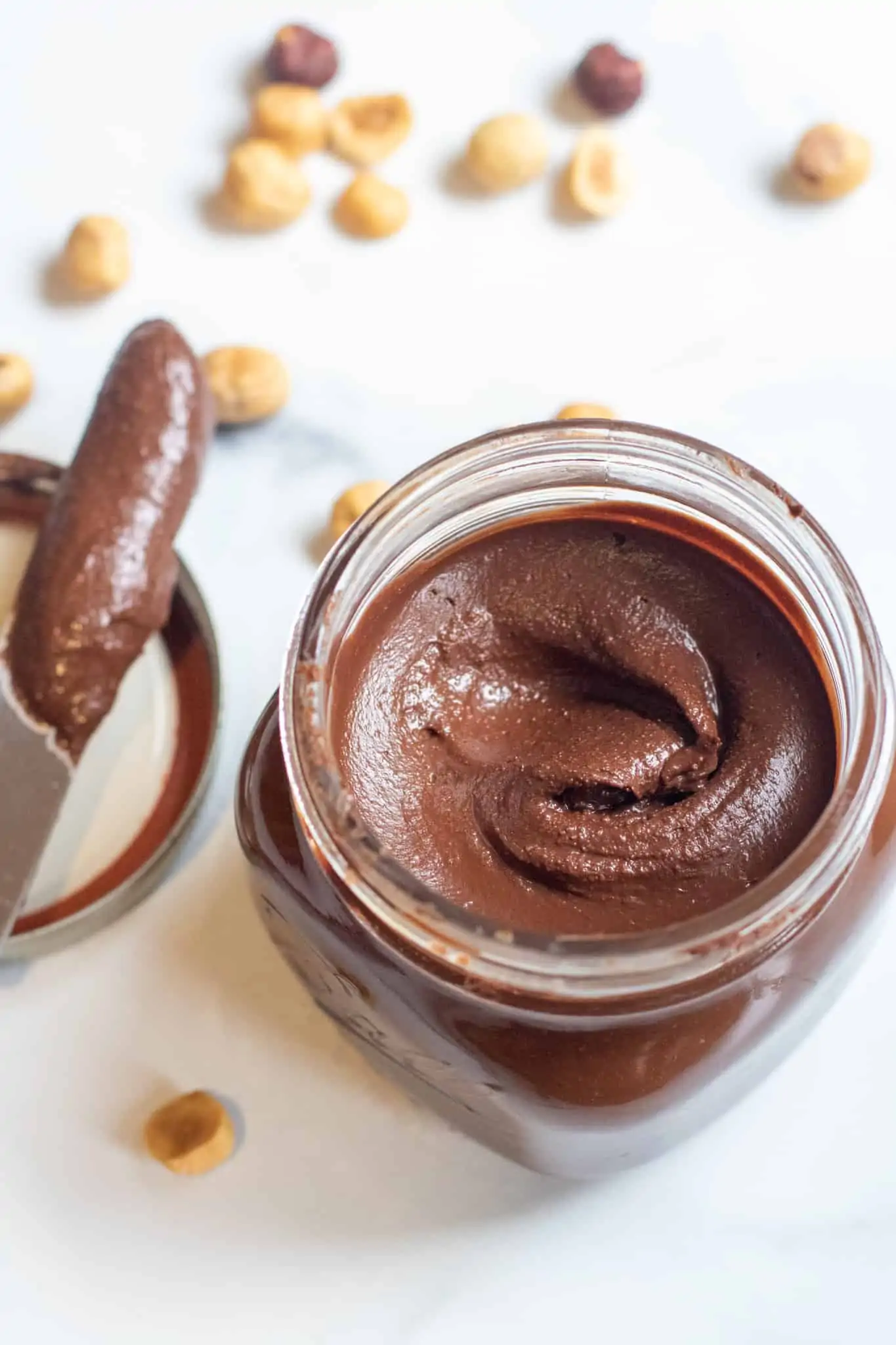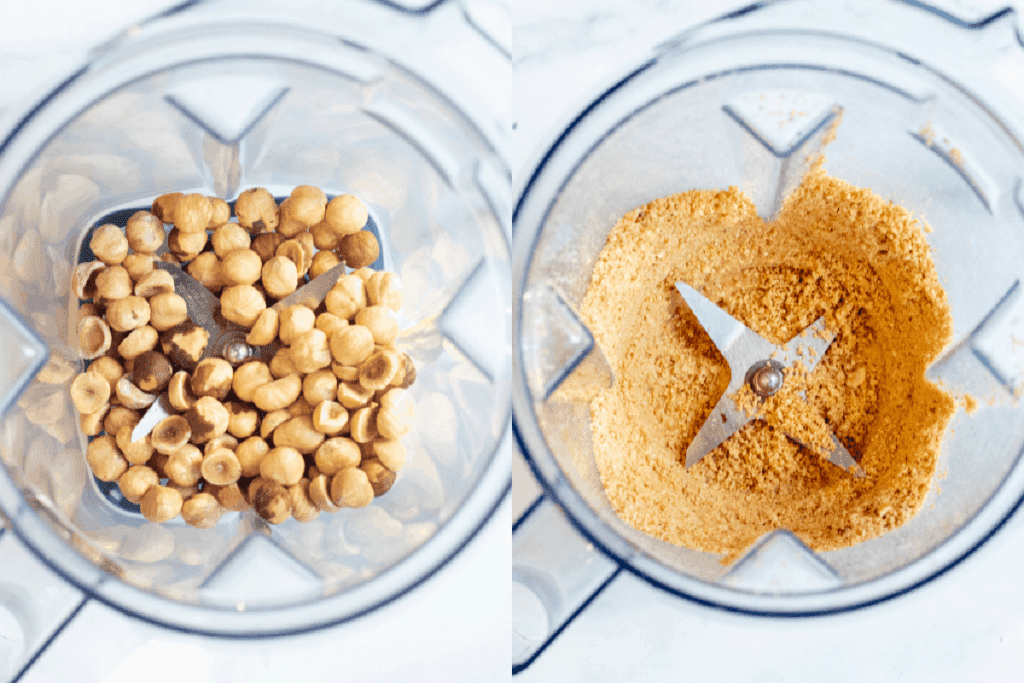 Step 1: Grind your hazelnuts into almost a paste.
You can do this in a food processor, blender, or our absolute favorite, Vitamix.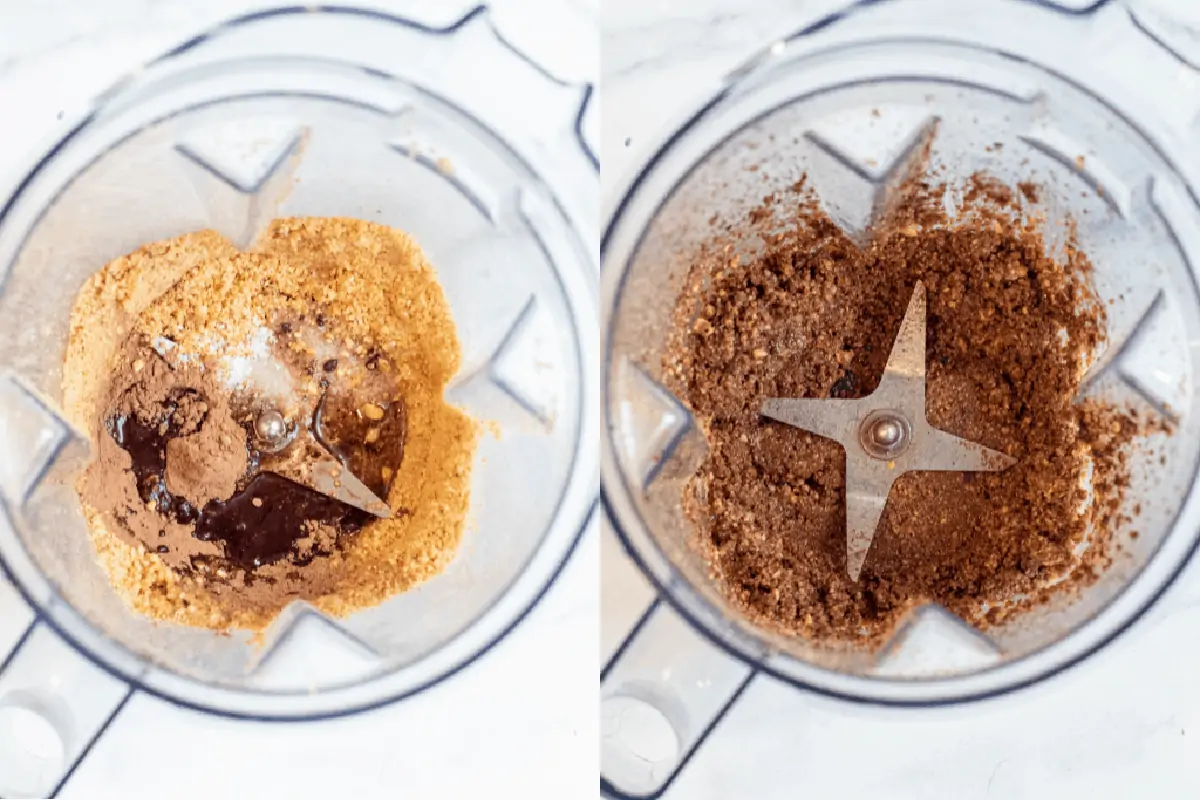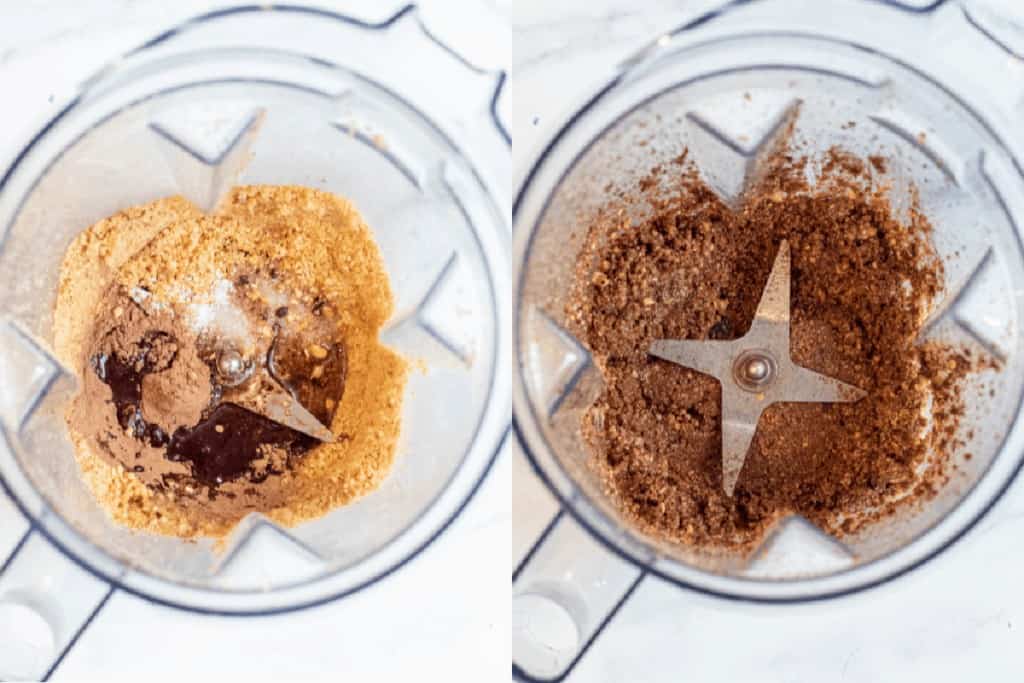 Step 2: Add the cacao, vanilla, confectioner's sugar, salt, and oil and blend until it's well blended. You may need to scrape the sides down with a spatula a few times, too.
It may still be a little chunky, which is ok. You'll continue to blend it with the chocolate and with that blend it'll become much smoother.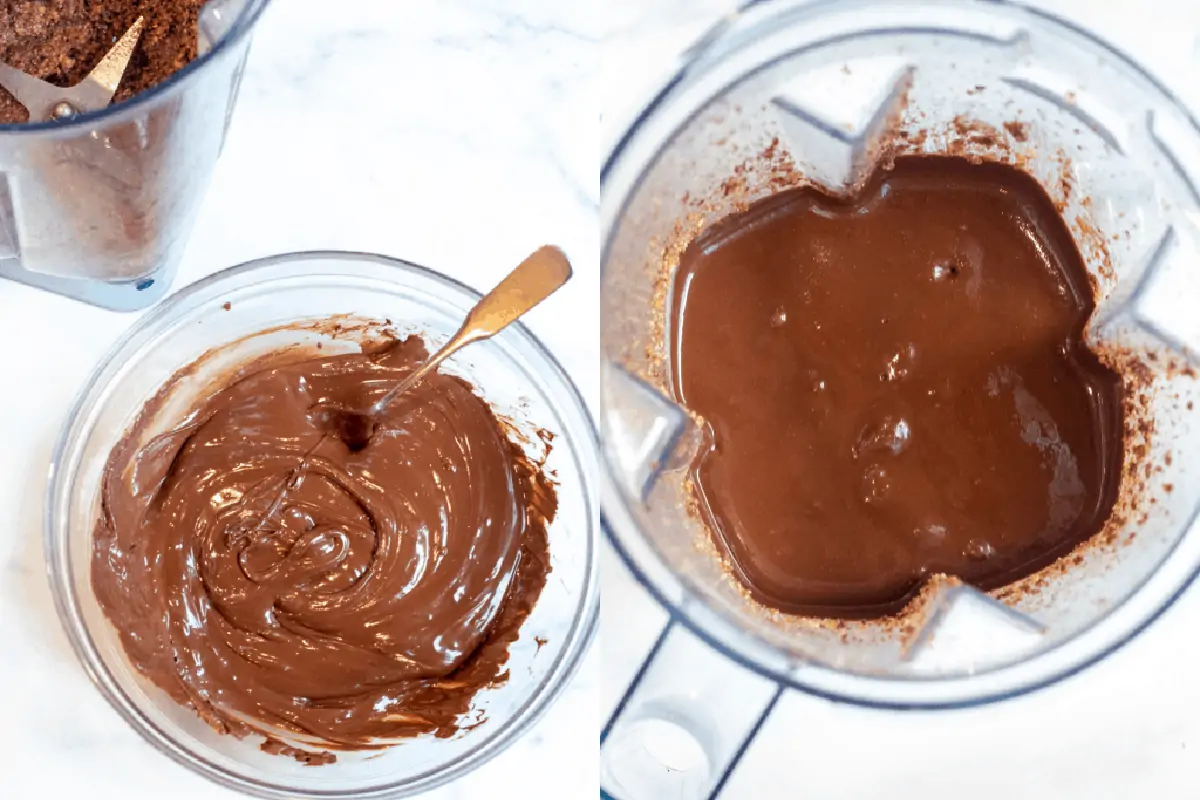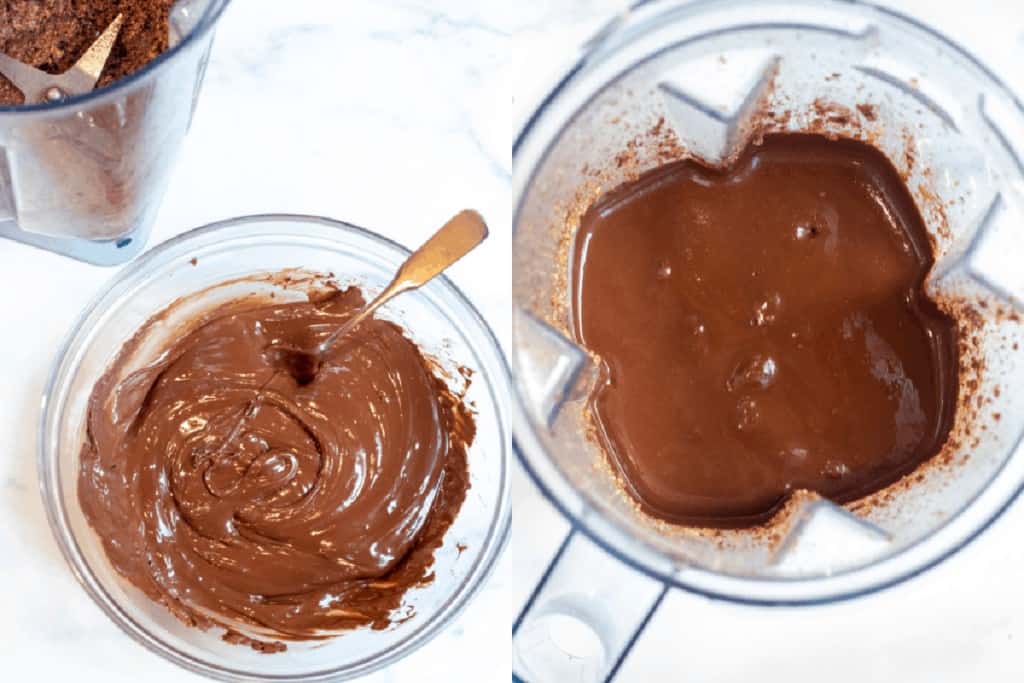 Step 3: Melt your chocolate.
How to Melt Chocolate
You can melt the chocolate a few ways.
Double Boiler, aka Stove Top Method. This is when you either use an actual double boiler, or you can create your own by putting a metal bowl over a pot of boiling water. Just be sure that your metal bowl doesn't touch the water.
Microwave. Add chocolate to a microwave-safe bowl and melt for 60 seconds at 70% powder. Remove, mix, and then microwave for 30 seconds and remove from microwave and mix and repeat until chocolate is well melted.
Either method is fine for this recipe, but we always prefer the double boiler method.
TIP: Be careful to not overheat or seize your chocolate! If this happens, it means that your chocolate will quite literally become stiff, grainy, and clumpy, rendering it absolutely useless. Even if you think that you're putting it into your super powerful Vitamix so it'll be fine, no, no it will not be. Once your chocolate has seized, it's done for this recipe, sorry. While there are some things you can do to fix seized chocolate, they wont work for this recipe.
Step 4: Add that gorgeous melted chocolate to your hazelnut mixture and give it all a good final blend until it is creamy dreamy.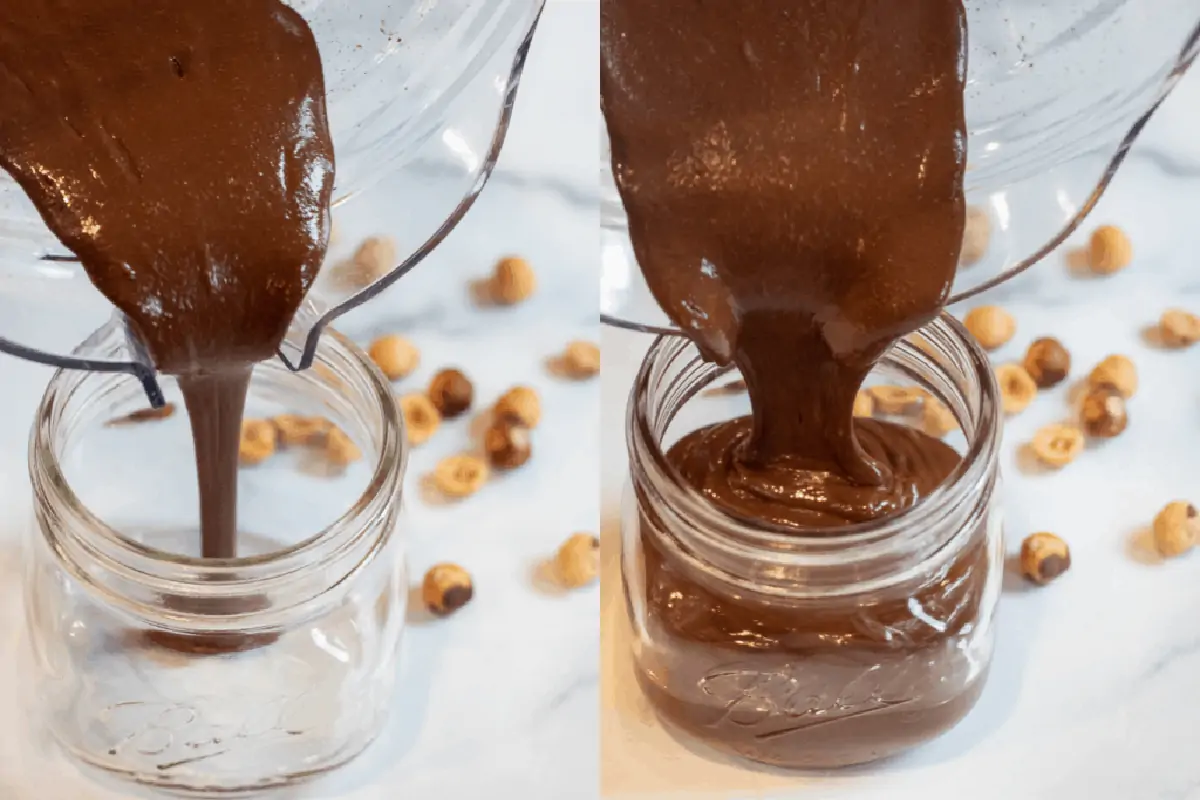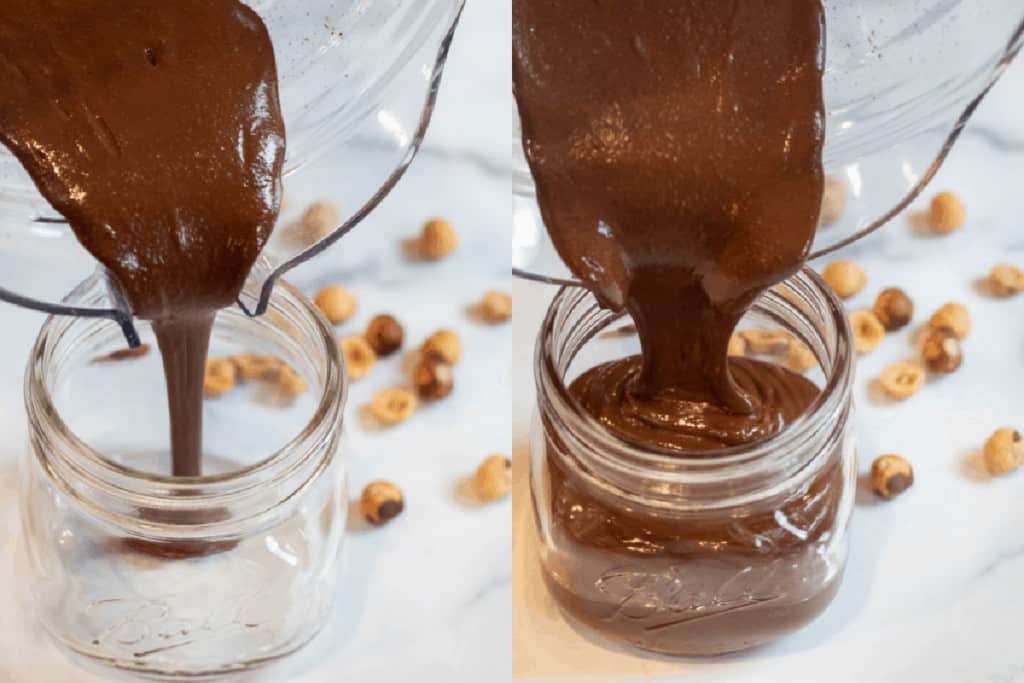 Step 5: Pour that (loose) homemade Nutella into your jar.
It will definitely be loose, and it will still be a little warm. But while it cools, it will thicken, don't worry. It will become that thick creamy Nutella that you know and love! But trust me, it will also be hard to wait - it smells and tastes like chocolatey hazelnutty heaven. And trust me, I know what that is. I lived just outside of Alba, Italy for a month (of my 5) and the Nutella factory is in Alba. When we used to go to the markets in Alba, the whole city smelled like Nutella - that, my friends, is heaven.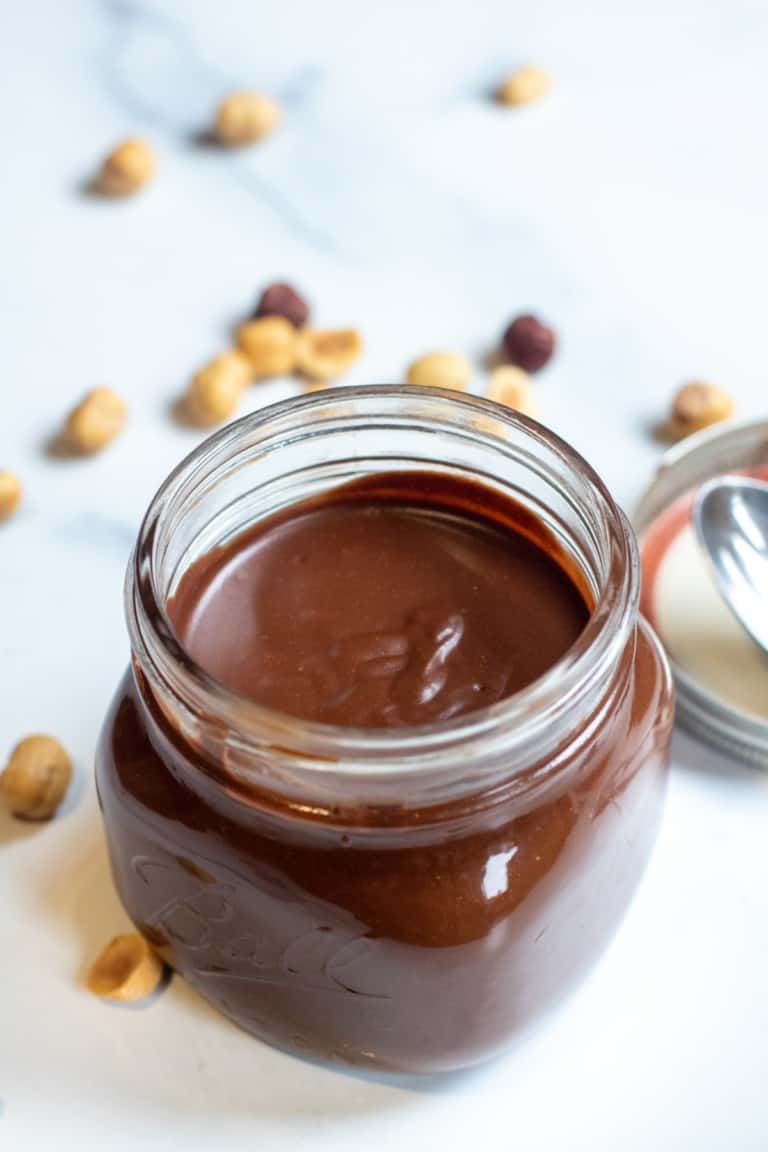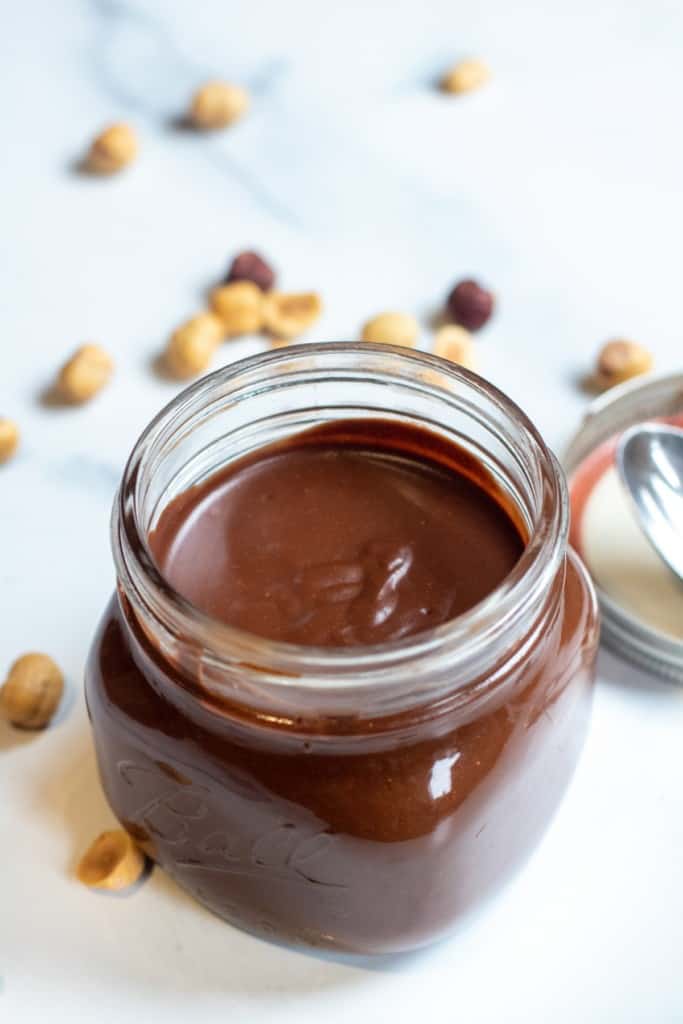 Once cooled for about an hour or two, it will have that thick creamy texture for an amazing Nutella From Scratch!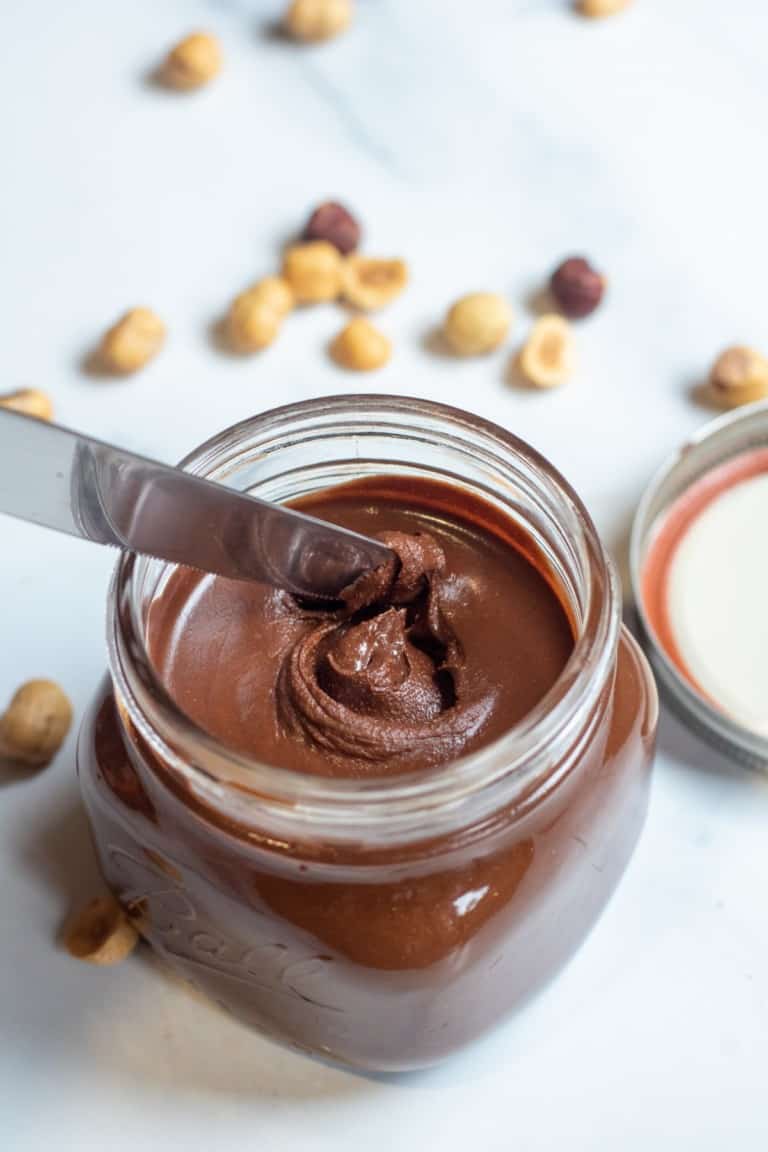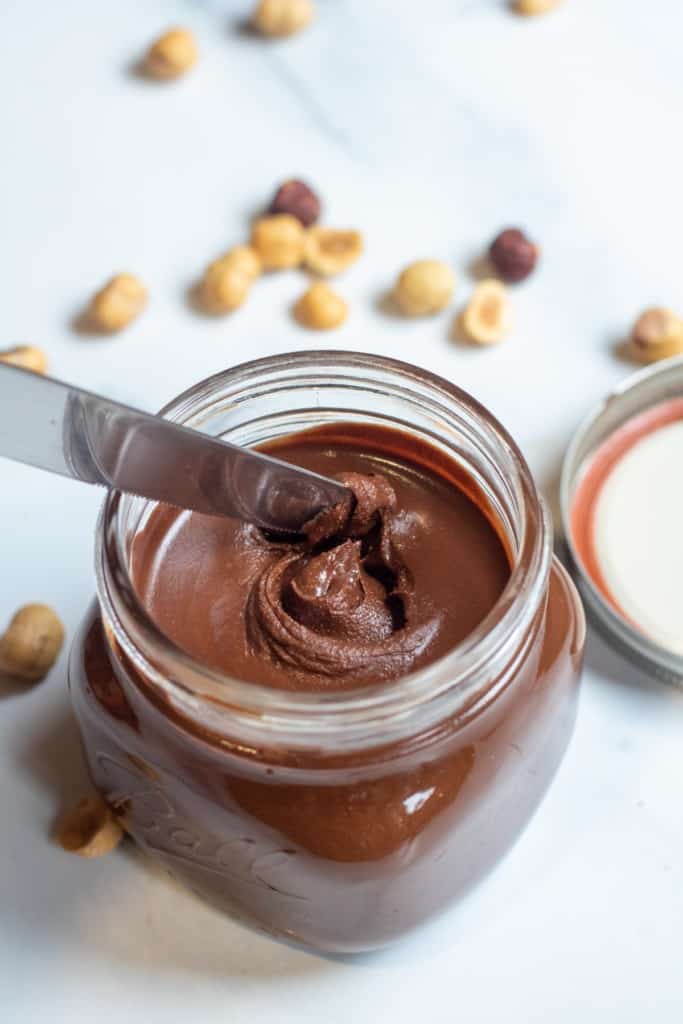 If the texture is like Nutella...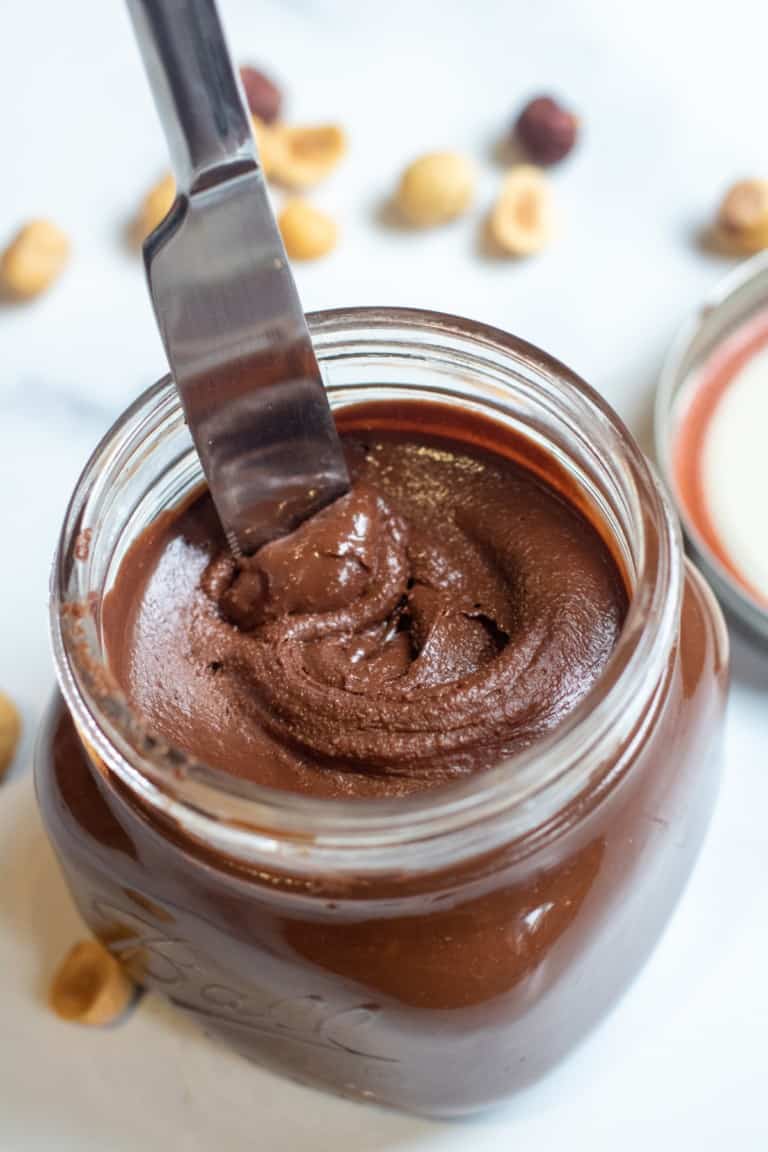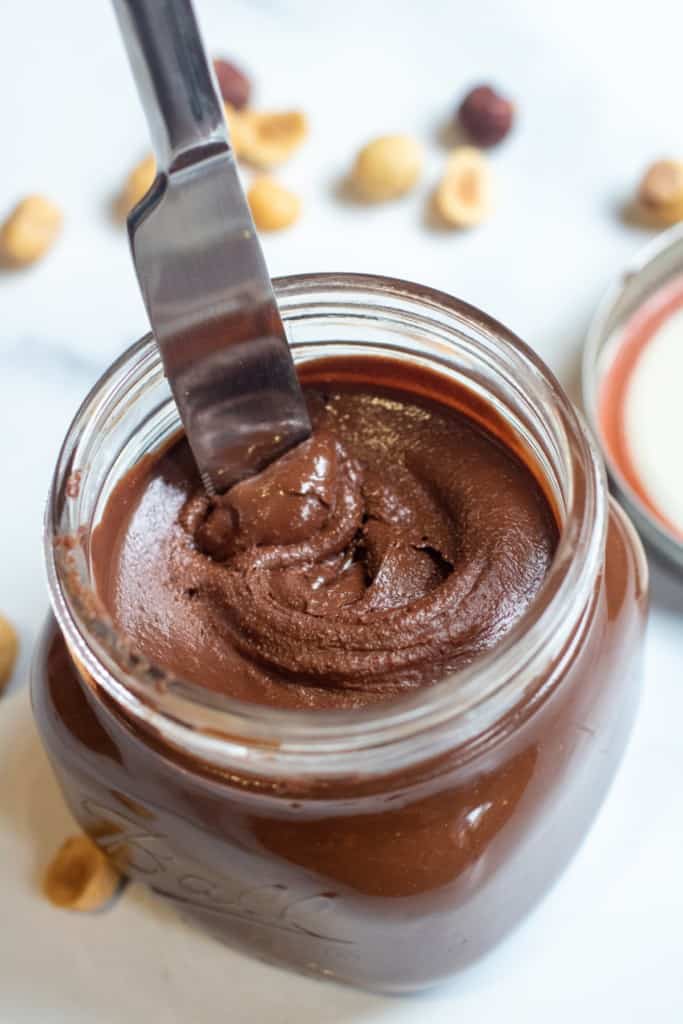 ...and the taste is like Nutella...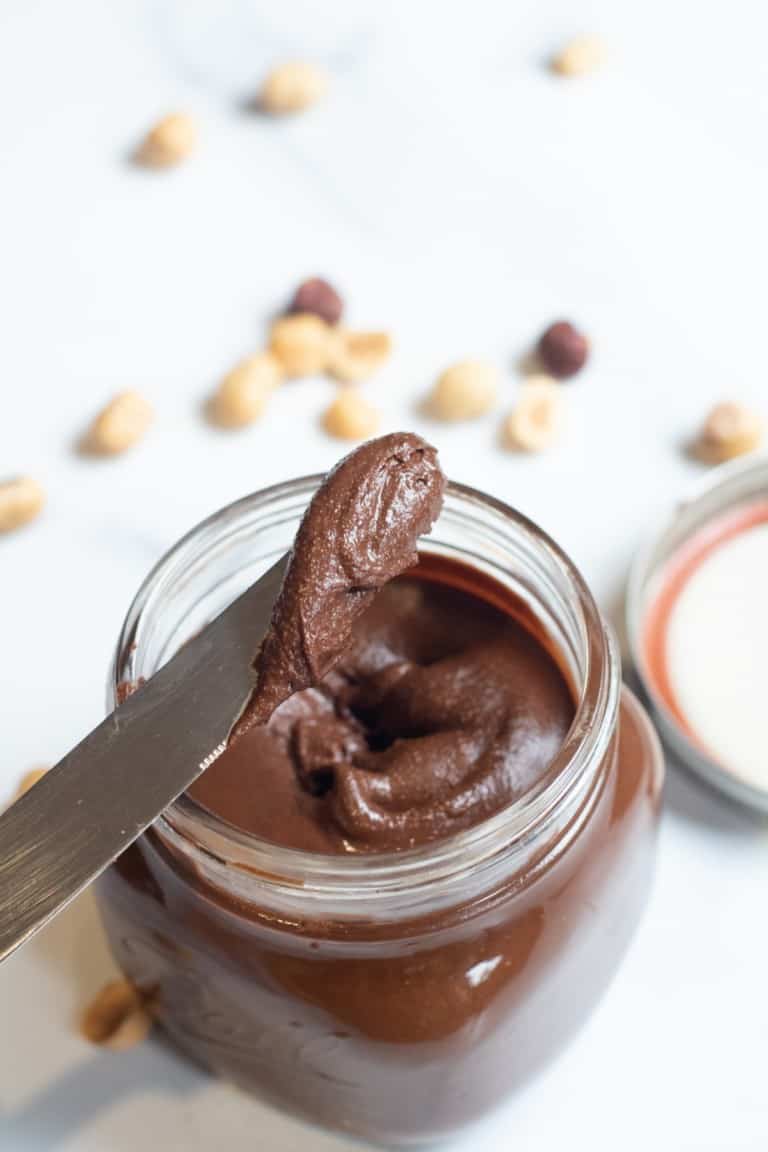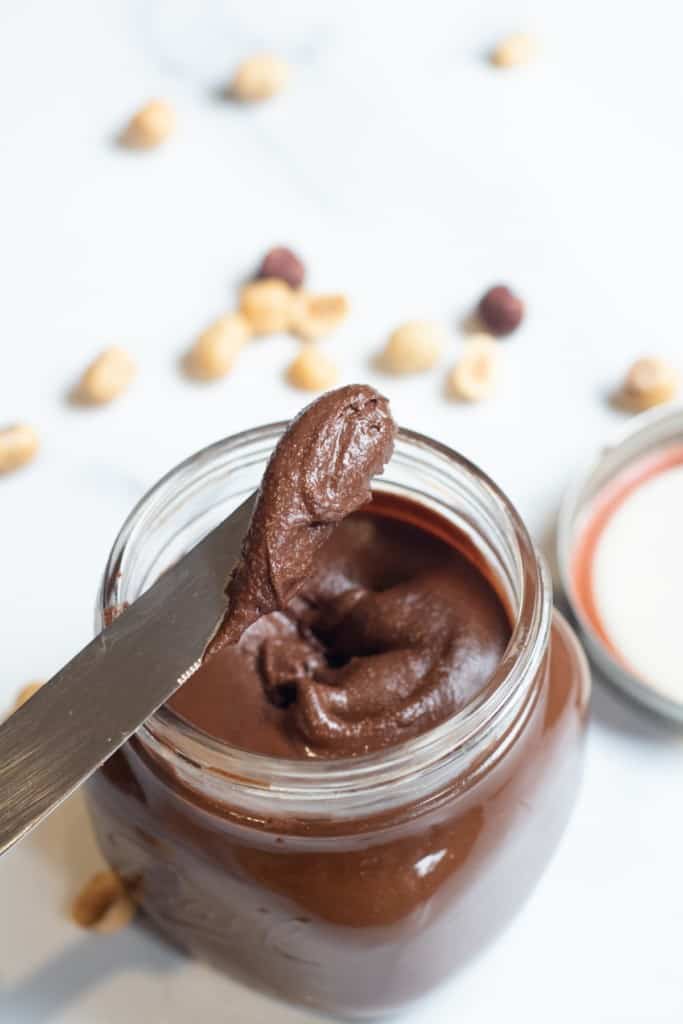 ...then it MUST be a homemade Nutella From Scratch!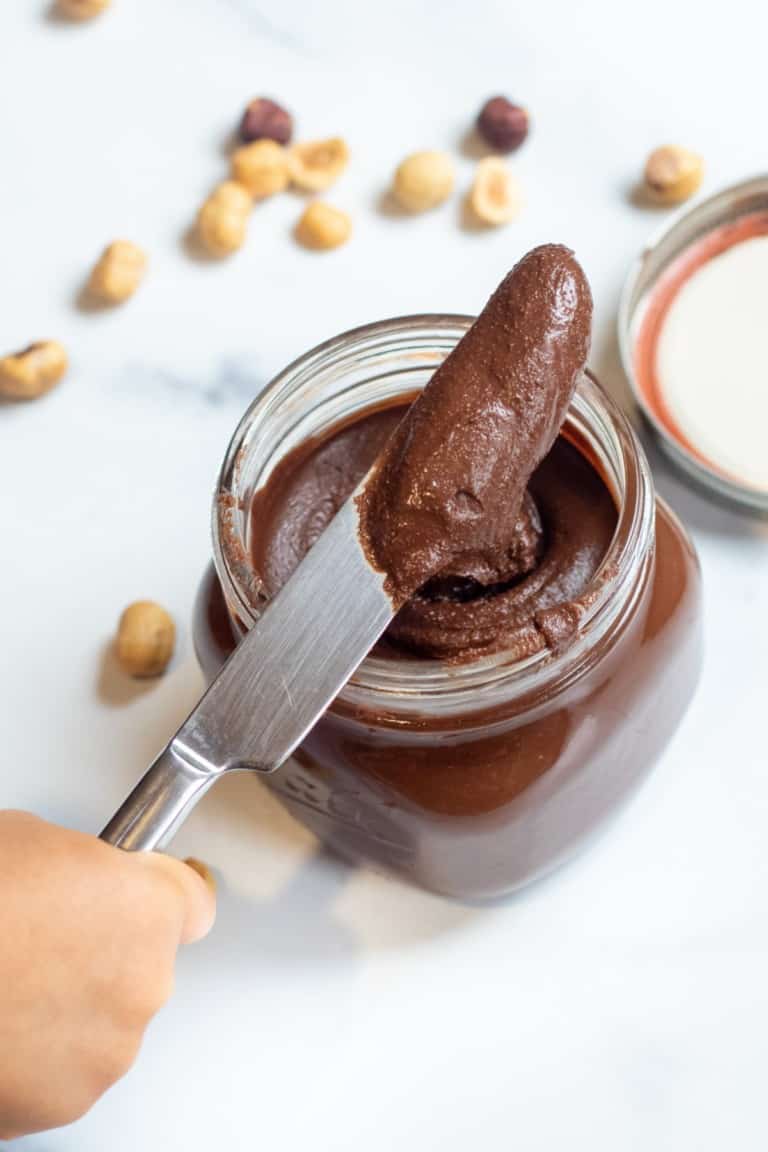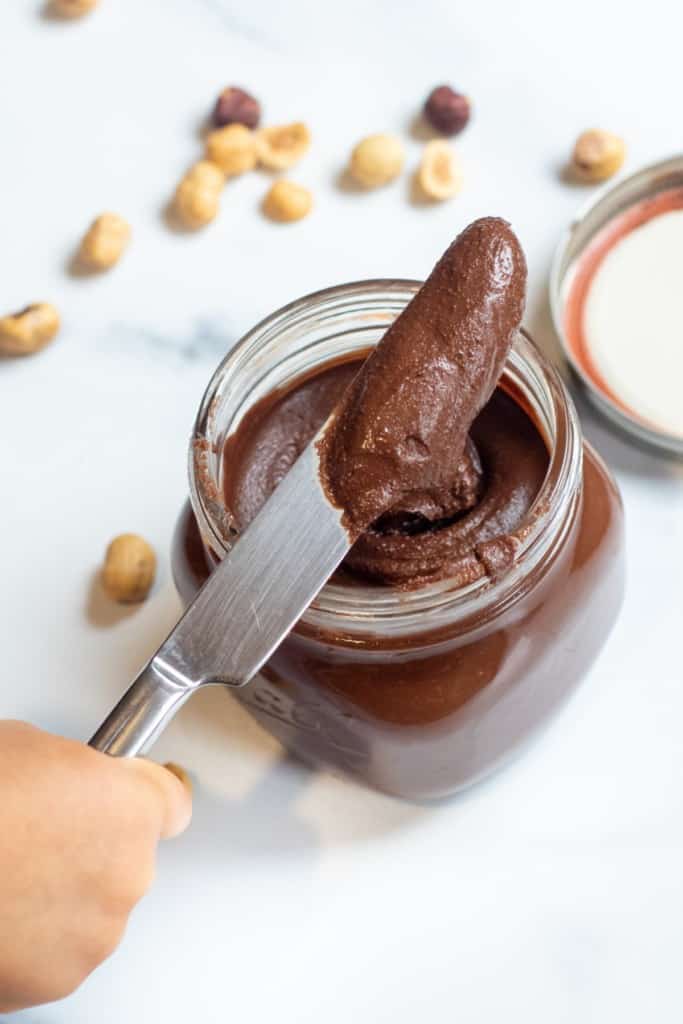 Let me give you a wide-angle shot of that and a real look into my world - my almost 3-year-old only being placated by being able to hold the spoon of Nutella to prevent her from just shoving her hands into the deliciousness.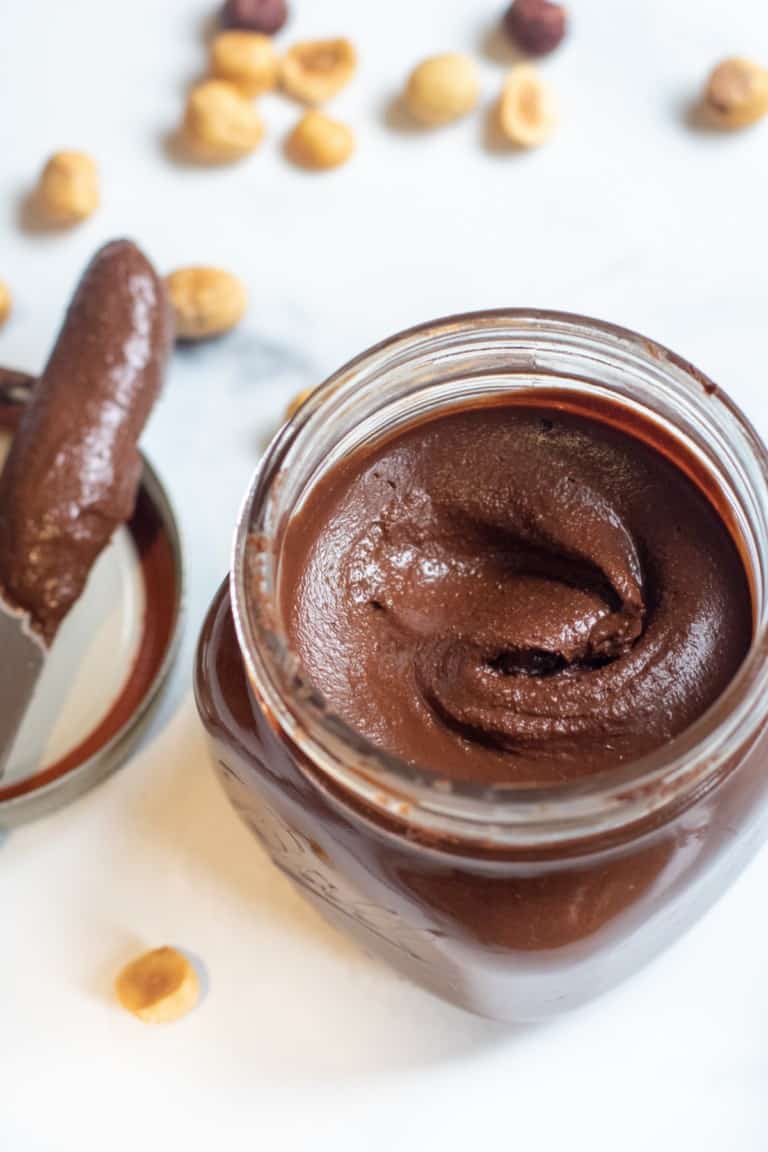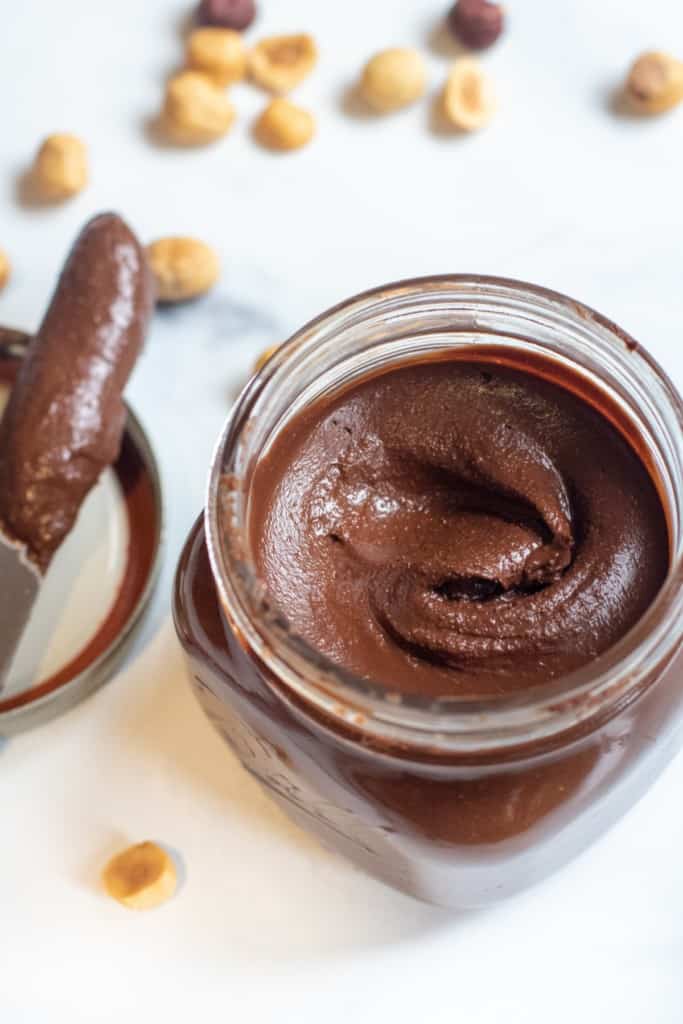 Homemade, made from scratch Nutella, friends.
Trust me, if you're looking for a fun, EASY, but show-stopping dessert or from scratch creation to make, this is it!
Just wait and see what we make with it!
Enjoy! As always, if you make this recipe or any of my others, I love to hear what you think! Leave a comment below, email me, or you can find me on Facebook, Instagram, and Pinterest!
If you want to see more, be sure to sign up for my 5 Easy Ways to Start Cooking From Scratch!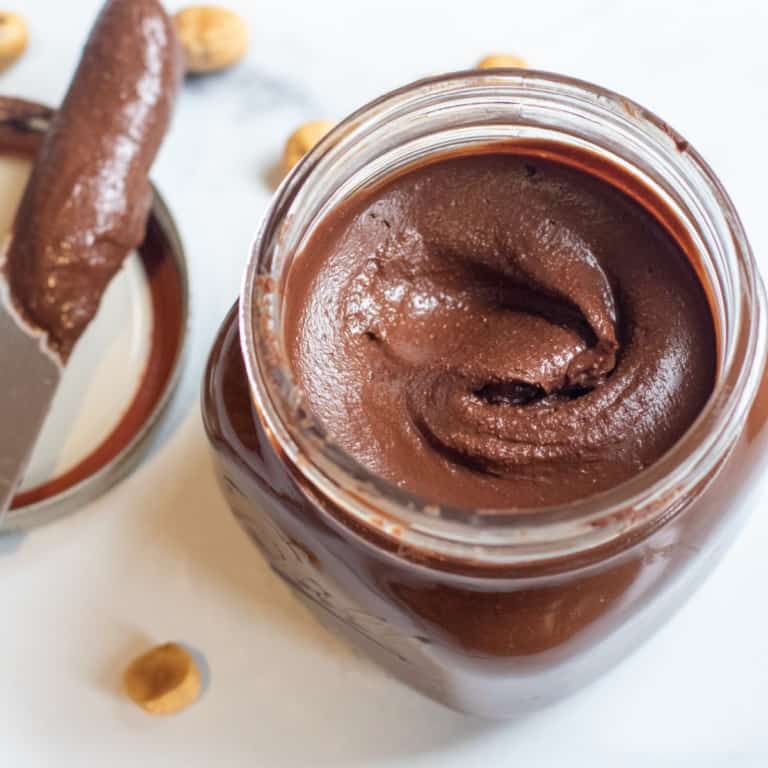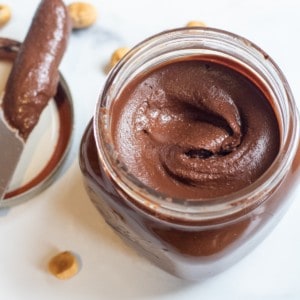 Nutella from Scratch
The notorious chocolate hazelnut spread from scratch!
Print
Pin
Rate
Servings:
16
two tablespoons
Instructions
Prep a double boiler to melt chocolate, by adding a pot of water to the stove and heat over high to boil and add a stainless steel bowl over the pot and add the chocolate.

Meanwhile, in a Vitamix, food processor, or blender, grind the hazelnuts into a paste. You may have to scrape down the edges to fully blend.

Add oil, sugar, cacao, salt, and vanilla and continue to blend. Again, you may need to scrape down the edges to ensure it all blends well.

While the water boils, let the chocolate melt and stir constantly - ensuring that it doesn't burn or overhead which will result in it seizing. Stir until it is smooth.

Add the melted chocolate to the hazelnut mixture and blend again until smooth.

Pour the homemade Nutella into a jar or other resealable container and let it cool and thicken. Or use immediately if desired.
Notes
Serving Size: 2 tablespoons. Recipe Yield: 16 oz. Melting Chocolate: You can also melt in the chocolate in a microwave by adding chocolate to a microwave-safe bowl and melt for 60 seconds at 70% powder. Remove, mix, and then microwave for 30 seconds and remove from microwave and mix and repeat until chocolate is well melted.
Nutrition
Calories:
63
kcal
|
Carbohydrates:
2
g
|
Protein:
1
g
|
Fat:
6
g
|
Saturated Fat:
2
g
|
Sodium:
73
mg
|
Potassium:
56
mg
|
Fiber:
1
g
|
Sugar:
1
g
|
Vitamin A:
2
IU
|
Vitamin C:
1
mg
|
Calcium:
9
mg
|
Iron:
1
mg