Once you have Perfect Soft Scrambled Eggs, you'll never go back to overcooked, dry eggs again!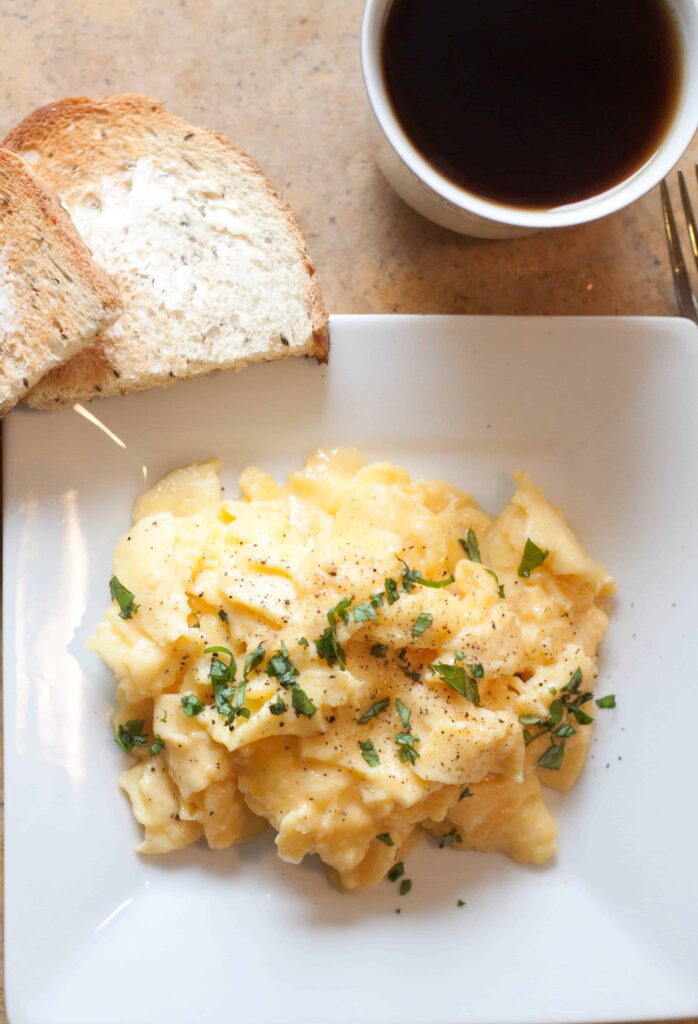 I. Love. Eggs. No, really I could not live a life egg free. No matter my mood, I can always eat eggs. Especially Perfect Soft Scrambled Eggs.Avocado baked eggs and omelets are top on my breakfast list right now, but there's just something about some really great scrambled eggs. It seems like a boring kind of an egg that's not that really from-scratch like, so I almost didn't post this recipe thinking you'd all be super bored. But then my girl Mona, know-er of all things delicious, despite her regular attempts to set fire to her kitchen, reminded me, "Dude. Scrambled eggs are hard." She's right; perfect scrambled eggs are hard.
Especially when it comes to my favorite kind of scrambled eggs- soft scrambled. Unlike the uber dry, over done, too much milk (or waterer or whatever you mom or grandma used to add to "stretch" the egg), I'm talking the Perfect Fluffy, luscious, moist Soft Scrambled Eggs that are 100% egg with just a touch of Parmesan cheese and basil, cause, well why the heck not.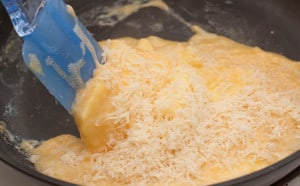 Now the first key to Perfect Soft Scrambled Eggs is something I've battled with my husband over for years until I finally acquiesced to the fact that he was right. Eggs are not the same without Butter. Real, full fat, delicious delicious butter. It's a must. It's a requirement. I tried to get away with olive oil pan coats, and no. I'm throwing in the towel. I'm waving the white flag. Nothing beats butter.
The next step is the scramble itself. I let the eggs set in the butter pan for about 2 minutes then just as the egg starts to cook on the outside, I used a spatula to go around the pan in a circle lifting the cooked egg as I went, continuing slowly lifting all of the egg until it finished cooking to my desired consistency.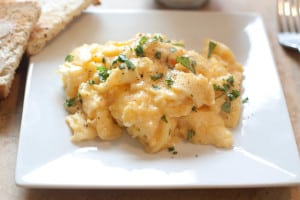 Perfect.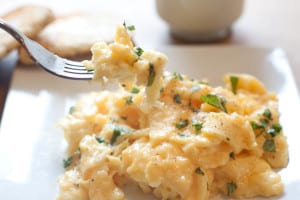 No need for a filler. No need for a lot of time. Just butter, eggs, and cheese for Perfect Soft Scrambled Eggs. These bad boys with a buttered slice of homemade rye bread? What more do you need for breakfast?
Perfect Soft Scrambled Eggs
2015-10-31 02:08:08
Serves 2
The perfect scrambled eggs!
Ingredients
4 large eggs
¼ teaspoon kosher salt
1 tablespoon unsalted butter
2 - 3 tablespoons of grated Parmesan Cheese
2-4 large fresh bail leaves minced
Instructions
Add eggs and salt into a medium bowl. Using an immersion blender or whisk, whip eggs until completely homogenous and pale yellow in color, about 30 seconds.
Melt butter in an 8" nonstick skillet over medium-low heat. Let it cook until foam subsides then add the eggs to pan and let cook undisturbed. Cook until a thin layer of cooked egg appears around the edge of the skillet.
Sprinkle Parmesan cheese in an even layer over eggs, then using a rubber spatula, push eggs all the way around the circumference of the pan, then across the bottom. Continue to push eggs around and across pan until fluffy about 2 minutes.* They will be barely set and will still look runny on top. Let cook for another minute or two until they are set to your liking, then immediately serve and sprinkle with minced fresh basil.
Notes
*Cook to your liking. Super soft scrambled are still runny
Adapted from Bon Appetit
Served From Scratch https://www.servedfromscratch.com/