Take the classic ham and cheese sandwich to the next level with this Croque Monsieur Sandwich recipe!
Oh, the French. I spent about 15 minutes in France as I drove through one section of Italy into another when we just briefly crossed through a very Eastern tip. I lived with a few Frenchmen when I lived in Italy (not like that… we were just volunteers together), and they all were, well, so French (take that as you like; I mean it in all those ways). Although I prefer most things Italian, I must say, this Croque Monsieur sandwich, this delicious delicious sandwich… It wins. Wins what? I don't know. It just wins.
After Easter dinner we were sent home with a lot of leftover ham. Our friends bought an incredibly delicious honey ham that was, whoa good. It was she-paid-$25-in-shipping-because-she-bought-it-online good (in her defense, she's a Dr., spare time to go buy a ham she just doesn't have).
So I was sitting at work, starring at the piles of things I needed to do and I started day dreaming about this sandwich. Leftover amazing honey ham, melted gruyere, some of our homemade Dijon mustard, a bechamel, and some of my handsome husbands sourdough bread. Un Croque Monsieur. Or just the French take on a super delicious, extra fatty, ham and cheese melt. But the accent and inflection makes it fancier, which means less fat, right?
So I toasted up some slices of bread that my husband made this am, then added a layer of our Dijon mustard, some of the leftover ham, shredded gruyere, and drizzled with some bechamel. The gruyere, it's gotta be one that'll melt well. I tried a version of this sandwich a few weeks ago and I got a cheap gruyere that was bleh and didn't melt at all. This time, I went to New Seasons and asked the cheese dude what to get. He handed me something and went on about how delicious it was and how it'll melt really well, and so I just said "Thanks" and went to the check out. And then realized I was an idiot and had just rung through a cheese that was $20 a lb. >choke choke<. I debated for a millisecond which was more important to me, saving money or saving myself the embarrassment asking politely to cancel my transaction of one thing… the cheese won.
So then I was determined to make these sandwiches extra delicious. Which naturally meant more of the butter, milk, parm, gruyere bechamel goodness.
Oh and more $20 lb cheese.

And then under the broiler they went until they were bubbly, gooey, ooey goodness.

Oh man. The cheese to ham ratio was perfect. And by ratio I mean there was a boat load of both.

Dan's had even more melty cheese and bechamel on top. He was up at 4:30 to go to the gym today and I just negated his entire 3 hr work out with this sandwich. Neither of us were sorry about it.
Leftover Easter ham? Make this sandwich. Now.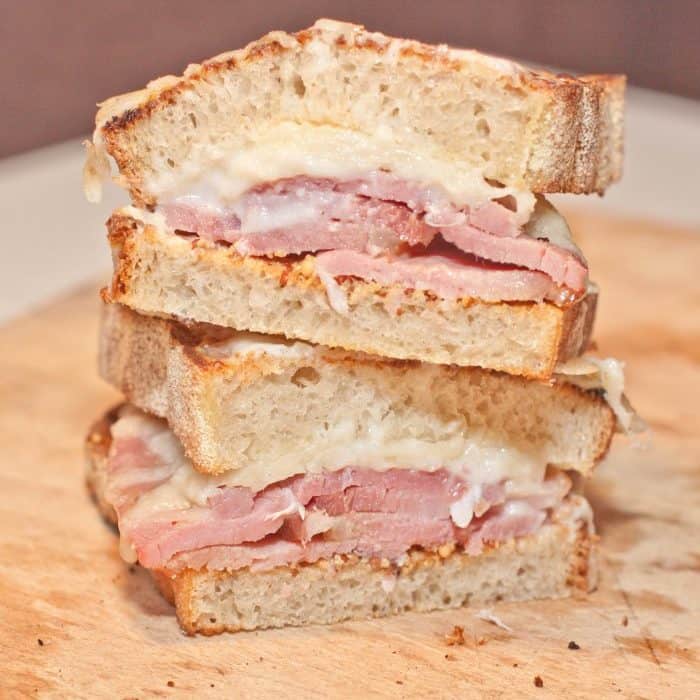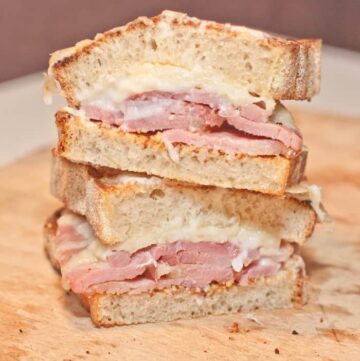 Croque Monsieur
Take the classic ham and cheese sandwich to the next level with this Croque Monsieur Sandwich recipe!


Print
Pin
Rate
Ingredients
2

Tbsp

butter

2

Tbsp

flour

1 1/2

cups

milk

A pinch each of salt

freshly ground pepper, nutmeg, or more to taste

6

ounces

Gruyère cheese

grated (about 1 1/2 cups grated)

1/4

cup

grated Parmesan cheese

packed

8

slices

of French or Italian loaf bread

12

ounces

ham

sliced
Instructions
1 Preheat oven to 400°F.

2 Make the béchamel sauce. Melt butter in a small saucepan on medium/low heat until it just starts to bubble. Add the flour and cook, stirring until smooth, about 2 minutes. Slowly add the milk, whisking continuously, cooking until thick. Remove from heat. Add the salt, pepper, and nutmeg. Stir in the Parmesan and 1/4 cup of the grated Gruyère. Set aside.

3 Lay out the bread slices on a baking sheet and toast them in the oven, a few minutes each side, until lightly toasted. For extra flavor you can spread some butter on the bread slices before you toast them if you want.

(Alternatively, you can assemble the sandwiches as follows in step four and grill them on a skillet, finishing them in the broiler with the bechamel sauce.)

4 Lightly brush half of the toasted slices with mustard. Add the ham slices and about 1 cup of the remaining Gruyère cheese. Top with the other toasted bread slices.

5 Spoon on the béchamel sauce to the tops of the sandwiches. Sprinkle with the remaining Gruyère cheese. Place on a broiling pan. Bake in the oven for 5 minutes, then turn on the broiler and broil for an additional 3 to 5 minutes, until the cheese topping is bubbly and lightly browned.