Tomatoes, Feta, olives, cucumbers, tomatoes plus kale and chickpeas? It's everything you want in a Greek salad but with kale! This Chickpea Kale Greek Salad is a heartier, healthier Greek salad!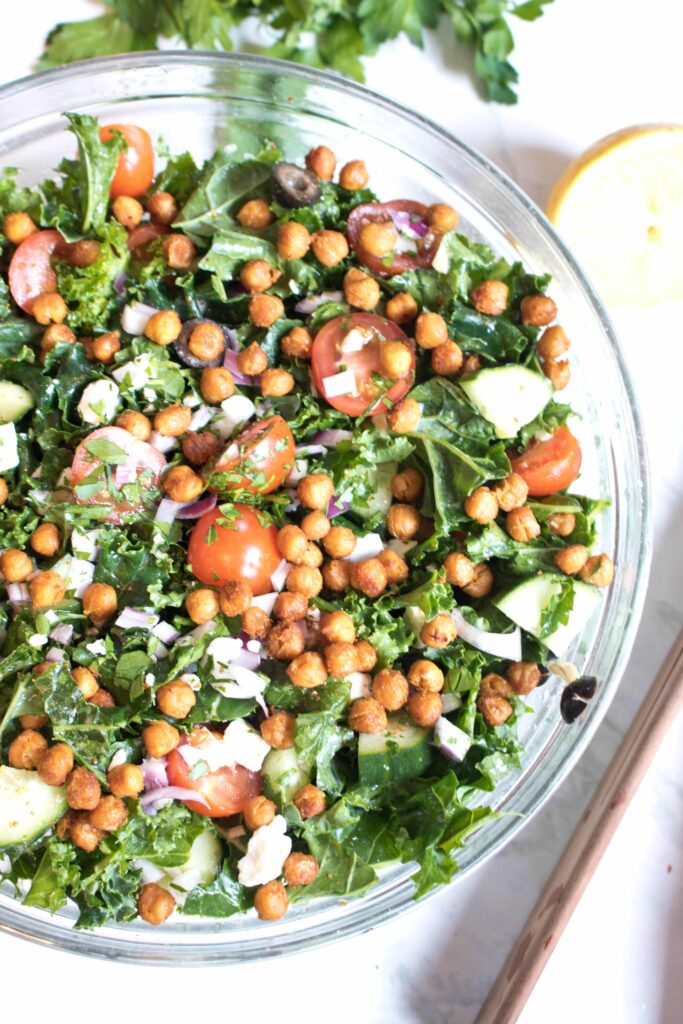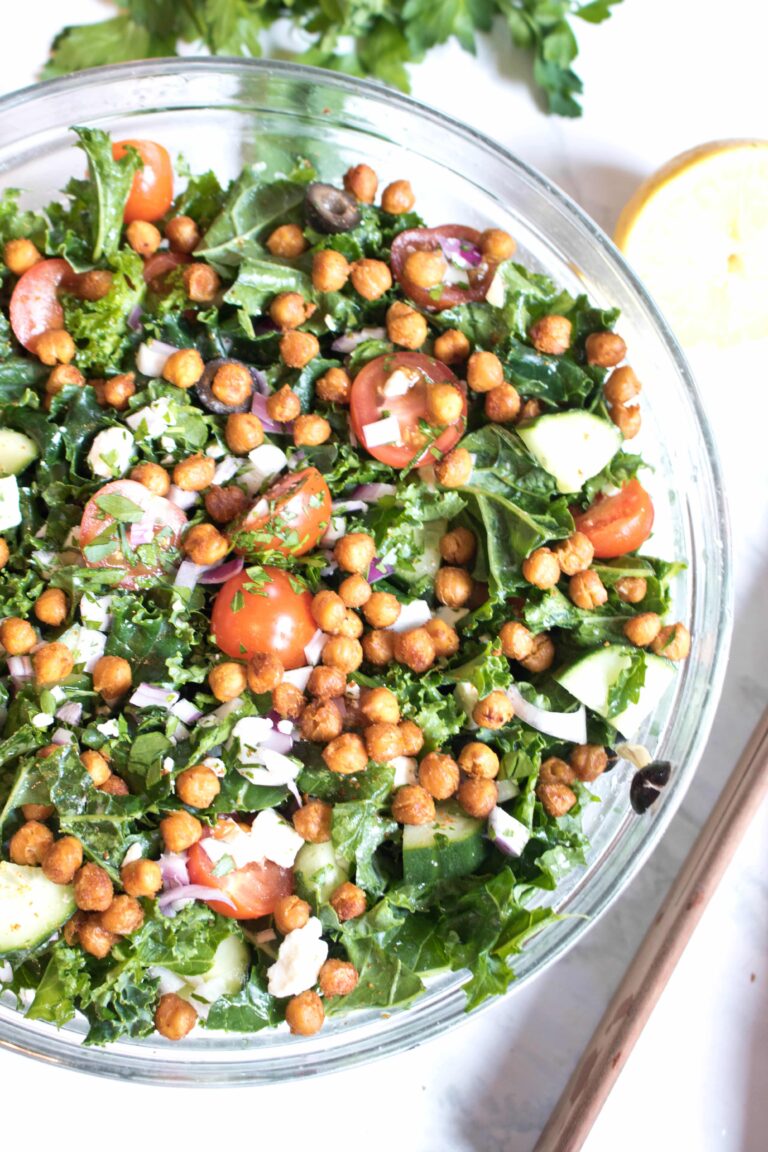 Ok, friends! We're in our second month of 2019, which means those New Year Resolutions that are still going strong, you've got this! And if you resolved to add more kale to your diet, this Chickpea Kale Greek Salad is exactly what you need to keep you on track!
Ingredients Needed: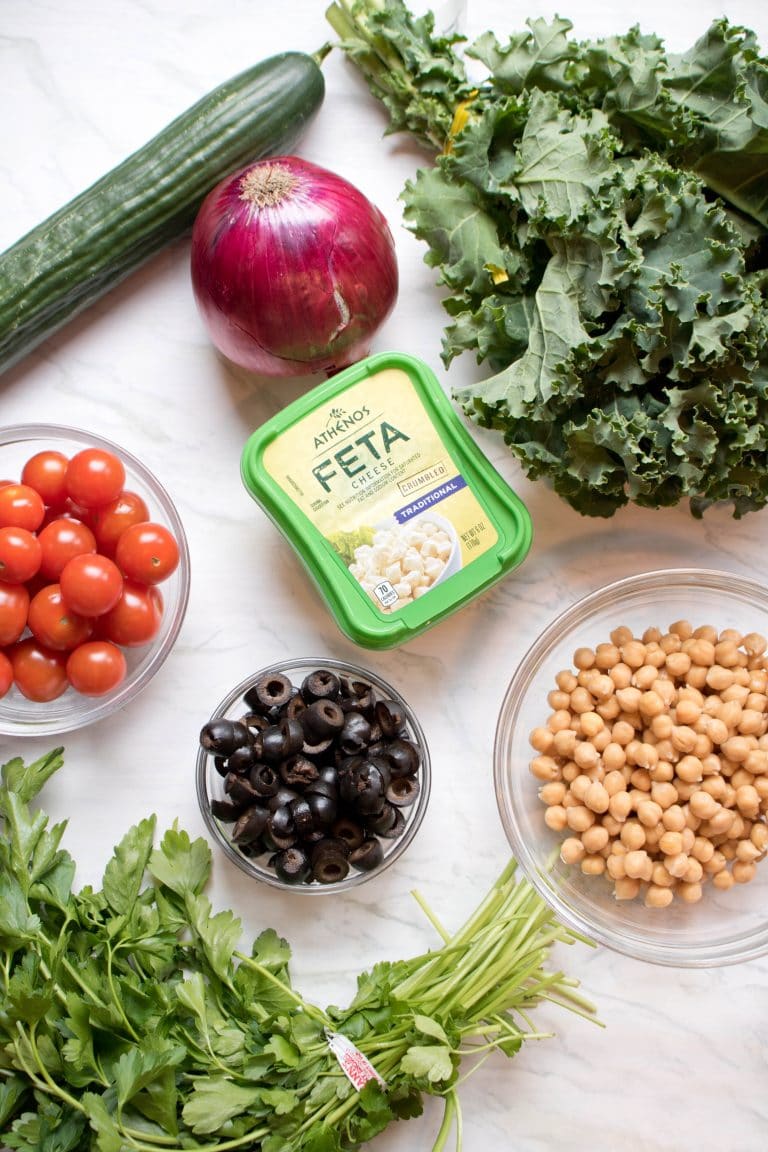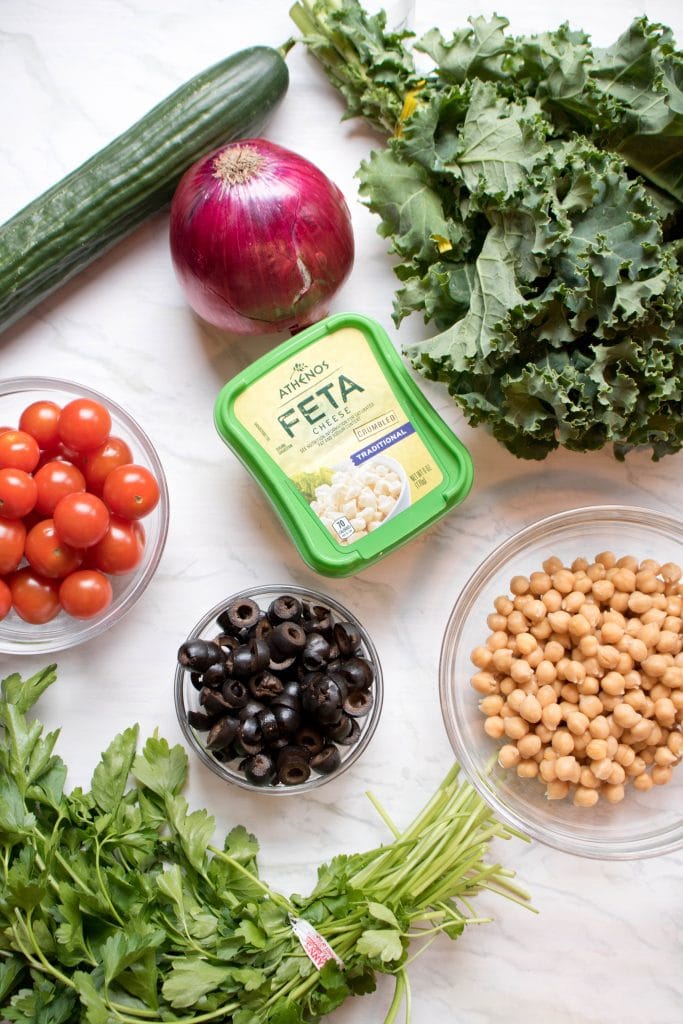 Kale - I prefer curly kale for this salad, but you could also use Tuscan kale.
Tomatoes - Cherry are my favorite, but you could use any that you have.
Olives - Sliced black, but again, use whatever you have!
Chickpeas - Great added protein and crunch!
Cucumber - I like English cucumbers for this because they're my favorite for salads.
Red onion - White and yellow aren't quite the same for this recipe.
Feta cheese - You can use whatever brand you like (unseasoned), but also, if you have the time for it (because it is a labor of love), have you made your own Feta Cheese From Scratch, yet?
Fresh parsley - I love this because it adds another level of freshness to the salad!
Spices for the chickpeas - Paprika, cayenne, salt, cumin, and a little olive oil.
This salad is like a delicious classic Greek salad (see my Greek-ish Salad), but knocked up a notch with the additional health benefits of kale and added protein from the chickpeas!
Step-by-Step Instructions: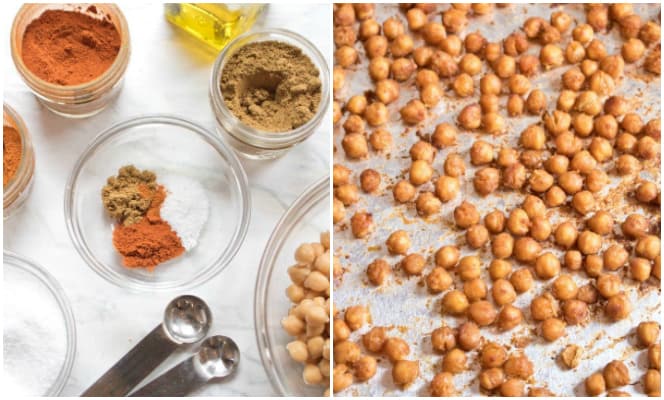 Again, super easy, the hardest part is roasting the chickpeas!
Step 1: In a small bowl mix cumin, cayenne, paprika, and salt.
Step 2: Lightly oil the chickpeas and then add spice mix and mix well.
Step 3: Bake chickpeas until they're nice n' crispy!
Tips for Crispy Chickpeas:
Make sure to rinse and drain chickpeas
Dry them with a towel to make sure they're fully dry!
Add them to a tray and then gently rub them with a paper towel. This will help loosen to then remove some of the skins as they can also hold moisture which can prevent the crispiness! Don't worry if they're not all removed, just get what you can.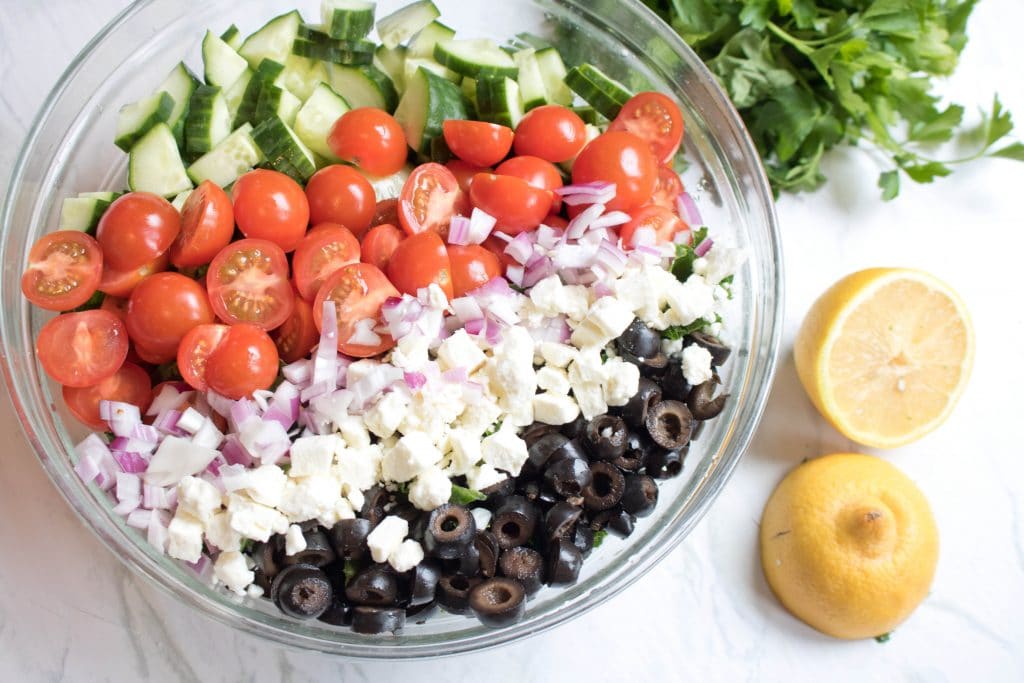 Massage the Kale!
Step 4 - Now this is a very key step. In order to cut the bitterness of raw kale, you need to "massage" it with some olive oil and salt. This is literally just drizzling some oil, sprinkling some salt, and then gently squeezing it and "massaging" it with your hands.
Doing this will dress the kale a little bit and then you can choose how much more you'd like your salad dressed. Personally, I like to just squeeze some fresh lemon juice over it all and call it good. But if you prefer a more dressed salad, then I highly recommend some simple lemon vinaigrette that we use in our Greek-ish Salad.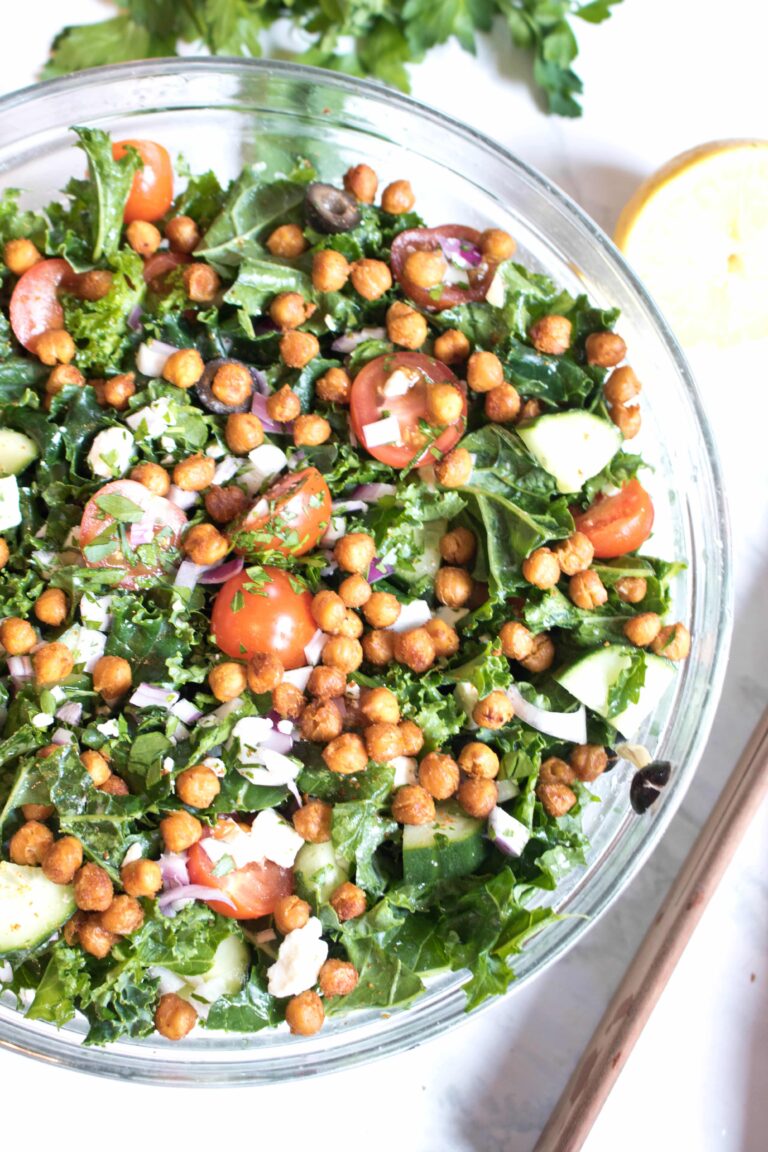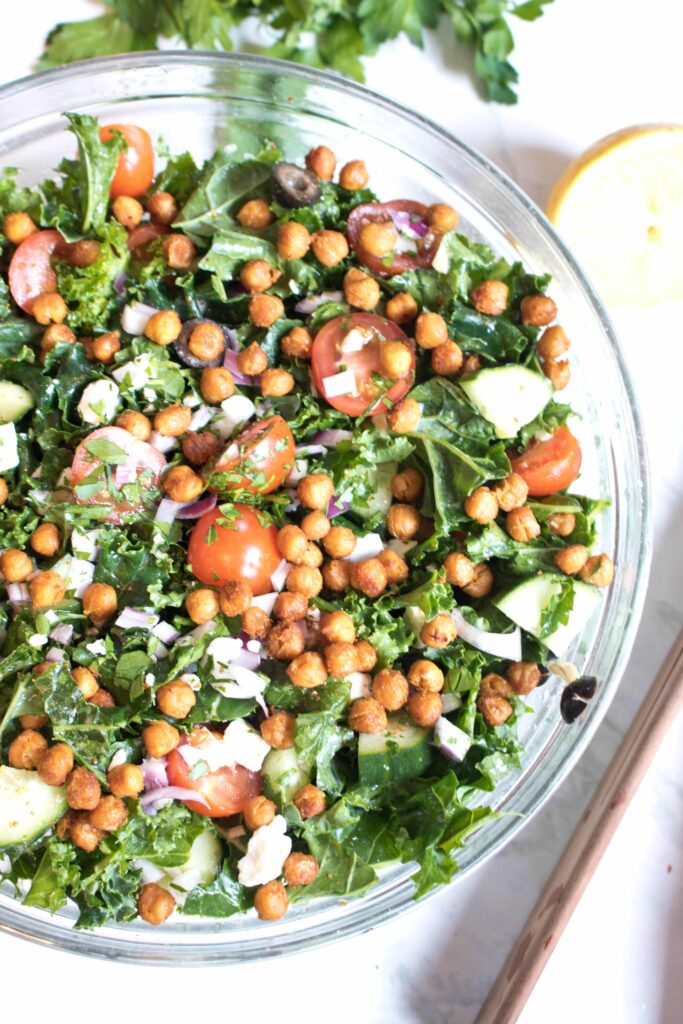 Step 5 - Add all of the veggies and feta to a bowl with some fresh lemon juice or vinaigrette, then add the chickpeas and boom, a delicious Chickpea Kale Greek Salad. Full of nutrition, the classic flavors of a Greek salad, plus the spice and crunch from the chickpeas.
And done!
Our Other Favorite Kale Recipes:
Kale and Chickpea Salad with Candied Pecans
Our Other Favorite Salads
Teriyaki Shrimp Salad with Sesame Ginger Vinaigrette
Ahh Kale. The perfect way to stay strong with those New Year healthy eating resolutions! Oooor don't, ya know because life is too short, make those Chocolate Glazed Munchkins, too 🙂
Enjoy, friends! As always, please let me know if you make it and how much you love it! I love to hear from you on Facebook, Pinterest, and Instagram!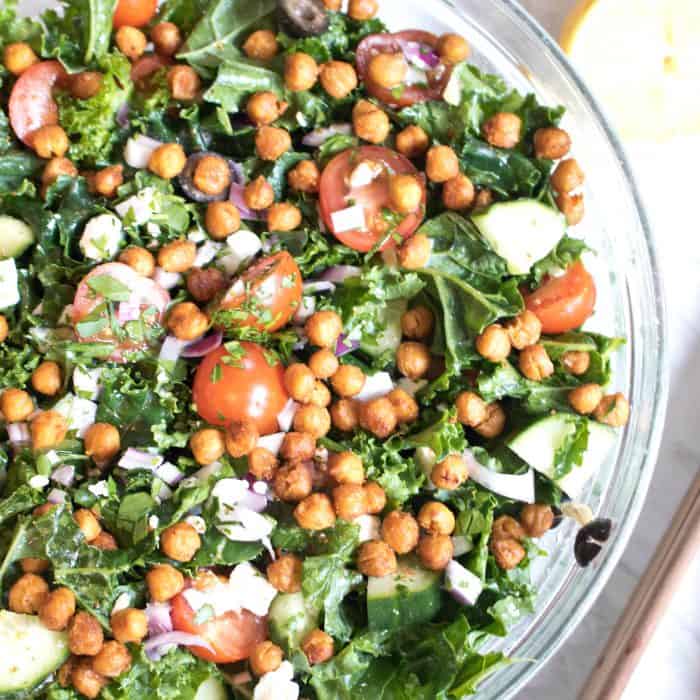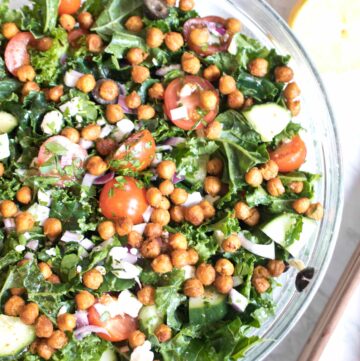 Chickpea Kale Greek Salad
Tomatoes, Feta, olives, cucumbers, tomatoes plus kale and chickpeas. Everything you want in a Greek salad but with kale, this Chickpea Kale Greek Salad is a heartier, healthier Greek salad!
Print
Pin
Rate
Ingredients
Kale Greek Salad
1

bunch

kale, cleaned and trimmed

1/2

tablespoon

olive oil

1/4

teaspoon

kosher salt

1

pint

cherry tomatoes, halved

3/4

cup

feta cheese

1

large

English cucumber, diced

6.5

oz

sliced black olives

1/3

cup

fresh parsley, minced

1/2

lemon

juiced
Chickpeas
1

can

chickpeas, rinsed and dried

1

tablespoon

olive oil

1/2

teaspoon

cumin

1/2

teaspoon

paprika

1/4

teaspoon

cayenne pepper

1/4

teaspoon

kosher salt
Simple Lemon Vinaigrette
1/4

cup

lemon juice, fresh squeezed

1/2

cup

olive oil

1

teaspoon

kosher salt

1/2

teaspoon

fresh ground pepper
Instructions
Pre-heat the oven to 400 degrees and line a baking sheet with parchment paper.

Mix all of the spices for chickpeas in a small bowl. Add olive oil to chickpeas and mix before sprinkling on spices and stirring well. Add them to baking sheet and spread into a single layer.

Bake for 30-35 minutes until crispy - check at 15-20 minutes to make sure they're not burning and give the tray a little shake. Let cool for 10 minutes.

Meanwhile, add trimmed kale to a large bowl and drizzle 1/2 - 1 tablespoon of olive oil and sprinkle 1/4 teaspoon kosher salt. With both your hands, massage oil and salt into kale until all is well combined and kale begins to soften. This will release some of the bitterness of the kale.

Add the rest of the salad ingredients to the bowl - tomatoes, cheese, cucumber, olives, and parsley and mix well.

To make the vinaigrette whisk together the juice, oil, salt, and pepper. Set aside.

Now you can choose to just add juice from 1/2 a lemon to the bowl and mix, or add some of the vinaigrette to taste, and then mix.

Top with crispy cooled chickpeas before serving and enjoy!
Notes
Make sure you massage the kale to reduce the bitterness.
For crispy chickpeas, make sure all of the moisture is removed: dry with a towel and then also remove the skins.