Greek-ish. Yup. Why? Because I wanted to make Greek Salads to use some of our amazing homemade feta which just keeps getting more and more delicious as it ages, but I didn't have any cucumbers and for some reason I decided that walnuts would also be delicious and add the necessary crunch. But when's the last time you ever saw a Greek Salad with toasted walnuts? Right. Never. I go back to my previous statement: Greek-ish.
Did I mention how freakin' amazing our homemade feta is? Seriously. It's a lot of work but I cannot even begin to say how incredibly worth it it is. It's at it's 4th and supposedly final week, and it has certainly hit it's prime. I couldn't stop just eating it on it's own. If you're going to make some of your own cheese, feta is the cheese to make!
Anyway, back to the salad... First I did a light toast of the walnuts.
Then, a thin slice of half of a red onion...
...a slice of some olive bar black olives...
...and then I halved some grape tomatoes and tossed them on some freshly washed red leaf lettuce.
With the walnuts and olives thrown in the party, we're on to the best part. The crumbling of the feta on top.
Aw yea.
To finish it off, a super simple lemon vinaigrette. Fresh squeezed lemon juice, a really nice olive oil, salt and pepper. Bam. Simple.
Poured on top of the beautiful bowl of deliciousness...
...then mixed...
whoa...
See how the feta just coats everything with the lemon vinaigrette dressing? Yea, that's the ticket.
Hands down, the BEST salad I've ever made. The feta was so incredibly salty and creamy crumbly, the lemon vinaigrette added the perfect level of acid, and the seemingly totally out-of-place toasted walnuts added a nutty crunch. This was supposed to be a side salad to some roasted chicken I had in the oven, but we elected to just eat this salad for dinner and didn't even eat the chicken. It was THAT good.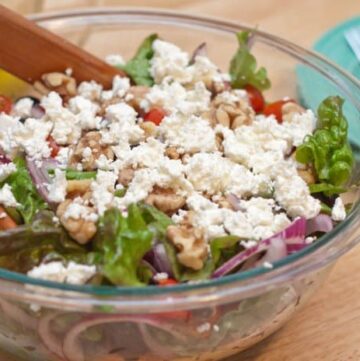 Ingredients
1

head of red leaf lettuce

washed and ripped lettuce

1

pint

of grape tomatoes

halved

1

cup

of pitted black olives

sliced

1/2

red onion

sliced thin

3-4

oz

of feta cheese

1/2

cup

of toasted walnuts
Lemon Vinaigrette
1/4

cup

of fresh squeezed lemon juice

1/2

cup

of good olive oil

1

teaspoon

of kosher salt

1/2

teaspoon

of fresh ground black pepper
Instructions
To make the vinaigrette whisk together the juice, oil, salt, and pepper. Set aside.

Prep the vegetables and then combined in a large bowl. Crumble feta on top. Drizzle 1/2 of the vinaigrette on salad and mix well. Add more vinaigrette for desired dressing level (we used just under 3/4 of the prepared amount).