Elevate your potato side dish! These Crispy Garlic Rosemary Potato Wedges are an incredibly flavorful and perfectly crispy way to fulfill a French fry craving but in a next level way!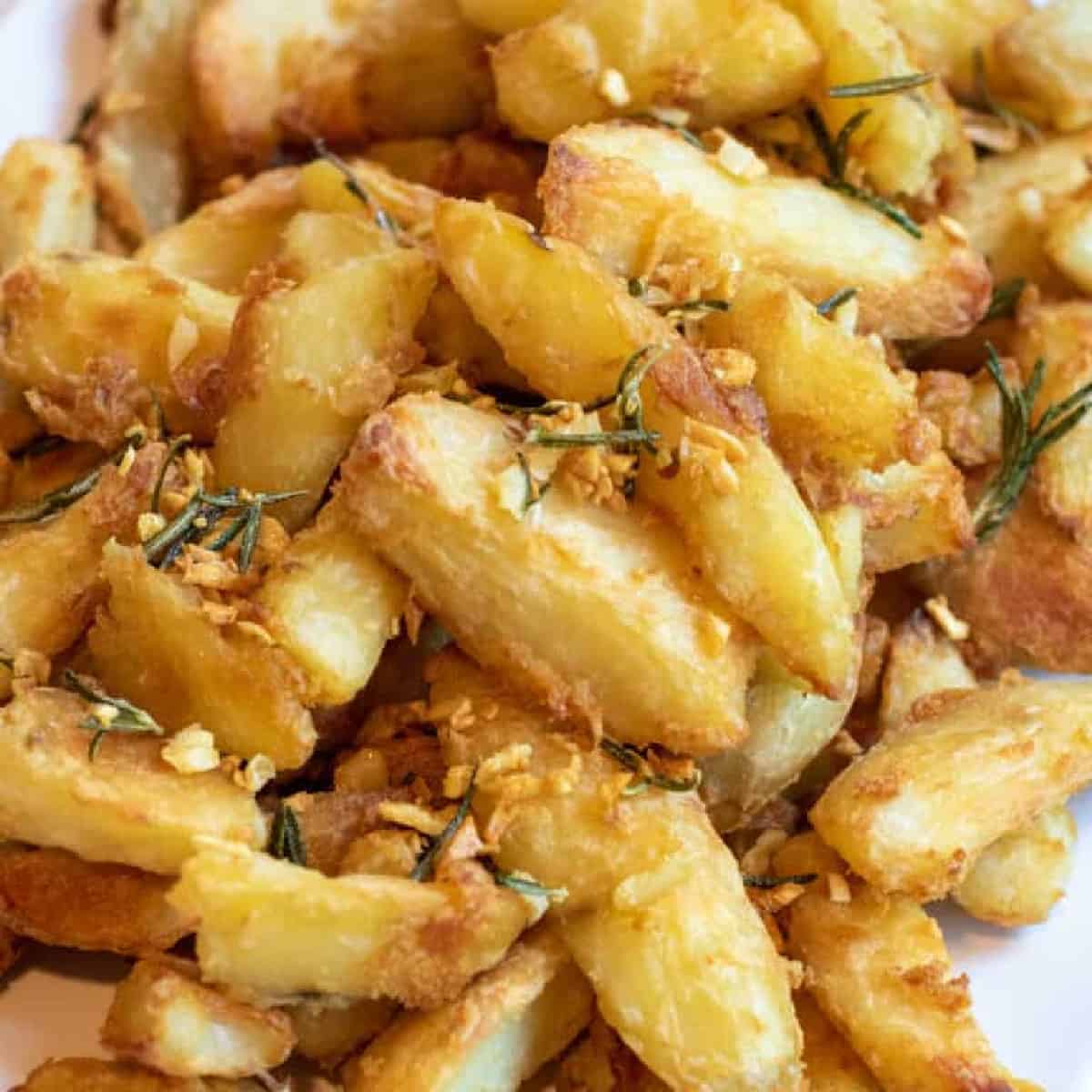 Phew. What. A. November, am I right? I don't know if my liver or waistline could handle much more. I don't know where you all turn during times of stress, but in this house, it's potatoes. Recently, these Crispy Garlic Rosemary Potato Wedges, also known as crispy, salty, garlicky, a touch of savory, potato perfection, have become a favorite in our house - might even make a place on our Thanksgiving table!
Ingredients Needed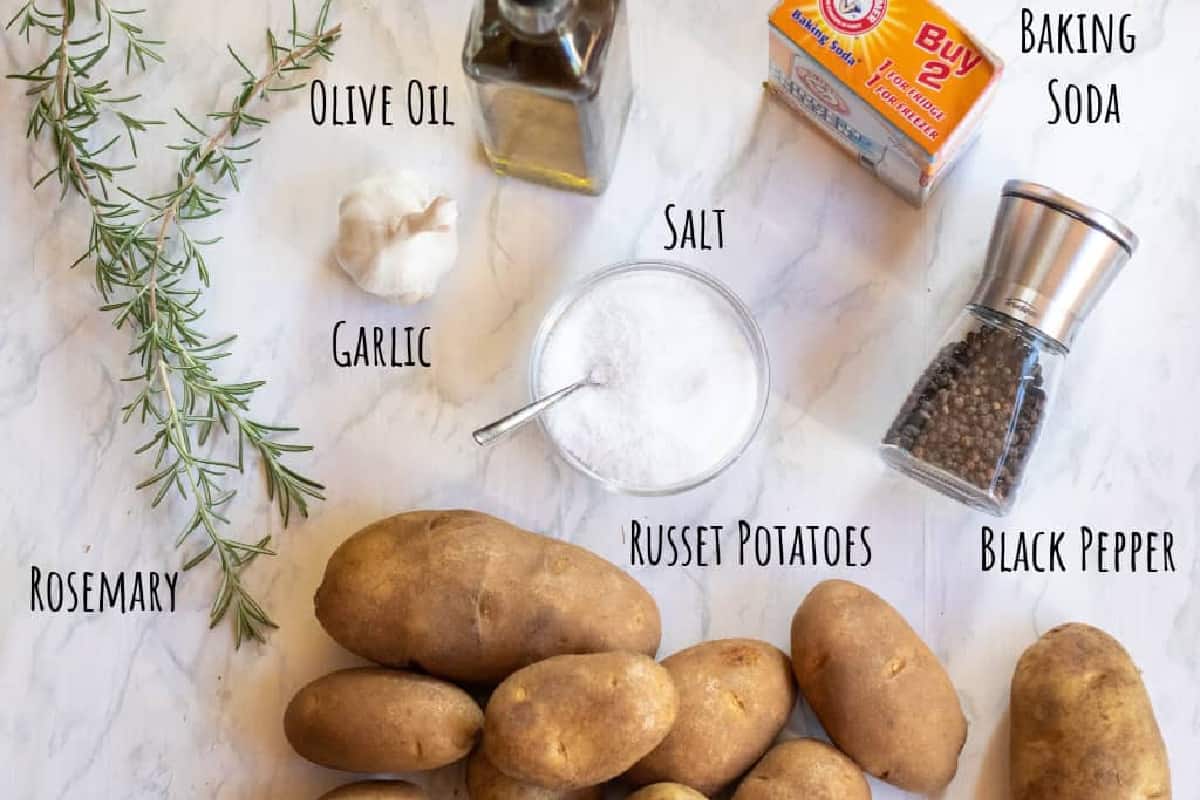 The ingredients are super easy and if you have a big rosemary bush in your yard (or neighborhood), then I bet you already have everything you need on hand!
Potatoes - In my opinion, russet potatoes make the best wedges. You could also use Yukon gold or a waxy potato, but I'd save the sweet potatoes for another recipe.
Fresh Garlic and Rosemary - As you may have noticed from my logo, these are absolute staples in our house.
Baking Soda - This is for boiling the potatoes and is a key to crispy potato wedges! By adding some baking soda, you're breaking down the pectin of the potato which brings the starch to the surface which will help promote browning and crisping when the potatoes are roasted!
Olive Oil, Salt and Pepper - Duh.
Step-by-Step Instructions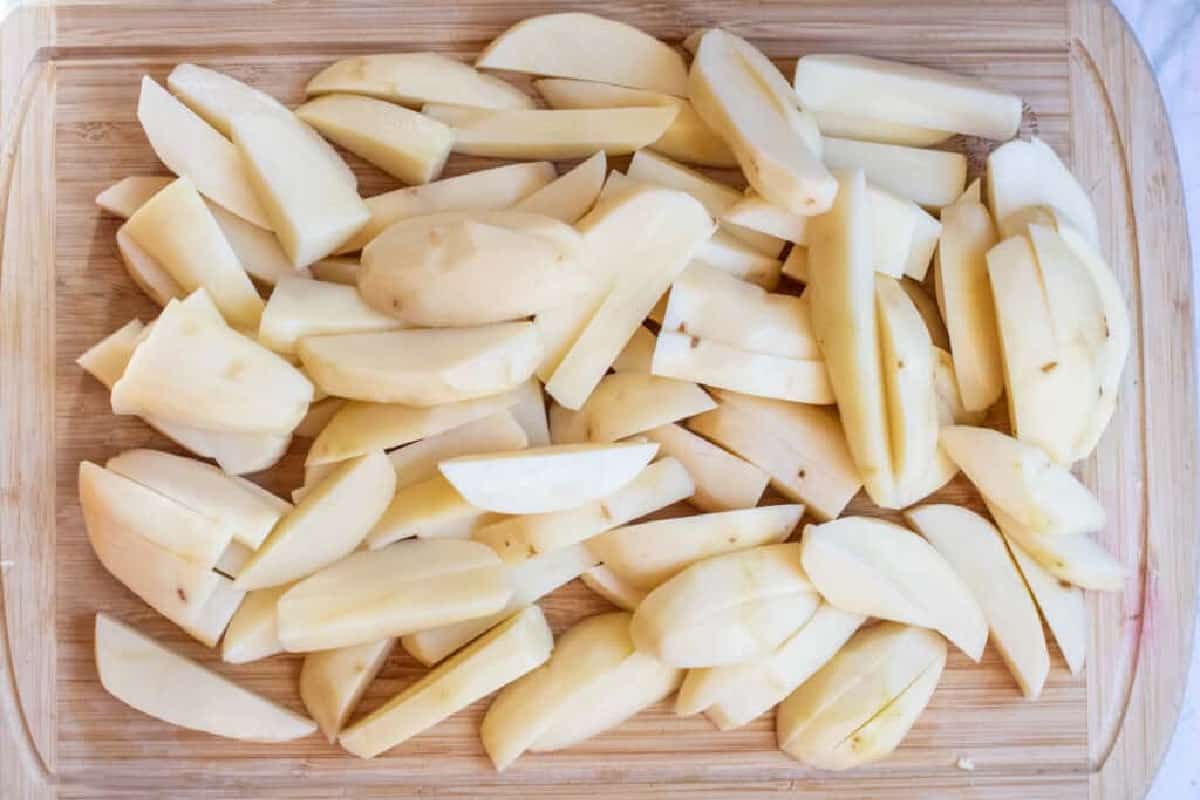 Even though this recipe is fairly simple, there are a few steps. I promise you though, it's all worth it because this recipe really imparts so much flavor and ultimate crispiness!
Step 1: Cut the potatoes into wedges and then boil them with salt and baking soda.
Tip: Boiling the potatoes first (especially with the baking soda) is key to the crispiness, you absolutely don't want to skip this step. Then let them gently boil for 7 minutes.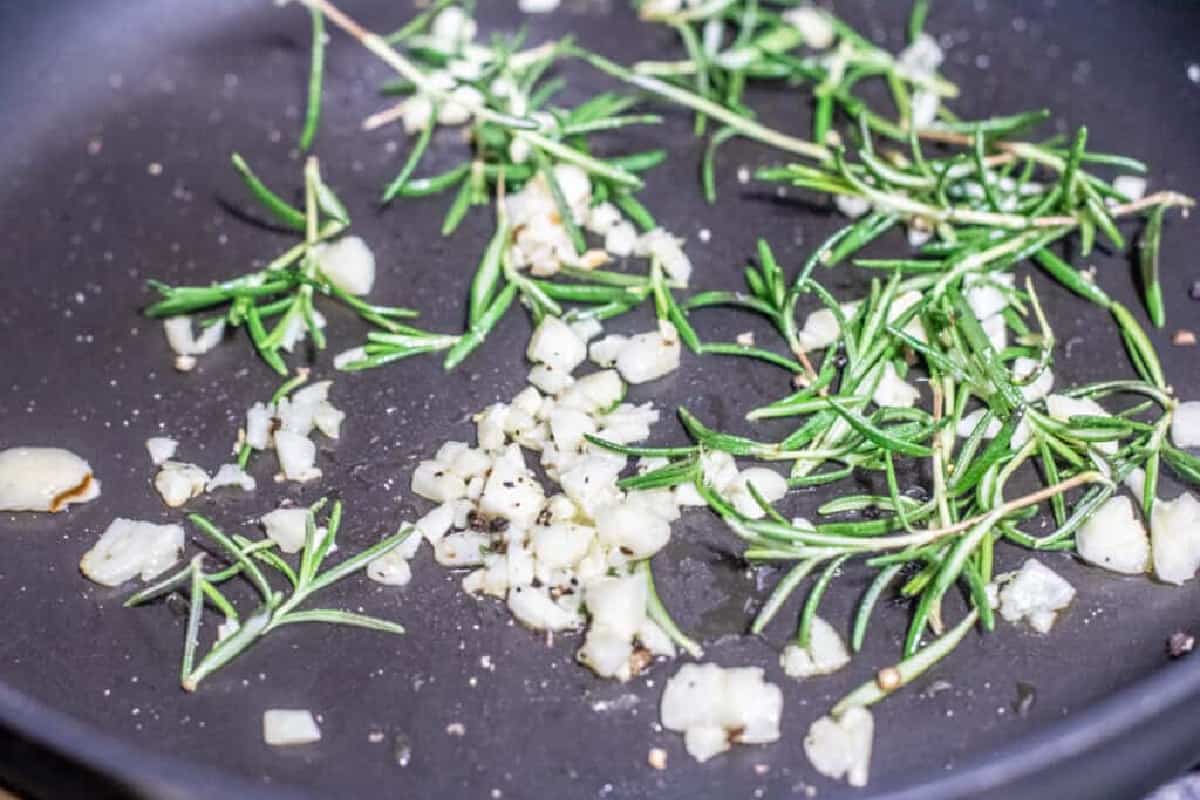 Step 2: Meanwhile, sauté the garlic and rosemary in oil. Once the garlic is just slightly browned, pour it all through a sieve. Save the oil and the garlic and rosemary, you'll need it all later, trust me!
Step 3: Once your potatoes are done, gently drain them and add them to a bowl and gently toss them with the reserved garlic and flavor packed garlic and rosemary oil.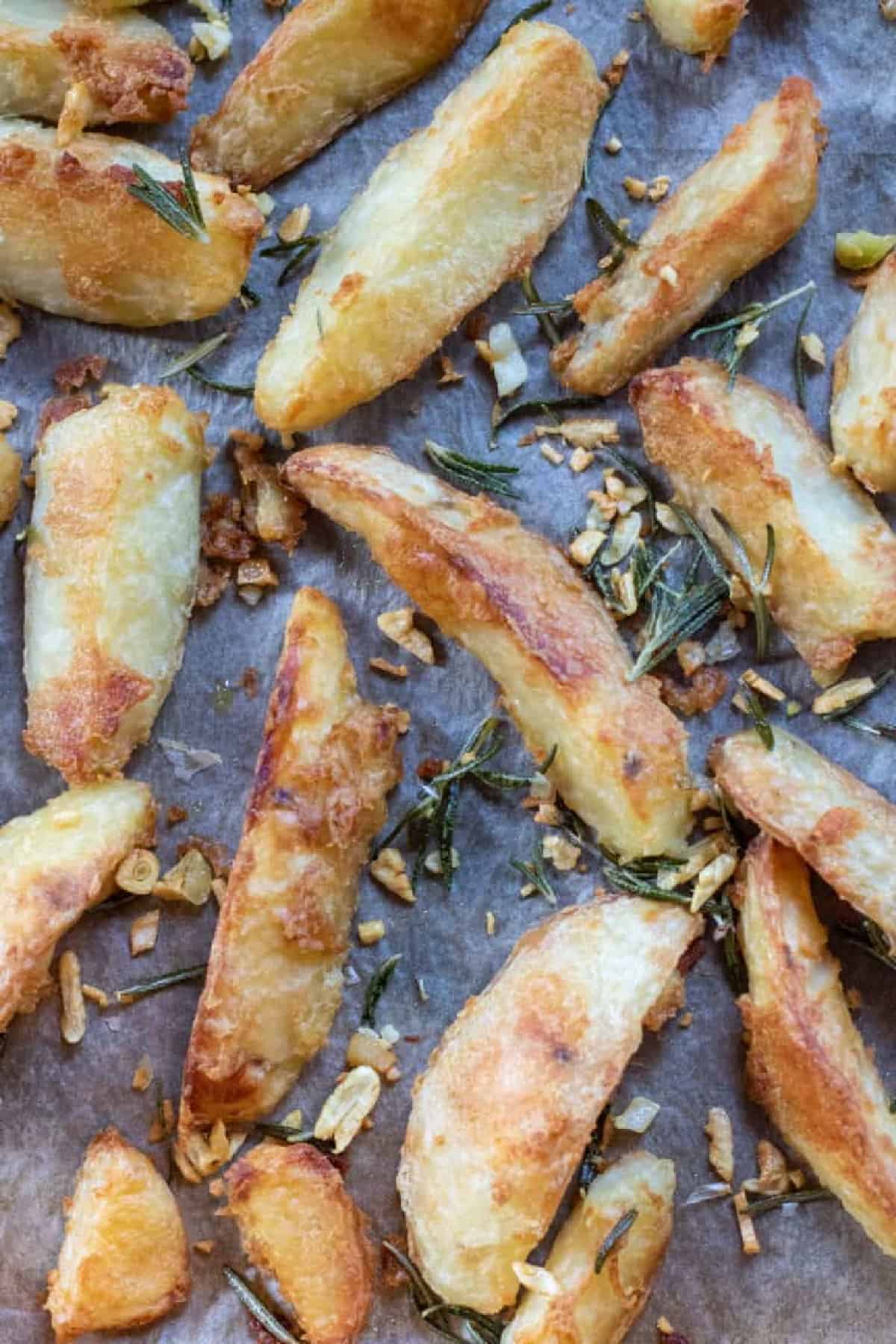 Step 4: Line a baking sheet with parchment paper and add to the oven, bake for 20 minutes before gently turning them, and then bake another 20-30 minutes until they're nice and crispy, and then toss with the pan-fried garlic and rosemary!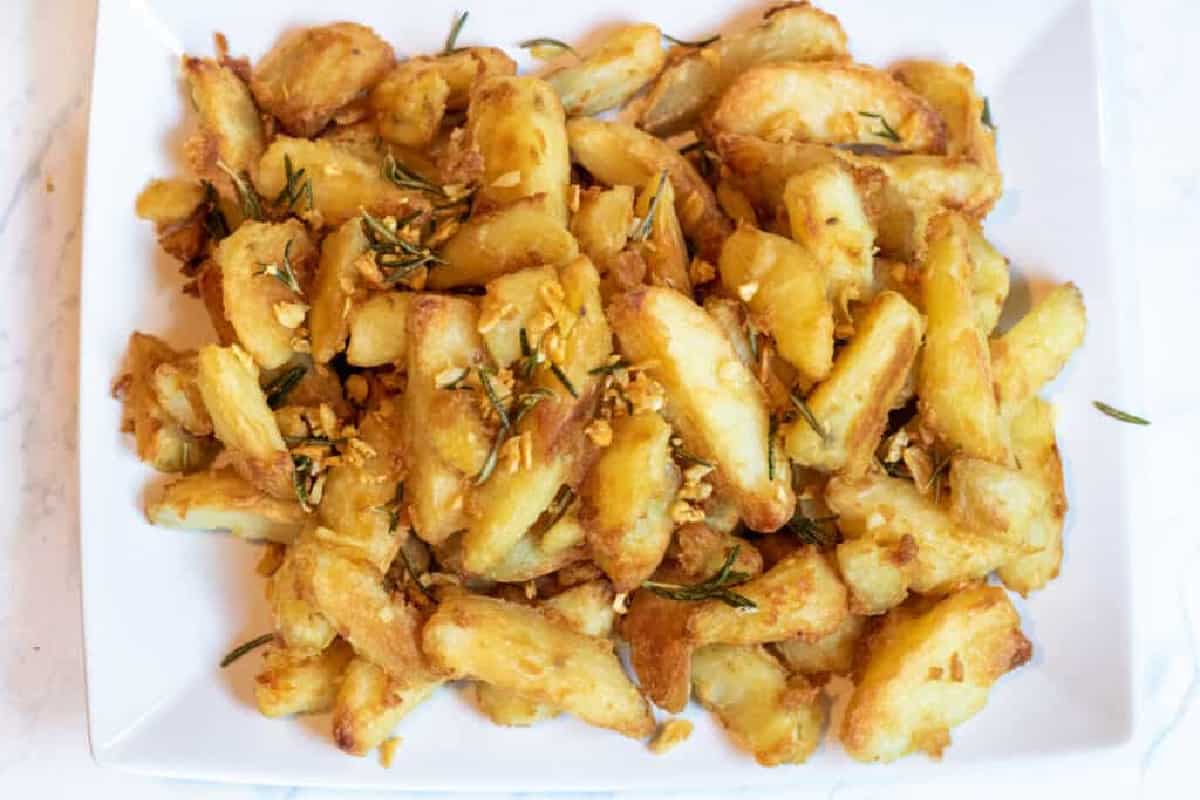 And done! SO Crispy. SO flavorful. SO the perfect side for any meal!
Serve It With
15 Minute Butter Garlic Chicken
Balsamic Shiitake Mushroom Steaks
Mediterranean Grilled Chicken Breasts
Honestly, we maaayyy have just had a big ol' plate of these for dinner with a side of our 10 Minute Garlic Kale...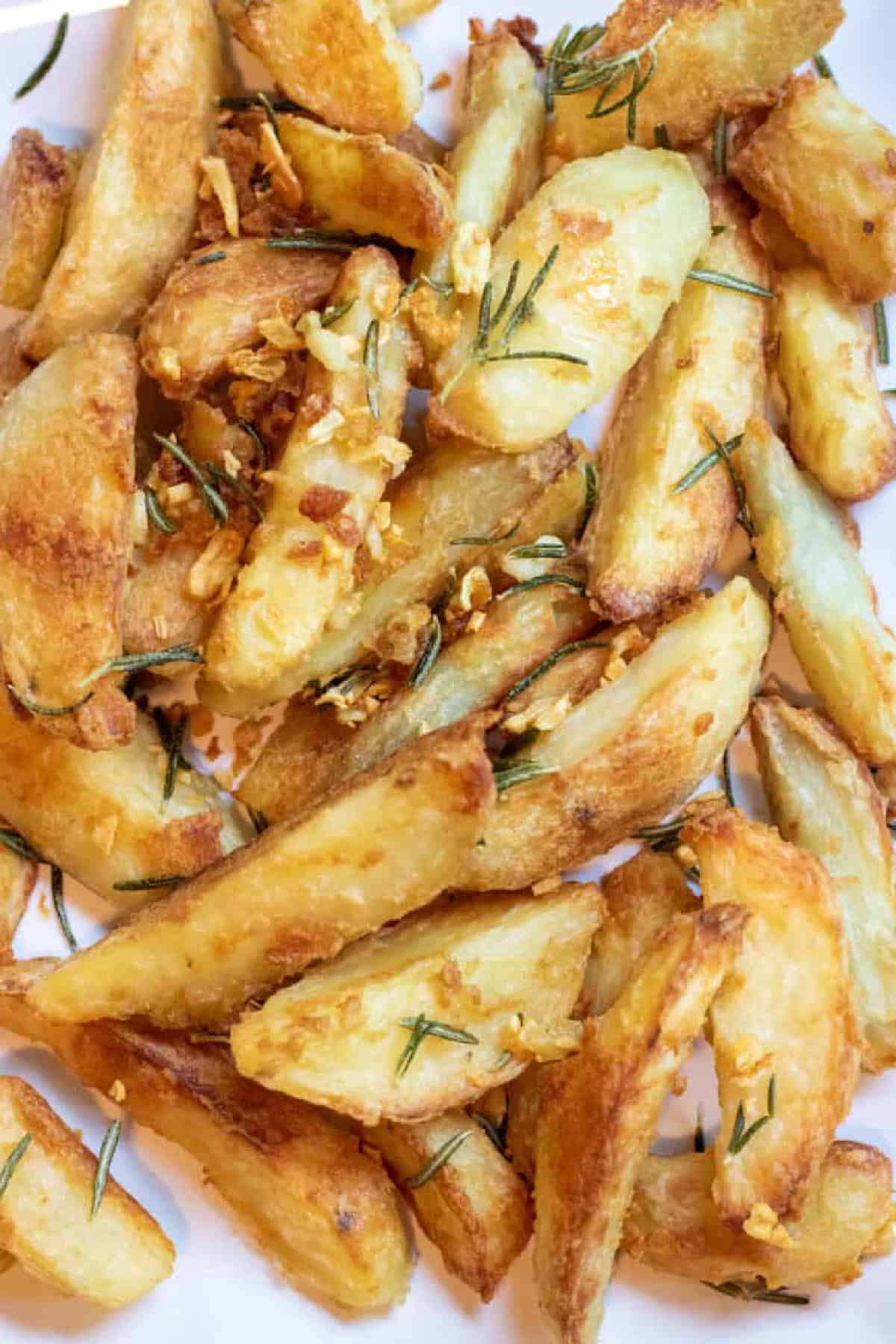 See that crispy garlic and rosemary? Heaven on these wedges. Absolute heaven.
Other Potato Favorites
Baked Parmesan Steak Fries and Garlic Aioli
Cheddar Sour Cream Potato Chips From Scratch
Roasted Parsnip and Potato Soup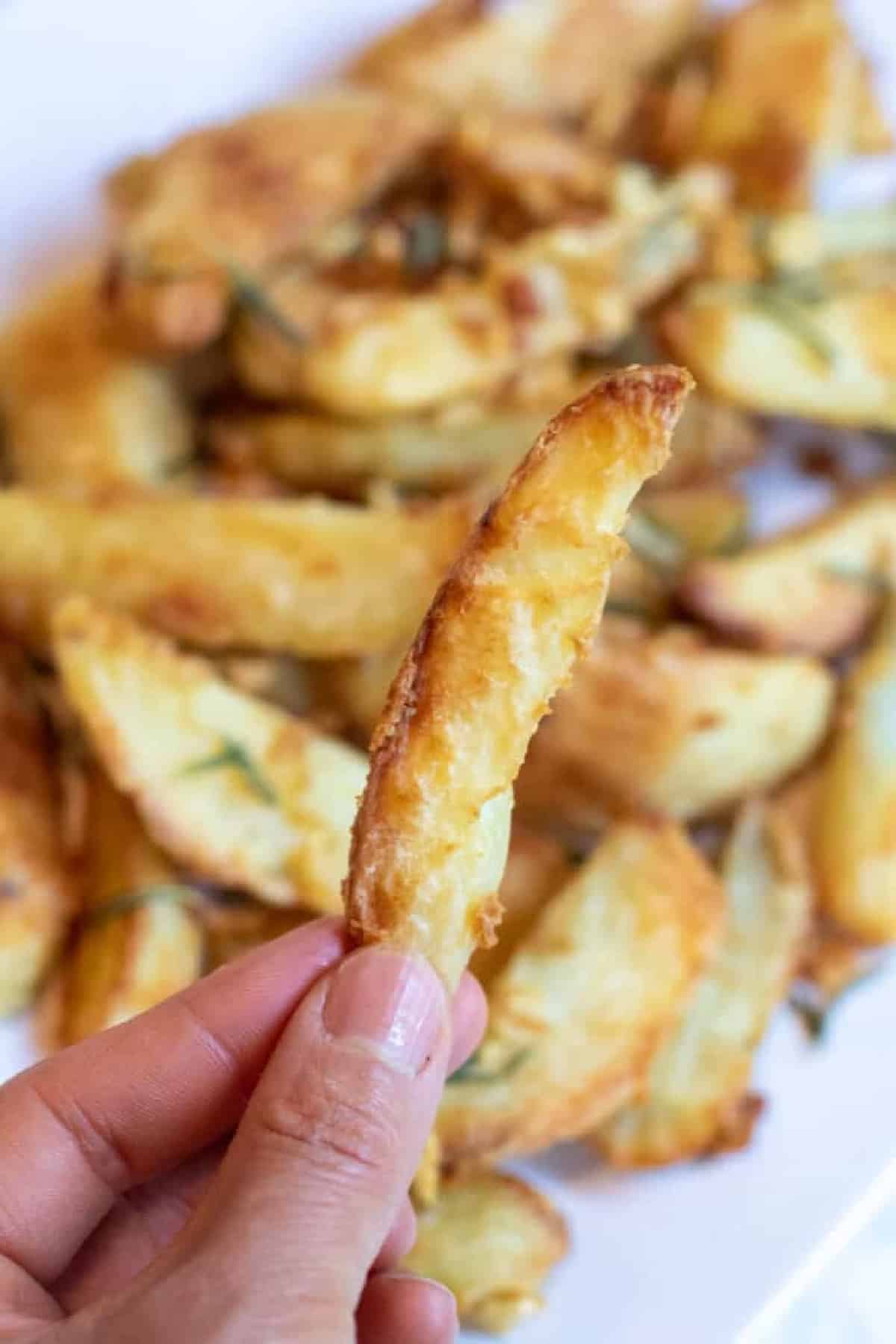 Ahhh. Can you just hear the crunch from here? Smell the garlic and rosemary? Dipped in an aioli, or in some of our 5 Minute Homemade Ketchup and yummmmm.
Enjoy! As always, if you make this recipe or any of my others, I love to hear what you think! Leave a comment below, email me, or you can find me on Facebook, Instagram, and Pinterest!
If you want to see more, be sure to sign up for my 5 Easy Ways to Start Cooking From Scratch!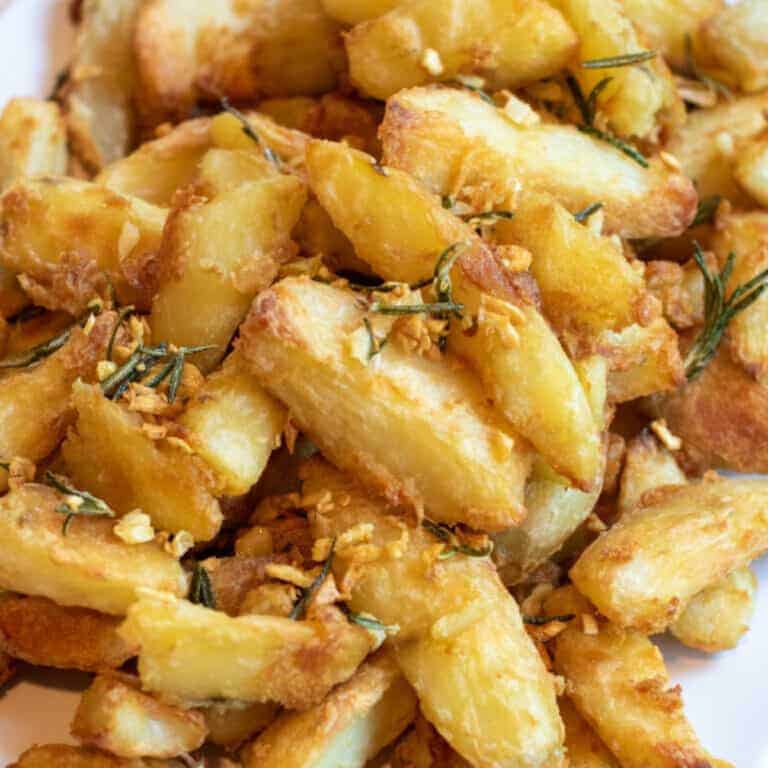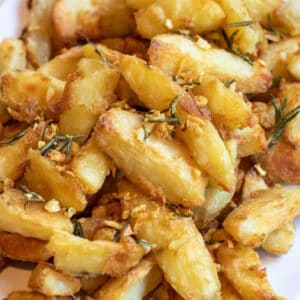 Crispy Garlic Rosemary Potato Wedges
An incredibly flavorful and perfectly crispy way to fulfill a French fry craving but in a next level way!
Print
Pin
Rate
Ingredients
4-5

lbs

Russet Potatoes

2 1/2

tablespoons

kosher salt

2-3

sprigs

fresh rosemary

1/2

teaspoon

baking soda

5

cloves

fresh garlic, minced

5

tablespoons

olive oil
Instructions
Pre-heat oven to 450 degrees and line a large baking sheet with parchment paper.

Add 2 quarts of water to a large pot and bring to a boil.

Peel and cut potatoes into 6-8 wedges for each potato.

Once water comes to a hard boil, add salt and baking soda and mix. Then add potatoes, which will cool the water, so let pot come back to a boil before turning it down slightly (med or med high) to just a gentle boil.

While potatoes are cooking, heat oil in a sauté pan on medium. Add garlic, rosemary, and pepper.

Sauté until garlic begins to brown, only about 60-90 seconds, just until the garlic begins to brown, be careful to not let it burn!

Then, take pan and pour everything (including the oil) through a sieve over a bowl. Keep the oil in the bowl and set the crispy garlic and rosemary aside.

After the potatoes have low boiled for 7 minutes (and when potatoes can be easily pierced with a knife, you don't want them too soft!), gently drain them and then add them to a large bowl.

Add the reserved oil to the bowl and gently toss.

On a parchment lined baking sheet, add potatoes in a single layer. Use two baking sheets if you need to, be sure that it's a single layer of potatoes.

Bake for 20 minutes and then remove from oven and with a metal spatula, gently turn for even baking. Return to oven and bake for another 20-30 minutes until crispy.

Remove from oven and toss with the set aside crispy garlic and rosemary and additional salt 1/4-1/2 teaspoon of salt, to taste.
Notes
What is a gentle boil? Also known as an aggressive simmer, meaning more "agitation" in the water.
Be sure that your potatoes don't cook too long. If they're cooked too long, then they wont crisp up the same.
Nutrition
Calories:
346
kcal
|
Carbohydrates:
55
g
|
Protein:
7
g
|
Fat:
12
g
|
Saturated Fat:
2
g
|
Sodium:
3014
mg
|
Potassium:
1271
mg
|
Fiber:
4
g
|
Sugar:
2
g
|
Vitamin C:
18
mg
|
Calcium:
46
mg
|
Iron:
3
mg