Fermentation at home! It may take some time, but it's easier than you think to make your own Sauerkraut From Scratch!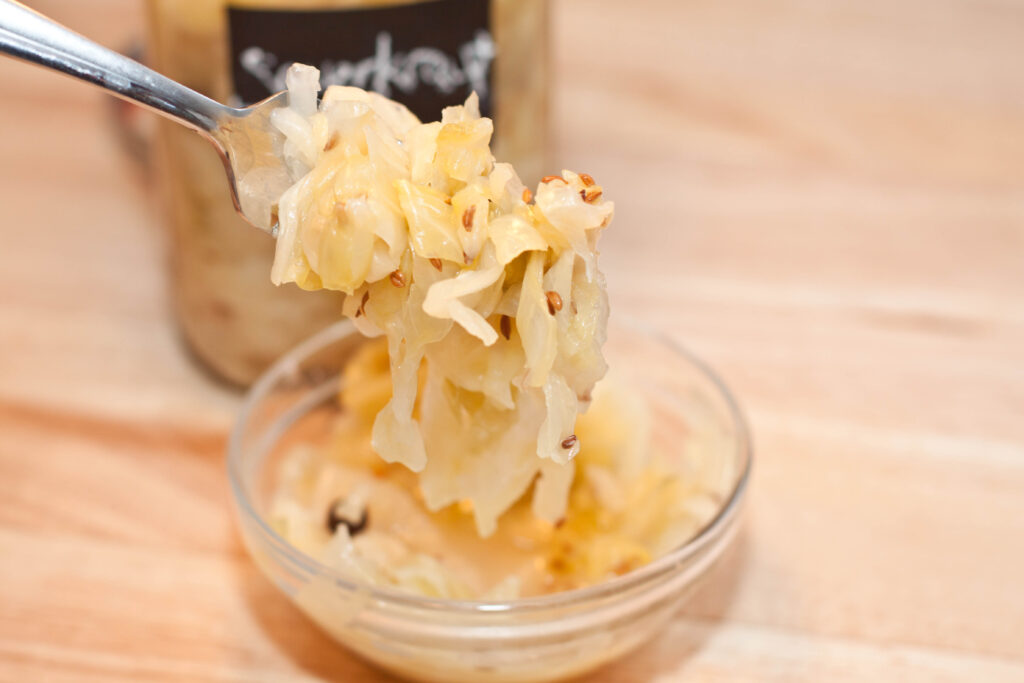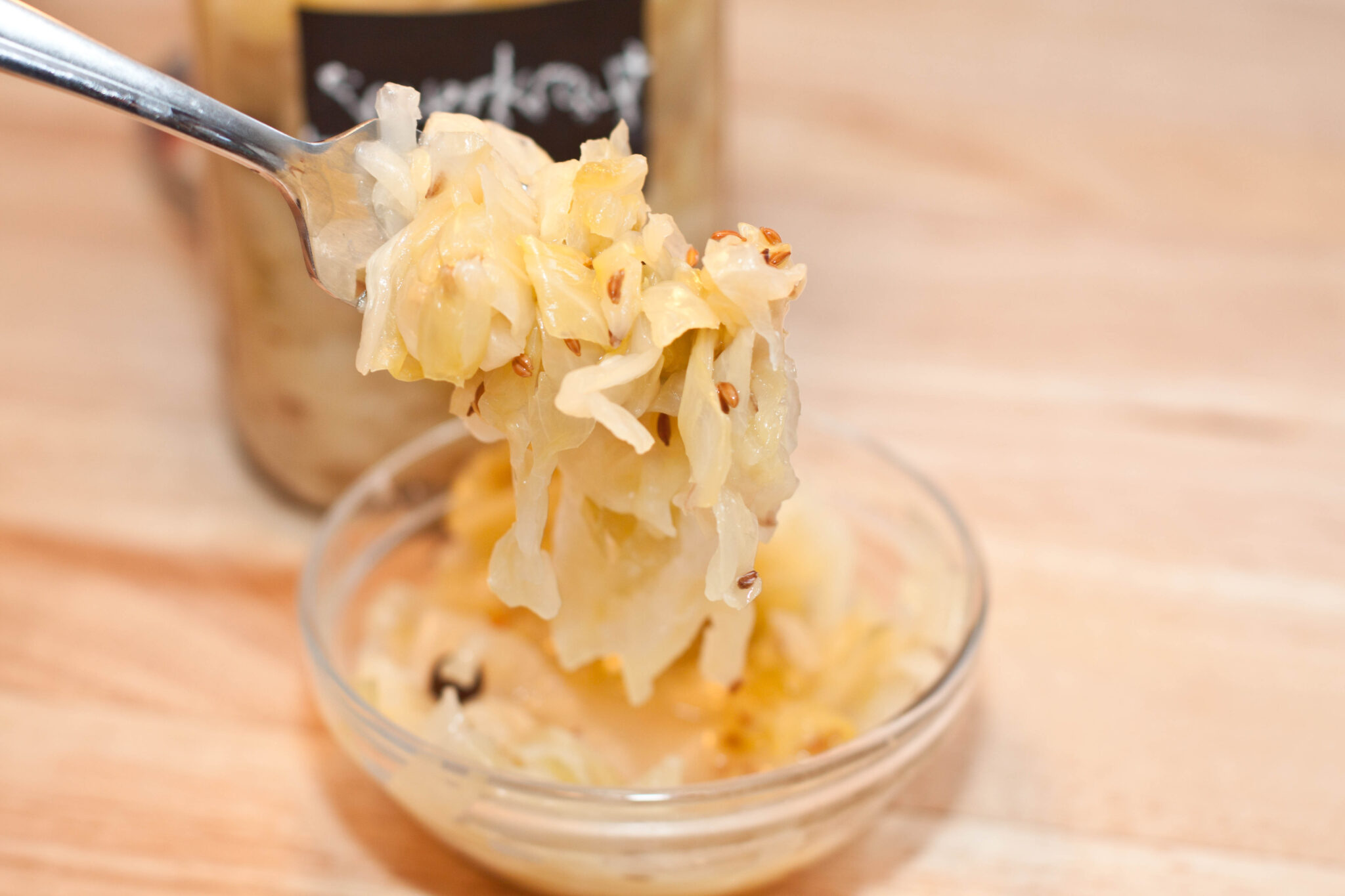 I've wanted to get into making our own fermented foods for a while, mmmm kimchi… and I totally want to make our own miso. But I've been reluctant because at home fermentation scared me. How would I know I did it right? How would I know it was done? So much room for error! Luckily there's Aton Brown's Sauerkraut From Scratch recipe to the rescue to help guide us on what to do!
The biggest change to our scratch cooking lifestyle is how we plan to eat. Because now, if we want to make something, we need to go through the list of ingredients, see which we need to make from scratch, and plan out when to do that and how long that will take in order to get us to where we want to be. Sounds super time consuming and possibly annoying to some, but I love it. I love the process of having to really plan out a dish, not just the ingredients I need to buy at the store, but then also seeing the ingredients of things I now get to make on my own, and the most fun part, the ingredients I need to learn how to make. So time consuming, totally. But worth it? Absolutely. There's something incredibly satisfying about the whole process to us.
Up until now, we've had to plan out bread making or cheese making, or pasta making for our dishes. Nothing that took more than a couple of days of prep. This sauerkraut is our longest prep ingredient for an upcoming meal: Reubens from scratch. Prep time: >10 minutes. Fermentation time: 30 days. Neat. Since I was kind of nervous about the whole fermentation process, I of course went to my most trusted culinary source. Alton Brown. If he says it'll work, I trust that it'll work. And he did not let me down with this sauerkraut. It was so easy to make. Just a slice of a head of cabbage, a mix for a few ingredients, and then let to sit to ferment away in a cool dry place for a month.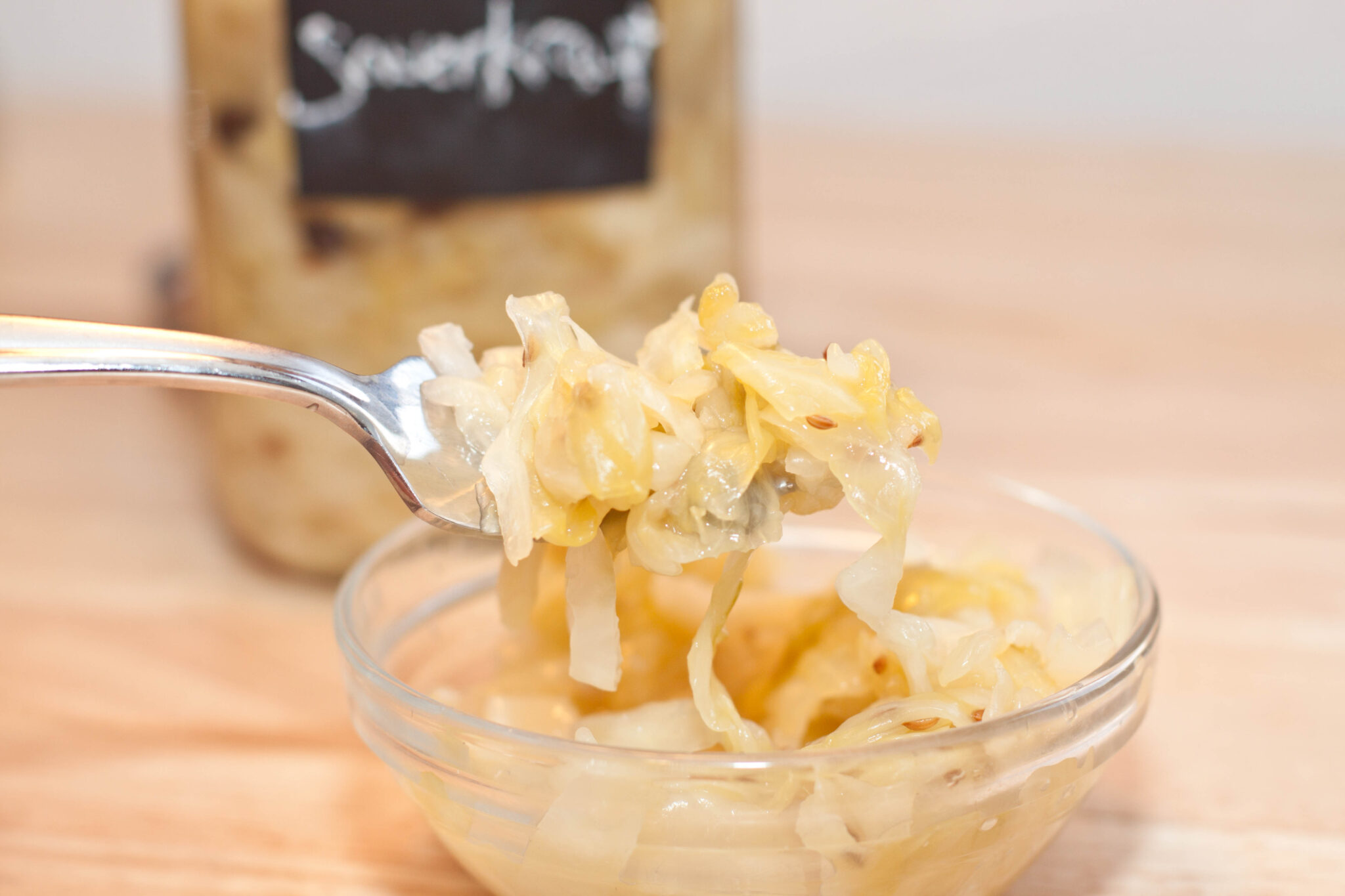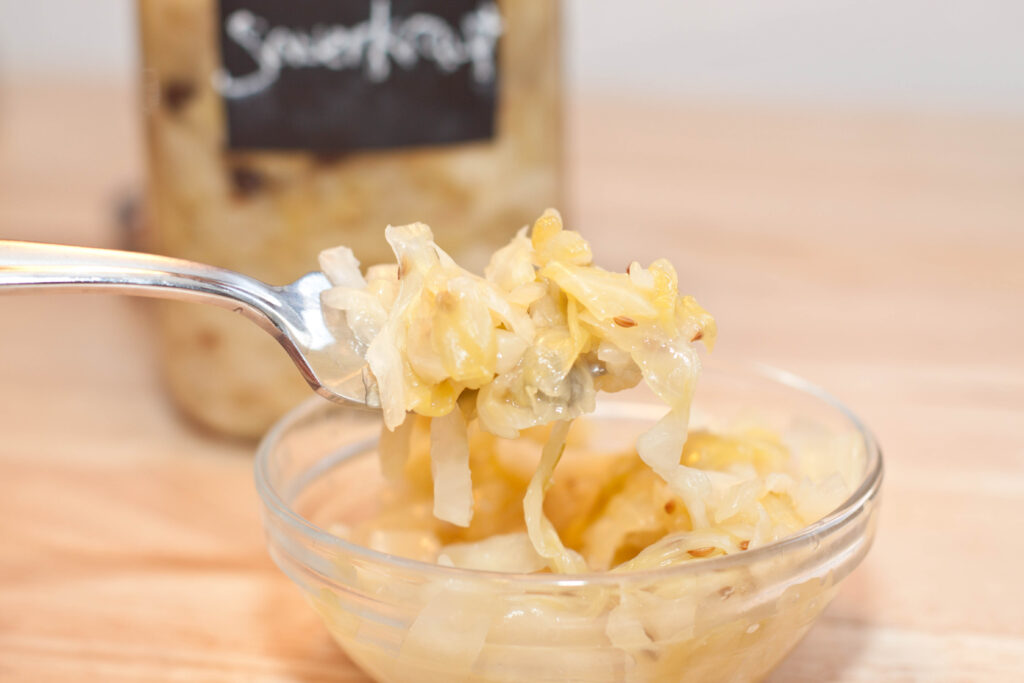 And after 4 weeks of fermenting away submerged in water, I had sauerkraut! Warning- there is scum you have to scrape off of the top of the water... when I first saw it I thought I'd messed up, but Alton Brown said it was ok, so I went with it. And, any cabbage that isn't totally submerged, will mold. Which was also kind of gross and my husband had to reassure me that it was normal and I hadn't ruined it. In the end, we had ourselves some deliciously caraway flavored, tangy sauerkraut from scratch! It'll be delicious on our upcoming Reubens. Next steps... Rye bread, pickle relish (for the dressing), and Russian dressing 🙂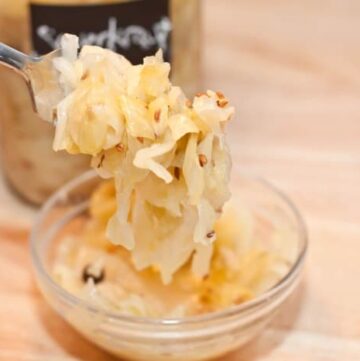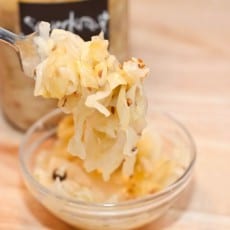 Sauerkraut From Scratch
Fermentation at home! It may take some time, but it's easier than you think to make your own sauerkraut from scratch!
Print
Pin
Rate
Ingredients
5

pounds

green cabbage

shredded

3

tablespoons

kosher salt

or pickling salt

t

tablespoon

caraway seeds

1

quart

water

in a sanitized glass jar
Instructions
In large mixing bowl, mix cabbage thoroughly with salt and caraway seeds, . You can use tongs or your hands. Make sure your hands are freshly cleaned. Let the cabbage stand for 10 minutes.

In one, or two large food grade plastic container, packet in the cabbage. Use a lid that's slightly smaller that the opening of the container and place it on top of the cabbage. Fill a large mason jar with water and place on top of the lid. Store in a cool area overnight (65 to 70 degrees F). The next day the cabbage should be completely submerged in the liquid it released overnight. Keep the jar on the lid to weight down the cabbage and keep it submeregedin the water.

Let stand for 4 weeks in the cool dry place. But check it every other day for the first 2 weeks and skim the surface of scum, if necessary. After 4 weeks, transfer to an airtight container and store in the refrigerator for up to 6 months.