This Sausage Hash n' Eggs is a breakfast favorite in our house! Hearty and delicious, it's the perfect way to start your day!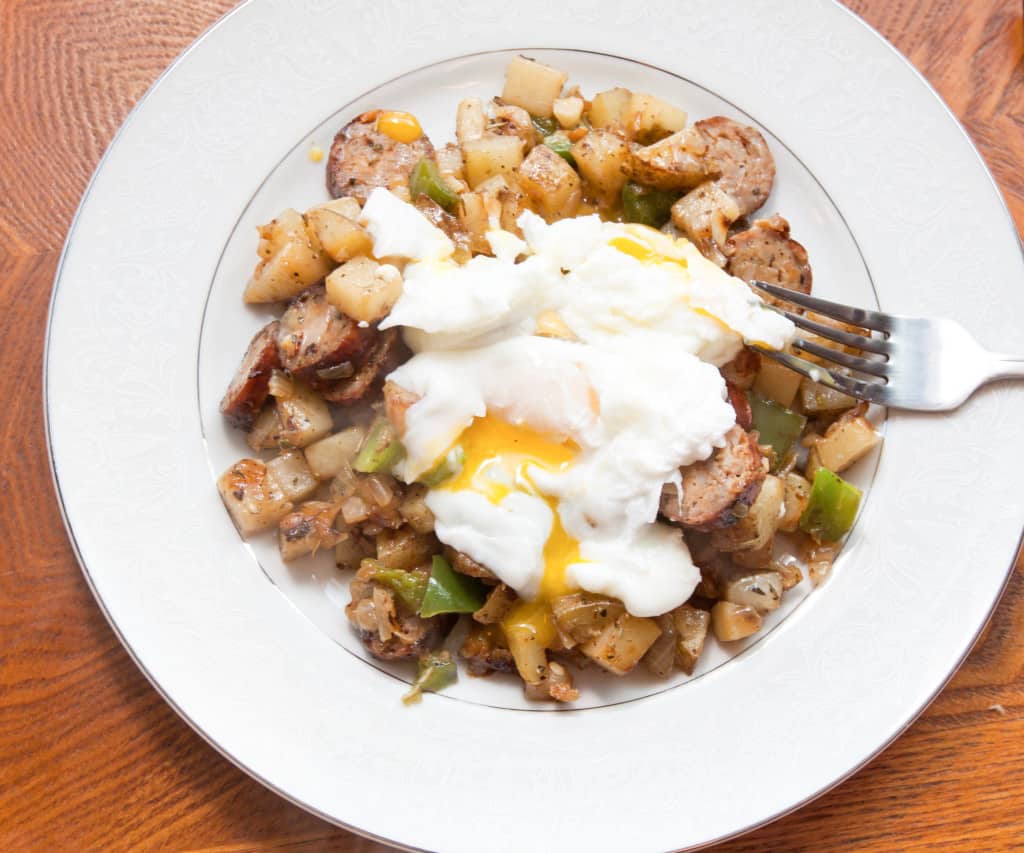 Among the many endearing qualities my studly husband has, his love for potatoes is one of them. This man loves potatoes. One of the first breakfasts he made me was a version of this very dish, and if he had it his way, he'd happily eat this Sausage Hash n' Eggs for breakfast every day!
Ingredients Needed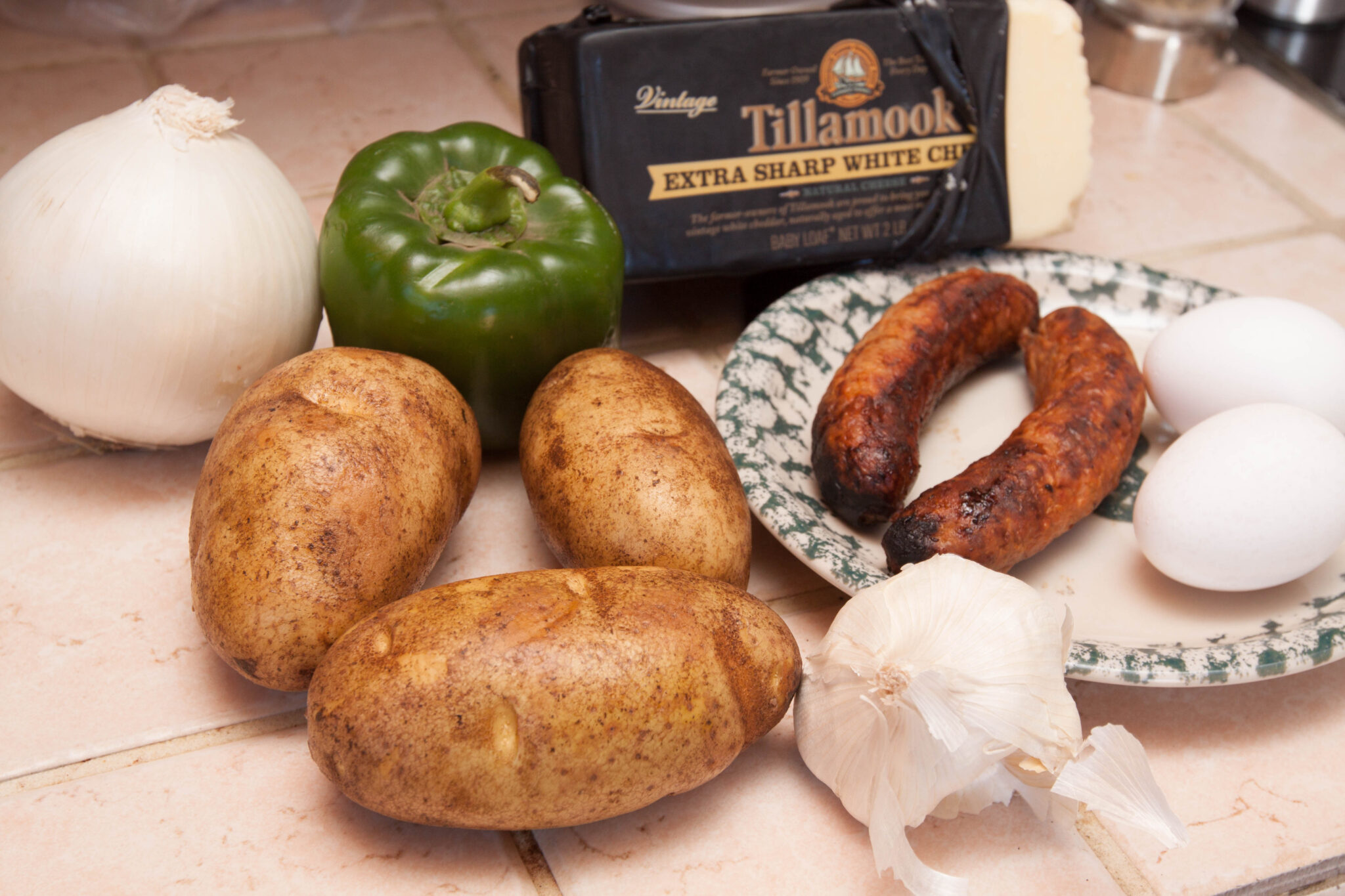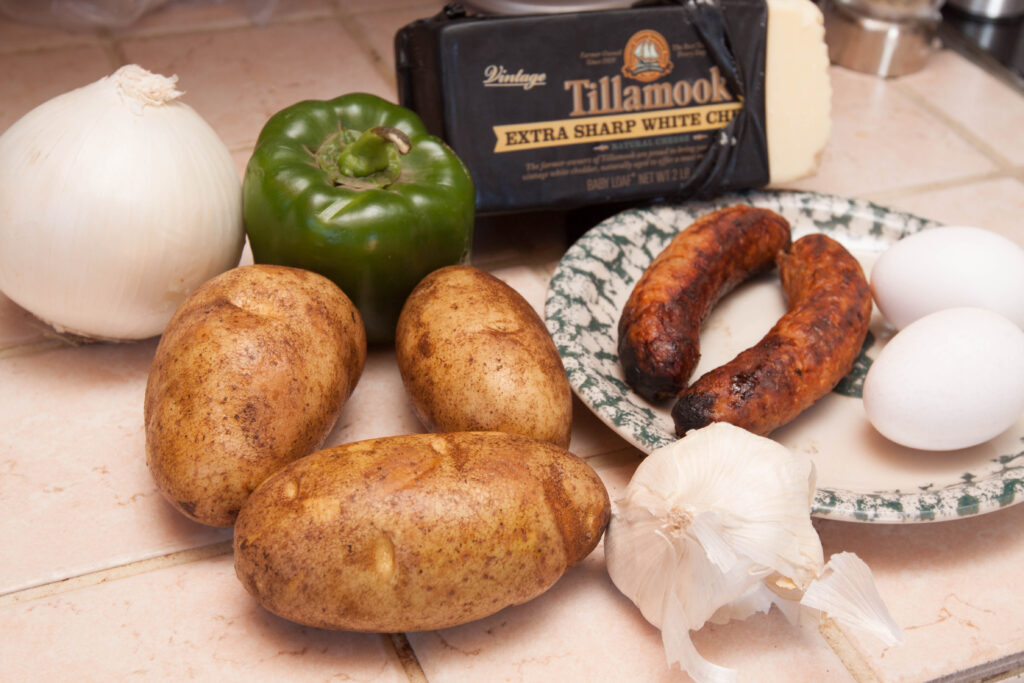 Potatoes - We love russets for this recipe (and it's usually what we have on hand), but another potato like a waxy yellow, red, or even to add some sweetness, a sweet potato would work, too!
Onion and Garlic - Fresh of course and truly a staple in all of our cooking!
Bell Pepper - We love the earth flavors of the Green bell pepper for this, but you could of course use a sweeter red or yellow, or even add some head with another pepper like an Anaheim!
Cheese - We love a sharp white cheddar like Tillamook's for this, but honestly any kind of cheese is delightful here!
Eggs -Or leave 'em out completely and just make a delicious Sausage Hash!
Cooked Sausage - Or leave this out for a Eggs n' Hash! This is one of our favorite ways to use up some leftover cooked sausage.
Plus a little Butter for your pan and of course Salt and Pepper to taste.
Easy to Make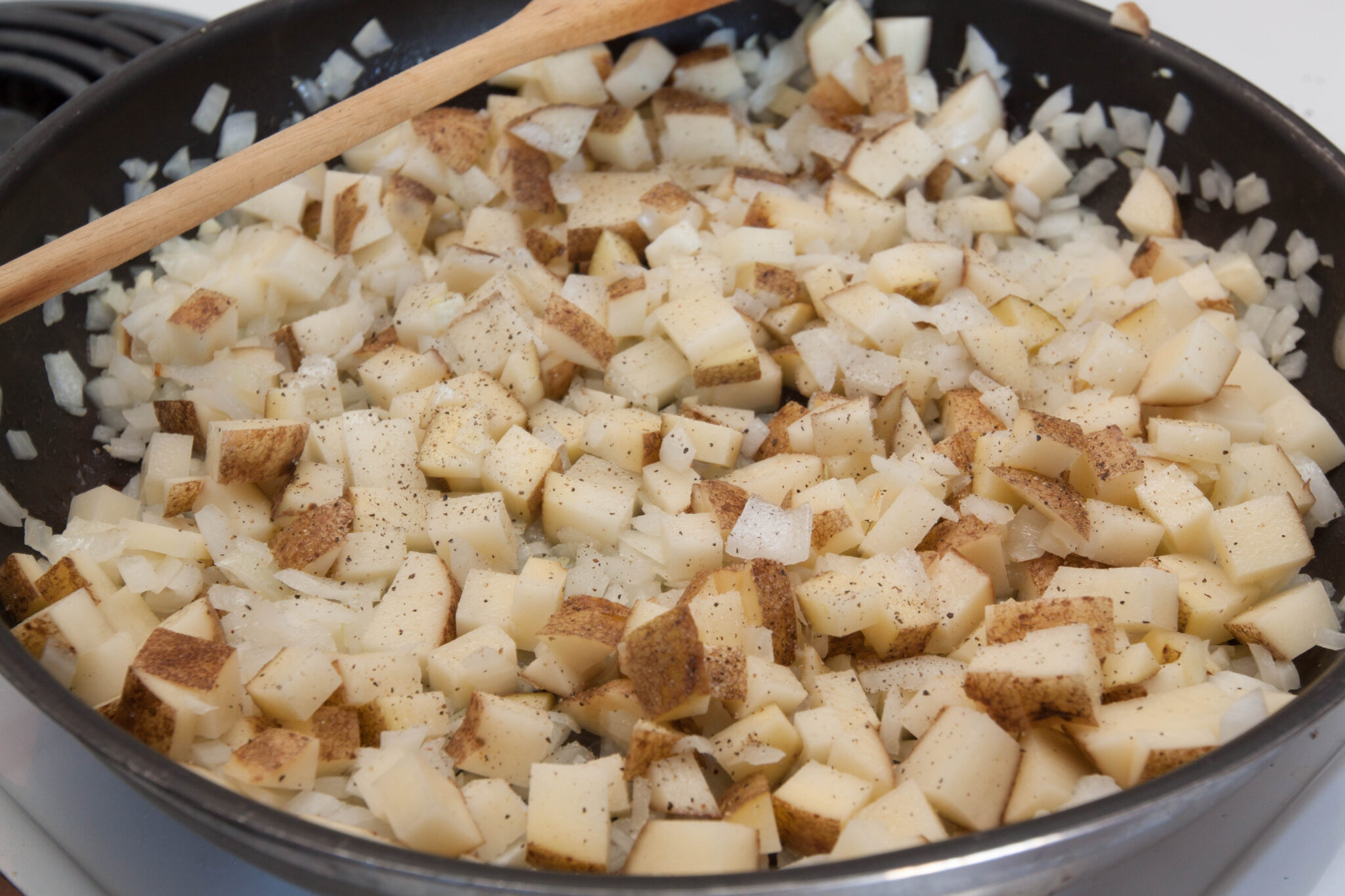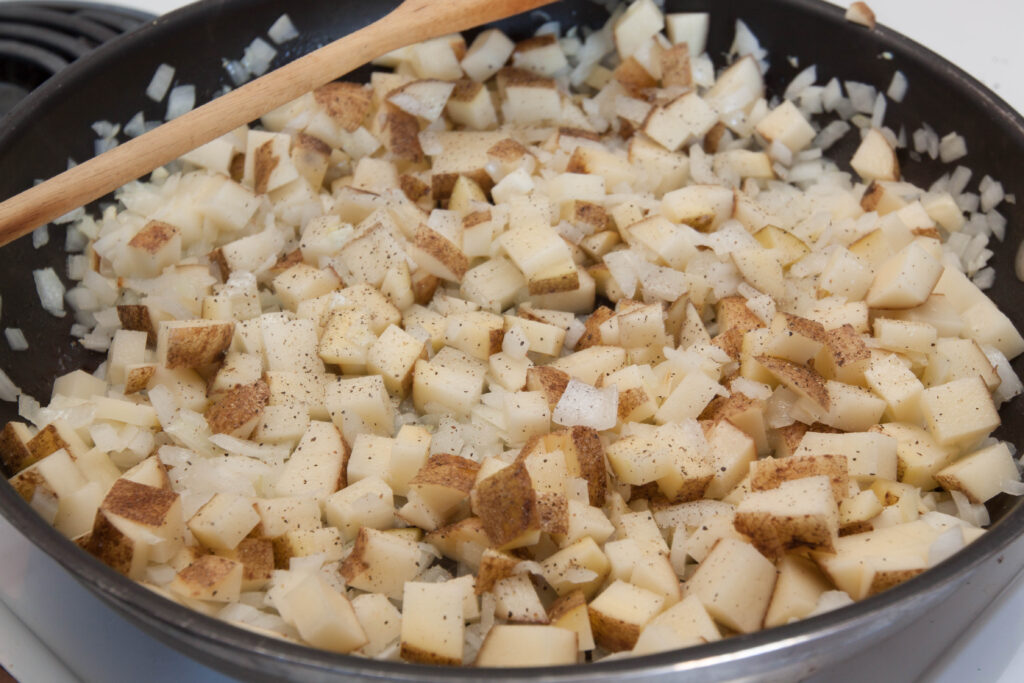 Step 1: Cook your potatoes with the garlic and onion in butter.
Be sure to dice up the potatoes nice and small and evenly sized for even cooking.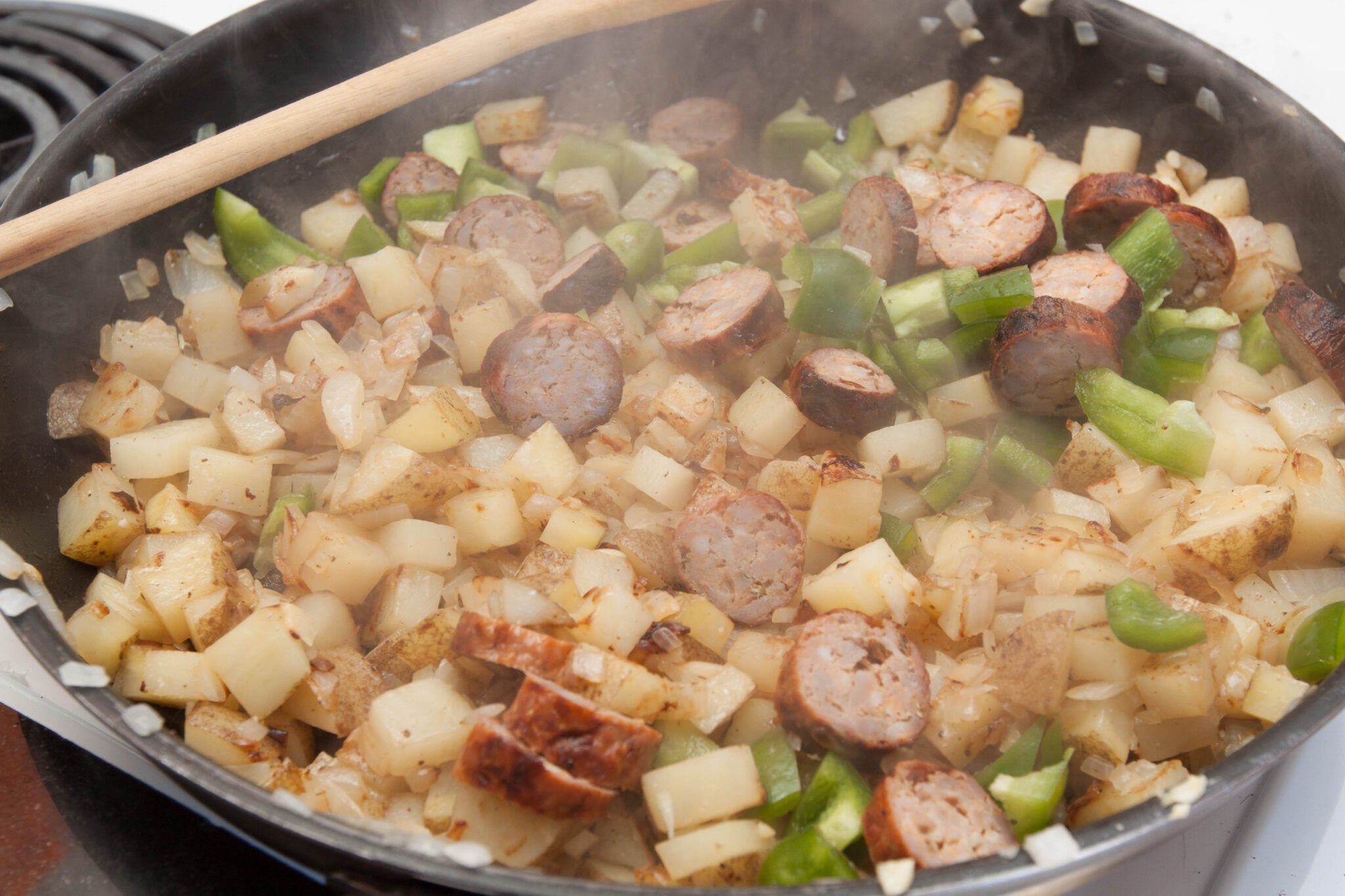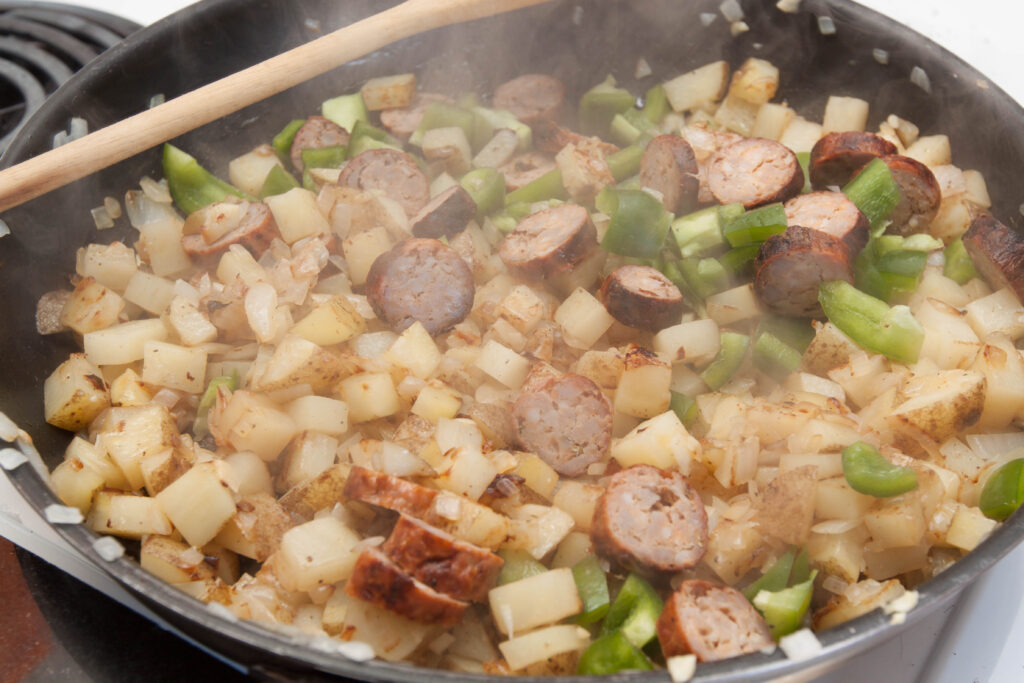 Step 2: Add the sausage and peppers.
Since the peppers will cook quickly (I like them to keep a little bit of crunch) and the sausage was already cooked, add them to the pan when the potatoes were just a few minutes away from being done.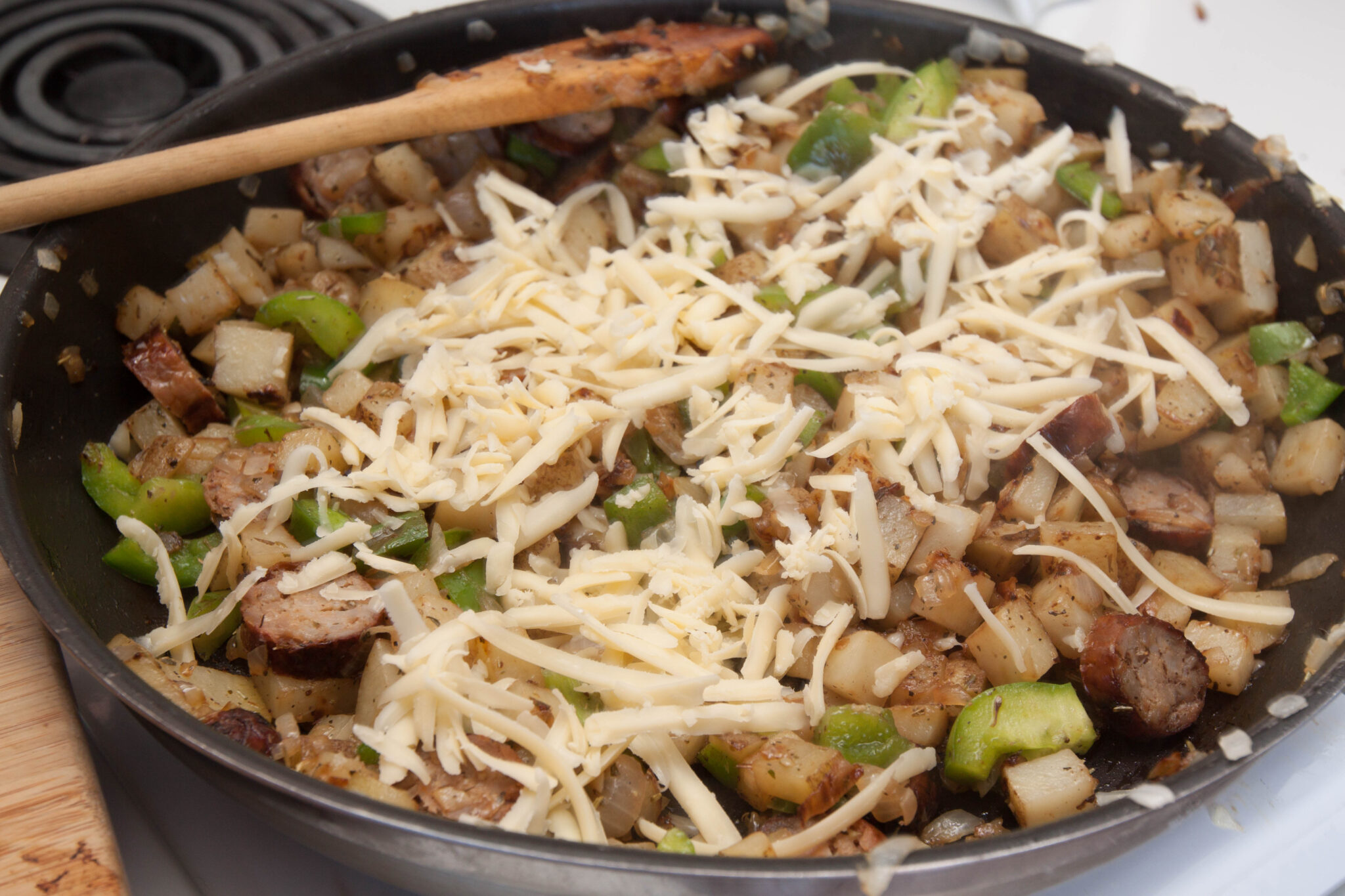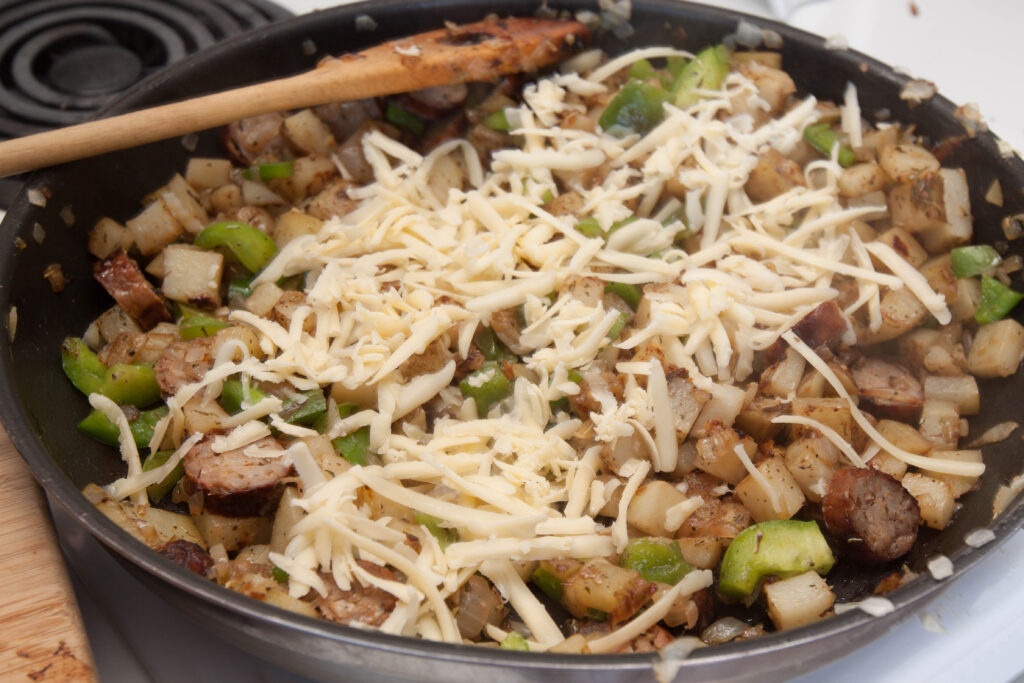 Step 3: Add your shredded cheese.
Add this to the pan once everything was cooked and then turn off the heat so the cheese can get all ooey and gooey delicious with the hash.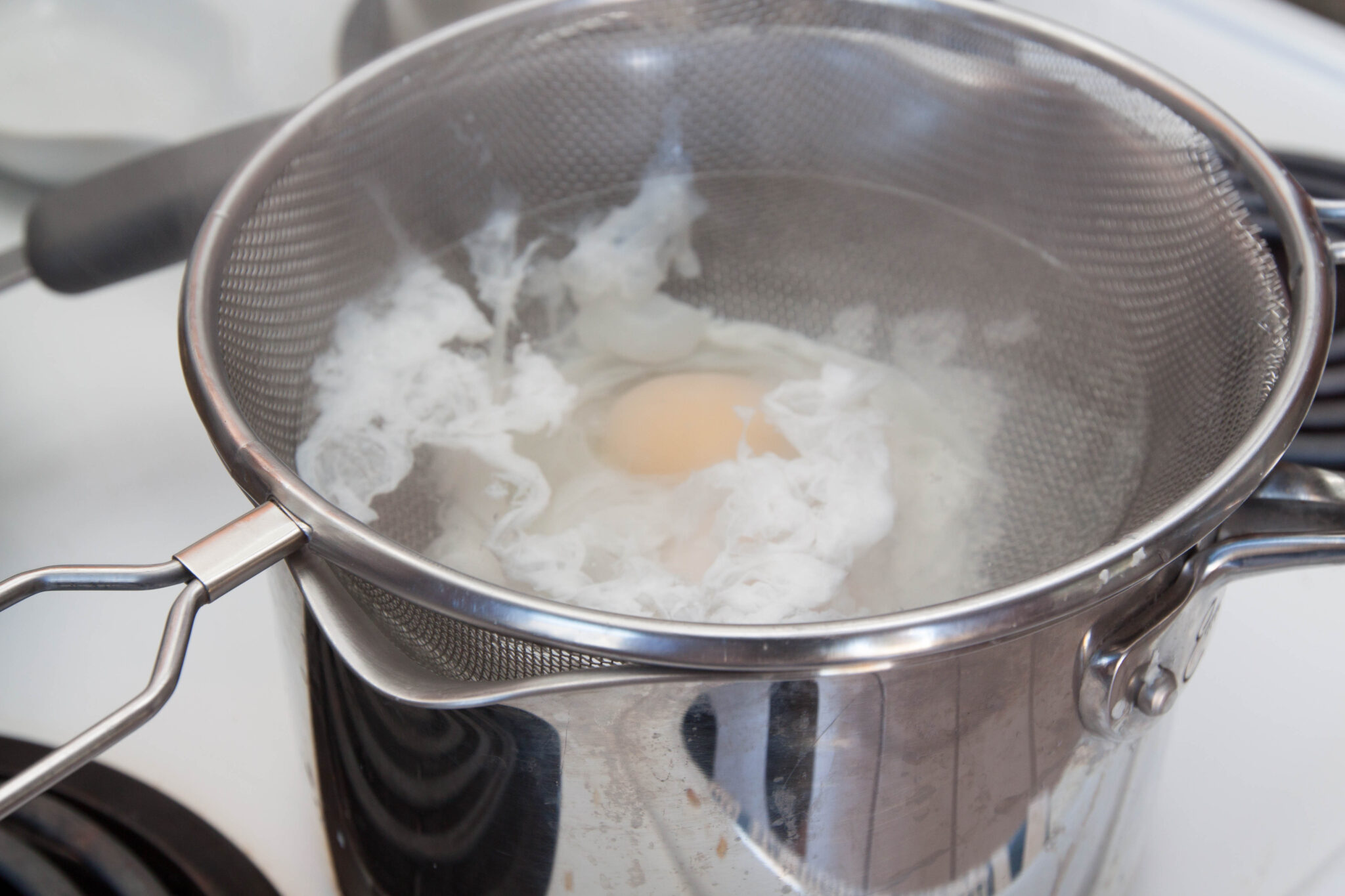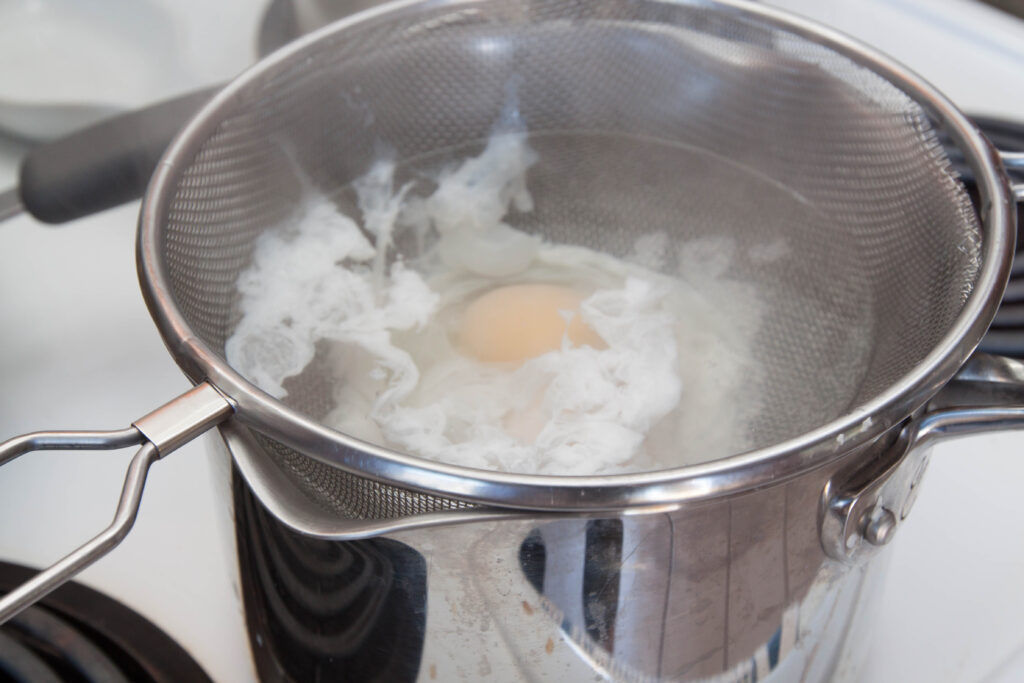 Step 4: Poach your eggs.
While that cheese melts on your hash, poach your eggs. You can use a sieve to help reduce those whispy whites that usually form when you just drop them into the boiling water.
Add the eggs to the sieve first over a bowl and give a little shake. Then add the sieve to the water and use a slotted spoon to help shape the egg whites a bit before turning the egg into the water from the sieve. Or you could also use the famous Thomas Keller poached egg method as well.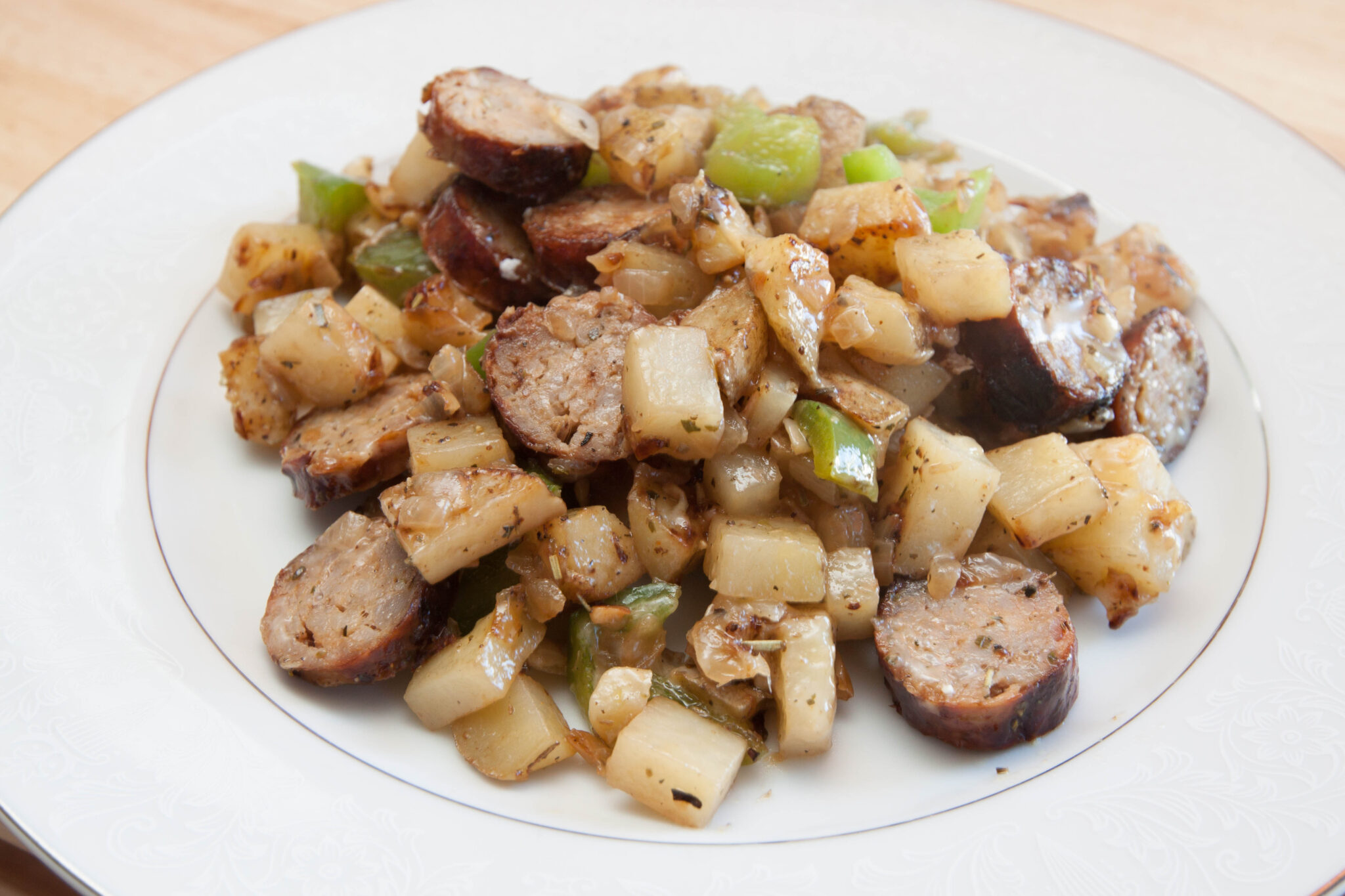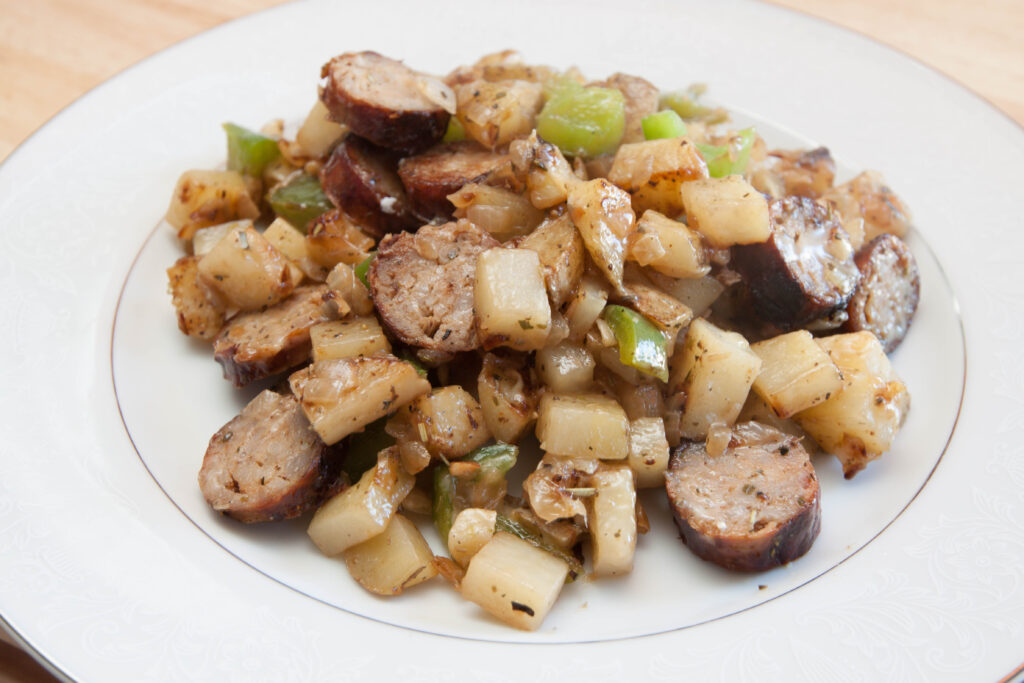 Now you're ready to plate! Add a nice big helping of those potatoes, peppers, and sausage to a plate.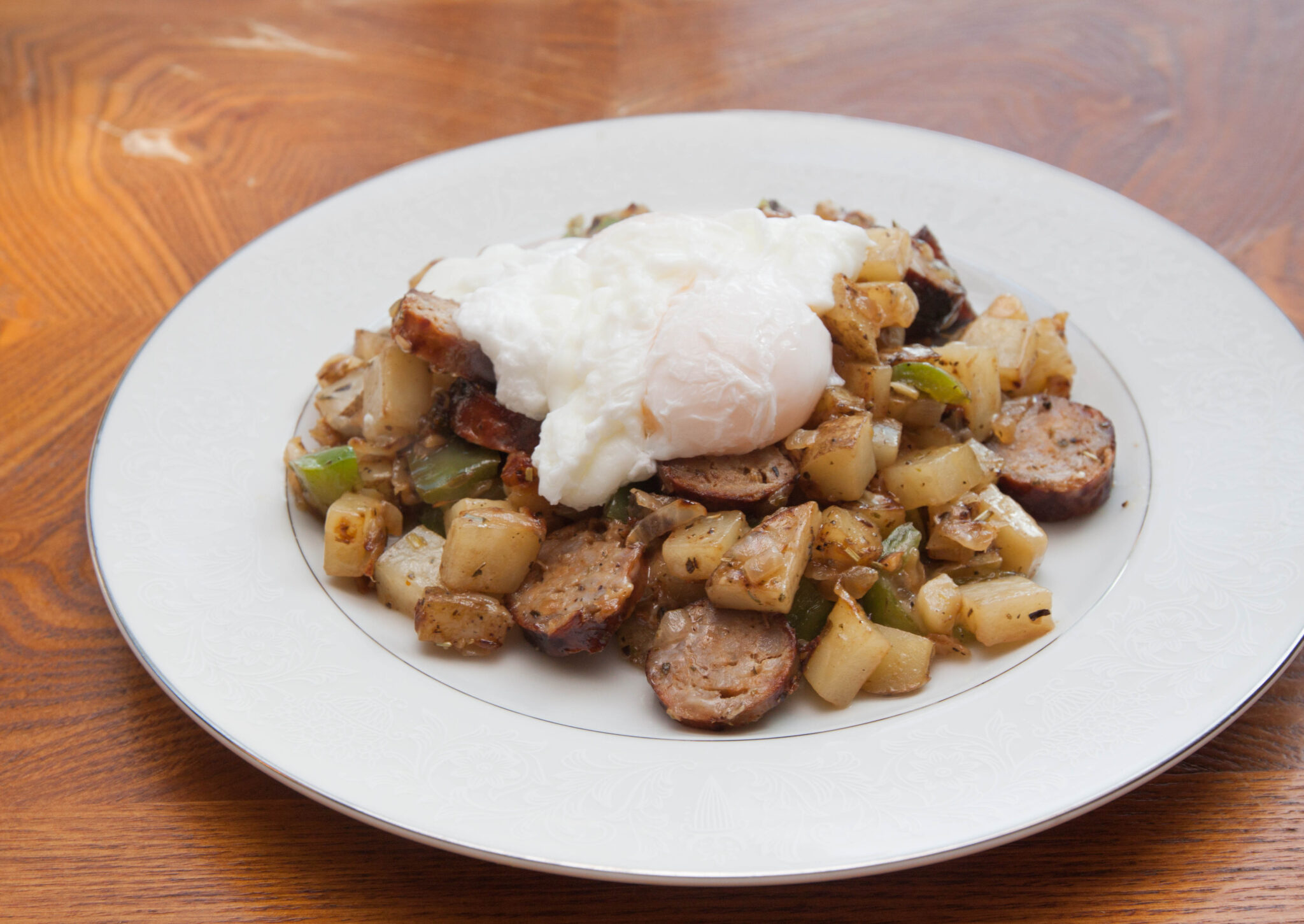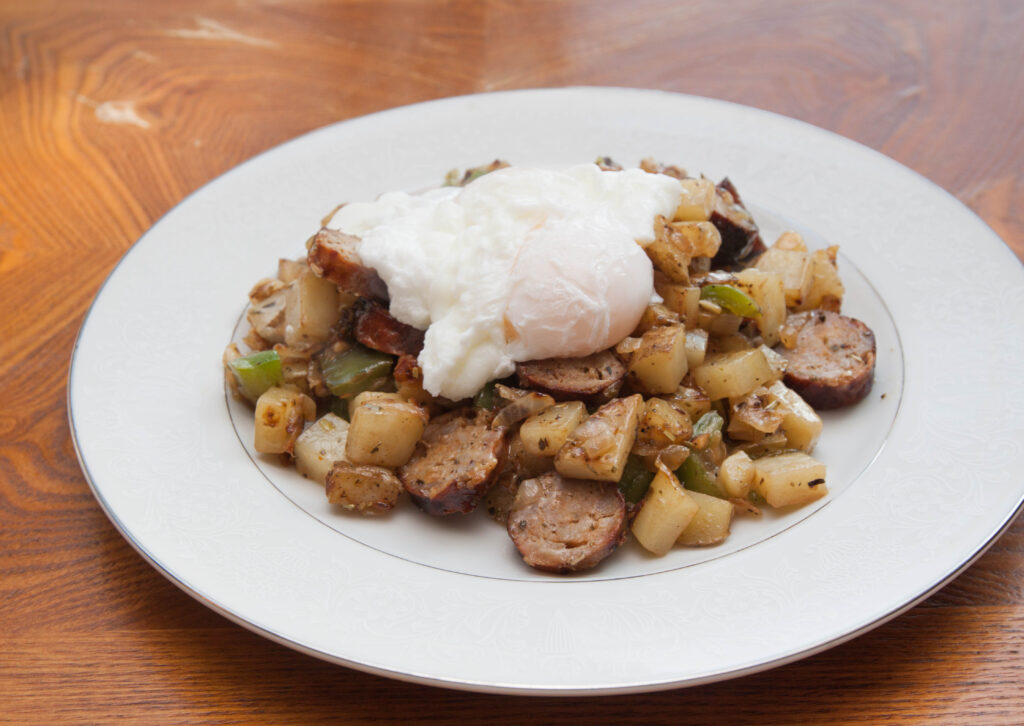 Then top with a poached egg! Admittedly, pretty poached eggs is not my strong suit.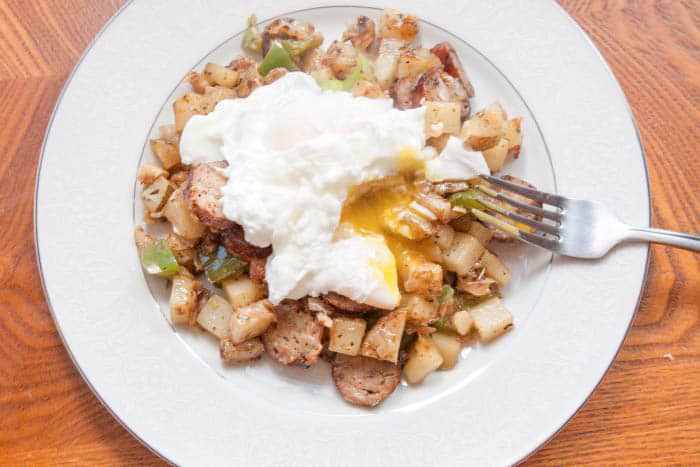 But what really matters anyway is that runny yolk!
We gobbled Sausage Hash n' Eggs this up before heading out for a bike ride to the tennis courts. The perfect weekend breakfast!
Enjoy! As always, if you make this recipe or any of my others, I love to hear what you think! Leave a comment below, email me, or you can find me on Facebook, Instagram, and Pinterest!
If you want to see more, be sure to sign up for my 5 Easy Ways to Start Cooking From Scratch!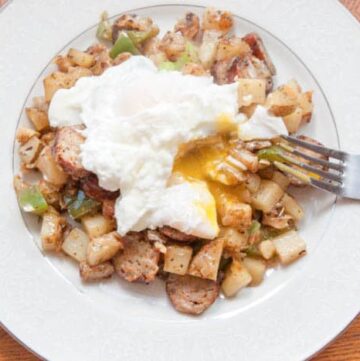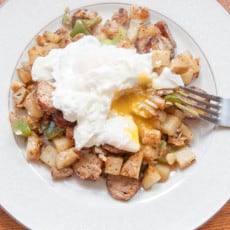 Ingredients
2 - 3

Russet potatoes

diced

2-4

eggs

1

green bell pepper

diced

1

white onion

minced

2

cloves

garlic

minced

1/3

cup

shredded cheese

2

cooked sausage links

sliced

1

tablespoon

butter

Salt and Pepper to taste
Instructions
In a large saute pan, heat butter on medium and add garlic and onion and cook for 2 - 3 minutes.

Stir and add potatoes and turn heat up to medium to high. Stir occasionally so the potatoes and onions don't burn, but not too much so the potatoes can get a nice crisp edge. Salt and pepper to taste.

When potatoes are almost done, add peppers and sausage and cook for another couple of minutes until sausage is heated and peppers are cooked but still a bit crunchy. Add more salt and pepper if needed.

Meanwhile, put water on to boil for poached eggs. Or cook eggs any other way preferred - sunny side up, fried, etc.

Add cheese to pan with potatoes and remove pan from heat.

One water has begun to boil, poach eggs by breaking eggs one at a time into sieve over a large bowl and give them a litte shake. Add sieve to the boiling water and use a slotted spoon to gently form whites around the egg and then turn sieve to drop egg into the water. Repeat with other eggs.

Mx hash with melted cheese, plate, top with eggs, and serve!
Nutrition
Calories:
689
kcal
|
Carbohydrates:
106
g
|
Protein:
25
g
|
Fat:
20
g
|
Saturated Fat:
9
g
|
Trans Fat:
1
g
|
Cholesterol:
208
mg
|
Sodium:
388
mg
|
Potassium:
2543
mg
|
Fiber:
9
g
|
Sugar:
7
g
|
Vitamin A:
781
IU
|
Vitamin C:
83
mg
|
Calcium:
216
mg
|
Iron:
6
mg