This Sausage Hash n' Eggs is a breakfast favorite in our house! Hearty and delicious, it's the perfect way to start your day!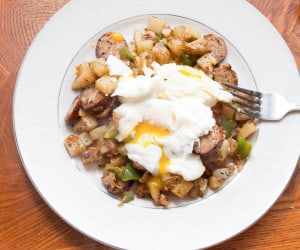 Among the many endearing qualities my studly husband has, his love for potatoes is one of them. This man loves potatoes. Like so much that when he was a young broke 20something working his way up the tech ladder, his diet consisted of potatoes. And garlic. Maybe a little meat here and there when he could afford it, but it was mostly just potatoes. He's fry them with garlic for breakfast, dice them and mix them with a can of corn for lunch, and then mash them (with more garlic) for dinner. He literally lived off of potatoes; and he didn't mind a minute of it (hey, it's better than Ramen, right?) One of the first breakfasts he made me was a version of this very dish, and if he had it his way, he'd happily eat this for breakfast everyday.
Now, it's one of our go-to weekend breakfasts. This particular morning, we had some Italian sausage we'd cooked up the night before (left over from Dan's birthday party weekend) and some extra sharp white cheddar Tillamook cheese that my MIL had brought back to me as a gift from her visit to the Tillamook factory with Dan. Sooo delicious.
So I diced up the potatoes nice and small with some onion and garlic and let those cook together on high with some butter and a sprinkle of salt and pepper. This will cook them nice and fast and make them nice and crispy.
Then, I diced up some pepper and the rest of the sausage.
Since the peppers will cook quickly (I like them to keep a little bit of crunch) and the sausage was already cooked, I added them to the pan when the potatoes were just a few minutes away from being done.
While they cooked away, I shredded up some of the delicious white cheddar,
and then added it to the pan once everything was cooked and turned off the heat so the cheese could get all ooey and gooey delicious with the hash.
The final touch- some poached eggs. Admittedly, I'm a terrible egg poacher. I've tried sooo many different ways to get that beautifully round shape, but it never happens. So then Bon Appetit told me this awesome trick with using a sieve! ...but I still messed those eggs up too.
But while I made yet another attempt at pretty little eggies, I plated up the deliciously cheesy hash.
And topped it with my eggs. My not so pretty eggs.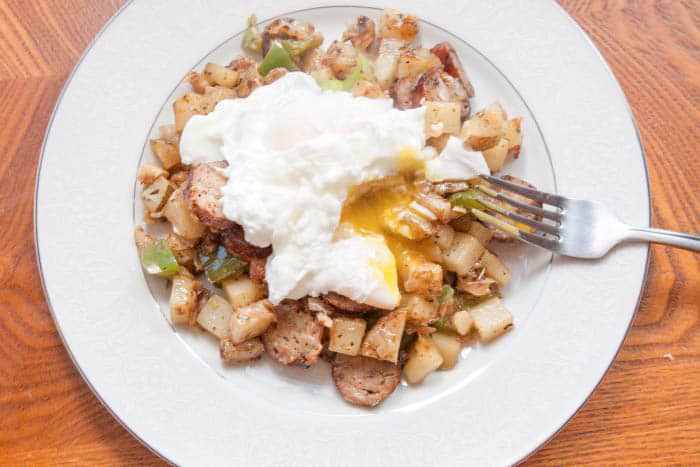 But, ugly as they were, they were still super tasty!
We gobbled Sausage Hash n' Eggs this up before heading out for a bike ride to the tennis courts. The perfect weekend breakfast!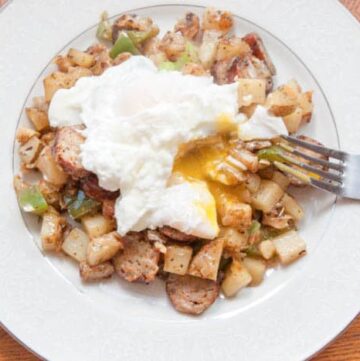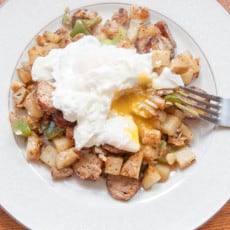 Ingredients
2 - 3

Russet potatoes

diced

2

eggs

1

green bell pepper

diced

1

white onion

minced

2

cloves

of garlic

minced

1/3

cup

of shredded cheese

2

cooked sausage links

sliced

1

tablespoon

of butter

Salt and Pepper to taste
Instructions
In a large saute pan, heat butter on medium and add garlic and onion and cook for 2 - 3 minutes.

Stir and add potatoes and turn heat up to medium to high. Stir occasionally so the potatoes and onions don't burn, but not too much so the potatoes can get a nice crisp edge. Salt and pepper to taste.

When potatoes are almost done, add peppers and sausage and cook for another couple of minutes until sausage is heated and peppers are cooked but still a bit crunchy. Add more salt and pepper if needed.

Put water on to boil with a splash of white vinegar for poached eggs. Or cook eggs any other way preferred - sunny side up, fried, etc.

Add cheese and remove pan from heat.

Poach eggs (or cook however you please), then mix hash with melted cheese, plate, top with eggs, and serve! This will make 2 large plates of hash.