Fresh Ricotta and Spinach Stuffed Chicken is a dinner that will taste like you slaved in the kitchen all day but is easy enough for a weeknight.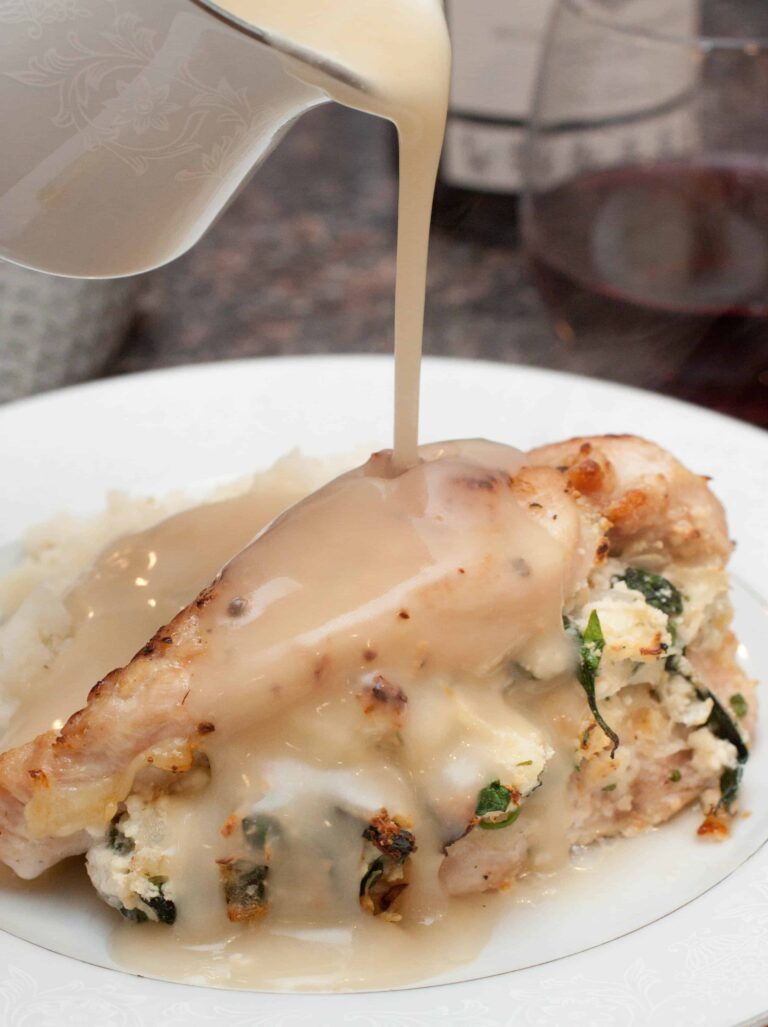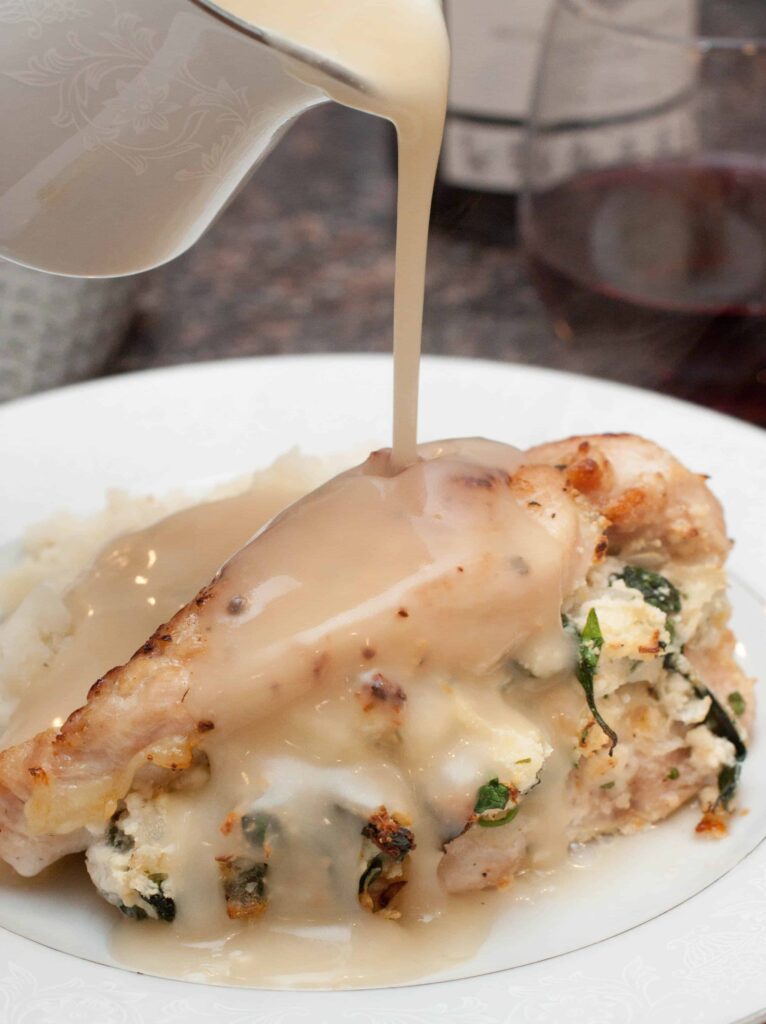 Fresh Ricotta and Spinach Stuffed Chicken. It just sounds like it took a lot of time, doesn't it? Bah. It's way easier that you'd think and it tastes like you slaved away for it.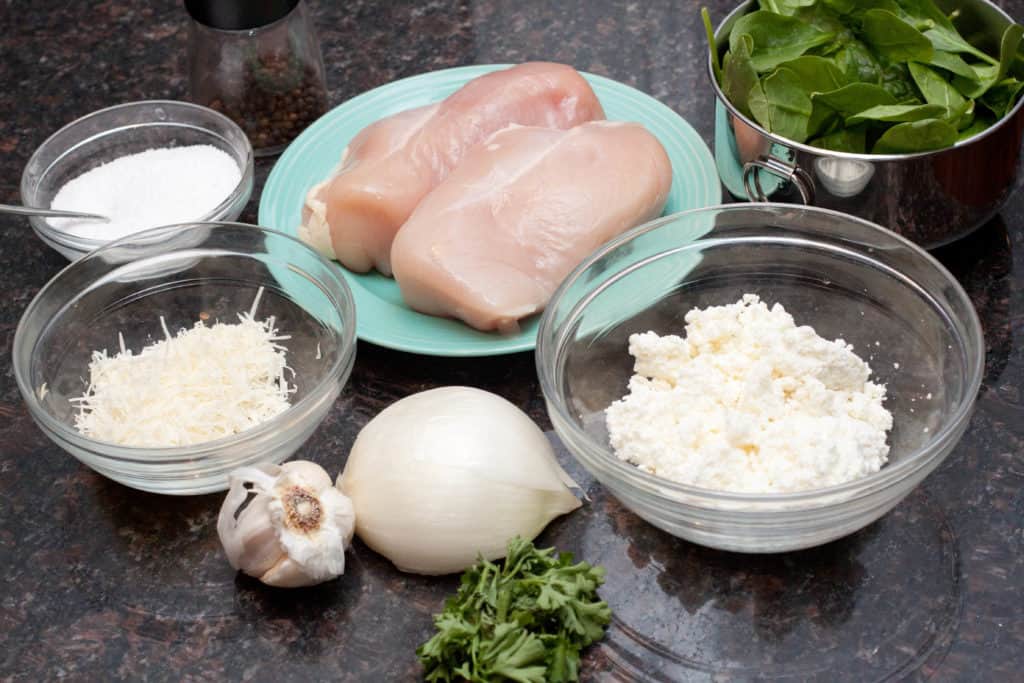 One of the best things about making your own fresh ricotta cheese from scratch, is that only 1 gallon of milk makes enough cheese to make sooo much deliciousness. Like Fresh Ricotta Ravioli. Or a Ricotta Tomato Pie, Lemon Ricotta Cookies, or even Ricotta Pancakes! Now, you can add this Fresh Ricotta and Spinach Stuffed Chicken to that list. This recipe is a throw back for me to when I first started cooking in my early 20's. Prior to that, I burned rice because I tried to cook it in a microwave... cue the Asian who couldn't cook rice jokes. It's ok, they're well deserved.
Even better, this recipe's gotten an upgrade with some fresh, from scratch ricotta cheese!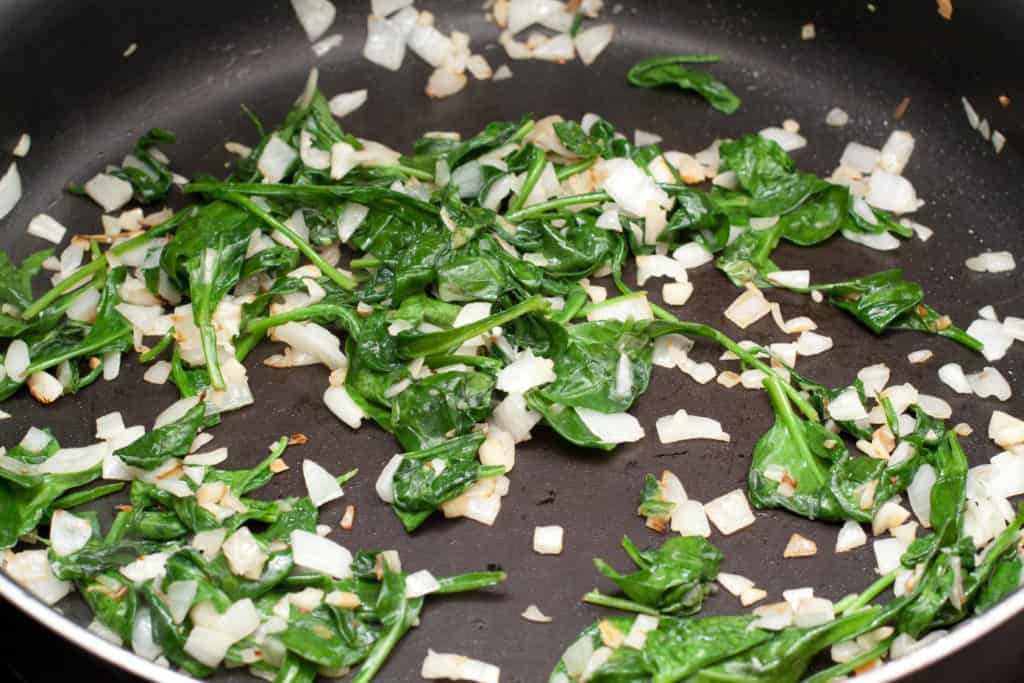 And honestly, I also think this recipe has gotten easier. It's just a quick saute of the garlic, onion, and spinach,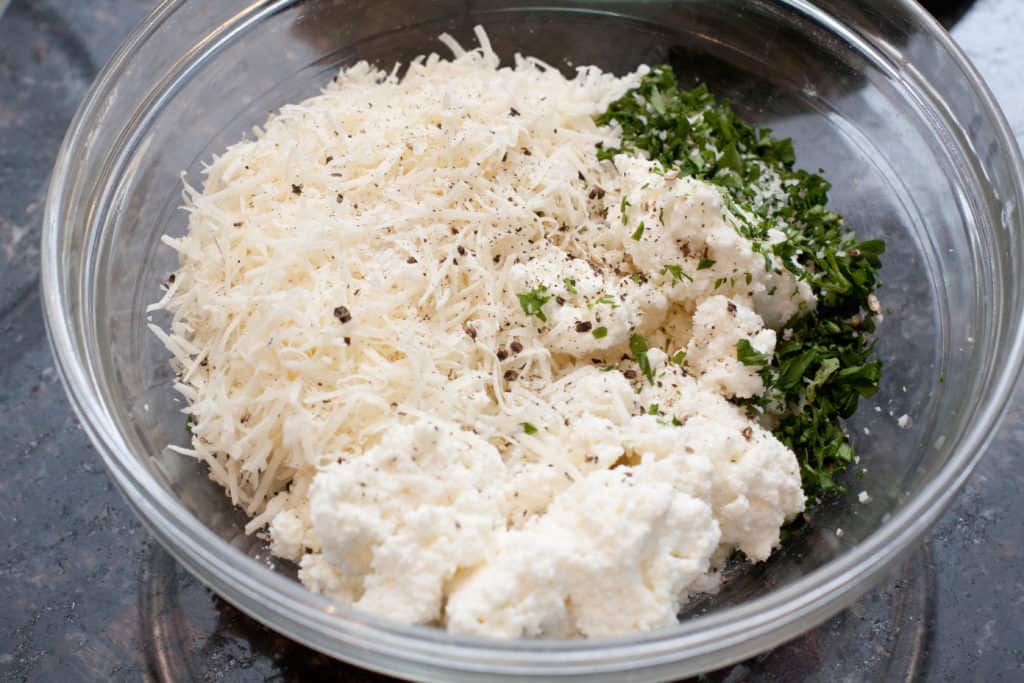 and a mix of fresh ricotta cheese, fresh grated Parmesan cheese, fresh parsley, and salt and pepper.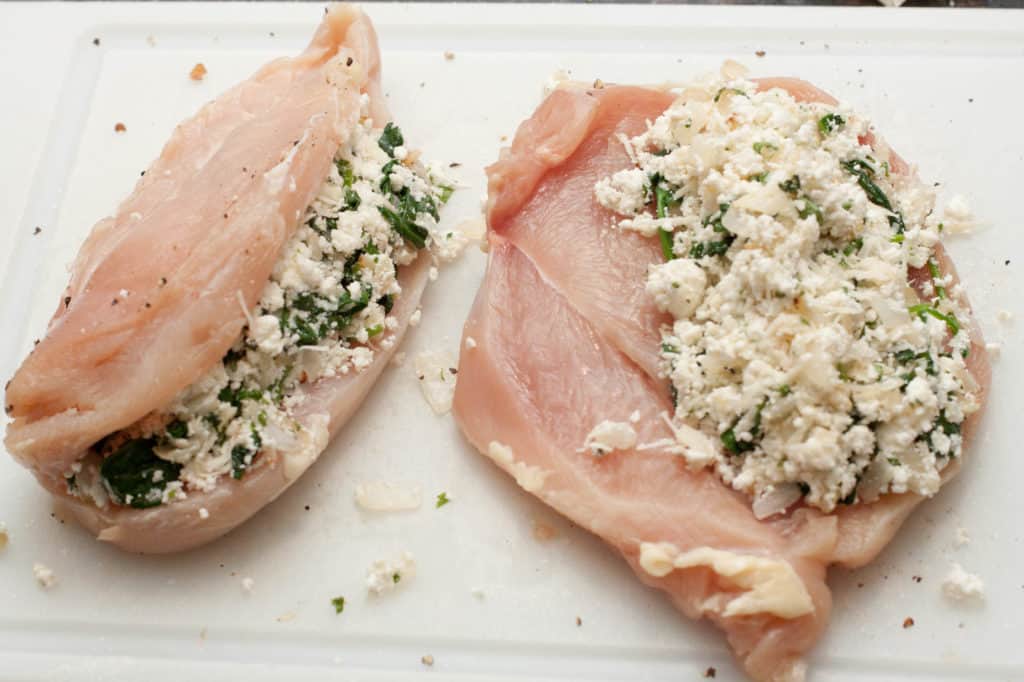 Then, once the spinach is cool, it's mixed in with the cheese and then stuffed into a couple of butterflied, seasoned chicken breasts.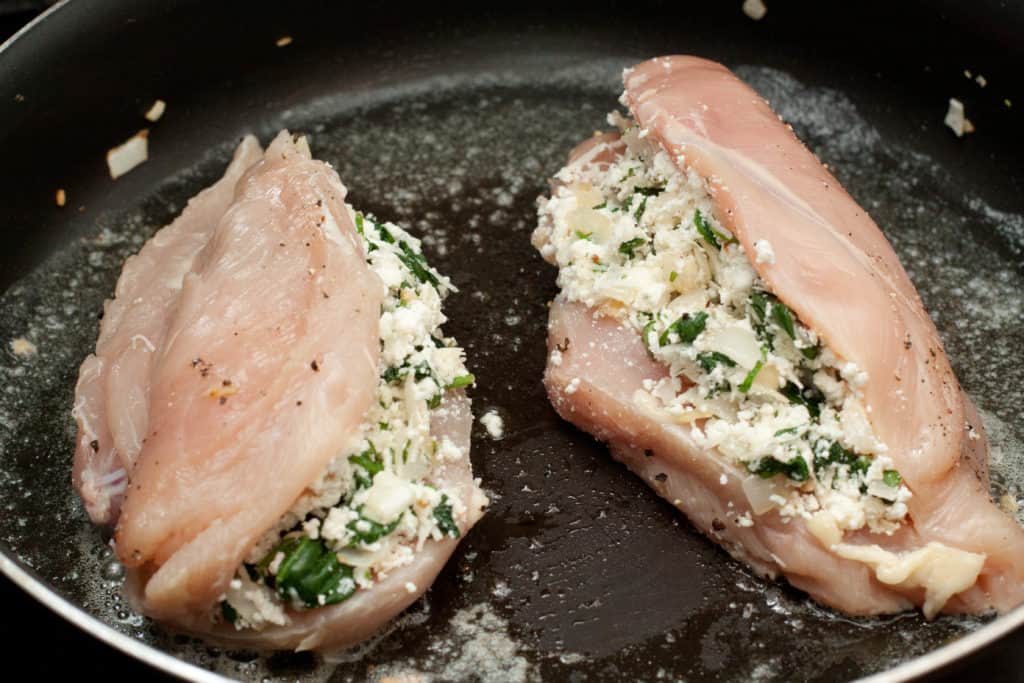 This recipe calls for a lot of filling because when I say Fresh Ricotta and Spinach Stuffed Chicken, the emphasis is on stuffed. You need some good sized chicken breasts for this to be able to handle all that stuffed goodness. Once they're stuffed, they get a quick sear in some butter before they're finished in the oven.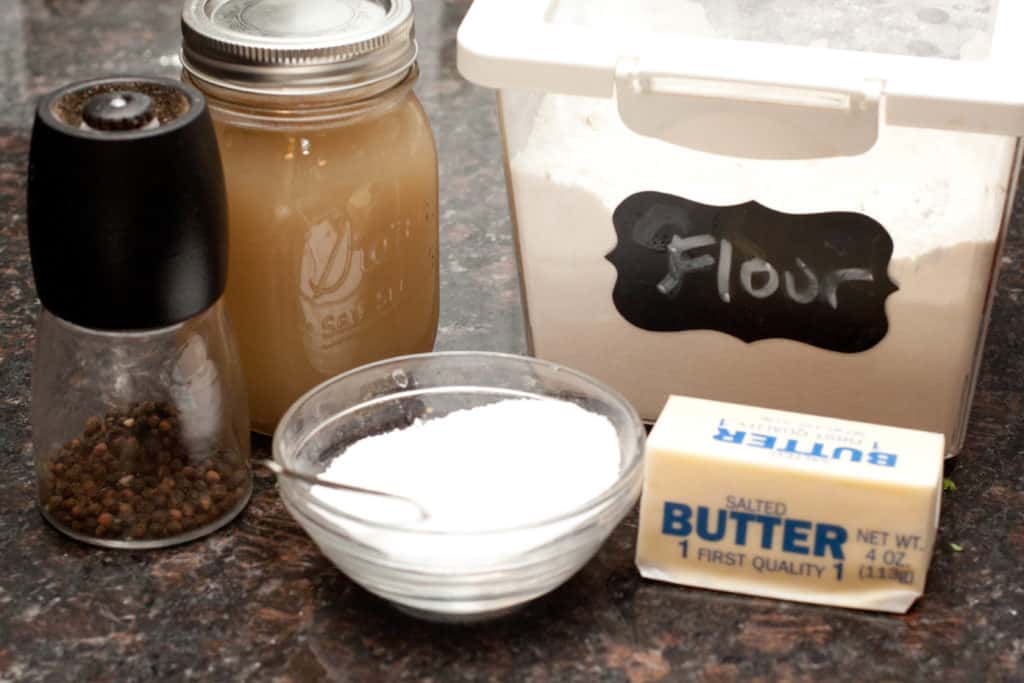 While the chicken finishes in the oven, then it's just a few additional easy ingredients to whip up a gravy from scratch. Which truly, if you have some chicken stock (or turkey or beef) from scratch, homemade gravy is incredibly easy. Just make a roux, slowly add your stock, whisk, and cook until thick and you're golden. It's just as easy as opening one of those gravy packet things, but without all the added junk.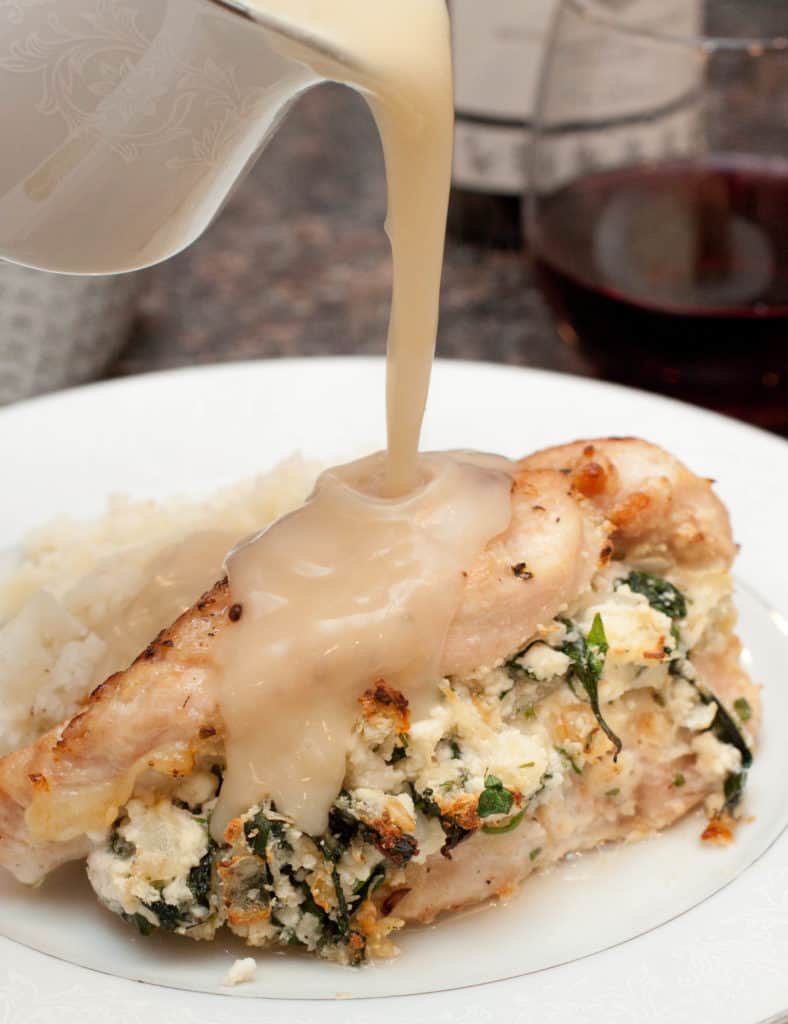 Then, when the beautiful Fresh Ricotta and Spinach Stuffed Chicken is done, you have an amazing gravy to tie it all together! Make some simple mashed potatoes or even some easy stuffing with our Copycat Boxed Stuffing Mix! Dinner.Fresh ricotta cheese. Fresh spinach. Stuffed into a juicy chicken breast and smothered in a homemade gravy. Surprisingly easy. Not surprisingly delicious.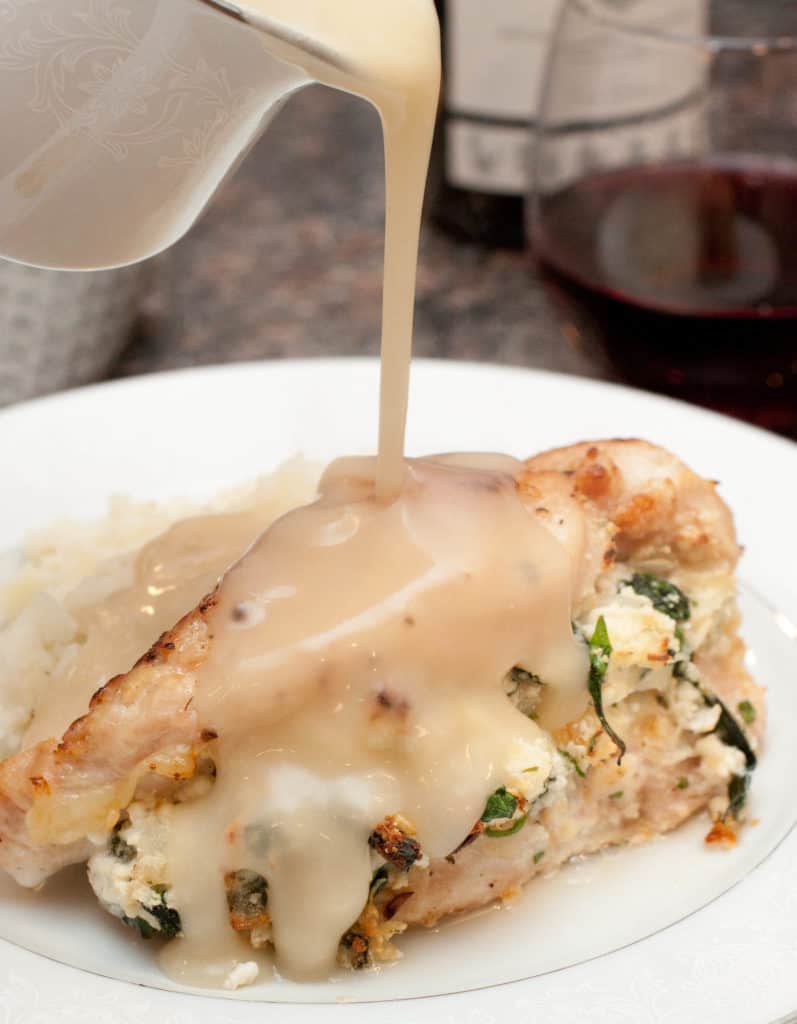 So grab a friend or loved one, open a bottle of wine, and enjoy this dinner, conversations, and laughs and create your own happy memories around this dish! 🙂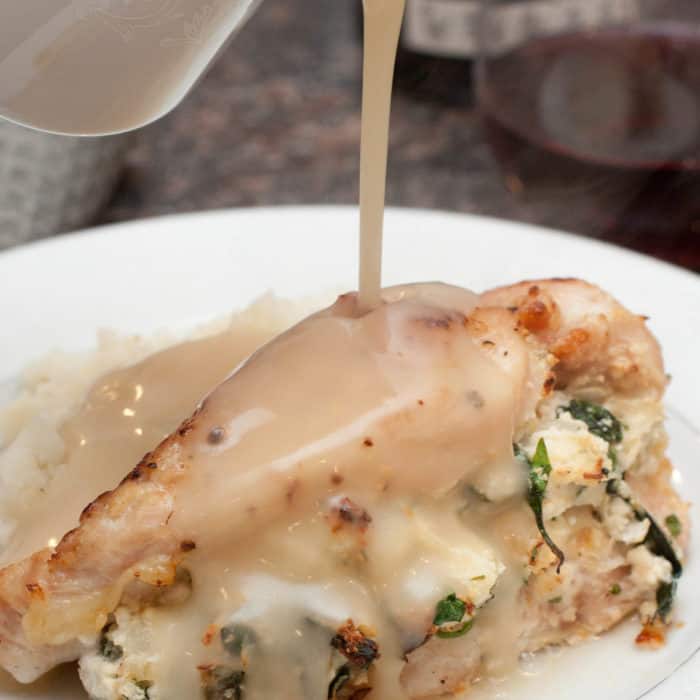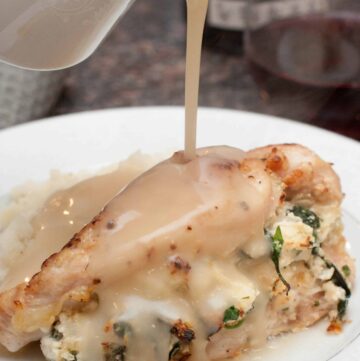 Fresh Ricotta and Spinach Stuffed Chicken
Fresh Ricotta and Spinach Stuffed Chicken is a dinner that will taste like you slaved in the kitchen all day but is easy enough for a weeknight.
Print
Pin
Rate
Ingredients
Stuffed Chicken:
2

large chicken breasts

butterflied

3/4

cup

ricotta cheese

1/3 - 1/2

cup

of fresh grated Parmesan cheese

1

tablespoon

fresh parsley

minced

2

cups

of packed fresh baby spinach

1/2

tablespoon

olive oil

3

cloves

of garlic

minced

1/2

white onion

minced

1/2

teaspoon

kosher salt + more for seasoning

1/2

teaspoon

fresh ground pepper + more for seasoning

1

tablespoon

salted butter
Gravy:
2

cups

chicken stock

slightly warmed or at least room temp

2

tablespoons

salted butter

1/8

cup

all purpose flour

Pinch

of salt
Instructions
Pre-heat oven to 350 degrees.

Heat a large saute pan over medium heat and add olive oil. Add onion and saute for a 3-4 minutes and then add garlic and saute for another minute until garlic is fragrant and onions are translucent.

Add spinach and cook until spinach is wilted, stirring frequently. Approximately another 2 minutes. Remove from pan and set aside to cool.

Add ricotta cheese, Parmesan cheese, parsley, salt and pepper to a medium sized bowl. When spinach is cool, add to bowl and mix well.

Lay butterflied chickens out on surface and season each side with salt and pepper. Fill each half with cheese mixture. Gently fold other half of the chicken breast over the cheese mixture and gently press to close.

Melt butter on low medium in the same saute pan used for spinach.

Turn heat up to medium high and with tongs holding the chicken breasts together so the stuffing doesn't spill out, gently lift the stuffed chicken and place into hot pan. Sear on one side for 3 minutes, then gently flip with tongs to sear the other side.

Once seared, place pan into the oven and finish cooking for 35-40 minutes.

While chicken finishes, in a medium sauce pan over medium low heat, add butter and flour for gravy. Whisk constantly to form a roux. Slowly add the stock will continuously whisking.

Once all of the stock is added, add salt and continue cooking to reduce to desired thickness.

When chicken is finished cooking, remove from oven, plate and serve with hot gravy.

Serve with your favorite mashed potatoes.