Have some sourdough starter you need to use but don't want to make bread? These Sourdough Sesame Rye Crackers make the perfect salty, crunchy, vegan friendly snack!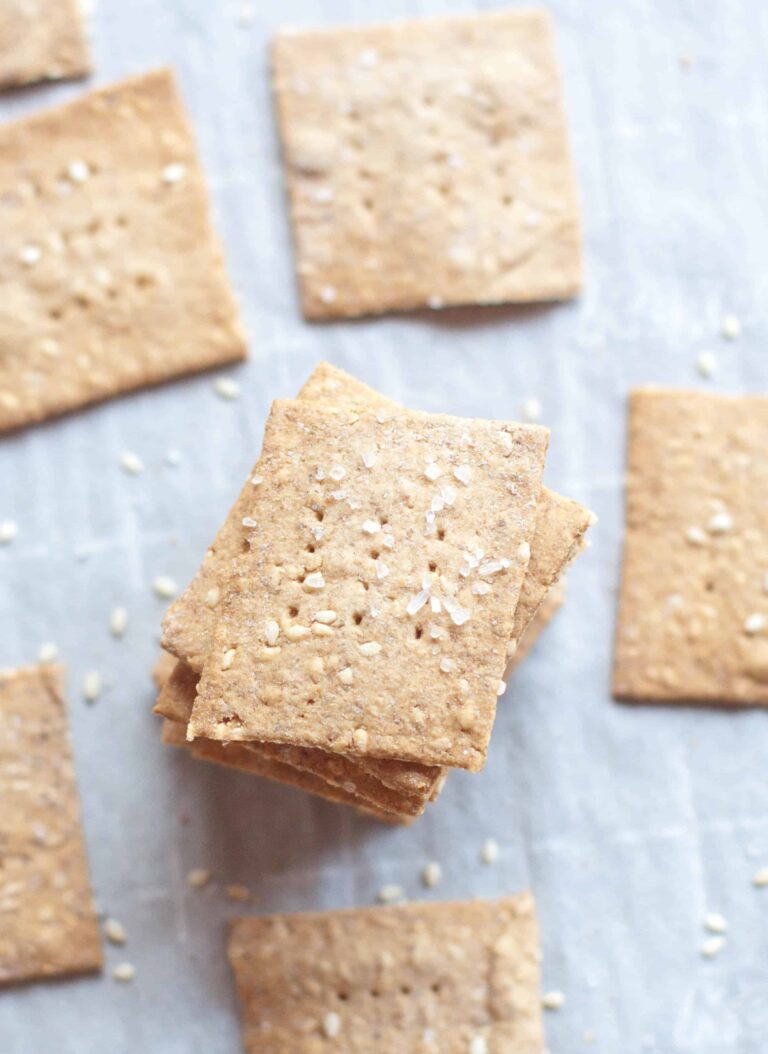 Sweet tooth? Meh... rarely. But salt tooth? Oh yeah. Is there such a thing as a crispy, crunchy, salt tooth? If there is, I have a few of those molars. I love all things with a salty crunch. Whether it's homemade crackers like these Sourdough Sesame Rye Crackers from scratch or even a perfectly dehydrated Kale Chip from scratch, I'll always choose that salty crunch over something sweet.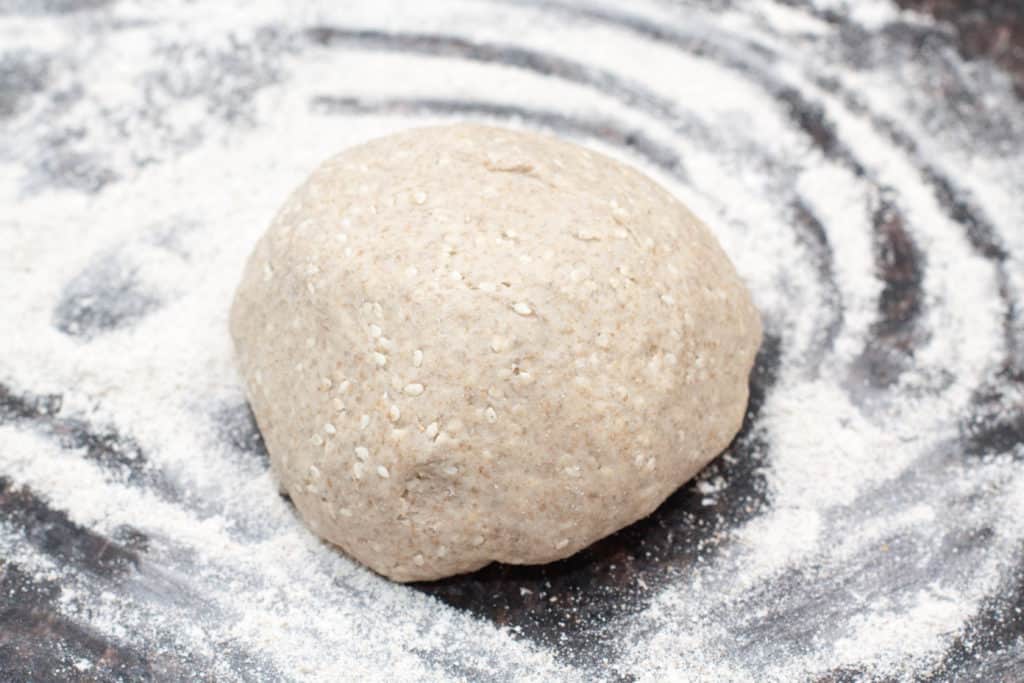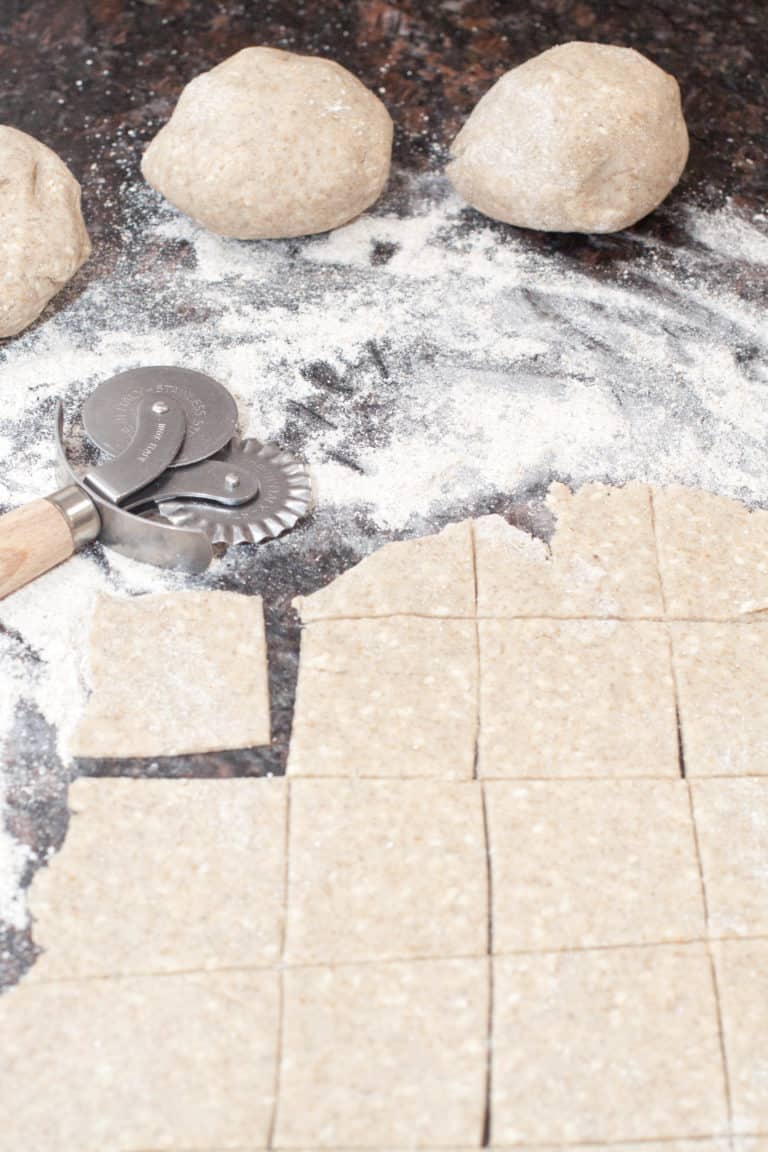 Guys. These crackers. Oh my god these crackers. We've made lots of crackers in this house: Wheat Thins, Ritz, Saltines, Graham Crackers, even Cheez-Its! And I've loved them all. But these, these little salty sesame seeded crisps of heaven are definitely my new favorite.The dough is super easy to make and use, too. Which if you've been following the blog at all in the past few months, you know that 'easy' is required word in our house these days. But, but oh oh oh oh... soon? Soon, soon I'm going to have more time to get back into my fresh pasta, gnocchi from scratch, homemade feta cheese making! Why? Because my ridiculous commute that I've been complaining about for the past 6 months has finally come to an end! My office was moved back to it's original location, next to M's daycare. Happy happy happy daannncceee. That means... ready? It means I get back an hour and a half. 90 minutes. 5,400 seconds every Monday - Friday that was previously spent in traffic. Not only that but because I'm next to M's daycare, I grab that little nugget around 4:30 pm and bring her to my office to hang out with me while I tie up loose ends from my day. >dance, dance<Ok, now back to these crackers. Also worthy of a happy dance. By the way, have you gotten one of these double-blade dough cutter? For only $8, it's one of the best kitchen tool investments out there. From ravioli to saltines, it's the best!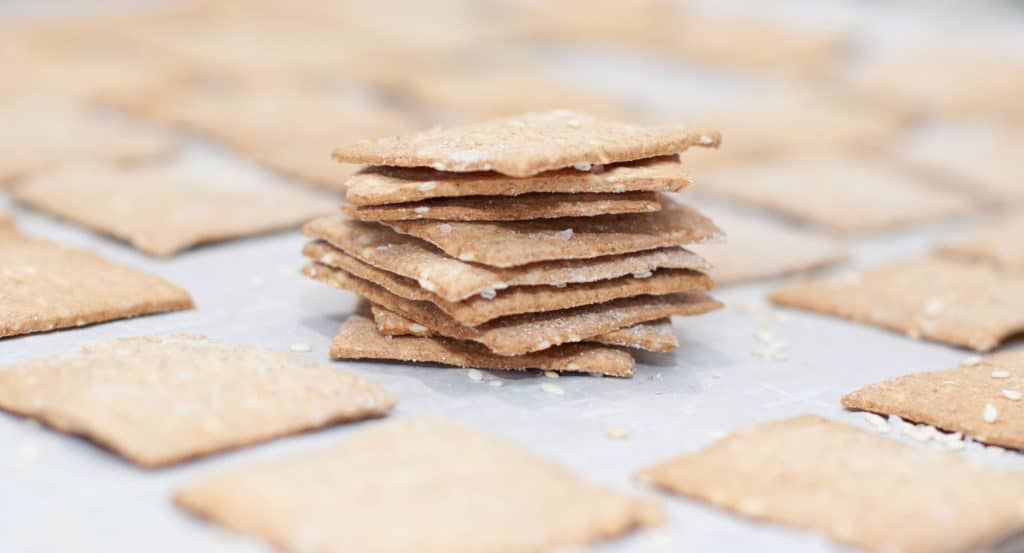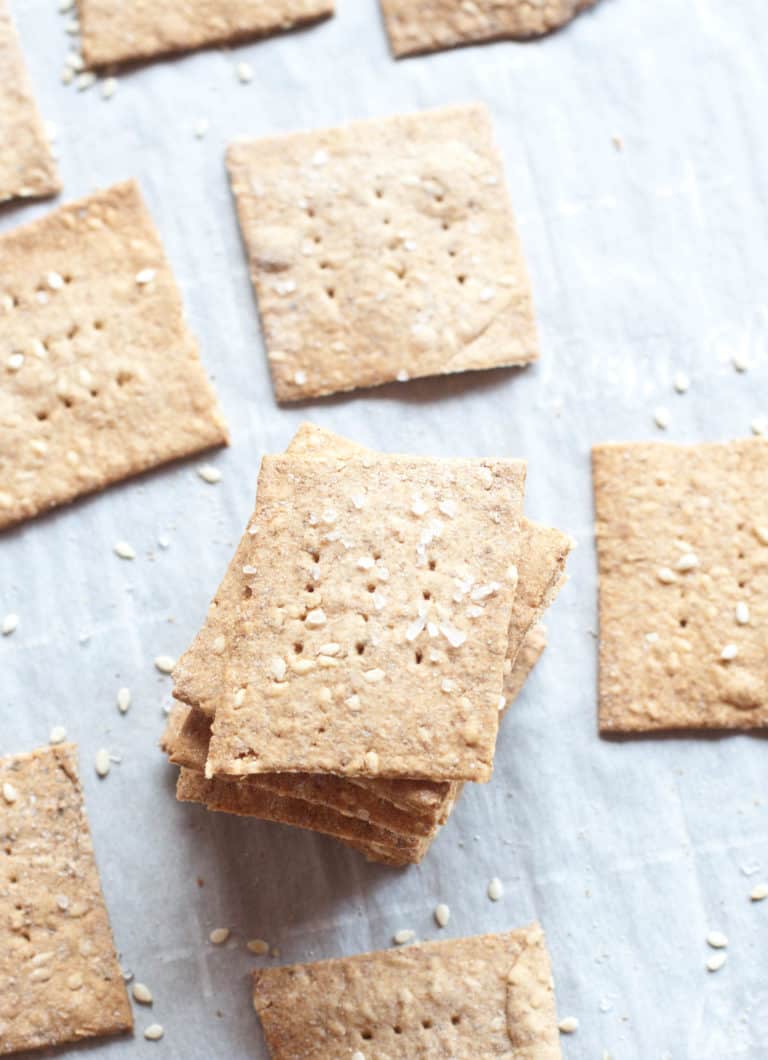 Once they're rolled out, pricked, then they're ready to be baked to perfection. Seriously. Can't you just see the crispiness? Oh, trust me, it's there. Oh, and with a lovely touch of sourdough!I love these crackers. SO much. Give them a try, I'm sure you will too!
Don't believe me? Keep an eye out on my Instagram for a video for the crispy snap of these beauties! While you're at it, don't forget to follow me on Facebook and Pinterest, too!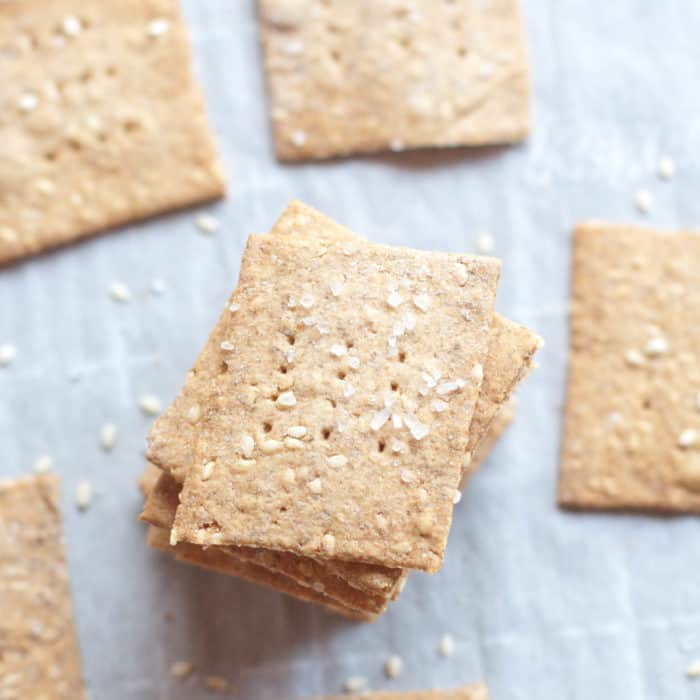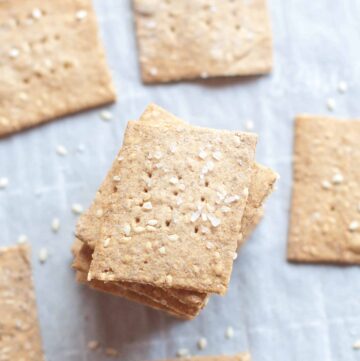 Sourdough Sesame Rye Crackers
Have some extra sourdough starter? These Sourdough Sesame Rye Crackers make the perfect salty, crunchy, wheat-free, vegan friendly snack!
Print
Pin
Rate
Ingredients
1

cup

sourdough starter

1

cup

rye flour

1/4

teaspoon

kosher salt

1/3

cup

sesame seeds

2

tablespoons

coconut oil

1

tablespoon

pure maple syrup

1/2 - 1

tablespoon

coarse sea salt
Instructions
Pre-heat oven to 300 degrees and line baking sheets with parchment paper.

In a medium bowl combine rye flour, kosher salt, and sesame seeds. Add the starter, coconut oil, and maple syrup and mix until a firm dough comes together.

On a floured surface, knead dough until all ingredients are incorporated. The dough should be a little tacky and most importantly roll easily. Add a little bit of extra flour or water to dough if needed.

Divide dough into 4 small equal balls. Roll balls out on a floured surface into a large rectangle (or as close as you can get) 1/8 in thin (or thinner). Lift the dough often and add a little flour to the surface so the dough doesn't stick.

With a dough cutter, cut out 1-2" squares and prick with a fork. Gently place squares on parchment paper very close to one another. Sprinkle with sea salt.

Bake for 20-30 minutes, dependent upon how thick they are. Check after 20 minutes to make sure they're not burning.

Cool completely and then store in an airtight container.