It's our new favorite homemade cracker recipe! So thin, crispy, and all the flavor of your favorite bagel, these Everything Bagel Rye Crackers are a crispy, healthy snack the whole family will love.
Next, make our Saltines From Scratch or our Healthy Homemade Wheat Thins!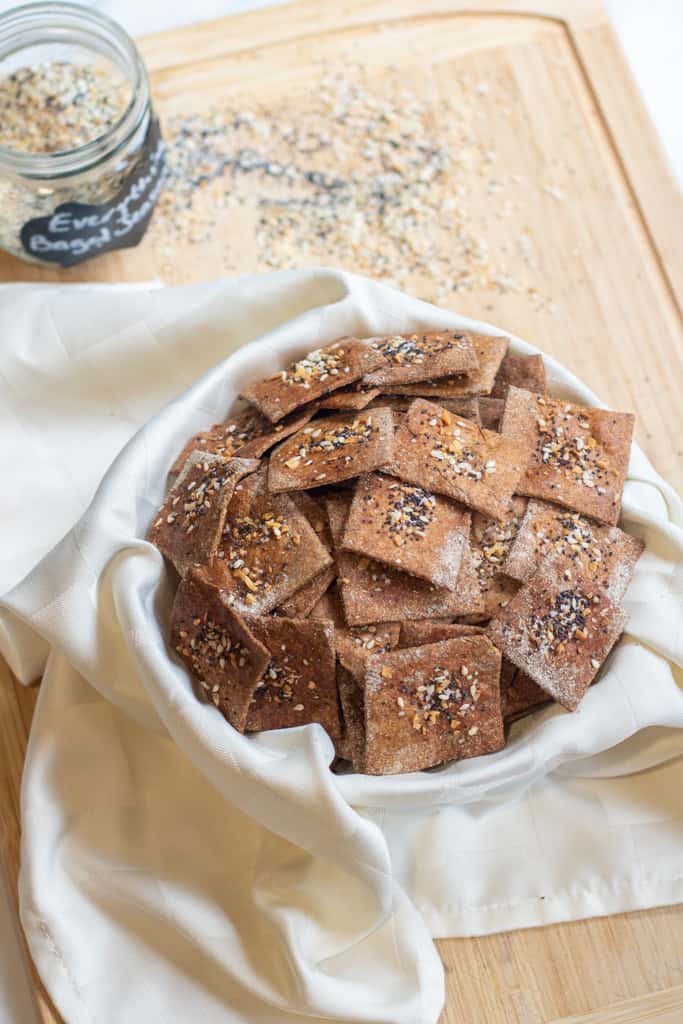 Crispy snacks are entirely their own food group here in our house. The crispier and the saltier the better. But then add a little bit of kicked-up flavor with everything bagel seasoning? Well, then you have our latest favorite crispy, salty snack, our new Everything Bagel Rye Crackers!
These rye and wheat crackers are super thin, crispy, and are low in fat but high in fiber, antioxidants, and omega-3s! A new favorite healthy snack that's loaded with extra nutrition, as is our way 'round here. Plus, who doesn't love a snack that comes with a salty snap?
Ingredients Needed
Flours - A mix of dark rye flour and whole wheat flour. We love using dark rye flour vs. regular rye flour, because the dark rye flour has a much stronger, more prominent rye flavor. You could also substitute in some all purpose flour, too for the whole wheat flour, but the wheat flour really adds to the texture and flavor of these wheat and rye crackers.
Wheat Germ and Ground Flax Seed - Not only do they add nutrition, but they also add to the crispy texture of the cracker.
Honey - Just a touch of necessary sweetness. You could also use your other favorite natural sweetner like agave or maple syrup.
Oil - Vegetable oil is our preferred to add just the right amount of added fat, but you could also use your favorite neutral flavored oil like canola.
Everything Bagel Seasoning - See our recipe for the mix below, which is made up of dried onion and garlic, sesame seeds, salt, and poppy seeds. Of course, you could use your own favorite pre-made everything bagel seasoning, too.
Easy to Make
Fast Dough - Can it get much easier than adding all of the dough ingredients to a bowl and mixing it into a dough?
Sometimes I even just mix the flours and ground flaxseed and wheat germ and put it aside in a mason jar and store in the fridge (the best place to store flax and wheat germ) to then quickly pull it out and add the honey, oil, and water to whip up the dough super fast!
Roll Out the Dough - The most time-consuming (but in my opinion, therapeutic) part of making any homemade cracker.
Try to roll out the dough as close to a rectangle as possible, then trim the edges and put those trimmed edges to even out the other sides of the rectangle.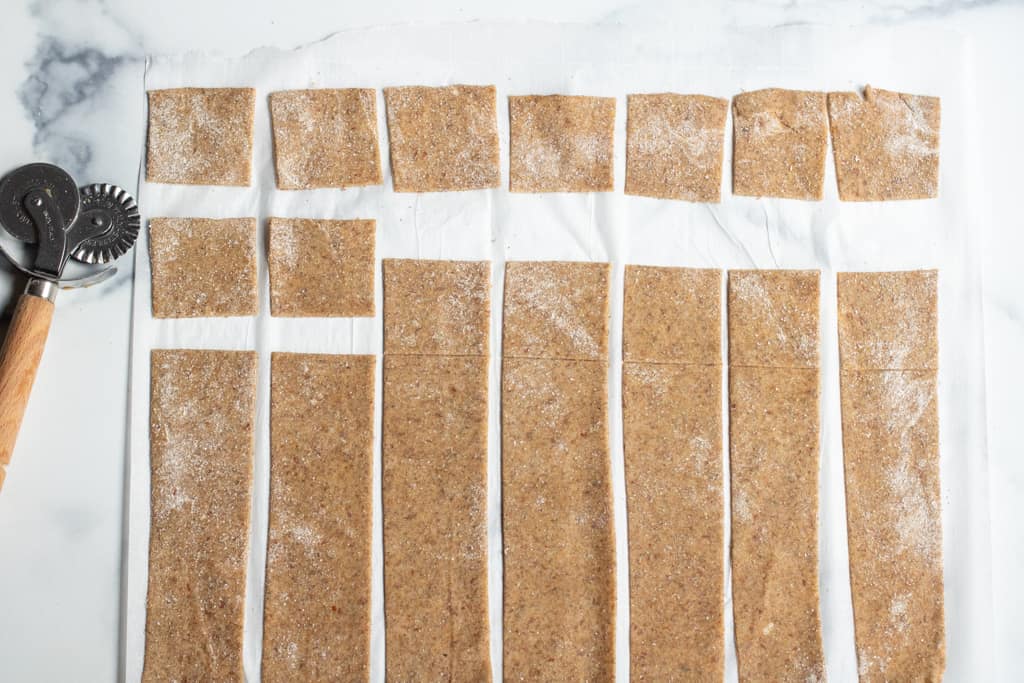 Cut Into Squares: You can use a knife, pizza cutter, or one of my absolute favorite (and adorable) kitchen tools is this wheeled dough cutter.
Egg Wash and Season: Once your squares are cut, then it's just a quick egg wash and then a sprinkle of the everything bagel seasoning.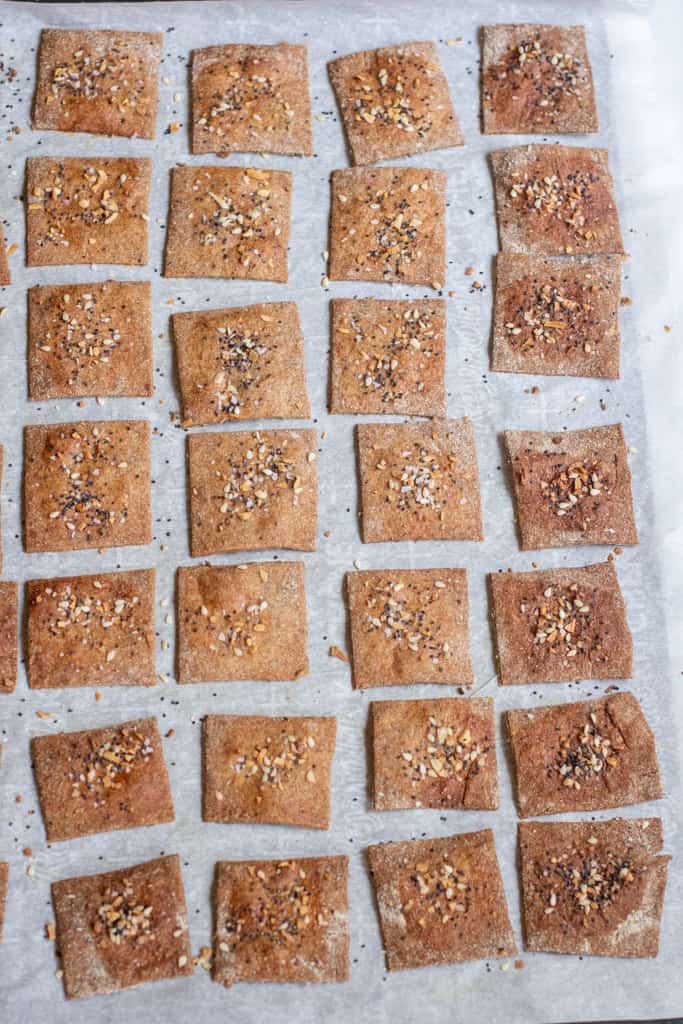 Homemade crackers baked to crispy perfection!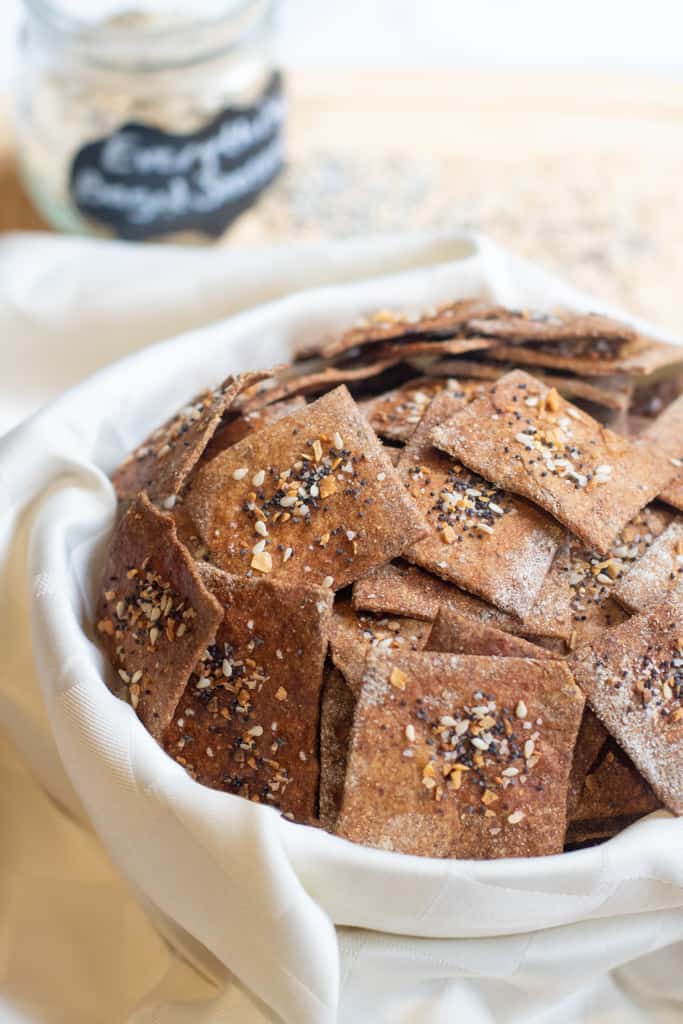 Cracker Making Tips
Refrigerate your dough. Just 10 minutes will help reduce the stickiness of your dough and make it easier to roll out. You can also sprinkle either some whole wheat or rye flour to help if the dough starts sticking to your rolling pin.
Roll it out on Parchment Paper. Right on the paper you'll bake it on. Just cut the parchment paper to fit the baking sheet you're going to use, and you're good to go.
Roll it as thin as possible. The thinner the cracker, the crispier the cracker, it's that simple. This dough is enough to fill two baking sheets of crackers.
Separate the Squares. After you've cut them, gently pull them apart to separate them. This will help for even cooking of the crackers and ensure that all of the crackers get that nice and crispy. If you don't pull the apart, the homemade crackers in the center won't get crispy.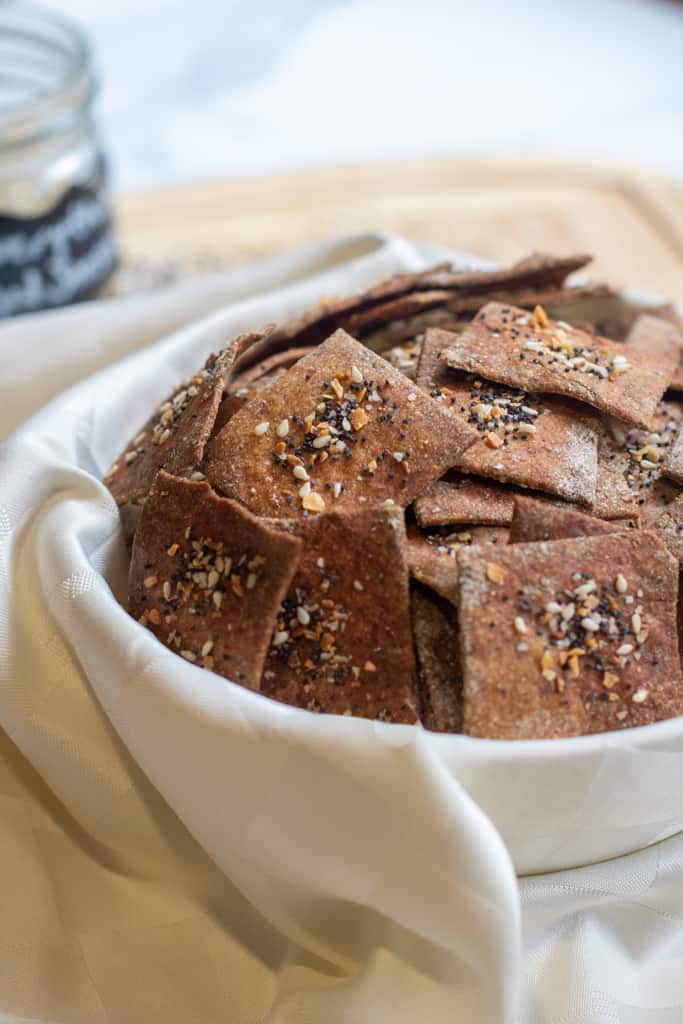 Everything Bagel Crackers! Perfectly crispy, exactly how you want homemade crackers to be. They're a lovely rye and wheat cracker as a thin crispy vessel for that salty, garlic, onion, poppy topping!
Enjoy! As always, if you make this recipe or any of my others, I love to hear what you think! Leave a comment below, email me, or you can find me on Facebook, Instagram, and Pinterest!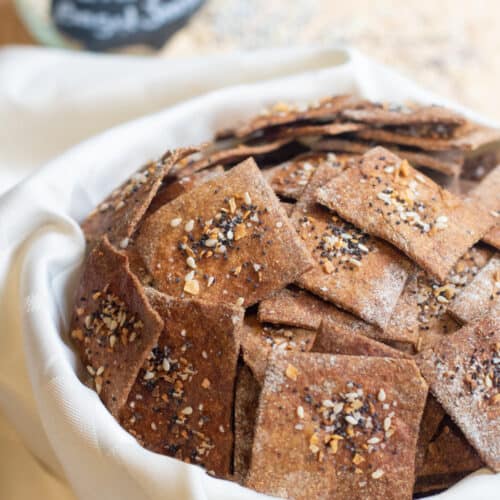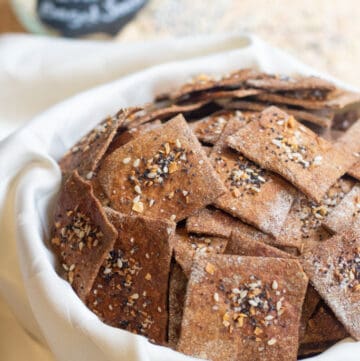 Everything Bagel Rye Crackers
Thin, crispy, healthy crackers with all the flavor of your favorite bagel!
Print
Pin
Rate
Ingredients
1

cup

dark rye flour

132 grams

1/2

cup

whole wheat flour

75 grams

1

tablespoon

wheat germ

5 grams

1

tablespoon

ground flax seed

8 grams

1/2

teaspoon

kosher salt

3 grams

2

tablespoons

vegetable oil

1

tablespoon

honey

1/2

cup

water

109 grams

1

egg white

for egg wash
Everything Bagel Seasoning
1

teaspoon

poppy seeds

1

teaspoon

sesame seeds

1

teaspoon

minced dried onion

1/2

teaspoon

minced dried garlic

1/2

teaspoon

kosher salt
Instructions
Create the the everything bagel seasoning by adding all of the ingredients to a small bowl and mix.

In a medium sized bowl, add flours, wheat germ, ground flax seed, and salt. Give a quick mix.

Add oil, honey, and water and mix with a spoon until all the flour is well incorporated and shape the dough into a sticky ball. The dough should be a little sticky, but still form a nice dough. If it's more than just a little sticky, add a little more rye flour.

Cover with plastic wrap or a linen towel and place in fridge to rest for at least 10 minutes.

Meanwhile, cut parchment paper to fit two large baking sheets and pre-heat the oven to 300°.

After 10 minutes, the dough should be less sticky. Remove parchment paper from the baking sheet and place it on a clean counter. Separate the dough in two and place one half on a sheet of parchment paper. Sprinkle dough with some rye flour and use a rolling pin to roll it out into as close to a rectangle to fill the parchment paper.

Roll it as thin as possible. One half should fill a full baking sheet sized parchment paper. Use the dough cutter to trim one edge to an even line. Use that trimmed dough to fill in the other edges to fill out a rectangular shape and repeat until you have a clean edged rectangle. This is optional, but it will ensure that you have all even sized squares.

Use the dough cutter to create 1-2 inch columns. Gently pull the columns apart to create space between them and then cut rows to create squares. Gently pull the squares apart so that the crackers are not touching.

In a small bowl whip the egg white. Use a pastry brush and brush a row of crackers with the egg whites and then sprinkle on the everything bagel seasoning. Repeat with all rows of crackers.

Repeat previous 3 steps with 2nd half of the dough.

Bake in the middle rack for 20-30 minutes or until the edges begin to brown, turning rack after 10 minutes. The baking time will be dependent upon how thick your crackers are. Check at 20 minutes.

Let cool on a baking sheet and then store in an airtight container for two weeks.
Notes
Nutritional information per cracker.
Substitutions
Flours: You can use regular rye flour or all-purpose flour in place of the whole wheat flour.
Oil: Use canola, vegetable, or another neutral-flavored oil.
Honey: Use your favorite all-natural sweeteners like maple or agave.
Storage
Store in an airtight container for 2 weeks.
Freeze crackers for up to 3-4 months.
Make-Ahead
You can make your dough ahead and store it in the fridge for a week. You can also freeze the dough for up to 3-4 months.
Nutrition
Calories:
9
kcal
|
Carbohydrates:
2
g
|
Protein:
1
g
|
Fat:
1
g
|
Saturated Fat:
1
g
|
Polyunsaturated Fat:
1
g
|
Monounsaturated Fat:
1
g
|
Sodium:
28
mg
|
Potassium:
11
mg
|
Fiber:
1
g
|
Sugar:
1
g
|
Vitamin A:
1
IU
|
Vitamin C:
1
mg
|
Calcium:
2
mg
|
Iron:
1
mg