Did you know you can make Homemade Graham Crackers? They're surprisingly easy and fun to make!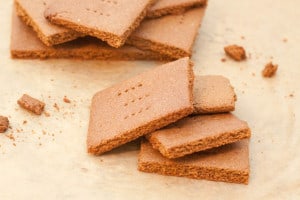 What's more summer-like than fire roasted S'mores?  We've recently acquired a fire pit for our backyard and after every BBQ or even just when we're home grilling and lounging outside, we inevitably end up around it roasting marshmallows for s'mores.  So of course that's sparked me turning to Dan one night while we snacked on some ooey gooey s'mores, "I wonder how you make graham crackers…"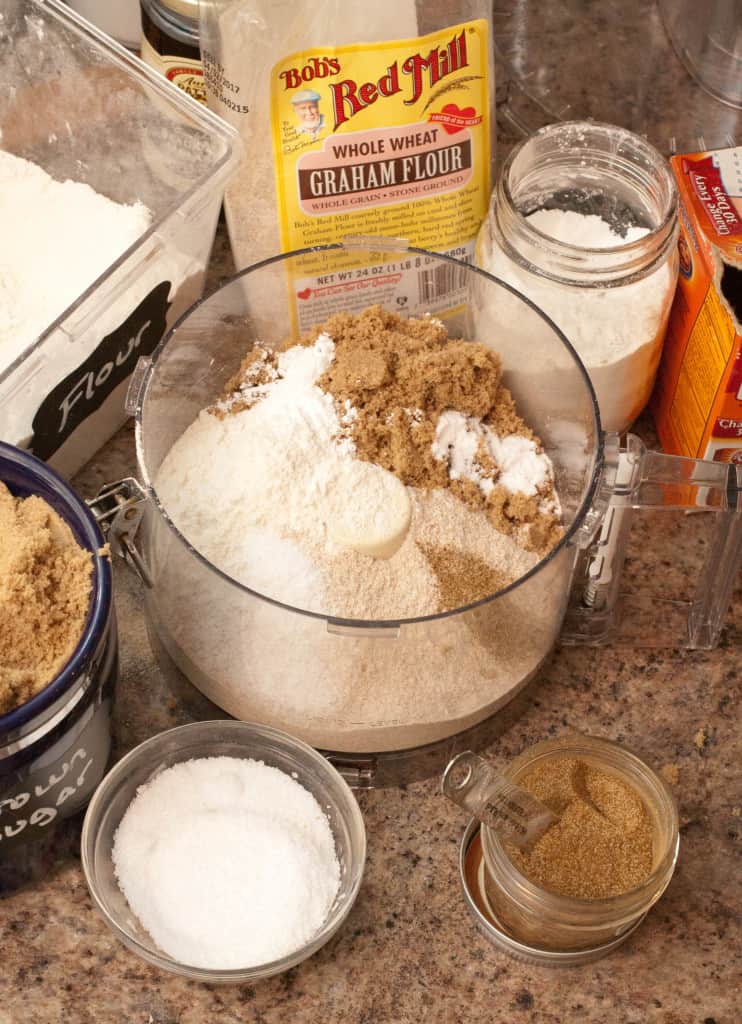 Turns out they're pretty easy!  The only thing I needed that I didn't already have was graham flour. I found it in the natural foods section with all the other Bob's Red Mill flours.  It can also be found online. Other than that, they were super simple ingredients. The hardest part was the recipe I found had measurements in ounces. But since it was one of Alton Brown's, I knew it had to be good and would be worth the added effort.  Plus, we have this great little digital scale (filed under small appliances) that made weighing everything out totally painless.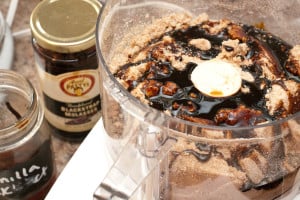 Once I had all my ingredients weighed out, the dry ingredients were pulsed together in the food processor with some butter and then finally the molasses, milk, and vanilla extract for the last mix.  I love recipes that make a food processor or stand mixer do all the work.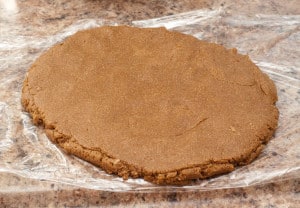 Once it was all combined and started to form a ball in the food processor, I took it out, flattened it in a disk, and wrapped it in plastic wrap and put it in the fridge for 30 minutes to rest.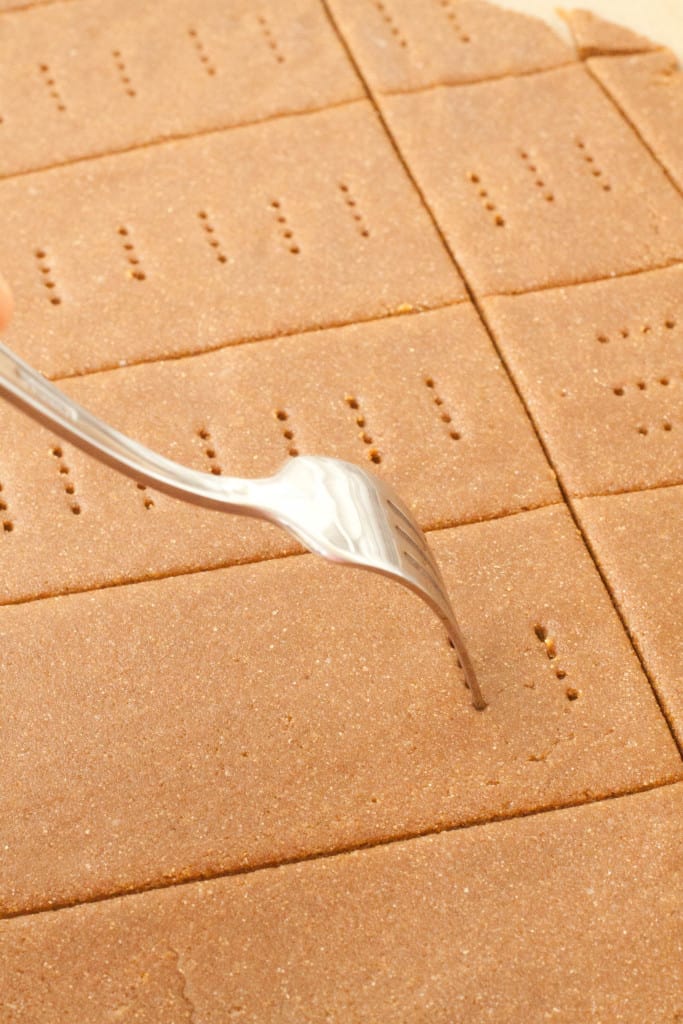 After the 30 minutes I just took the dough disk out, put it in between two pieces of parchment paper, rolled it thin, sliced it into cracker sized pieces, and gave them a few little fork holes before they went into the oven.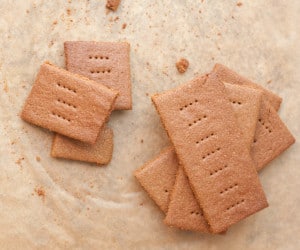 25 minutes later, and we had some from scratch Graham Crackers!  Neat!  Although clearly my cutting and fork hole poking skills need some work…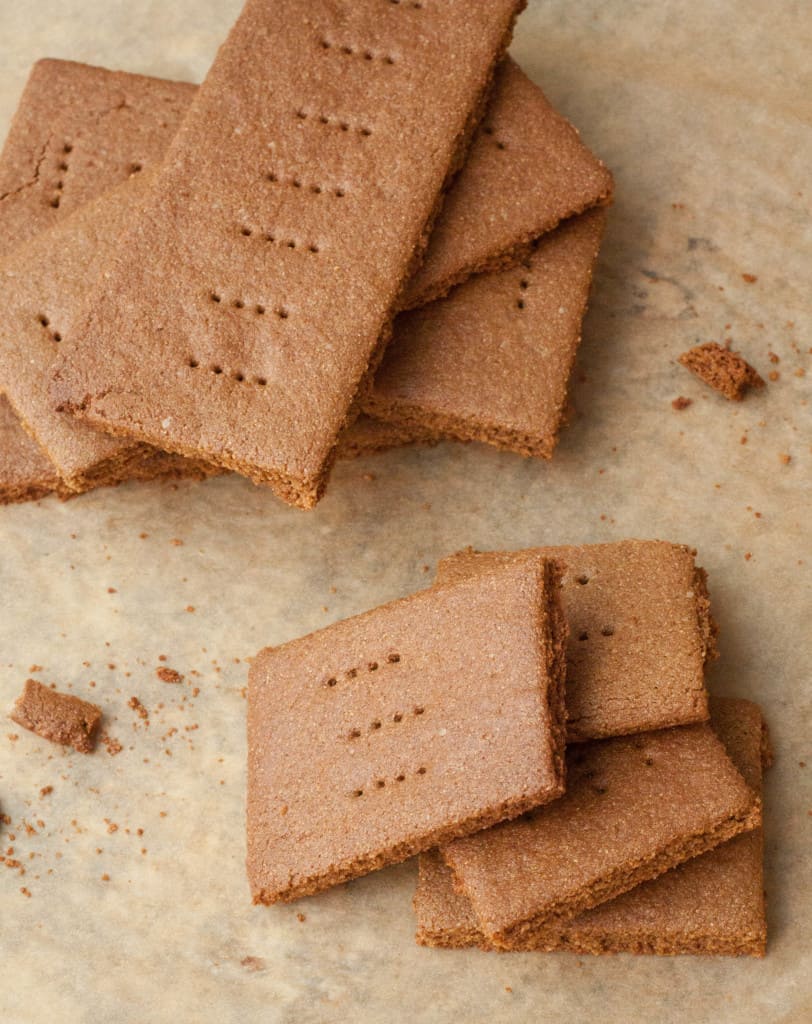 Delicious Graham Crackers from scratch!  These guys aren't Honey Graham Crackers like the Honey Maid (and most commonly seen s'mores vessel), these have a much stronger molasses flavor, but man, they're good.  I wish I could say that we then made some amazing s'more with them, but this batch didn't last long enough for them, they were so tasty to snack on their own and I may have eaten them all before they had to chance for s'mores-dom.  Guess I'll just have to make more, darn.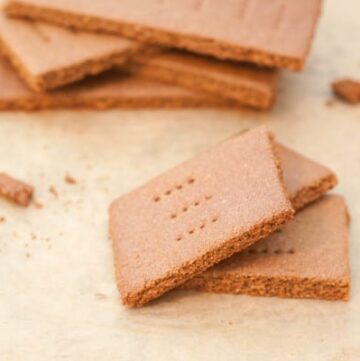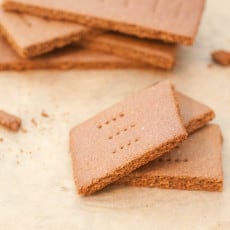 Ingredients
8 3/8

ounces

graham flour

1 7/8

ounces

all-purpose flour

3

ounces

dark brown sugar

3/4

teaspoon

aluminum-free baking powder

1/2

teaspoon

baking soda

1/2

teaspoon

kosher salt

1/8

teaspoon

ground cinnamon

3

ounces

unsalted butter

cut into 1/4-inch cubes and chilled

2 1/4

ounces

molasses

1 1/2

ounces

whole milk

1/2

teaspoon

vanilla extract
Instructions
Add flours, sugar, baking powder, baking soda, salt and cinnamon into the bowl of a food processor and pulse several times to combine. Add the butter and pulse until the mixture resembles cornmeal.

Add the molasses, milk and vanilla extract and process until the dough forms a ball, approximately 1 minute.

Press the ball into a 1/2-inch thick disk, wrap in plastic wrap, and refrigerate for 30 minutes.

Preheat the oven to 350 degrees F.

Unwrap the chilled dough and place it onto a large piece of parchment paper and top with a second sheet of parchment paper. Roll the dough out until it is 1/8-inch thick. Slide the rolled dough and parchment paper onto a half sheet pan. Remove the top sheet of parchment paper and cut the dough, using a rolling pizza cutter or pasta cutter into 2-inch square pieces, by making vertical and then horizontal cuts all the way across the dough. Trim off any excess.

Using a fork, poke holes all over the top of the dough. Leave the crackers on the pan and bake on the middle rack of the oven for 25 minutes or until the edges just start to darken.

Remove from the oven, set the sheet pan with the crackers on a cooling rack and allow to cool completely. Once completely cool, break into individual crackers and store in an airtight container for up to 2 weeks.