Homemade Graham Crackers are easier to make at home than you'd think. These classic sweet crackers are super fun to make, especially with kids!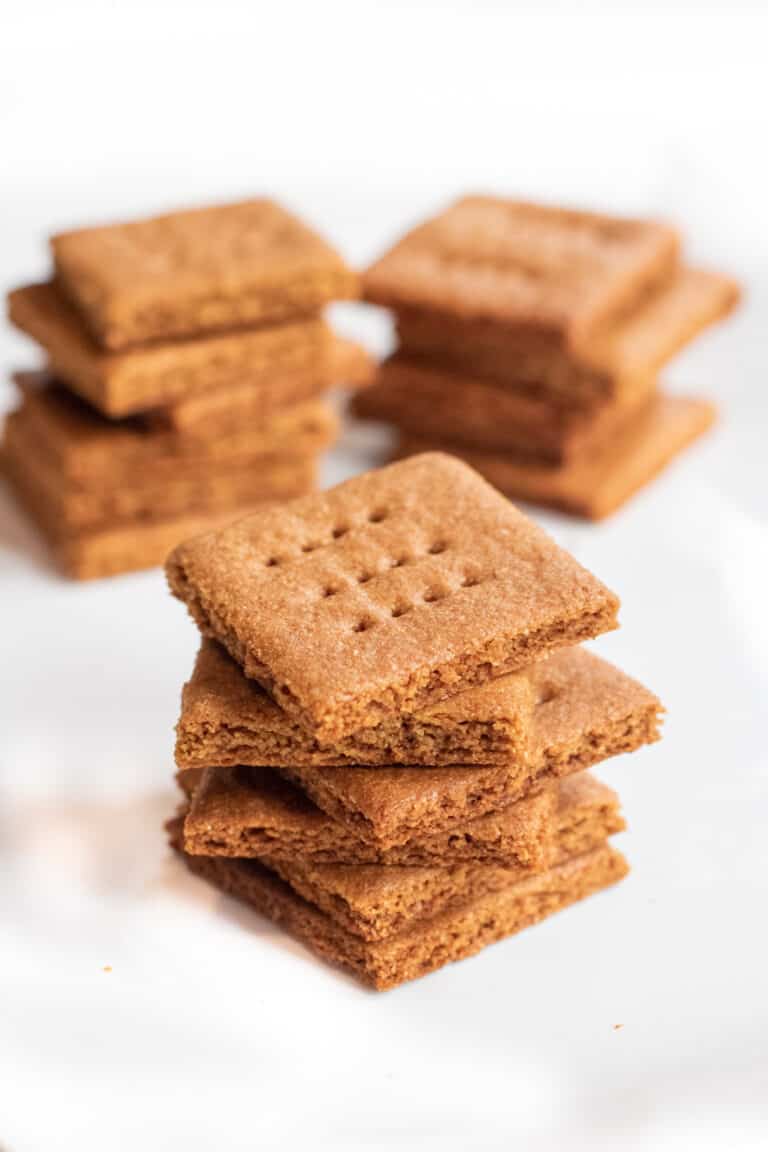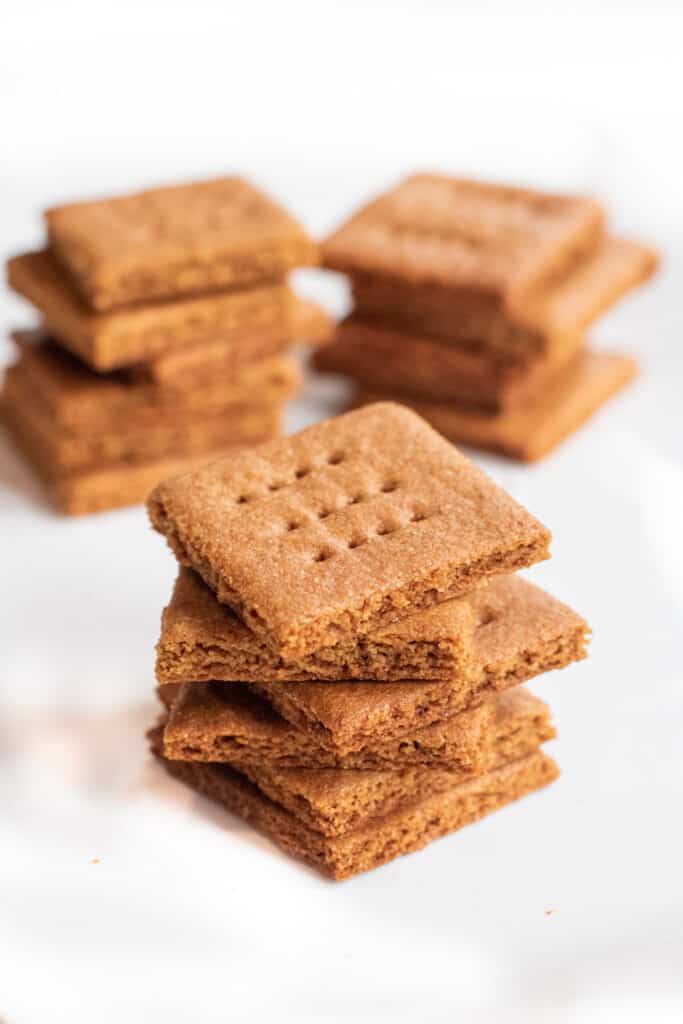 What's more summer-like than fire roasted S'mores? We've recently acquired a fire pit for our backyard and after every BBQ or even just when we're home grilling and lounging outside, we inevitably end up around it roasting marshmallows for s'mores. So of course that's sparked me turning to Dan one night while we snacked on some ooey gooey s'mores, "I wonder how you make graham crackers..." Enter the Homeamde Graham Crackers made From Scratch!
These crackers are crunchy, sweet, and totally reminiscent of your favorites from a little blue box. They're perfect to make a graham cracker crust from scratch, to make your favorite s'more, or to just eat as a snack (my kid's favorite).
Ingredients Needed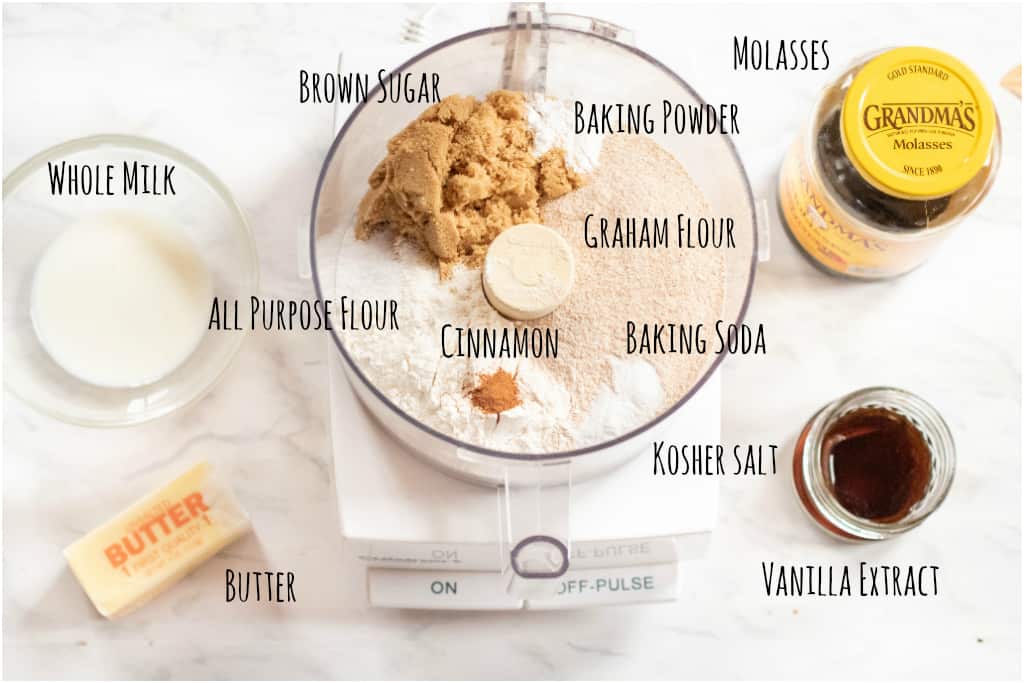 Most of the ingredients needed, you'll likely have in your pantry already. Except for maybe Graham Flour, but otherwise, I bet you already have what you need!
Graham and All purpose Flour
Brown Sugar - Light is what we usually have on hand, but dark would totally work, too! The difference in just the amount of molasses in them, so using a dark brown sugar will add a deeper molasses flavor.
Baking Soda and Baking Powder
Cinnamon
Kosher Salt
Unsalted Butter - We use unsalted, but if all you have is salted, no problem, just take a pinch of the salt out.
Whole Milk
Molasses
Vanilla Extract - Have you made your own yet?
Step-by-Step Instructions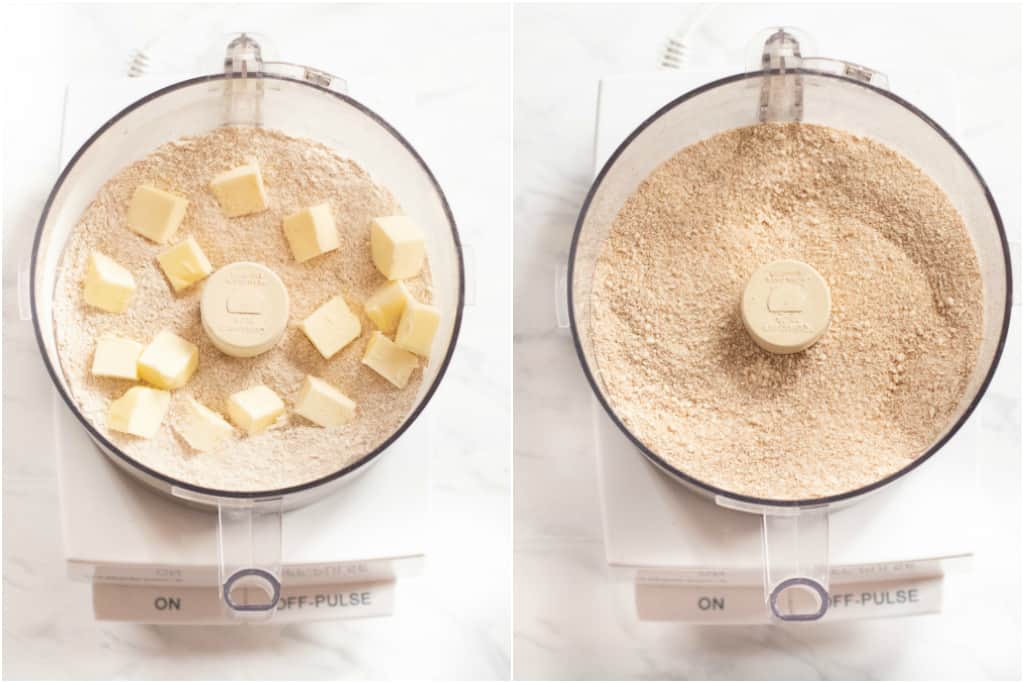 As with many crackers, this recipe is pretty easy to make - if you have a food processor (This is the one we love!).
I personally haven't made these homemade graham crackers without one, but you certainly could. It would just take a bit more work cutting in the butter and you'd definitely want a pastry cutter. This is our favorite:
Step 1: Add all flours, baking soda, baking powder, sugar, salt, and cinnamon to the food processor and pulse a few times to combine.
Step 2: Add cubed (cooled) butter and pulse until it's combined and a texture like cornmeal.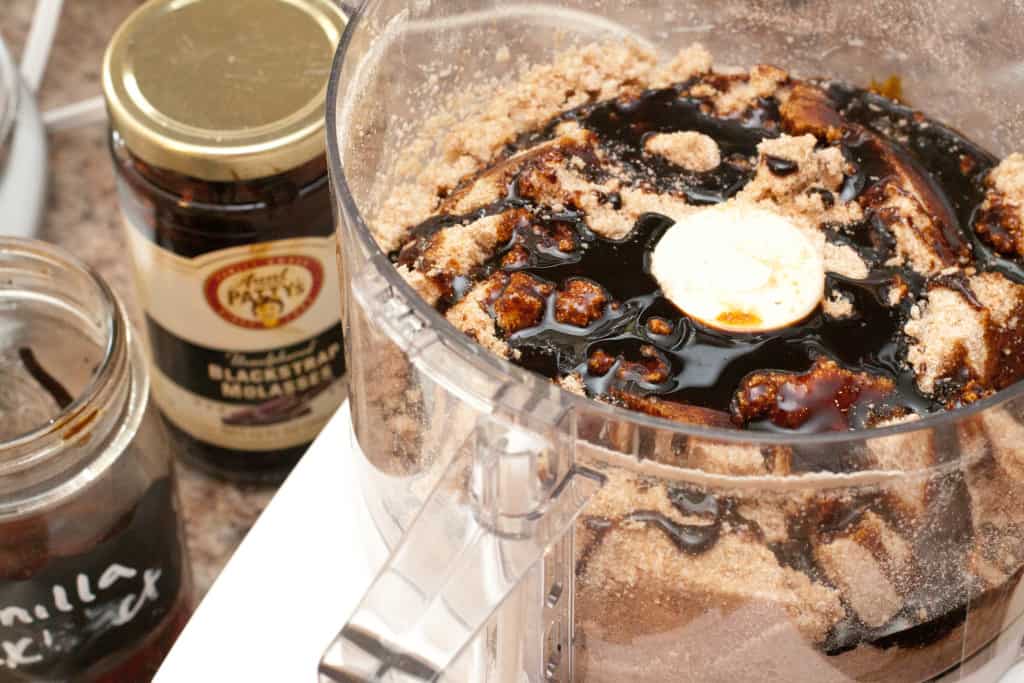 Step 3: Add milk and molasses and then pulse until a dough forms.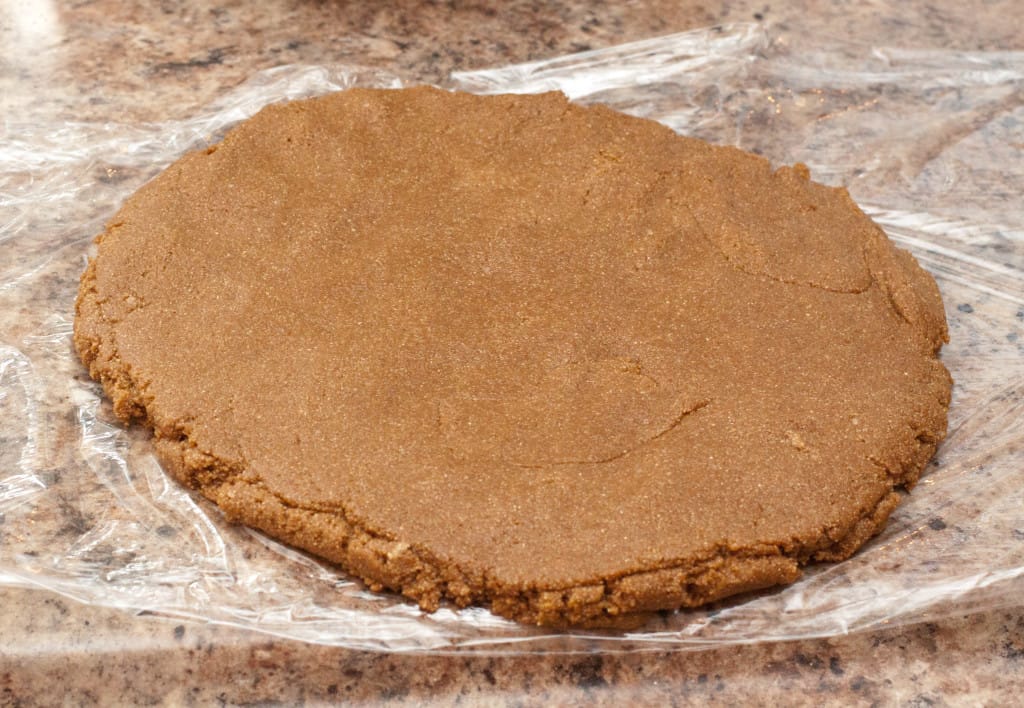 Step 4: Once the dough forms, form into a disc and then chilled for 30 minutes before rolling it out.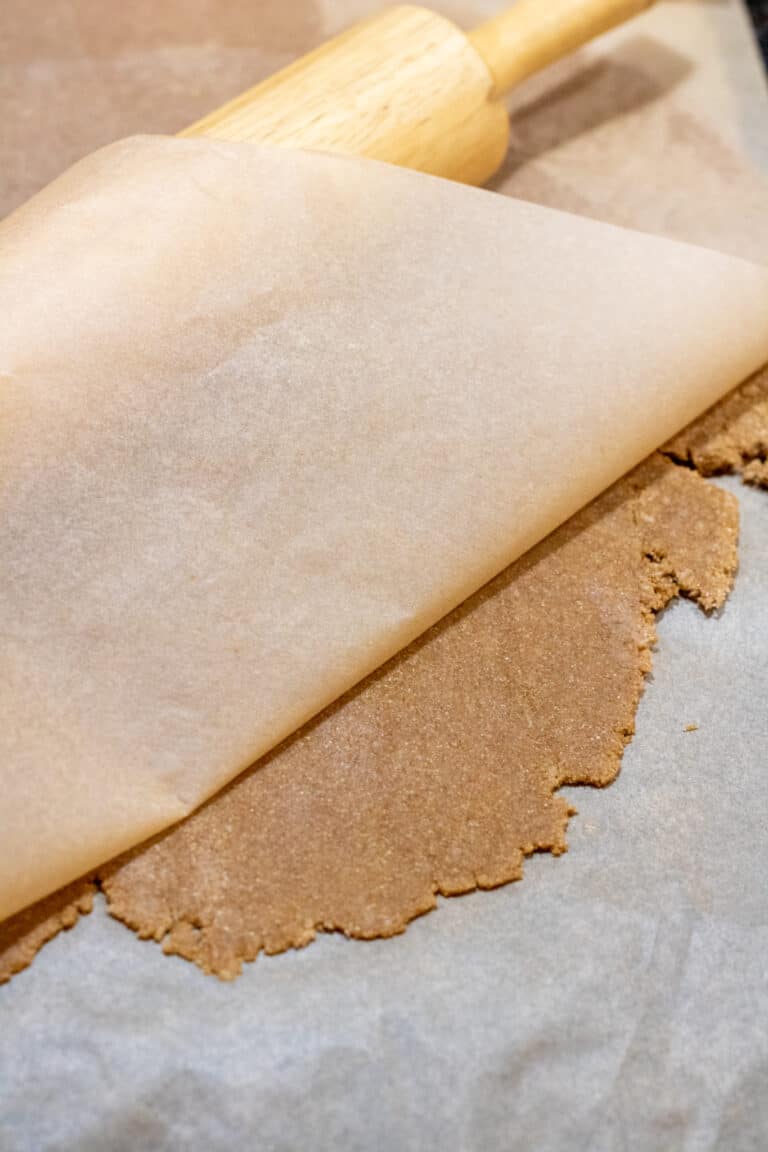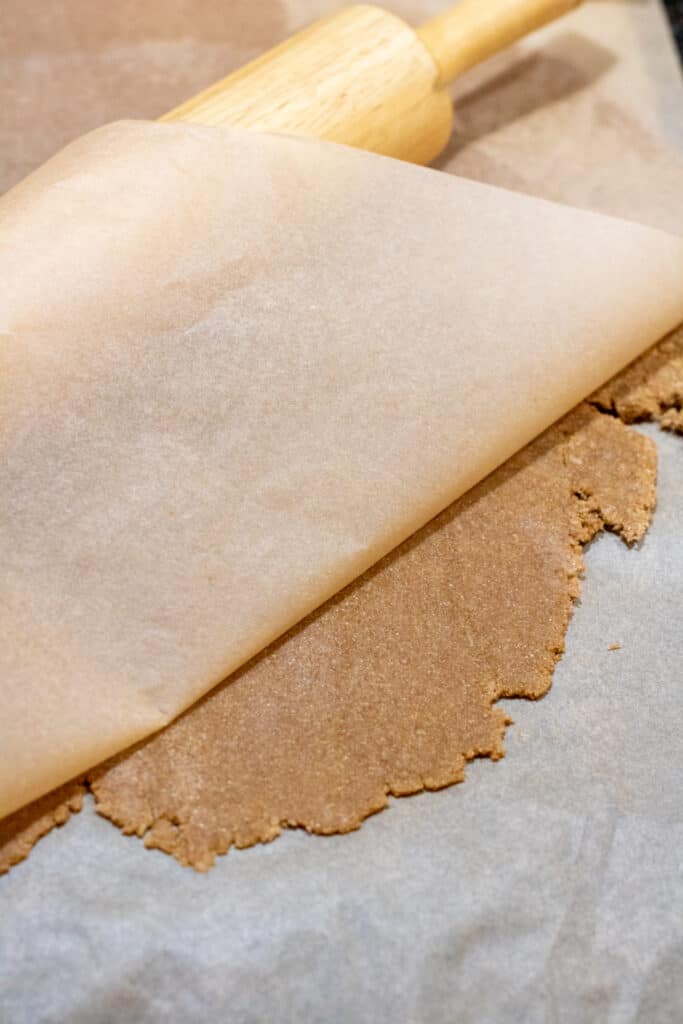 Step 5: To roll it out, add some parchment paper on top of the dough and then roll out to prevent sticking.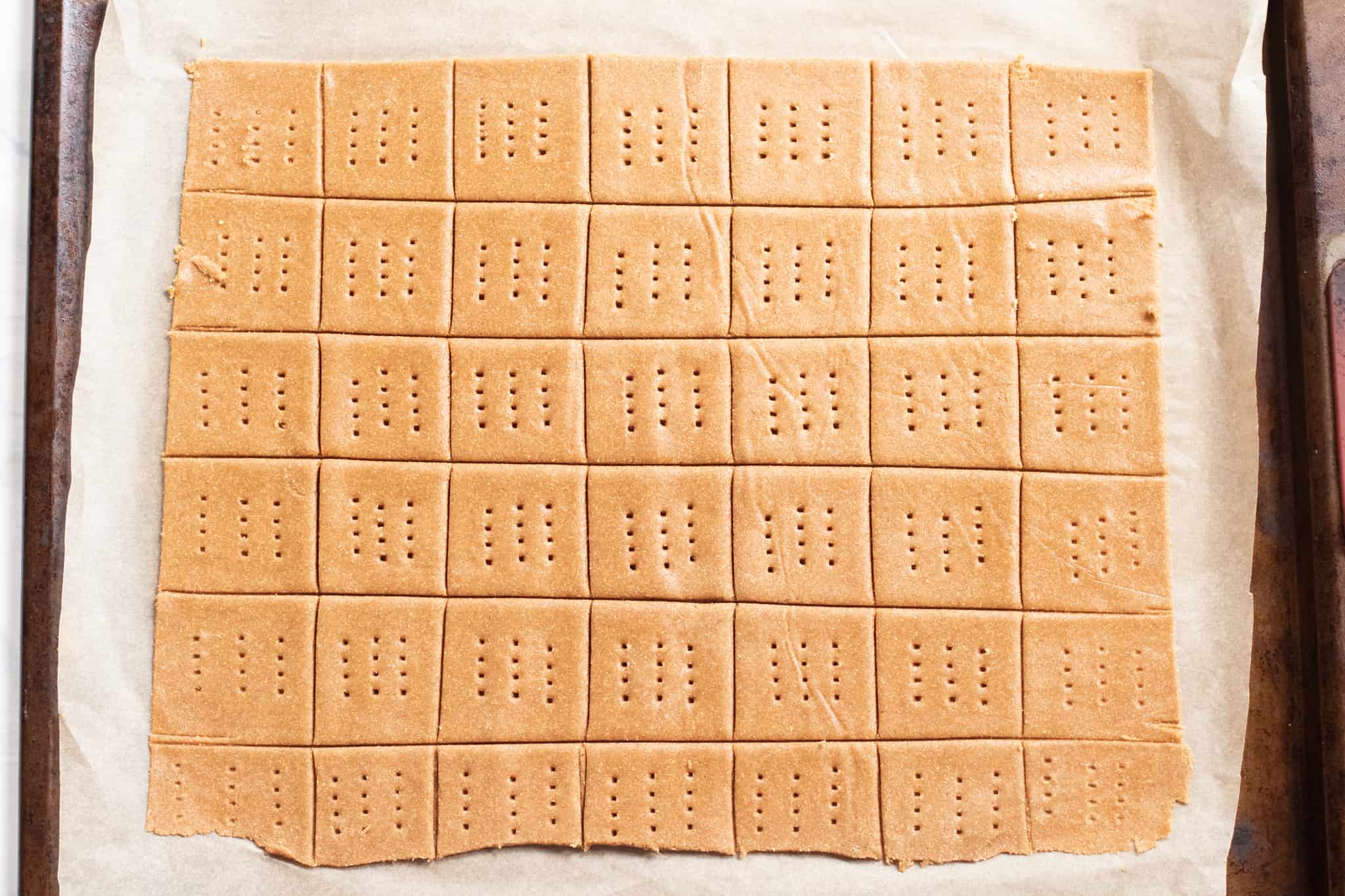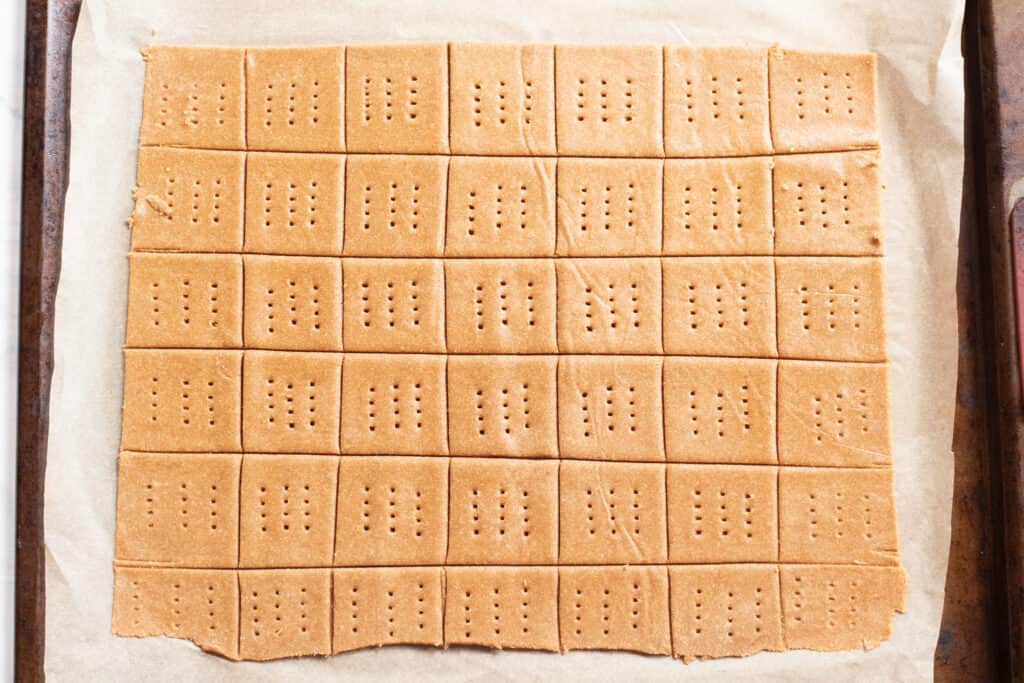 Step 6: With a pastry cutter or knife, cut dough into 2-inch squares and then use a fork to pierce.
This is the pastry cutter that we love - it's perfect for not only these homemade graham crackers but also pasta!
Step 7: Bake!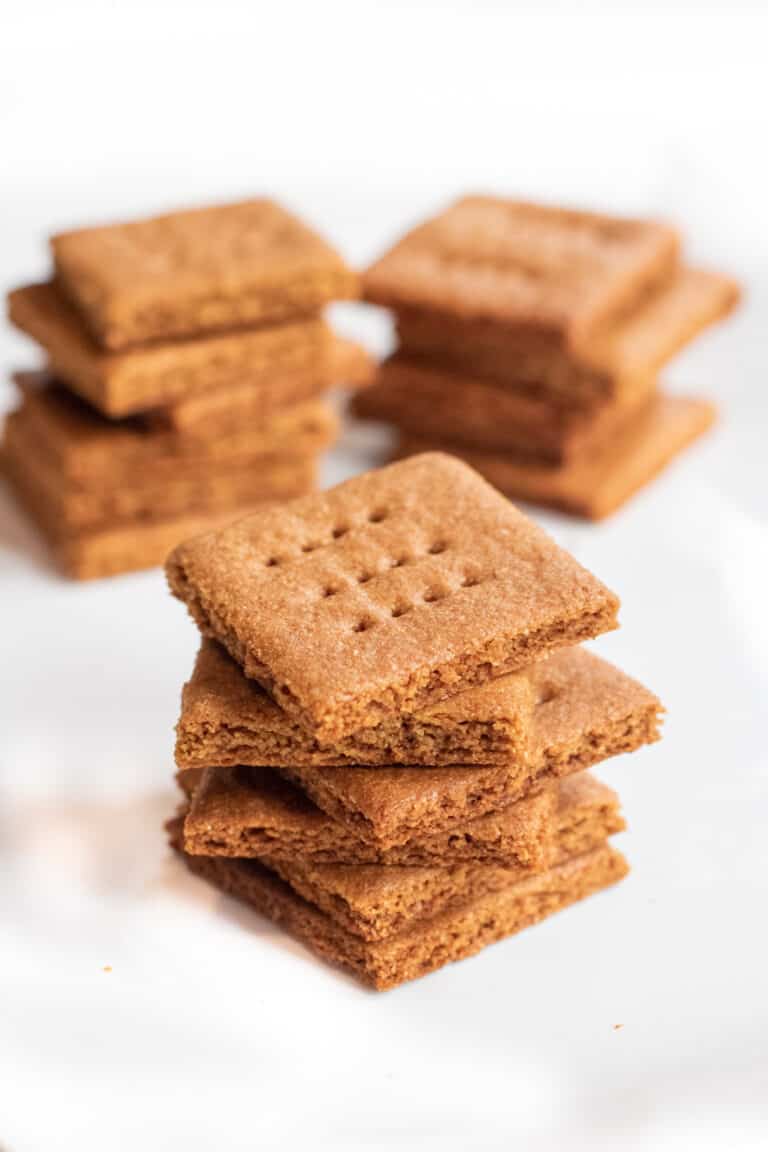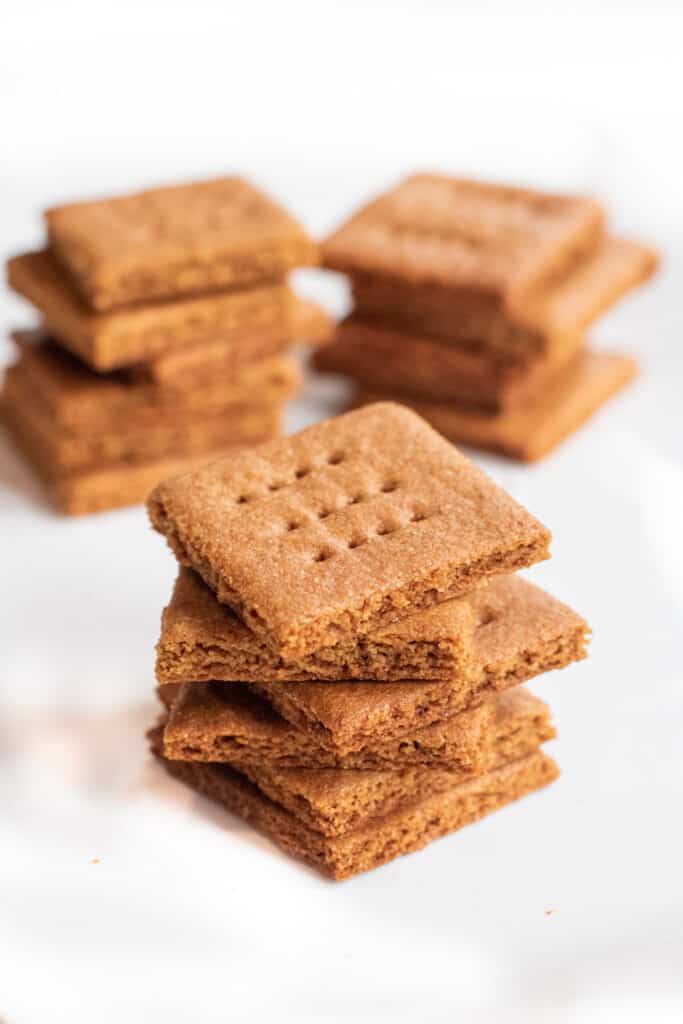 Once done, these adorable Homemade Graham Crackers are ready for a pre-school snack or s'more! We even love making little ice cream sandwiches out of these - especially with our No-Churn Caramelized White Chocolate and Chocolate Chip Ice Cream!
Our Other Favorite Crackers
Sourdough Sesame Rye Crackers From Scratch
Enjoy! As always, if you make this recipe or any of my others, I love to hear what you think! Leave a comment below, email me, or you can find me on Facebook, Instagram, and Pinterest!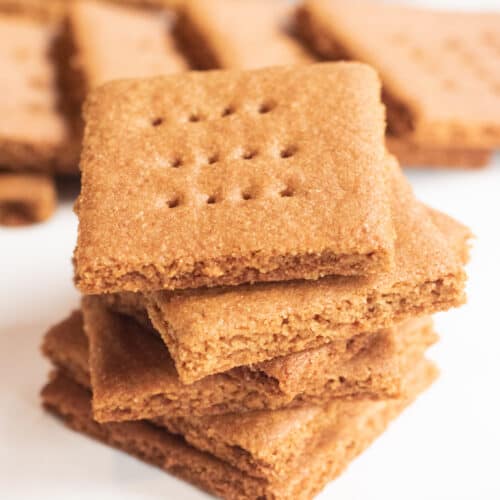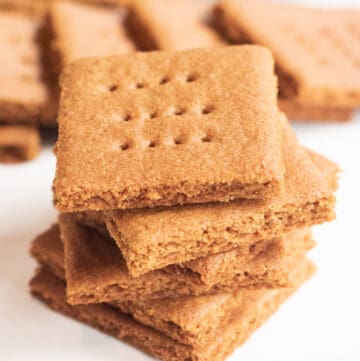 Homemade Graham Crackers
Homemade Graham Crackers are easier to make at home than you'd think.
Print
Pin
Rate
Ingredients
1 1/2

cups

graham flour

or 8.6 oz

1/3

cup

+ 1 tablespoon all-purpose flour

or 1.7 oz

1/3

cup

packed brown sugar

or 2.7 - 3.0 oz

3/4

teaspoon

baking powder

1/2

teaspoon

baking soda

1/2

teaspoon

kosher salt

1/8

teaspoon

ground cinnamon

6

tablespoons

unsalted butter

cut into 1/4-inch cubes and chilled

3-4

tablespoons

molasses

2

tablespoons

whole milk

1/2

teaspoon

vanilla extract
Instructions
Add flours, sugar, baking powder, baking soda, salt and cinnamon into the bowl of a food processor and pulse several times to combine. Add the cubed butter and pulse until the mixture has a cornmeal like texture.

Add the molasses, milk and vanilla extract to the food processor and pulse until the dough forms a ball, approximately 1 minute.

On plastic wrap, press the ball into a 1/2-inch thick disk, wrap in the plastic wrap, and chill in refrigerator for 30 minutes.

Preheat the oven to 350 degrees.

Unwrap the chilled dough and place it onto a large piece of parchment paper and top with a second piece of parchment paper. With a rolling pin, roll the dough out until it is 1/8-inch thick. Try your best to roll it into a rectangular shape.

Transfer the parchment paper with the rolled dough onto a large baking sheet. Gently peel away the top sheet of parchment paper and with a pasty cutter or pizza cutter, cut the dough, cut vertical cuts all the way across the dough every 2 inches and then again horizontal cuts all of the way across the dough every 2 inches, making 2-inch square pieces.

Using a fork, poke 3 rows of holes in each cracker. Leave the crackers on the parchment paper on the pan and bake on the middle rack of the oven for 20 - 25 minutes or until the edges just start to darken.

Remove pan from the oven, transfer set the parchment paper with the crackers on a cooling rack and allow them to cool completely. Once completely cool, you can break them into individual crackers. Store in an airtight container for up to 2 weeks.
Recipe adapted from Alton Brown