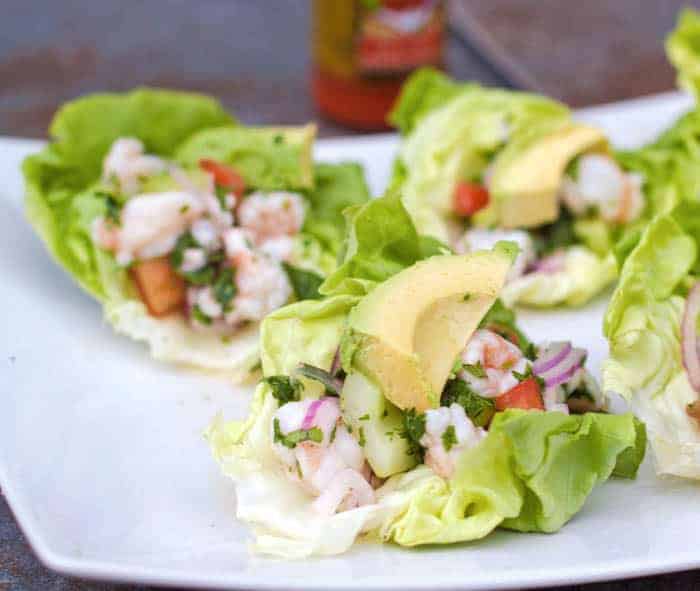 It's been a rough week for the Koslicki household. Between Nigel being sick and having to not go on a celebratory trip we've been planning forever, which has subsequently revealed to us who we will no longer be inviting on future trips, it's been an emotional week. Thank you to everyone for their sweet words and kind thoughts! By Friday, Nigel seemed normal and I was having serious second doubts about whether or not we were making the right decision to go on the trip or not, and Dan and I went back and forth about it all weekend. Even though we had some of our best friends (who had had no interest in partying for a week in CO with our other younger friends), over to break in my consolation present to myself of a new patio dining set, and we went to a super fun BBQ with some other friends who we realized we don't see enough, by Sunday, Nigel seemed to be doing great and we seriously considered just packing the car and taking off. Then our consciences would get to us and we knew it was an irrational and irresponsible choice to make. Then my studly husband said let's go somewhere else then, closer. Where was someplace we hadn't been together as a family yet that would be fun and exciting for us as a family trip that was close enough that if Nigel's health suddenly took a turn for the worse, we could be home in a couple of hours instead of 20. Seattle. Of course. Then we realized the Red Sox were in town this week and I swooned.
So we went to a game, met up with a friend I hadn't seen in almost 10 years, took Nigel to all the dog friendly restaurants we could find, and walked around the city on a gorgeous Seattle day. Even better, while we were there, our vet called us and let us know that they finally figured out what was making him so sick: he had a nasty strain of E. Coli, which is easily treatable with the right antibiotics (not the 3 others we had already tried). We were the happiest people to ever be informed of an E. Coli infection. So there was even more to celebrate and it reminded me that it didn't matter where I was and how many people were there, as long as I was there with my family.
Since we were in Seattle, home of the famous Pikes Place Fish Market, we couldn't leave without some incredible fish (and some of their amazing and cheap flowers!).
When I saw the jumbo shrimp, I knew I wanted to make ceviche. Then they pointed out this lingcod which also looked delicious for a ceviche.
With some fresh veggies all chopped up, mixed with lime juice and the shrimp 'cooked' in lime,
we had ourselves an incredibly simple yet delicious ceviche!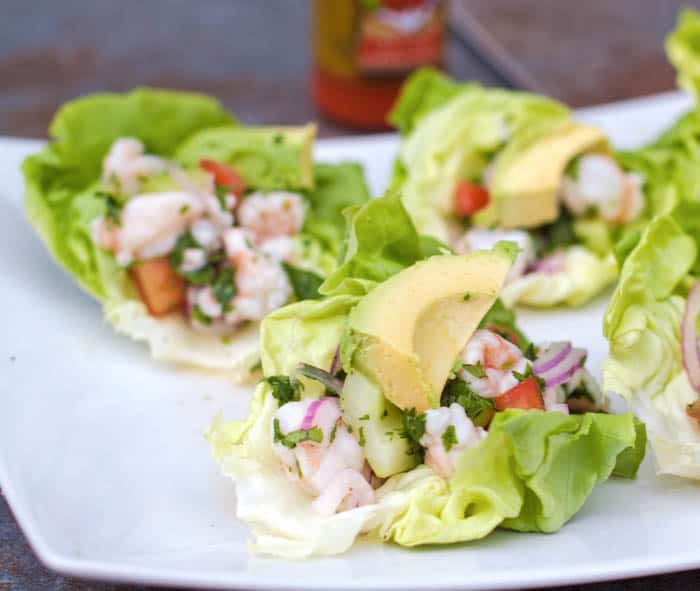 A little butter lettuce made it into some amazingly healthy shrimp ceviche lettuce wraps! Oh and of course a few dashes of our favorite Belizan hot sauce and some ripe creamy avocados!
So I know you're thinking, what happened to the lingcod? Well, I realized that shrimp only takes 15 minutes to 'cook', but I had no idea how long lingcod would take. When I looked up lingcod ceviche, all the recipes said overnight. So, I ended up cutting up about 1/4 lb of the lingcod in it's own lime juice and let it set overnight. Dan ended up adding it to the leftover shrimp ceviche the next day and he had a lovely lingcod ceviche lunch. Yum. The perfect end to our wonderful Seattle family getaway. 🙂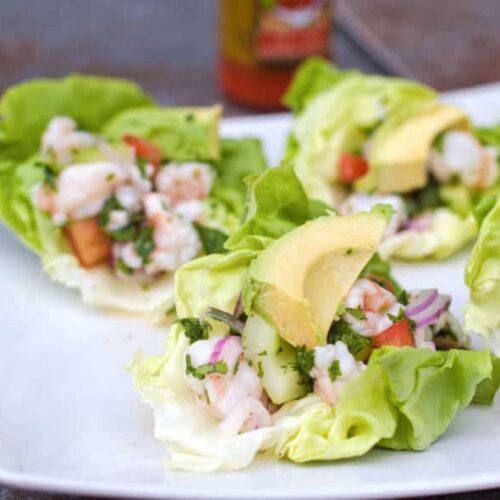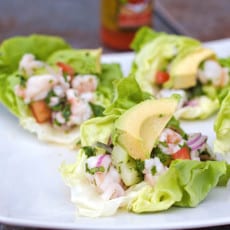 Ingredients
1

pound

high-quality medium raw shrimp

peeled, deveined, tail removed, cut into thin pieces

1

cup

freshly squeezed lime juice

1

cup

peeled

seeded and finely chopped cucumber

1

cup

seeded and finely chopped tomato

1/2

cup

chopped fresh cilantro

1/2

cup

finely chopped red onion

1

serrano chile pepper

deveined, seeded and minced

1

head of butter lettuce

washed and full leaves pulled off

1

avocado

sliced

Kosher salt

for seasoning
Instructions
Place the shrimp in a large mixing bowl. Add 1/2 cup lime juice and let stand for 15 minutes so the shrimp can "cook" in the lime juice (any less and it won't cook, any more and it toughens).

Meanwhile, in a separate large mixing bowl, mix the remaining 1/2 cup lime juice, cucumbers, tomatoes, cilantro, red onions and serrano chile to incorporate evenly.

Transfer the mixed vegetables into the shrimp bowl and mix well to incorporate.

Season the ceviche with some salt.

Serve in lettuce wraps, top with avocado and hot sauce.