Making your own Blue Cheese From Scratch is surprisingly easy and also has a surprising cheese as it's base! It's the perfect pairing for Buffalo "Legs"!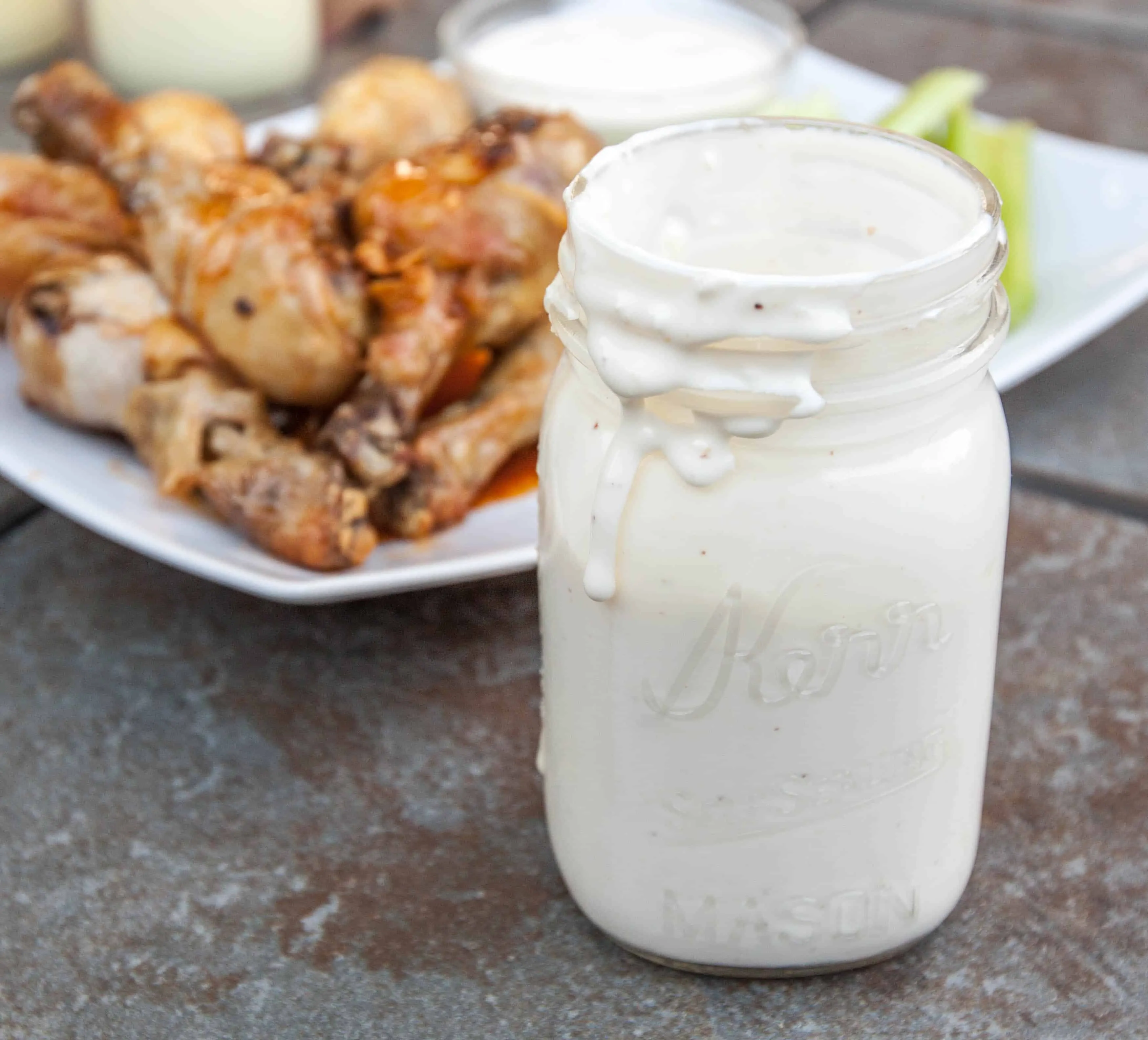 What's a Buffalo Leg, you ask? It's when you want to make buffalo wings but all your have are chicken leg drumsticks and you're too lazy to go to the store to buy actual chicken wings. Bam! Buffalo Legs.
For a great chicken wing leg drumstick, I of course turned to Alton Brown.
And while I was at it, I made his Homemade Blue Cheese Dressing too. 'Cause, well, it's an Alton Brown's recipe and that's all the reason I need. The process of making the chicken though was a bit longer than I thought; definitely not a super quick weeknight meal, but perfect for a weekend when I was doing a million other things in the kitchen at the same time. First, I steamed the legs for about 10 minutes. Then, on a cooling rack I popped them in the fridge for an hour to dry before roasting, because if I'd roasted them while they were still wet, they'd just kind of steam in the oven instead of getting a nice crispy skin like they will when the meat is dry.Meanwhile, I made the Blue Cheese Dressing. Super easy and basic ingredients all just mixed together in a bowl. So simple!
No buttermilk? No problem! You can make your own at home! And of course, don't forget you can make your own Mayo, too!
Also, super easy, the Buffalo sauce. Melted butter, hot sauce, salt, and garlic.This I made when they were nearly done so it'd still be a bit warm. I used Tapatio Hot Sauce, thinking that it was one Dan's favorites to use in our homemade pico de gallo, so it'd be perfect for this sauce. Nope. Apparently his favorite Buffalo sauce hot sauce is actually Frank's Red Hot. Sheesh. So much to learn about this man I call husband, apparently! That's ok, soon we'll be making our own hot sauce. And we will call it Koslick-istan Sauce and it'll be perfect for any application ;)After an hour of drying in the fridge they roasted in the oven for about 40 minutes until it had a nice crispy skin and super moist center.Tossed in the bowl with the hot sauce and we had ourselves some delicious Buffalo Legs! Like chicken wings but way meatier. Which really, isn't that something you wish wings were?
Oh, and some homemade Blue Cheese! Slightly tangy, super cheesy, ultra creamy, and will be a great salad dressing to use this week!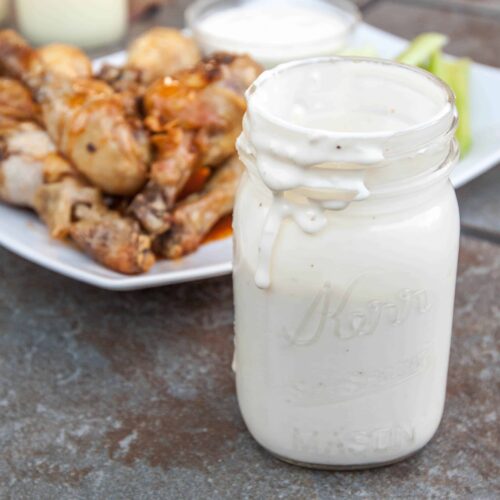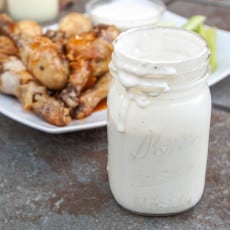 Ingredients
8

ounces

Gorgonzola

2/3

cup

sour cream

2/3

cup

buttermilk

1/2

cup

mayonnaise

2

tablespoon

white wine vinegar

1/2

teaspoon

Worcestershire sauce

1/2

teaspoon

freshly ground black pepper
Instructions
Put the Gorgonzola in a small mixing bowl and mash it with a fork. Add the sour cream, buttermilk, mayonnaise, white wine vinegar, Worcestershire sauce and black pepper and whisk to combine. Will yield a touch over 2 cups. Serve or store in an airtight container, in the refrigerator, for up to 1 week. Recipe can easily be cut in half.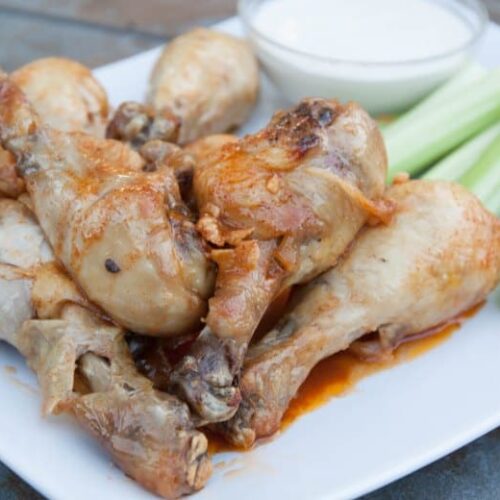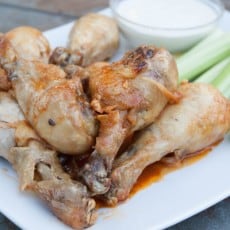 Ingredients
12

chicken leg drumsticks

3

ounces

6 tablespoons unsalted butter

1

small clove garlic

minced

1/4

cup

hot sauce

Kosher salt
Instructions
Place a 6-quart saucepan, with a steamer basket and 1 inch of water in the bottom, over high heat, cover and bring to a boil.

Remove the tips of the wings and discard or save for making stock. Use kitchen shears or a knife to separate the wings at the joint. Place the wings in the steamer basket, cover, reduce the heat to medium and steam 10 minutes. Remove the wings from the basket and carefully pat dry. Lay out the wings on a cooling rack set in a half sheet pan and place in the refrigerator to dry, about 1 hour.

Preheat the oven to 425 degrees F. Roast on the middle rack of the oven, about 20 minutes. Turn the wings over and cook 20 to 30 more minutes, or until the meat is cooked through and the skin is golden brown.

While the chicken is roasting, melt the butter in a small bowl with the garlic. Pour this along with the hot sauce and 1/2 teaspoon salt into a bowl large enough to hold all of the chicken and stir to combine. Remove the wings from the oven, transfer to the bowl and toss with the sauce. Serve warm